Testimonials
This is what our clients say about us...
View All Testimonials
4615
Appreciation Letter
21-Oct-2021
From: Arjun N
Date: 21 October 2021 at 13:26:39 IST
To: Shiva Reddy <shivareddy@hanureddyrealty.com>
Cc: Ajay Narayanan , Usha Narayanan
Subject: Note of appreciation
Dear Shiva
I write this note of appreciation for selling my late father's flat for my mother. She is truly touched by the support you and your team gave her in making the registration process smooth and comfortable.
Your personal touch, your valuable suggestions on getting the flat saleable, your advice on the legal opinion and finding the right buyer for us were a great support during this trying period for the family.
My mother is particularly appreciative of your colleague Sathish for his patience and meticulous care in getting the paperwork ready, organising meetings with the buyer, and above all helping her deposit the cheques after the sale.
Your personal support to my mother during the entire registration process is a great gesture on your part. For us Hanu Reddy Realty is a one stop shop for all property related matters.
Thanks once again for your help
Arjun
3972
Google Review
14-May-2019
Mrs.Rukmini Ganesh
I recently went in for joint development of my house and HanuReddy's Mr Shiva Reddy and Ms Uma Natrajan acted as our agents. I am very satisfied with their service, They brought various developers to their office for our convenience, took notes of meetings etc. arranged site visits so that we could see each person's work, so that we could make our decision without much hassle. My property had certain issues to be sorted out, and as a senior citizen I am sure that I could not have dealt with it without their help. I have to say A VERY BIG THANK YOU TO YOU AND UMA, SHIVA. You'll have taken a lot of trouble for me. I have to make a special mention of Ms.Uma she goes the extra mile to give efficient service and satisfaction and understanding my emotions at vacating my house where I have lived for the last 40 years. Thank you Uma.
3967
Appreciation Letter
30-Apr-2019
Client Name: Arcot & Ranjini Devender
Client Email: arcot47@shaw.ca
City: Calgary Canada
Title: Senior Realtor
Client Message:
I would like to record our sincere appreciation for the work done by Uma Natarajan during our stay in Chennai to finalize our Joint Venture Agreement with one of the leading builders in Chennai. We first indicated that we would be selling our piece of the land with a house built in a prime area in Chennai, but on landing in Chennai our plan changed a bit to include another adjoining property owned by our relative who were interested in a joint venture development only. We conveyed this to Uma who without losing time promptly engaged one of the Hanu Reddy Directors Shiva Reddy with specific experience in JV agreements to lead the JV initiative. Uma was excellent in doing all the background and leg work to get the documents in order and the rest of the formalities completed under the excellent guidances leadership from Shiva Reddy.
Uma Natarajan was proactive and made sure that all the requirements were in place for Shiva Reddy to coordinate and successfully complete the various milestones required for the JVA. She coordinated several meetings with the Developers/ Builders and liaised with the registry, lawyers and daily briefed us about the progress and any potential bottlenecks along the way.
Without her help as well as Shiva Reddy's cool handling of the various challenges we could not have got the job done on schedule and we were able to get back to Canada. Both Uma and Shiva made us feels very comfortable about the whole process with their timely feedback and very professional in their endeavour.
Before engaging Hanu Reddy I went through their reviews before contacting Uma Natarajan and I believe we made the perfect choice in our selection not only for selecting Hanu Reddy Realty but also to be able to get the Best developers suited for our temperament and our venture.
Both Uma Natarajan and Shiva Reddy have been an embodiment of humility and professionalism and God bless them for more of such successes.
This testimony we hope is particularly helpful for people like us who are living abroad and have very little time to navigate through the maze of procedures in India. You know whom to contact if you have similar needs in India.
Best Wishes,
Arcot Devender
Ranjini Devender
Calgary Canada
Dated April 30, 2019
3947
Appreciation Letter
21-Apr-2019
Dear Mr. Suresh Reddy,
I want to thank you very much for the service rendered by your realty enterprise in successfully arranging the development contract for our Joint Venture with Chaitanya.
Ranjini and Myself would like to record our sincere appreciation for the work done by Shiva Reddy and Uma Natarajan in navigating through the various steps which culminated in the JV Agreement being signed off in 3 months time which was the target despite the various procedural requirements. Without your dedicated efforts of your team this would not have been possible.
Your timely hints and guidance helped us to make the right decision when we were at cross roads on some points.
After the JV Agreement we had a very comfortable stay at your residence where your staff were extremely polite and dedicated to help. We would also like to thank Mrs. Nirupama Reddy for being so gracious and hosting a lunch for us and for sending us the delicious Mangoes from your collection .
I must say we are extremely lucky to meet you both and please let us know when you plan to visit Calgary.
We are leaving this late night for airport and we will be in touch.
Thanks once again for your brand of hospitality & Service
Arcot Devender
3894
Google Review
10-Oct-2018
Ms.Angel Jain
Nice easy and smooth experience and easy going .. thanks bava sir ...pooja jain
4254
Google Reviews
19-Jun-2018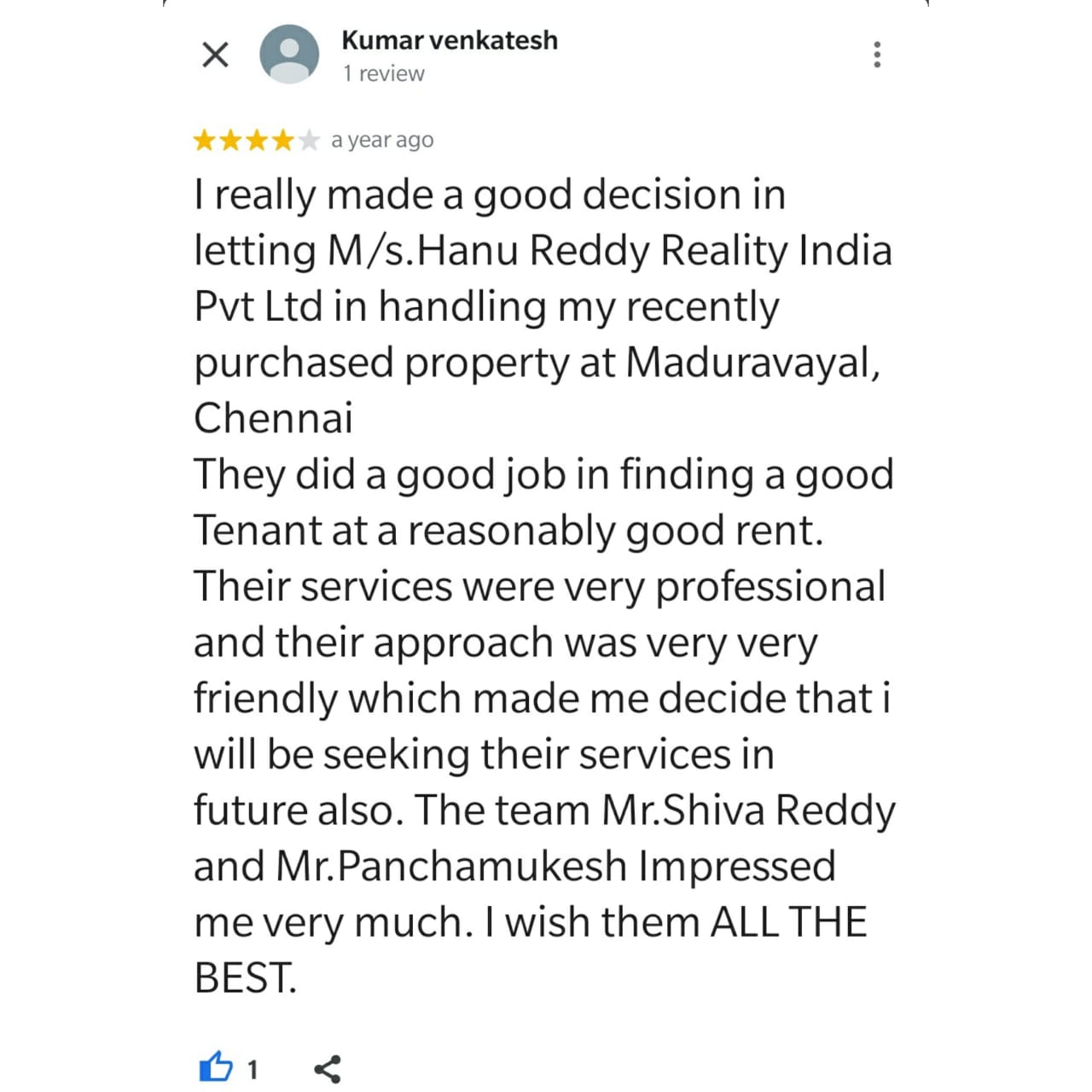 2998
Appreciation Letter
28-Sep-2016
Becoming homeowners of Chennai - our short, fast, unexpected journey
The greatness of Hanu Reddy Realty stems from its people, their pedigree and their values.
The Hanu Reddy team's competence and their penchant for genuine service combined with deep understanding of the Indian Realty market is truly amazing. And borne out of decades of experience.
My wife, our daughters and I visited Chennai from the USA for a casual summer break. My wife stumbled on a Hindu article on chennai real estate that got her intrigued. That transpired into an unexpected journey: stumbling on Hanu Reddy website, two weeks later we found ourselves making offers for two prime properties of obscene amount! And two months later we are already proud owners of both those properties. Of which one is to become our second home in the Chennai, a city we love.
This is extraordinary speed and spectacular execution. And this was possible because of competence we witnessed from, and the trust inspired by, the Hanu Reddy team. Suresh, Shiva, Mallikarjun, Palani, and Shekar - these are outstanding people. Really outstanding people.
It is also my instinct Hanu Reddy himself, at the helm, is steering the ship with an unwavering commitment to values that has its roots from multiple generations of the Reddy family. The team respects and admires his leadership.
On a final personal note - I, my wife and in laws, in a spur of an unplanned moment, happen to get invited for tea in Suresh's home. Instead we ended up with delicious mango juice and a fine hospitality; really LOVED their family, and the beautiful larger Reddy family. I feel we have what I believe is a sprout of a friendship, that could blossom into a lifetime friendship.
With lots of love from the Mohammed family
September 2016
London, en route
Mohammed family
2762
Appreciation Letter
13-May-2015
Dear Mr.C.Suresh Reddy / Mr.Mallikarjuna Reddy,
Sub

-

: Letter of Appreciation.
Our company appreciates your efforts in locating suitable properties in Vijaya Ragava Road, T.Nagar as well as in New Beach Road, Tiruvanmiyur, for us to promote luxurious residential apartments. We wish to inform you that we have already commenced construction in the said properties and the same are in progress. As you know that these are the two prestigious and important projects for our Group to grow in the market.

I understand that you have taken excellent effort in offering us the said properties from the prime localities in Chennai, after having successful negations with the concerned Vendors . Hence we wish that you and your whole team should continue to serve in the same capacity for the years to come.

Once again, many thanks

for

your team

and hope

will maintain this attitude throughout your future projects.
With Best Regards
P. A

marnath Reddy.
2672
Certificate
11-Mar-2015
2678
Appreciation Letter
05-Mar-2015
26 Archbishop Mathias Avenue
Boat Club, Chennai 600028
5 March 2015
To
Mr. Suresh Reddy
Director
Hanu Reddy Realty lndia Pvt Ltd
Mylapore, Chennai
Dear Sir,
It is with immense gratitude that l write this letter acknowledging the services of your company in
finding the perfect Joint-Development partner for my property.
"There can be no rainbow without a storm and a cloud" it is said. What at one point seemed like an
impossible dream, has today become a miraculous reality, thanks to the exemplary commitment and
enormous patience displayed by the realtors at every stage of the deal. I salute their professionalism
in weathering every twist and turn with integrity and brilliance.
Please convey my heartfelt appreciation to Mr. Shiva Reddy, Mr. Mani Palani and Mr. Muthu Ram
for making this transaction reach its most—desired outcome.
With warm regards
(SWARNA s. PILLAI)
2666
Appreciation Letter
18-Oct-2014
Dear Shiva,

I write to you as you were my first and main contact with Hanu Reddy Realty.

I wanted express my appreciation for the fantastic job by your team for the sale of our property. Starting from getting us the price we wanted (even though it seemed impossible at the outset because of what others, including the other big firms in this business, led us to believe) to keeping the client engaged and making the deal actually happen.This was despite the innumerable unforeseen delays that frustrated all of us.

The level of professionalism that every one in your team showed is refreshingly rare - because if this, I knew all along that our interests and the buyer's interests were protected.

I also thank you for showing trust and providing such a high level of service even when there was no formal commitment from our side. No other real estate firm (including all the multinational firms I contacted) had the foresight or understanding of our situation to take this on and deliver (and how !)

Thank you.

Arjun
2311
Google Review
22-Jun-2014
Umamaheswaran Updated Feb 22
It has been a great pleasure to have an association with hanu reddy realty . I am in deed pleased the way they carry out the business . I am indeed cvery happy the way Mr. Shiva reddy and Mr. Sanjay carried the jv proposal was excellent.
3866
Appreciation Letter
07-May-2014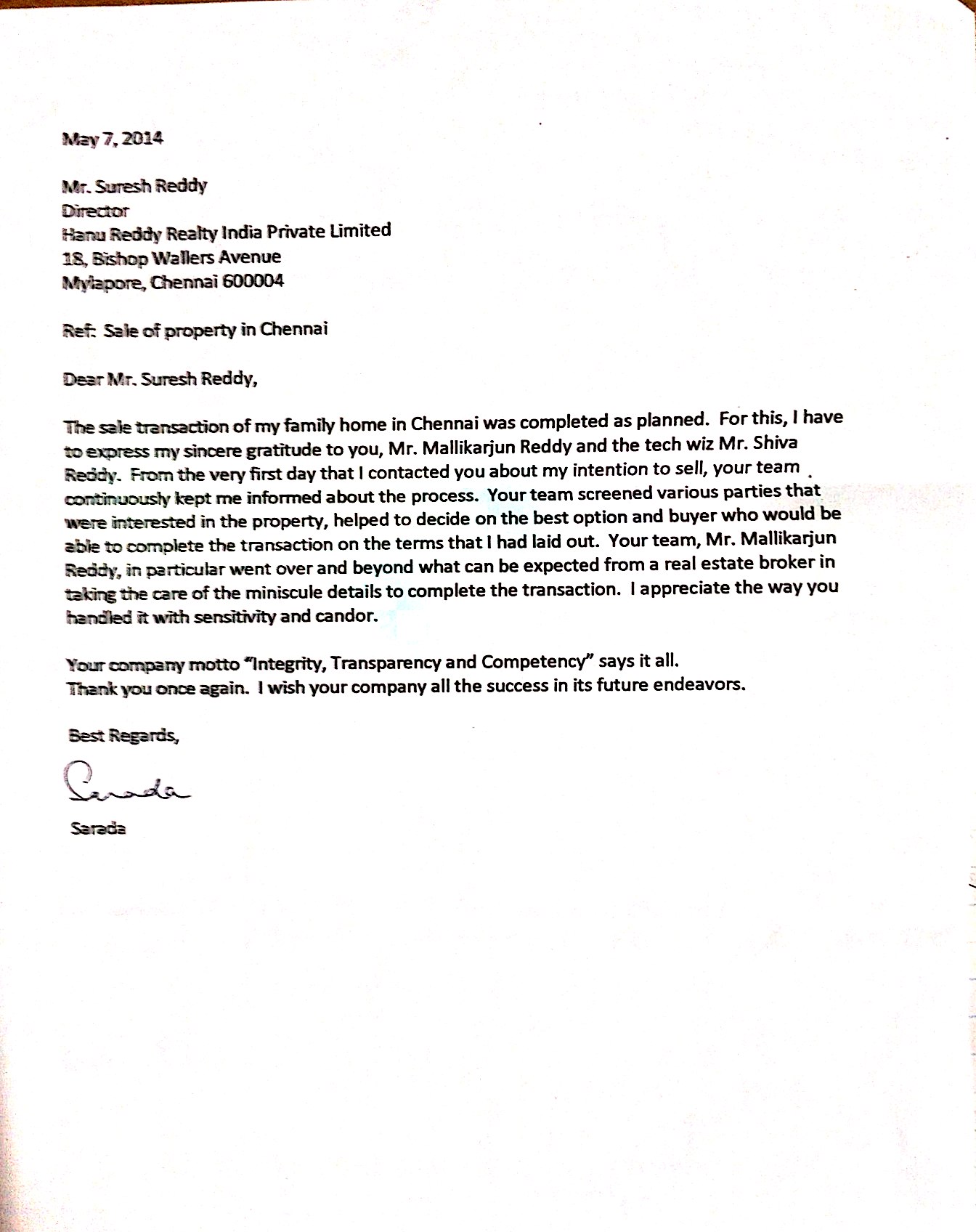 2145
15-Nov-2012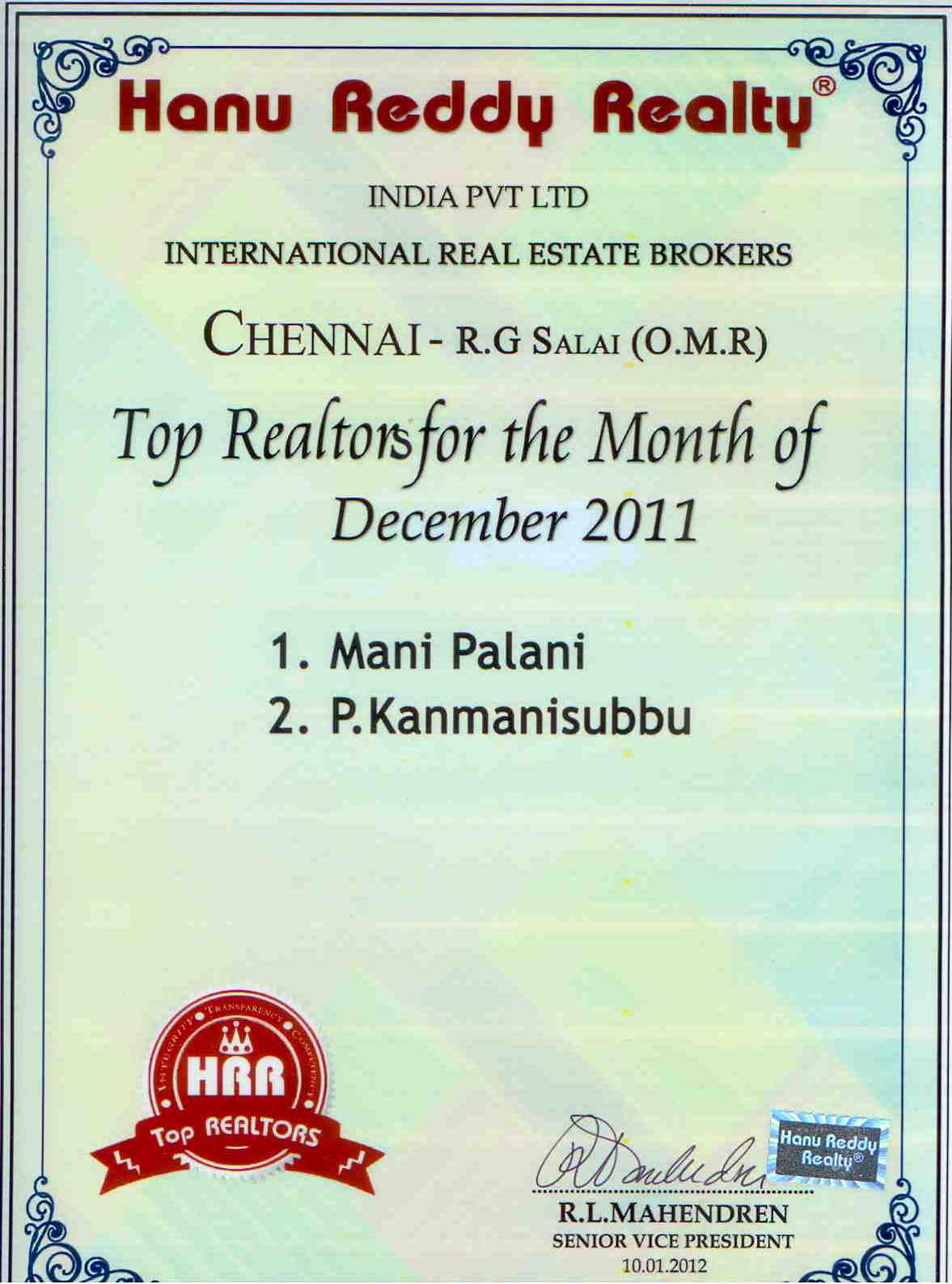 2053
31-Jul-2011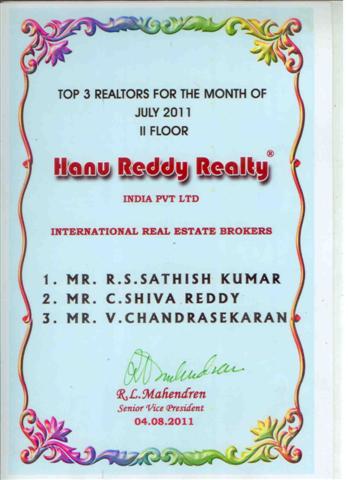 387