Testimonials
This is what our clients say about us...
View All Testimonials
2998
Appreciation Letter
28-Sep-2016
Becoming homeowners of Chennai - our short, fast, unexpected journey
The greatness of Hanu Reddy Realty stems from its people, their pedigree and their values.
The Hanu Reddy team's competence and their penchant for genuine service combined with deep understanding of the Indian Realty market is truly amazing. And borne out of decades of experience.
My wife, our daughters and I visited Chennai from the USA for a casual summer break. My wife stumbled on a Hindu article on chennai real estate that got her intrigued. That transpired into an unexpected journey: stumbling on Hanu Reddy website, two weeks later we found ourselves making offers for two prime properties of obscene amount! And two months later we are already proud owners of both those properties. Of which one is to become our second home in the Chennai, a city we love.
This is extraordinary speed and spectacular execution. And this was possible because of competence we witnessed from, and the trust inspired by, the Hanu Reddy team. Suresh, Shiva, Mallikarjun, Palani, and Shekar - these are outstanding people. Really outstanding people.
It is also my instinct Hanu Reddy himself, at the helm, is steering the ship with an unwavering commitment to values that has its roots from multiple generations of the Reddy family. The team respects and admires his leadership.
On a final personal note - I, my wife and in laws, in a spur of an unplanned moment, happen to get invited for tea in Suresh's home. Instead we ended up with delicious mango juice and a fine hospitality; really LOVED their family, and the beautiful larger Reddy family. I feel we have what I believe is a sprout of a friendship, that could blossom into a lifetime friendship.
With lots of love from the Mohammed family
September 2016
London, en route
Mohammed family
2762
Appreciation Letter
13-May-2015
Dear Mr.C.Suresh Reddy / Mr.Mallikarjuna Reddy,
Sub

-

: Letter of Appreciation.
Our company appreciates your efforts in locating suitable properties in Vijaya Ragava Road, T.Nagar as well as in New Beach Road, Tiruvanmiyur, for us to promote luxurious residential apartments. We wish to inform you that we have already commenced construction in the said properties and the same are in progress. As you know that these are the two prestigious and important projects for our Group to grow in the market.

I understand that you have taken excellent effort in offering us the said properties from the prime localities in Chennai, after having successful negations with the concerned Vendors . Hence we wish that you and your whole team should continue to serve in the same capacity for the years to come.

Once again, many thanks

for

your team

and hope

will maintain this attitude throughout your future projects.
With Best Regards
P. A

marnath Reddy.
2672
Certificate
11-Mar-2015
2666
Appreciation Letter
18-Oct-2014
Dear Shiva,

I write to you as you were my first and main contact with Hanu Reddy Realty.

I wanted express my appreciation for the fantastic job by your team for the sale of our property. Starting from getting us the price we wanted (even though it seemed impossible at the outset because of what others, including the other big firms in this business, led us to believe) to keeping the client engaged and making the deal actually happen.This was despite the innumerable unforeseen delays that frustrated all of us.

The level of professionalism that every one in your team showed is refreshingly rare - because if this, I knew all along that our interests and the buyer's interests were protected.

I also thank you for showing trust and providing such a high level of service even when there was no formal commitment from our side. No other real estate firm (including all the multinational firms I contacted) had the foresight or understanding of our situation to take this on and deliver (and how !)

Thank you.

Arjun
2311
Google Review
22-Jun-2014
Umamaheswaran Updated Feb 22
It has been a great pleasure to have an association with hanu reddy realty . I am in deed pleased the way they carry out the business . I am indeed cvery happy the way Mr. Shiva reddy and Mr. Sanjay carried the jv proposal was excellent.
2145
15-Nov-2012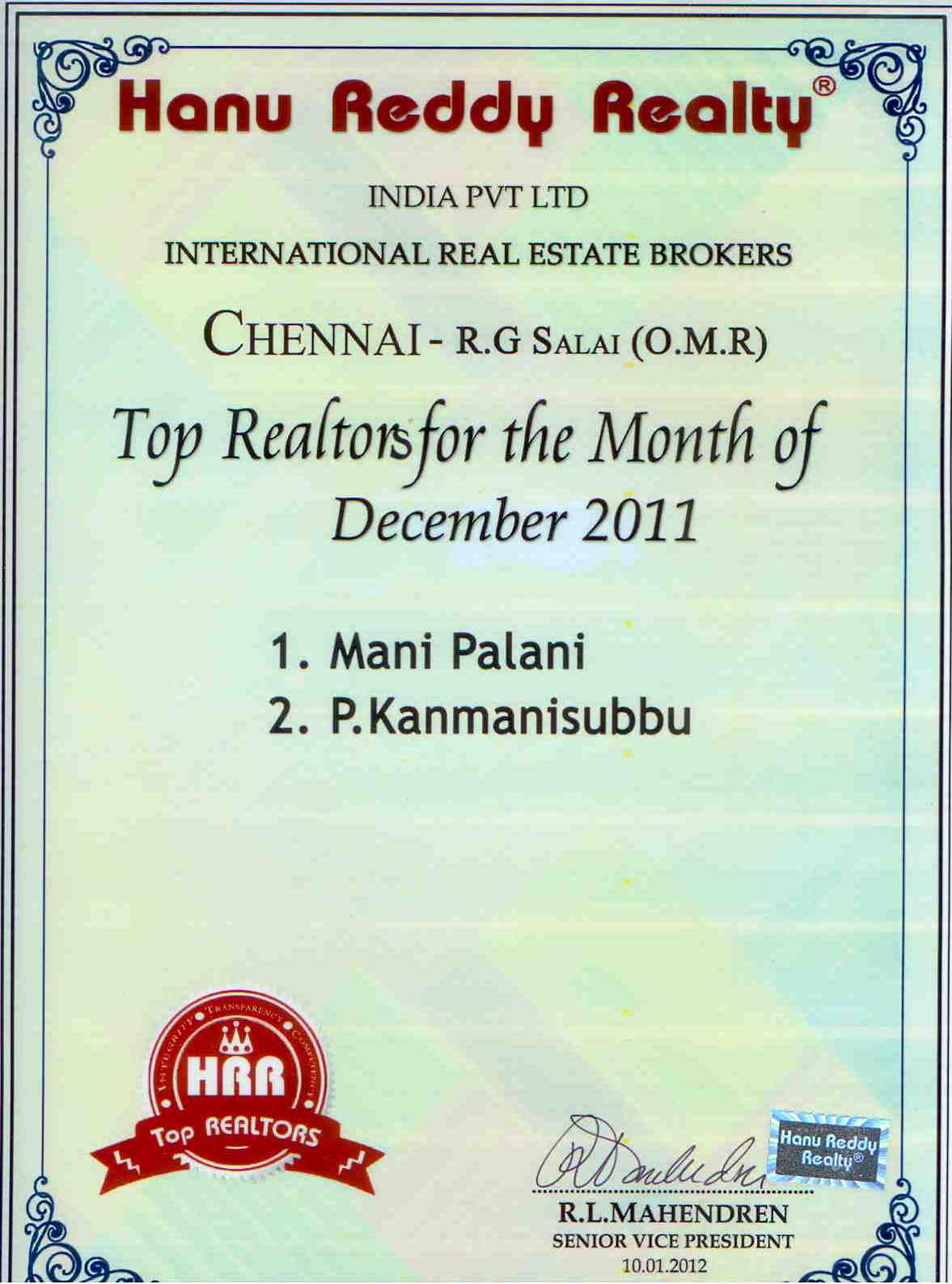 2053
31-Jul-2011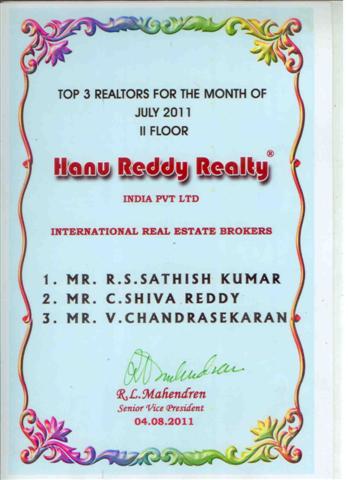 387