Real Estate News
Sale of approved plots sees three-fold rise in 2 years
The number of layouts sanctioned by the Chennai Metropolitan Development Authority (CMDA) has doubled in two years (2016-18) since the ban on registration of unapproved plots within the Chennai Metropolitan Area (CMA).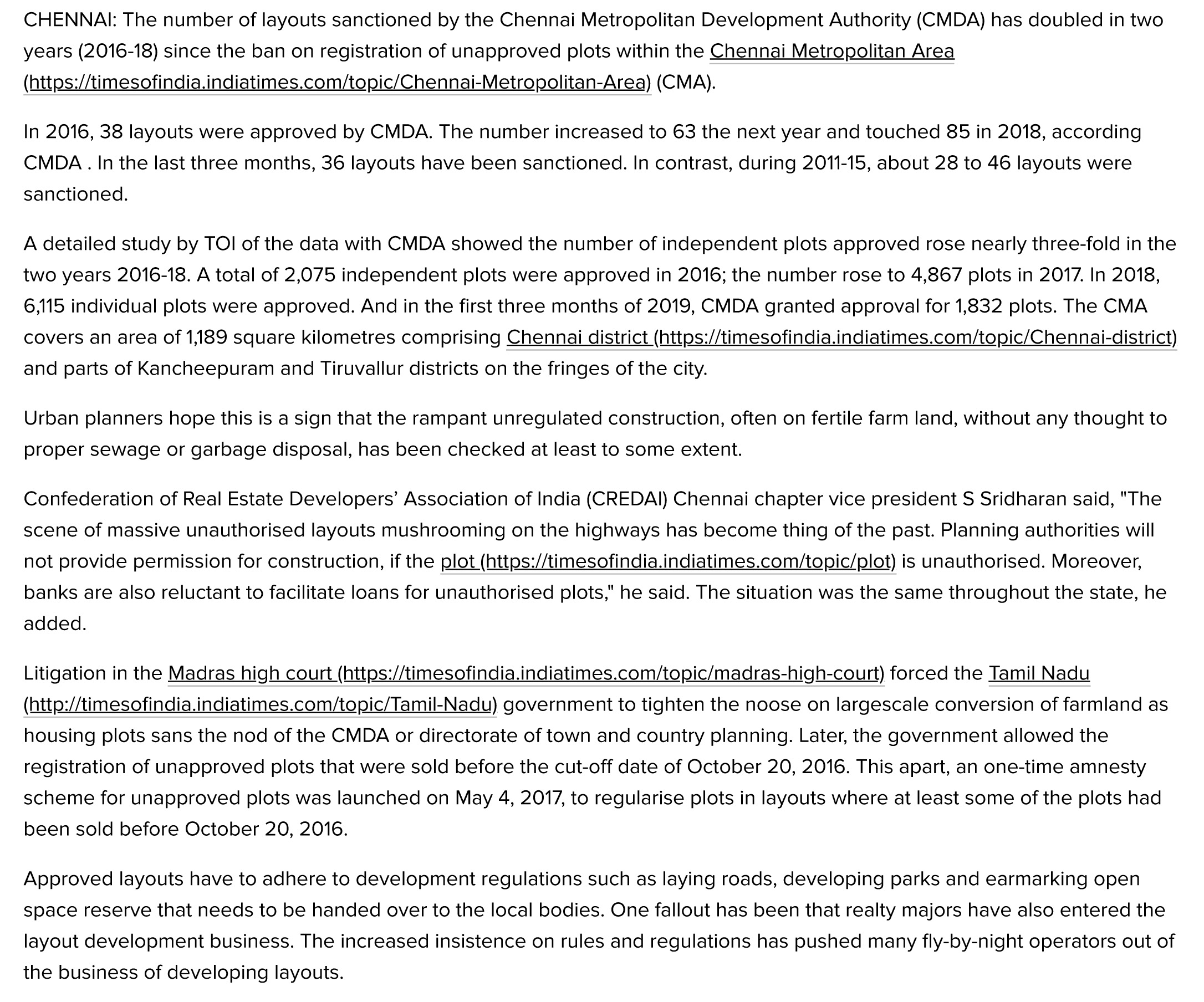 Published On: April 30, 2019
20mn sq ft retail mall space to be added in top cities by 2021
Chennai: India's retail mall space is set to rise to 95 million square feet by 2021 from present 75 million square feet in the top seven cities, a report said. NCR, Hyderabad and Bengaluru will lead the supply, said the ninth edition of the report titled 'Malls of India'.
Published On: April 29, 2019
These are the world's 20 most dynamic cities
This article is part of the World Economic Forum Annual Meeting
Although momentum in the global economy appears to have peaked, there are still many cities in the world where real estate and economic growth continue to be robust.
At the time when the World Economic Forum is examining globalization 4.0, JLL's City Momentum Index, now in its sixth iteration, focuses on momentum for the world's most commercially active cities.
Tracking a range of socioeconomic and commercial real-estate indicators to identify attributes for success over the short term, the City Momentum Index ranked 131 major established and emerging business hubs
This year's rankings find the fastest urban growth continuing to shift away from the West to the East. Asia Pacific is home to 19 of the top 20 cities in this year's index, and overall, Indian and Chinese cities dominate the rankings, accounting for three-quarters of the top 20.
Only one city outside of Asia Pacific, Nairobi, ranks in the top 20 most dynamic cities in the globe – and even in Nairobi there is a strong Asian influence, with significant amounts of investment from China, particularly focused on infrastructure projects.
Strong growth brings great opportunities for economic and social development, but equally creates challenges that emerging markets must address to ensure that short-term growth transitions into longer term momentum.
Cities that are growing rapidly tend to punch above their weight in attracting companies and people; however, this can often lead to social inequality, congestion and environmental degradation.
Different cities take different development paths, but we know that the provision of smart, efficient and productive real estate and increased transparency are key factors in driving the long-term, sustainable growth they seek.
Real estate is pivotal to sustainable momentum
Regeneration projects can dramatically transform the trajectory of a rapidly growing city. New neighbourhoods and mixed-use developments can help nurture new businesses and improve lives. In parallel, large-scale infrastructure projects can combat problems such as congestion, while smart technology embedded within a city's infrastructure can help improve the flow of people.
Nairobi (ranked 6th in the index) is projected to have one of the fastest-growing populations in the world over the next five years. The authorities there are turning to smart technologies to help cope with overcrowding, traffic congestion and inefficiency in transportation around the city.
Technological innovation in the form of greener and smarter buildings plays an important role in answering the environmental challenges brought about by rapid growth. The Chinese city of Xi'an, (ranked 9th) struggles with severe air pollution, a common plight for developing cities. The installation of an innovative 100-metre-tall air purifying tower to reduce smog and improve air quality is one of the developments helping the city meet the challenges of growth. Strong growth and rapid urbanization can lead to many challenges, but through thoughtful and innovative development many of these challenges can be met.
Increase transparency to bring foreign direct investment
Sustainable long-term momentum and a maturing economy require long-term foreign direct investment, and this comes when investors can see transparent governance in markets – including real estate.
India's fastest-growing cities have been successful over recent years in attracting high levels of foreign direct investment (FDI), with structural reforms, including the Real Estate (Regulation and Development) Act 2016, encouraging more real-estate investment from foreign buyers.
Transparency is vital in securing the long-term investment that leads to sustainable growth. By working with city governments, the private sector can help lead this change and bring benefits not only to the real-estate market but also to the wider commerciality of a city. Against a backdrop of rapid change, the World Economic Forum will examine globalization 4.0 and the Fourth Industrial Revolution with a definitive call to make global growth inclusive and sustainable. For growth to be both sustainable and inclusive, it must be long-term. The City Momentum Index shows how businesses and governments can work together to make this happen.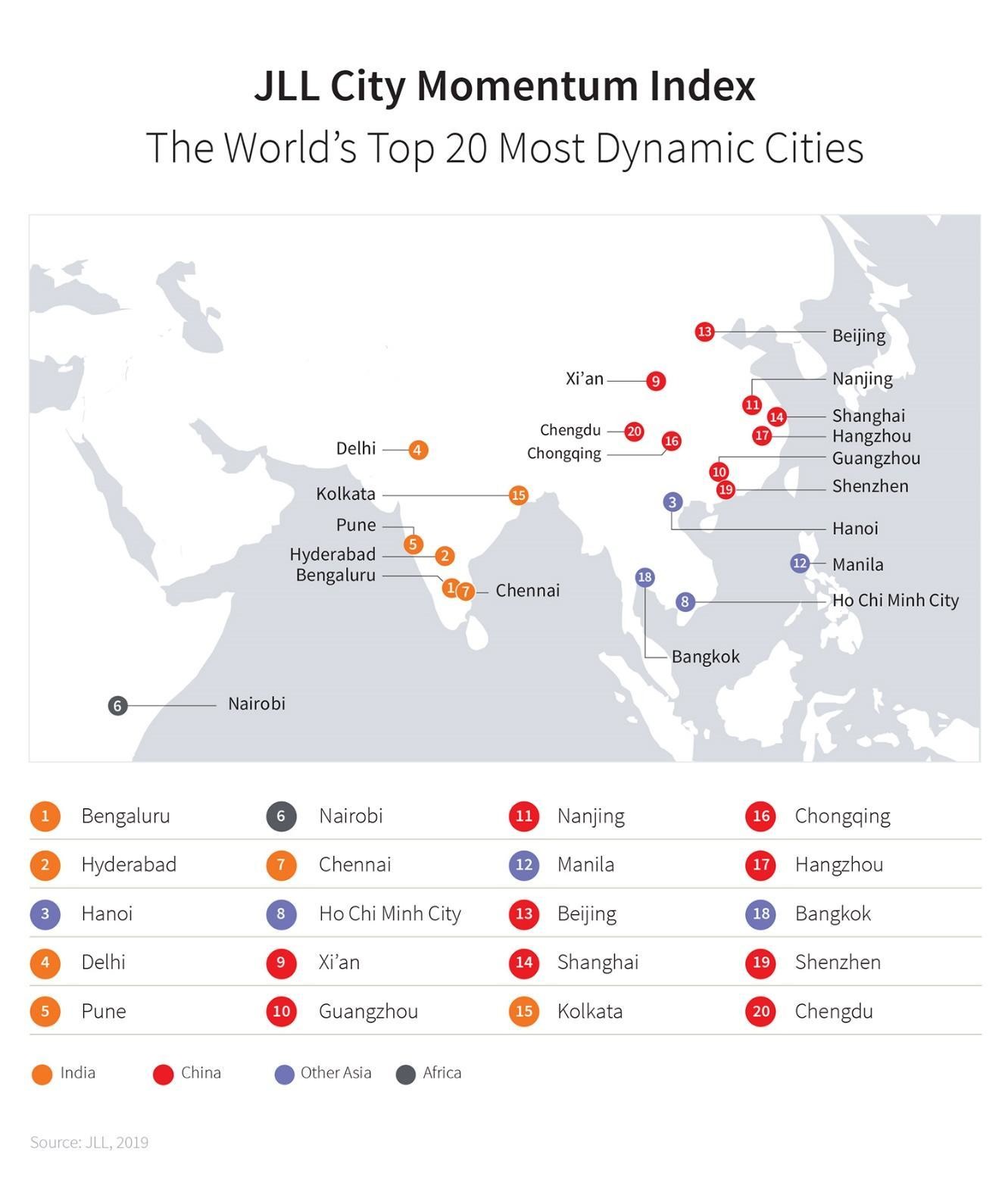 Published On: March 20, 2019
The new legislation aims to regulate the tenancy of building ..
The new legislation aims to regulate the tenancy of buildings as per the terms and conditions of the tenancy agreement executed by the landlords and the tenants..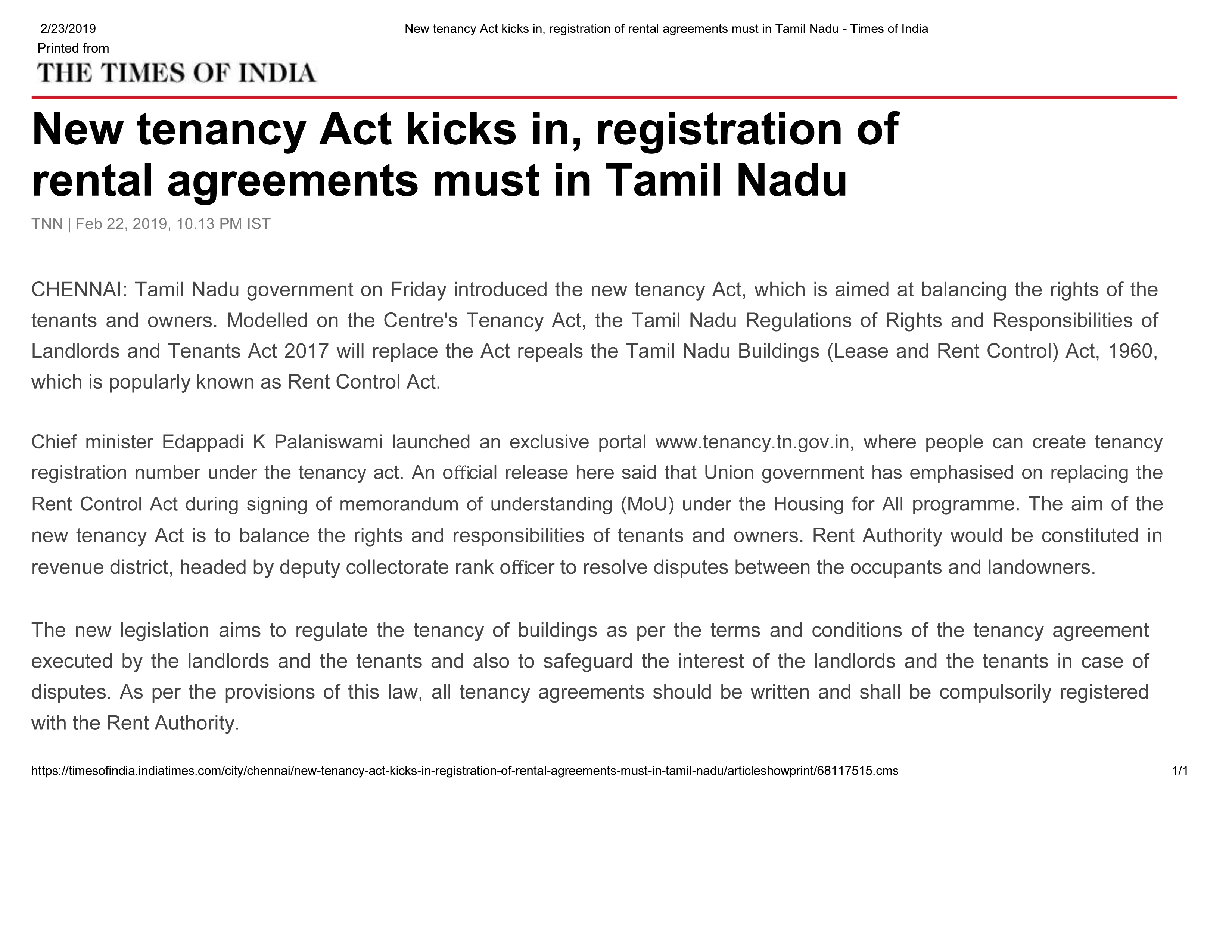 Published On: February 23, 2019
India in third position in list of LEED green buildings
After China and Canada, India is ranked third with more than 899 LEED-certified projects totaling more than 24.81 million gross square meters of space, as per the US Green Building Council (USGBC) ranking.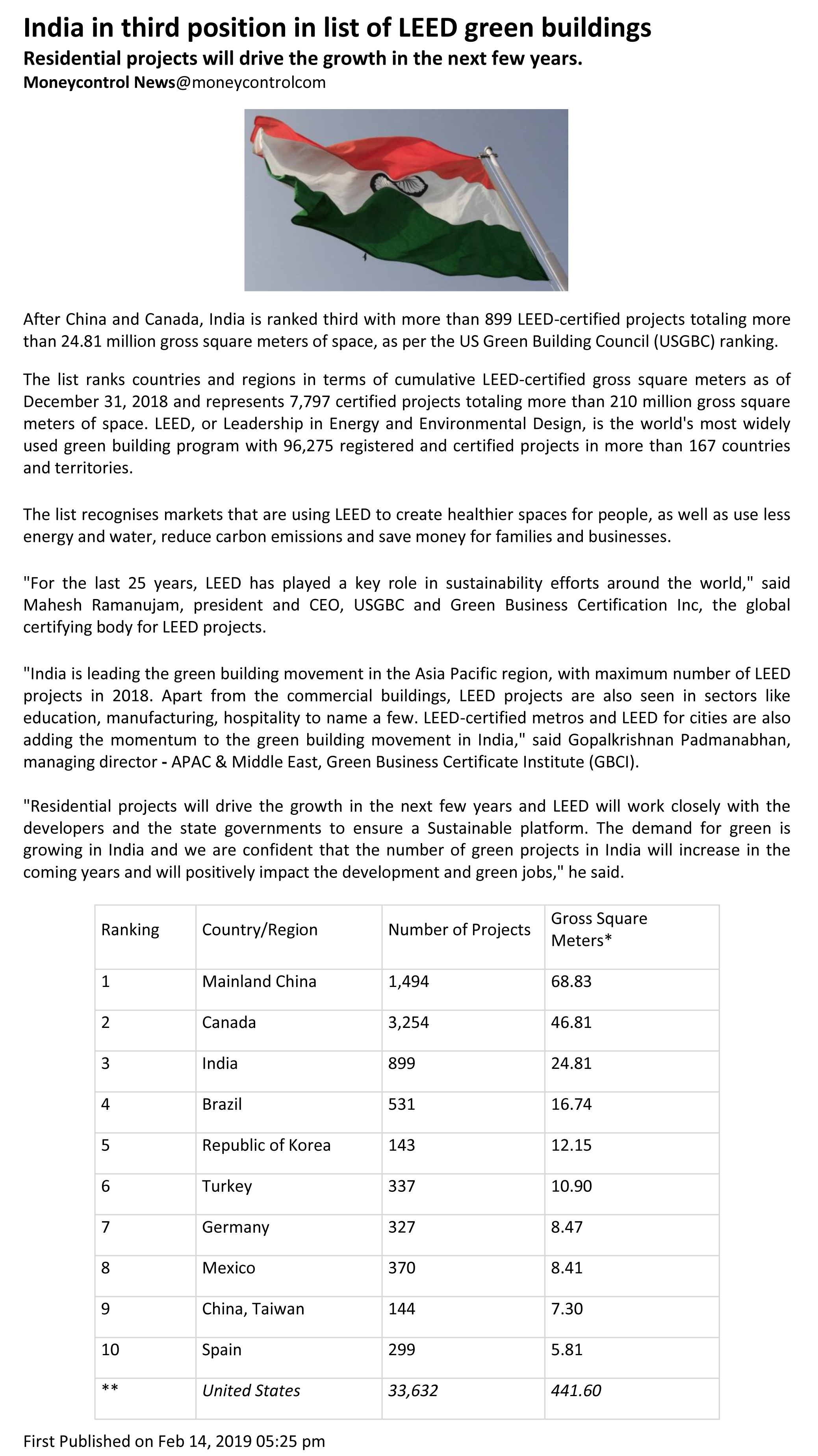 Published On: February 20, 2019
Centre approves Tamil Nadu government's Coastal Regulation Zone Plan
The Union ministry of environment has approved the draft Coastal Regulation Zone notification sent by Tamilnadu allowing construction up to 50m of the sea and temporary structures 10m from it. Reacting to this notification, fishermen association members and activists said the new notification will allow developmental activities along the coast ignoring the signs of climate change that is causing a rise in sea levels. Similarly, buildings along the coast which were considered unauthorized, until now will be regularized under the new rule.
Published On: January 28, 2019
Tata Consultancy Services (TCS) has leased about 3.75 lakh sqft of office space in Whitefield from property developer Brigade
Tata Consultancy Services (TCS) has leased about 3.75 lakh sqft of office space in Whitefield from property developer Brigade, according to people familiar with the matter. Times of India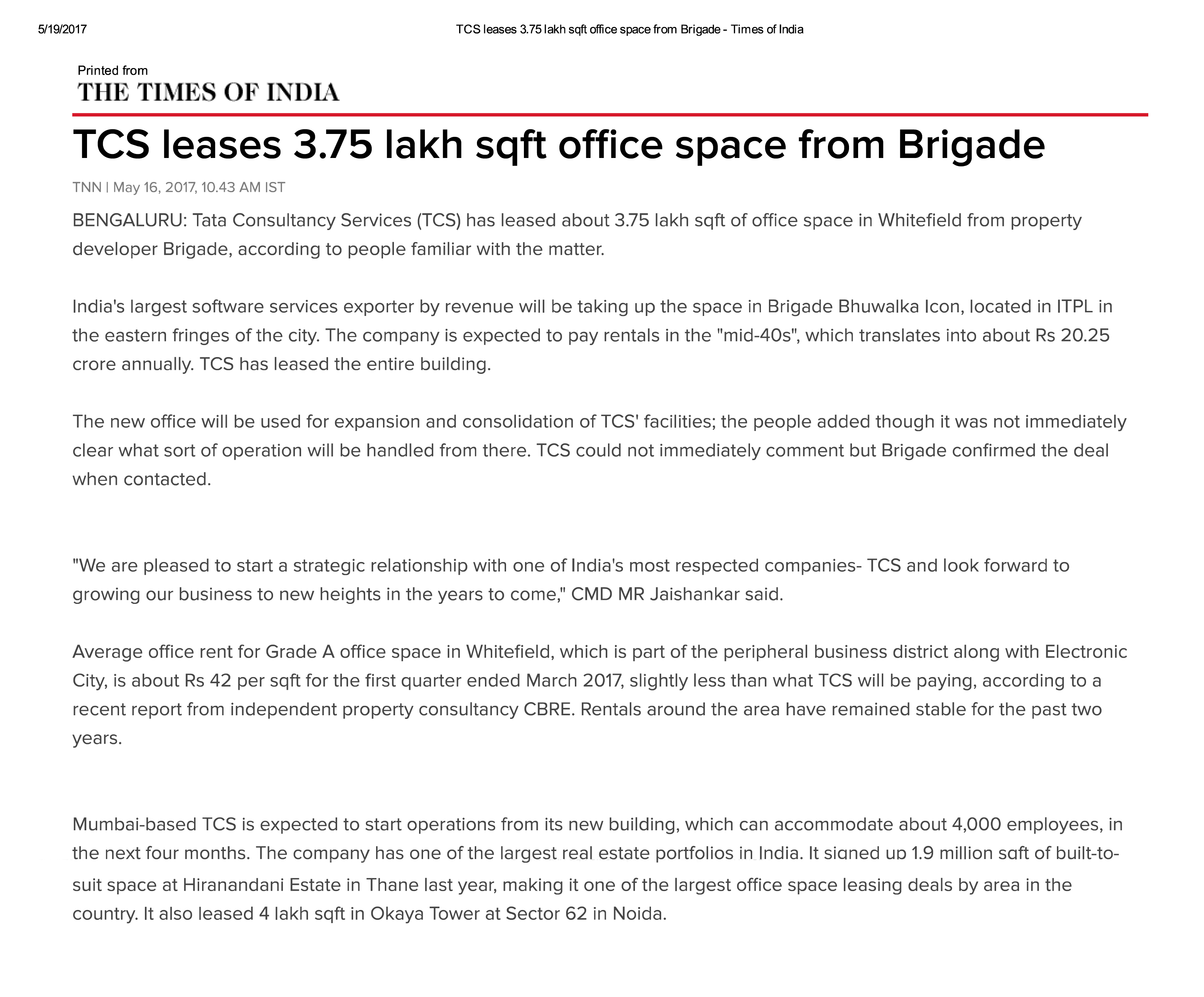 Published On: May 19, 2017
World Bank expands footprint in city, adds 70k sqft back office space
Multilateral lender World Bank is expanding its footprint in Chennai and has signed up for additional space of nearly 70,000sqft.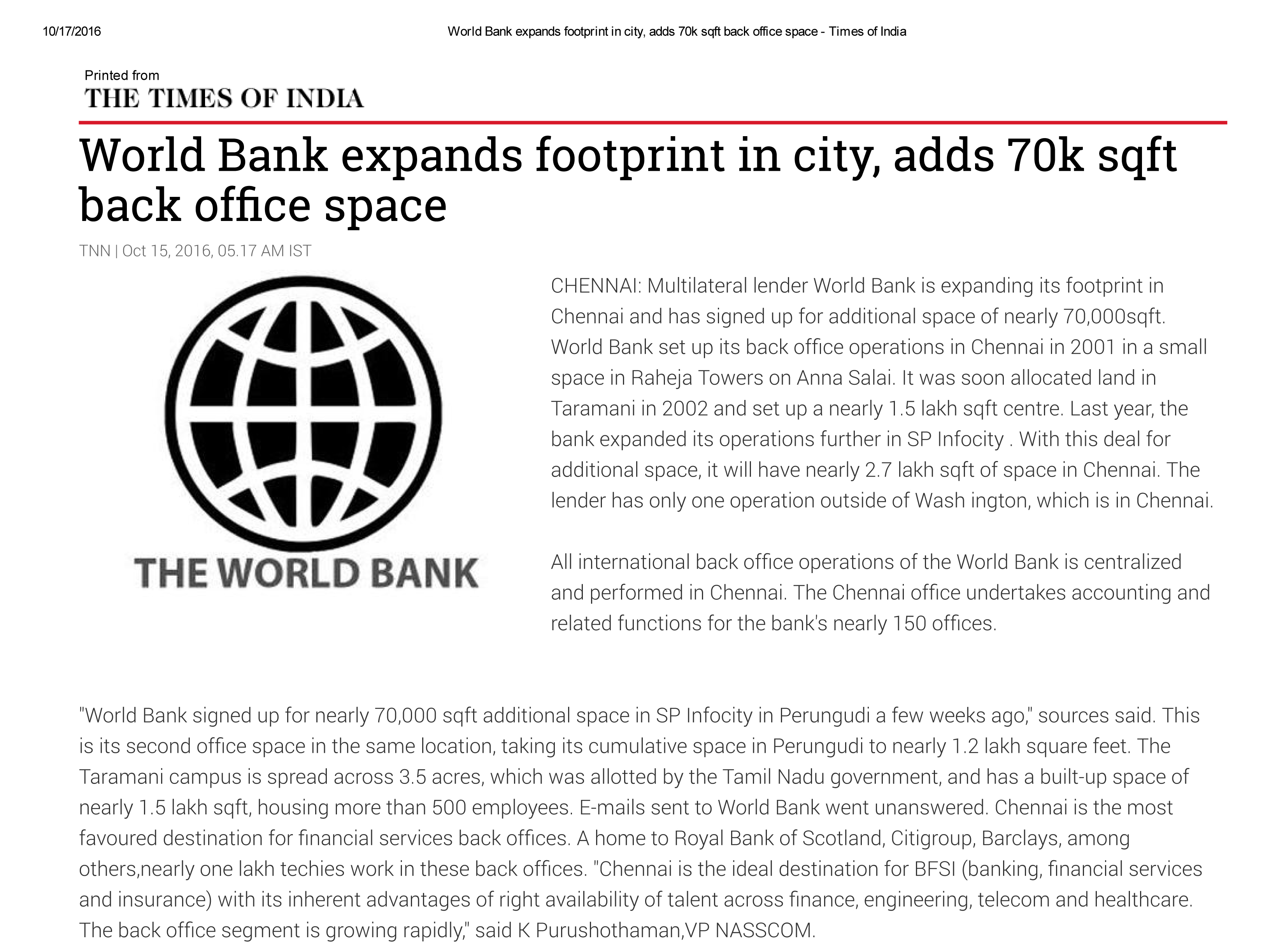 Published On: October 17, 2016
Get approval for building outside Chennai online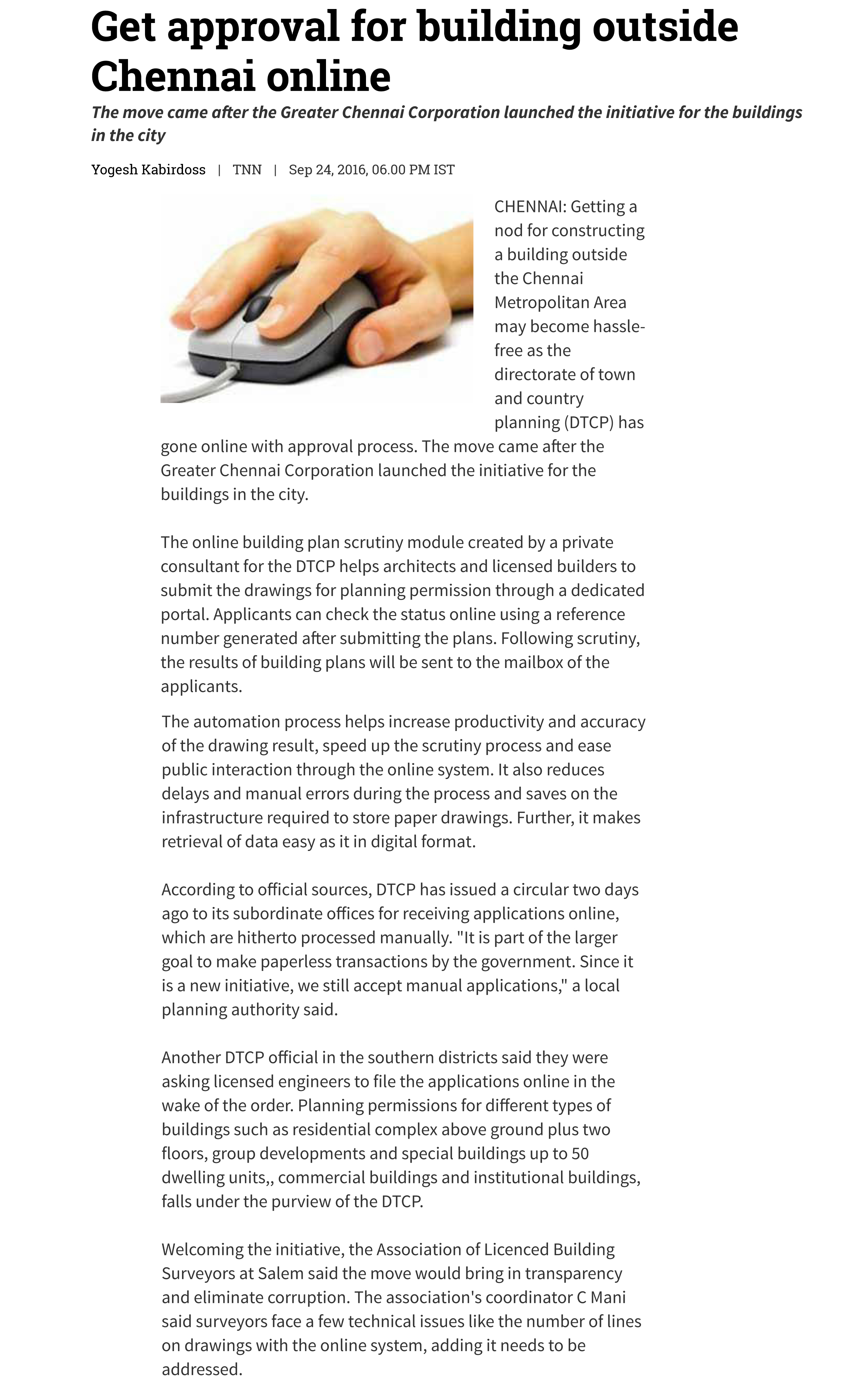 Published On: September 27, 2016
Affordable housing sector sees launches double in first half of 2016
The number of new launches in affordable housing has increased by nearly 100% on year to 17,000 units across top property markets—Delhi, Mumbai, Bengaluru, Pune, Kolkata, Chennai, Ahmedabad and Hyderabad— during this period, the real estate services firm said in its report.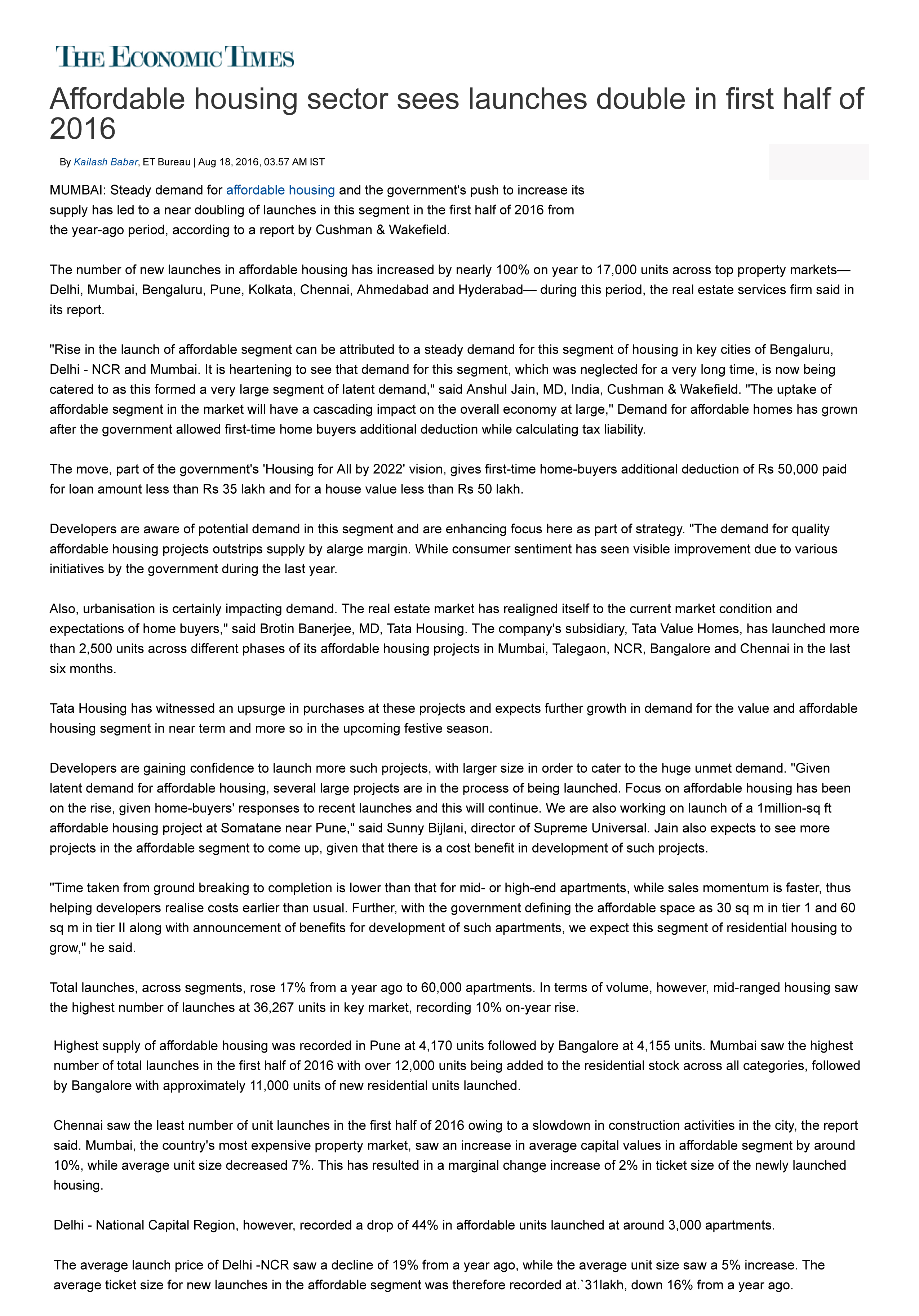 Published On: August 18, 2016
Chennai takes another step toward Smart City
Formation of the special purpose vehicle (SPV), key to kick-start the Smart City project, will be completed by the end of next week, officials in Greater Chennai Corporation have confirmed.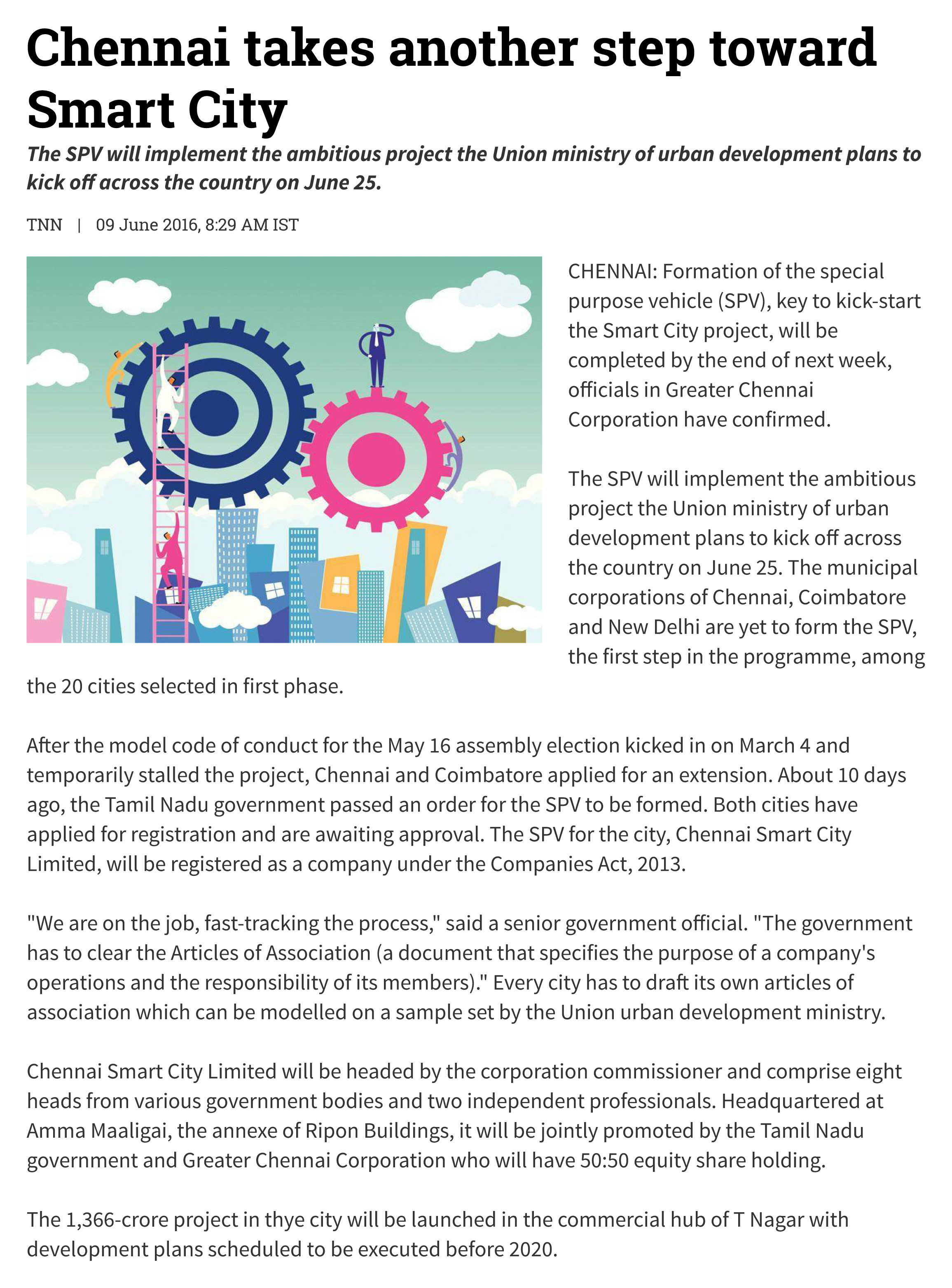 Published On: June 11, 2016
Bengaluru Office Space Lease Volume Highest In Asia Pacific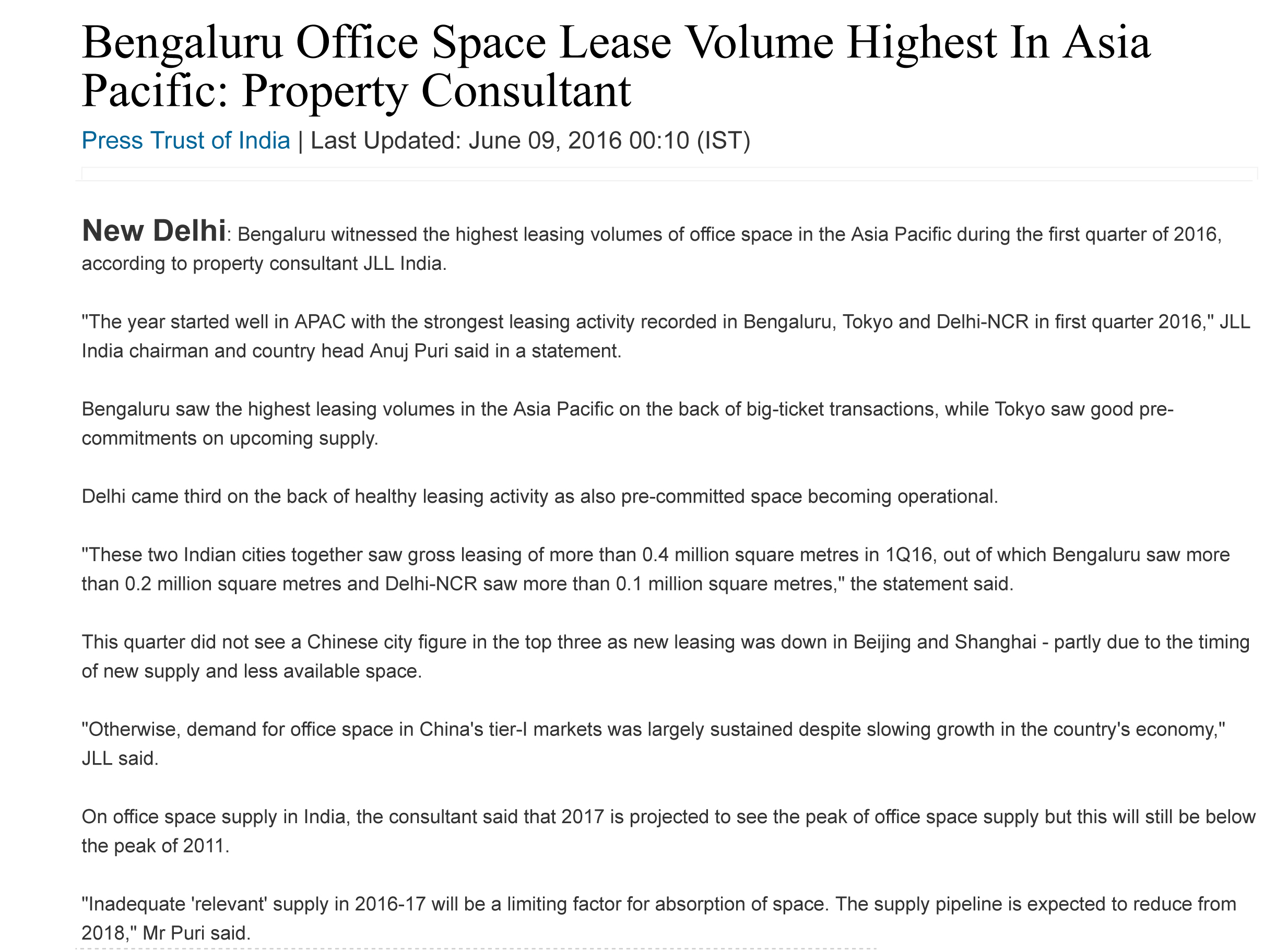 Published On: June 11, 2016
Commercial realty makes a comeback in Chennai
Chennai's IT corridor could soon turn home to a few new names. The last three months have seen the city's preferred realty corridor turn into a hotbed of commercial deals.
Published On: June 4, 2016
Telangana real estate market sees steady revival
The shine is back on the real estate sector in Telangana. After a lull of last six to seven years, the Registration and Stamps revenues in Telangana in the new financial year are not only looking up, but Hyderabad and Ranga Reddy registered impressive growth rates. In addition Khammam and Medak too are now on the path of growth.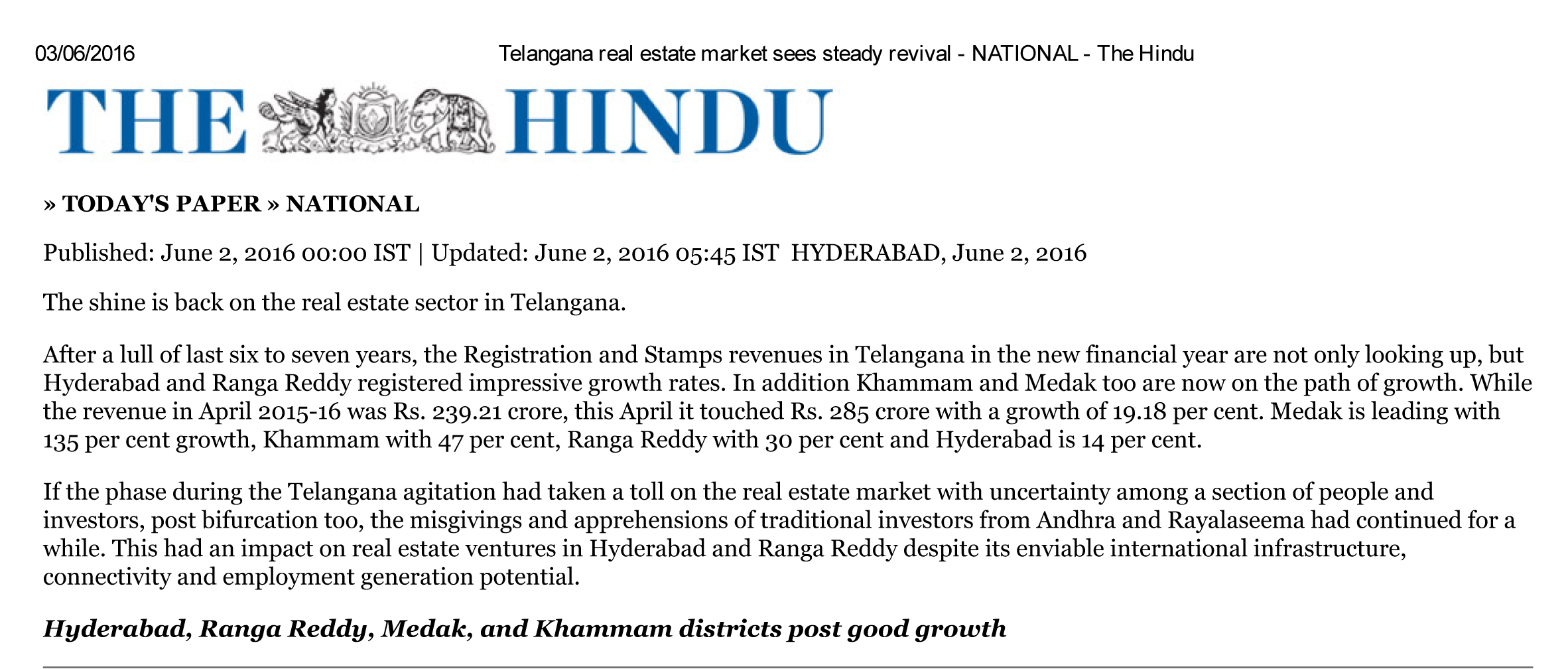 Published On: June 4, 2016
Demand will build up in major cities in coming days, says Sobha Developers MD
We are getting about 75-80 per cent of total sales from Bengaluru. We believe that the real estate market in Kerala, Delhi NCR, Chennai and Pune should start doing better in times to come. But in the current environment, when the markets still remain difficult for most of the real estate companies in almost all the cities, Bengaluru continues to perform relatively better though there is also some stress.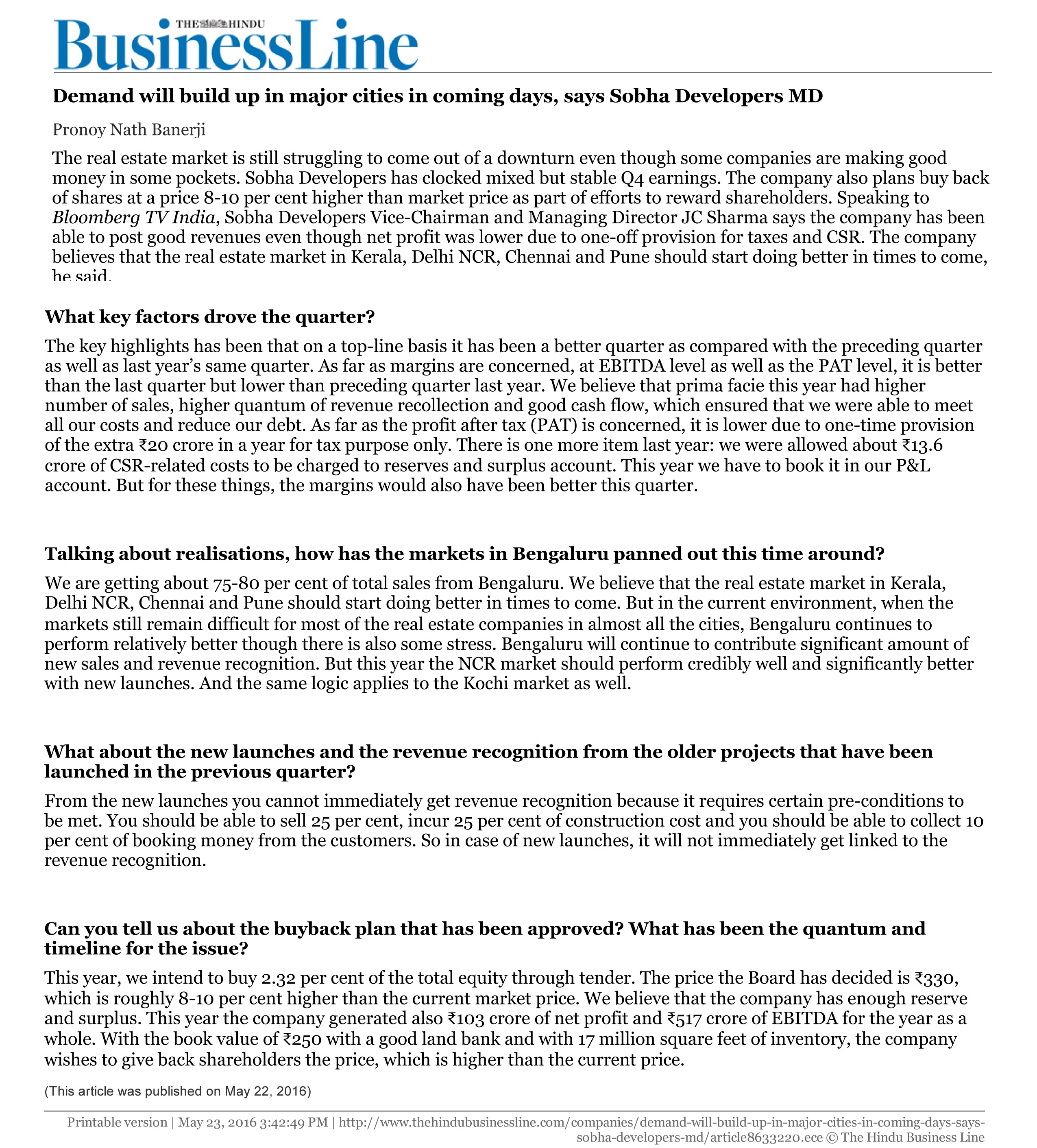 Published On: May 24, 2016
Pune's outskirts offer ample options for the home buyers exploring evolving locations
Suburban Success : Pune's outskirts offer ample options for the home buyers exploring evolving locations. According to Experts, city suburbs and newly emerging markets are the new investment hotbeds, drawing considerable interest from residential property investors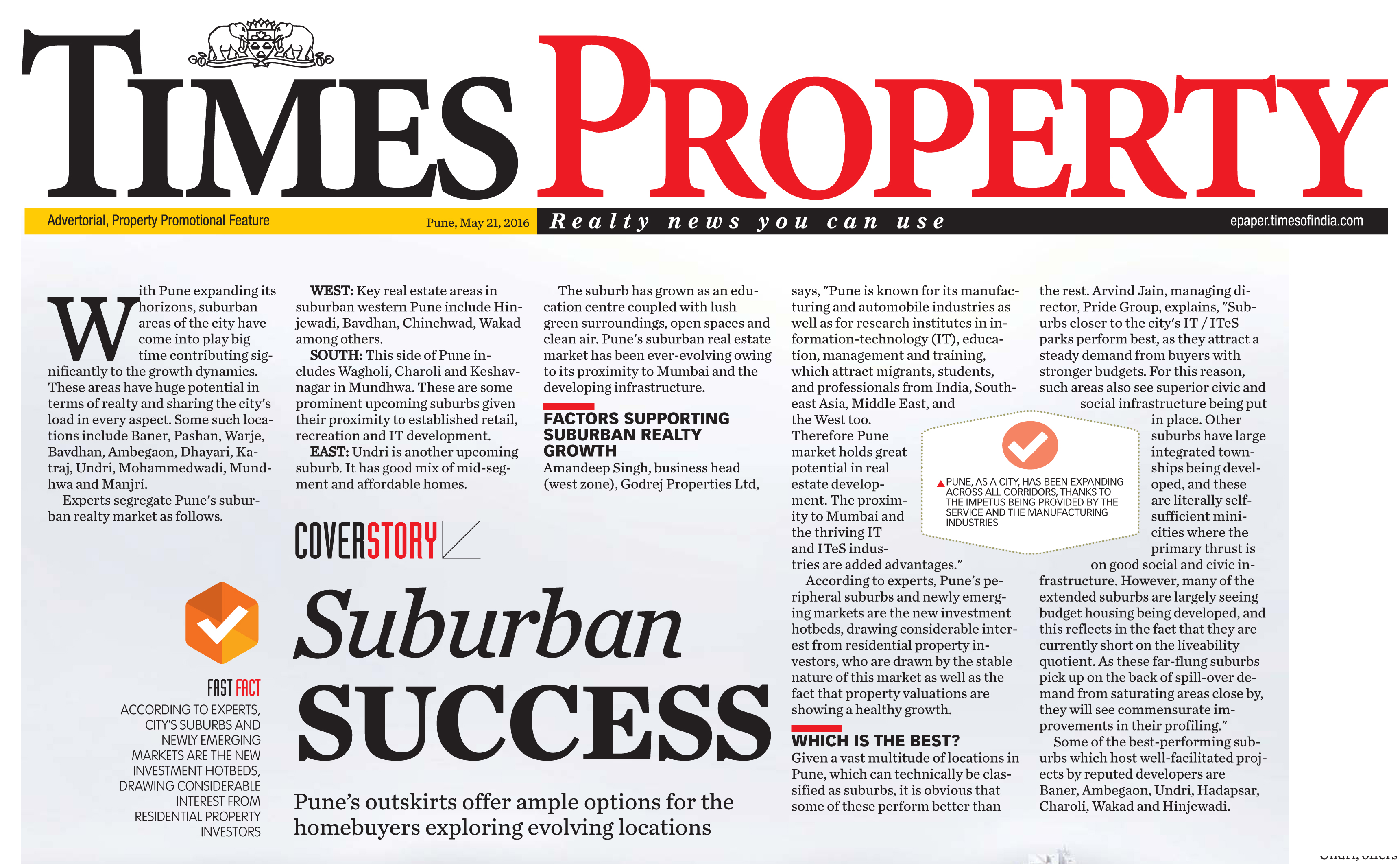 Published On: May 21, 2016
Green buildings save energy, water, improve health
The green building movement is likely to get a boost, and also get a catalyst in young minds, with the Indian Green Building Council (IGBC) on Sunday launching 12 new student chapters in various colleges, including engineering colleges in Mysuru.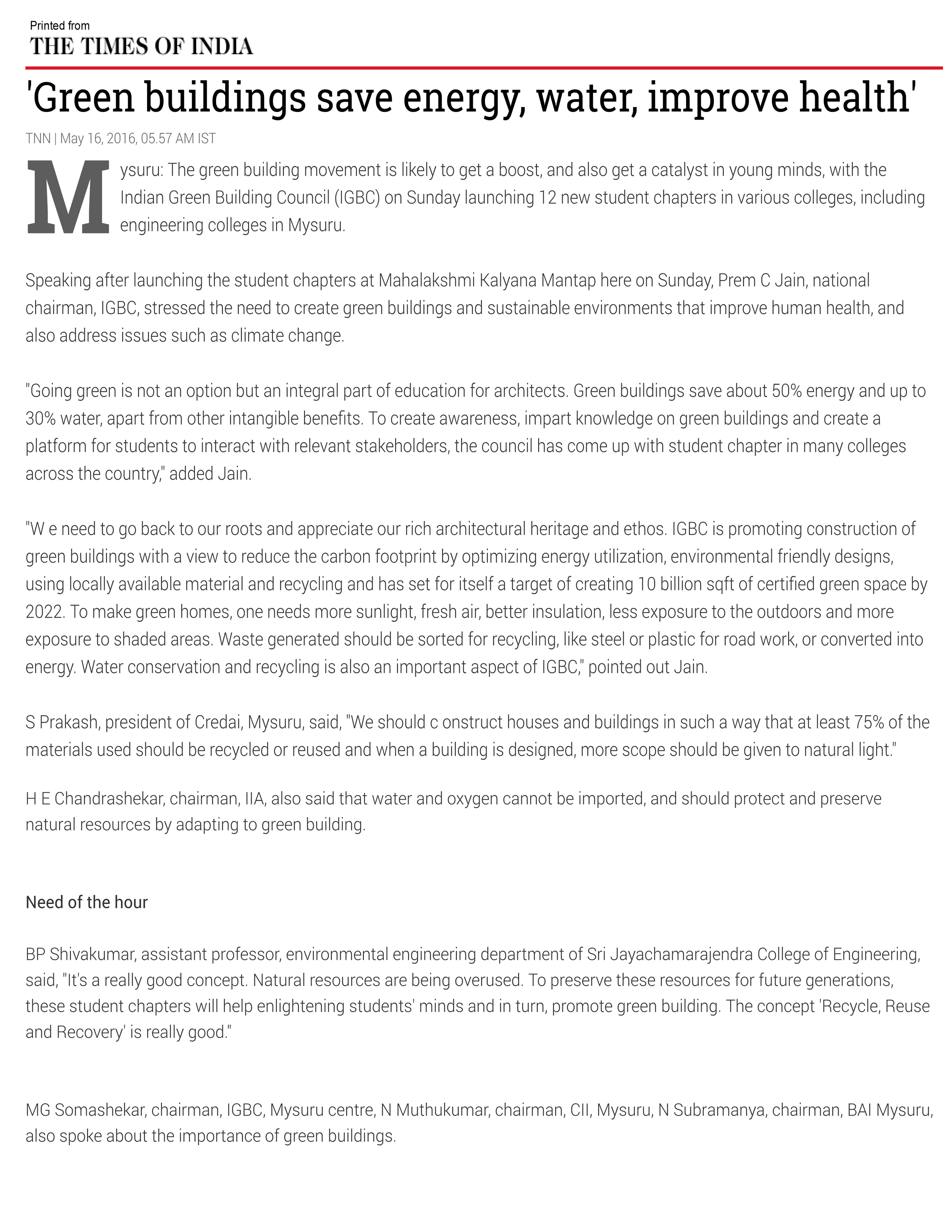 Published On: May 17, 2016
India bags No. 3 spot in world's startup ecosystem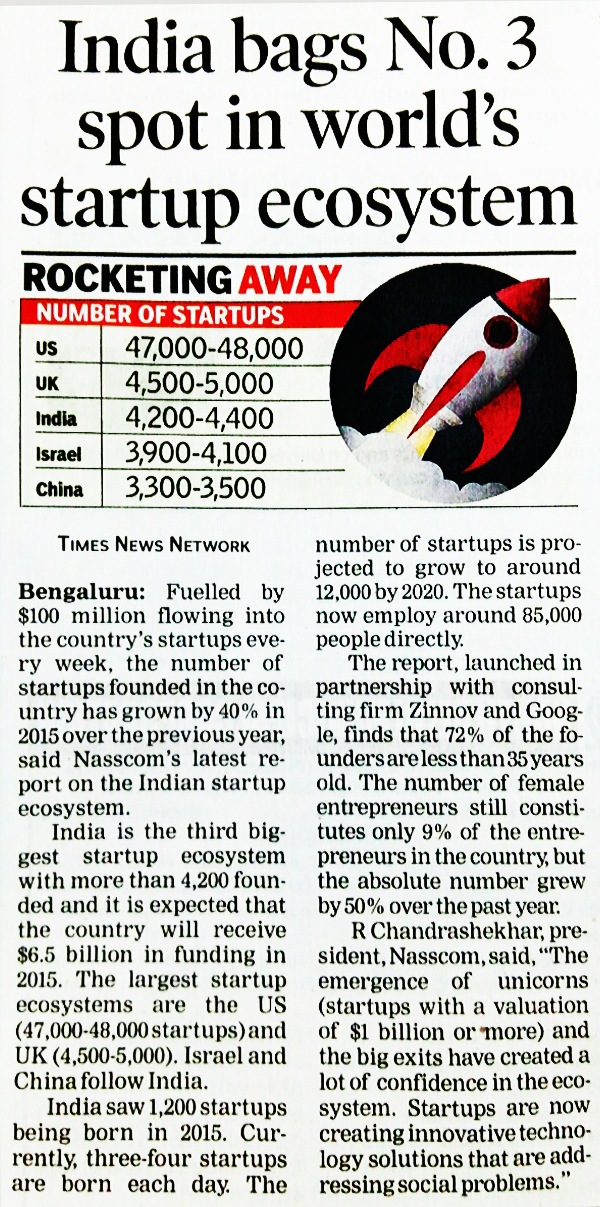 Published On: October 14, 2015
700 Acre Industrial township to come up in North Chennai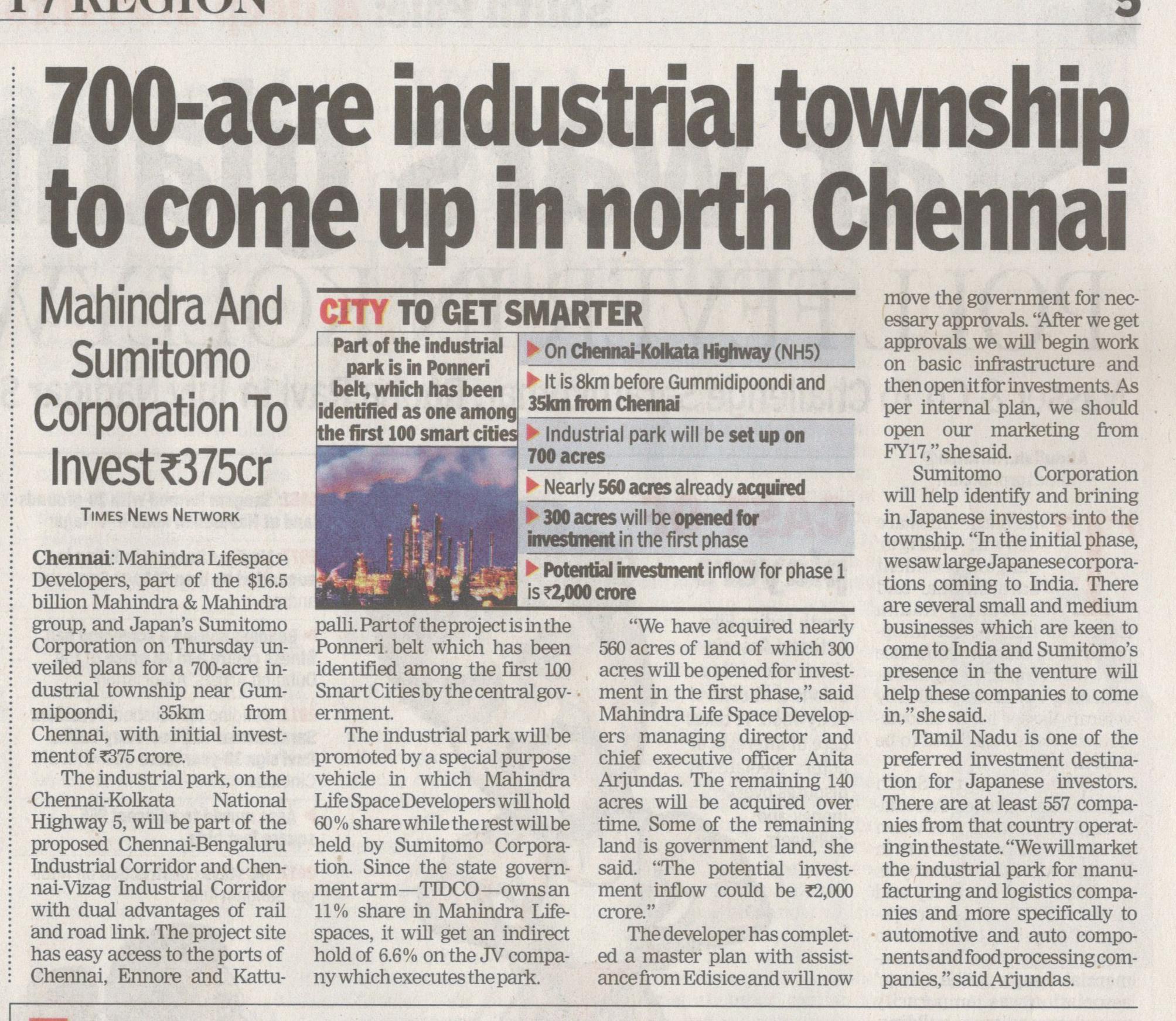 Published On: May 29, 2015
Multi-Level Parking Facility setup by Apollo Hospitals near by Hanu Reddy Residences
Hanu Reddy Residences, Hanu Reddy Business Centre and Hanu Reddy Realty -Wallace Garden is getting additional Car Parking which is State of the Art Parking Facility. This is City's 1st Multi-Level Parking Facility setup by Apollo Hospitals & Mark Axis and can accommodate 330 Cars & 200 Two-Wheeler.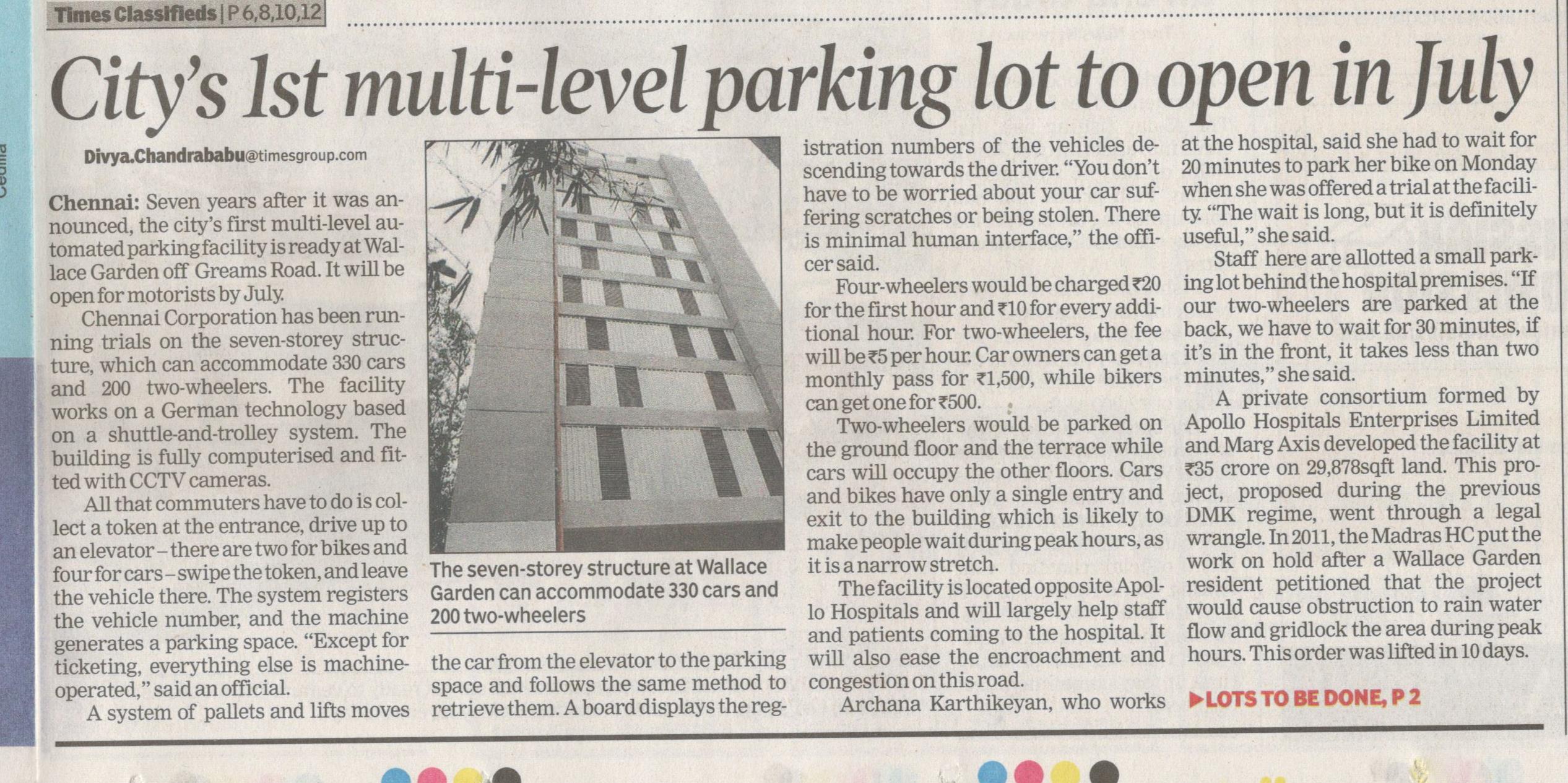 Published On: May 29, 2015
Poes Garden, Boat Club Road Among Nation's Best Abodes
Mr.Suresh Reddy says, I am happy to share with you an article that appeared in the Indian Express today, where Poes Garden and Boat Club are in the top 20 localities in the country to live in. I am delighted to share that part of Poes Garden was developed by our Late Chairman Sri Chirla Raghava Reddy and his brothers Sri Chirla Veera Reddy and Sri Chirla Satyanarayana Reddy. Part of Boat Club was developed by Sri Satyanarayana Reddy in the early 60s. Hanu Reddy Realty has done several transactions in redevelopment of Poes Garden and Boat Club localities running to several 100 Crores Hanu Reddy Residences is the preferred destination for a Homey Stay in Poes Garden, currently ranking #2 in tripadvisor.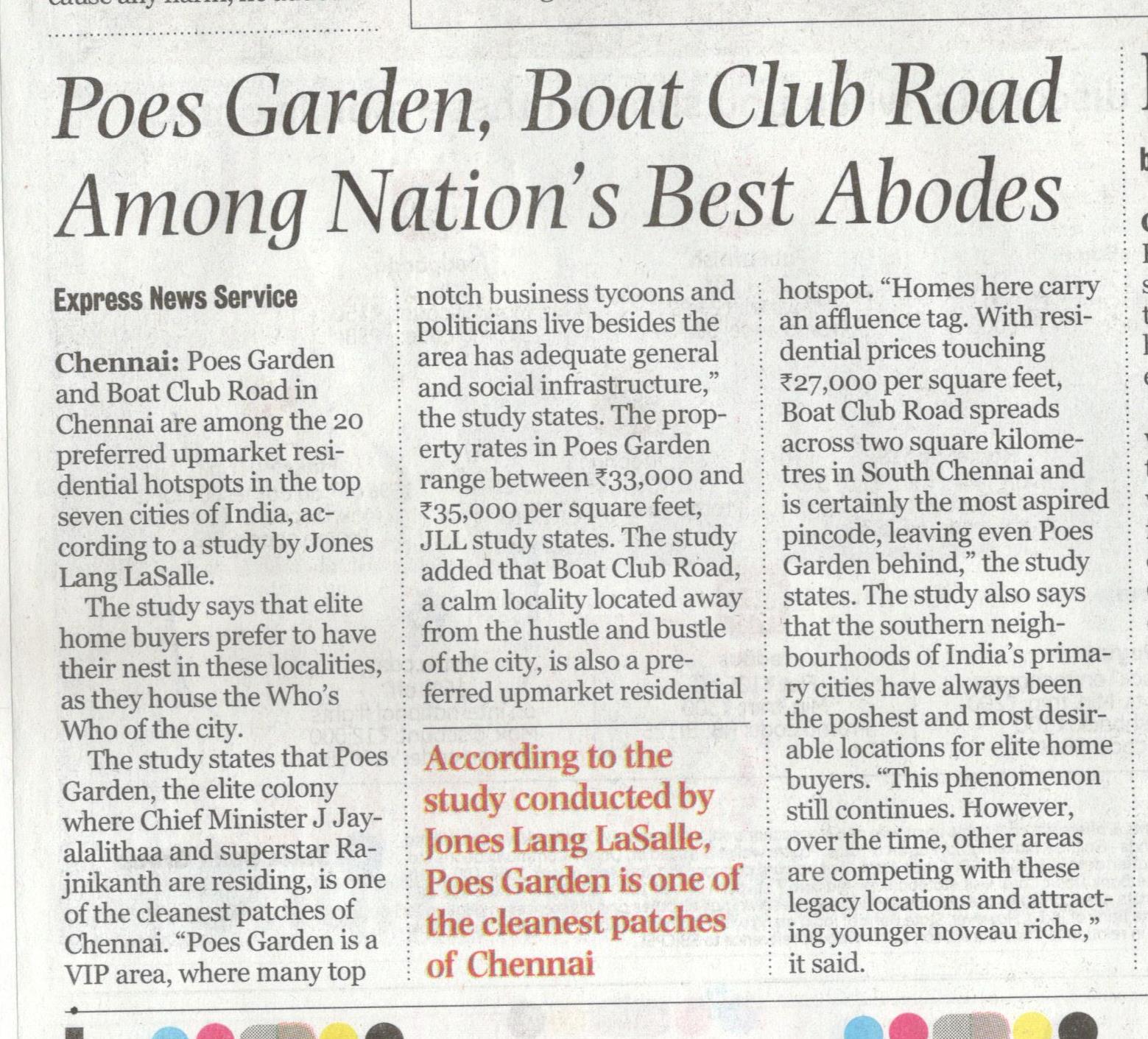 Published On: May 29, 2015
Realty prices up in Chennai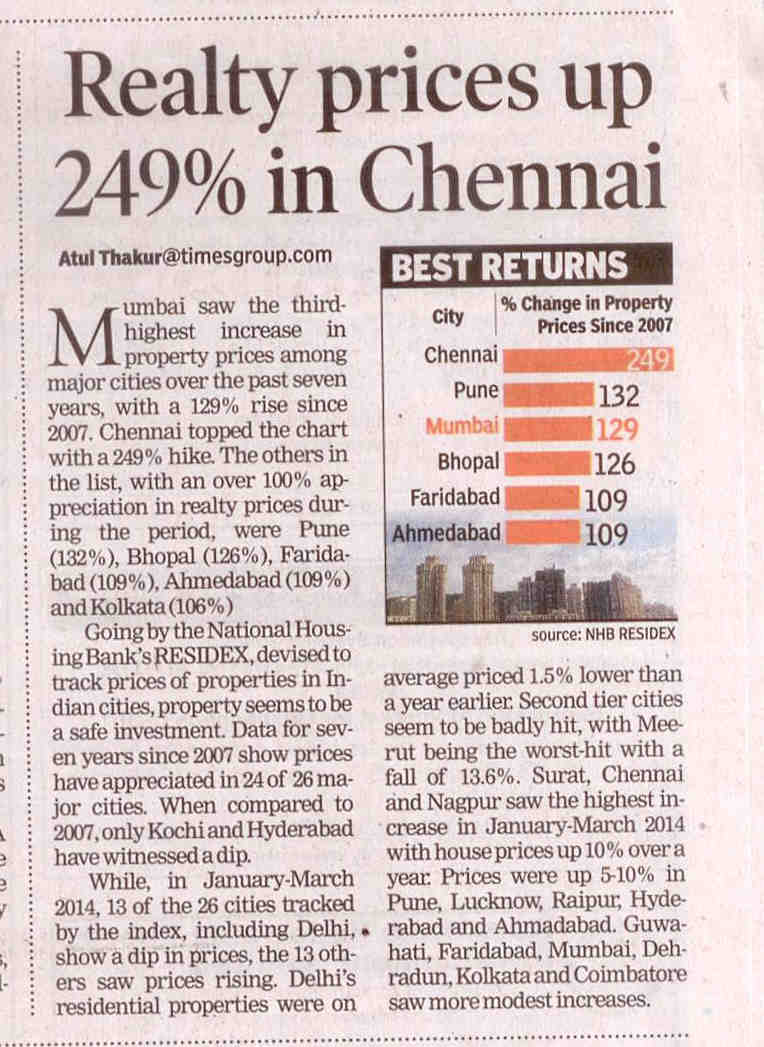 Published On: July 24, 2014
City in list of Top 12 realty investment destinations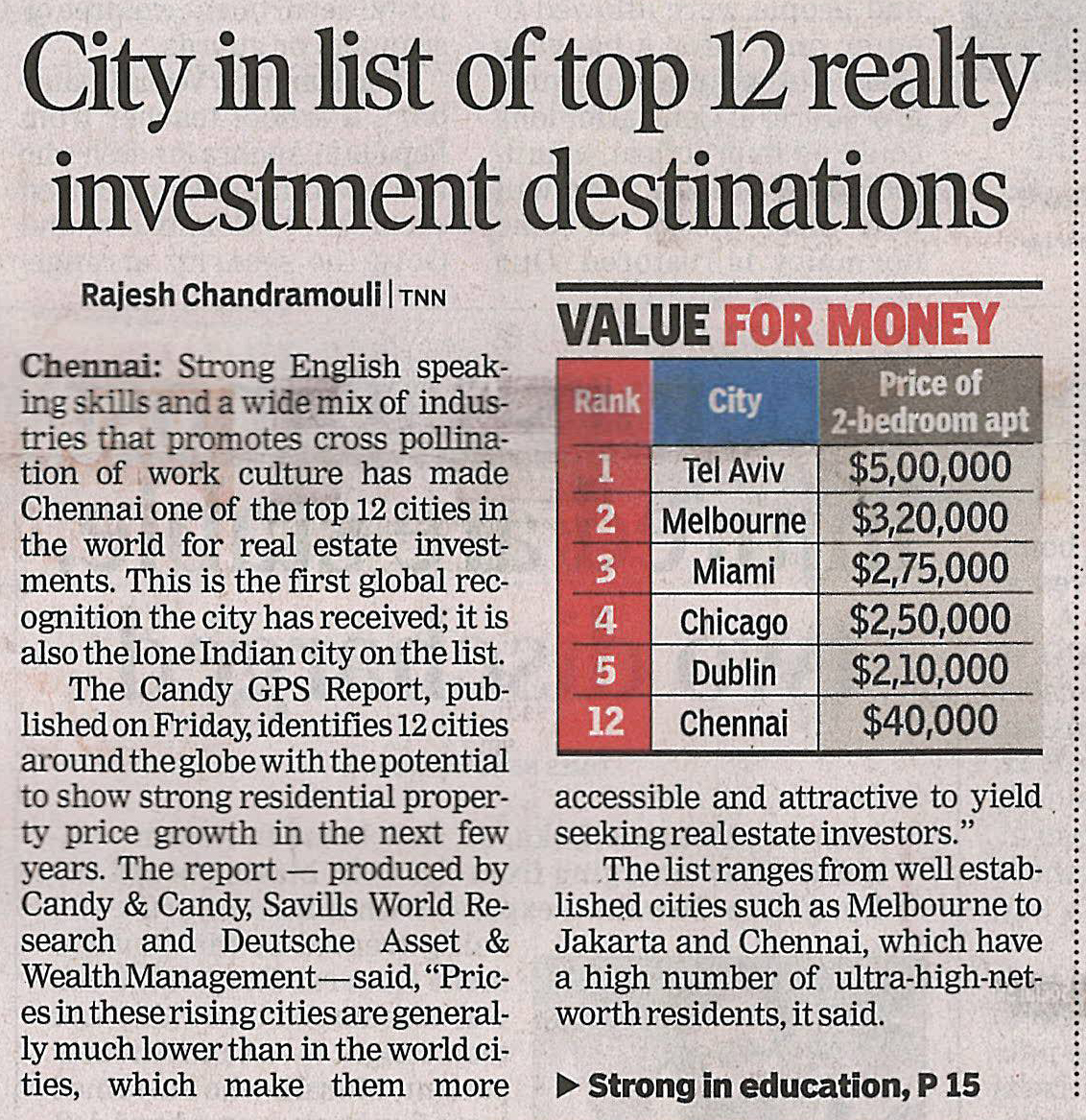 Published On: May 16, 2014
Investors are now spreading their wings and looking for properties in Chennai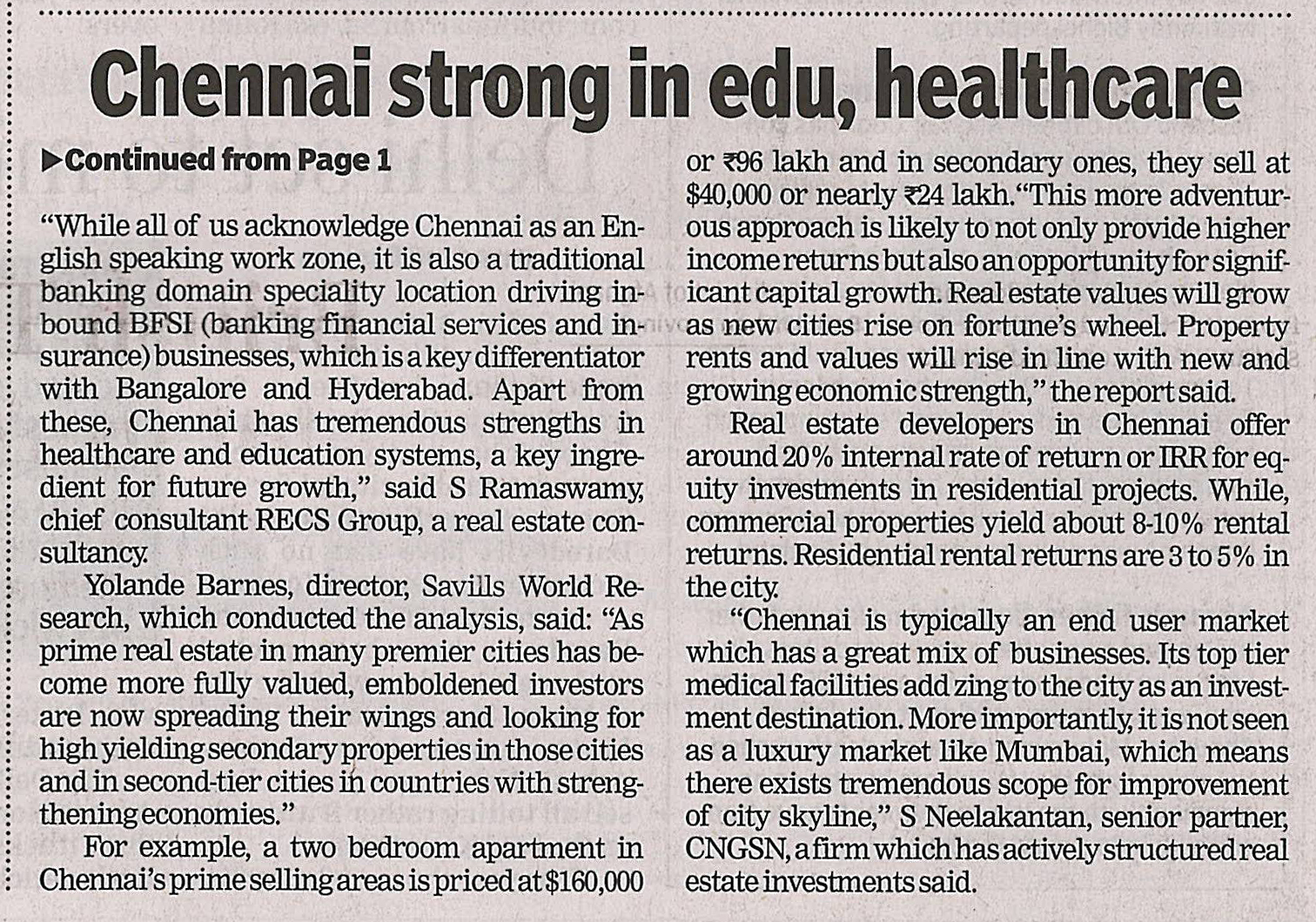 Published On: May 16, 2014