Careers
Hanu Reddy Realty invites applications for the following Positions: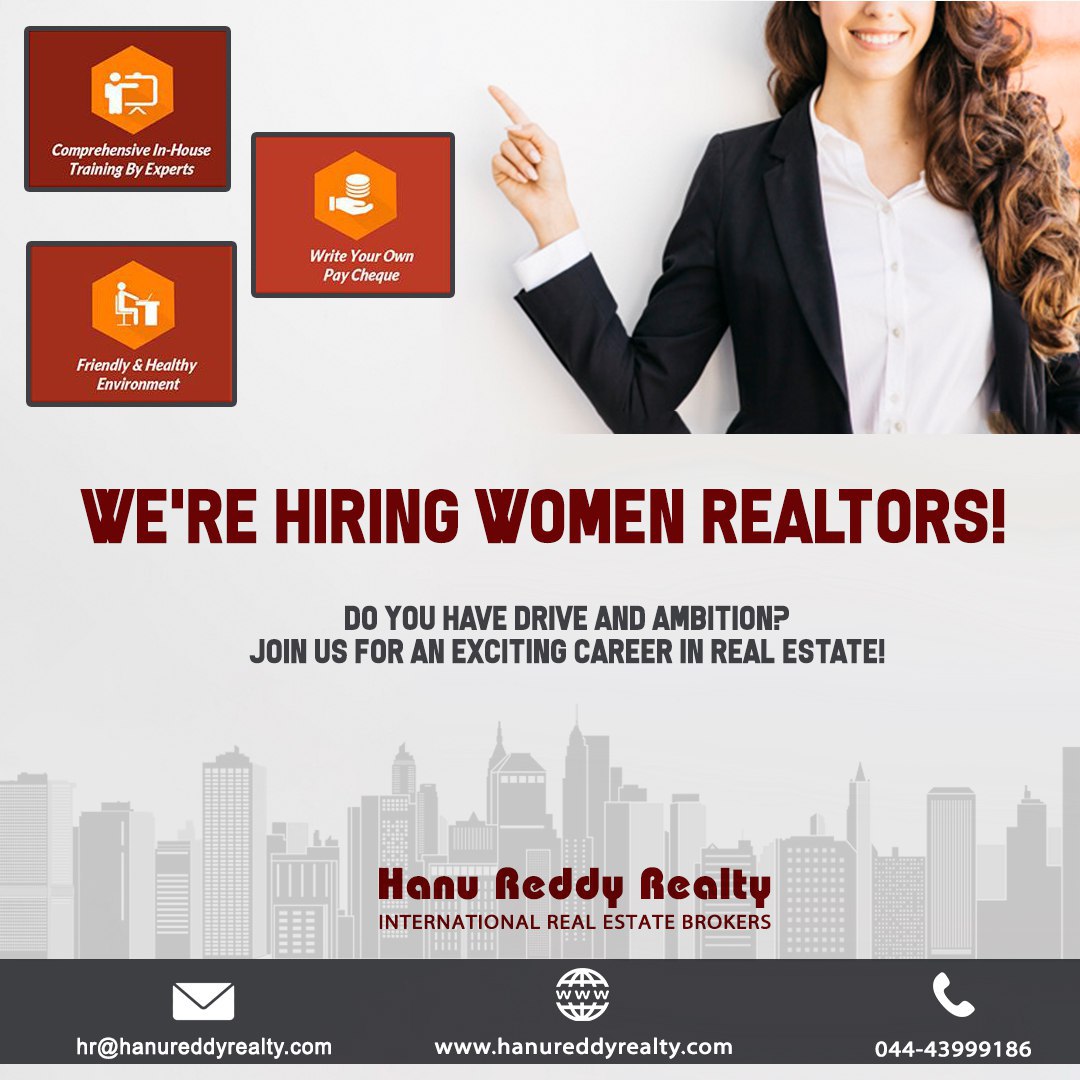 WOMEN REAL ESTATE CONSULTANT
Why Women are apt for Realtor Position?
Real Estate is a stable profession and it offers with flexible timings for women as they can work from Home and at Office.
It's a non-transferrable job. So more the number of years you work in a city, the more experience you get and become more valuable realtor
Women bring a sense of authenticity to residential sales and are able to relate better to homes.
50% of Real Estate buyers are Women and Women are decision makers for buying properties in most transactions.
Lady Realtors can understand the psychology of women better to sell Real Estate.
Real Estate is a good profession where you can take care of your family and Work based on the nature of Business.
Women make good networking with fellow Realtors to conclude deals faster.
Women bring the soft touch in closing deals
Women understand the dynamics of the home better. So women are very apt for doing Residential Real Estate.
ROLES AND RESPONSIBILITIES
Develop trust and relationship with a portfolio of major clients
Acquiring a thorough understanding of key customer needs and requirements
Determining clients' needs and financial abilities to propose solutions that suit them
Expanding the relationships with existing customers by continuously proposing solutions that meet their objectives
Resolve any issues and problems faced by customers and deal with complaints to maintain trust
Serve as the link of communication between key customers and internal teams
Strong communication and interpersonal skills with aptitude in building relationships with professionals of all organizational levels
Remain knowledgeable about real estate markets and best practices
Remain enthusiastic and have a fire to perform
BACK OFFICE U.S SUPPORT - NIGHT SHIFT
Hanu Reddy Realty is looking for young, dynamic Male candidates to work the Night shift and support our US office to extend documentation and technical support. Ideally, we expect the candidates to have excellent communication skills and a flair to understand the US accent as the role demands coordination with clients in the US and work as Administrative Assistant to our Director.
JOB RESPONSIBILITIES:
Work with Director to schedule appointments.
Update Google calendar, invite relevant members and set appropriate reminders for In House Meetings Social Events, Anniversaries and Birthdays.
Update visiting card in google contacts.
Maintain Past Clients Database.
Maintain Prospect Database.
Follow up with Realtors with regard to the leads given by the Director.
Send Reminders for Conference Calls, Interview Calls and Meetings.
Check in Advance on availability of Directors Presence to schedule Meetings
Assist front office in preparing, scheduling and organizing meetings, events, and appointments.
Connect Conference Calls
Update Property Management Spreadsheet with new Tenants
Create Alerts for Property Management Leases that are about to end.
Prepare & Send Property Management Bills
Send vendor invoices for property management/make sure they get paid
Create Spreadsheet for Property Management Clients - Record Service Calls
Email Utility Information to Tenants, Buyers, Realtors, etc.
Maintain Vendor Database and Email Vendor Contact Info to clients, agents, etc
Send Email Blasts for Mailchimp, Results Mail. Help maintain mailing lists by removing and adding names.
Coordinate with Graphic Designer for Open House Schedule, Mailers, Instagram/Twitter
Graphics and Property Brochures
Update Hanu Reddy Realty Phone List
Update open house schedule on the website
DESIRED CANDIDATE PROFILE
Excellent written and oral communication skills with a flair to understand US accent is a must.
Must be proactive and anticipate the needs of the Director.
Must have a positive outlook.
Must be a self-starter.
Ability to multi-task, set priorities and manage time effectively.
Excellent skills in browsing the Internet to get information on any subject.
Familiarity with Microsoft Office and G Suite.
Customer focus and adaptability to different personality types.
Previous experience in a customer support role.
Should be motivated to learn new things and execute them effectively on a day-to-day basis.
Only Male Candidates should apply.
Shift time from 4.30 P.M to 12.30 A.M
Experience: 3-6 Years Preferably in a Customer Support Role. Graduates Preferred.
FRONT OFFICE EXECUTIVE - FEMALE CHENNAI, ADYAR
We are inviting applications for the position of Front Office Executive for our Adyar Branch Office in Chennai.
JOB RESPONSIBILITIES:
To be presentable; greet and welcome people
Be a Smart Communicator
Monitor office supplies and place orders when necessary
Keep updated records and files
Check, sort and forward emails
Answer all incoming calls and redirect them or keep messages
Answer questions and address complaints
Monitor office expenses and costs
DESIRED CANDIDATE PROFILE
Should have a Pleasing Personality
Be Presentable
Basic knowledge of MS office
Strong communication and people skills
Customer service orientation
Proficiency in English and Tamil
Candidates from Chennai residing in and around Adyar Preferred.
Any Graduate with 1-3 years of Experience preferred. Fresher's can also apply.
REAL ESTATE AGENT (REALTOR)
Openings are available across all the cities where we have presence viz. Chennai, Bengaluru, Hyderabad, Pune, Coimbatore, Mysuru and Vizag.


Real Estate is one of the fastest growing sectors in India and contributes about 6% of the Gross Domestic Product (GDP).
Hanu Reddy Realty is one of India's top Professional International Real Estate Brokerage Services company comprising a team of nearly 250 Realtors! As part of our rapid expansion plans across all the 7 cities we have offices in, we are looking for smart, dynamic and committed young men and women to be part of our vibrant team of Realtors. If you are passionate about Real Estate in the city where you reside, this could be a great opportunity to pursue, especially in these times.
If you are looking for a full-time opening and satisfy the following basic criteria, you are the new team member we are looking for.
Graduate in any discipline.
Age between 25 and 40 years.
Willing to work for a Commission structure that provides unlimited earning potential.
Own 2 or 4 wheeler for conveyance.
Native of the city for 5 to 10 years.
Good skills to communicate, present and negotiate effectively.
Experience in Sales/Marketing/Service industry.
2 to 5 years' experience in Real Estate or BFSI Sector will be an advantage.
Homemakers with no experience in the field,
but satisfy the other criteria mentioned above,will also be considered.
Basic knowledge to work on computer and the internet preferred.
Sounds interesting? Please fill up the form below, attach your updated Resume and select the city/branch of your choice and we shall get in touch with you on priority.
INSIDE SALES EXECUTIVE
JOB RESPONSIBILITIES
Source new sales opportunities through LinkedIn and outbound cold calls, emails.
Understand customer needs and requirements.
Route qualified opportunities to the appropriate sales executives for further development and closure.
Research accounts, identify key players and generate interest.
Maintain and expand the database of prospects within the assigned territory.
Team with channel partners to build pipeline and close deals.
Coordinate with the sales team by managing schedules, filing important documents and communicating relevant information.
Diligent follow-ups with inbound leads supported by subsequent email communications.
Route qualified leads to outside sales team by initiating appointments.
Have a strong eye for research and be able to scout for new prospects, identify the key players in the industry and gather interest.
DESIRED CANDIDATE PROFILE
Excellent verbal and written communications skills.
Proven inside sales experience.
Knowledge of lead generation, nurturing and converting a potential lead to appointments.
Strong internet research skills.
Excellent understanding and usage of LinkedIn ProFinder.
Ability to multi-task, prioritize, and manage time effectively.
Any Graduate with 1-3 years of Experience.
Software Developer Requirement
Qualification:
BE/B.Tech/MCA/M.Sc(Comp.Sci) or Any graduate with good programming knowledge
Experience: Min 2 years
Age: around 25 Years
Designation: Software Developer
Technical Knowledge:
Essential:
Good Understanding towards Programming
Knows how to write clean code
Knowledge in PHP/MySQL
Some knowledge in HTML/CSS/JS
Desirable:
Experience with one of the PHP's MVC framework
Experience with WordPress
Good experience with HTML/CSS/JS
Nice to have:
Experience with git or other concurrent versioning system
Knowledge in AWS
Experience with Linux environments
Knowledge in REST API programming
Interested applicants for the positions FOE and Web Developer may email their Resumes, clearly indicating the position applied for in the subject line of the email, to:
<!— Google Code for Hanu Realty Conversion Page —>



Hanu Reddy Realty India Pvt. Ltd.
No.18, 'Lakshmi',
Bishop Wallers Avenue (East),
Mylapore, Chennai - 600 004.

BRANCH
VICE PRESIDENT
ADDRESS
Mylapore

Muthukrishnan N
Vice President - Mylapore - Chennai
Mobile: +91 98410 20088
nmk@hanureddyrealty.com

Mallikarjun Reddy K
Vice President Mylapore ( Mentor - GST Road, Chromepet )
Mobile: +91 98410 39621
kmr@hanureddyrealty.com

Sivakumar H
Vice President - Mylapore - Chennai
Mobile: +91 98401 96844
sivakumar@hanureddyrealty.com

Hanu Reddy Realty India Pvt. Ltd.
No.18, 'Lakshmi',
Bishop Wallers Avenue (East),
Mylapore, Chennai - 600 004.

+91-44-43999000

hrrchennai@hanureddyrealty.com

Rajiv Gandhi Salai (OMR)

Mani Palani
Vice President
Mobile: +91 98400 98441
palani@hanureddyrealty.com

Hanu Reddy Realty India Pvt. Ltd.
D.No.121, Rajiv Gandhi Salai,
Old Mahabalipuram Road,
Perungudi,
Chennai - 600 096.


+91-44-43999200

rgschennai@hanureddyrealty.com

West Chennai Maduravoyal

Vijay Shankar Reddy Duvvuru
Vice President - West Chennai Maduravoyal - Chennai
Mobile: +91 98840 20424
vijayduvvuru@hanureddyrealty.com

Hanu Reddy Realty India Pvt. Ltd.
No.51/55, Mettukuppam Road, Maduravoyal,
Chennai - 600 095.


+91-44-43999777

westchennai@hanureddyrealty.com

Wallace Garden (Nungambakkam)

Mukkunthan R
Vice President
Mobile: +91 78454 64716
mukkunth@hanureddyrealty.com

Hanu Reddy Realty India Pvt. Ltd.
No.14, 1st Street, Wallace Garden,
Nungambakkam, Chennai - 600006.

+91-44-43999500

wallacegarden@hanureddyrealty.com

GST Road, Chromepet

Mallikarjun Reddy K
Vice President Mylapore ( Mentor - GST Road, Chromepet )
Mobile: +91 98410 39621
kmr@hanureddyrealty.com

Maruthiram K
Vice President - GST Road, Chromepet - Chennai (Mentor - Hyderabad)
Mobile: +91 98413 11865
maruthiram@hanureddyrealty.com

Hanu Reddy Realty India Pvt. Ltd.
No.275, GST Road,
Chrompet, Chennai - 600044.

+91-44-43999333

gst@hanureddyrealty.com

Adyar-Velachery

Siva Subramanian S
Vice President
Mobile: +91 93810 36530
shiva@hanureddyrealty.com

Hanu Reddy Realty India Pvt. Ltd.
New no. 46,
II Main Road, Kasturibai Nagar,
ADYAR, Chennai - 600 020.

+91-44-43999600

adyar@hanureddyrealty.com

Joint Venture & Developer Solutions - Mylapore

Shiva Reddy C
Vice President - Joint Venture & Developer Solutions
Mobile: +91 98843 80883
shivareddy@hanureddyrealty.com

Hanu Reddy Realty India Pvt. Ltd.
No.18, 'Lakshmi',
Bishop Wallers Avenue (East),
Mylapore, Chennai - 600 004.

+91-44-43999000

nhs@hanureddyrealty.com
Suresh Reddy
Director
Mobile: 9841010300
sureshreddy@hanureddyrealty.com