SHENOTH R
Senior Realtor - West Chennai Maduravoyal - Chennai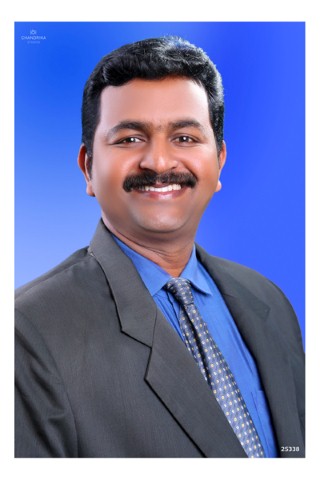 +917338730842
+91 44 43999777 Ext: 736
http://www.hanureddyrealty.com

129 Properties For Sale
30 Properties For Rent
Dealing In
Education :
Bachelor of Arts-Loyola College-University Of Madras
Diploma In Computer Application-LIBA, Loyola College
Diploma in Advance Unix & C-LIBA, Loyola College
Experience
Professional Real Estate Agent since 2008
Service Focused Retailing Specialist with Strong Management and sales experience abilities, Backed by nearly 15 Years of hands on industry.
Rich Marketing Experience in Housing Finance Product, FMGC Real Estates.
Having Huge Existing Customer Base.
Working Knowledge of Ms-Word, Ms-Excel, Internet.
Excellent knowledge in evaluating properties, Certified by NAR India.
Marketing Edge :
Mature and accomplished communicator (Both Verbal and Body language) with apt approaches for high-end rich Clients as well as low-end customer
Reference Marketing Techniques via: Friends, Relatives, Client Base, and Emails.
Innovative Marketing Techniques; Friendly and highly effective people management with the Track Record of training and motivating Personnel to reach new level of productivity in Sales and Service.
Few Remarkable Deals:
Sold Commercial Building of 4168 Sq.ft. land, 8568Sq.ft. Built-Up at Besant Nagar
Sold Independent House on 2800 Sq.ft. Land at Mogappair
Sold Multiple 3 & 2 BHK Apartments at Mogappair and Nolambur Areas for prominent builders like DABC, Jains, VGN.
Leased Commercial Guest House cum Office Space at Mogappair
Leased 4000 Sq.ft. commercial Office Space at Mogappair
Sold Approved 2723 Sq.ft. Prime Land at Porur
Sold 1 Ground Land at Seneerkuppam
Sold Independent Villa at Iyyappanthangal
Personal Information :
Lovable family, Married, Blessed with two Children
Resident of Chennai since Birth
Language Known-Malayalam, Tamil, English and Telugu.
Participated 10 KM Marathons
Yoga Practitioner
Professional Associations :
Was Associated with Raj Events Manager-Reality Shows
Was Associated with Janani Orchestra-Chennai.
Property Type
Sale/Rent
Location
Reference
Number
View
Flat
Sale
Nolambur
SRO/WC-281604
View
Flat
Sale
Ambattur
SRO/WC-279659
View
Villa
Sale
Anna Nagar
SRO/WC-279578
View
Standalone Building
Sale
Ambattur Industrial Estate
SCO/WC-278305
View
Mixed-Commercial
Sale
Mogappair West
SCO/WC-278283
View
Residential Land
Sale
Kilpauk
SL/WC-277998
View
Built to Suit
Rent
Thiruvallur
RCO/WC-266294
View
Standalone Building
Rent
Maduravoyal
RCO/WC-266150
View
Standalone Building
Rent
Porur
RCO/WC-265942
View
Mixed-Commercial
Sale
Vanagaram
SCO/WC-265867
View
Mixed-Residential
Sale
Thiruverkadu
SRO/WC-265184
View
Independent House
Sale
Valasaravakkam
SRO/WC-262033
View
Residential Land
Sale
Thirumullaivoyal
SL/WC-259989
View
Independent House
Sale
Virugambakkam
SRO/WC-259916
View
Industrial Building
Sale
Guindy
SCO/WC-257843
View
Independent House
Sale
Anna Nagar
SRO/WC-256144
View
Flat
Sale
Alwarthirunagar
SRO/WC-249166
View
Duplex House
Sale
Korattur
SRO/WC-253748
View
Approved Land
Sale
Kodambakkam
SL/WC-250627
View
Showroom
Sale
Porur
SCO/WC-249510
View
Residential Land
Sale
Thiruvanmiyur
SL/WC-249197
View
Residential Land
Sale
Kodambakkam
SL/WC-247391
View
Independent House
Sale
Kilpauk
SRO/WC-246707
View
Flat
Sale
Adyar
SRO/WC-246697
View
Mixed-Residential
Sale
Anna Nagar
SRO/WC-246521
View
Flat
Sale
Maduravoyal
SRO/WC-243863
View
Flat
Sale
Anna Nagar
SRO/WC-241039
View
Independent House
Sale
Ekkaduthangal
SRO/WC-228043
View
Standalone Building
Sale
Mylapore
SCO/WC-235115
View
Duplex House
Sale
Ashok Nagar
SRO/WC-234266
View
Warehouse
Rent
Sriperumbudur
RCO/WC-233492
View
Flat
Sale
Guindy
SRO/ADY-VLCY-231504
View
Standalone Building
Rent
Anna Nagar East
RCO/WC-231033
View
Flat
Sale
T.Nagar
SRO/WC-227713
View
Residential Land
Sale
Mogappair East
SL/WC-224180
View
Approved Land
Sale
Anna Nagar
SL/WC-220602
View
Flat
Sale
Thiruvanmiyur
SRO/ADY-VLCY-219815
View
Independent House
Sale
Anna Nagar
SRO/WC-218183
View
Flat
Rent
MRC Nagar
RRO/WC-217851
View
Commercial Land
Sale
Vanagaram
SL/WC-217875
View
Independent House
Sale
Anna Nagar West Extn
SRO/WC-217868
View
Penthouse
Rent
MRC Nagar
RRO/WC-217844
View
Independent House
Sale
Anna Nagar West Extn
SRO/WC-216142
View
Flat
Sale
Boat Club
SRO/WC-215780
View
Villa
Sale
Neelankarai
SRO/ADY-VLCY-215595
View
Showroom
Rent
KK Nagar
RCO/WC-215528
View
Independent House
Sale
Ashok Nagar
SRO/WC-215527
View
Showroom
Sale
Mogappair East
SCO/WC-215020
View
Duplex House
Sale
Alapakkam
SRO/WC-214756
View
Mixed-Residential
Sale
Anna Nagar East
SRO/WC-214572
View
Flat
Sale
Anna Nagar
SRO/WC-212299
View
Mixed-Land
Sale
Kanchipuram
SL/WC-209861
View
Residential Land
Sale
Nolambur
SL/WC-209095
View
Residential Land
Sale
Nolambur
SL/WC-209081
View
Residential Land
Sale
Mogappair
SL/WC-205198
View
Residential Land
Sale
Mogappair
SL/WC-204166
View
Mixed-Residential
Sale
Koyambedu
SRO/WC-192892
View
Flat
Rent
Mogappair
RRO/WC-192068
View
Flat
Sale
Alwarthirunagar
SRO/WC-190216
View
Independent House
Sale
Mogappair
SRO/MYL-177466
View
Flat
Sale
Kolathur
SRO/WC-174087
View
Duplex Flat
Sale
Padi
SRO/WC-172011
View
Office Space
Rent
Valasaravakkam
RCO/WC-170800
View
Independent House
Sale
Mogappair
SRO/WC-168263
View
Approved Land
Sale
Mogappair
SL/WC-168256
View
Flat
Sale
Mogappair
SRO/WC-166007
View
Flat
Sale
Nolambur
SRO/WC-165997
View
Office Space
Rent
T.Nagar
RCO/WC-165897
View
Office Space
Rent
Mylapore
RCO/MYL-161752
View
Flat
Rent
Mogappair West
RRO/WC-126349
View
Independent House
Sale
Kilpauk
SRO/WC-123803
View
Independent House
Sale
Nolambur
SRO/WC-120687
View
Residential Land
Sale
Valasaravakkam
SL/WC-111343
View
Mixed-Commercial
Sale
Kilpauk
SCO/WC-109963
View
Flat
Rent
Shenoy Nagar
RRO/WC-105875
View
Standalone Building
Sale
Shenoy Nagar
SCO/WG-87304
View
Independent House
Sale
Nolambur
SRO/WC-78810
View
Office Space
Rent
Guindy Industrial Estate
RCO/WC-72929
View
Independent House
Sale
Nolambur
SRO/WC-69063
View
Independent House
Sale
Koyambedu
SRO/WC-67130
View
Office Space
Rent
Anna Nagar
RCO/WC-65475
View
Standalone Building
Rent
Madipakkam
RCO/WC-64930
View
Flat
Sale
Anna Nagar West
SRO/WC-63479
View
Approved Land
Sale
Mogappair
SL/WC-63293
View
Flat
Sale
Ayanambakkam
SRO/WC-61728
View
Office Space
Rent
T.Nagar
RCO/WC-61722
View
Office Space
Rent
Nungambakkam
RCO/WC-60950
View
Independent House
Sale
Anna Nagar West
SRO/WC-60934
View
Showroom
Rent
Valasaravakkam
RCO/WC-60933
View
Independent House
Sale
Mylapore
SRO/WC-60901
View
Agricultural Land
Sale
Ponneri
SL/WC-59315
View
Independent House
Sale
Anna Nagar West Extn
SRO/MYL-59122
View
Hotel
Sale
T.Nagar
SCO/WC-58999
View
Flat
Sale
Mogappair
SRO/WC-57810
View
Flat
Sale
Arumbakkam
SRO/WC-57532
View
Shop
Rent
Mylapore
RCO/WC-57527
View
Flat
Sale
Alwarpet
SRO/WC-57422
View
Office Space
Rent
Mylapore
RCO/WC-57402
View
Standalone Building
Rent
Choolaimedu
RCO/WC-57467
View
Industrial Building
Rent
Guindy Industrial Estate
RCO/WC-57462
View
Flat
Sale
Padi
SRO/WC-37675
View
Flat
Sale
Vadapalani
SRO/WC-54724
View
Flat
Sale
Kalaignar Karunanidhi nagar
SRO/WC-56816
View
Independent House
Sale
Anna Nagar West
SRO/WC-56157
View
Flat
Sale
Manapakkam
SRO/WC-56130
View
Independent House
Sale
Anna Nagar West Extn
SRO/WC-55381
View
Flat
Sale
Ashok Nagar
SRO/WC-54704
View
Flat
Sale
Arumbakkam
SRO/WC-54468
View
Flat
Rent
Mogappair West
RRO/WC-53787
View
Flat
Sale
Nolambur
SRO/WC-52639
View
Office Space
Sale
Aminjikarai
SCO/WC-53623
View
Office Space
Sale
Nungambakkam
SCO/WC-53621
View
Flat
Sale
Nolambur
SRO/WC-53290
View
Godown
Rent
Sriperumbudur
RCO/WC-52225
View
Standalone Building
Rent
Anna Nagar
RCO/WC-51486
View
Approved Land
Sale
Ayanambakkam
SL/WC-50780
View
Approved Land
Sale
Nolambur
SL/WC-50772
View
Approved Land
Sale
Ayanambakkam
SL/WC-50765
View
Approved Land
Sale
Mogappair
SL/WC-49526
View
Independent House
Sale
Mogappair East
SRO/WC-49425
View
Independent House
Sale
Anna Nagar
SRO/WC-49323
View
Flat
Sale
Mogappair
SRO/WC-48022
View
Flat
Sale
Kilpauk
SRO/WC-44386
View
Residential Land
Sale
Arumbakkam
SL/WC-44319
View
Flat
Sale
Mogappair
SRO/WC-43607
View
Flat
Sale
Anna Nagar
SRO/WC-43163
View
Independent House
Sale
Nolambur
SRO/WC-42477
View
Flat
Sale
Anna Nagar West
SRO/WC-42254
View
Duplex Flat
Sale
Anna Nagar
SRO/WC-41037
View
Standalone Building
Rent
Mogappair
RCO/WC-40080
View
Mixed-Residential
Sale
Mogappair
SRO/WC-40059
View
Standalone Building
Sale
Anna Salai
SCO/WC-39782
View
Duplex Flat
Sale
T.Nagar
SRO/WC-39757
View
Independent House
Sale
Shenoy Nagar
SRO/WC-39342
View
Flat
Rent
Nerkundram
RRO/WC-38681
View
Flat
Sale
Nerkundram
SRO/WC-38350
View
Independent House
Sale
Mogappair West
SRO/WC-38483
View
Flat
Sale
Kalaignar Karunanidhi nagar
SRO/WC-37010
View
Mixed-Residential
Sale
Anna Nagar
SRO/WC-37953
View
Office Space
Rent
Ambattur Industrial Estate
RCO/WC-32722
View
Flat
Sale
Mandaveli
SRO/WC-23143
View
Independent House
Sale
Mogappair West
SRO/7005
View
Independent House
Sale
Mogappair West
SRO/7004
View
Residential Land
Sale
Shenoy Nagar
SL/2039
View
Flat
Sale
Mylapore
SRO/5368
View
Independent House
Sale
Palavakkam
SRO/5367
View
Residential Land
Sale
Saligramam
SL/2832
View
Residential Land
Sale
ECR
SL/2831
View
Residential Land
Sale
Tiruporur
SL/2812
View
Flat
Sale
T.Nagar
SRO/5296
View
Independent House
Sale
Egmore
SRO/5295
View
Independent House
Sale
Anna Nagar West Extn
SRO/5294
View
Independent House
Sale
Egmore
SRO/5293
View
Independent House
Sale
Mogappair
SRO/5274
View
Office Space
Sale
Mogappair East
SCO/2945
View
Residential Land
Sale
Mogappair West
SL/2794
View
Flat
Sale
Kotturpuram
SRO/5199
View
Residential Land
Sale
Ayapakkam
SL/0260
View
Approved Land
Sale
Nolambur
SL/1478
View