Testimonials
This is what our clients say about us...
View All Testimonials
3590
Certificate
30-Jun-2018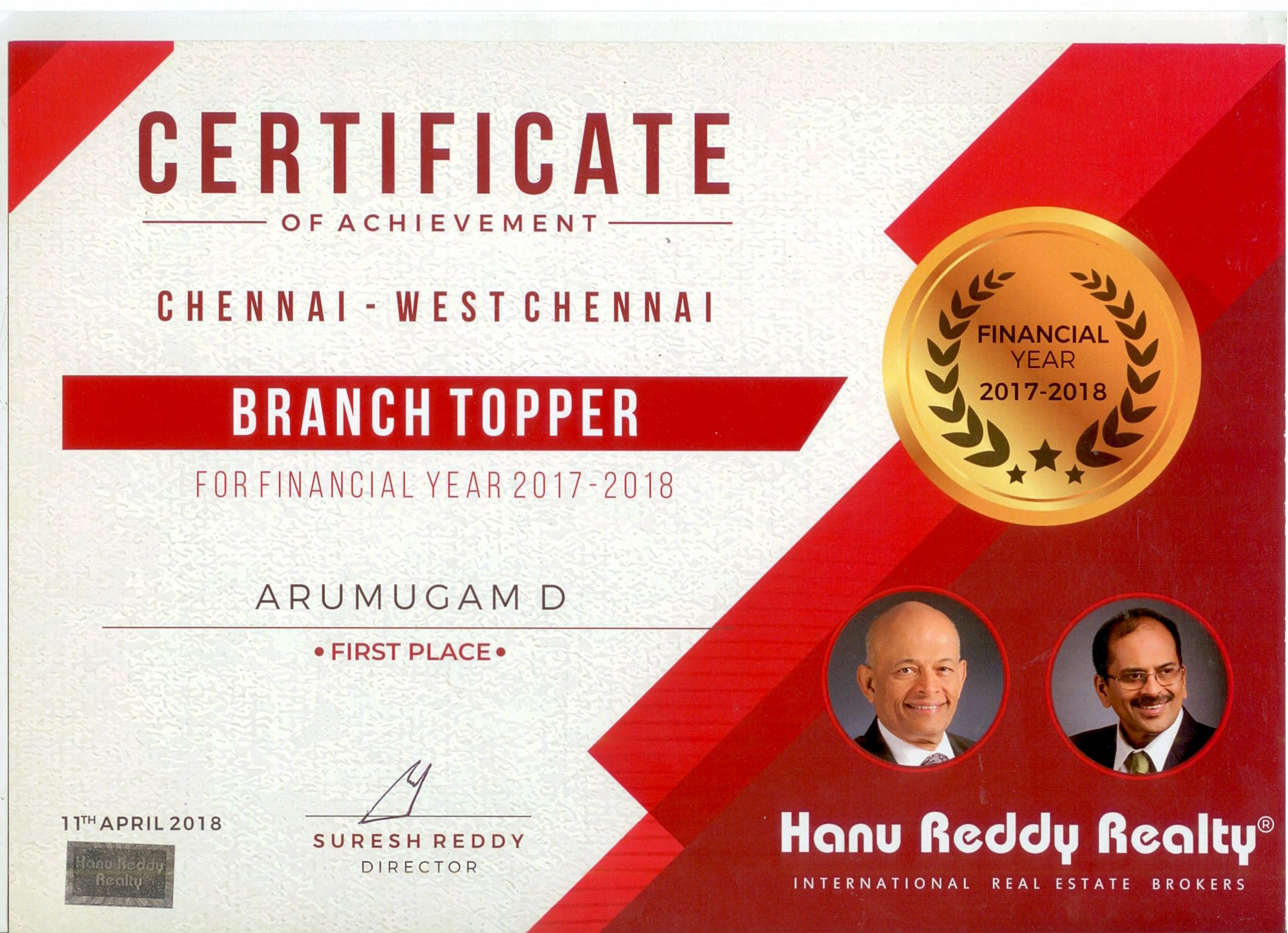 3237
Certificate
29-Jul-2017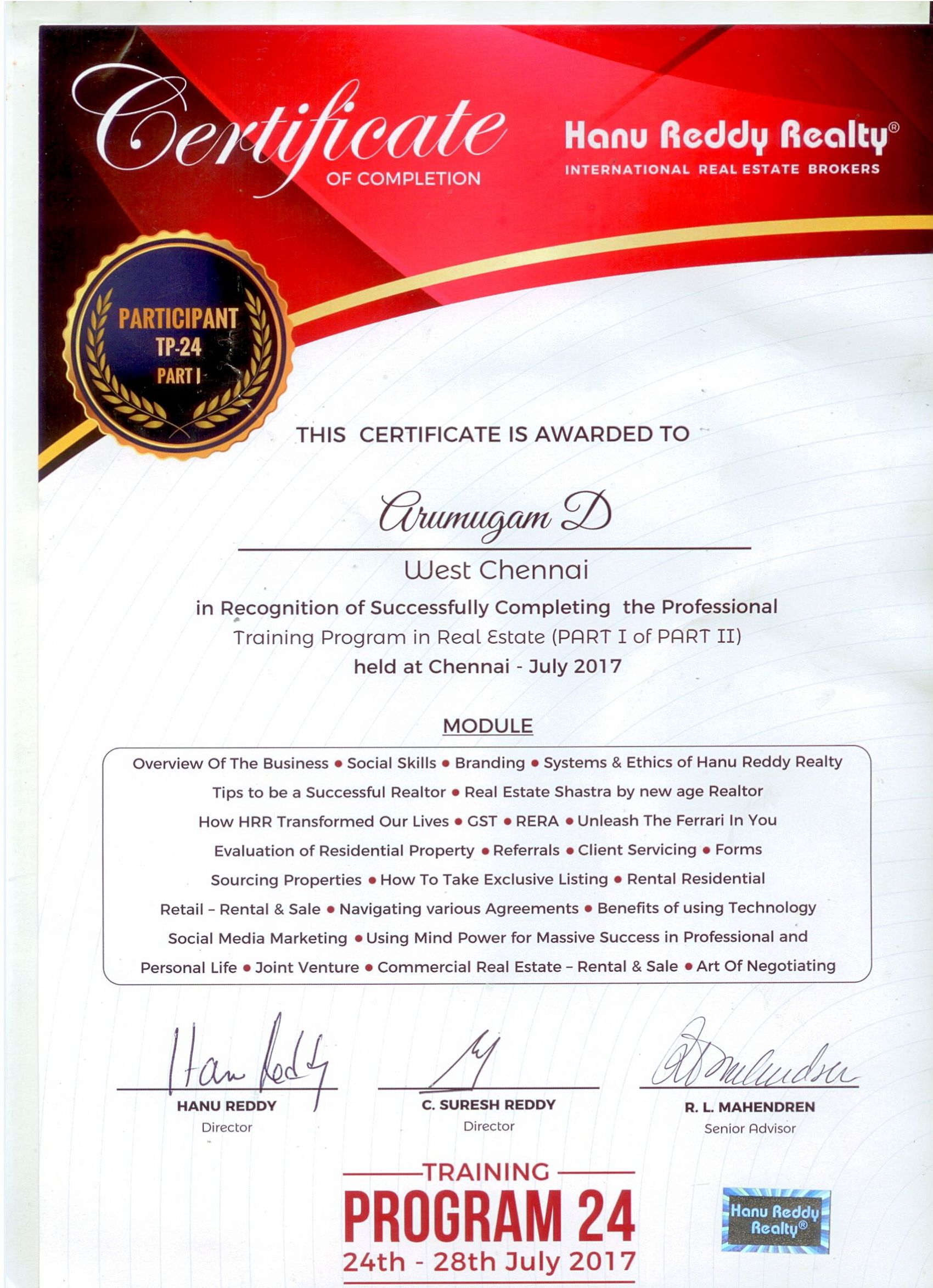 3190
Certificate
09-Jun-2017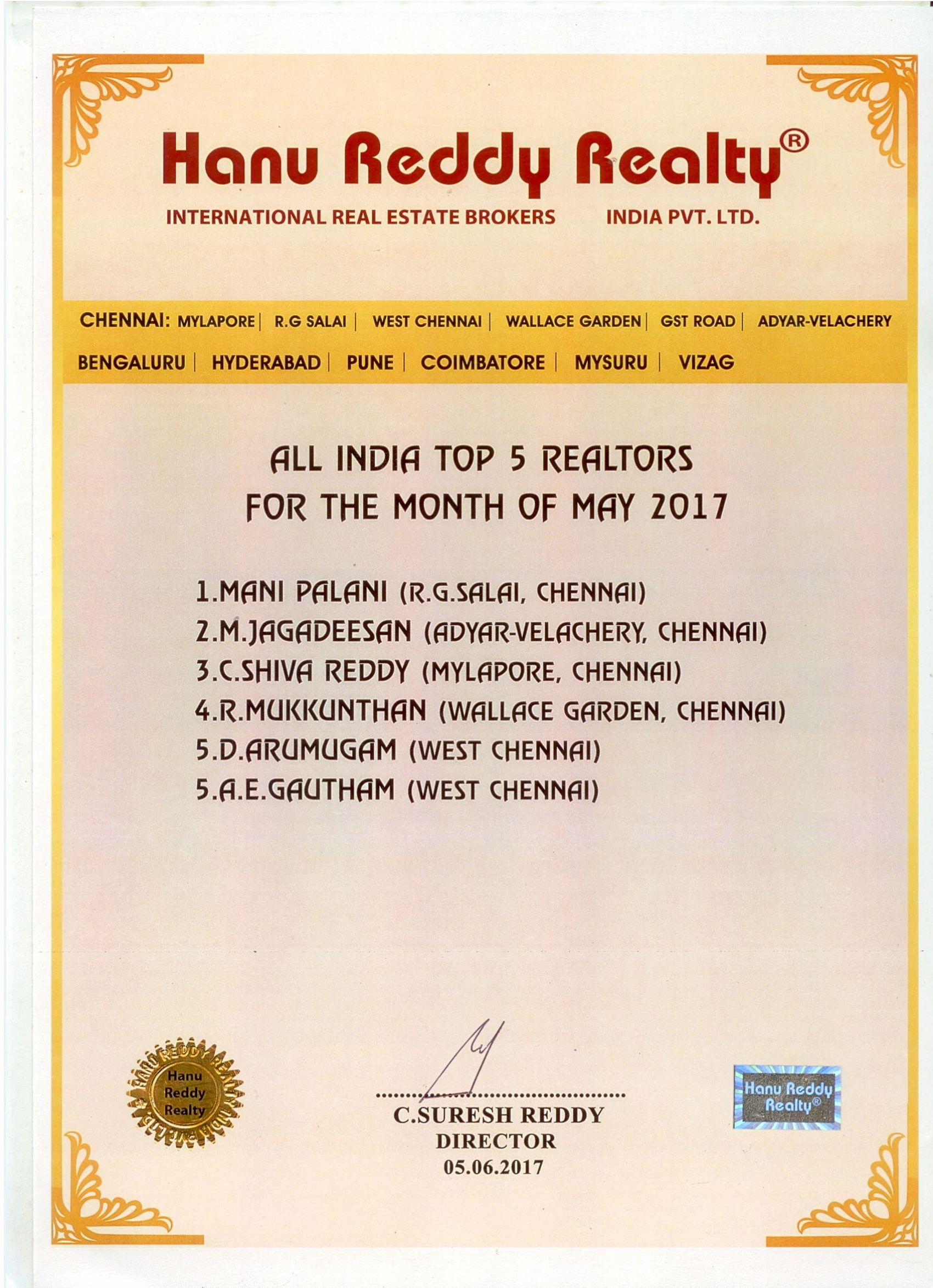 3191
Certificate
09-Jun-2017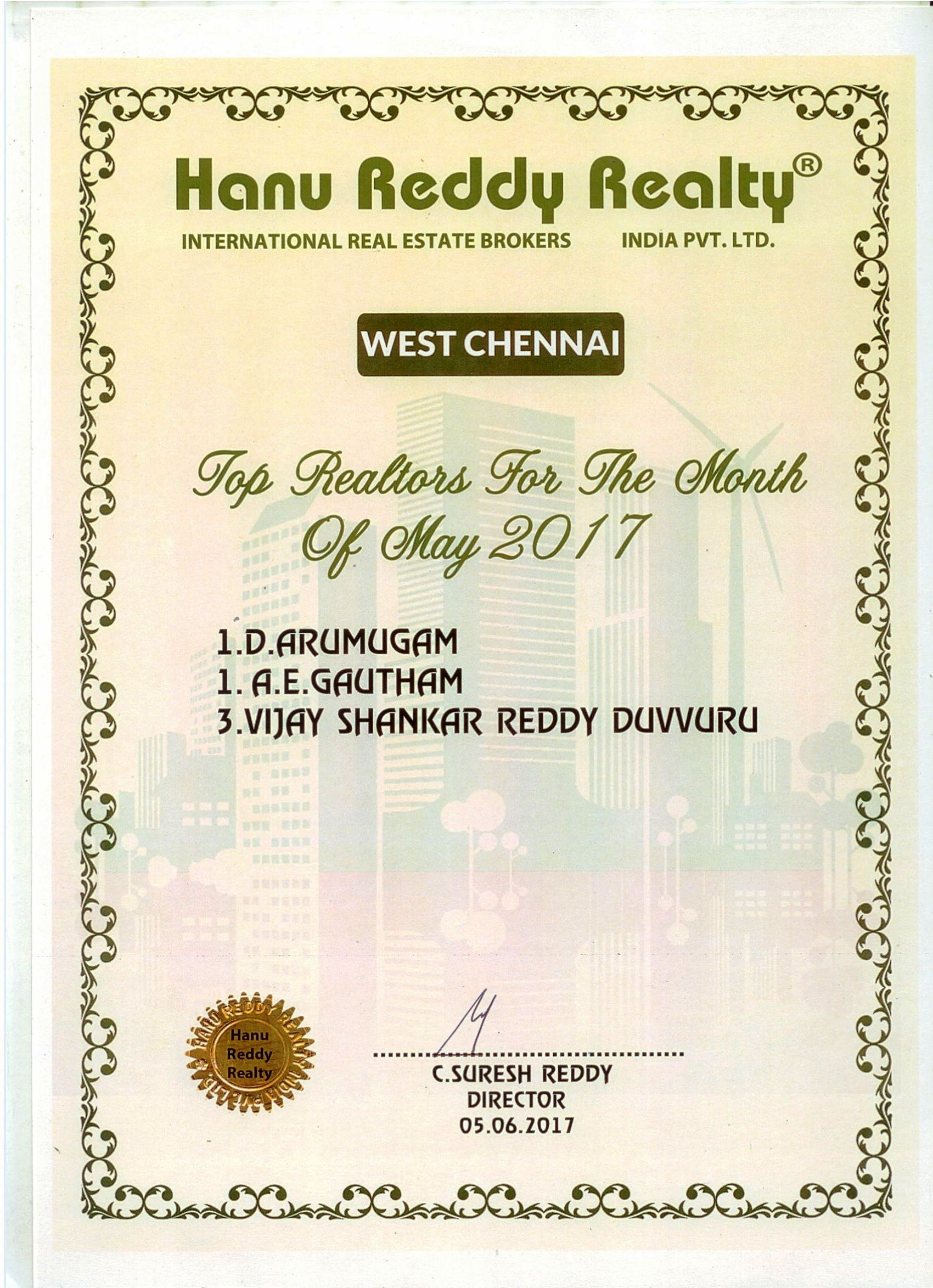 3068
All India Top-5 Realtors Dec-2016
04-Jan-2017
3022
All India Topper Oct-2016
09-Nov-2016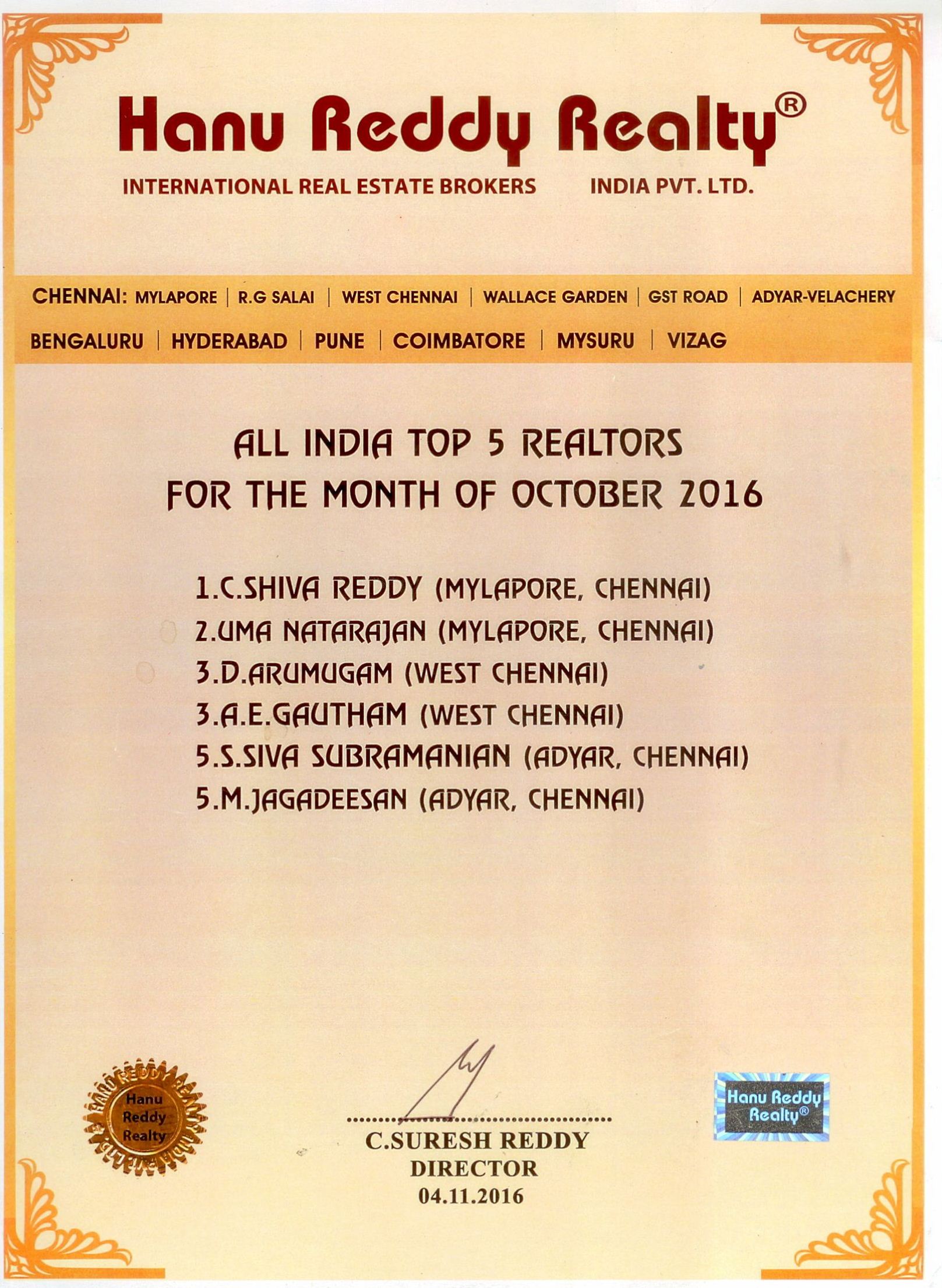 3023
West Chennai Branch Topper Oct-2016
09-Nov-2016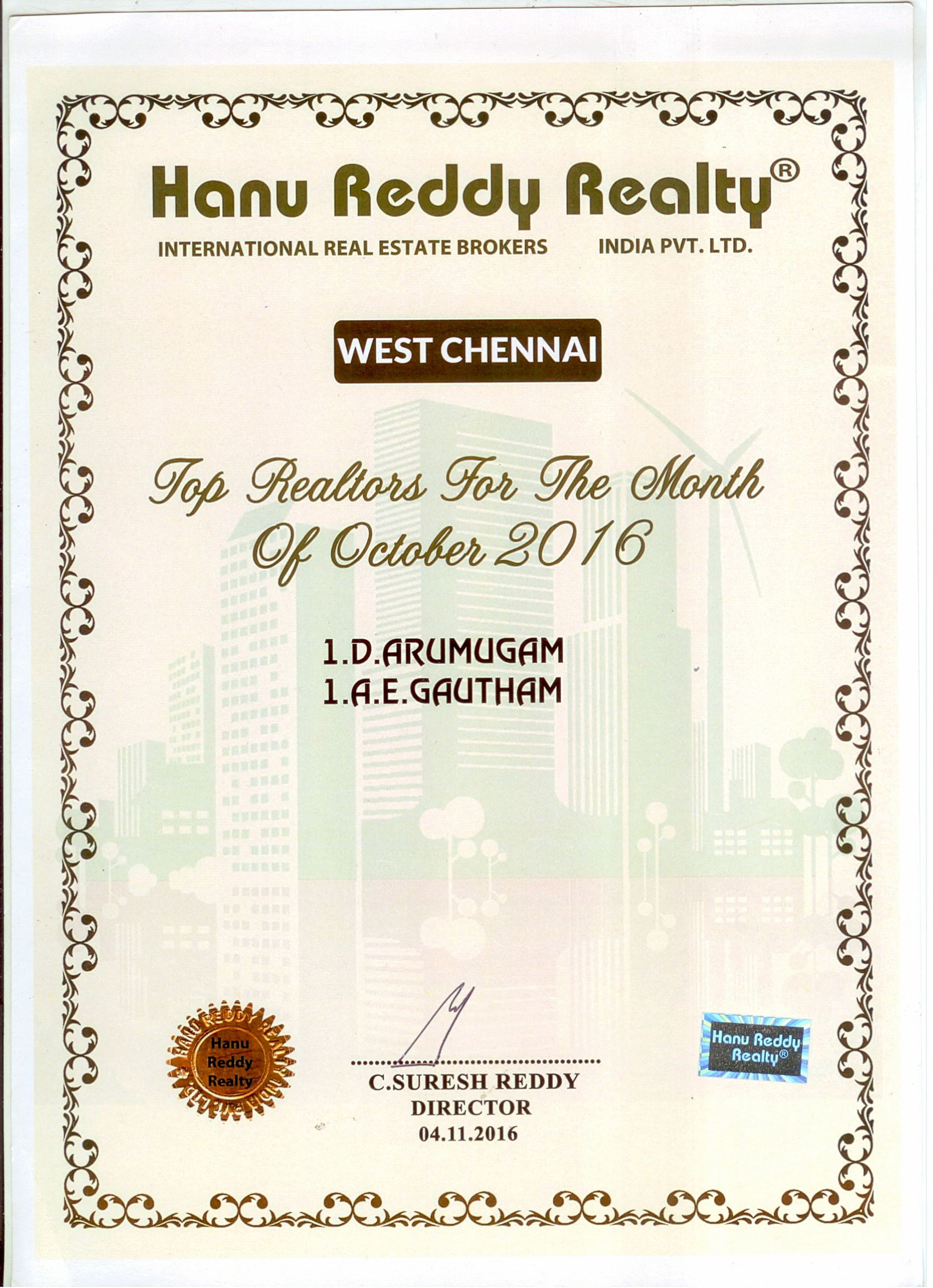 2881
Transformational Leadership Programme Certificate
18-Jan-2016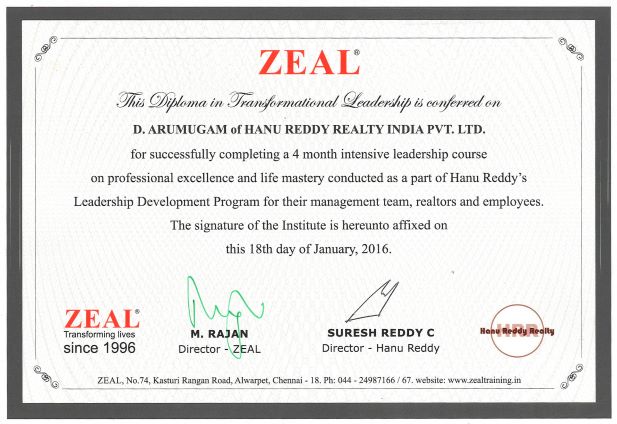 2755
Top Realtor for the month of April-2015
15-May-2015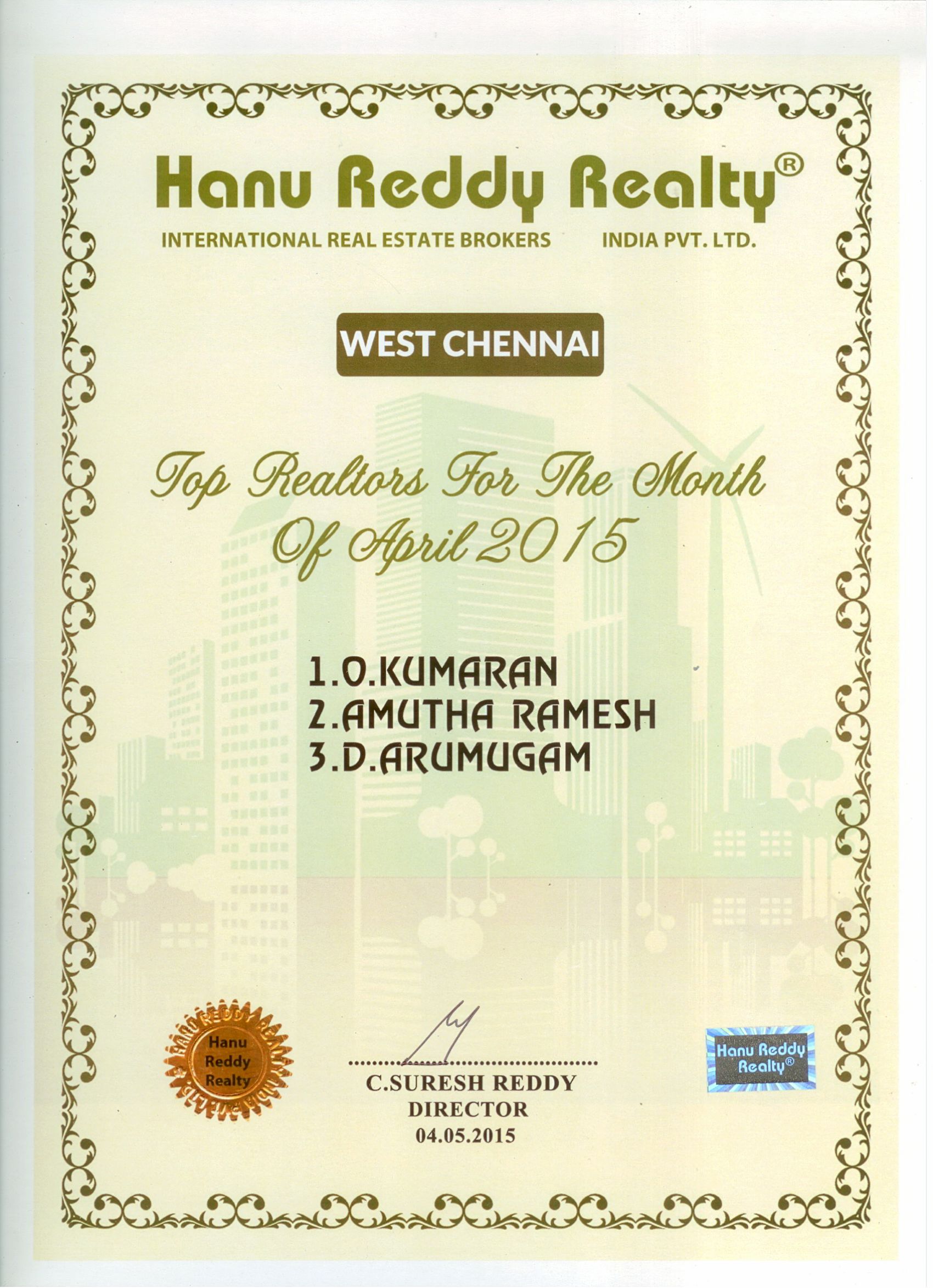 2647
WC Top Earning Certificate - Jan 2015
20-Feb-2015
2275
West Chennai Top Realtor FY 2013-2014
09-Apr-2014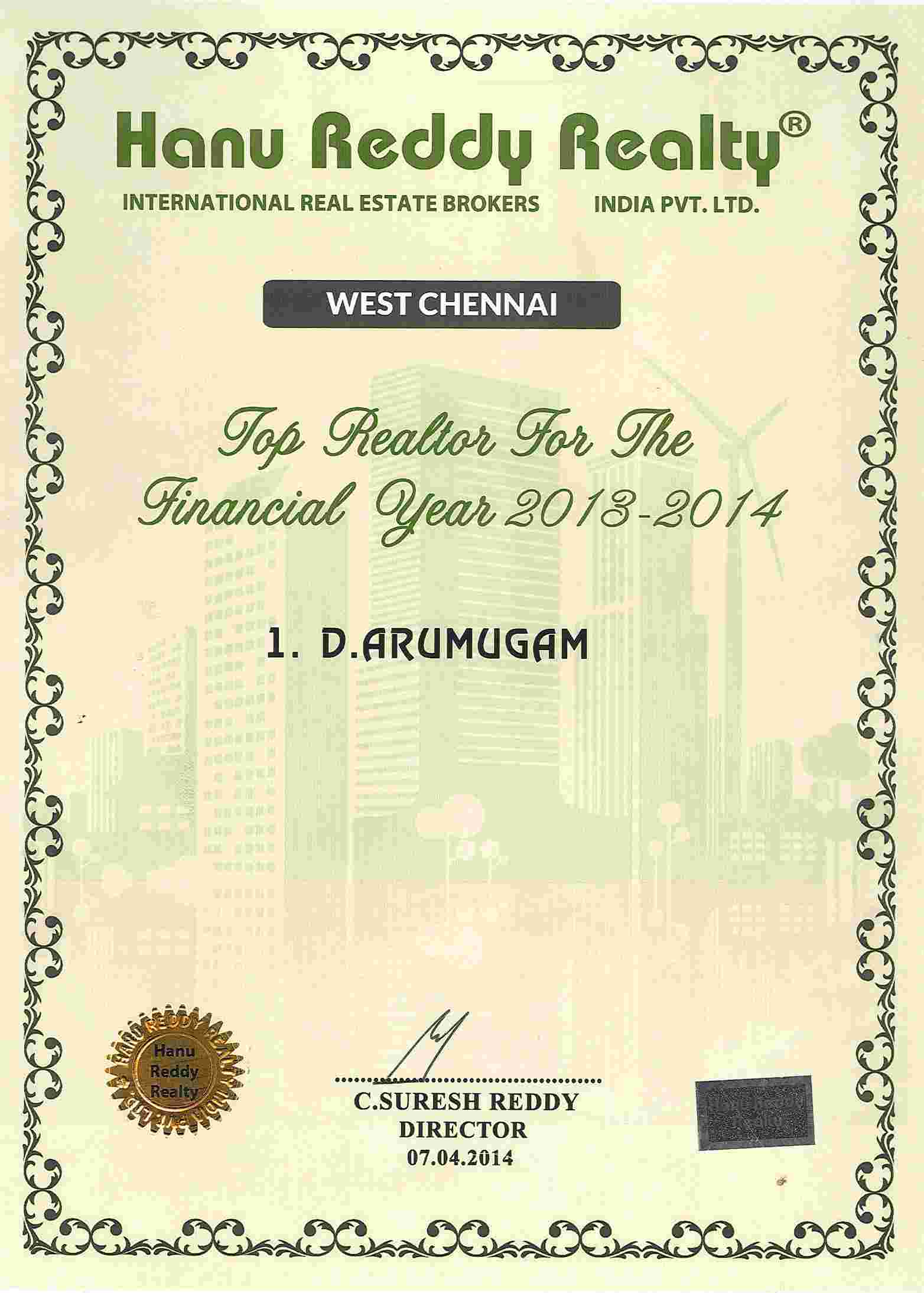 2203
Speaker Certificate - Training Programme 15
14-Mar-2014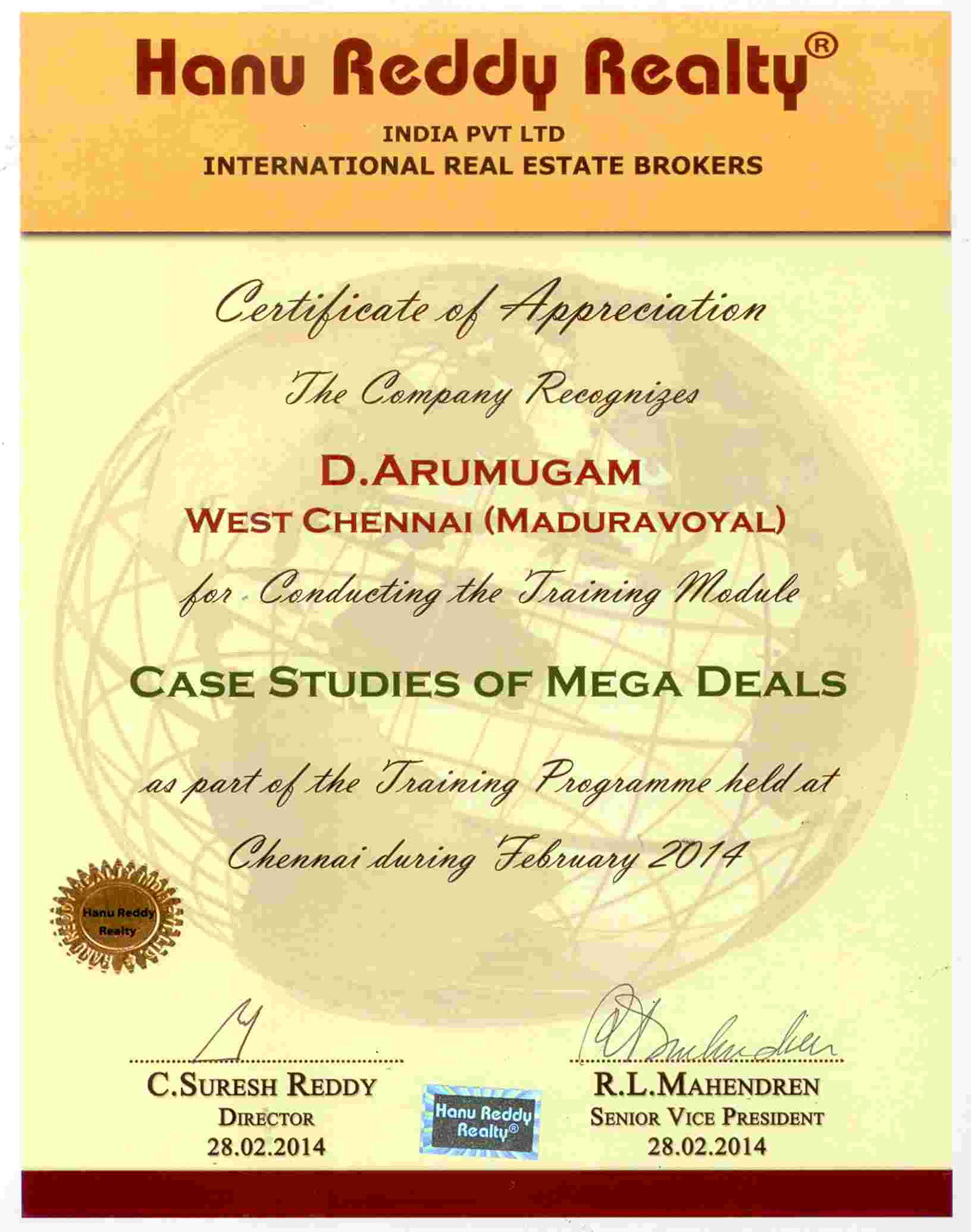 772
06-Oct-2013
Dear Mr Reddy,


I wish to place on record my gratitude and appreciation for concluding a very satisfactory deal on my property. A special word of appreciation is due for Mr Arumugam who has been the professional interface between me and your esteemed organization. I can daresay that if Mr Arumugam represents the standards of your organization, you will find many more satisfied customers like me.Your professional services were tailored to my needs, were trustworthy, confidential and reliable. Mr Arumugam reflects the highest degree of professionalism as evidenced by the satisfactory and timely conclusion of the deal. I would definitely be recommending the services of M/S Hanureddy Realty to all my friends and colleagues and I look forward to a rewarding and long lasting relationship with your organization from my side too.
with warm regards
Shankar
802
Top-Realtor-Certificate
30-Sep-2013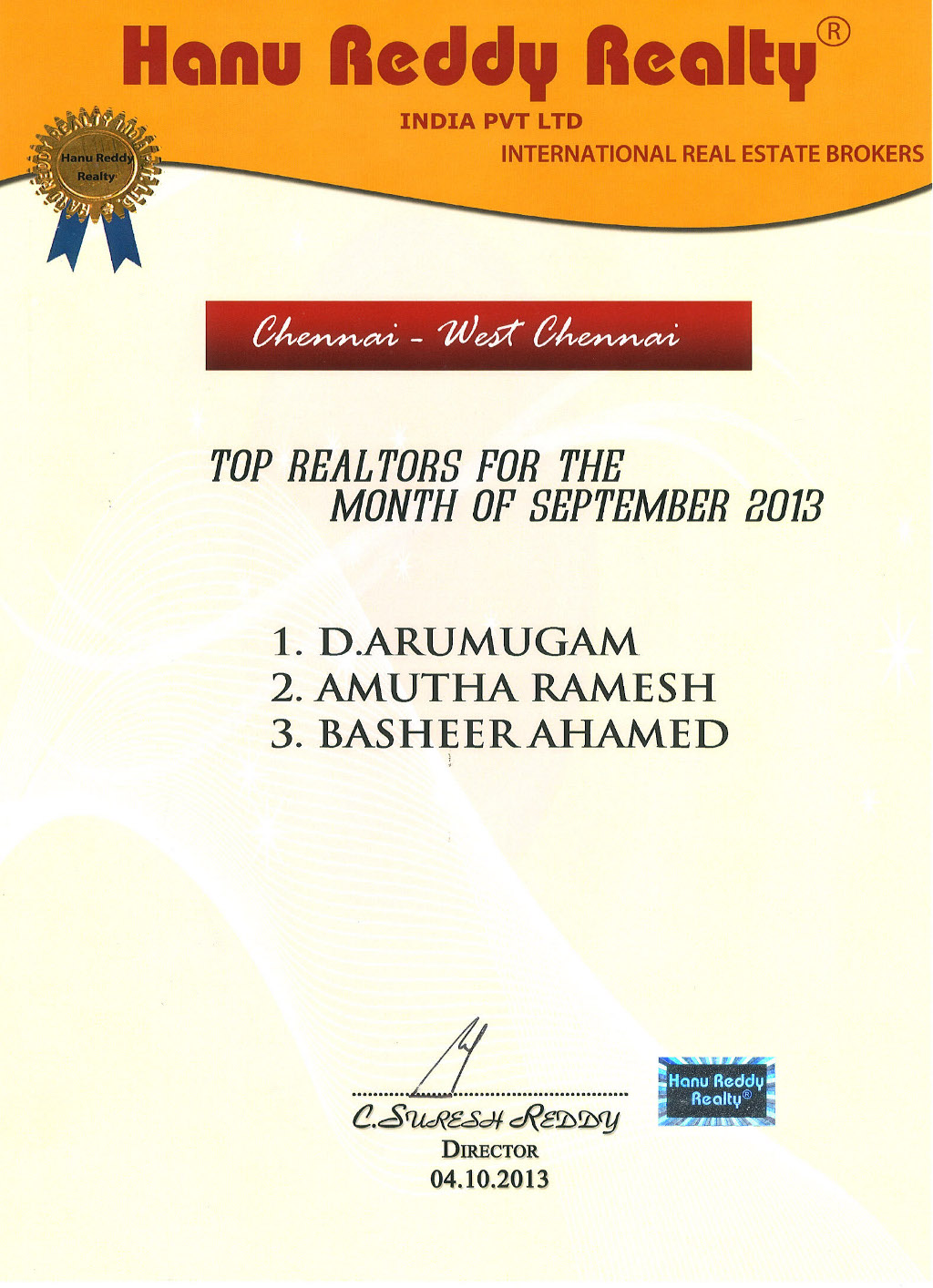 292
22-Sep-2013
Mr Suresh,
Just writing to thank you and the team, for the services provided n order to get this deal completed. Though a long, tedious haul with quiet a lot of loss of time, energy and money, I must admit Mr.Palani's outstanding efforts and diplomatic approach at the final stages really pulled this deal through. His work has been remarkable, steadfast, and extremely professional from start to finish and his tenacity to take leadership and see things through even in a extremely rocky situation needs to be mentioned.
I happened to work with Mr. Narayan only during the last month and I would say the same of him. In addition he is very sound, thorough, professional, and a solid contributor very pleasant to work with. Last but not the least, Mr.Arumugam, who has worked with us on this project since the beginning has been outstanding. He has successfully completed & procured all the paperwork, documents & things worked out silently, seamlessly and professionally from the start. Without his efforts to get everything started this deal would not have been underway at all.
Thanks to all of you for replying to emails, calls, requests, questions very promptly & sincerely every single time. It has been great working with you. Unfortunately, I can't say the same of the Buyer. Has not kept his word most of the times and it has been a very bitter & frustrating experience working with him every step of the way. But at least he completed the deal at the end.
Thank you,
Cynthia Selvam
722
West Chennai
15-Sep-2013
Dear Sirs ,
I am Prof Dr C Deepak , i recently purchased a property in Vanagram through Hanu reddy realtors . i had only heard of the name , but after experiencing the service of Mr Arumugham & Mr VS kumar , i am very satisfied . Being a busy practictioner , i always had a paucity of time . Both of them , especially Mr kumar was very helpful in my purchase .
i congratulate your organisation in having such wonderful , service minded employees . I will definetly look forward to Hanu reddy for my Real estate issues again as well as recommend the same to others .
Best regards,
Dr C Deepak
2017
31-Aug-2013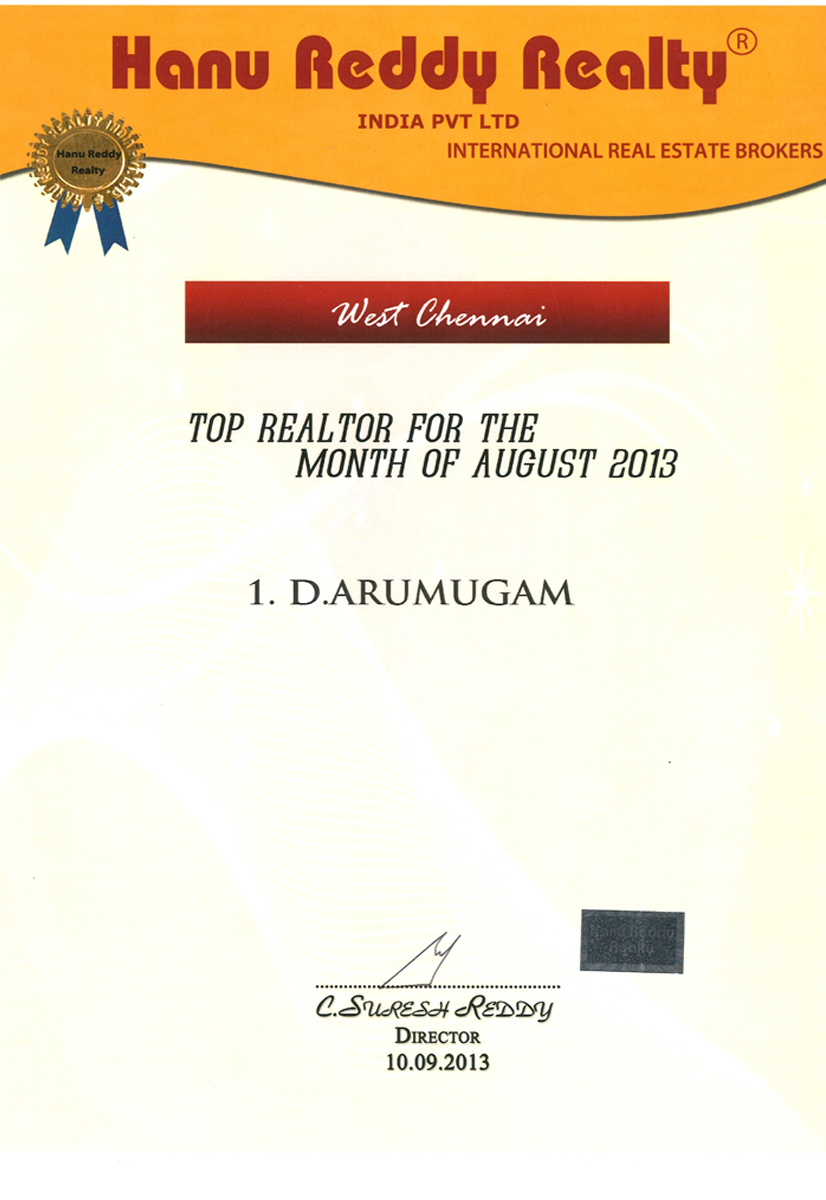 303
07-Jun-2013
Dear Sir,
From:
S.N.Raguraman,
No.4/386, Ram Garden, Anna Salai,
Palavakkam, Chennai – 600 041.
To:
Managing Director
Hanu Reddy Realty India Pvt. Ltd
Chennai-600 004.
This is note of appreciation for the diligent support and effective service provided by Mr. Palani and Mr. Srinivasan based in your Chennai office.
I have been trying to sell my 9 year old property in Palavakkam for almost a year and thanks to your team, I was able to sell it in 4 months time
They took charge of the process, got around all the obstacles and kept me regularly updated via e-mail and phone. Lastly, they ensured that the closing went as smoothly as possible and respectfully supported me to close the transaction.
All in all, they managed a stressful situation and represented my interests very well.
I would unhesitatingly recommend them and your firm to my friends and relatives.
Sincerely,
Raguraman
2019
31-Mar-2013
397
31-Aug-2012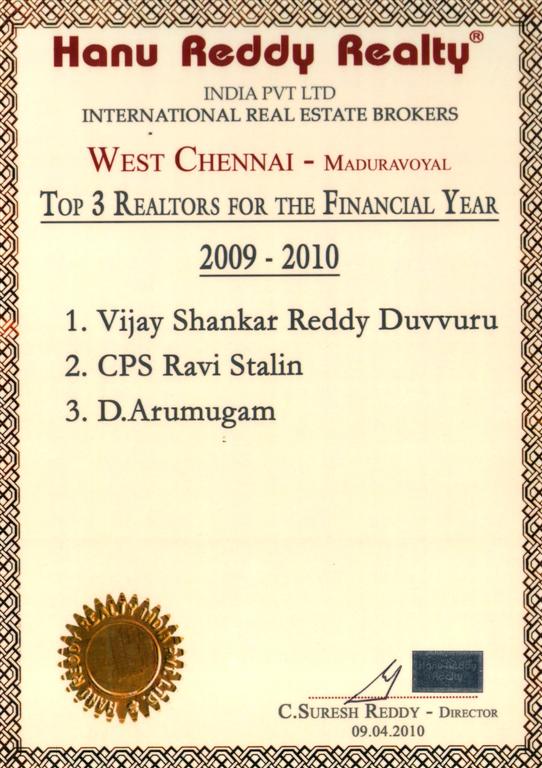 411
28-Feb-2012
2020
28-Feb-2012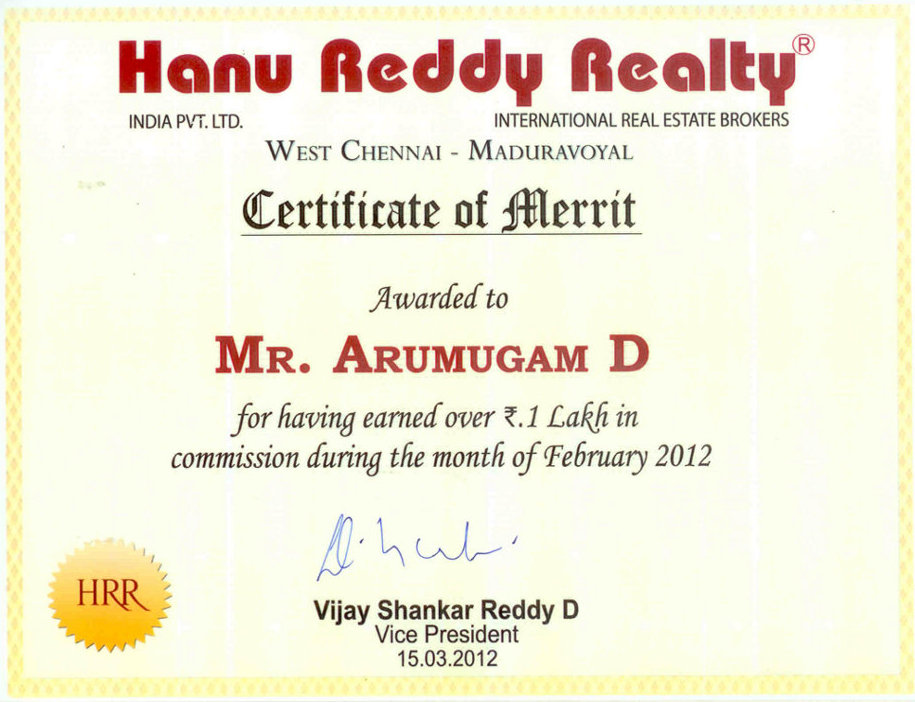 2021
28-Feb-2012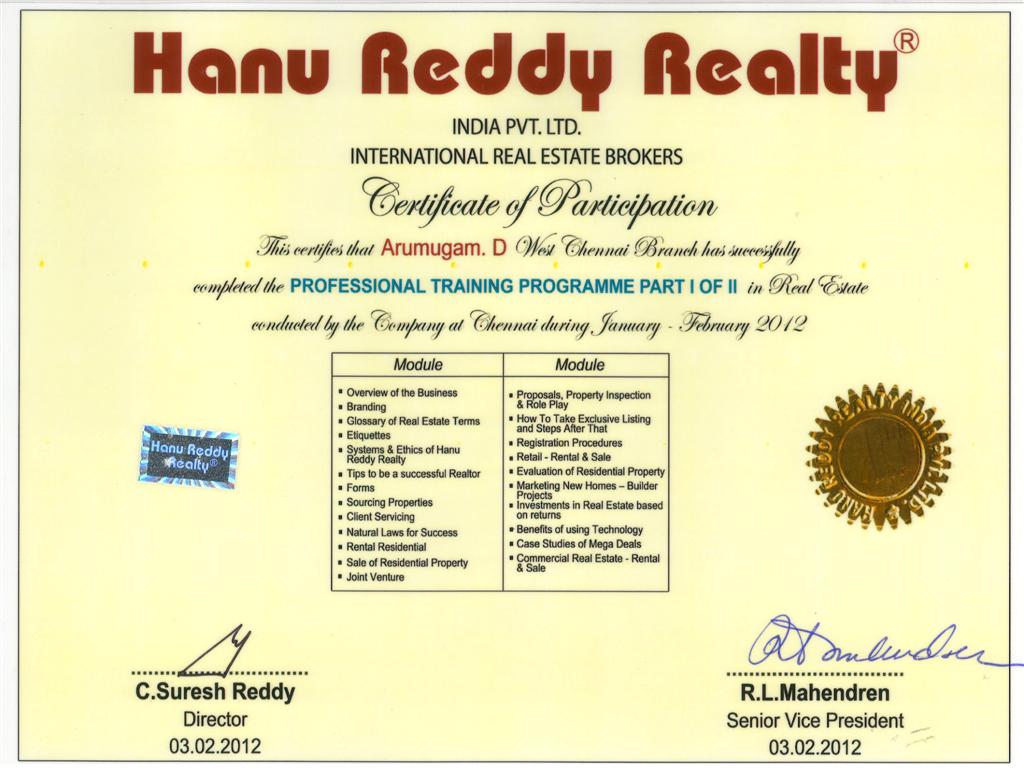 415
30-Apr-2011
393
01-Jan-2011
416
01-Jan-2011
2023
31-Aug-2010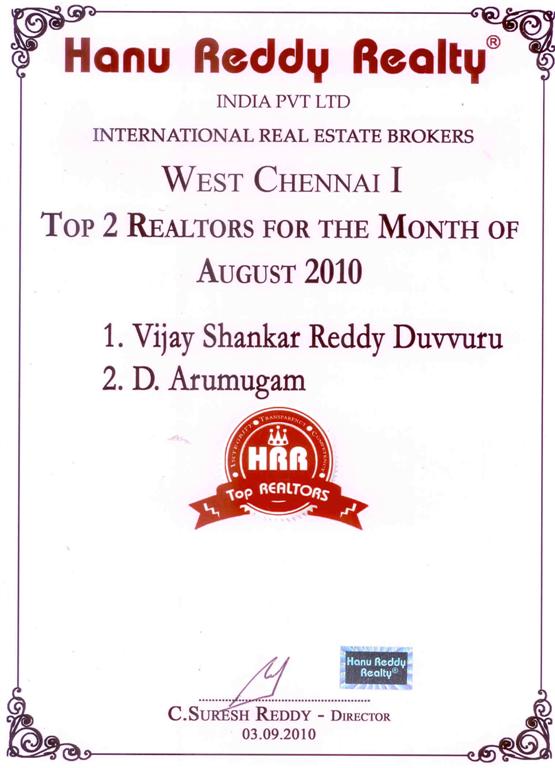 2024
31-Jul-2010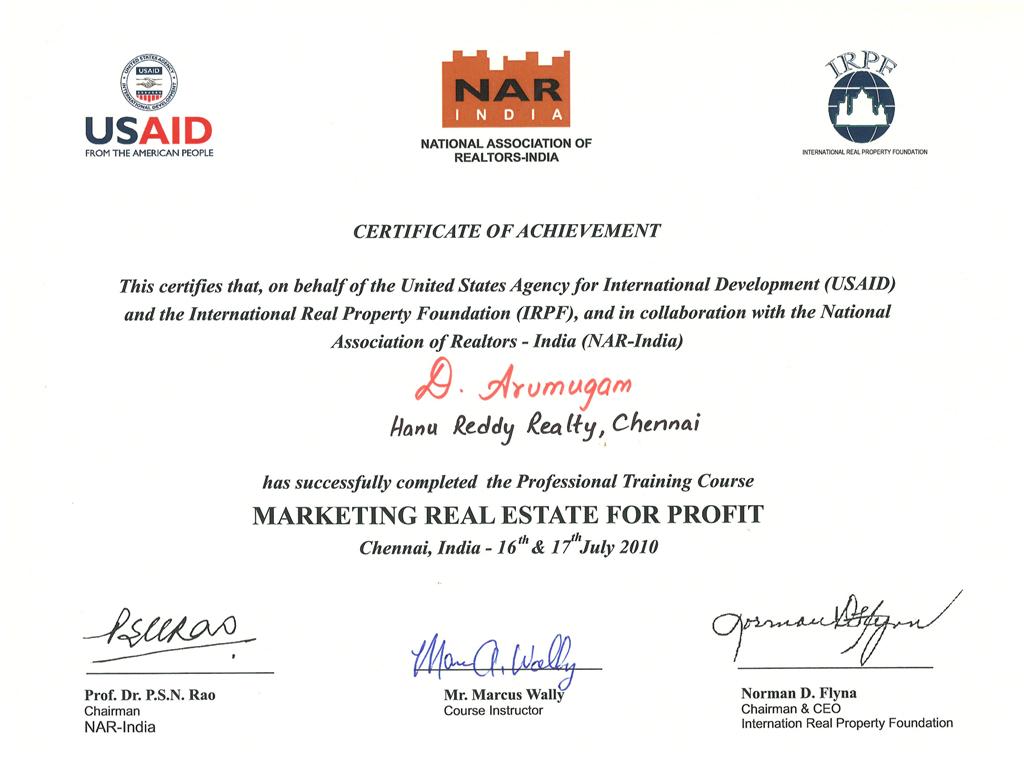 2022
31-May-2010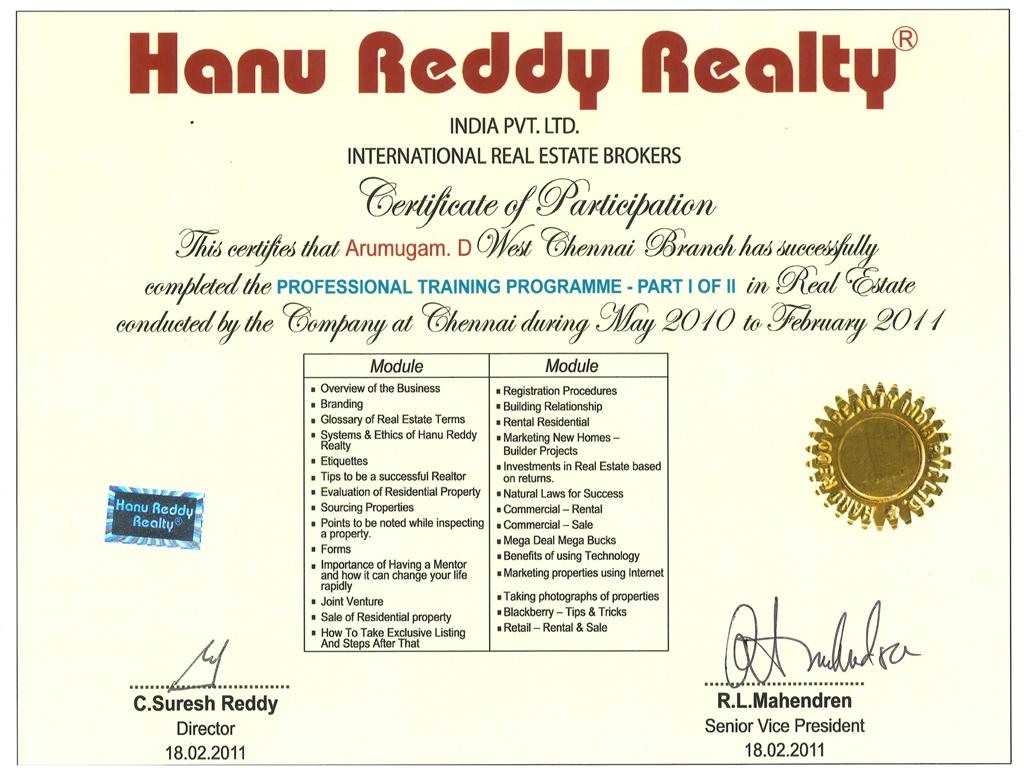 2025
28-Jan-2010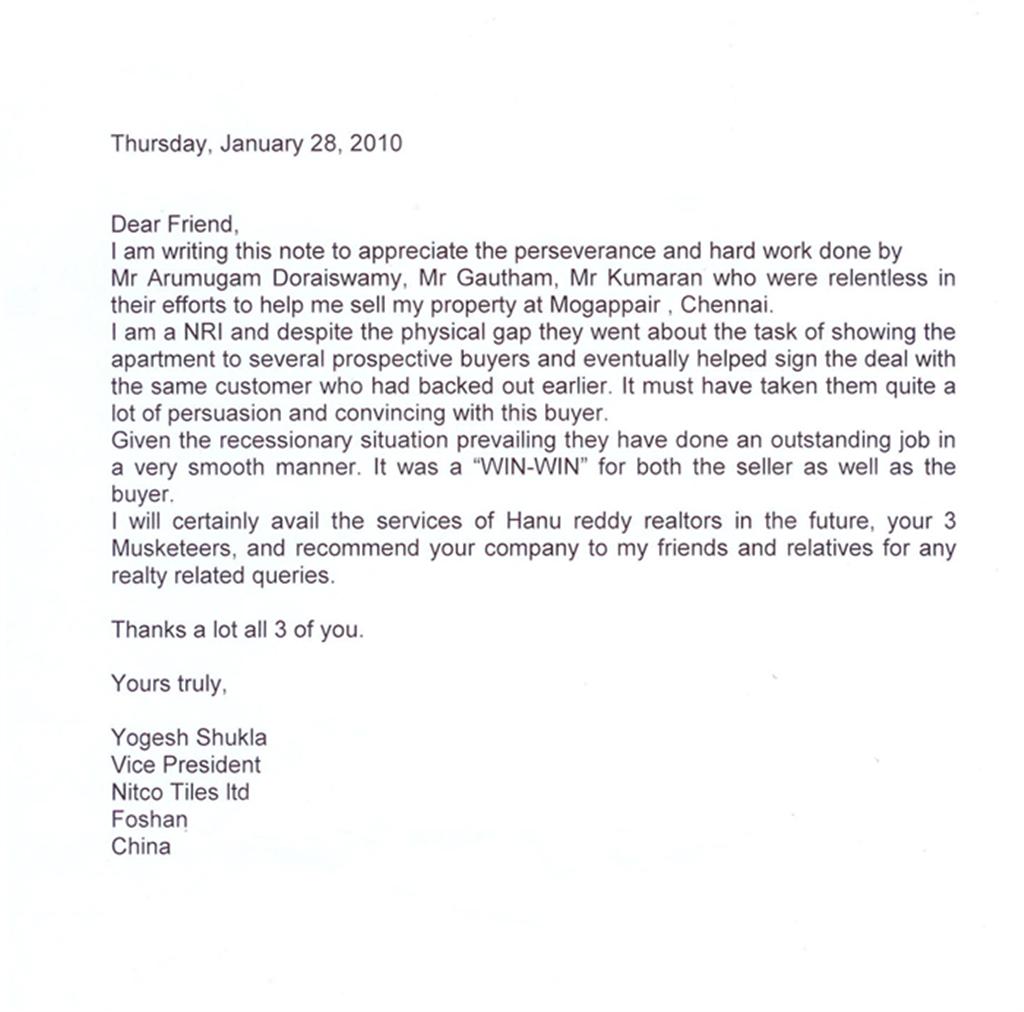 2202
14-03-2014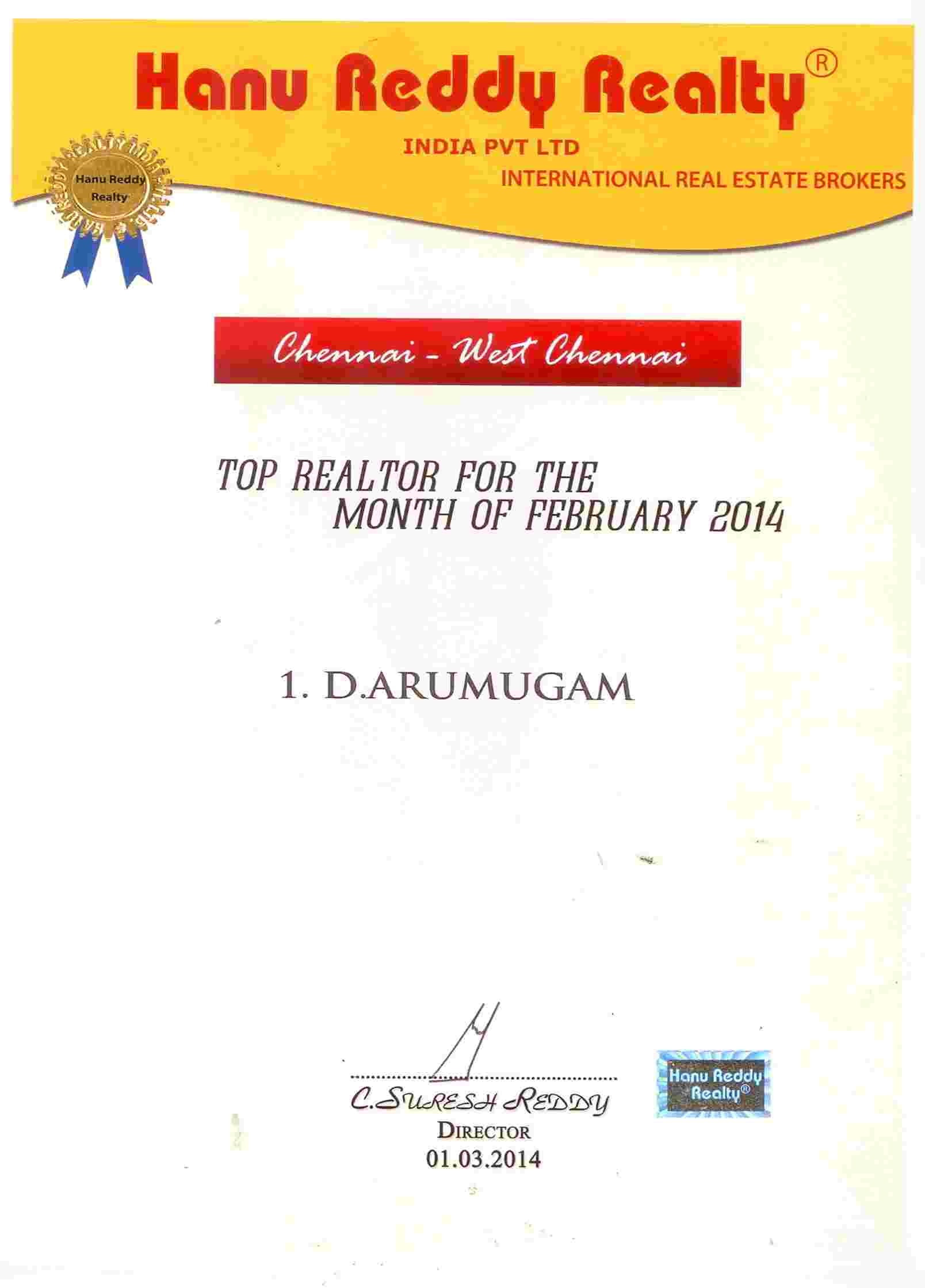 803
Top-Realtor Certificate