Testimonials
This is what our clients say about us...
View All Testimonials
3403
Certificate
14-Feb-2018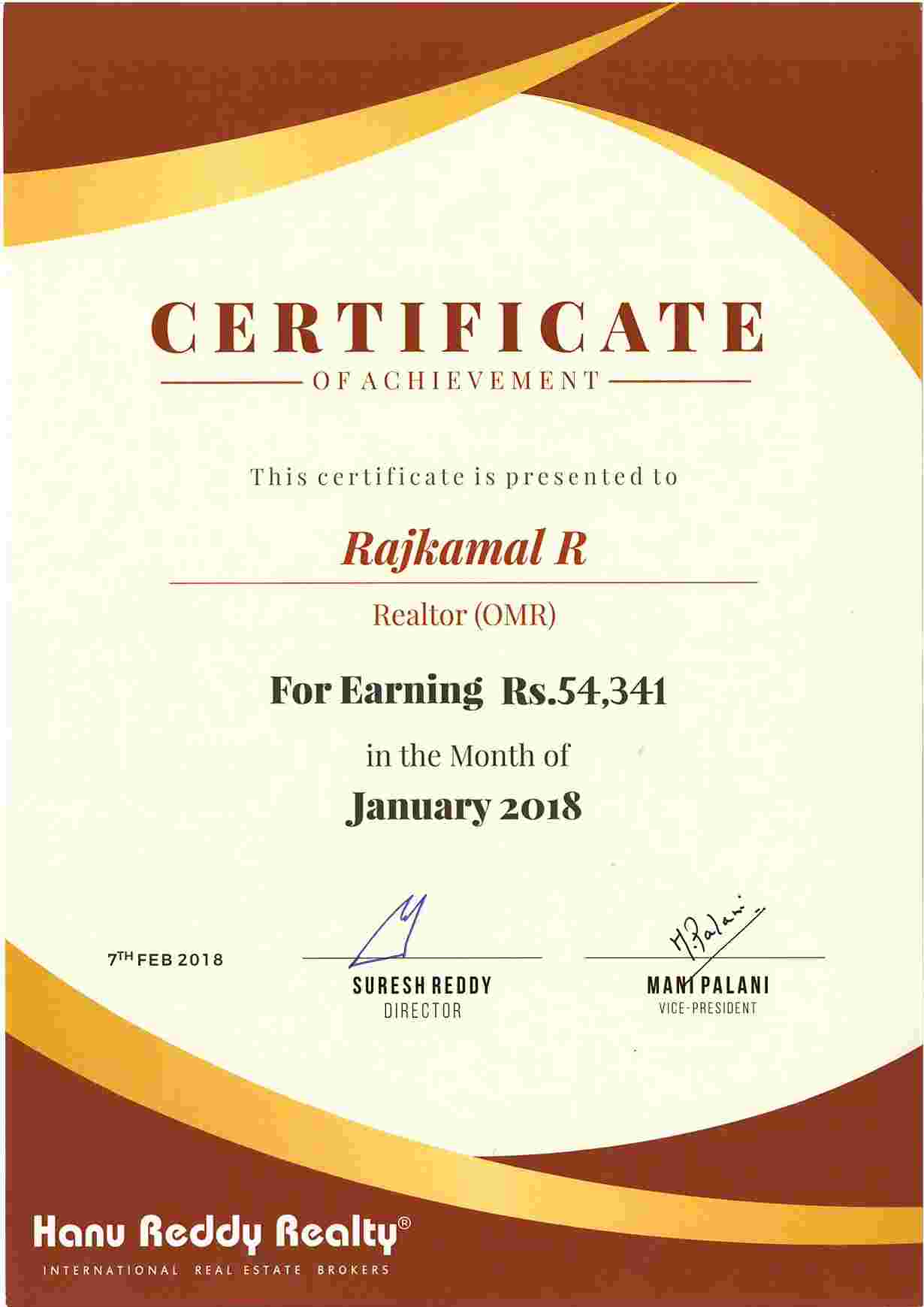 3392
Certificate
07-Feb-2018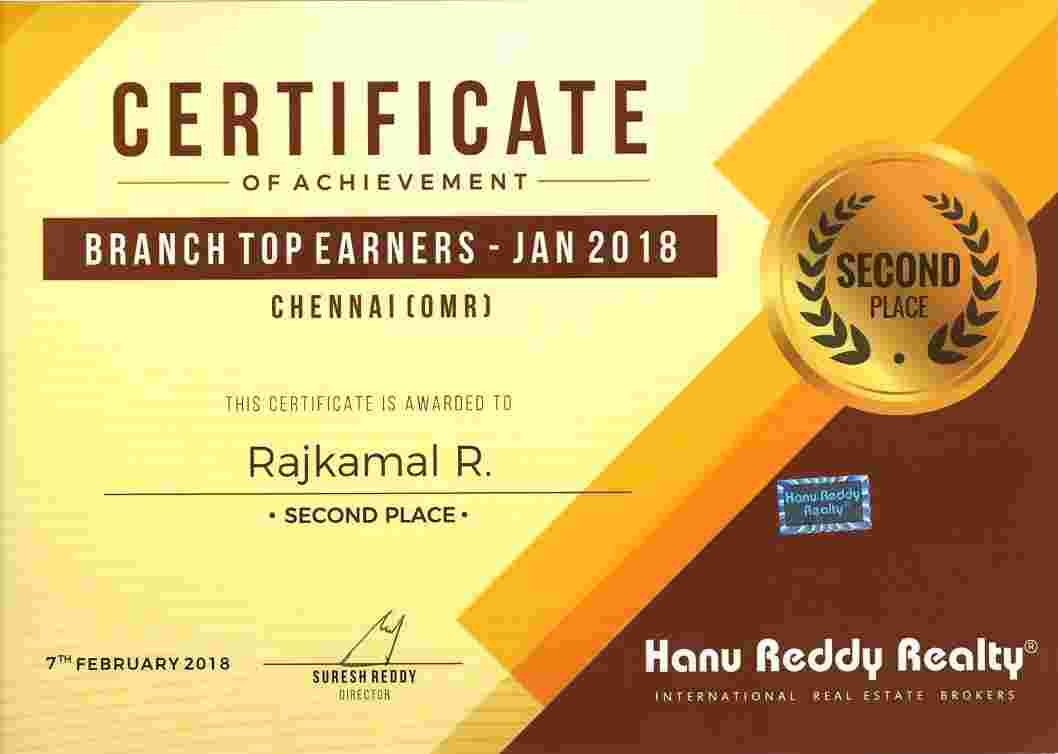 3389
Certificate
02-Feb-2018
3390
Certificate
02-Feb-2018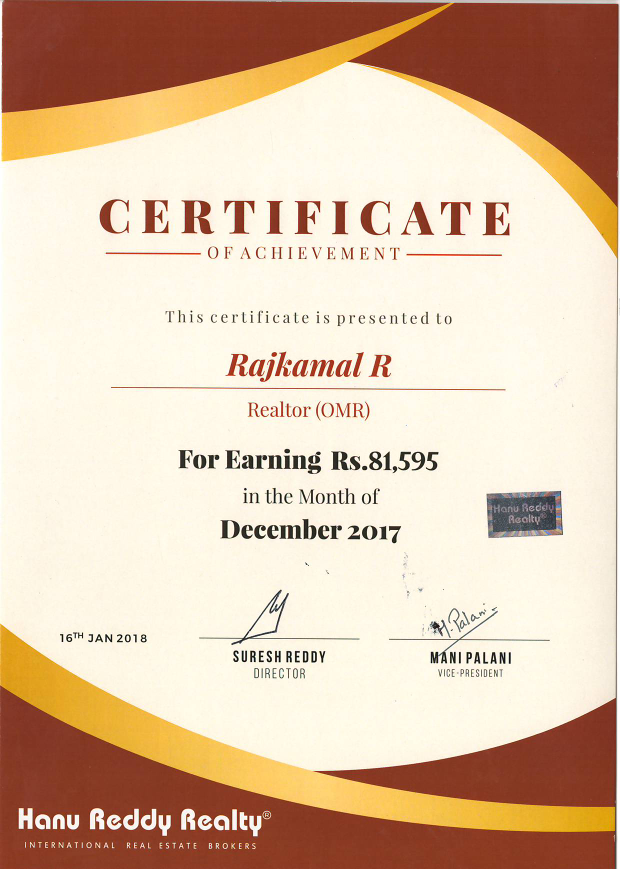 3386
Google Review
01-Feb-2018
R Srini
Hanu reddy was very professional from the beginning of property showing and facilitating the deal. Very supportive staff especially Raj Kamal ,Muthukumar and Venkatesh. Raj has been helping in finalizing the deal from beginning to end and hands on about the industry workings. Wanted to mention about Mani Palani ,who provided support during the registration process.I would highly recommend their service for my friends and anyone looking for quality in real estate.
3376
Certificate
24-Jan-2018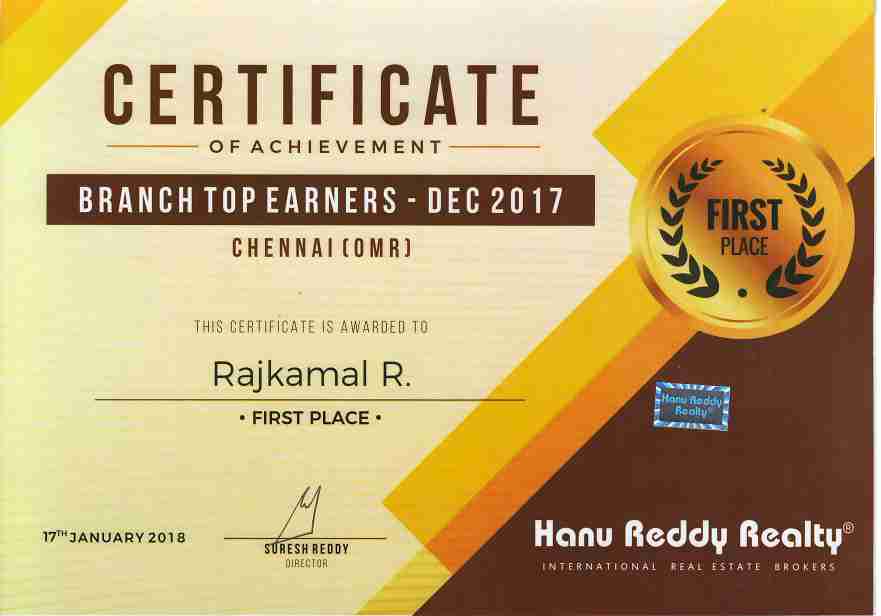 3354
Appreciation Mail
21-Dec-2017
I appreciate your efforts in finding a suitable tenant for my property in Perungudi. Your approach was professional and you grasped my requirements well and identified a suitable family.
Your weekly updates kept me well informed on the developments and prevailing market conditions. Thanks for your efforts and wish you success in all your endeavours during 2018.
Mr. Rajkamal Mr. Muthukumar & Mr. Jaibalaji
Regards
S. Murali
3355
Google Review
21-Dec-2017
Somya Datta
Had a great experience in selling our flat with Mani Palani and Rajkamal. They were very professional and took care of all details. Sale went on very smoothly. We are very satisfied with them and recommend them.
3342
Appreciation Mail
11-Dec-2017
Thanks a lot for helping me close this sale transaction. It was long overdue and a very important transaction for me. Very much appreciated for your service.
Mr. Palani, Raj kamal and Jai Balaji
Regards,
Ramdas V
3341
Google Review
09-Dec-2017
Prahalad San
Very helpful and great satisfying services! I strongly reccomend them if you're looking to sell/buy/rent. I would like to thank Mr. Palani, Raj kamal and Jai Balaji for all of their awesome support.
3326
Google Review
30-Nov-2017
Venky Sankaran (Seller)
Hanu Reddy firm helped get our unit sold recently. Right from the start their approach to executing the deal was very transparent, diligent and professional. The team comprising of Rajkamal and Kritika under the leadership of Mr.Mani Palani demonstrated sound knowledge and expertise, guided us through the end to end process in a timely manner. Highly recommend their professional services for home purchase/sale process.
3196
Certificate
14-Jun-2017