Testimonials
This is what our clients say about us...
View All Testimonials
3463
Certificate
11-Apr-2018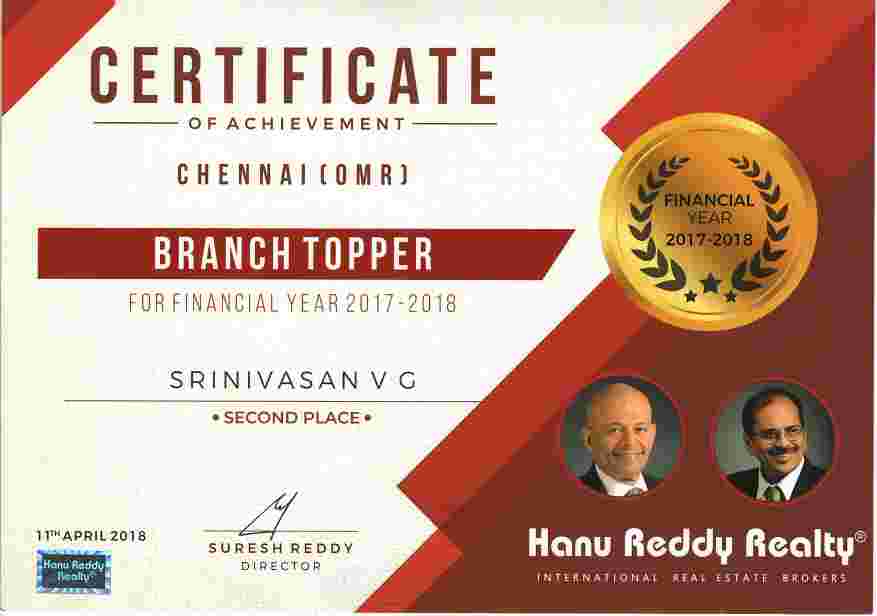 3431
Certificate
27-Mar-2018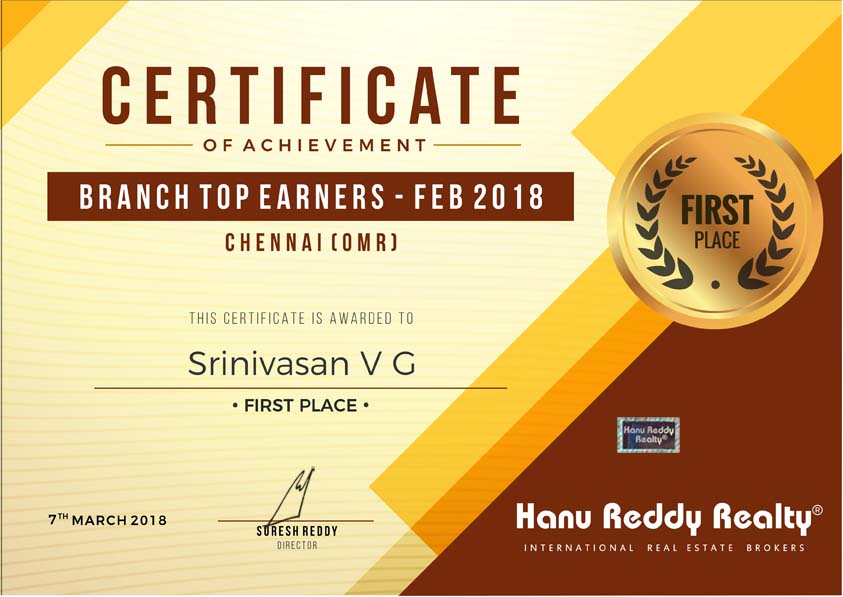 3172
Certificate
13-May-2017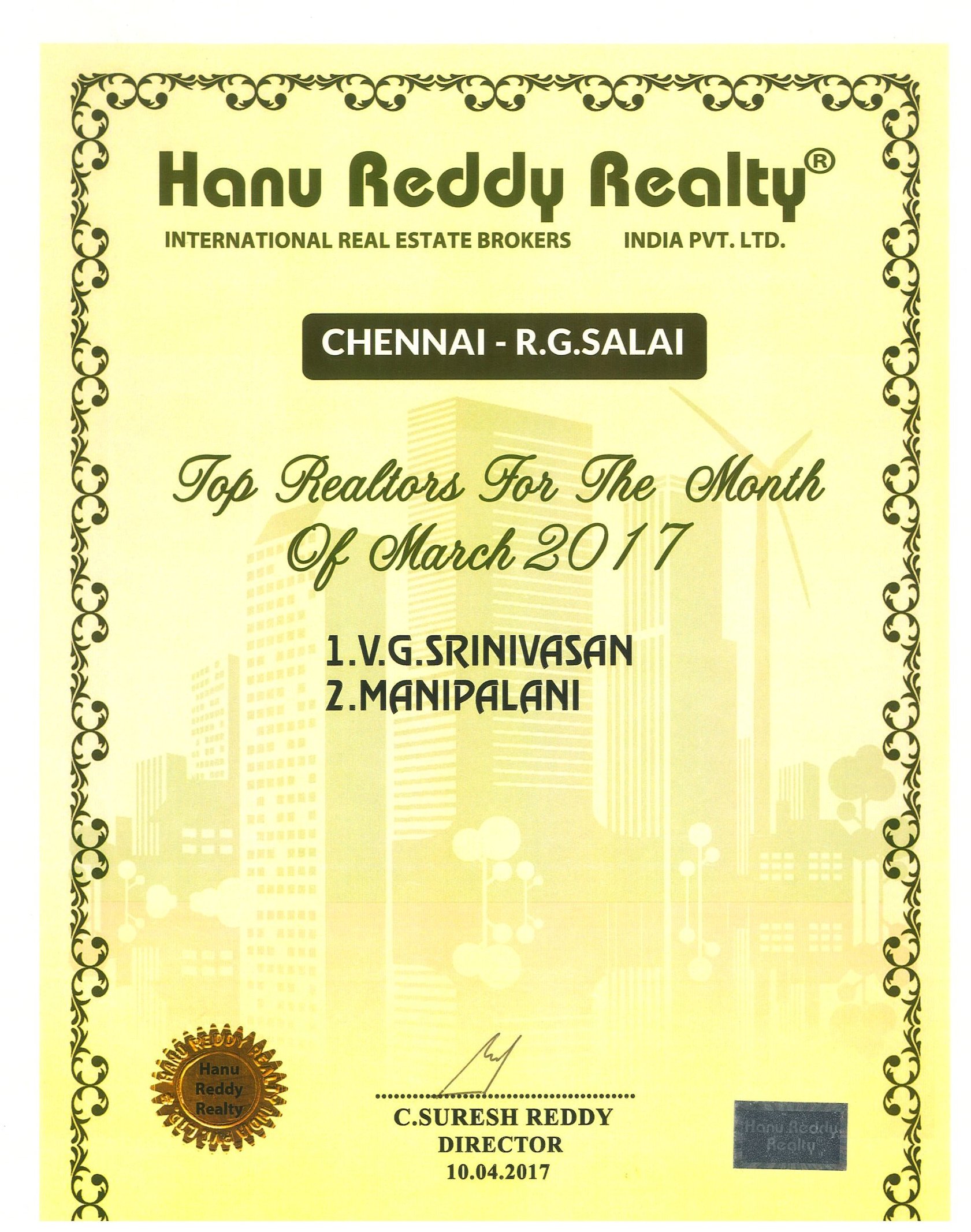 3125
Certificate
13-Apr-2017
3098
Appreciation Mail
21-Feb-2017
Appreciation Mail:
Dear Mr.Suresh Reddy we M/s. Eicher Motors, manufacturers of Premium Motorcycles ROYAL ENFIELD were searching for company owned and company operated showroom space on OMR. Mr.V.G.Srinivasan coordinated with us to find the appropriate property relevant to our budget, location and signage. Though the landlord was out of country Mr.H.Sathish and Mr.V.G.Srinivasan understood our organization standards and helped us close the deal fulfilling the corporate norms. I appreciate their enthusiasm and interest towards concluding this deal. Our requirements were fulfilled and we look forward to work with Hanu Reddy Realty.
3024
Certificate
16-Nov-2016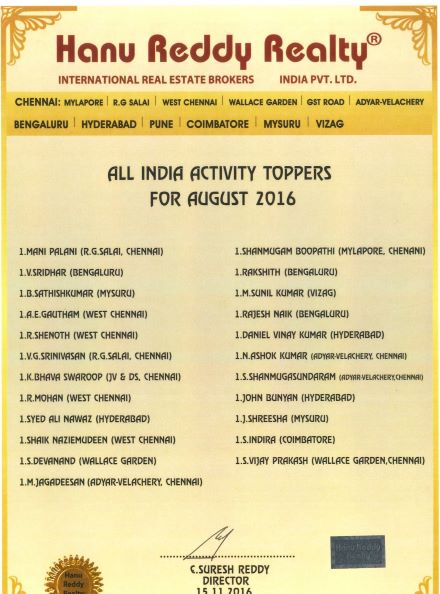 3009
Appreciation Letter
14-Sep-2016
Dear Shiva
I
wish
to place on record the support I have received from your firm in this somewhat problematic transaction. While the sale price was not ideal, your support, expertise and
patience
helped me get there in the end. My dissatisfaction with the builder through this transaction has not skipped my mind.
I
especially
wish
to
thank
Mr
.
Srinvasan
for
his
patience
. Through the process and my constant follow ups, he always took my call and said he was there to pursue.
If I ever do a transaction in Chennai again, Shiva Reddy andMr.Srinivasan will be the 1st people I call.
Thank
you and Kind Regards
Vikram Gopalakrishnan
2966
Google Review
24-Aug-2016
I had a great experience with Hanu Reddy Realty in selling my property @Chennai. From locating the buyer to ensuring the transaction went smoothly, they were very professional and communicated often with me. I would like to specifically thank Mr. V.G Srinivasan, Senior Realtor and Mr. Suresh Reddy, Director for their excellent services. I would strongly recommend them to anyone looking to transact on real estate in Chennai.
2891
Certificate
04-Feb-2016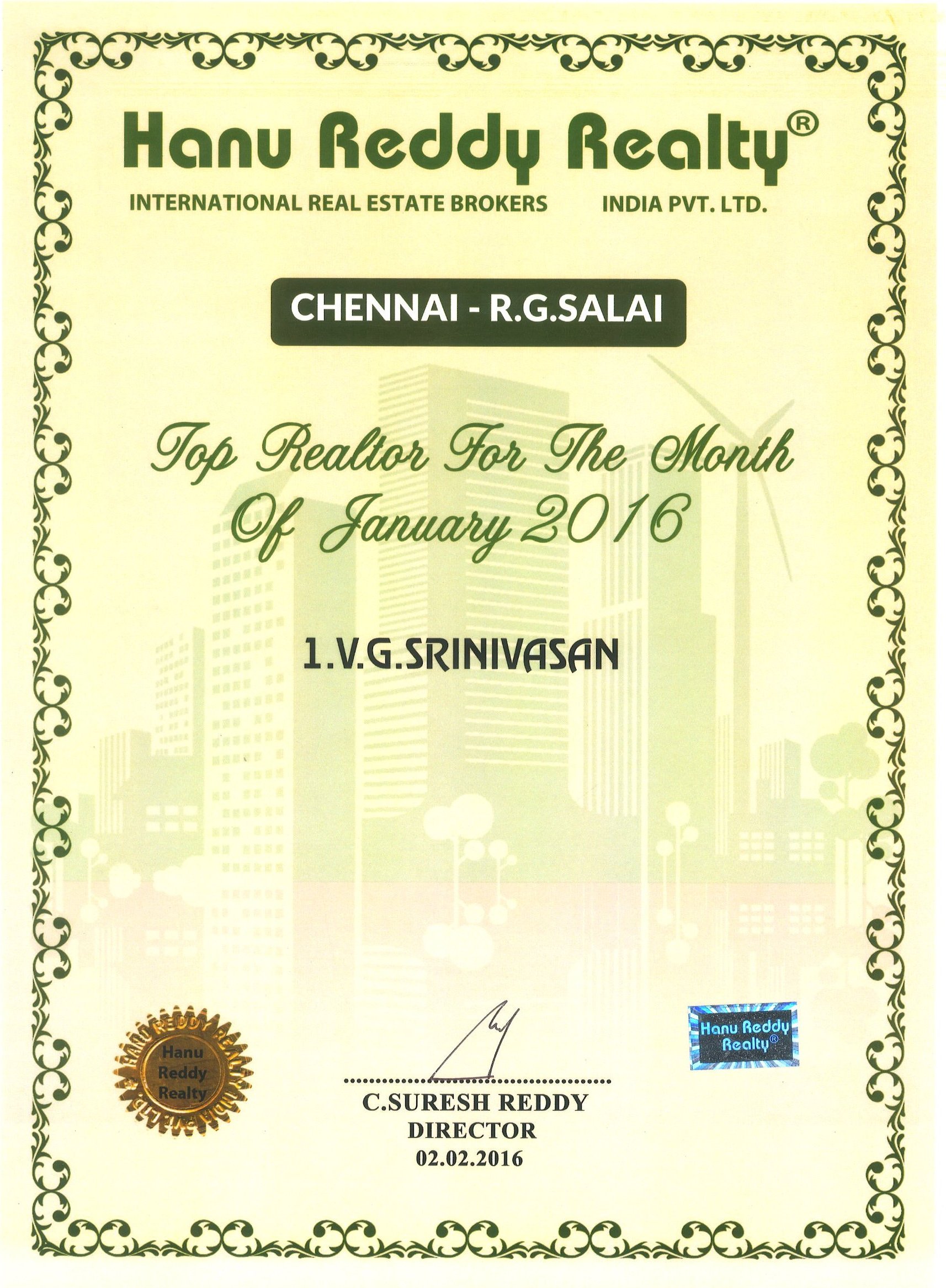 2892
Certificate
04-Feb-2016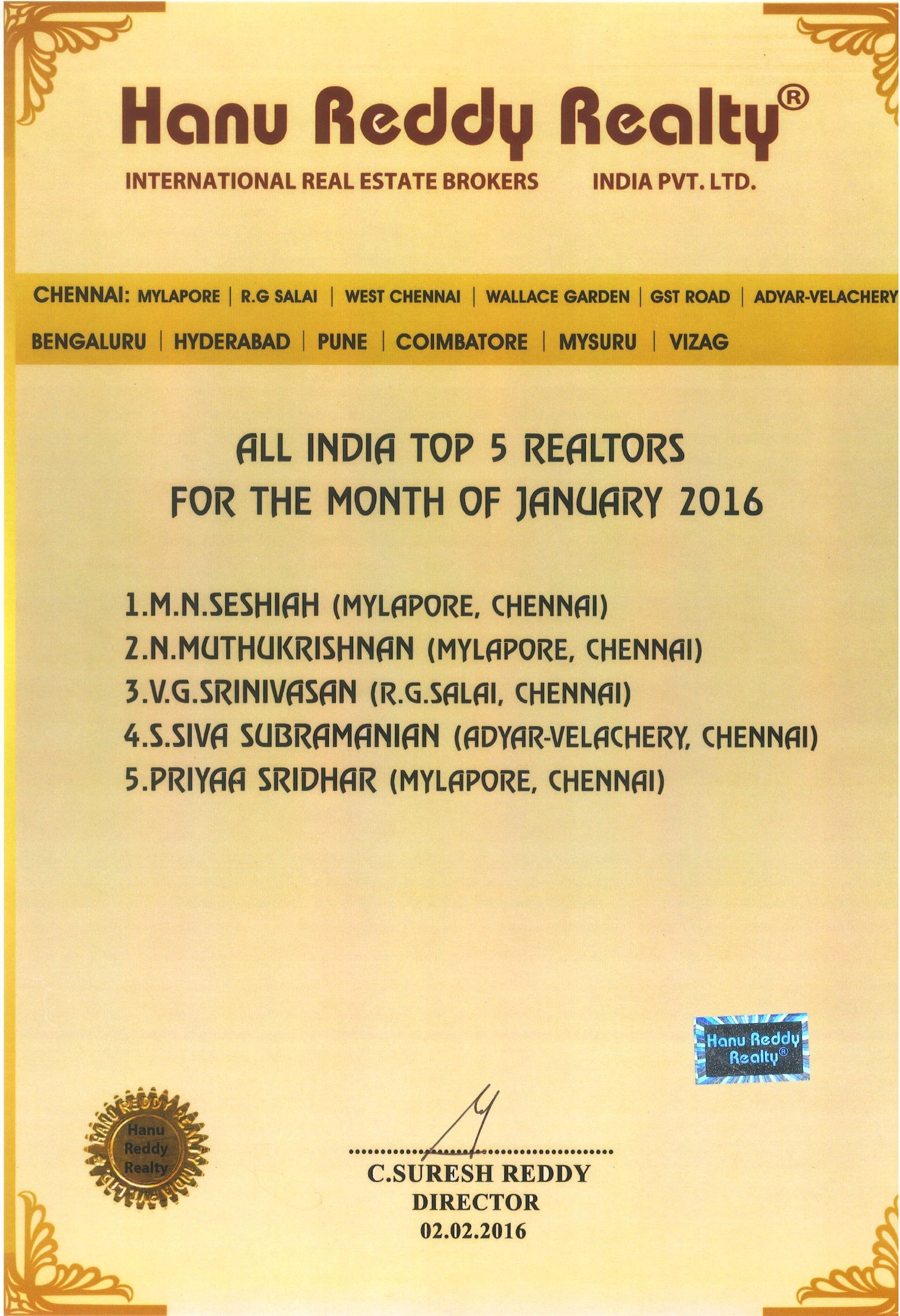 2774
Certificate of Merit
10-Jun-2015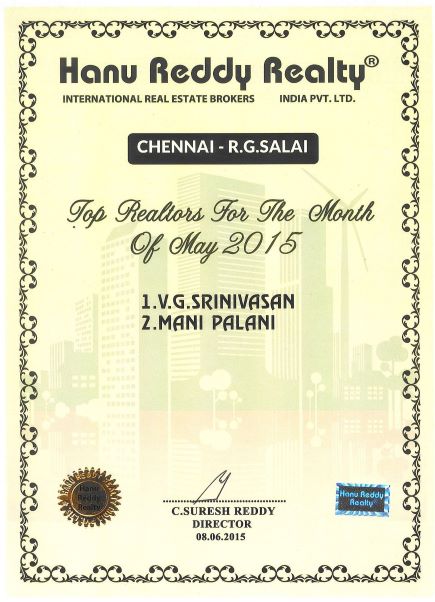 2775
Certificate of Merit
10-Jun-2015
2776
Certificate of Merit
10-Jun-2015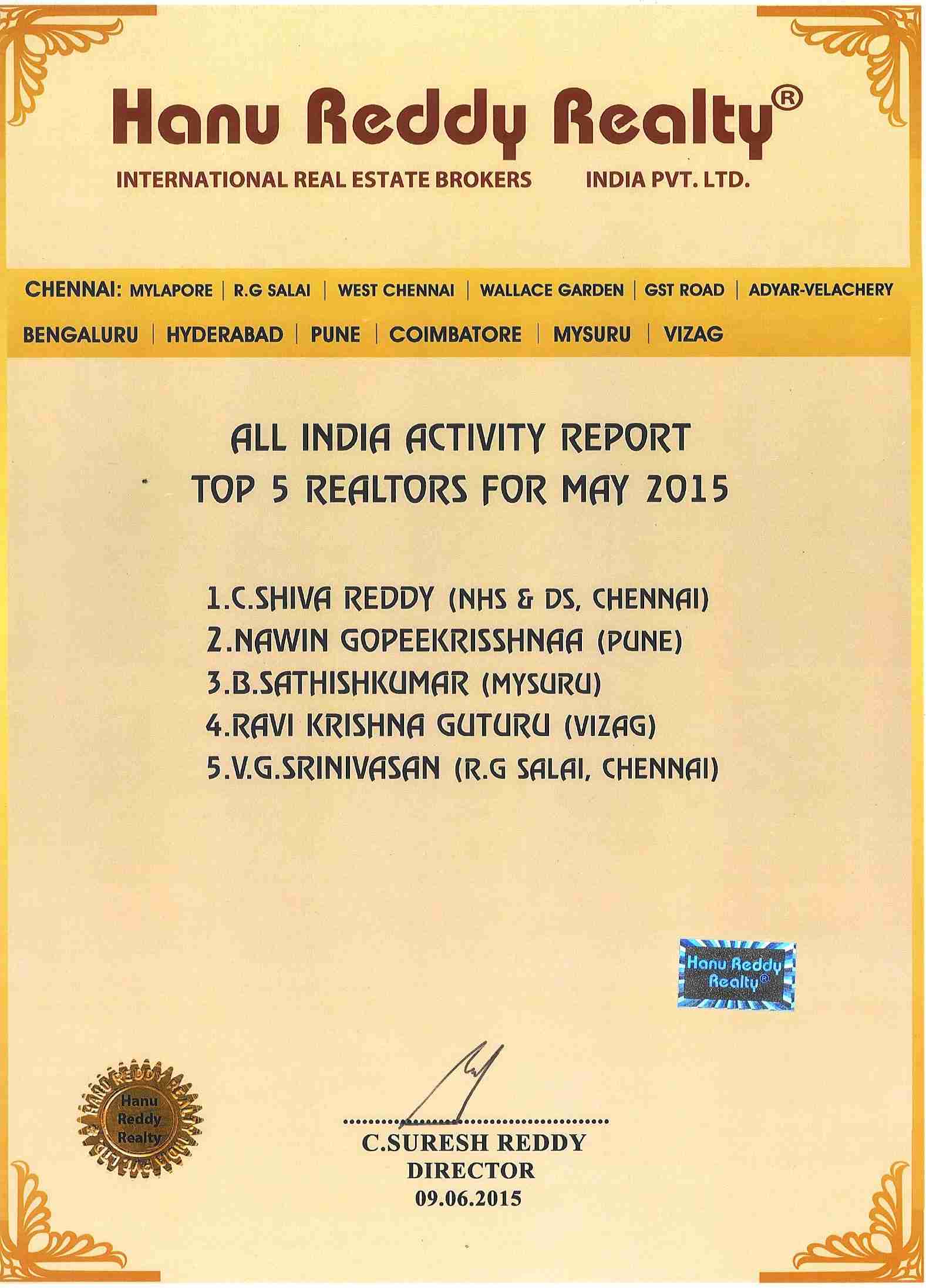 2660
Certificate of Top Realtors
03-Mar-2015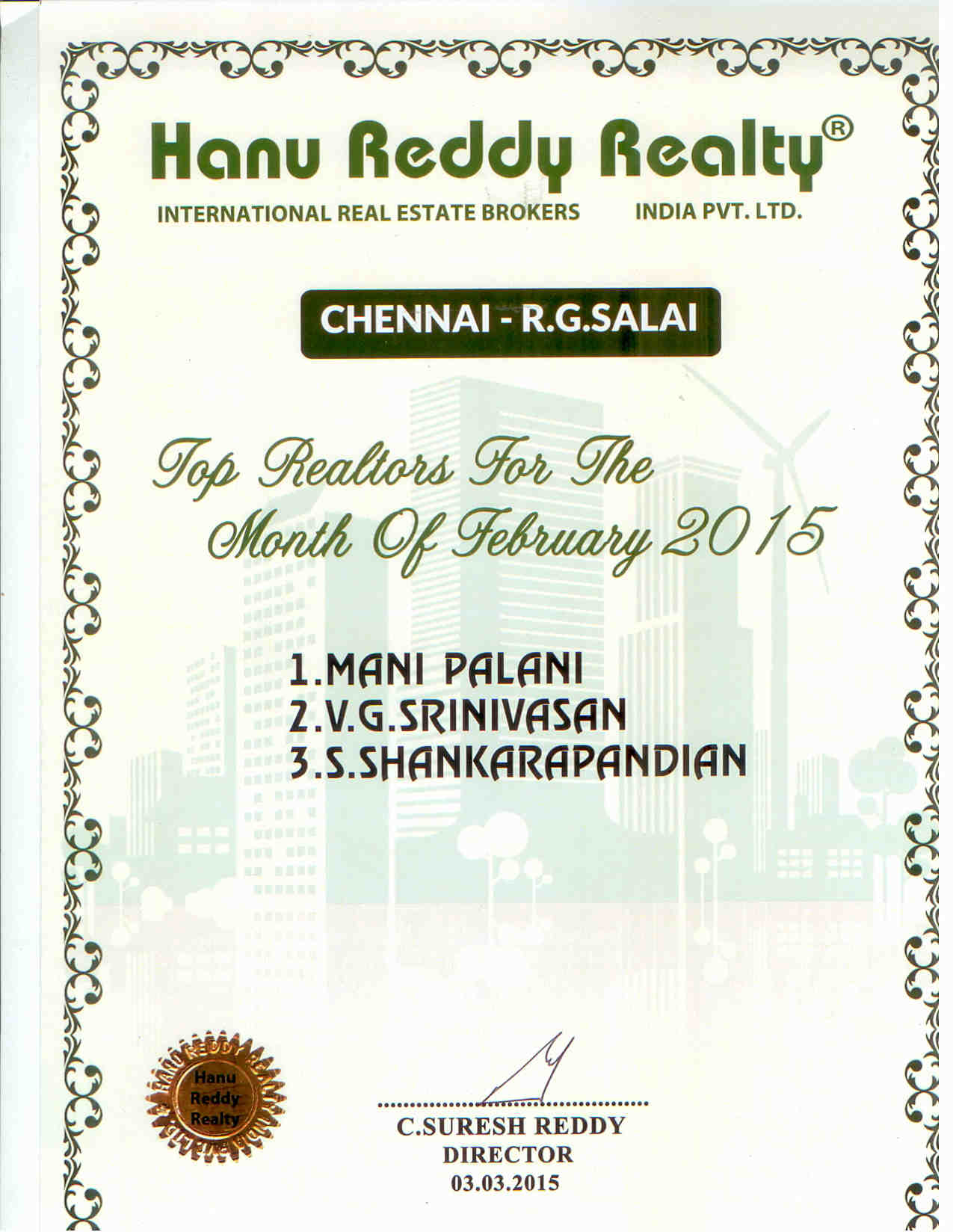 2297
TOP REALTORS OMR 2013 - 2014
02-Apr-2014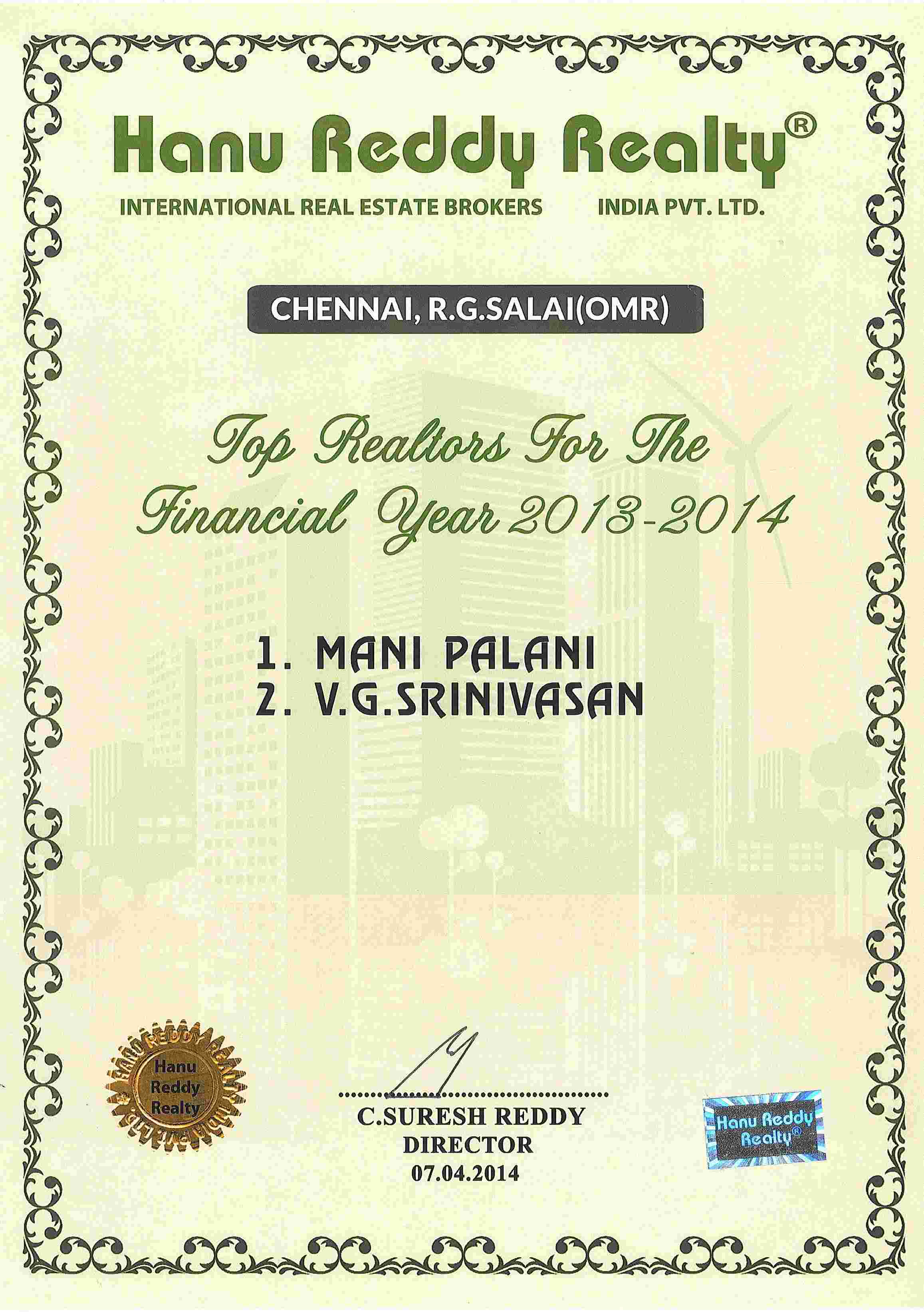 335
25-Jul-2013
Dear Mr. Reddy
To,
Mr. Suresh Reddy
Managing Director
Hanu Reddy Realty India Pvt. Ltd.
This is an appreciation letter for the EXCELLENT support and service provided by Mr. V G Srinivasan from your Chennai office.
We are trying to sell our Isha Signature Villa for the past year or so by ourself but were not successful. It was Mr. Srinivasan who got in touch with us and explained how he could help us and make the whole process easier for us. Yes, we took his words with a pinch of salt based on our past experience with Real estate Brokers in India. But Mr. Srinivasan lived up to each and every promise that he made to us.
Being an NRI and not being aware of the laws and process of selling a property in India, we completely relied on Mr. Srinivasan's support in selling our Isha Signature Villa in Jalladampet, Chennai . He was always available to take our calls and reply to our emails promptly inspite of the time difference between US and India. He guided us through each and every step of the process. He not only took care of things for us at our end but kept a well oiled communication channel open with the Buyers too.
When I came down finally for the sale of the property, Mr. Srinivasan had all the documents prepared and ready and he was with me personally each and every day as and when needed. He did all the running around with me to get the missing documents (from Registrar office to Bank to Property Tax office).
The whole sale process was a success ONLY DUE TO THE UNCONDITIONAL SUPPORT AND COOPERATION OF MR. SRINIVASAN.
I would be highly recommending the services of Mr. Srinivasan and your firm to all my friends and relatives. I will not hesitate to contact you all if and when I decide to buy a property again in Chennai.
Sincerely,
Mr. Shatrughan Sharma
6040 Boulevard East
West New York,
New Jersey – 07093 (USA)
338
04-Dec-2012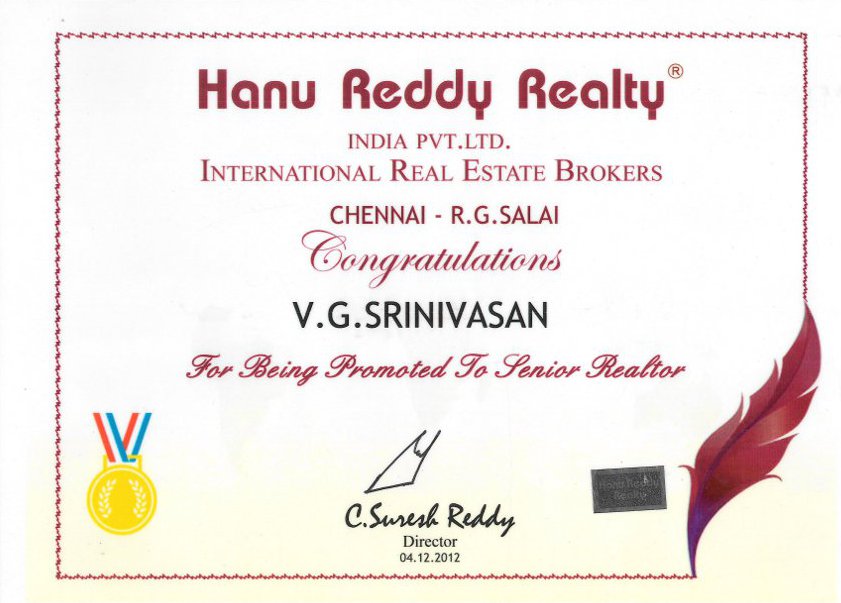 340
30-Nov-2012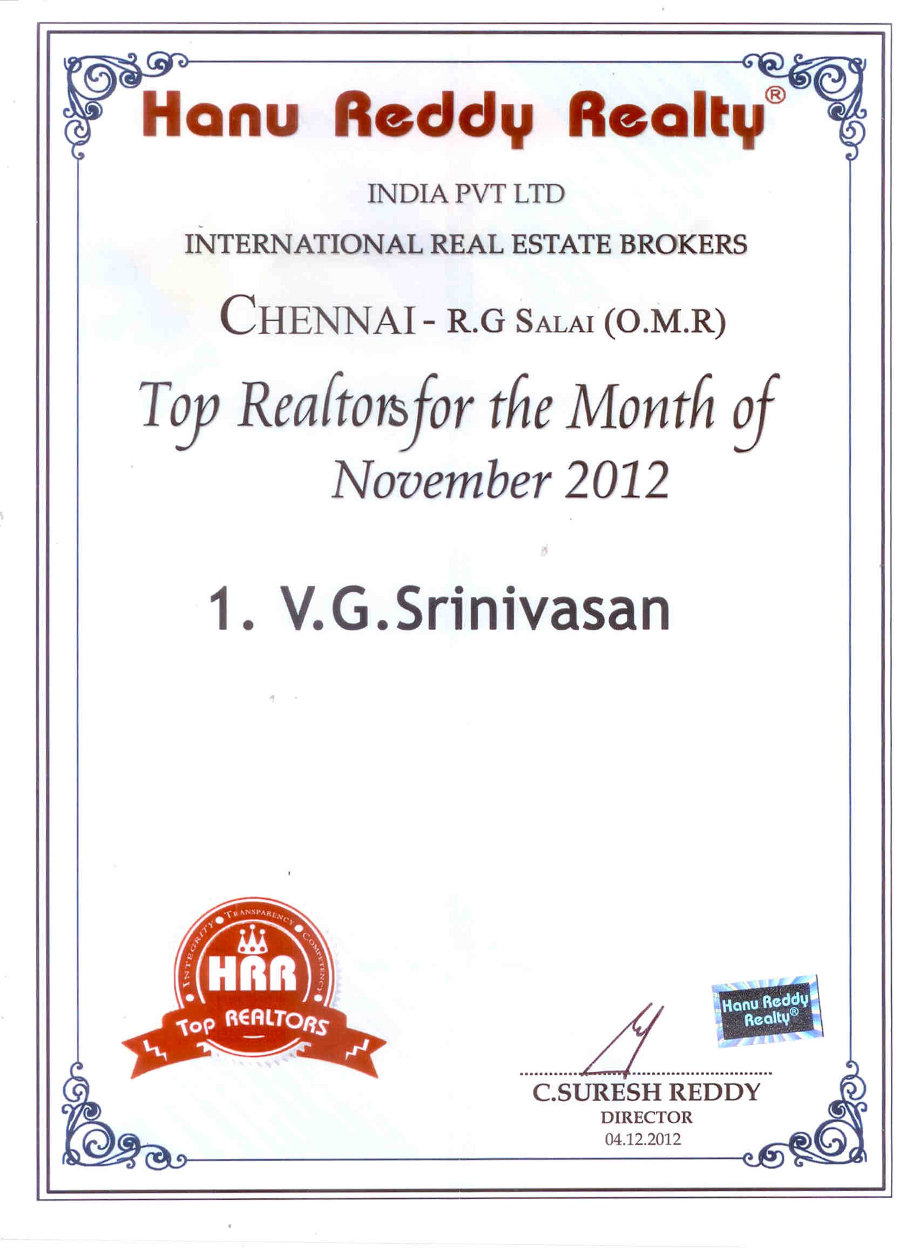 341
31-Jul-2012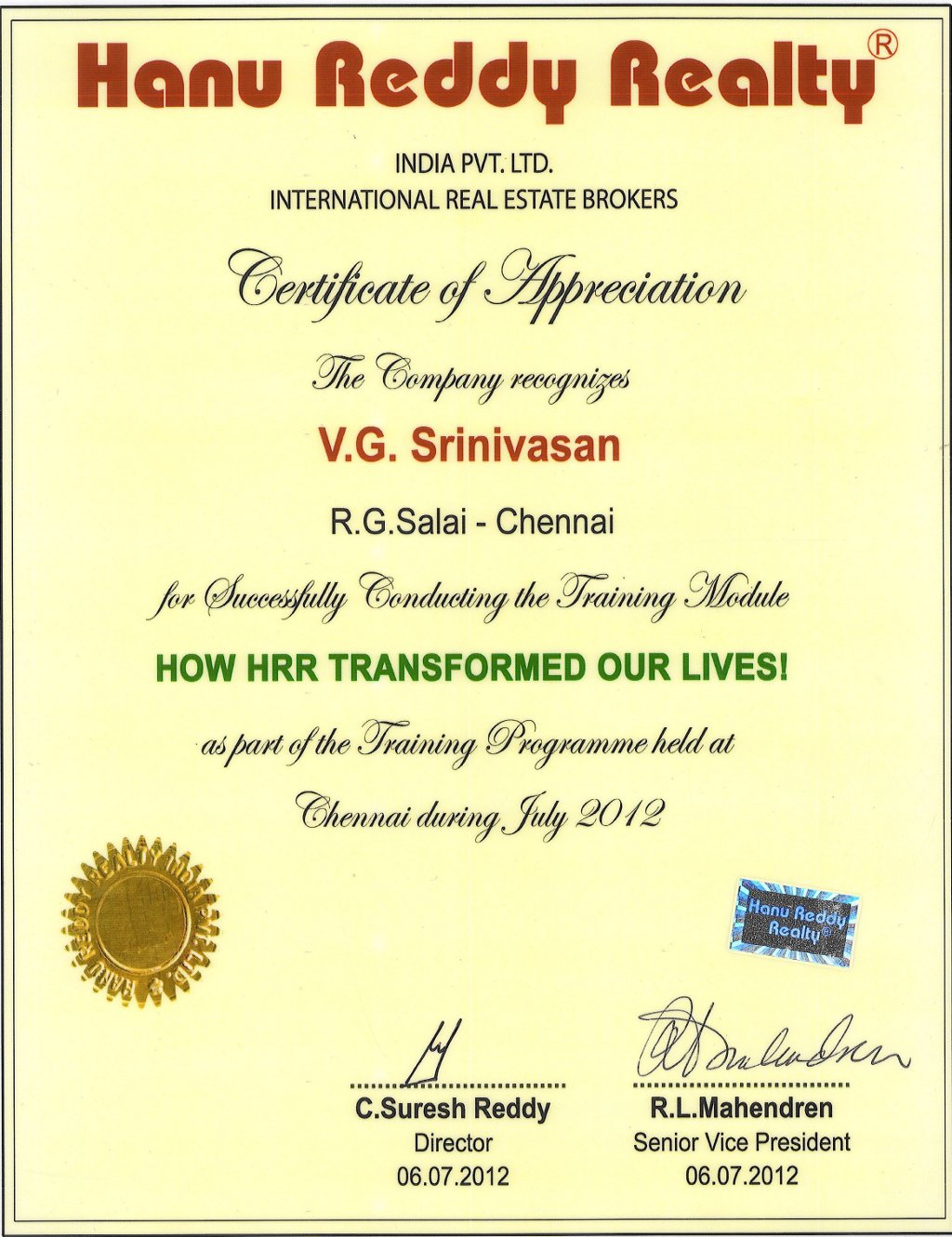 2148
01-May-2012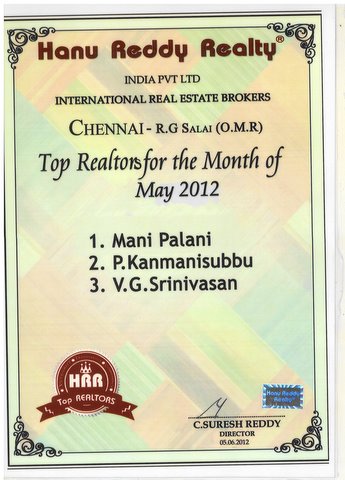 345
31-Aug-2011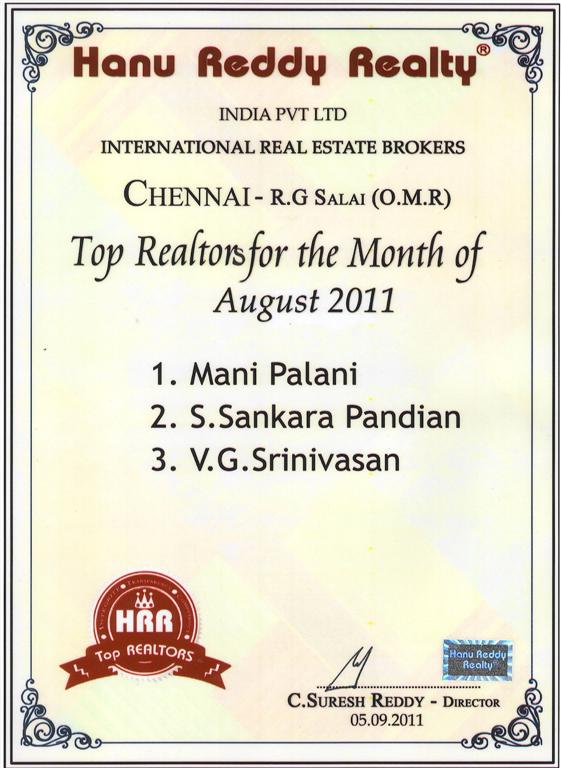 368
31-Aug-2011
347
02-Jun-2011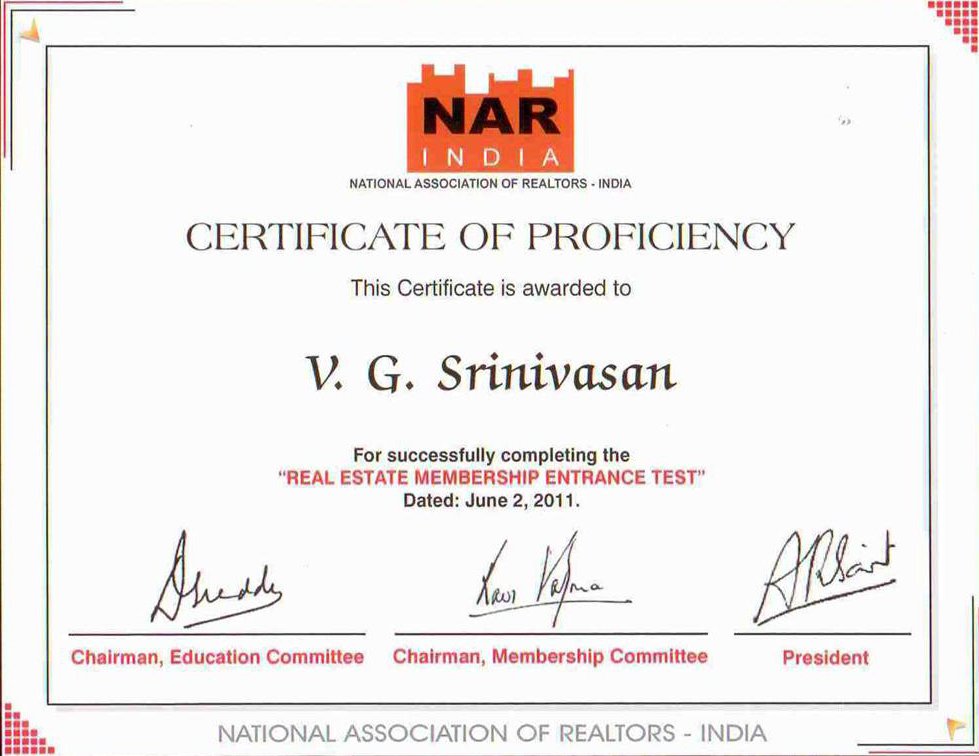 346
01-Jan-2011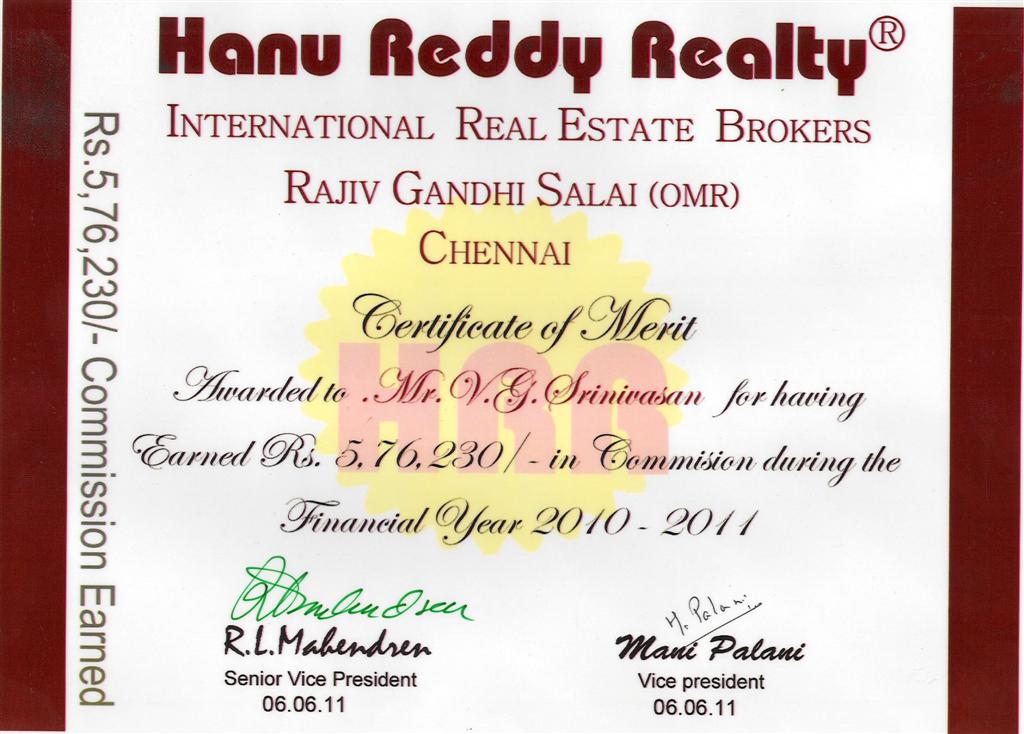 353
01-Jan-2011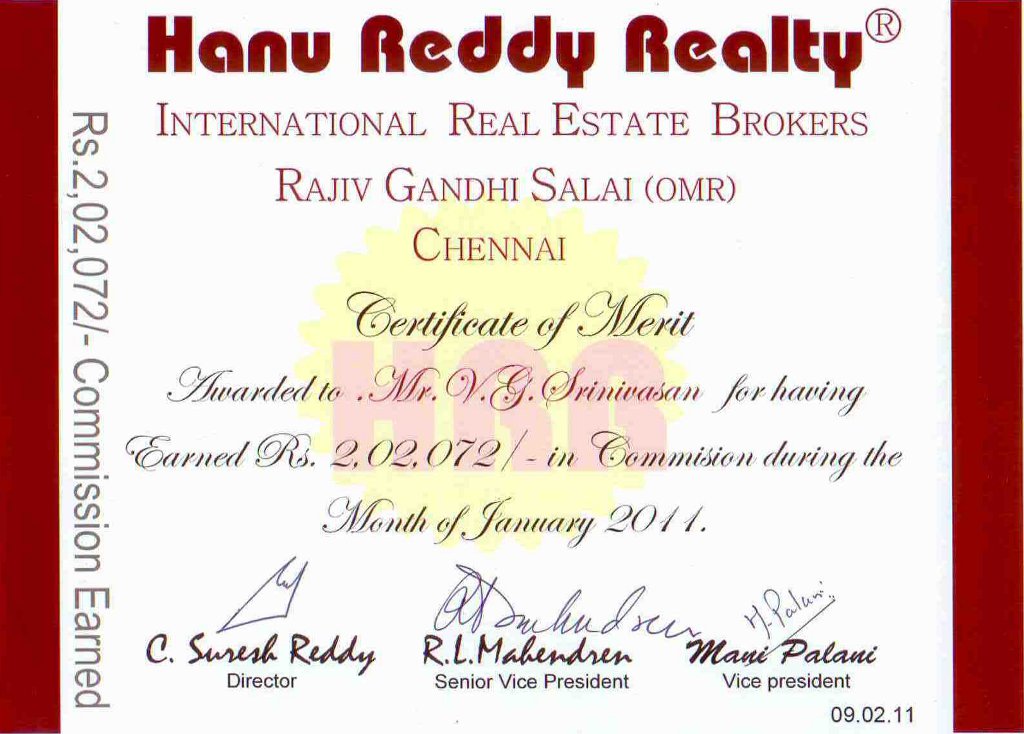 300
18-Oct-2010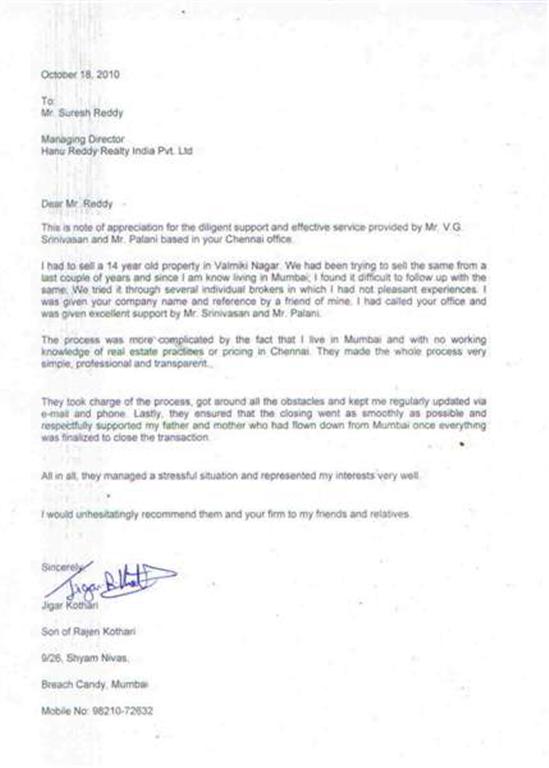 305
30-Jun-2010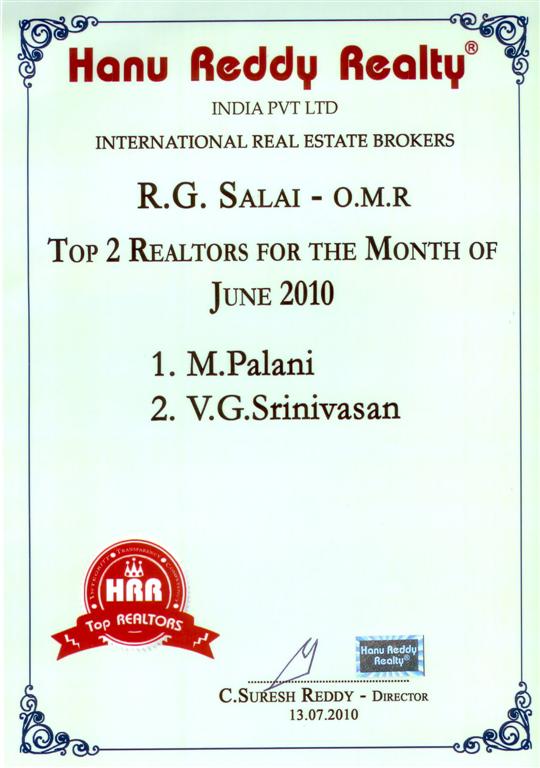 218
25-Mar-2002
Dear Mr.Suresh Reddy,
Compaq Computer (India) Pvt. Ltd.
5th Floor, "Buharia Towers"
4, Moores Road, Egmore
Chennai – 600 006
Tel: 91 (44) 823 1510
Fax: 91 (44) 821 6001
www.compaq.co.in
The Director
HANU REDDY REALTY INDIA (P) LTD.
Mylapore
Chennai – 600 004.
At the outset, I thank you very much for your initiative in helping me to identify a good apartment (K.G.Eternia in Alwarpet) during my transfer from Cochin to Chennai. I was really impressed with the professional way of approach and the excellent services rendered by your organization.
I would like to appreciate the good work from your team, especially the services by Mr.Xavier and Mr.Muthukrishnan. They were extremely helpful & supportive.
Thanks once again & wishing the very best to your organization.
Best Regards,
Saji Kumar S.
Major Account Manager
348
Dear Sir,
This is to place on record the commendable service rendered by M/s Srinivasan and Dhanlakhmi in locating a good purchaser for our flat. We appreciate the prompt, polite and practical service rendered by them.Such employees are a great asset to M.s Hanu Reddy and we feel that they should be encouraged to continue their service by appropriate incentives and appreciation. WE are indeed grateful to them and shall approach m/s Hanu Reddy for our future needs as well. We will be more than happy to recommend their services to our friends
regards
Iyer
350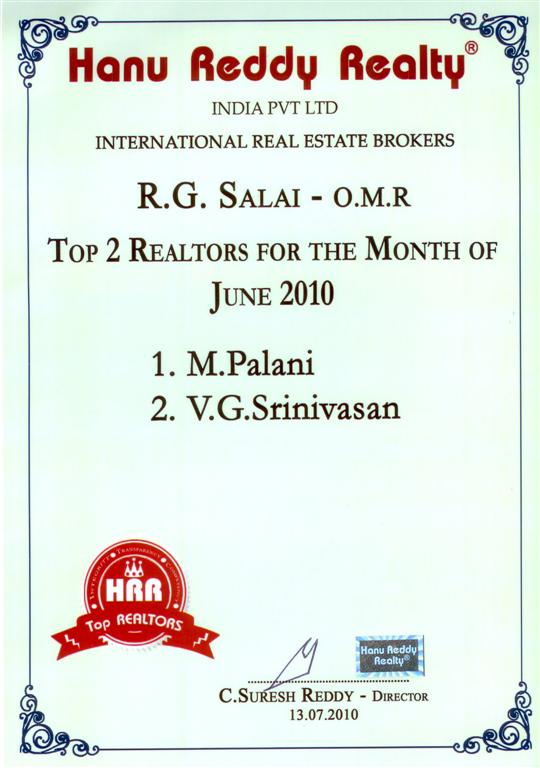 351