Testimonials
This is what our clients say about us...
View All Testimonials
3199
Google Review
16-Jun-2017
Padmanaban vasan
When we initially plan to move to Adyar for a rented house to solve our commutation issue for our Kid's school, it was Jagdeesh (Hanu Reddy Realty) who turned our direction of our dream to made our dream come true "own flat in Adyar KB nagar" one of a peaceful area in our town.
Its all the matter of approach which made us to change our mind from Rent to Own a flat in Adyar, his positive approach and the way he responded to our queries gave us confidence and comfort.
He created a mutual trust between me and Mr. Ravisankar (Seller) though his transparency and loyalty and rest is the registration. I would like to thank Mr. Jagdeesh at this juncture (1st Anniversary of our home purchase). Thanks Jack.... appreciate your dedication and commitment all the more your approach which will take you to places.... All the very best
3188
Certificate
07-Jun-2017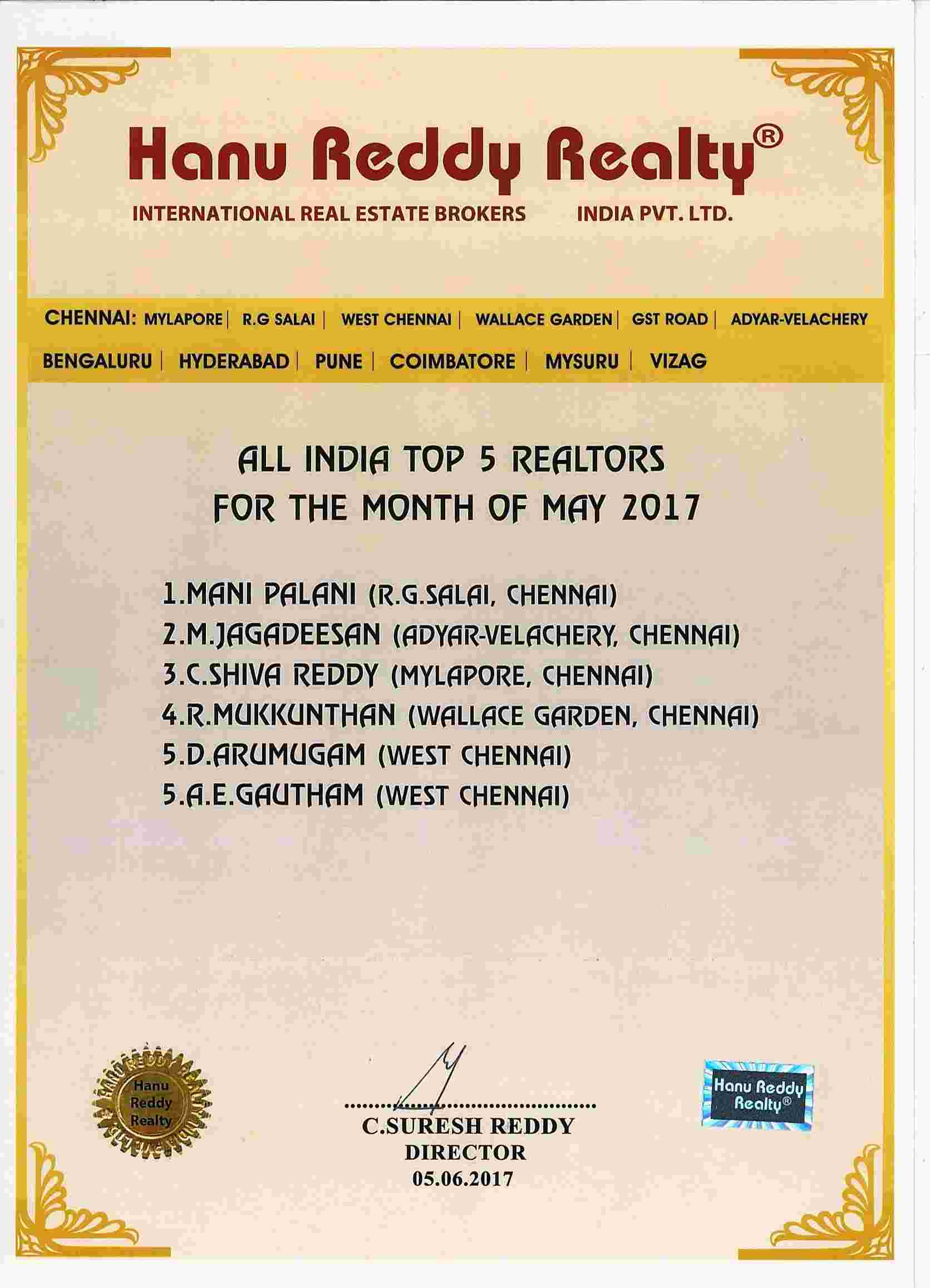 3189
Certificate
07-Jun-2017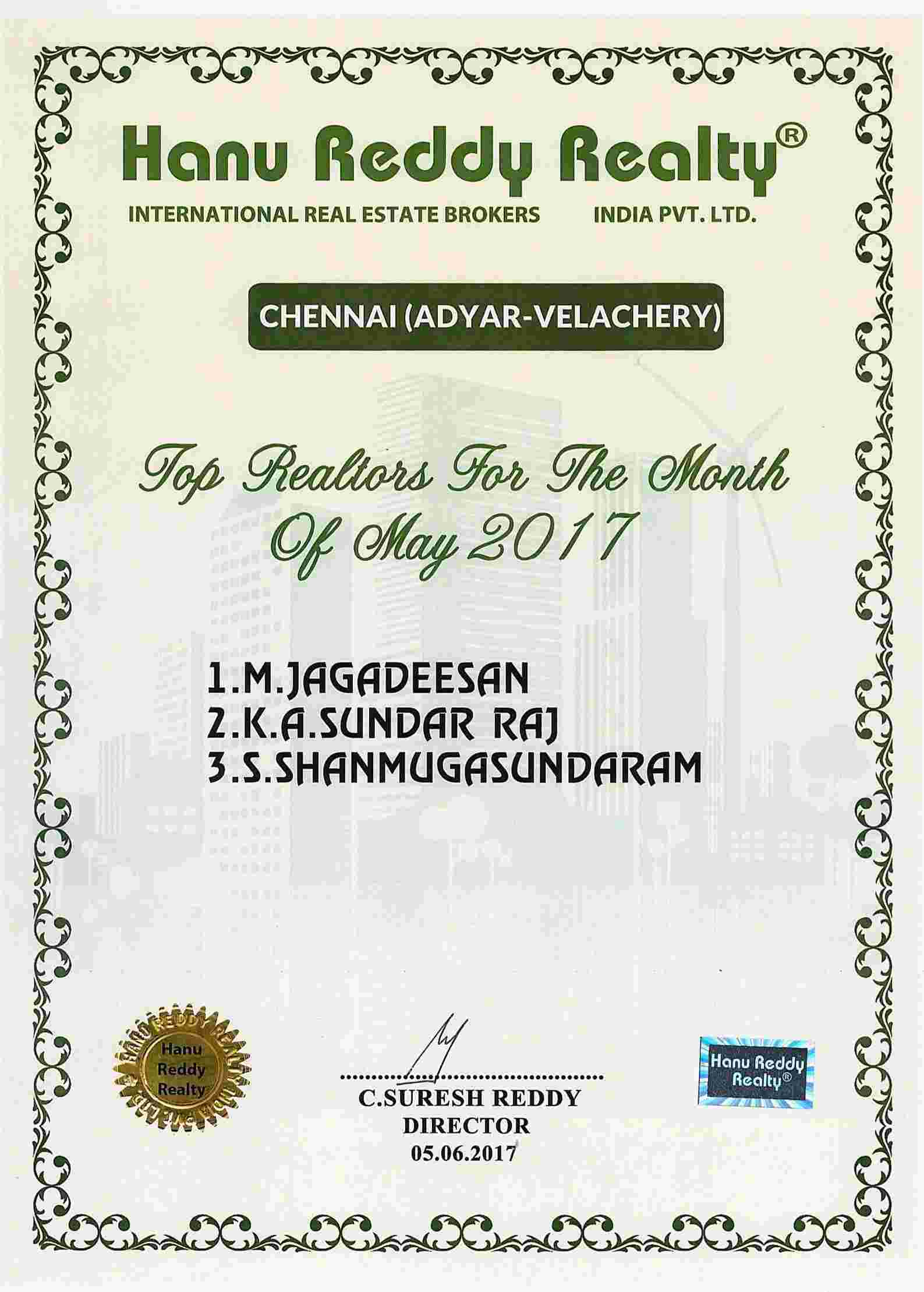 3183
Google Review
23-May-2017
Akanksha Bishnoi
Jagdisha has been a great broker.
3181
Google Review
18-May-2017
PK Madhav
The Realtors were courteous and they stayed in touch. But considering that you charge fairly hefty fee and do so from both the buyer and the seller, one would like you to offer all encompassing service. You service should cover liaison with the bank and you should provide full legal service. Client should receive from you the entire gamut of services leading up to registration and indeed till occupation of the acquired property. Also, you should be able to secure keys for the property and be able to show the property to the prospective buyer more than once. In our instant case, since the Sellers were in Bangalore and were elderly people, we saw the property only once before registration.
When property prices are increasing exponentially, 2% of sale consideration especially when the seller is also represented by your company is on the high side. Please consider providing value added services so that the buyer does not have to do so much running around.
3157
Appreciation Letter
06-May-2017
I am Aneetha Raghavan a NRI. I recently sold my flat through Hanu Reddy Realty.
My realtor was Jagadeesh. I am writing to you as i am unable to post on google review.
I am sharing my review, please post it.
Thank you Jagadeesh and Hanu Reddy Realty for making the experience of selling of my flat in Tambram
such a smooth,non anxious and successful one.
I will definitely recommend you if any of my friends or relatives need an agent to buy or sell a property
Best Wishes
Aneetha Raghavan
3151
Top Realtor
03-May-2017
3131
Certificate
12-Apr-2017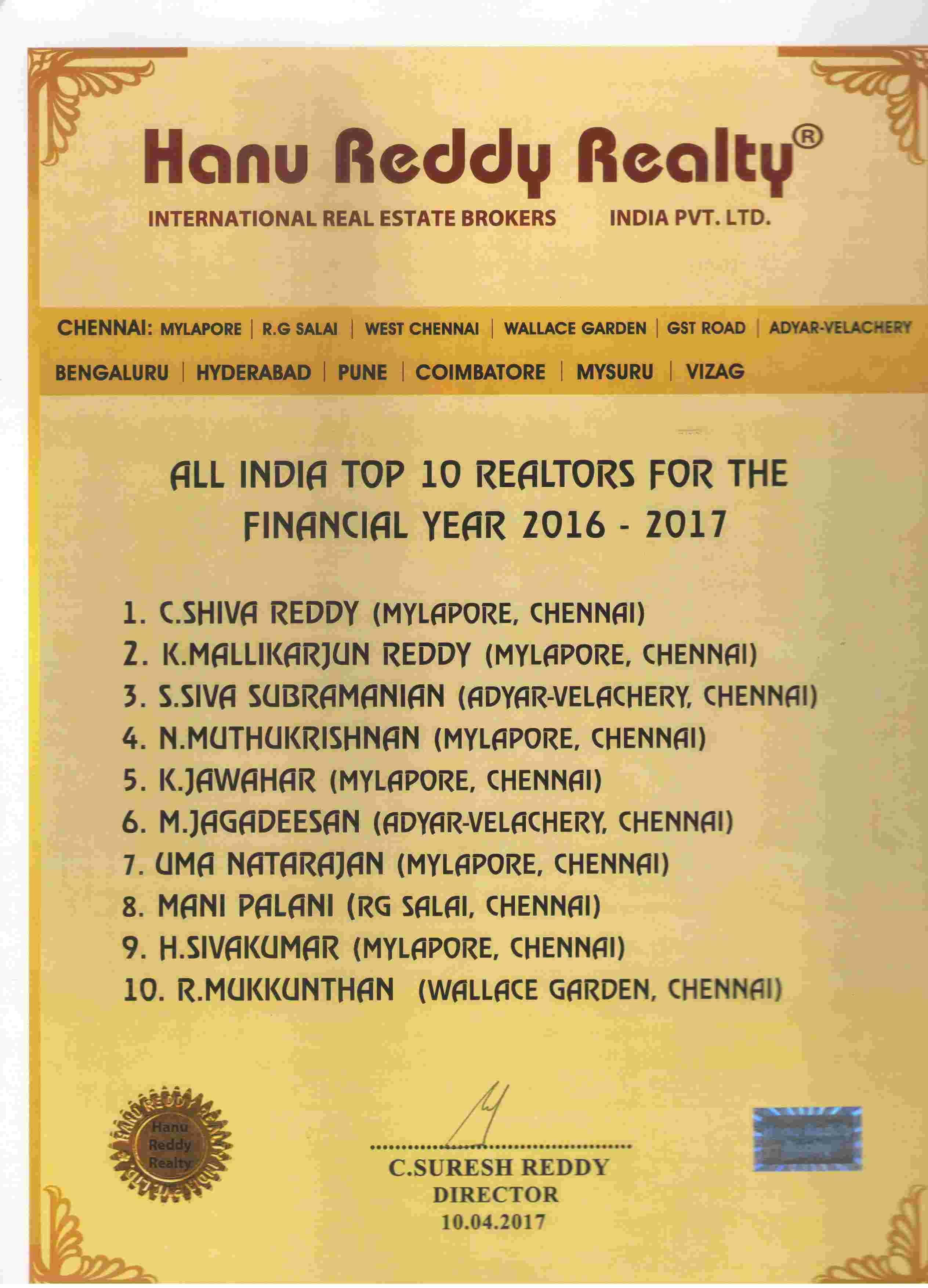 3132
Certificate
12-Apr-2017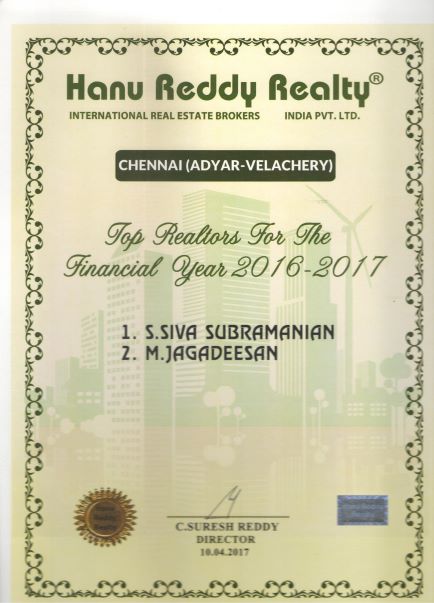 3133
Certificate
12-Apr-2017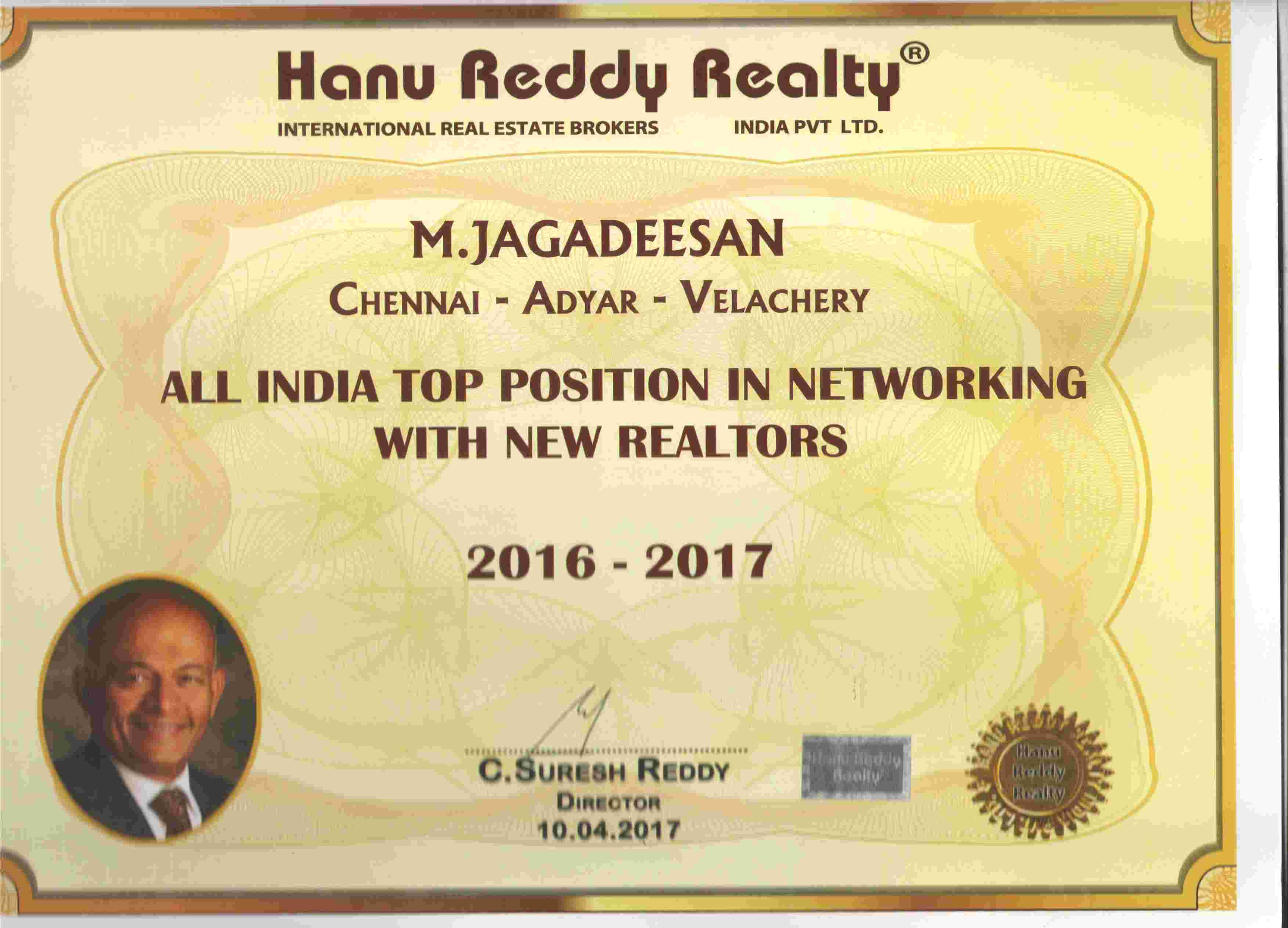 3134
Certificate
12-Apr-2017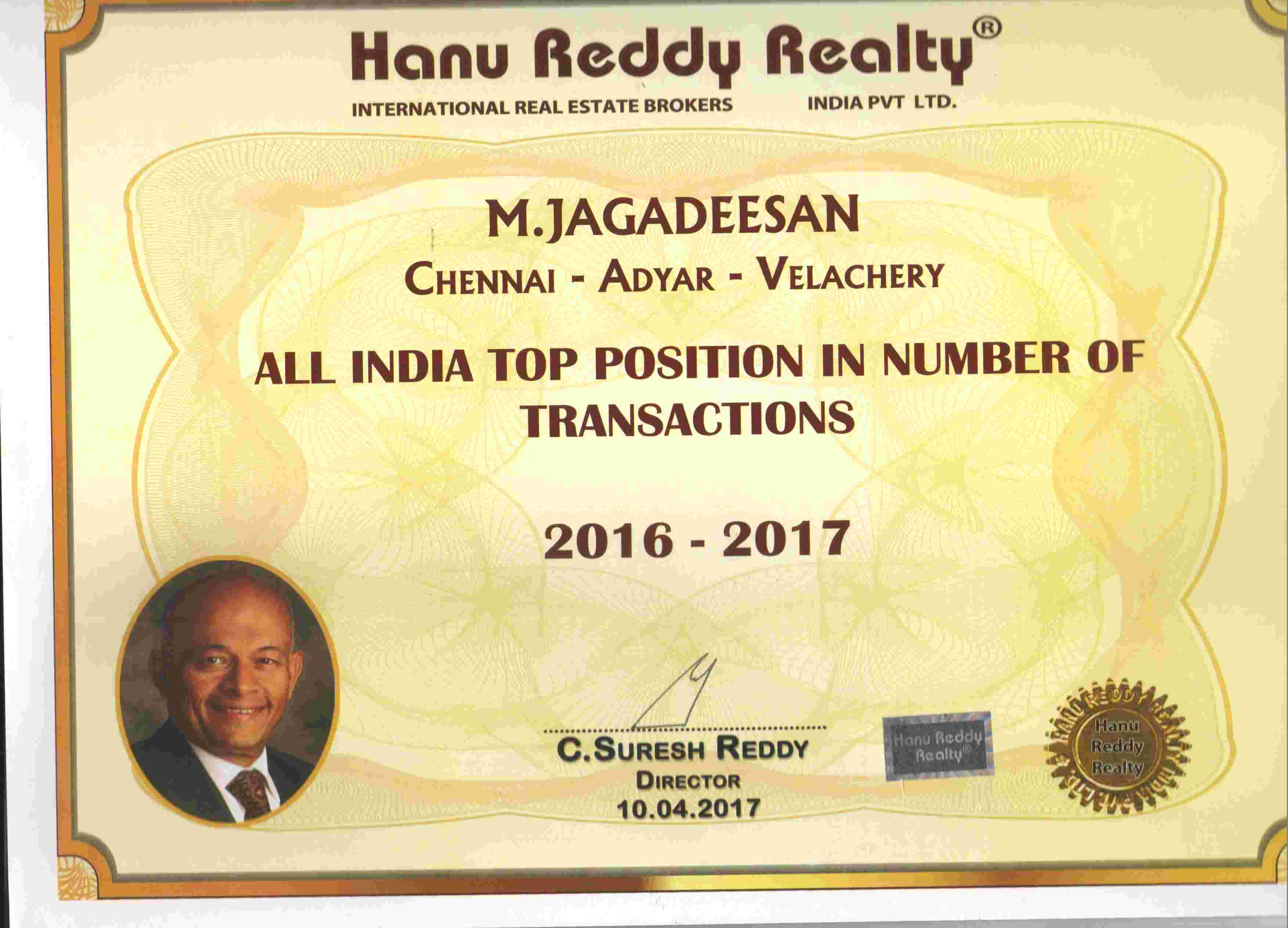 3128
Certificate
12-Apr-2017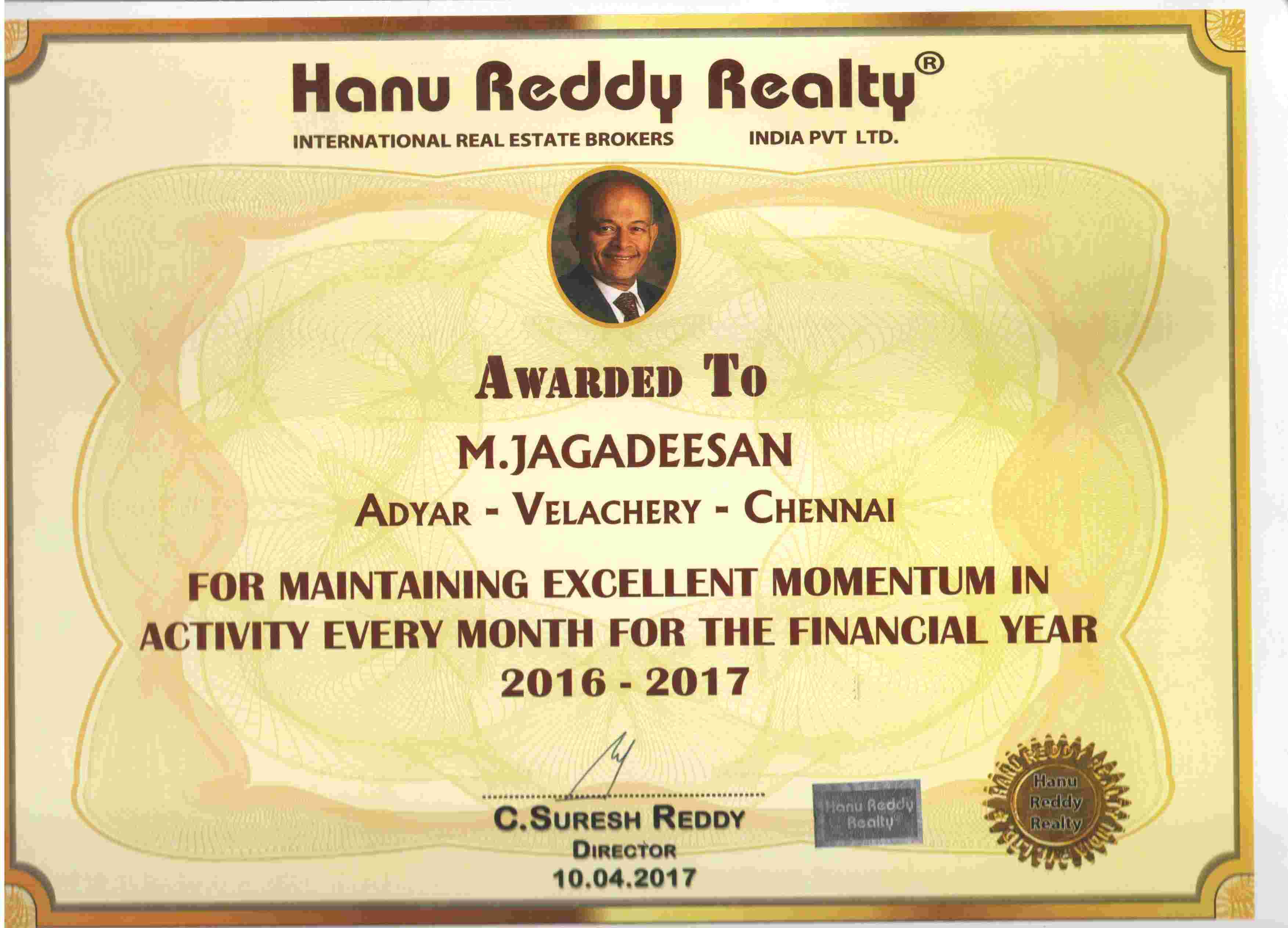 3129
Certificate
12-Apr-2017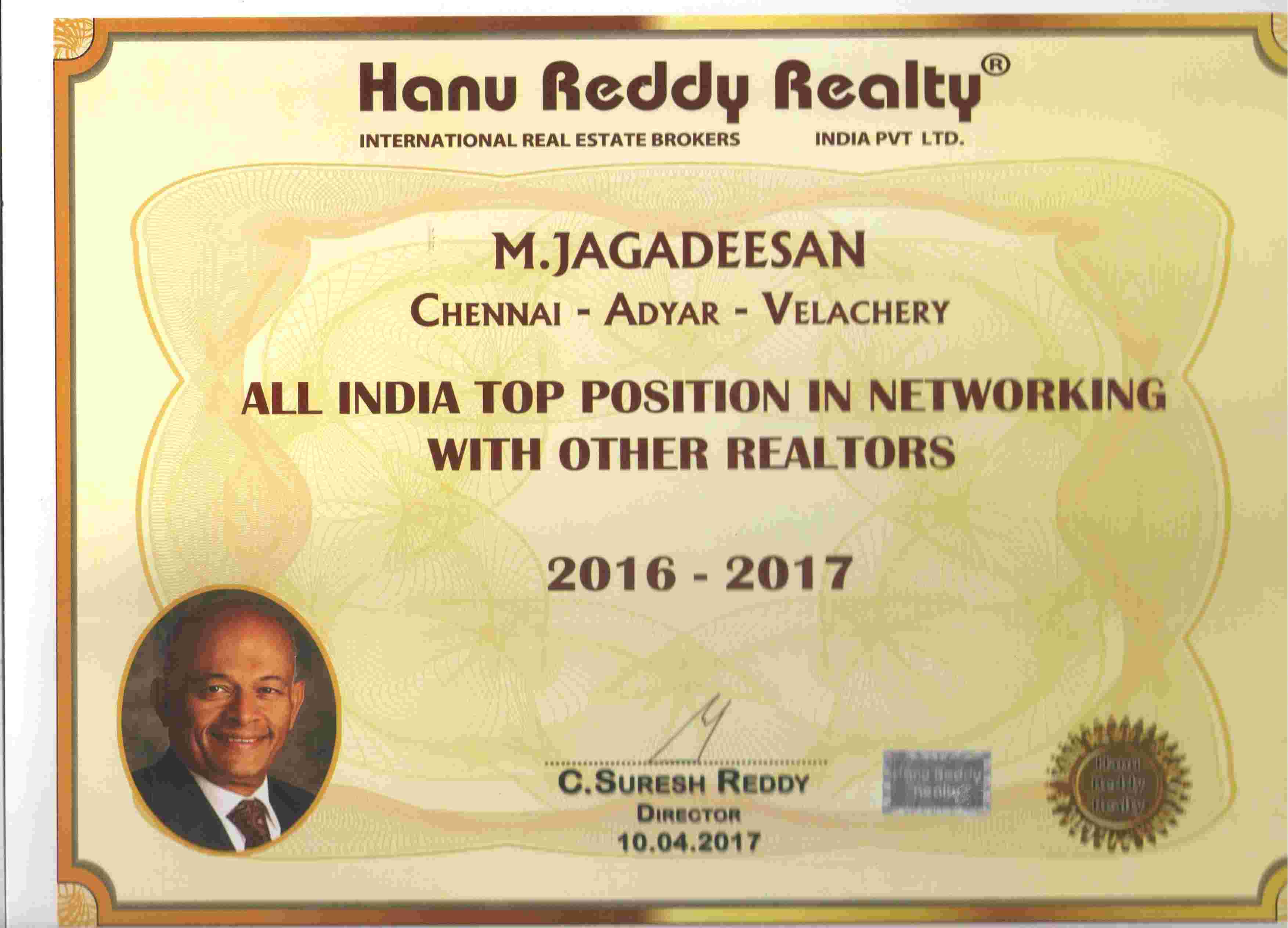 3105
Certificate
09-Mar-2017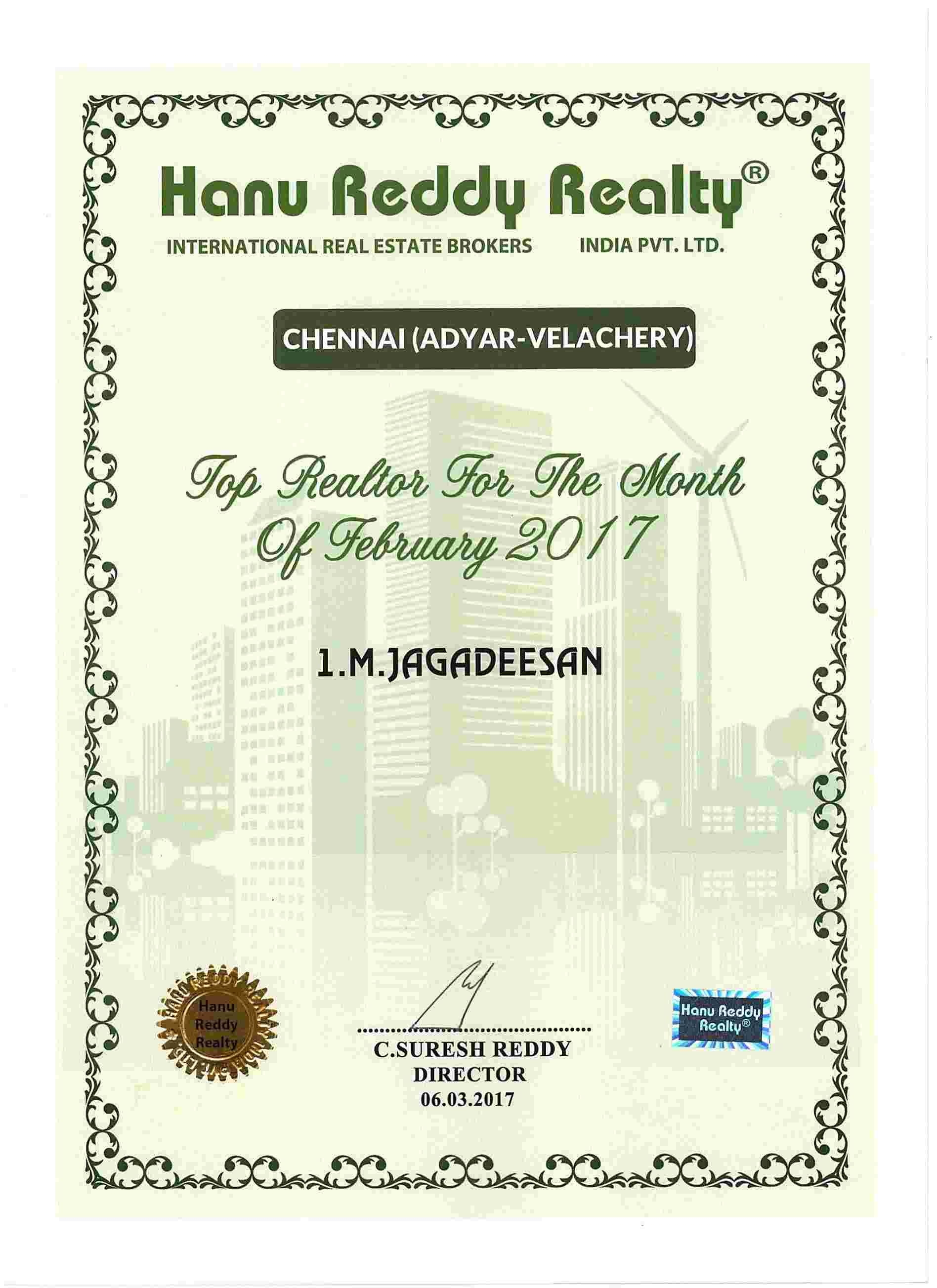 3079
Certificate
10-Feb-2017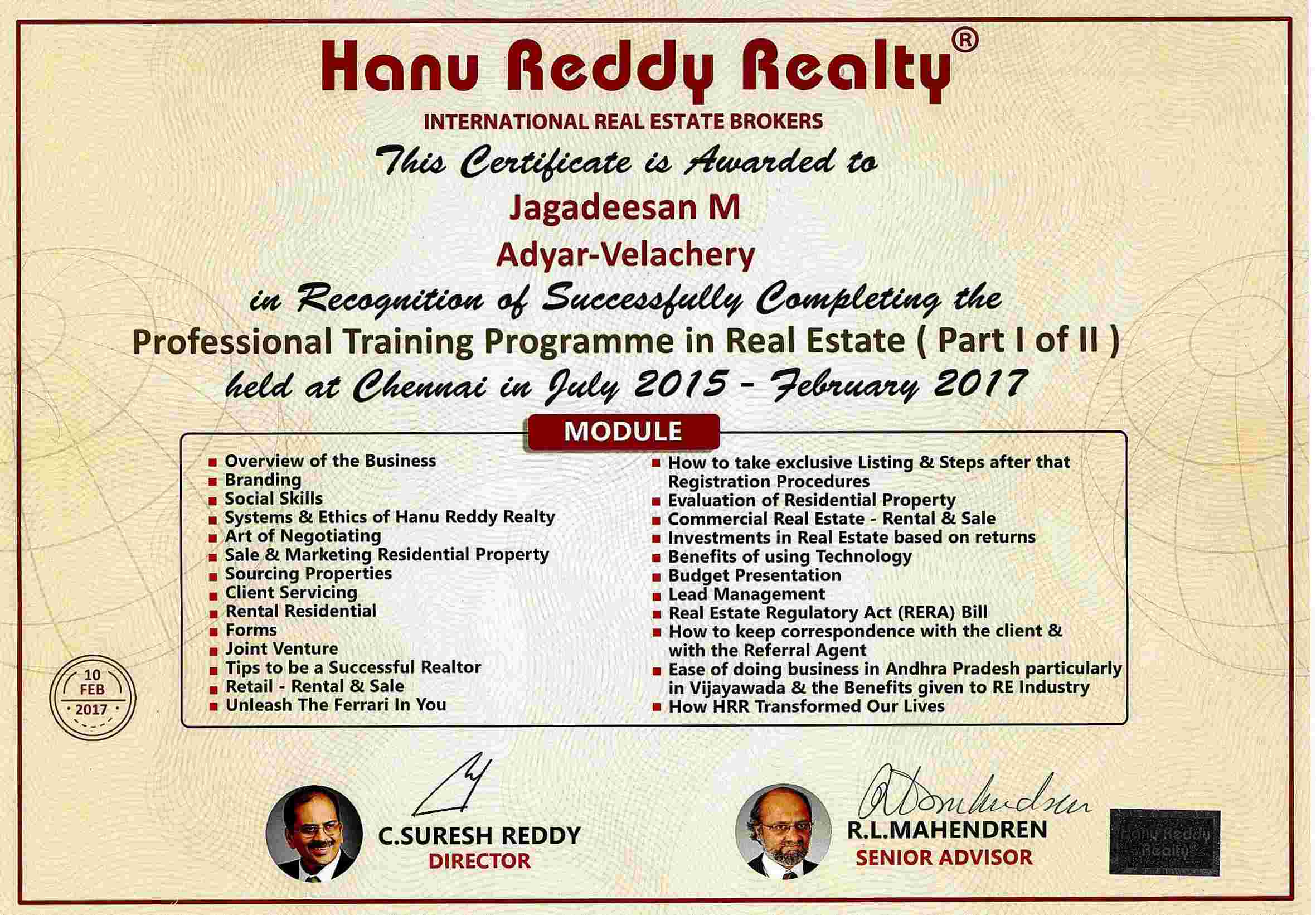 3080
Certificate
10-Feb-2017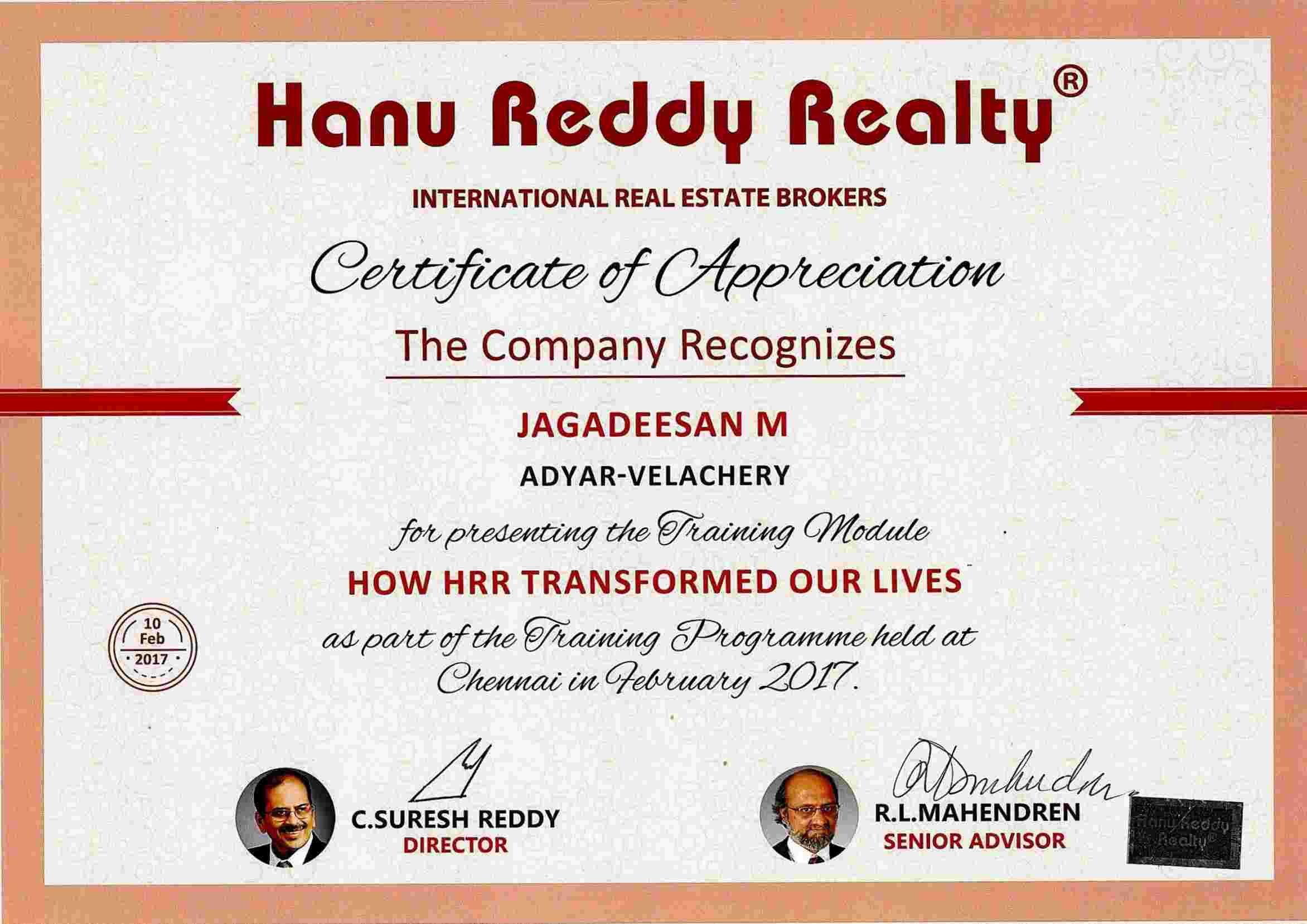 3062
Google Review
08-Jan-2017
Viral Dave
It was truly a good professional approach by Hanu Reddy Realtors in identifying my rental flat in Adyar Chennai. Specially i need to take the names of Mr. K P Prakash, Mr. V E Prakash and Mr. M. Jagadeesh, who did a great job. I really recommend them and Hanu Reddy for any kind of Real estate transaction and appreciate their profession service and approach.
3061
Certificate
06-Jan-2017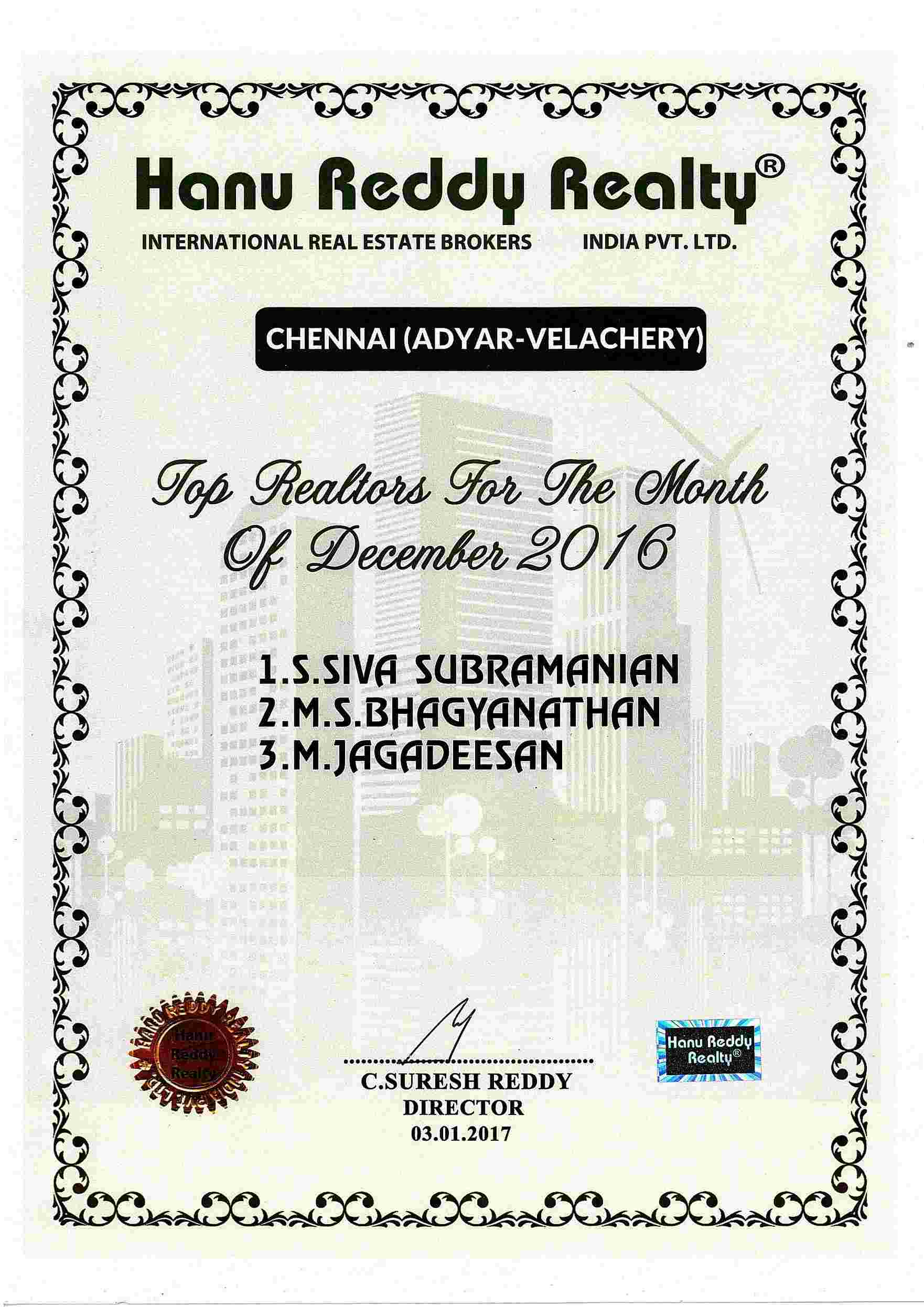 3050
Google Review
09-Dec-2016
Aneetha raghavan
Thank you Jagadeesh for selling my Adyar flat. You were very professional, helpful and gave me a fantastic real estate experience.
I wish you all the success in your future endeavours.
Cheers
Aneetha Raghavan
3025
Certificate
17-Nov-2016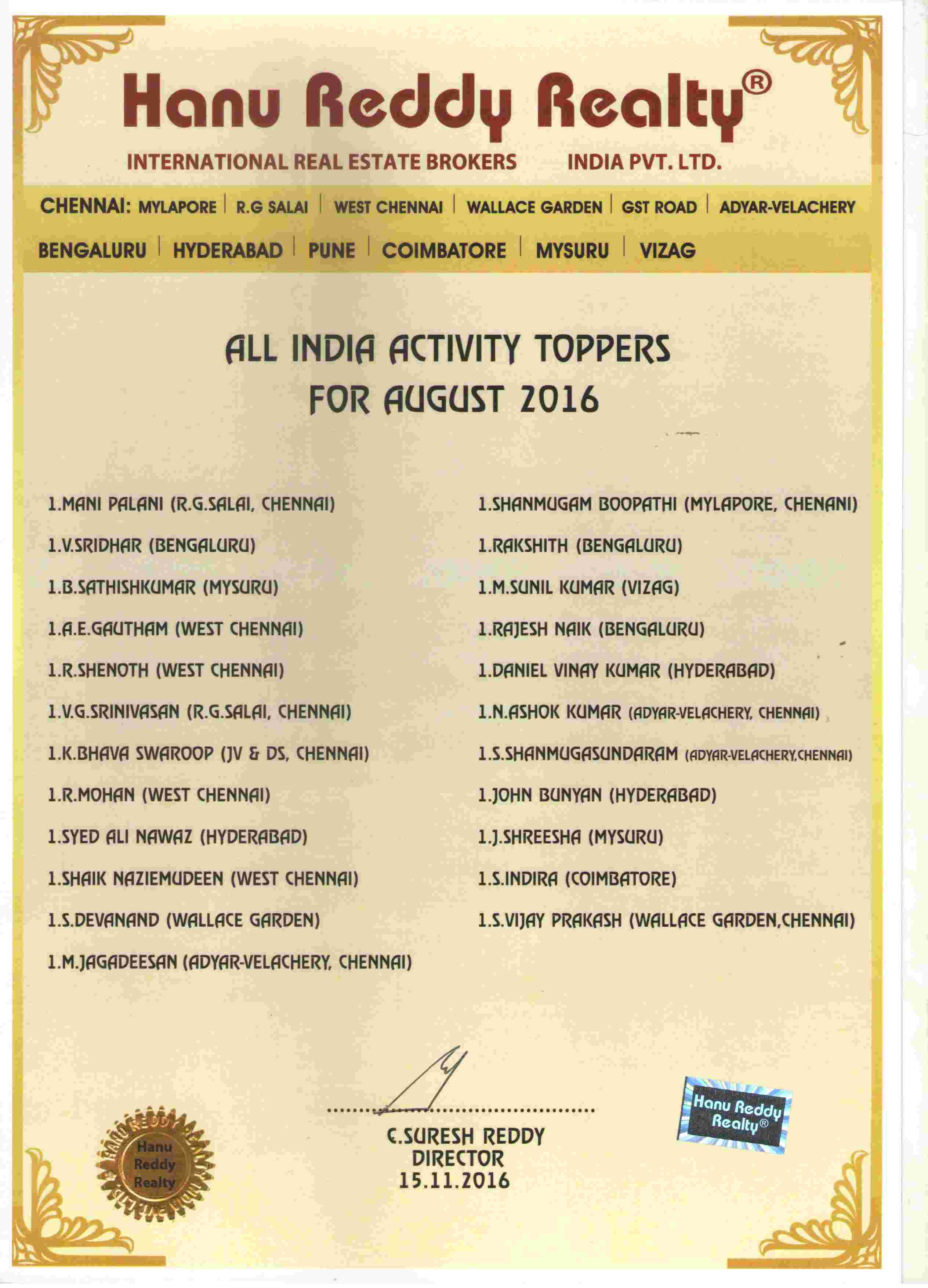 3018
Certificate
09-Nov-2016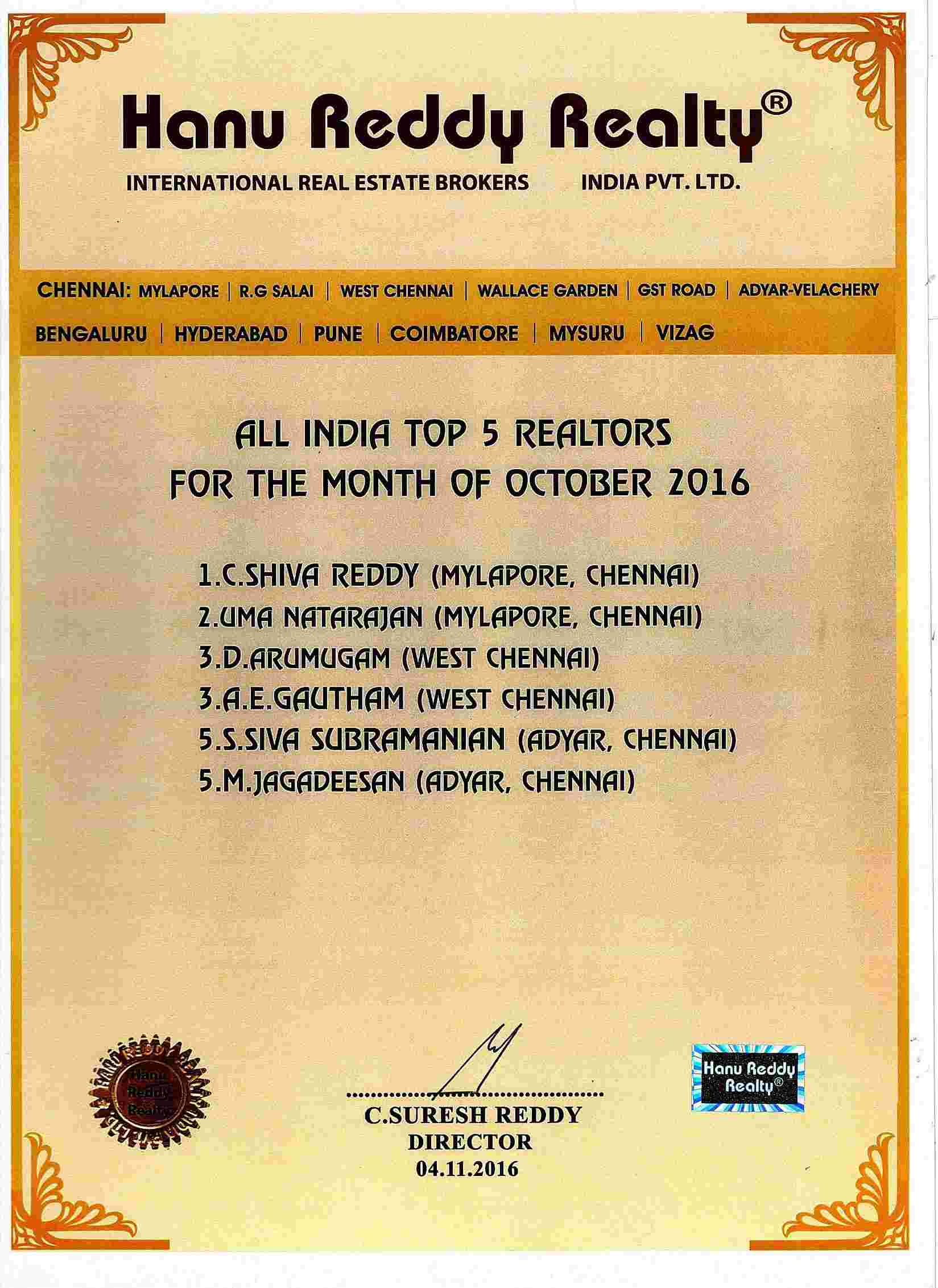 3019
Certificate
09-Nov-2016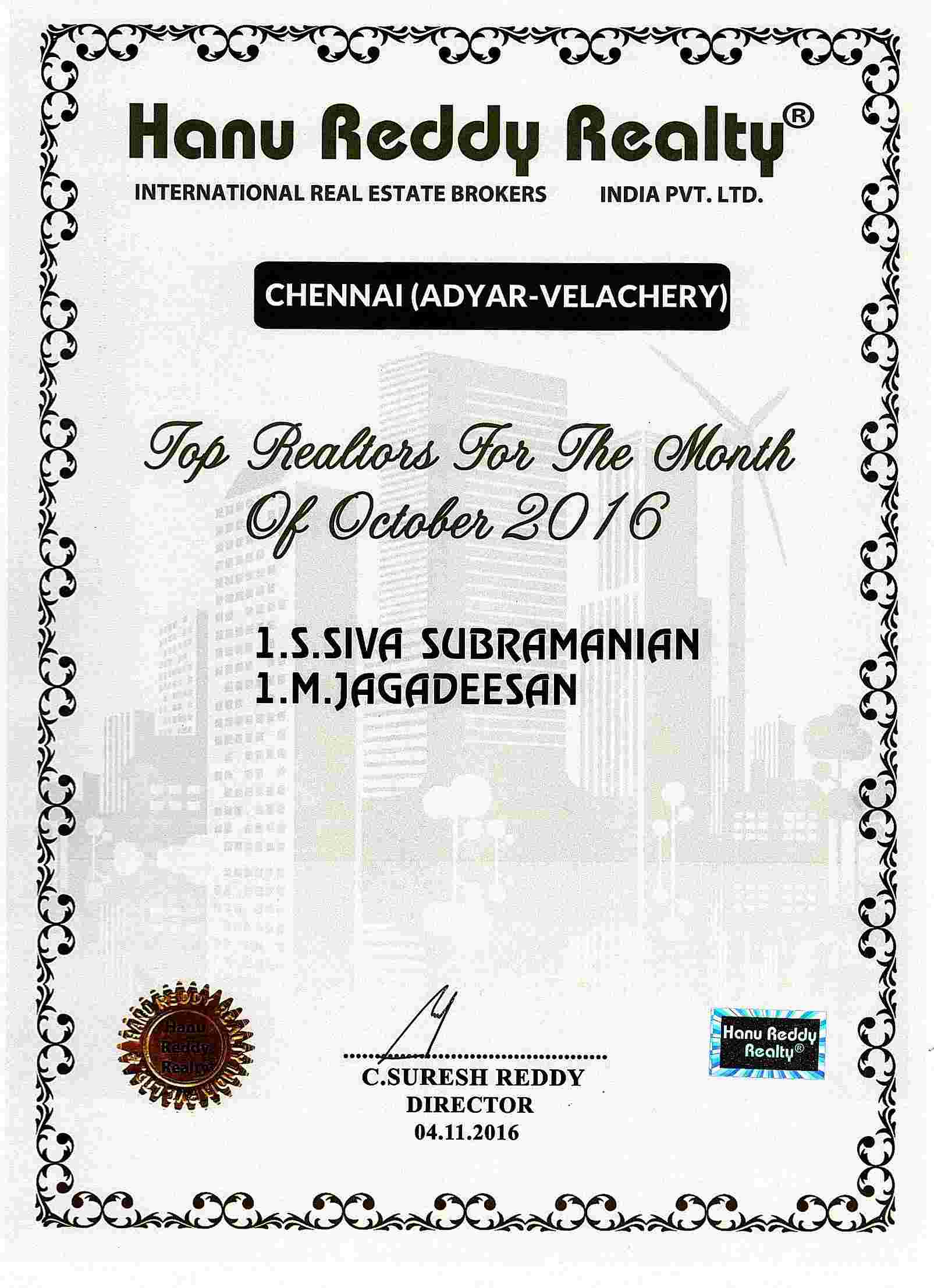 3010
Google Review
08-Nov-2016
Praveen Joe
The coordination was excellent and their approach was professional in all transactions and over all it was a pleasant experience
3011
Google Review
08-Nov-2016
Sandhya Raman
My experience with Hanu Reddy was very good. The realtor Mr. Jagadeesan was very courteous and helpful and helped us get the house according to our criteria of locality and budget.
3007
Google Review
07-Nov-2016
Johnson JK
It was a truly a good professional approach by Hanu Reddy Realtors in identifying buyer for my flat in Velcherry Chennai . Specially i need to take the name of Mr. Jagadeesh and Mr. Ashok who tirelessly stood firm behind me from the beginning till the deal finalized, registration done and payment received. I really recommend them and Hanu Reddy for any kind of Real estate transaction and appreciate their profession service and approach.
Johnson JK -.
3008
Google Review
07-Nov-2016
Mohanakrishnan selvaraj
The success of Hanureddy realty is their people/employees. Mr.Jagadeesh was our consultant and he was very polite & stayed supportive until end of the deal. In fact he played a vital role in materializing the deal beyond all its intricacies while evolving from one stage to next. What really surprised me was their presence in each stage of the process (which we can't see in other consultants) and their expertise. Of course I would recommend Hanureddy realty and Mr.Jagadeesh to anyone who anticipates advise/support to buy/sell property.
3003
Certificate
27-Oct-2016
2996
Certificate
08-Oct-2016
2954
Certificate
17-Jul-2016
2951
Certificate
06-Jul-2016
2952
Certificat
06-Jul-2016
2947
Google Review
22-Jun-2016
I sold an apartment in Adayar through Hanu Reddy and we finished the registration yesterday. Though my initial interface with an agent of Hanu Reddy was a disaster as he turned out to be rude to me and to the neighbour who helped him with the keys to my apartment, Jagadeesh. M who then took over the lead, made it a pleasure. Jagadeesh was polite in his manner and conversation and prompt while responding to queries and follow ups. From the first meeting till the process was complete, he was always available for any assistance. He also helped with additional documentation that was needed and in short did whatever was needed to make the sale go through smoothly. I recommend Jagadeesh and Hanu Reddy Realty.
2945
Certificate
17-Jun-2016
2946
Certificate
17-Jun-2016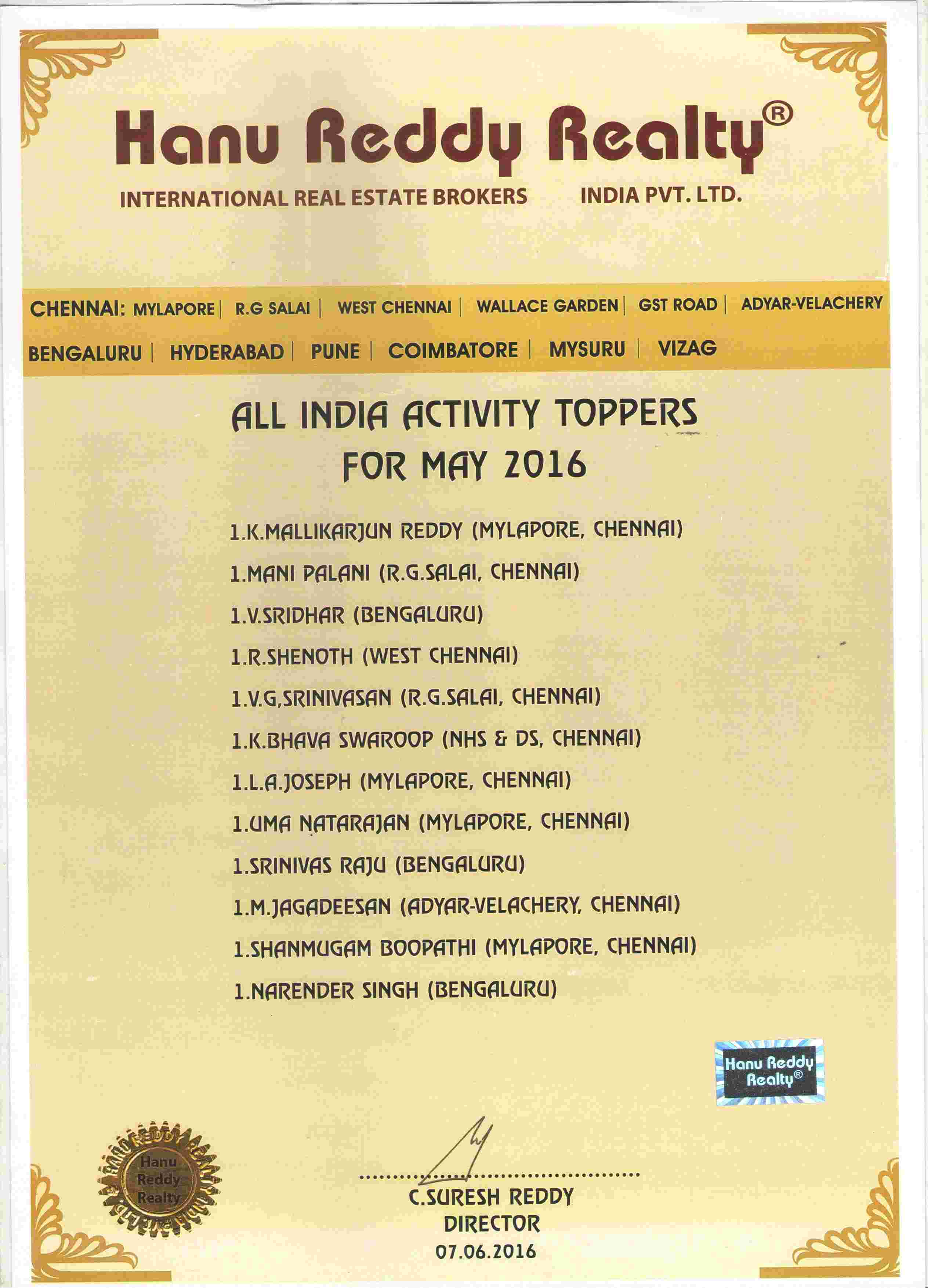 2940
Google Review
03-Jun-2016
S.SOUNDARARAJAN
TO ARRIVE, YOU MUST DEPART
A TESTIMONIAL
"As we express our gratitude, we must never forget that the highest appreciation is not to utter words, but to live by them."
| | |
| --- | --- |
| - | John F Kennedy: Thanksgiving Day Proclamation, 1963. |
When one travels the extra mile, the receiver is elated and responds in kind. This is the kind of relationship that has been cemented between me, an octogenerian real estate seller and Hanu Reddy Realty India Pv.t Ltd thanks to the extraordinary perseverance of Mr.M.Jagadeesan, the realtor of its Adyar Branch. Never did I know the various complexities involved in the process, inspection, negotiation, documentation nor was I willing to run about, to get the deal through. Not only Mr.Jagadeesan carried out all these things with aplomb, but he was also the very embodiment of patience and tenacious pursuit. I have, no doubt, whatsoever, in my mind that I can unreservedly recommend his services to buyers, sellers and those,who wish to give/take properties on lease/rental.
He is an young man with a bright future in his career. I wish for it.
S.Soundararajan
Former Addl Dy CAG: India
2938
Certificate
02-Jun-2016
2939
Certificate
02-Jun-2016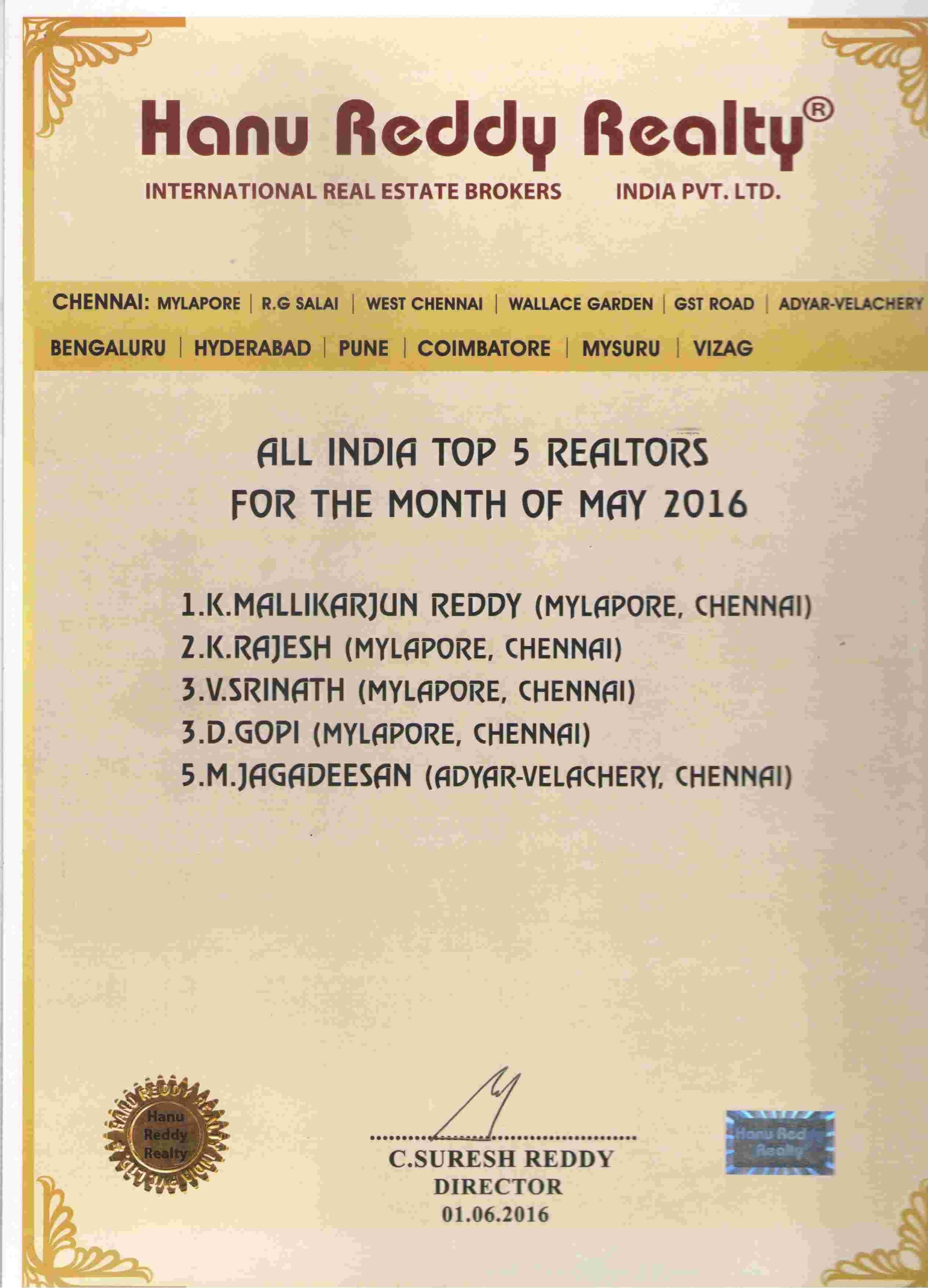 2935
Google Review
23-May-2016
Pradeep Kumar
I had bought residential resale property at Thiruvanmiyur through Hannu Reddy Realty enabled by Mr.Jagadesh of Adyar branch. Jagadesh has been providing me end to end services for locating the property, full transparency and support for property negotiation and also assisted in helping me do property documentation (EC,Property documents,dealing with Subregistrar etc) and also shared inputs for TDS returns/filing.
I have had complete enriched experience of customer services through Jagadesh as he managed to handle buyer (while he represented me as buyer) and seller professionally in seamless and hassle free manner. Project of mine had gone through real tough situation where the project had several complexities due to difference in understanding between me and seller but was well managed and held together by Jagadesh with support of senior people to ensure timely buy in of this property. I would recommend and endorse Jagdesh strongly for such critical high value projects as he's capable to manage adverse /complex situation acting as Transparent,Reliable and Trustworthy person. I would like to Thank Hanu Reddy once again for helping me locate my dream property and wishing them more success and laurels in future
2931
Certificate
12-May-2016
2920
Google Review
04-May-2016
Hanu reddy Realty was always a premium segment for us. Never bothered to look at their ads too. However, Thanks to Jagadeesan and Hanu reddy team who were down to earth and handled our transaction very efficiently. They showed us many properties and helped us in closing up on one in 3rd Seaward road. The house was very good and fit into our requirements . He got the paper work and the dealing with the owner eased up and was very professional in his conduct. He is a good salesman as well as a very service oriented relationship manager. We look forward for renting out this property through the Jagadeesan/ Hanu reddy team to ensure the deal is good.
2921
Certificate
04-May-2016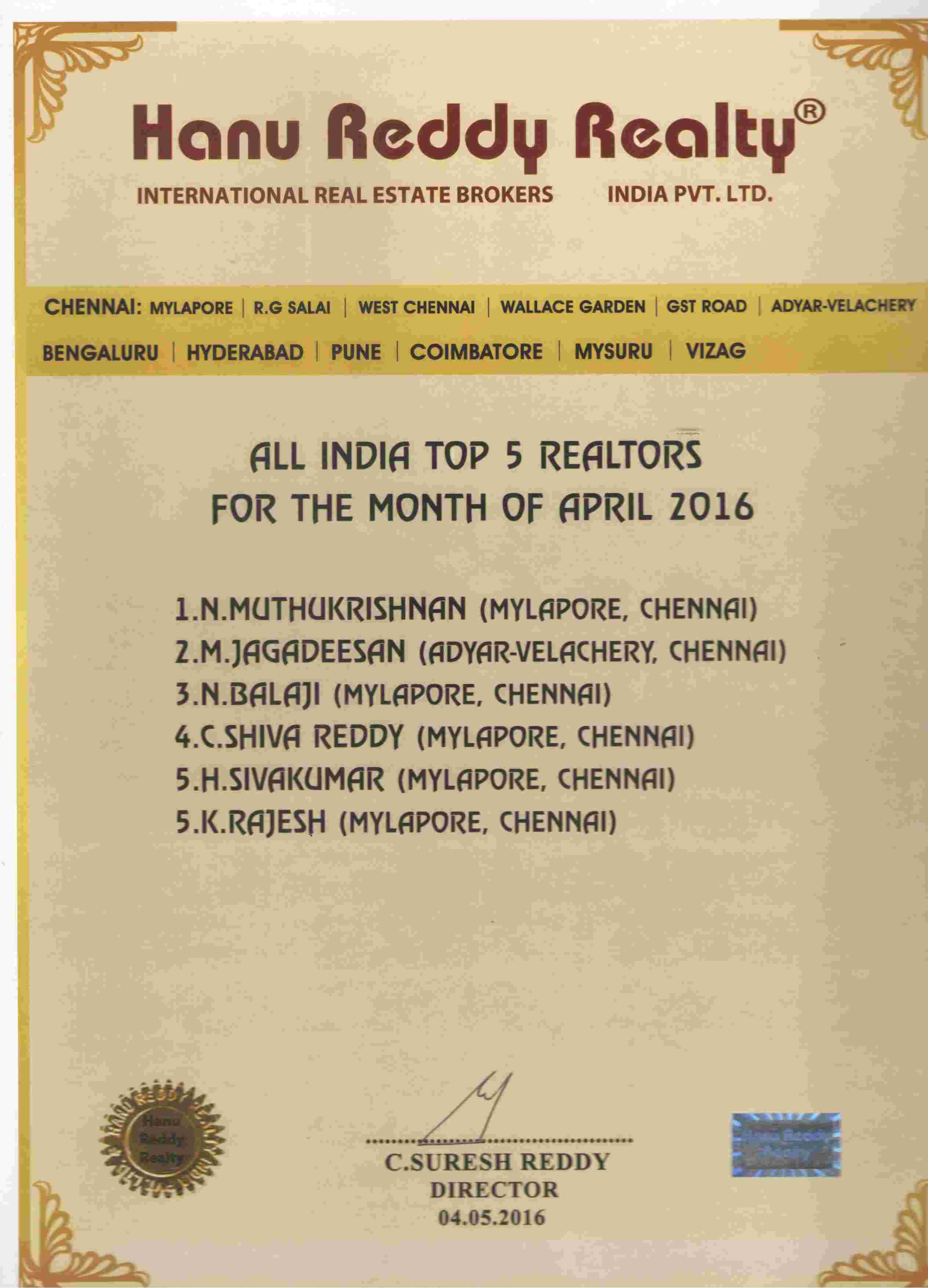 2922
Certificate
04-May-2016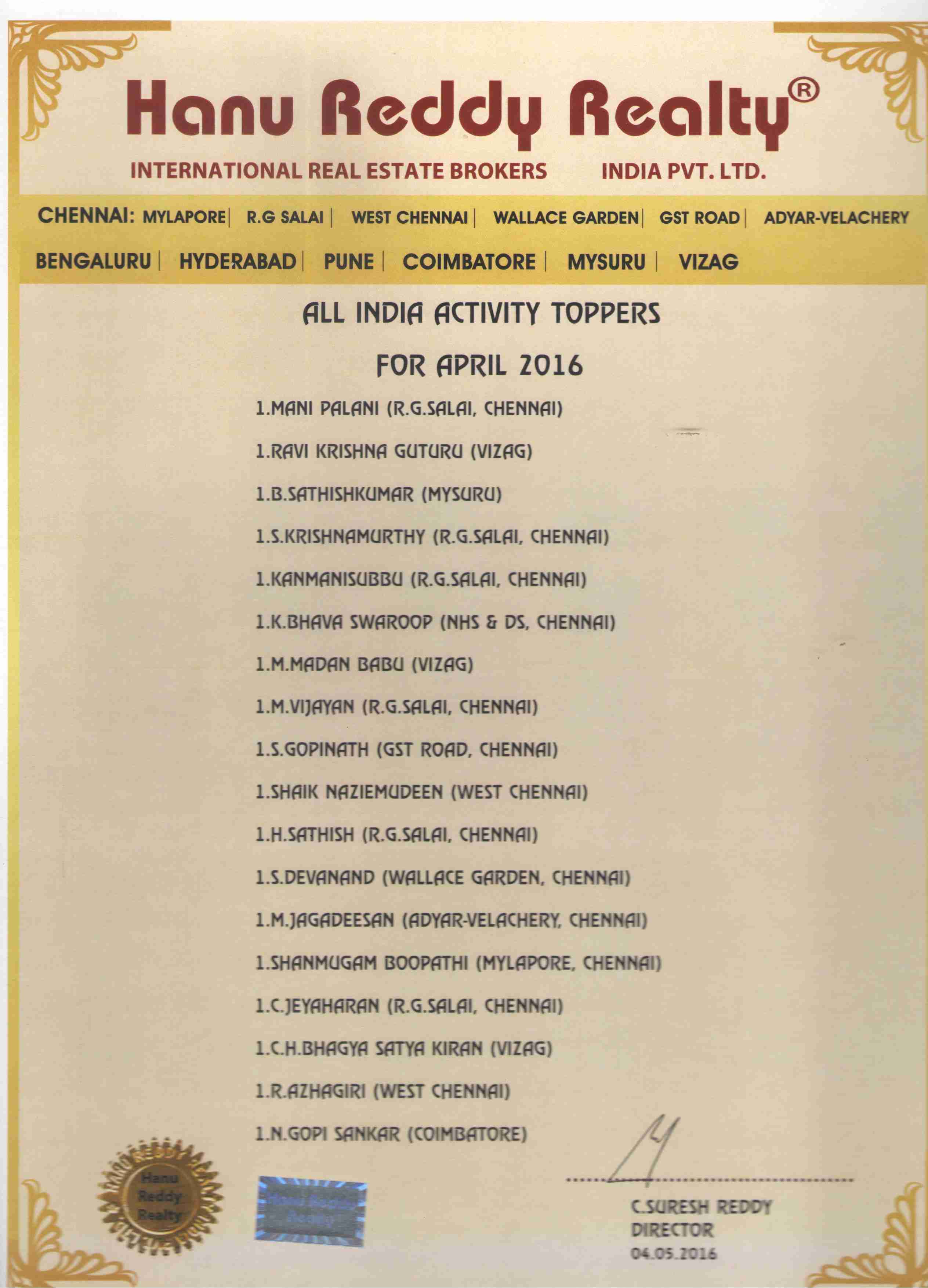 2910
Google Review
30-Mar-2016
Jagadeesan Rambadran
I am pleased to record the very good service rendered by Mr.K.A.Sundarraj and Mr.M.Jagadeesan belonging to M/s Hanu Reddy Realty Pvt. Ltd. while renting out our house property in Neelangarai. Their outlook was customer satisfaction oriented and I am very happy to witness their sincere help in sourcing a good tenant. I wish them all the best and I hope they will continue to do good work.
2905
Certificate
24-Mar-2016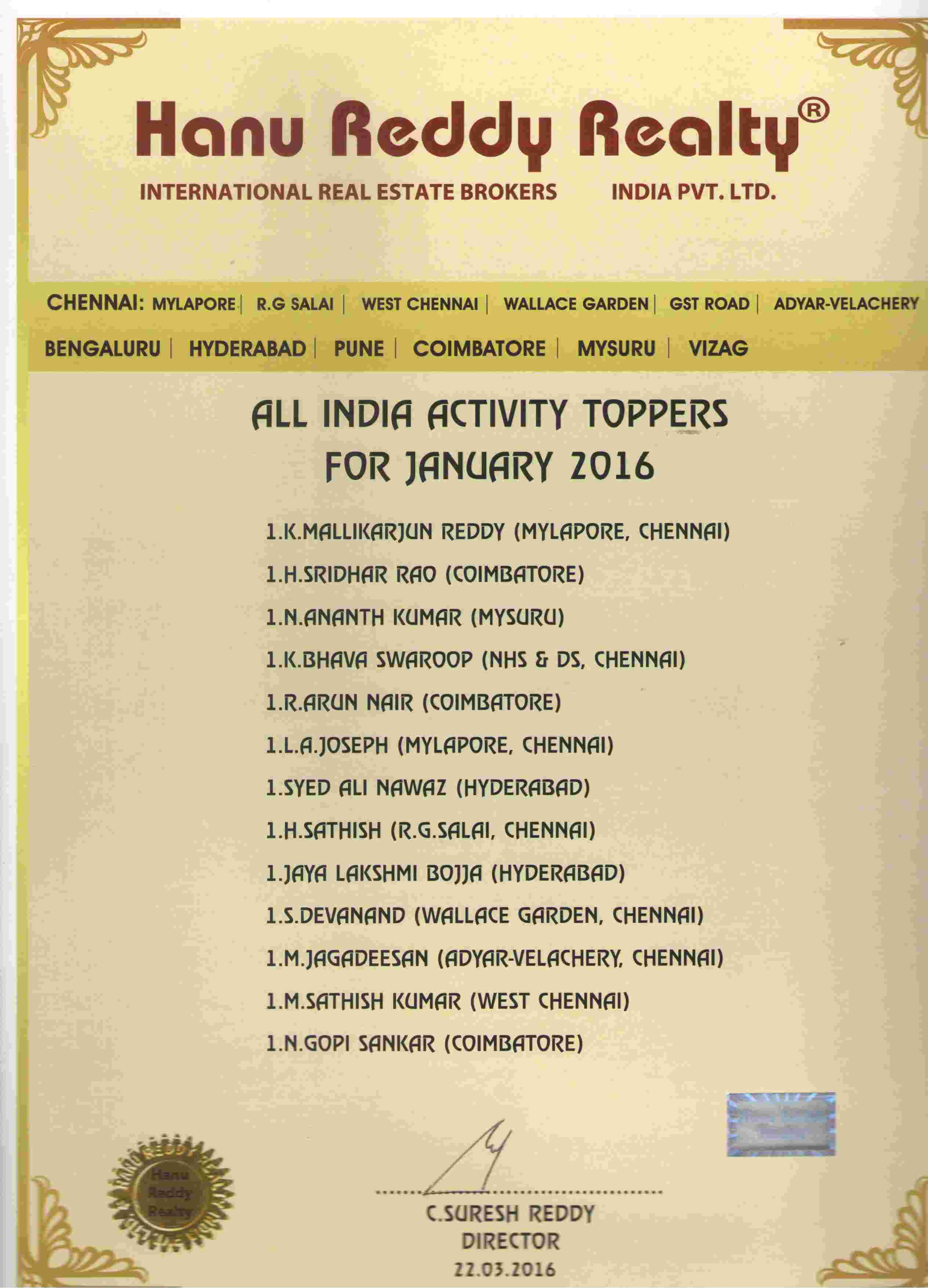 2871
Certificate
06-Jan-2016
2868
Google Review
23-Dec-2015
I have recently purchased a flat near thiruvanmiyur (kottivakkam) through Hannu reddy realty(Brocker name - Jagdeesh) . It was excellant help done by him . Since our vendor was at Bahrain . He has help to talk to seller through con call . He also helped in preparing agreements , they have provided all original documents copy at right time . He has also done a right follow up . It is an Excellent work done . Thanks to Hanu Reddy realty. I am completely satisfied with their work .
2866
Google Review
22-Dec-2015
Dr.K.S.Balaraman
Recently when I wanted to sell my Flat at Valmikinagar,Thiruvanmiyur,I entrusted the job to M/s.Hanu Reddy Realty India Pvt Ltd.The mutual agreement was signed by me in their Branch at Adyar on September 24,2015 and .M.Jagadeesan,Realtor was assigned to execute the job. Mr.Jagadeesan with his untiring efforts managed to find a suitable buyer for the Flat and I received the offer letter on October 4,2015.(within about 10 days).The Sale Agreement was signed in Mumbai on October 18,2015.The Regn/Transfer of Property is scheduled to be executed in Chennai on November 27,2015. The whole Project assignment has been completed Successfully within about TWO MONTHS of entrusting the job to M/s Hanu Reddy Realty.This was possible mainly due to Mr.Jagadeesan who coordinated well between the Seller and the Purchaser. Mr.Jagadeesan,Realtor works with a Single minded Purpose and is not satisfied till he achieves results.He really deserves encouragement.Myself and wife Bless him and his Family all the Good Health and Happiness and I am sure he will achieve Greater Heights in his Career in the Years to Follow.
2869
Google Review
22-Dec-2015
Ram P Subramanian
The agent was quite helpful and committed. His guidance assisted us to finalize the deal.
2867
Google Review
22-Dec-2015
Jolly Skaria
We express our thanks to Mr. M.Jagadeesan, who helped us to sell our two bed room apartment at Kandasamy nagar, Palavakkam on 18th December 2015. He contacted me through the advertisement I have posted in magic bricks website and he assisted me to procure all required documents requested by the buyer and the Bank. Many documents were arranged by Mr. Jagadeesh himself, it is really a commendable effort on his part. We appreciate his sincere efforts in continuously co-ordinating with the buyer and the Bank during the whole process even when the Chennai weather condition was very bad due to the rain. We express our sincere thanks to Hanu reddy Realty for providing such excellent service to their customers. Thank you Jagadeesh for all your assistance you provided to us. Wish you good luck and may God bless you. E.C.Skaria
2857
Google Review
12-Dec-2015
We express our profound thanks to Mr.K.A.Sunder Raj and Mr. M.Jagadeesan of your Adyar branch for helping us to sell our 2BHK flat at Kattupakkam on 25th Nov.2015 and to buy a new 2BHK flat for our family in 3rd Seaward Road,Valmiki Nagar on 27th Nov. 2015. Mr.Sunder and Mr.Jagadeesan exhibited professionalism in their work.They were reading our minds for the next step of assistance to be provided to us.Through your office,they arranged a conference call to the owner who was camping in Mumbai for finalising the price and other details needed for us,which maded our task easy. We appreciate the sincere efforts of Mr.Jagadeesan in getting the certified copies of documents form Saidapet Sub-Registrar office despsite inclement weather and heavy rains.He visited our Kattupakkam flat during the floods,to help the surveyor to record measurements of the house as needed by the buyer. Self and my Wife express our sincere thanks to Hanu Reddy Realtors,for providing their customers valuable services with transperency. We wish Mr.Sunder Raj and Mr.M.jagdeesan good luck in all their future endeavodurs! Mrs.Saroja Kasiviswanathan and Mr.A.Kasiviswanathan
2859
Google Review
04-Dec-2015
Hanu Reddy Realty helped in identifying suitable tenant for our properties. They demonstrated competence; and persistence to profile and identify the right tenant.
2858
Google Review
04-Dec-2015
For a middle class family, buying a flat is a distant dream. It was made into realty by 'Hanu Reddy Realty Firm Ltd', Mr.M.Jagadeesan. We had seen the property through net and contacted Mr. Jagadeesan for a site visit on Oct. 18 2015. He had made us to wait for 2 hrs without giving the proper address. We are reluctant at the first sight of the person. During the waiting period, we have thought of returning and contact other person also. At last, he came and taken us to the site. The flat was exactly the same as posted in the website with no changes (proves genuiness of the person).Since we had like the flat, he had given necessary documents for legal clearance. As it was over, he had arranged for an one to one talk with the seller for the terms of purchase and finalizing the amount. After the price has been finalized, he had explained at every juncture about the legalities and formalities involved in buying the flat ( as a first time buyer, we don't know nothing about these formalities like sale agreement, sale deed, MOTD. so on...) He was omnipresent during our flat processing whether with loan processing or with document writer. He had corrected, checked, rechecked the documents before an copy is printed. Till the last minute signing at the Registrar's office he was present giving us an immense moral support and physical support. For a first time buyer, I can tell "U can blindly follow the instructions by him and get your property registered". I can whole-heartedly say he was a 'God messenger' for us in buying a piece of land in this country. I will recommend your firm for my friends and relatives for your genuine and loyalty (since it is rare in real estate). We wish Mr.Jagadeesan and his family Good luck, Happiness, prosperity and good health. Good luck....Keep registering.... Regards V. Kavitha and R.K. sridhar.
2856
Google Review
23-Nov-2015
I approached Hanu Reddy reality P Ltd with a request to sell my House site. They finished the deal in a quick time. The deal fetched very good price. We did not encounter any sort of difficulty. I would like to grade their service as number one in the industry. Their approach towards customers is very good.Thanks for the excellent services rendered by Mr Sivasubramaniam and Mr Jagadeesh.
2851
Google Review
12-Nov-2015
It was so pleasant to share this review. Mr. Jagdeesh from Hanu Reddy Realty helped us to find a very suitable and expected place for rent in Adyar. We are so happy to have such a great place. Also not only the place the services from hanu reddy is really awesome and they helped us till the end of the day we shifted to the new place. They dont do as services they help like our friends. Once again thanks for Hanu Reddy Reality Group.
2849
Certificate
11-Nov-2015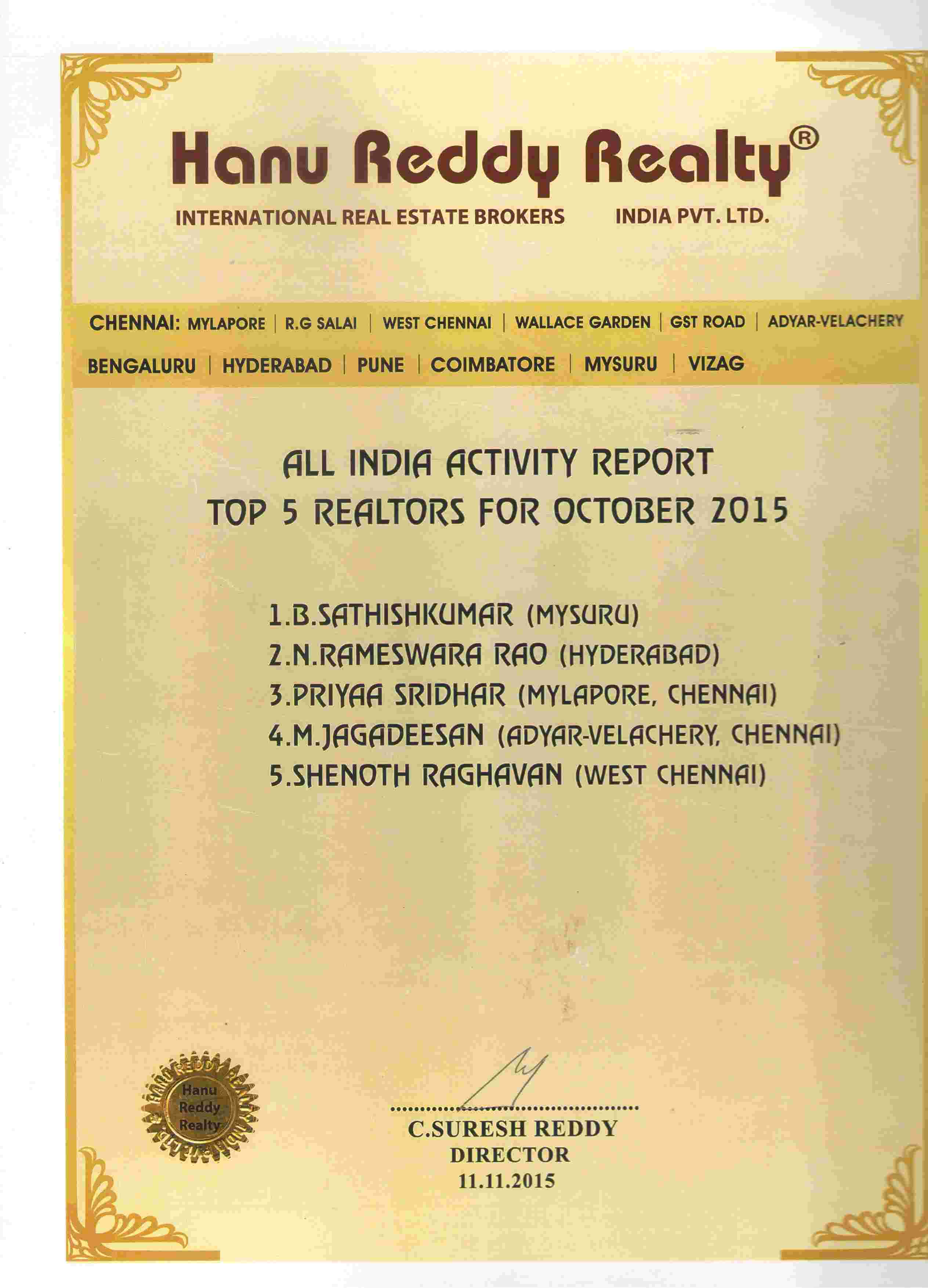 2850
certificate
11-Nov-2015