Testimonials
This is what our clients say about us...
View All Testimonials
3106
Appreciation Email
19-Mar-2017
Dear Hanu,
It is with great pleasure that I would like to thank you Hanu for an amazing journey as we worked together as a team to sell this property, solving problems along the way in the most professional manner possible. I think you have an excellent team in India who I would like to refer to as your "Special Forces of Real Estate." I can now see how every real estate transaction may have unique attributes and will require unique tactics to solve. It is will be my pleasure to spread the good word about your team. Please let me know if I can write a formal note in any public review forum.
There were several loose ends that needed to be tied together. Mallikarjun's indefatigable personality is something I have never seen before in anyone in any walk of life. His contagious optimism and enthusiam was always reassuring. His ability to honestly size up the situation and communicate promptly and effectively made this journey more exciting and less worrisome. This is the stuff action movies are made of. Thanks a lot to Mani's supporting role as an excellent team player.
A special thanks to you Suresh for providing amazing leadership and while comprehending difficult situations with balance, wisdom and foresight.
Thanks also to Nirupama whose hospitality with the Hanu Reddy Residences was exemplary. The courteous service provided by the staff was 5-star. Whenever I visit Chennai I will look forward to staying here.
Most importantly, thank you very much Nirupama and Suresh for throwing a grand celebration dinner at your beautiful home and meet your family and have some wonderful thought provoking conversation, especially with your son and daughter in law. It was an amazing gesture on your part. What a great evening and we will forever remember this occasion.
In summary, I would like to give you, Hanu, special thanks for your amazing leadership and wisdom in making this happen. This is an important event in our lives and obviously we will treasure fond memories of our engagement for a long time to come. I hope we will always stay in touch in the future.
My very best wishes for happiness and prosperity to you and your team and your respective families!
Many thanks to all of you!
With kind regards,
Raj
2998
Appreciation Letter
28-Sep-2016
Becoming homeowners of Chennai - our short, fast, unexpected journey
The greatness of Hanu Reddy Realty stems from its people, their pedigree and their values.
The Hanu Reddy team's competence and their penchant for genuine service combined with deep understanding of the Indian Realty market is truly amazing. And borne out of decades of experience.
My wife, our daughters and I visited Chennai from the USA for a casual summer break. My wife stumbled on a Hindu article on chennai real estate that got her intrigued. That transpired into an unexpected journey: stumbling on Hanu Reddy website, two weeks later we found ourselves making offers for two prime properties of obscene amount! And two months later we are already proud owners of both those properties. Of which one is to become our second home in the Chennai, a city we love.
This is extraordinary speed and spectacular execution. And this was possible because of competence we witnessed from, and the trust inspired by, the Hanu Reddy team. Suresh, Shiva, Mallikarjun, Palani, and Shekar - these are outstanding people. Really outstanding people.
It is also my instinct Hanu Reddy himself, at the helm, is steering the ship with an unwavering commitment to values that has its roots from multiple generations of the Reddy family. The team respects and admires his leadership.
On a final personal note - I, my wife and in laws, in a spur of an unplanned moment, happen to get invited for tea in Suresh's home. Instead we ended up with delicious mango juice and a fine hospitality; really LOVED their family, and the beautiful larger Reddy family. I feel we have what I believe is a sprout of a friendship, that could blossom into a lifetime friendship.
With lots of love from the Mohammed family
September 2016
London, en route
Mohammed family
2966
Google Review
24-Aug-2016
I had a great experience with Hanu Reddy Realty in selling my property @Chennai. From locating the buyer to ensuring the transaction went smoothly, they were very professional and communicated often with me. I would like to specifically thank Mr. V.G Srinivasan, Senior Realtor and Mr. Suresh Reddy, Director for their excellent services. I would strongly recommend them to anyone looking to transact on real estate in Chennai.
2999
Appreciation Letter
30-Jul-2015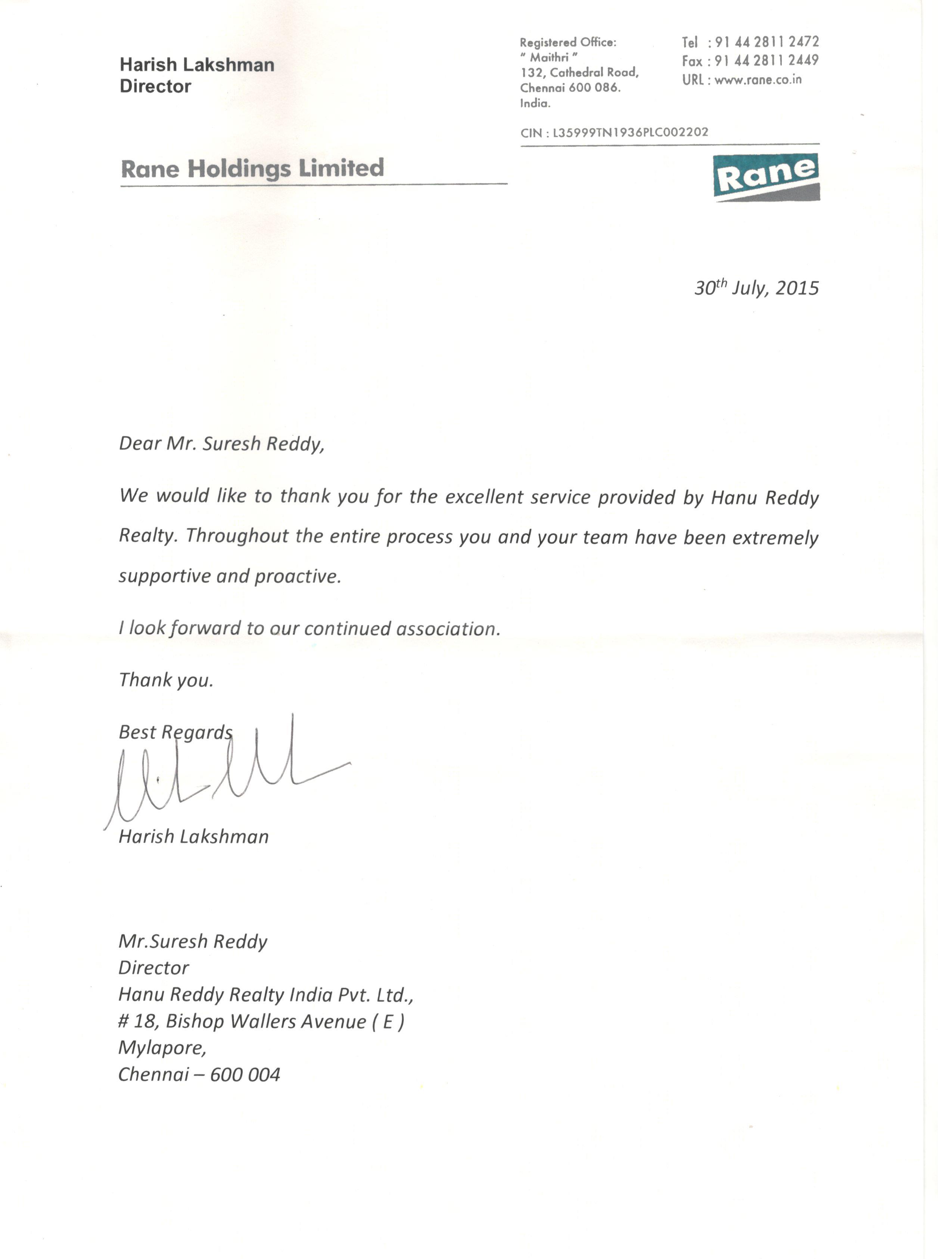 2762
Appreciation Letter
13-May-2015
Dear Mr.C.Suresh Reddy / Mr.Mallikarjuna Reddy,
Sub

-

: Letter of Appreciation.
Our company appreciates your efforts in locating suitable properties in Vijaya Ragava Road, T.Nagar as well as in New Beach Road, Tiruvanmiyur, for us to promote luxurious residential apartments. We wish to inform you that we have already commenced construction in the said properties and the same are in progress. As you know that these are the two prestigious and important projects for our Group to grow in the market.

I understand that you have taken excellent effort in offering us the said properties from the prime localities in Chennai, after having successful negations with the concerned Vendors . Hence we wish that you and your whole team should continue to serve in the same capacity for the years to come.

Once again, many thanks

for

your team

and hope

will maintain this attitude throughout your future projects.
With Best Regards
P. A

marnath Reddy.
2758
Appreciation Letter
03-Apr-2015
Dear Mr. Suresh,
It is with immense pleasure that I like to express here that Mr. Mani and Mr. Mallikarjun Reddy did a great job in doing the needful concerning to the Property that I had purchased in Adyar - Venkateswara Nagar through Mr. Raman of Rutllngate.
Thank you and I appreciate the commitment and meticulous follow up done by these two gentlemen from the start until the Registration. They surely are a great asset to Hanu Group.
Best Wishes
Regards
Murali
2756
Appreciation Letter
28-Mar-2015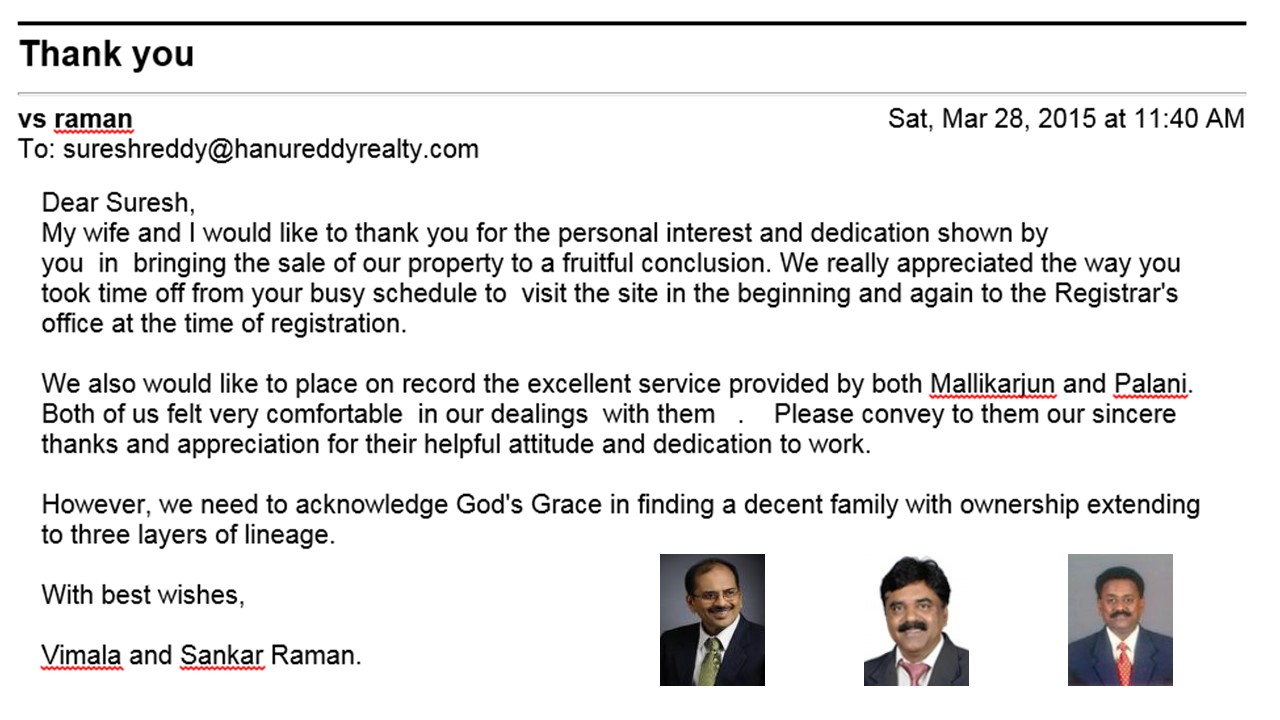 2684
Appreciation Letter
28-Mar-2015
My wife and I would like to thank you for the personal interest and dedication shown by you in bringing the sale of our property to a fruitful conclusion. We really appreciated the way you took time off from your busy schedule to visit the site in the beginning and again to the Registrar's office at the time of registration.
We also would like to place on record the excellent service provided by both Mallikarjun and Palani. Both of us felt very comfortable in our dealings with them. Please convey to them our sincere thanks and appreciation for their helpful attitude and dedication to work.
However, we need to acknowledge God's Grace in finding a decent family with ownership extending to three layers of lineage.
2759
Appreciation Letter
18-Oct-2014
Dear Shiva,

I write to you as you were my first and main contact with Hanu Reddy Realty.

I wanted express my appreciation for the fantastic job by your team for the sale of our property. Starting from getting us the price we wanted (even though it seemed impossible at the outset because of what others, including the other big firms in this business, led us to believe) to keeping the client engaged and making the deal actually happen.This was despite the innumerable unforeseen delays that frustrated all of us.

The level of professionalism that every one in your team showed is refreshingly rare - because if this, I knew all along that our interests and the buyer's interests were protected.

I also thank you for showing trust and providing such a high level of service even when there was no formal commitment from our side. No other real estate firm (including all the multinational firms I contacted) had the foresight or understanding of our situation to take this on and deliver (and how !)

Thank you.

Arjun
2666
Appreciation Letter
18-Oct-2014
Dear Shiva,

I write to you as you were my first and main contact with Hanu Reddy Realty.

I wanted express my appreciation for the fantastic job by your team for the sale of our property. Starting from getting us the price we wanted (even though it seemed impossible at the outset because of what others, including the other big firms in this business, led us to believe) to keeping the client engaged and making the deal actually happen.This was despite the innumerable unforeseen delays that frustrated all of us.

The level of professionalism that every one in your team showed is refreshingly rare - because if this, I knew all along that our interests and the buyer's interests were protected.

I also thank you for showing trust and providing such a high level of service even when there was no formal commitment from our side. No other real estate firm (including all the multinational firms I contacted) had the foresight or understanding of our situation to take this on and deliver (and how !)

Thank you.

Arjun
2757
Appreciation Letter
18-Oct-2014