Testimonials
This is what our clients say about us...
View All Testimonials
5247
Certificate
11-May-2023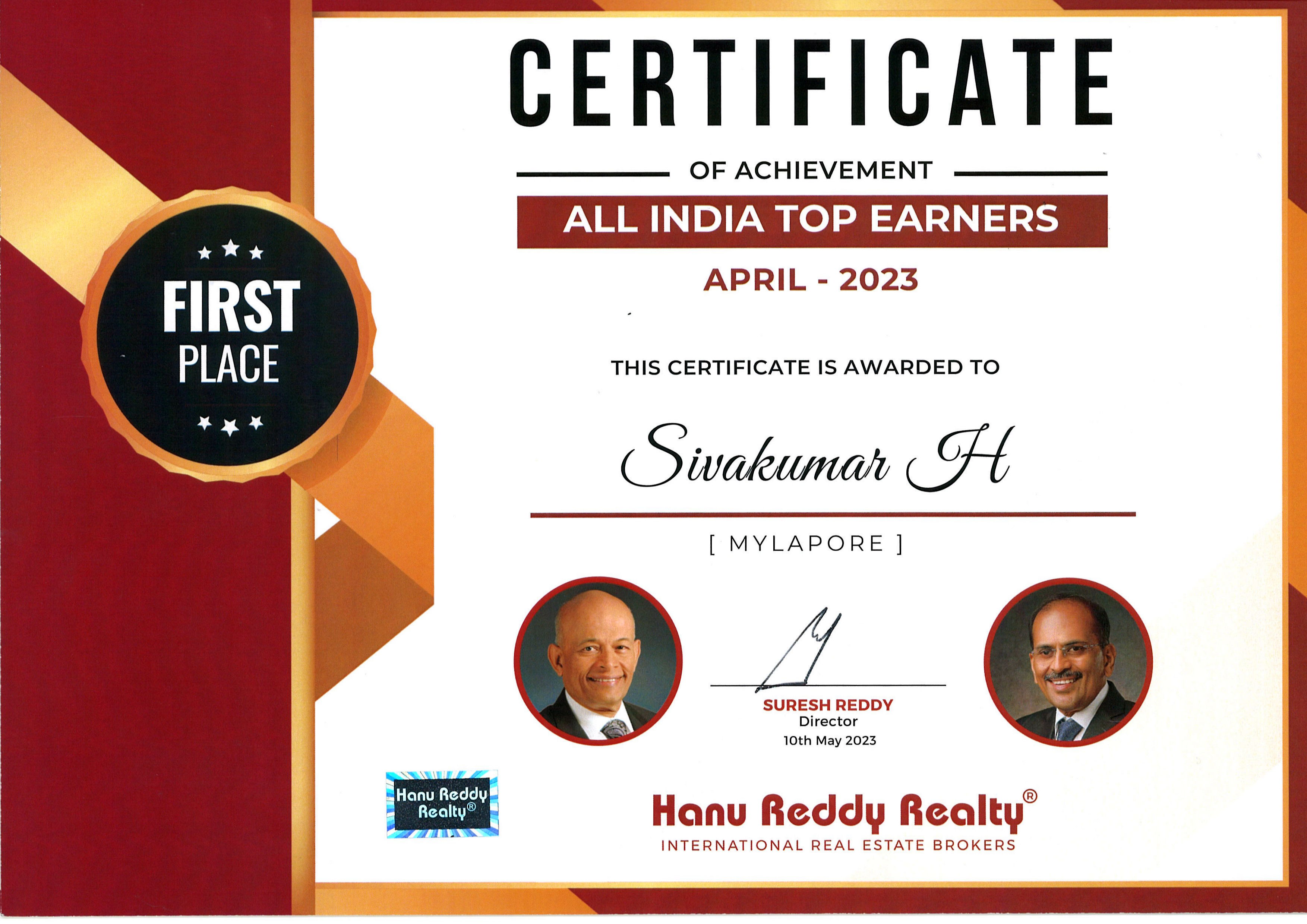 5248
Certificate
11-May-2023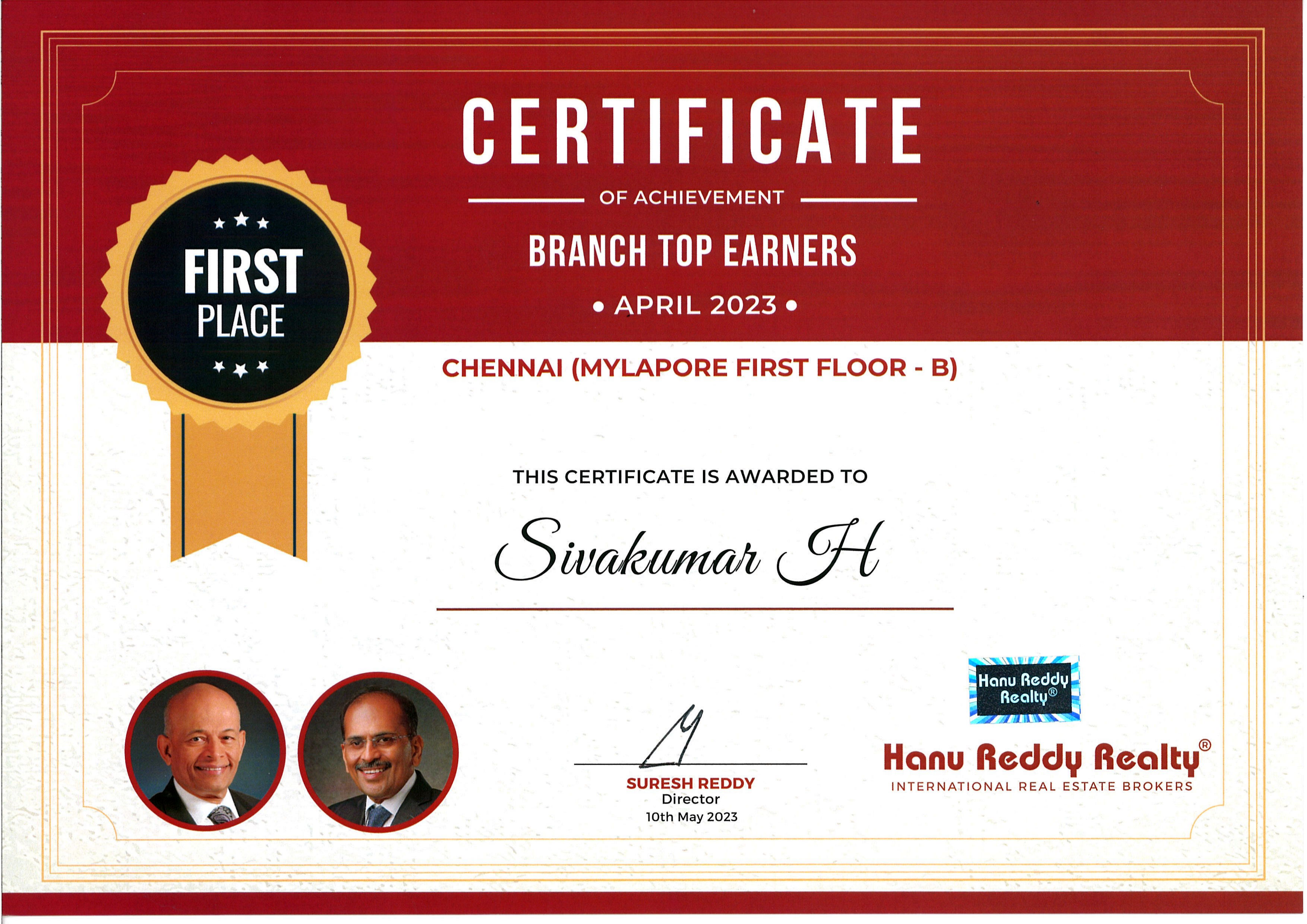 5179
Certificate
19-Apr-2023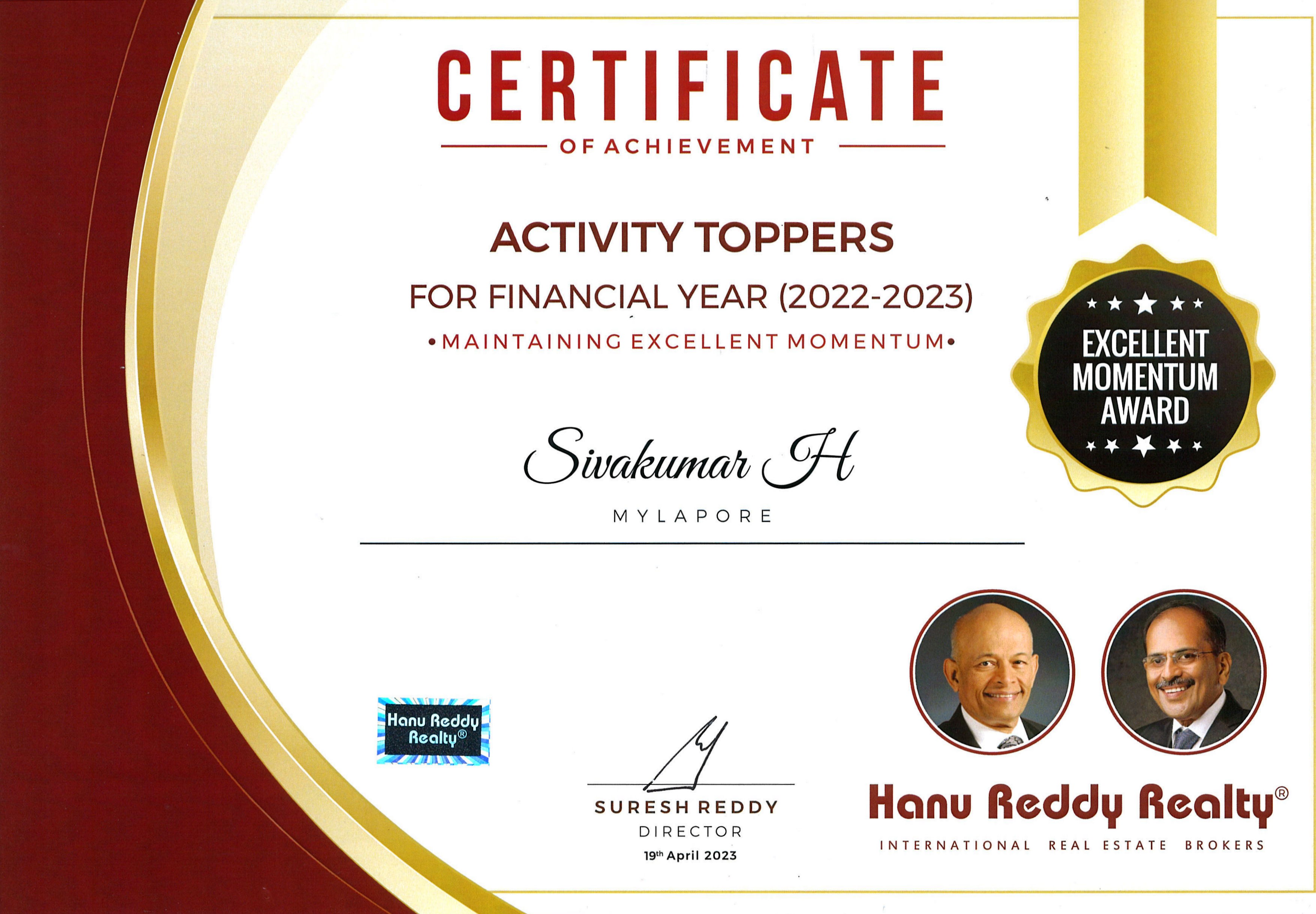 5180
Certificate
19-Apr-2023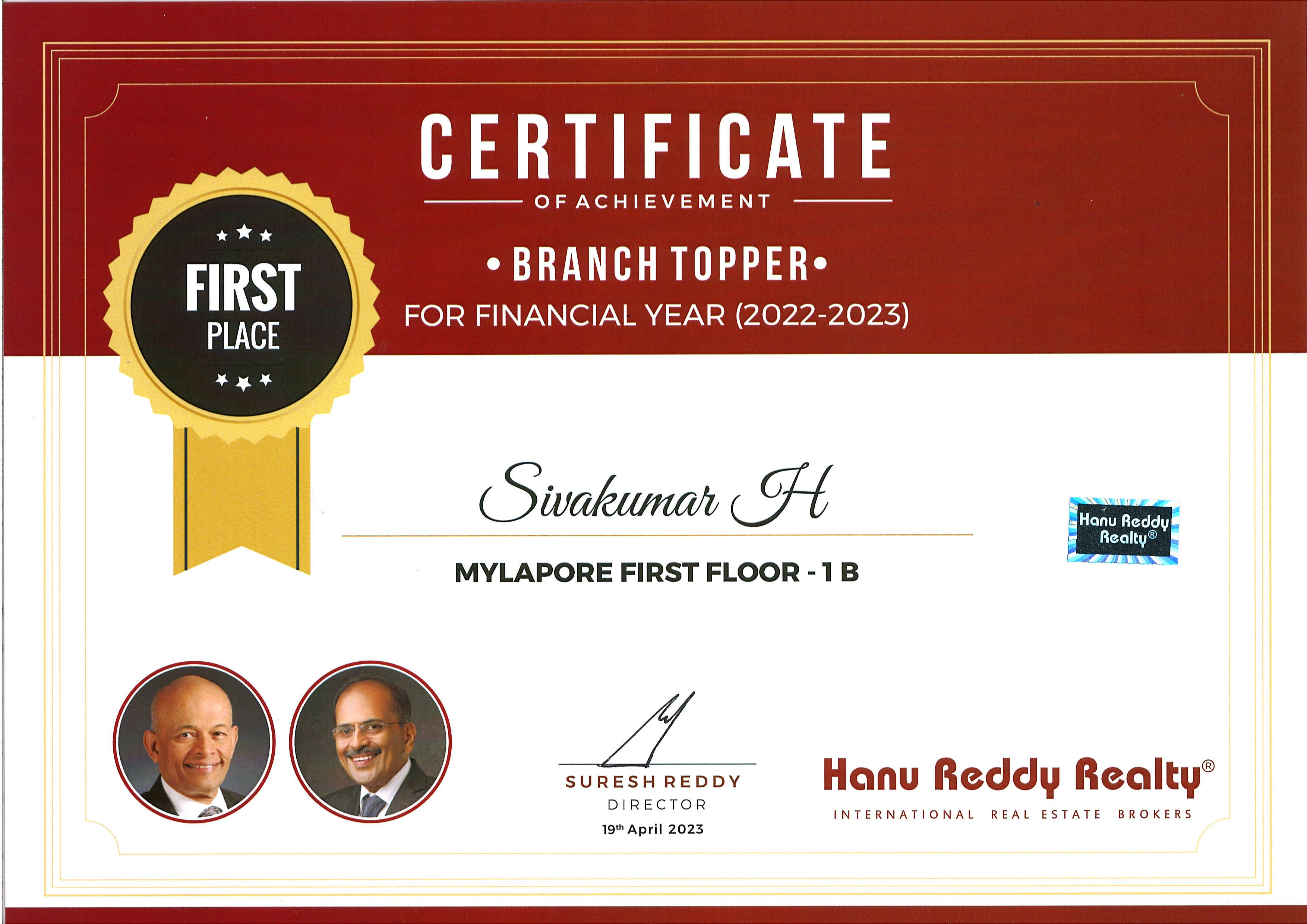 5098
Certificate
08-Feb-2023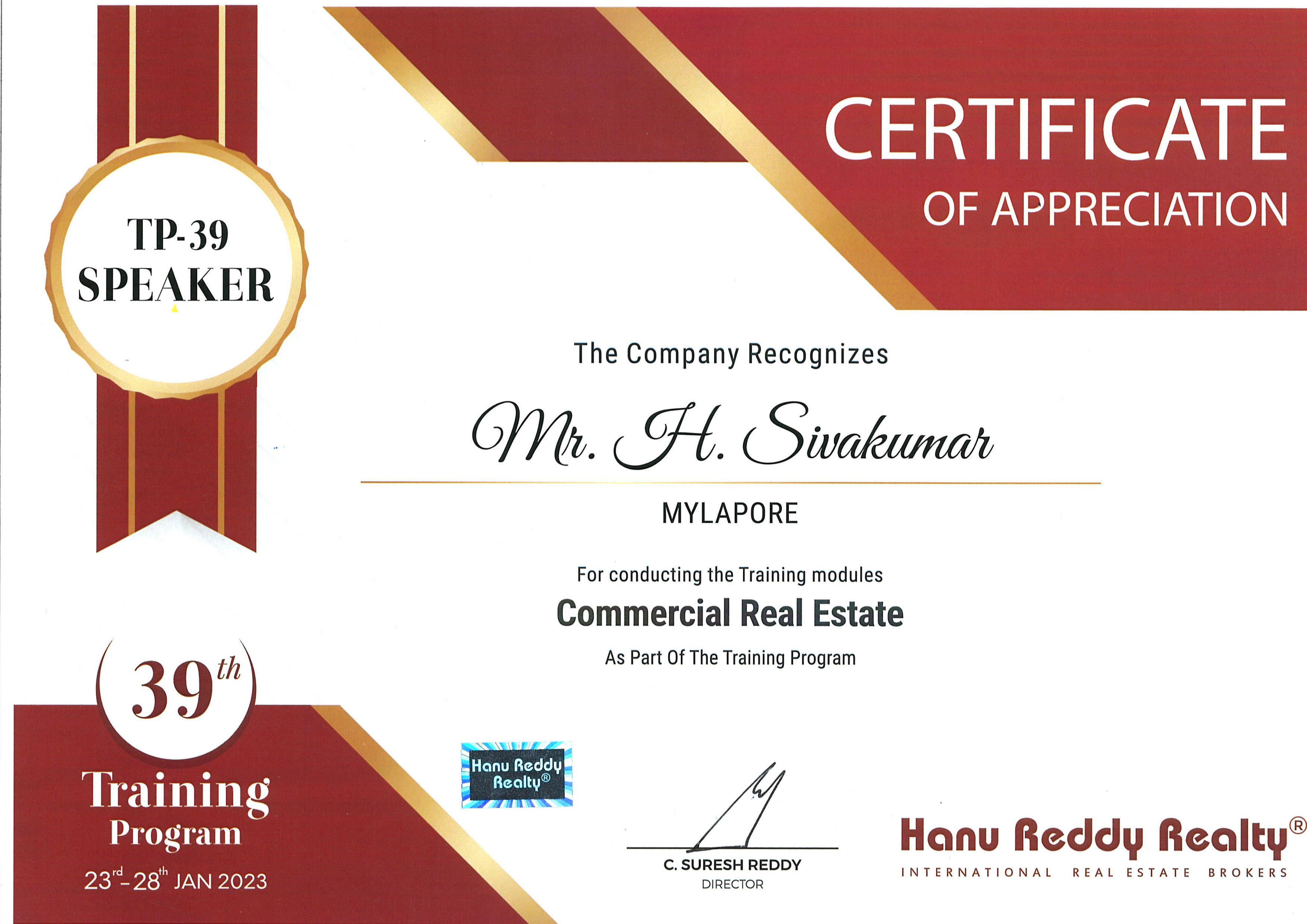 5097
Certificate
08-Feb-2023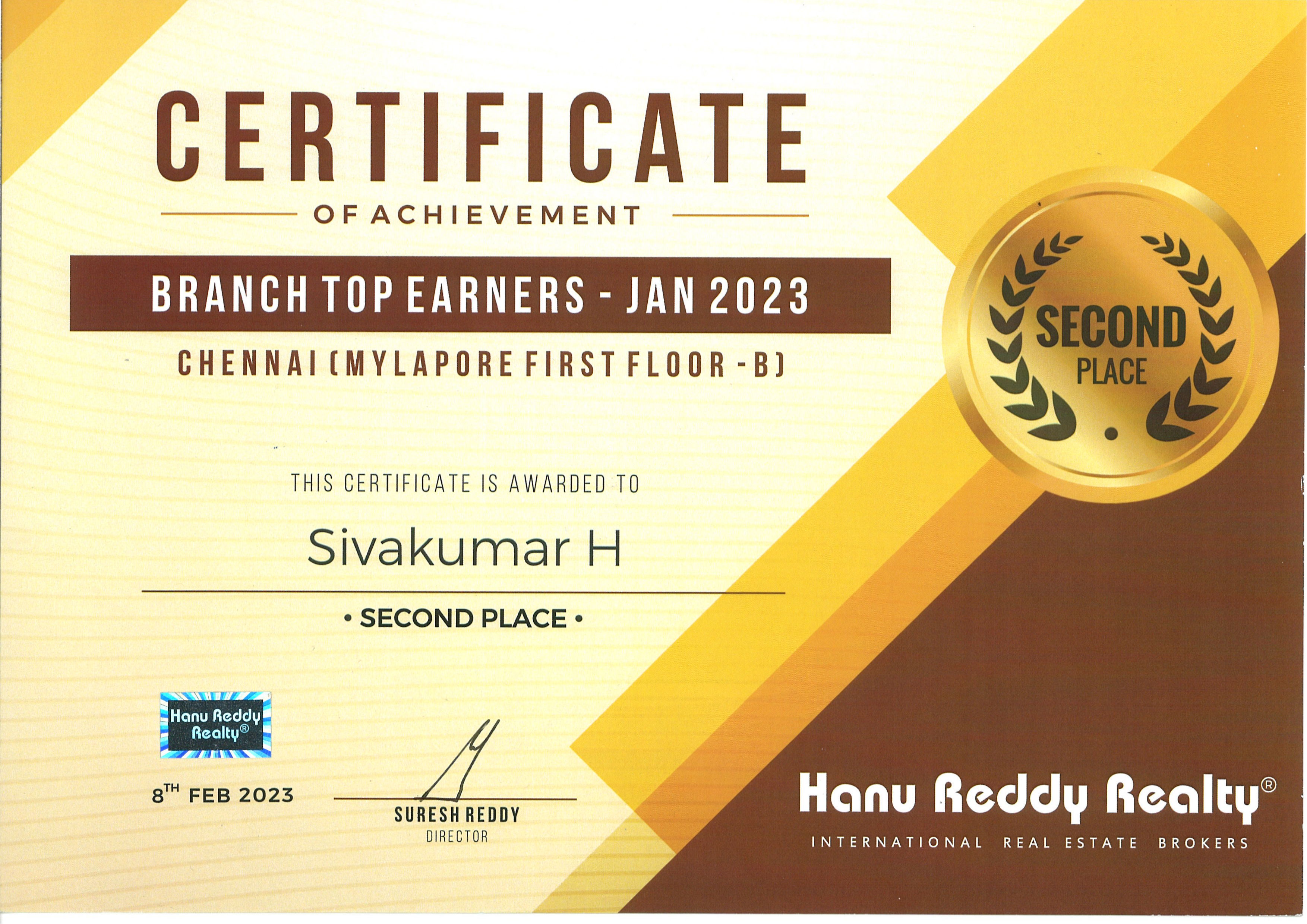 5090
Google Review
06-Feb-2023
Meera Krishnan
5 STAR RATING
Mr. Sivakumar from the Chennai Team was excellent all along. We had hit several obstacles along the way and he patiently guided us through and brought us to the finish line. We couldn't have sold our property without his help and guidance
5089
Google Review
04-Feb-2023
KN Jayakumar
5 STAR RATING
Courteous,Knowledgeable, Helpful, Competent service. Mr Sivakumar and colleagues were prompt in their responses and easy to deal with. Quality of shortlisted clients was good ,so one need not waste time with unworkable proposals. Overall excellent.
5088
Appreciation Letter
29-Jan-2023
Vinnie Surendran
" Mr Sivakumar and Mr Rajesh were an experienced, professional team from Hanu Reddy Chennai who assisted me and my family with the sale of our flat. They made the process very easy for us as we were spread across the world in different time zones. Once we engaged their services, they found us a suitable buyer within one week and fast tracked the entire sale process for us as we had to complete the sale in a limited time span. They were quick to respond to my emails and messages and kept me informed of all the appointments scheduled. Their responsiveness and communication not only helped with the logistics of the transaction but also made us feel comfortable and secure. I highly recommend Mr Sivakumar and Mr Rajesh and the Hanu Reddy Realty team - V.Surendran"
5087
Google Review
26-Jan-2023
Venkatraman P
5 STAR RATING
Recently purchased an apartment through Hanu reddy. Mr.Sivakumar and Mr.Rajesh, with their well gathered professional experience, guided us in each step and made the process easier.
5082
Certificate
09-Jan-2023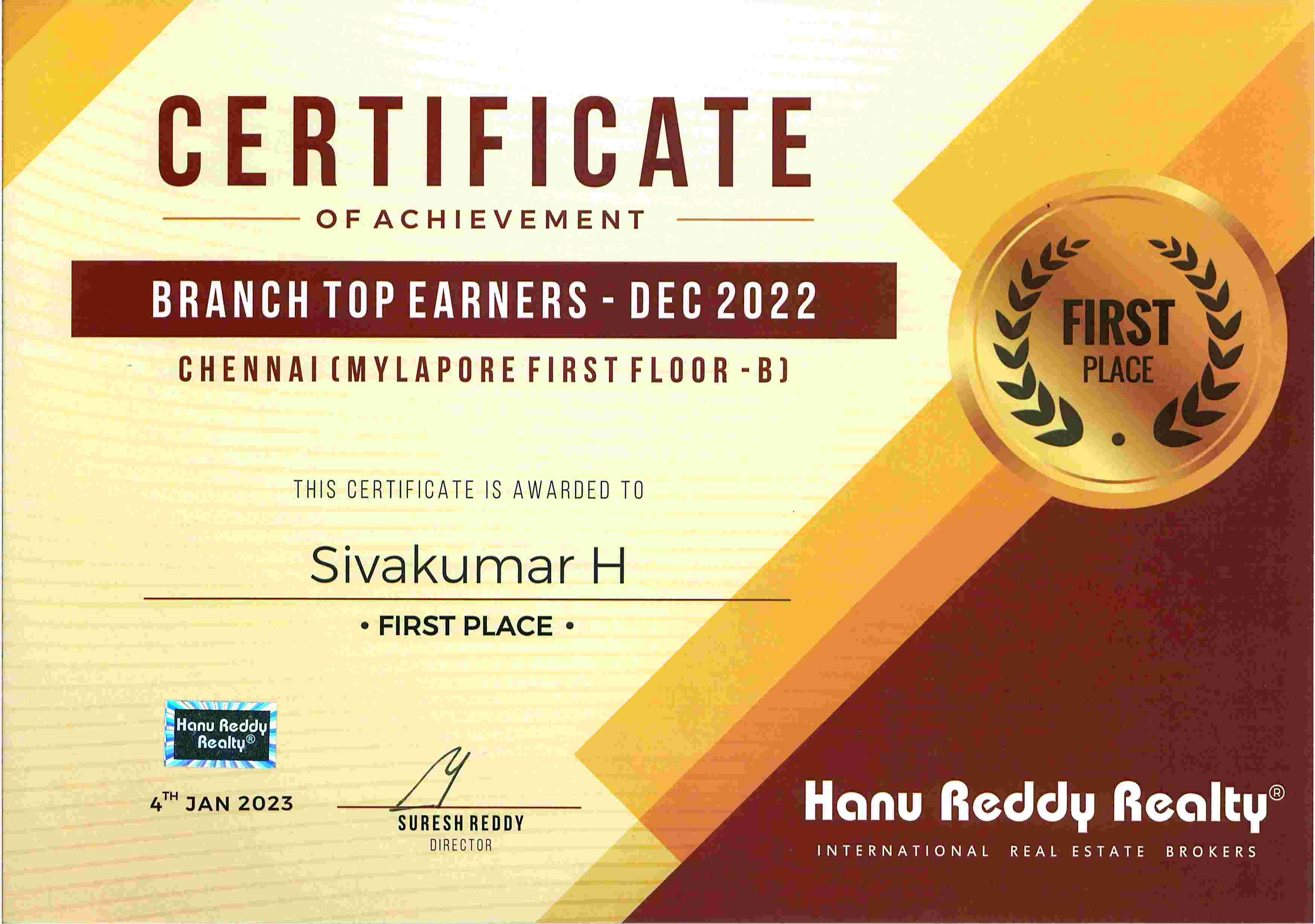 5058
Certificate
10-Dec-2022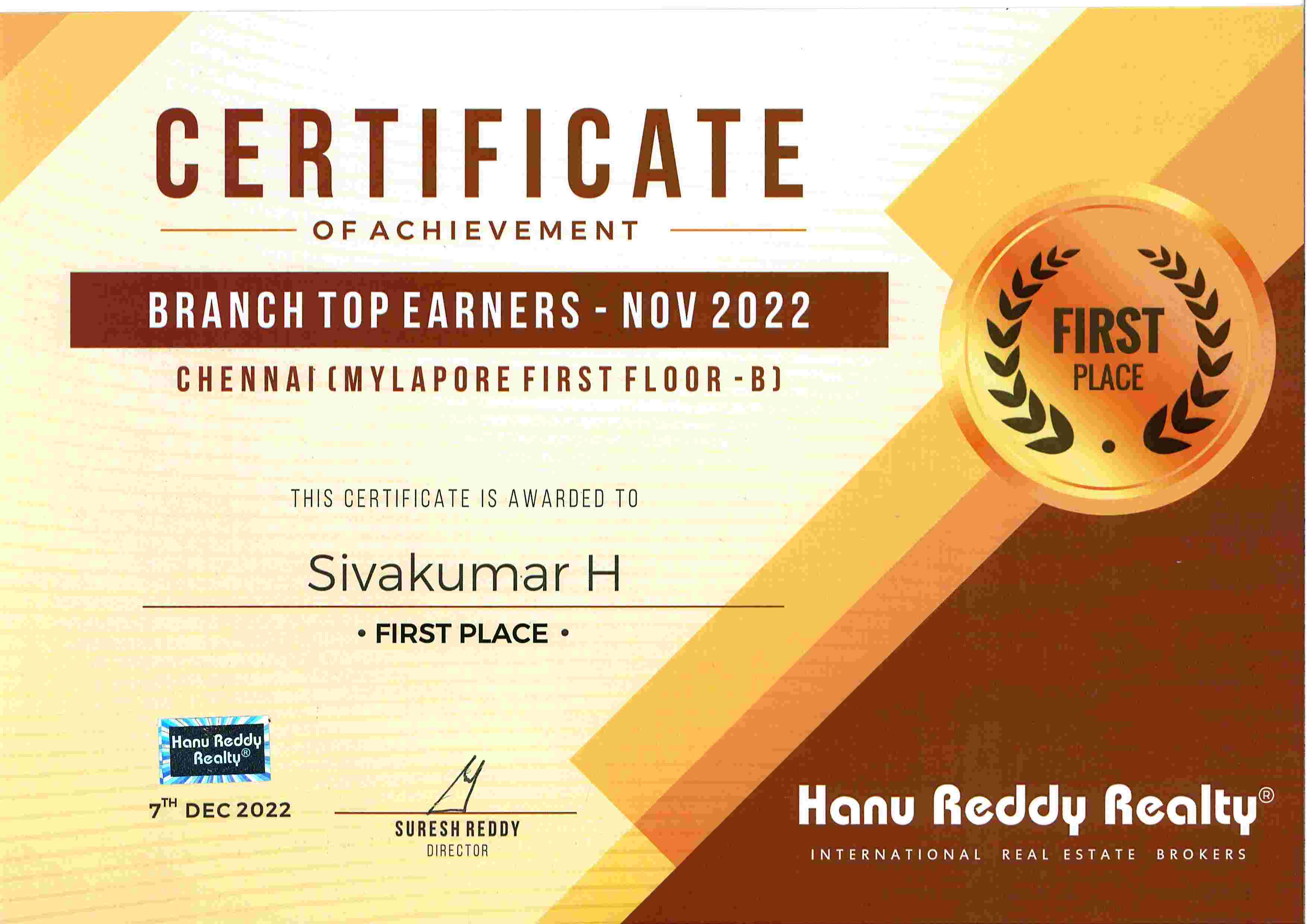 5042
Google Review
02-Dec-2022
Raji A
5 STAR RATING
This is second time I am using Hanureddy realty services. Mr. Sivakumar and Rajesh worked on the sale process continuously for 3 months and helped me successfully complete the sale. Both Sivakumar and Rajesh were available anytime and responded to my calls and email. Rajesh took care of all the document requirements, hunting and obtaining all the documents needed. The team also helped with disposal of furniture from the property. The registration process was smooth and seamless. It was a pleasure working with Sivakumar and Rajesh and I highly recommend the team for any real estate services
5002
Certificate
18-Nov-2022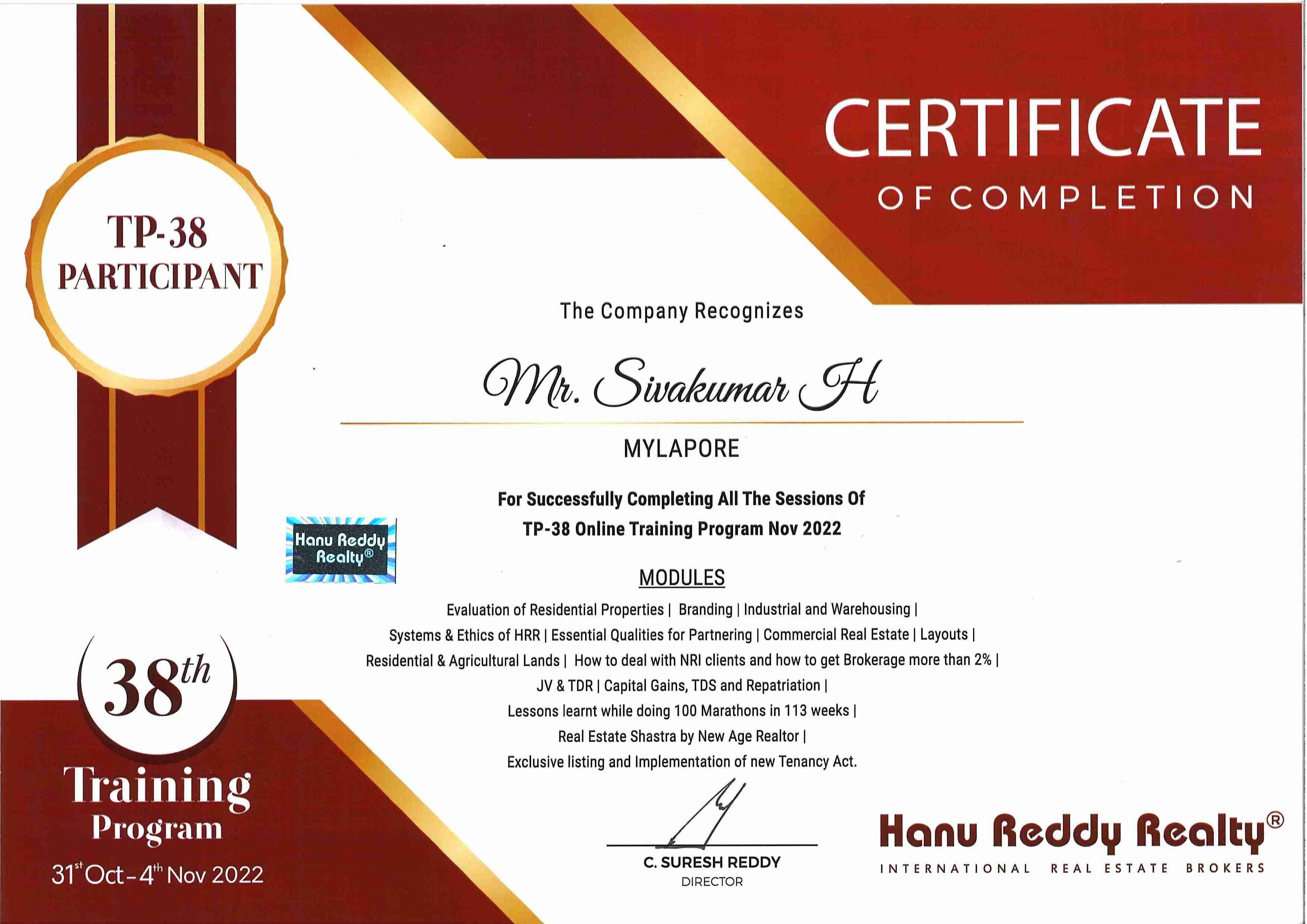 4982
Certificate
04-Nov-2022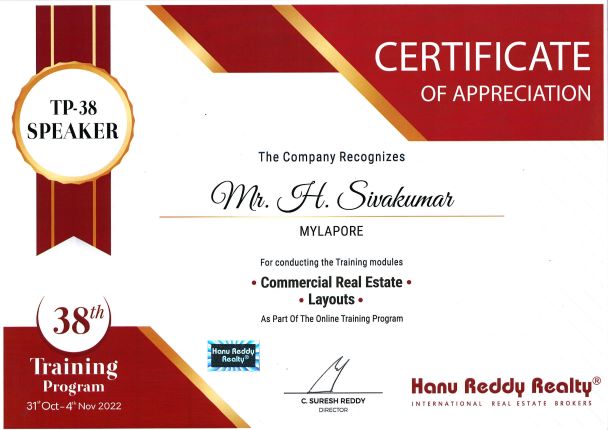 4965
Certificate
07-Oct-2022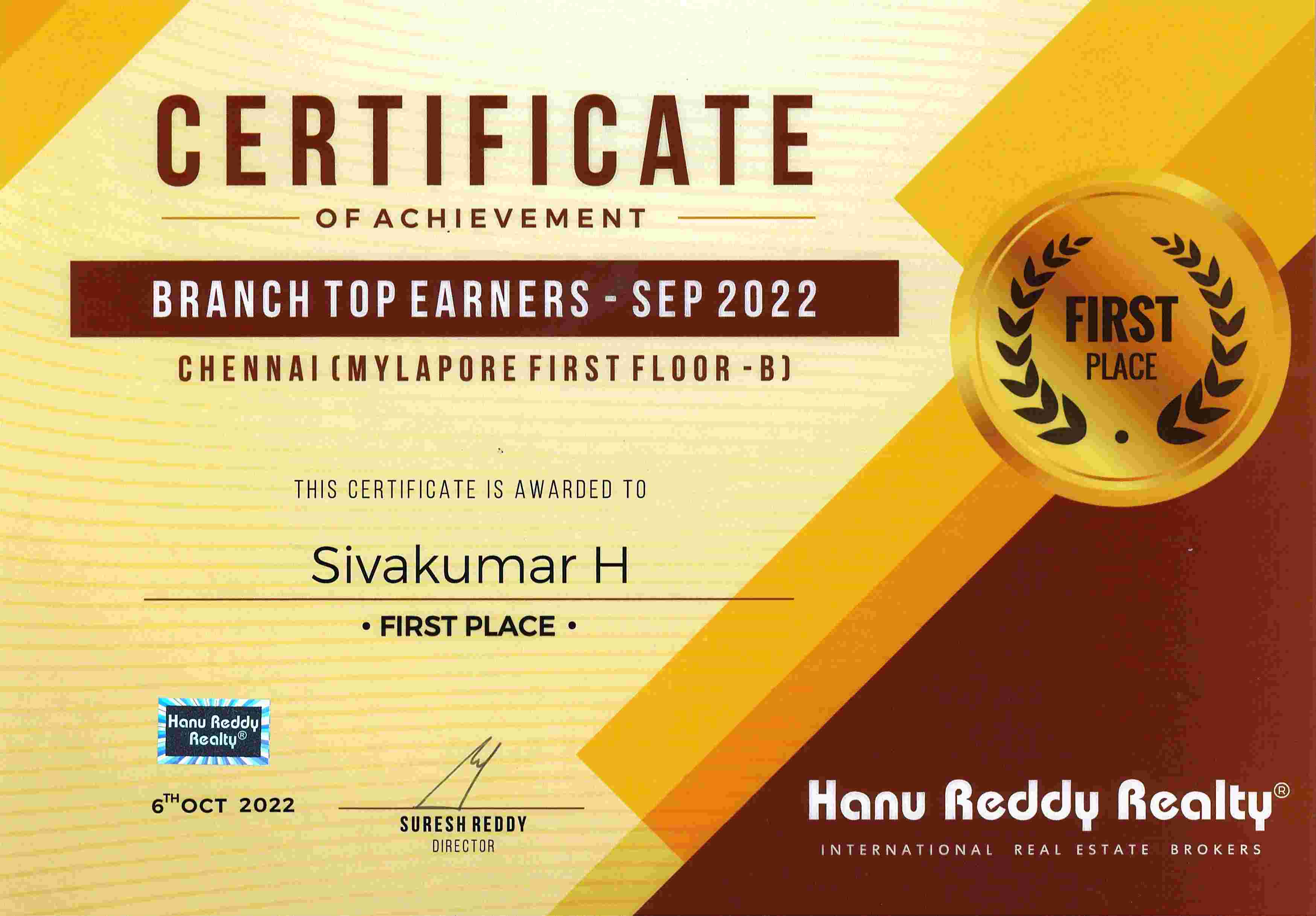 4946
Certificate
12-Sep-2022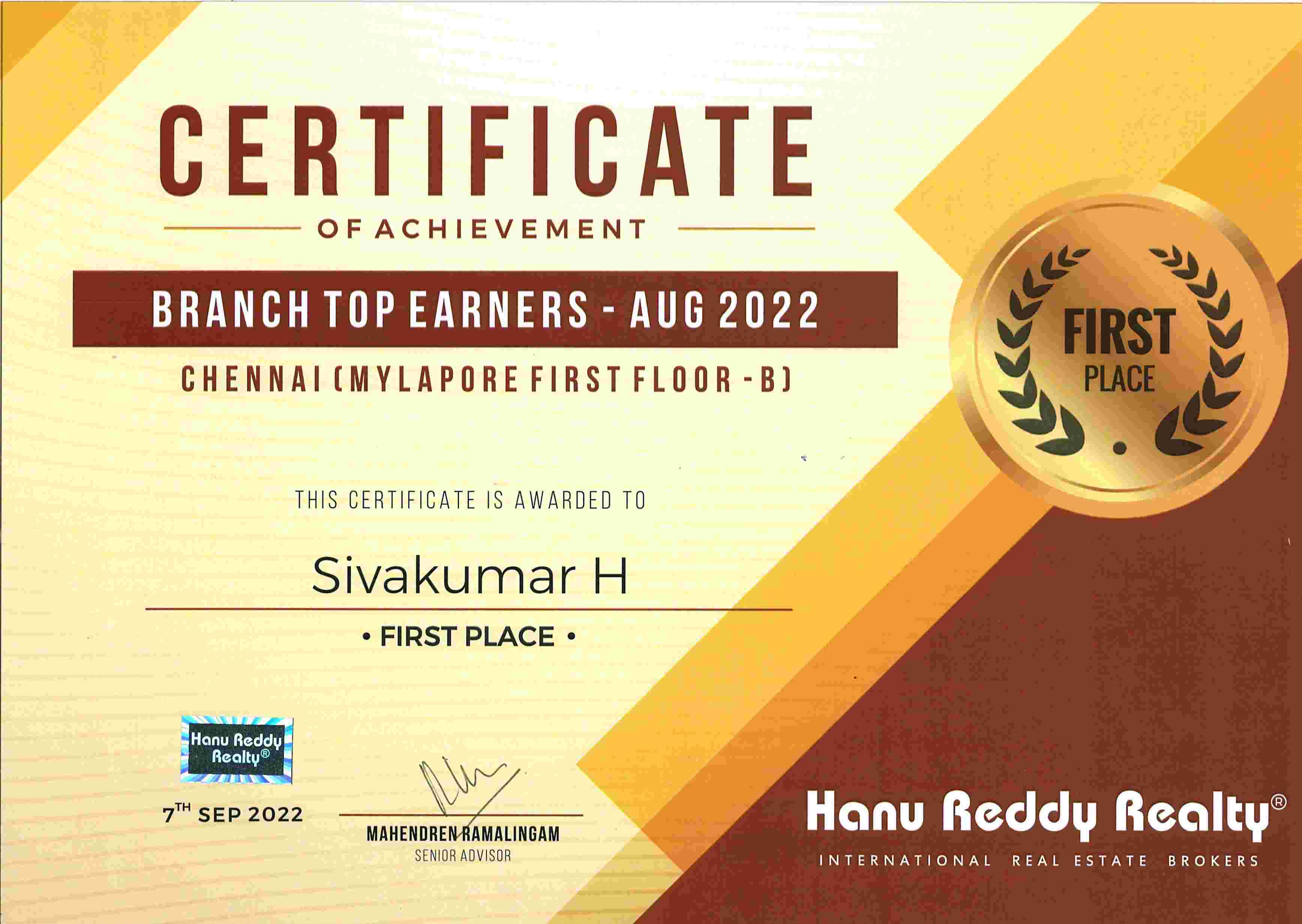 4917
Certificate
06-Aug-2022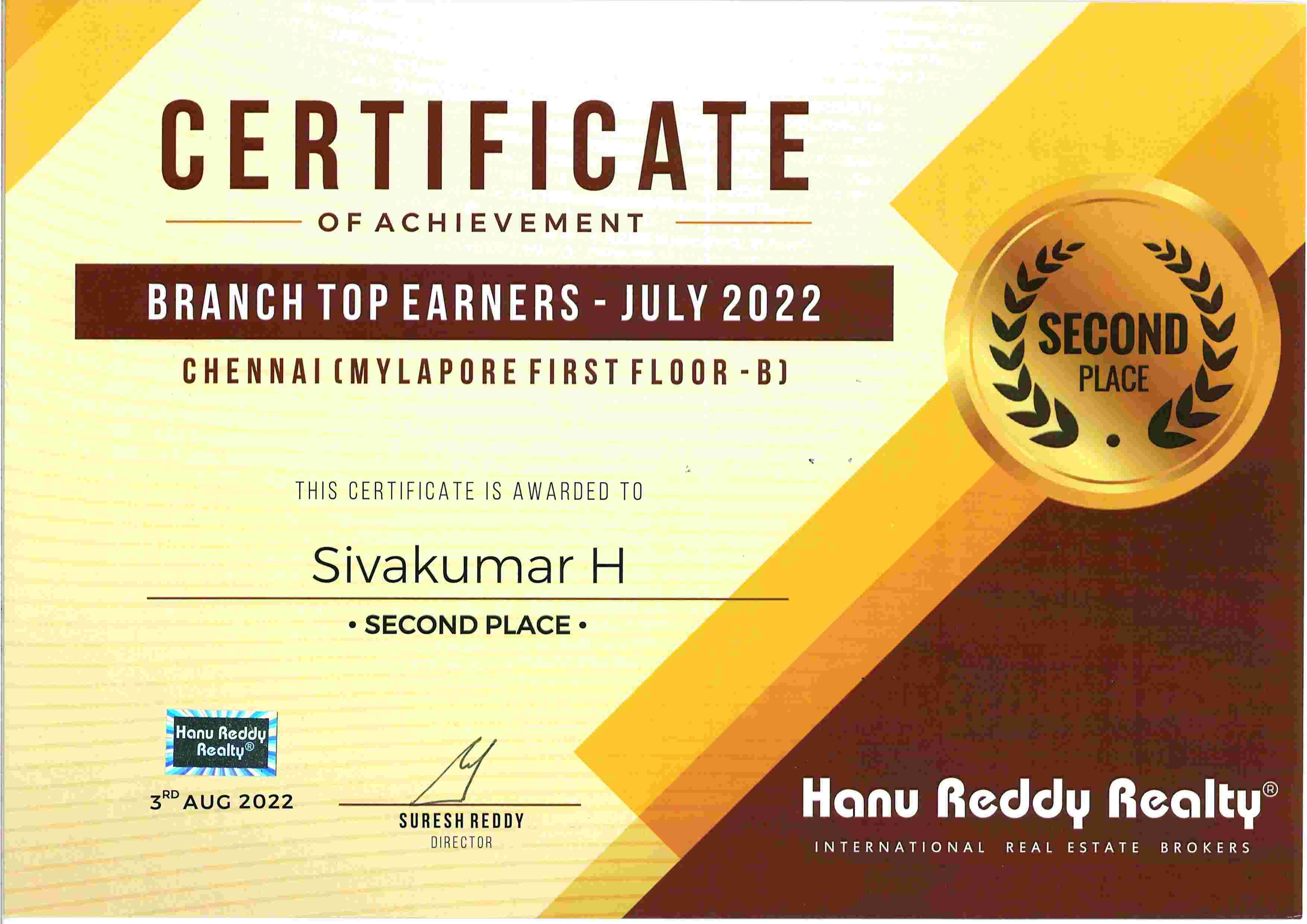 4888
Certificate
20-Jul-2022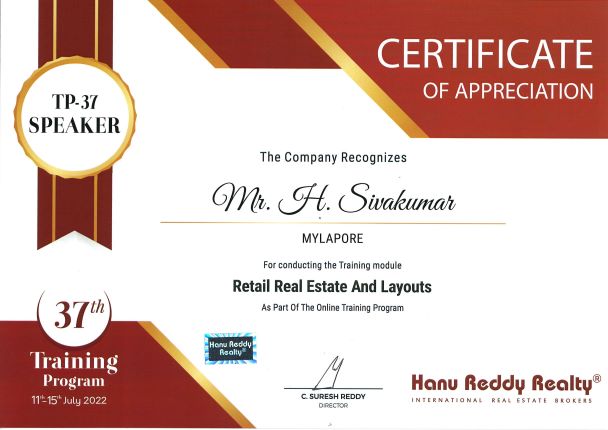 4887
Certificate
20-Jul-2022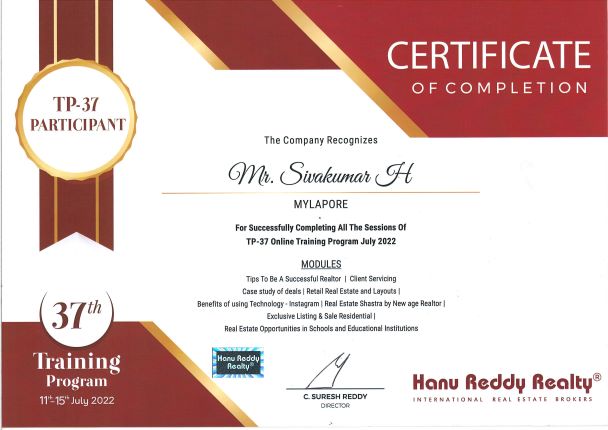 4874
Certificate
13-Jul-2022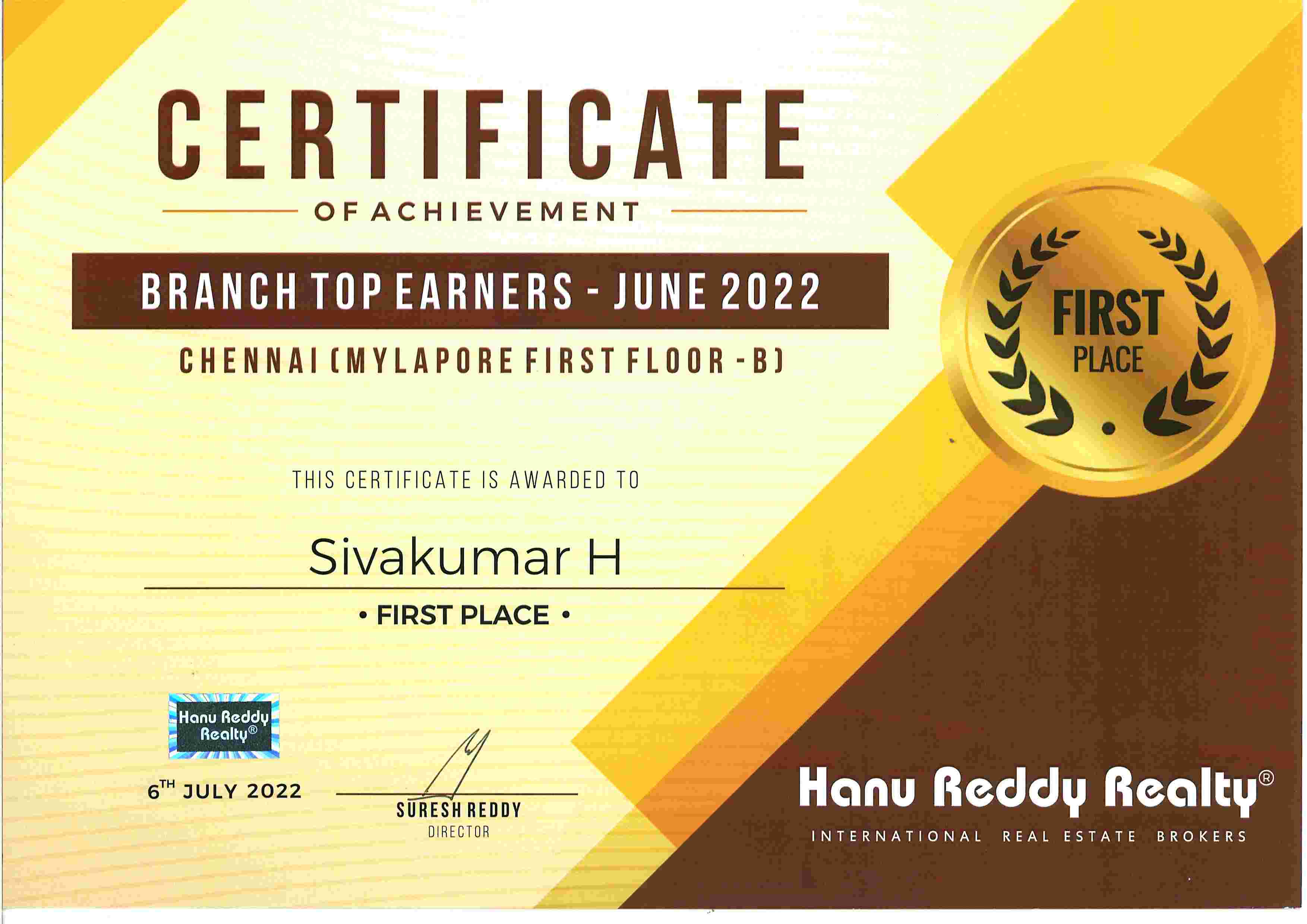 4822
Certificate
07-May-2022
4785
Certificate
20-Apr-2022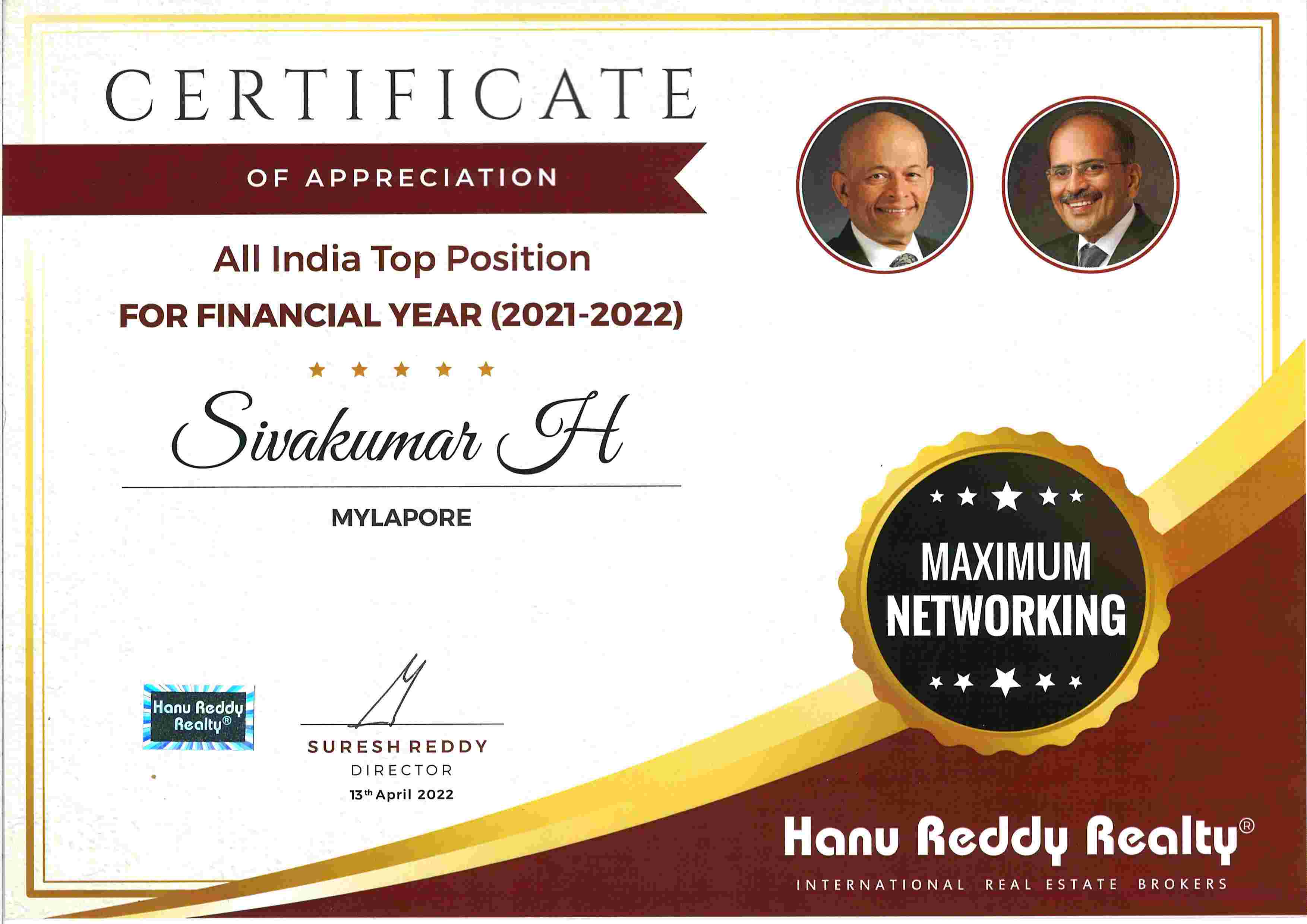 4786
Certificate
20-Apr-2022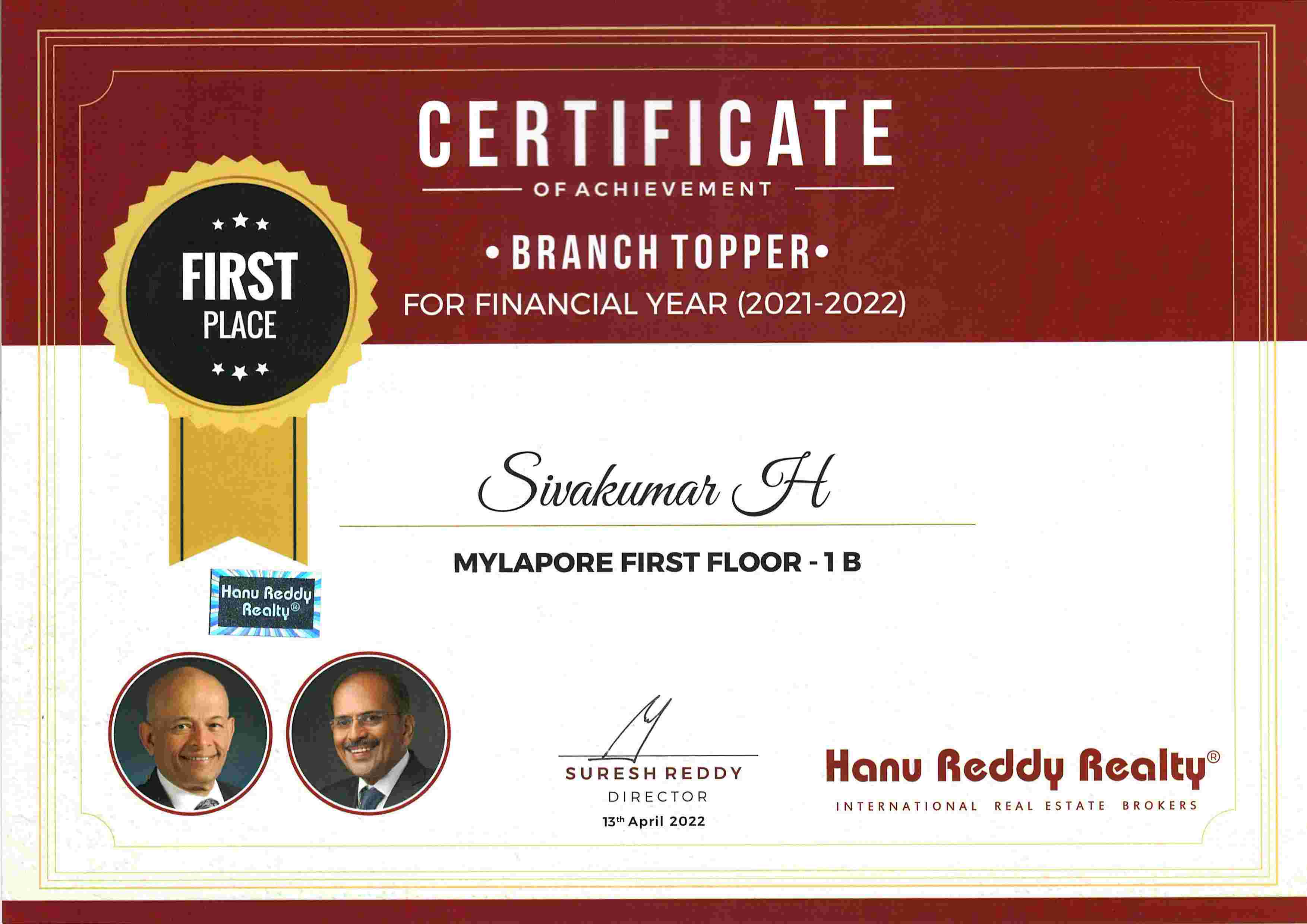 4695
Certificate
17-Jan-2022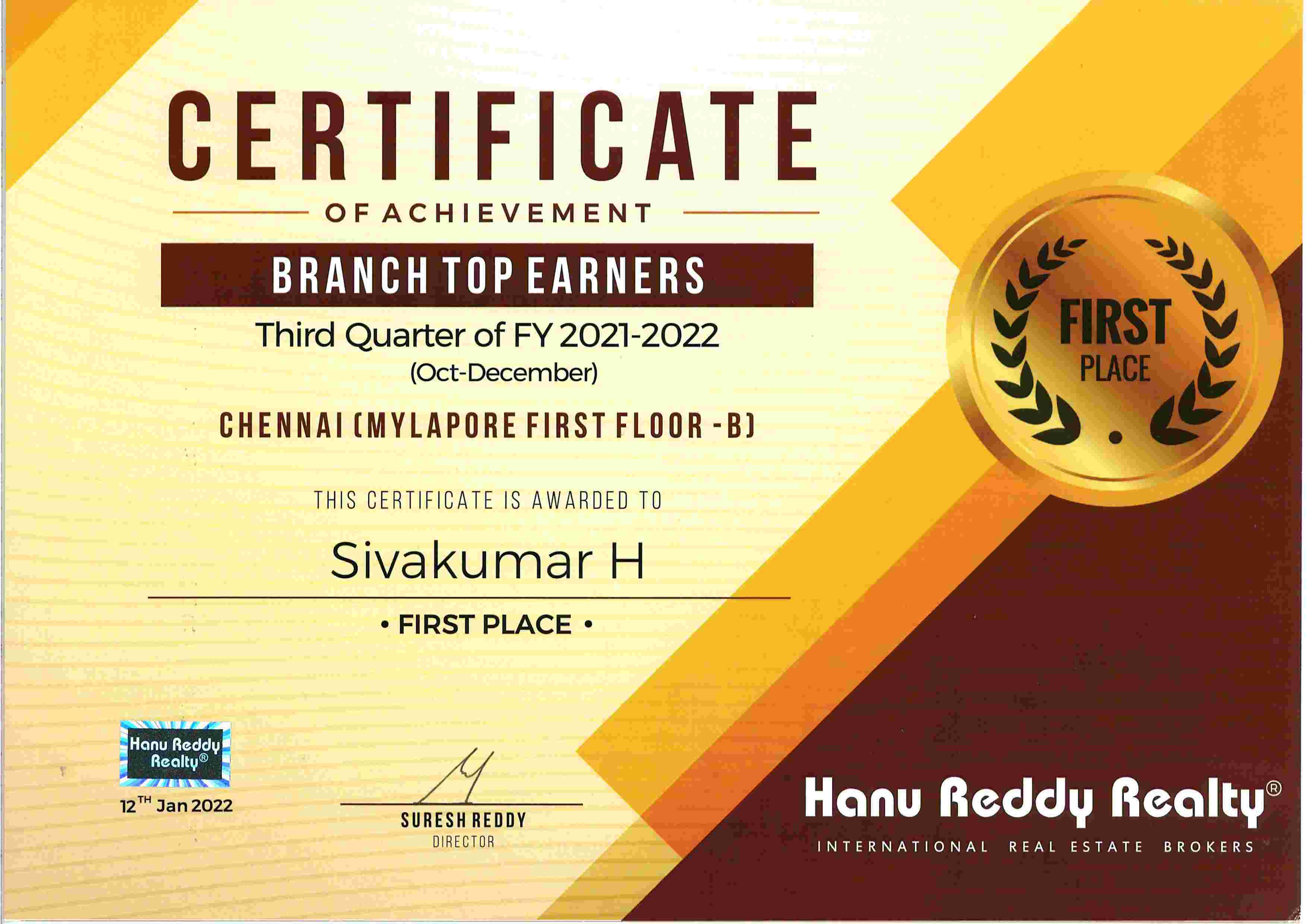 4684
Certificate
31-Dec-2021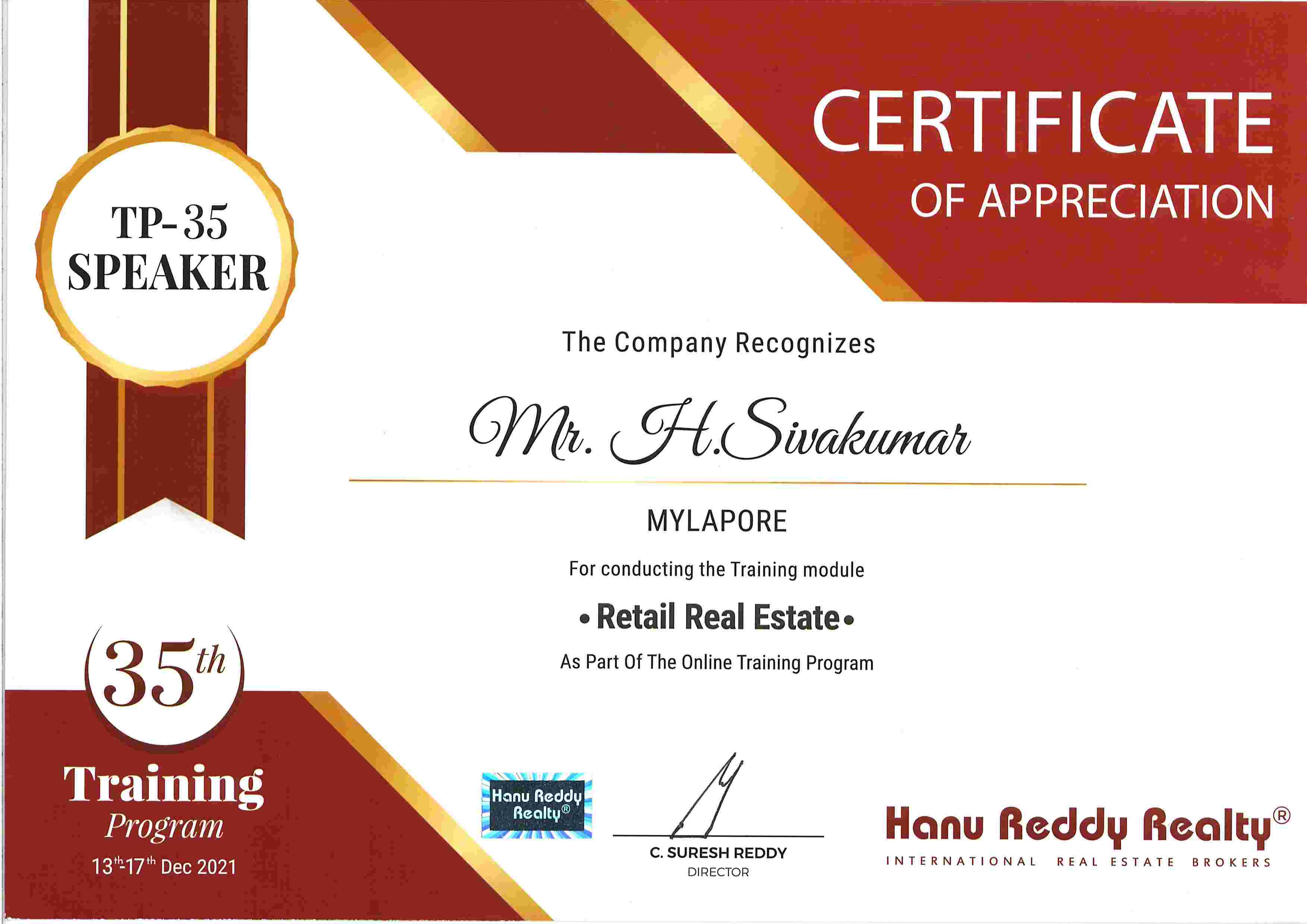 4624
Certificate
26-Oct-2021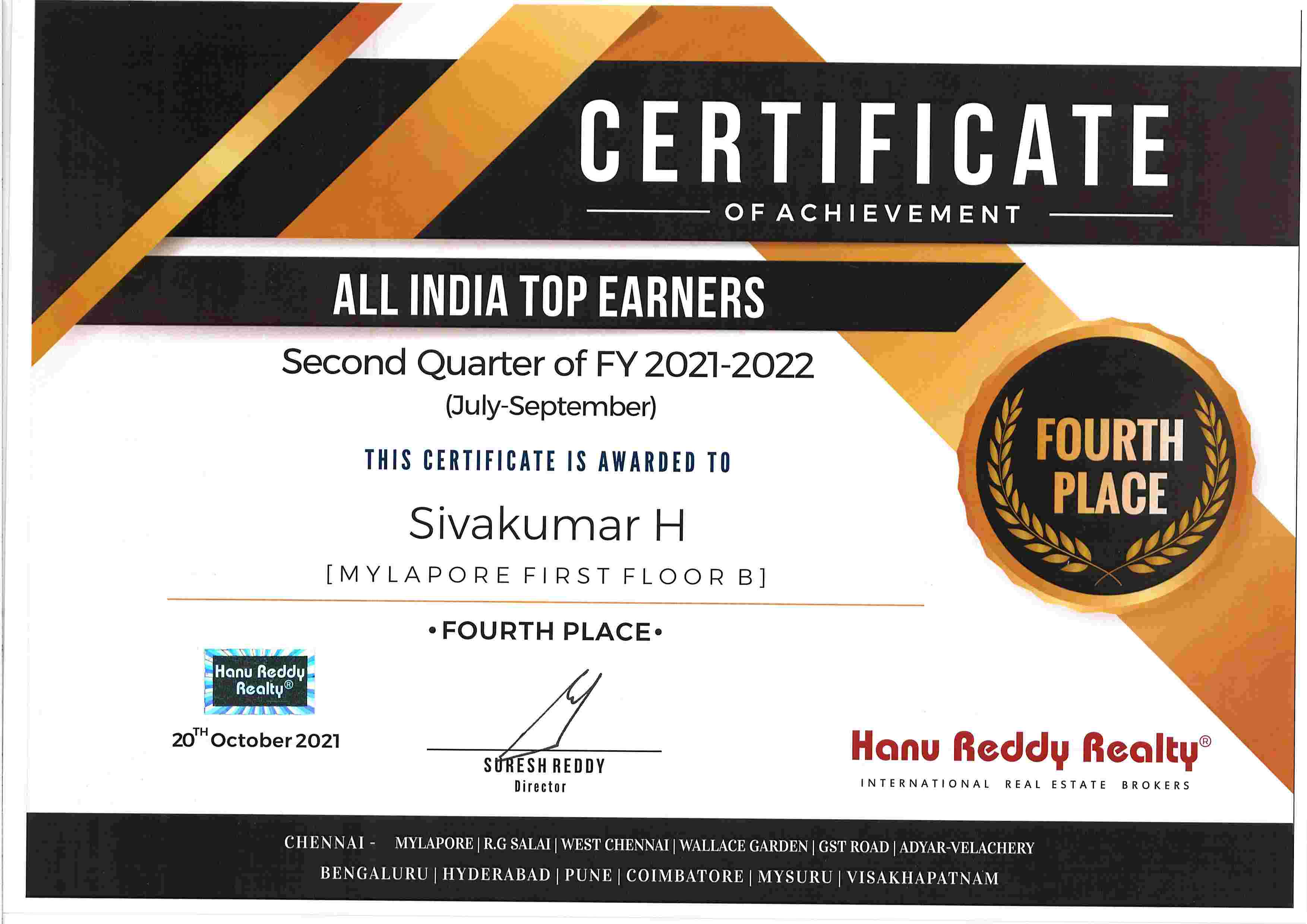 4623
Certificate
26-Oct-2021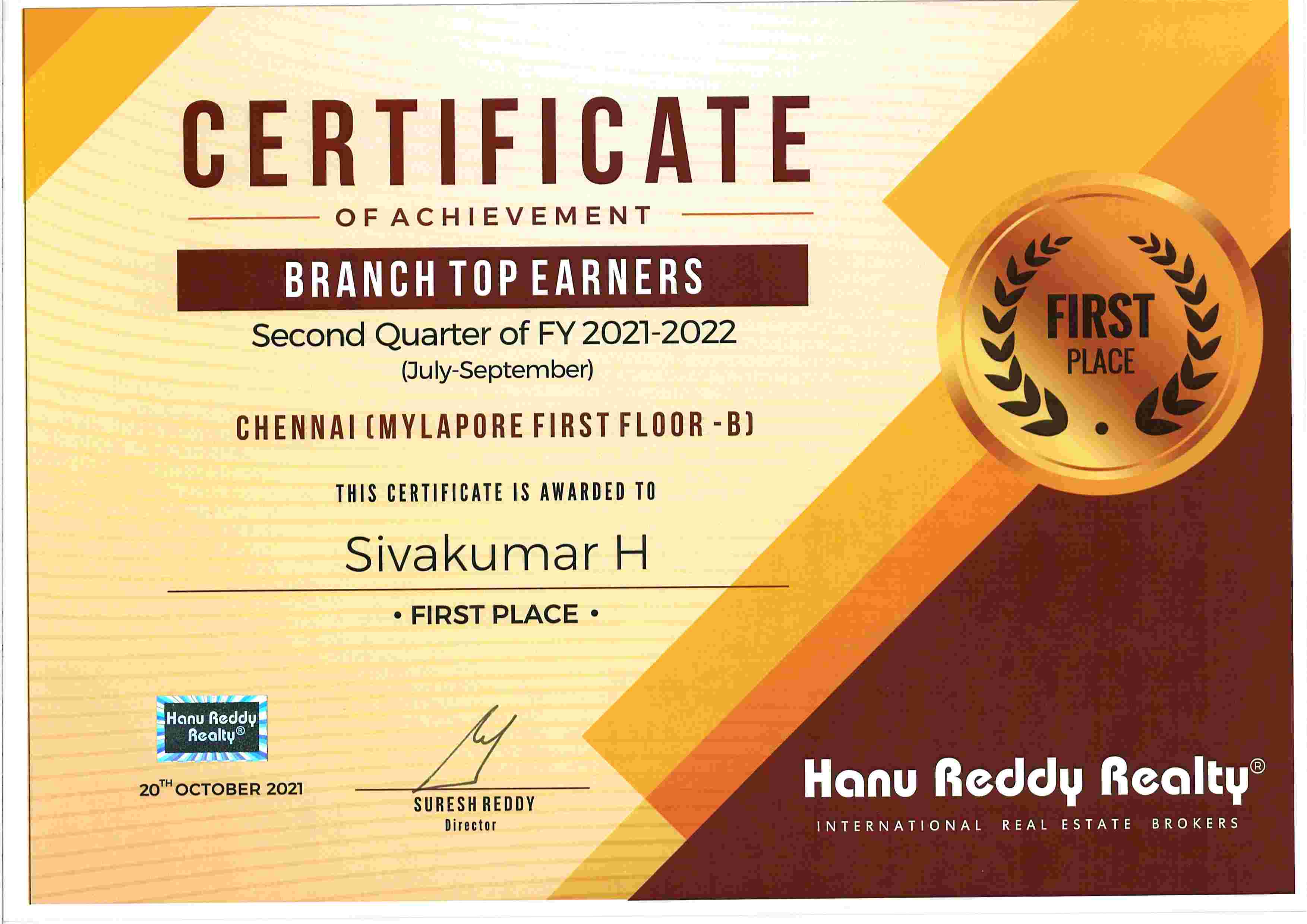 4560
Certificate
01-Jul-2021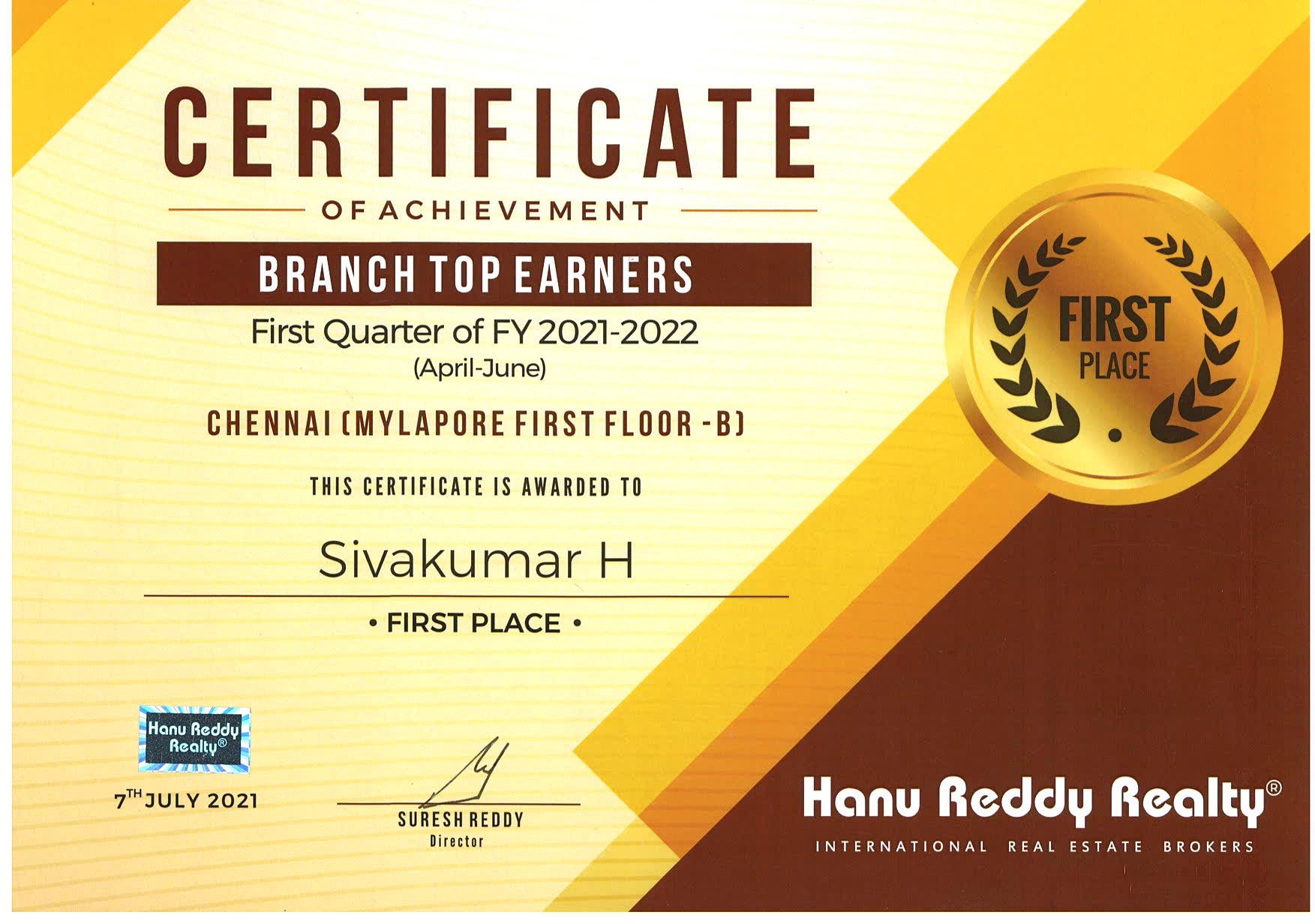 4506
Certificate
09-Apr-2021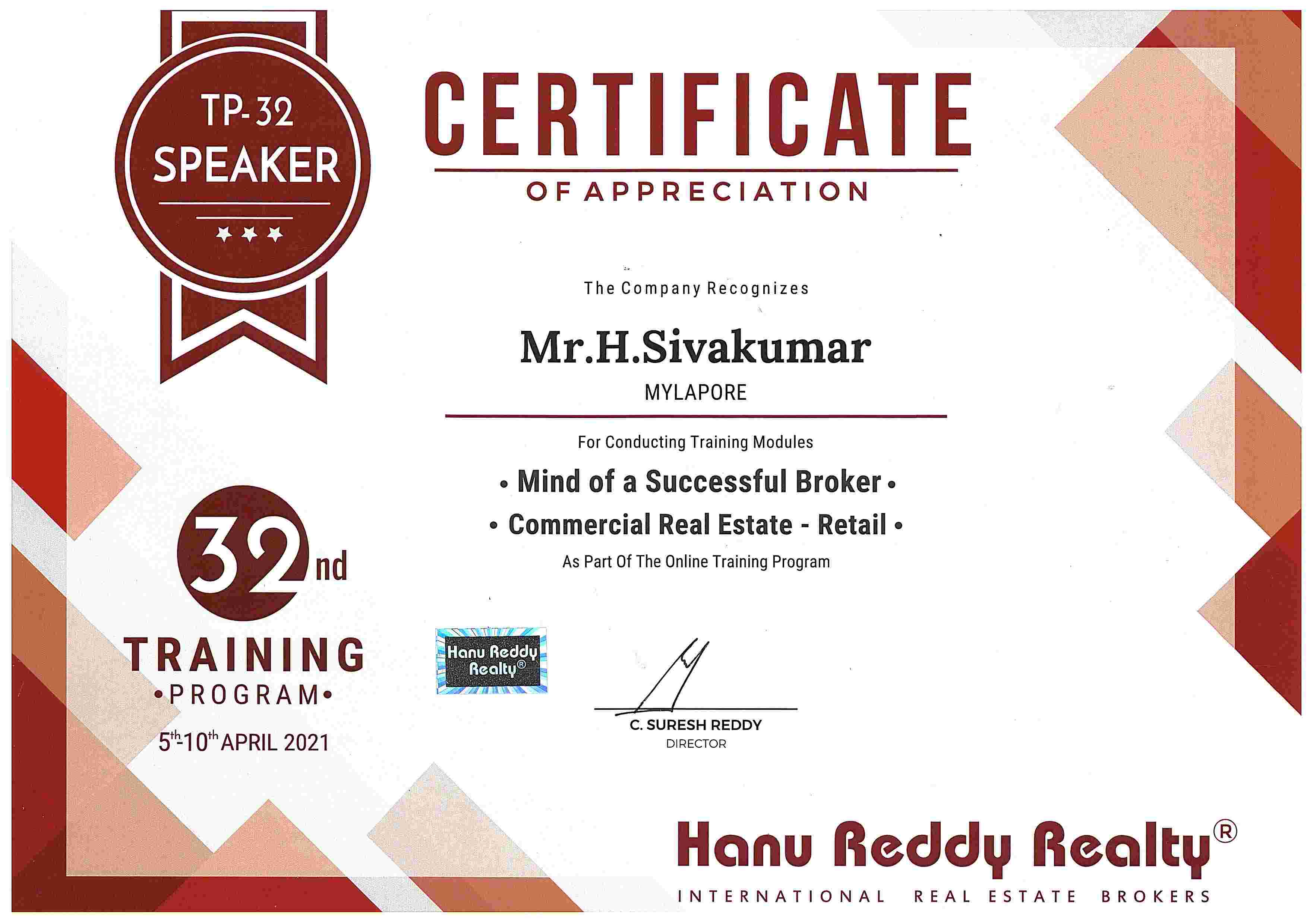 4488
Certificate
01-Apr-2021
4489
Certificate
01-Apr-2021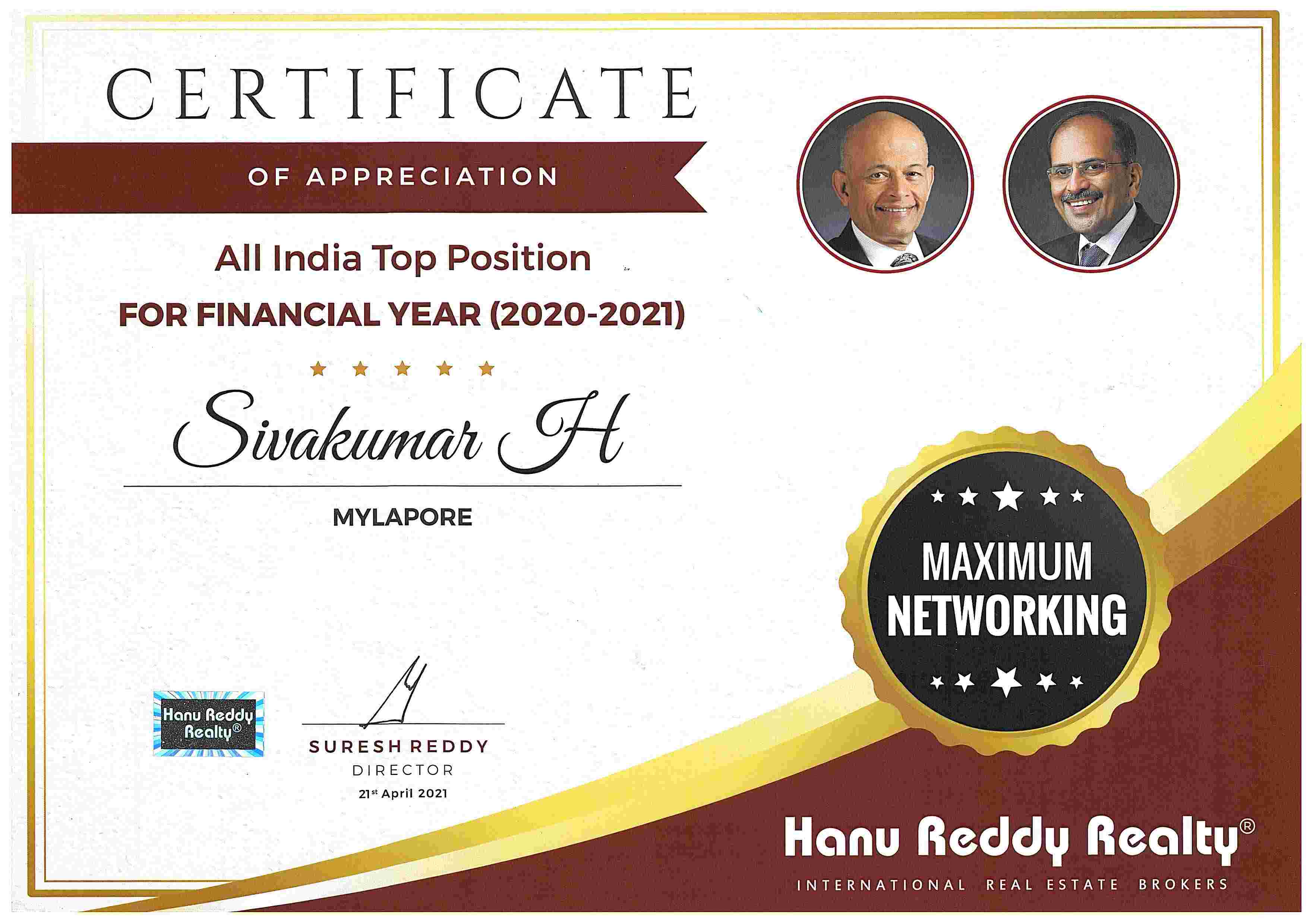 4490
Certificate
01-Apr-2021
4505
Certificate
31-Mar-2021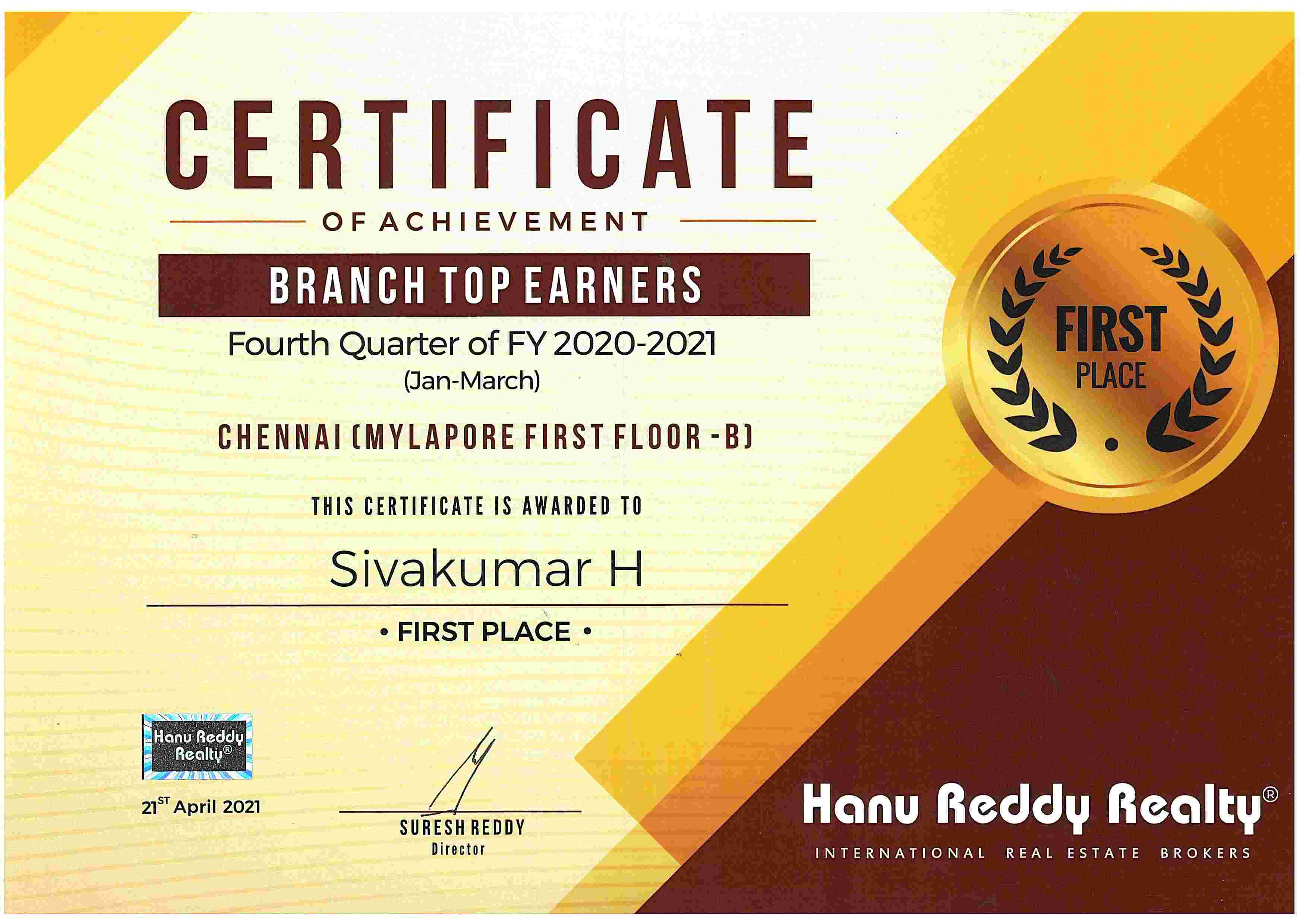 4413
Certificate
31-Dec-2020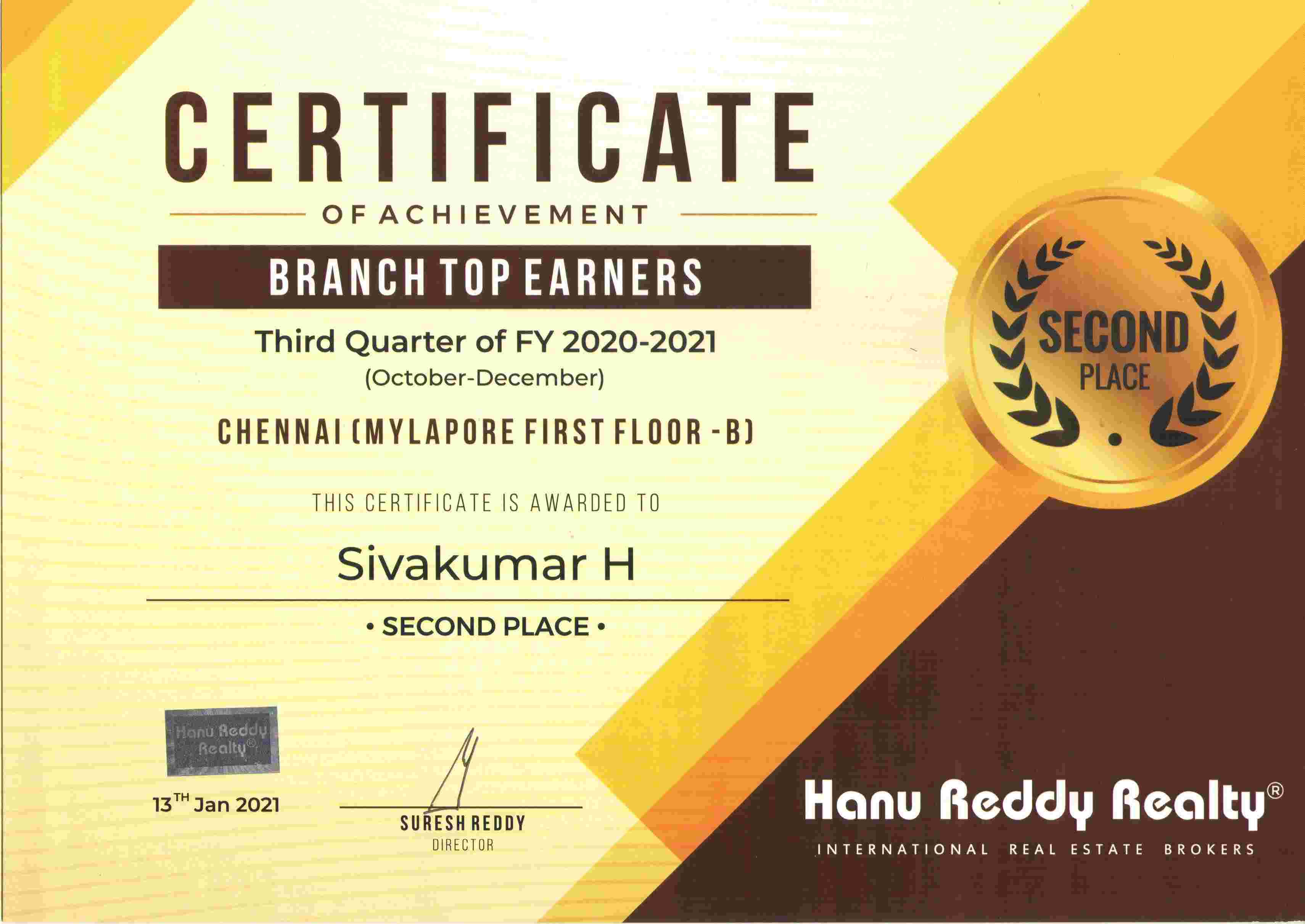 4369
Certificate
01-Oct-2020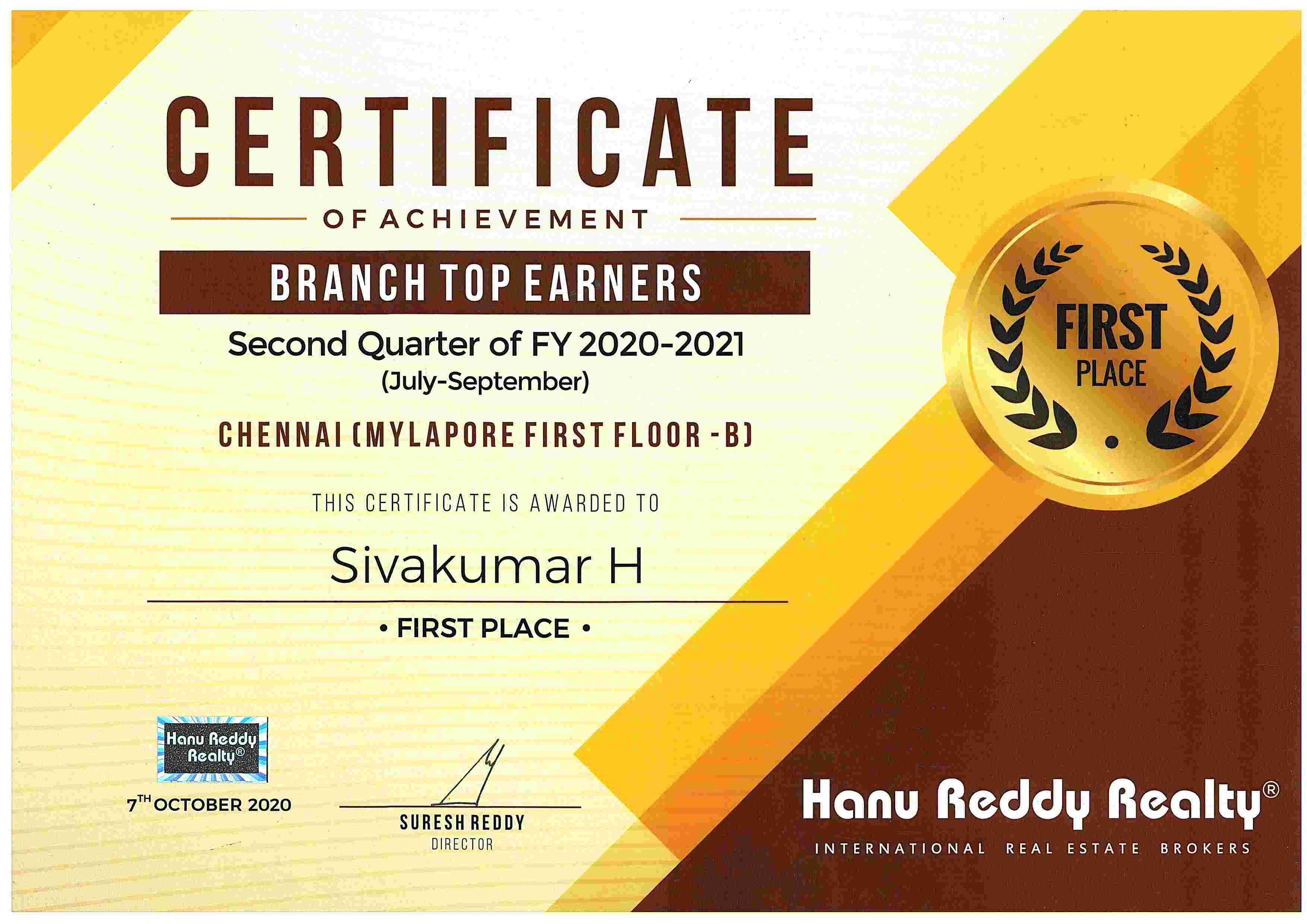 4365
Certificate
22-Jul-2020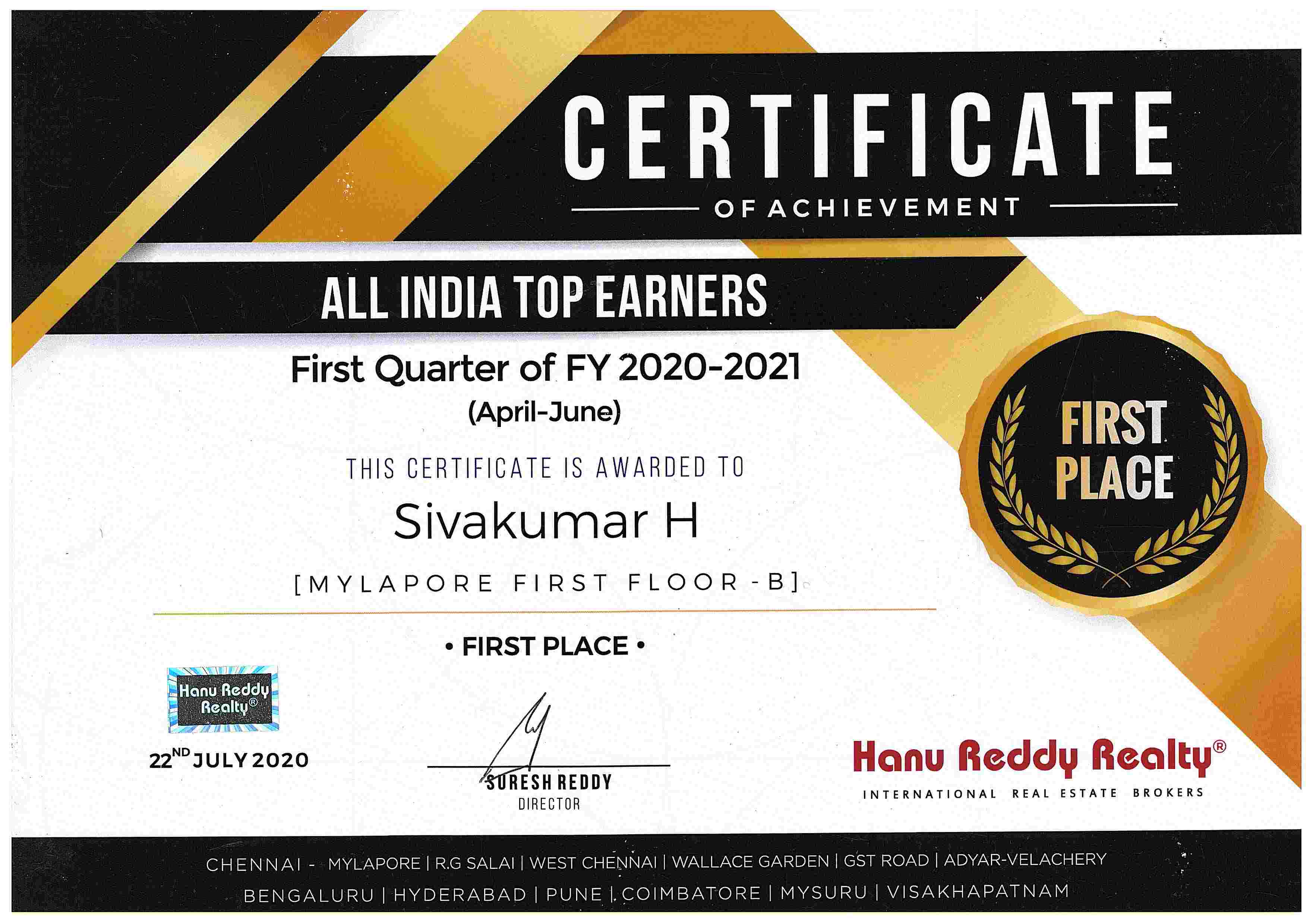 4285
Top position in Networking with other Realtors FY 2019 - 2020
10-Jun-2020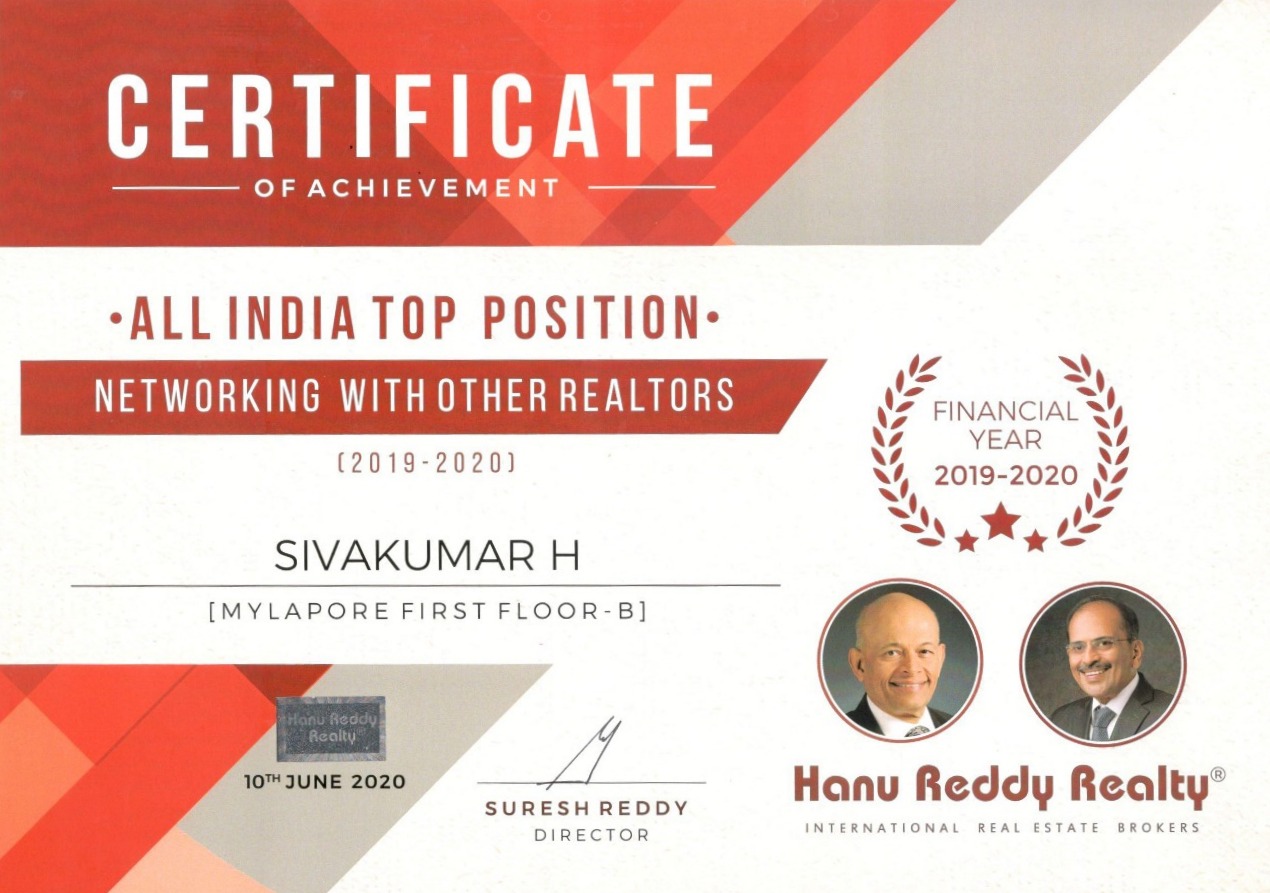 4286
Mylapore 1B Branch Topper FY 2019-2020 First Place
10-Jun-2020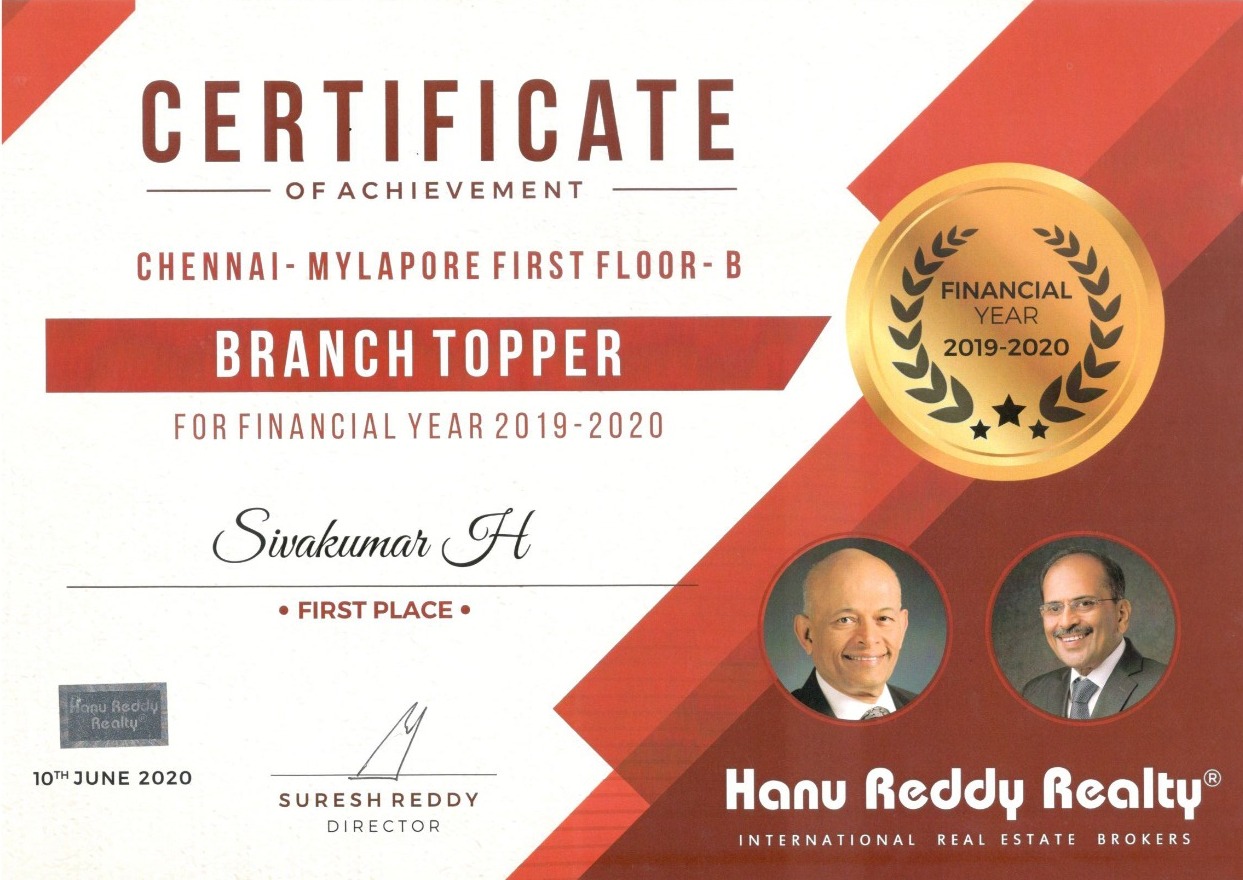 4111
Certificate
21-Dec-2019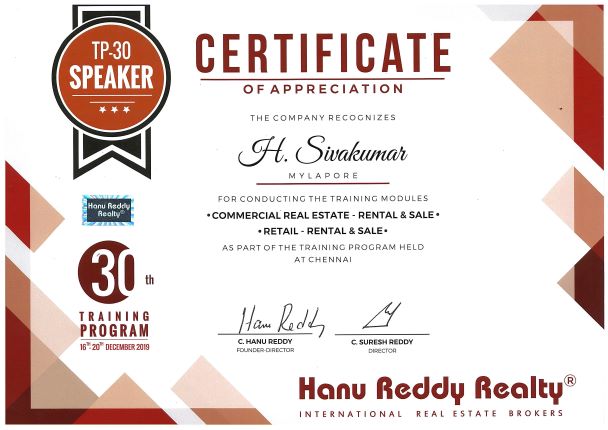 4078
Certificate
01-Nov-2019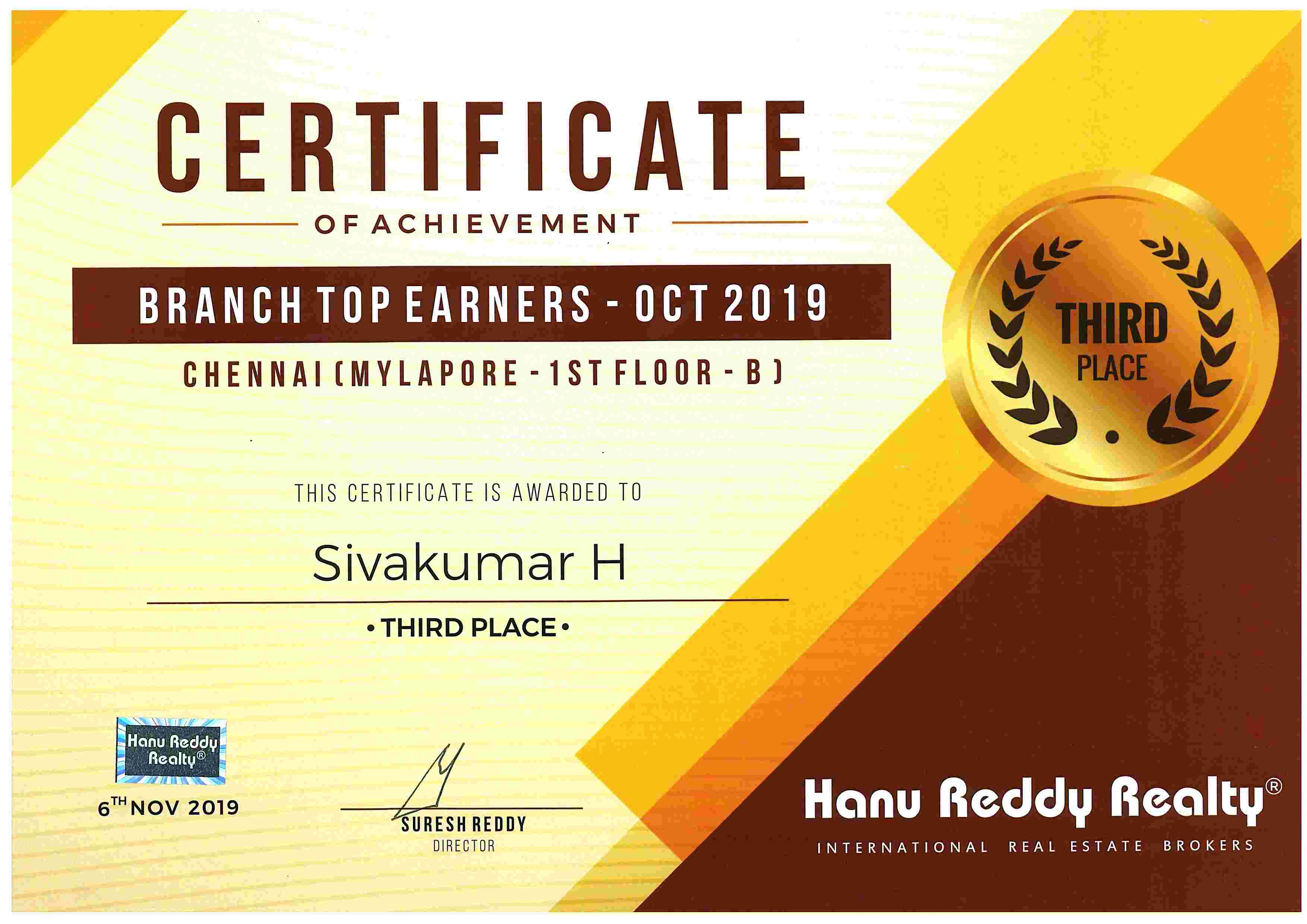 4046
Certificate
31-Aug-2019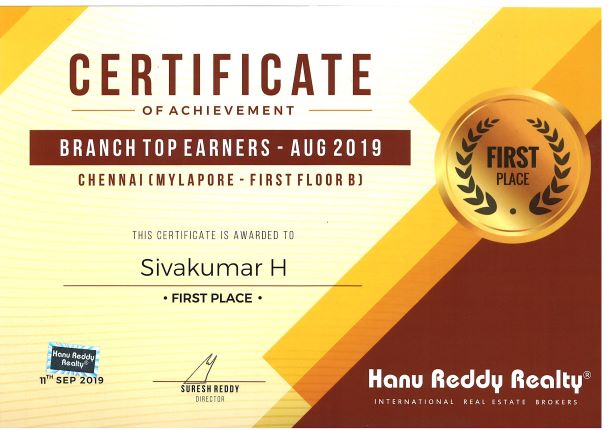 4036
Certificate
01-Aug-2019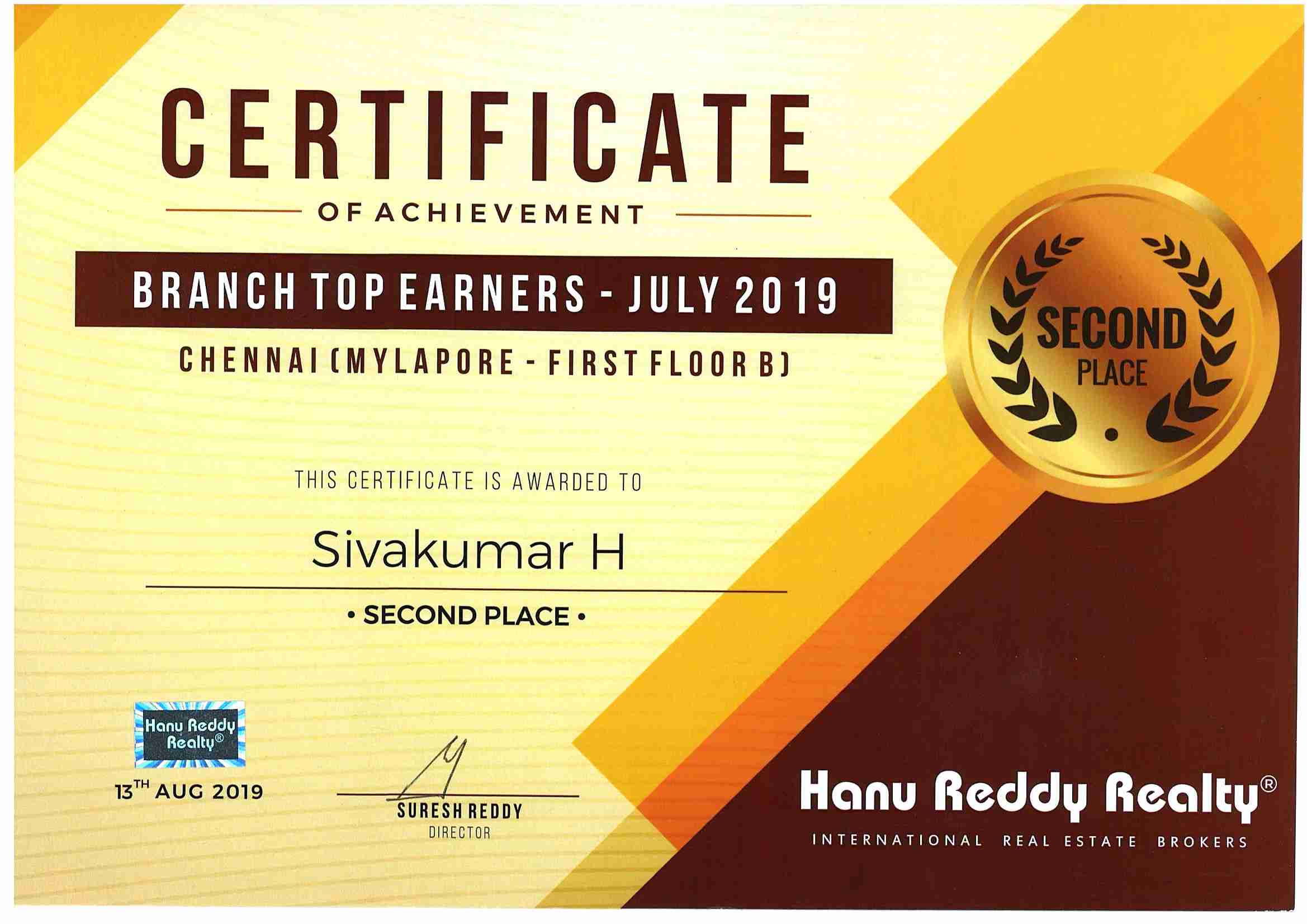 3978
CONSISTENT Earning Realtor_ FY 2018-2019
01-Apr-2019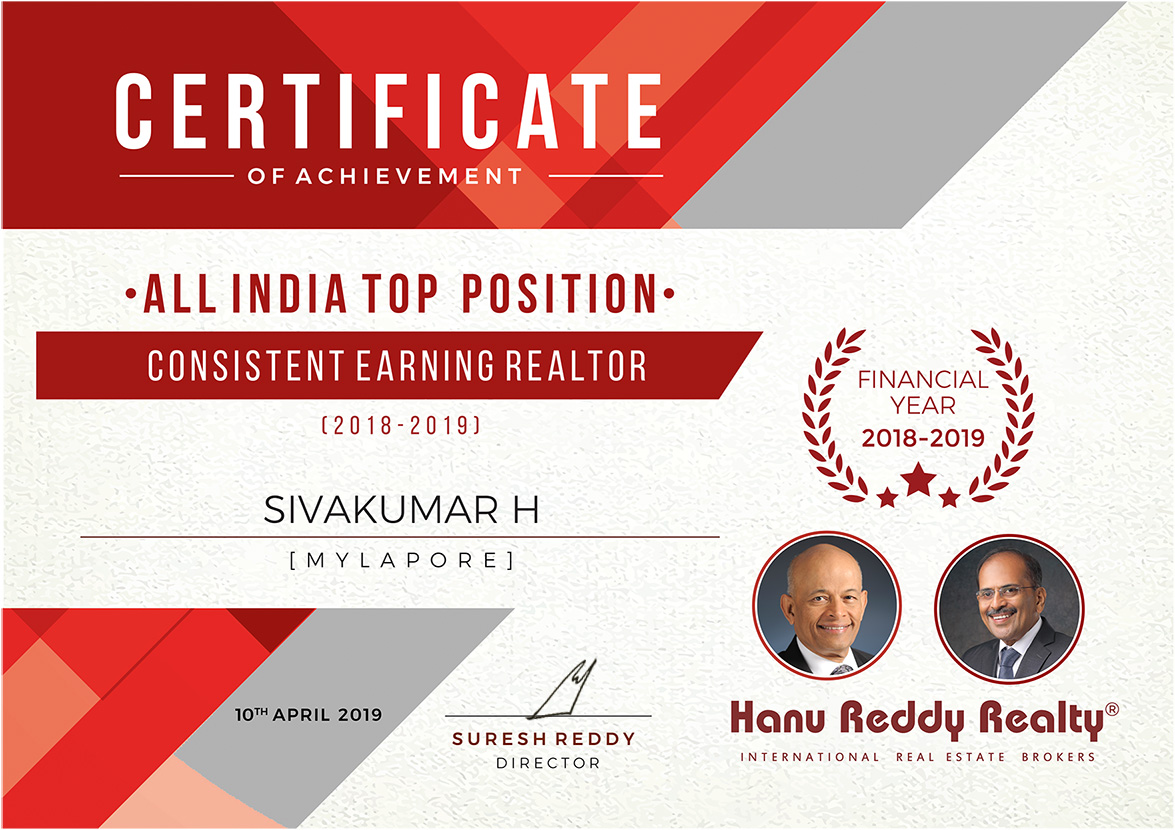 3977
Mylapore 1st floor B Team First Place - Earnings FY 2018-19
31-Mar-2019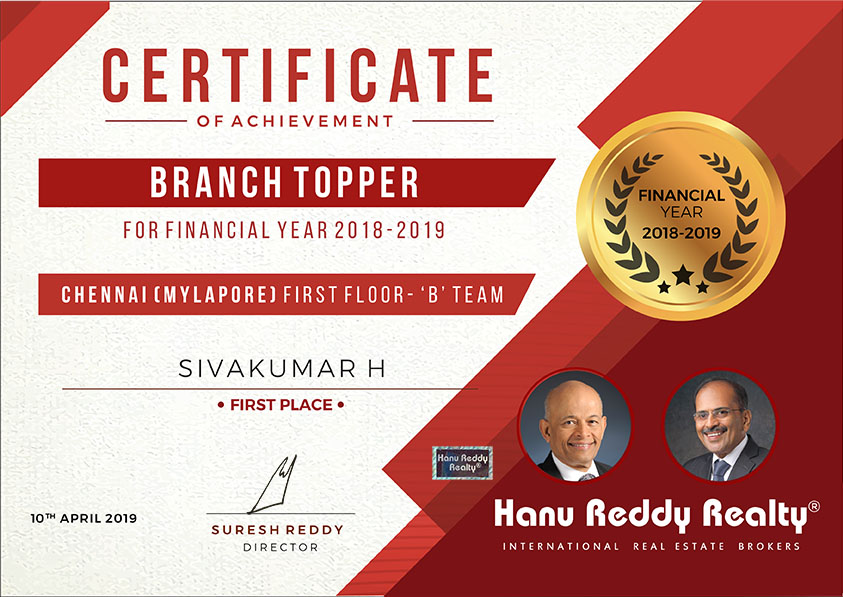 3901
Google Review
19-Mar-2019
Arun Muthuvel
(5 Star Rating)
excellent service by mr sivakumar and team... our preferred choice since 2006...
3819
Mylapore Branch Top Earners - January 2019 - First Place
20-Feb-2019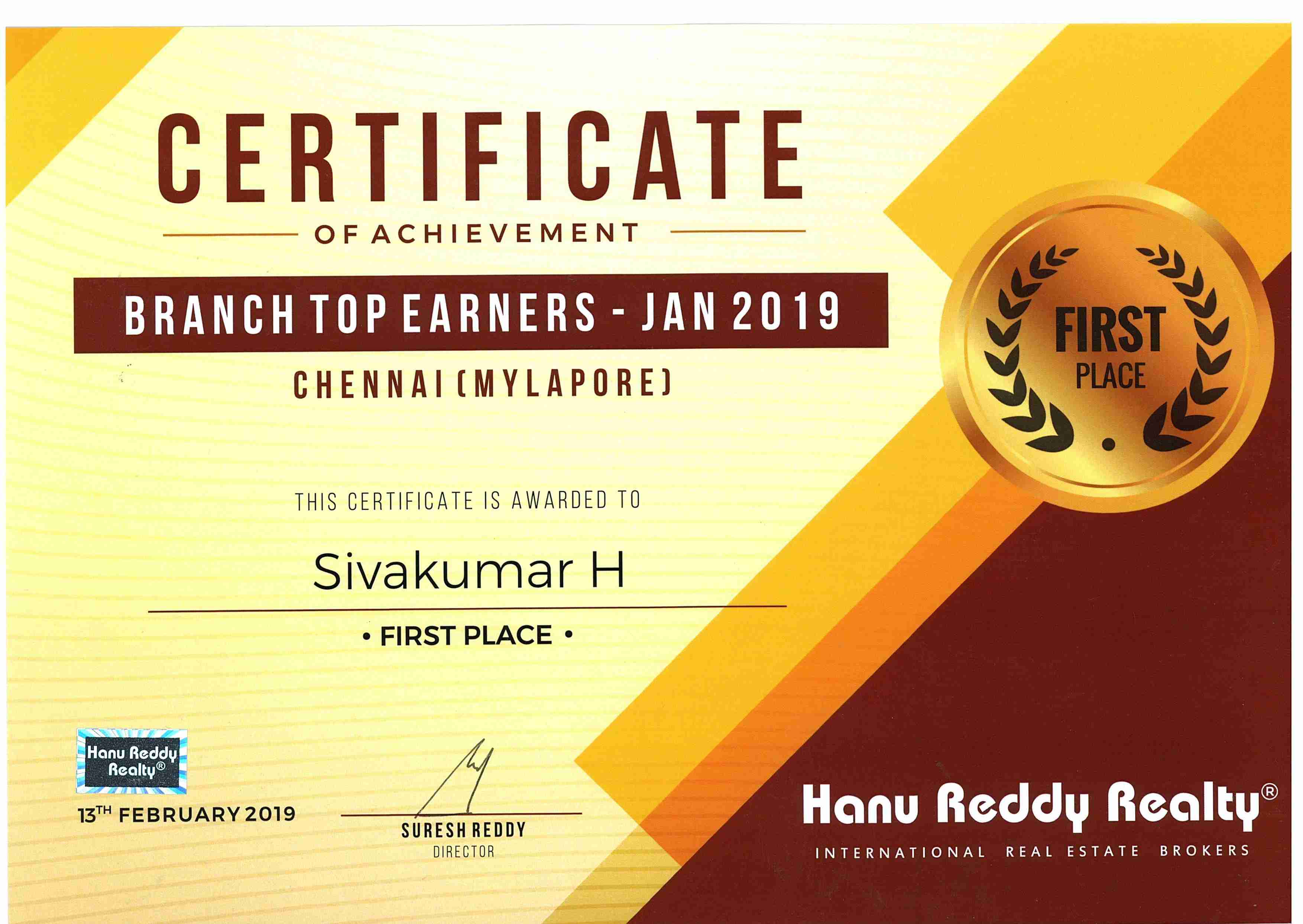 3820
All India Top Earners - January 2019 - Second Place
20-Feb-2019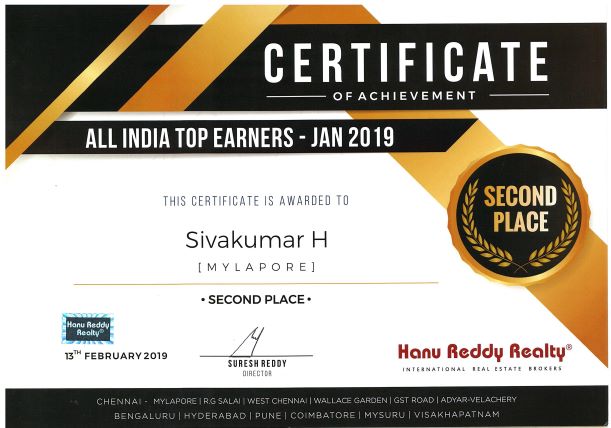 3739
Google Review
29-Oct-2018
Neha Kapoor
I would like to thank Maruthi and Sivakumar sir, for rendering exceptional service. We came for help in selling our house from a reference and I'm very happy with the way everything was handled. From the start point to the end point everything was taken care of, even the minutest details and did superb work with paper and took care we had everything needed to for a smooth deals. We had a great time interacting with Maruthi sir who is a great at speaking and can make anyone agree to him. Along with it he also accommodated all our requests, and made us very comfortable with the deal. Sivakumar, on the other hand cannot portray a rosy picture and will always be to the point and never mingle words. He was very good during the registration, he also took care of we had all the papers ready. Their partnership for us was a blessing in disguise, thank you so much for helping us go through the deal in the best possible manner. A special thanks to Mr. Hanu Reddy to take care of the deal and personally speaking to us. His message really made us feel special. I would certainly recommend Hanu Reddy Retailers to everyone who needs to buy or sell the house.
3812
Google Review
26-Sep-2018
Balakumar Subbu
[5 Star Rating]
I recently sold my house in south Chennai. Mr.Sivakumar & Mr.Mukunthan from Hanu Reddy Realty helped me with the transaction. Both were dedicated and knowledgeable professionals who carried out their tasks diligently and at the same quickly to complete the transaction with in 3 weeks of my short trip. I would definitely recommend them for any real estate related need.
3290
Appreciation Letter
13-Oct-2017
Sir
Have written to you many times about the awesome services of Mr. Sivakumar and Mr. Rajesh.
It is their never say die attitude that sealed the deal and their perseverance even for a Rs.80,000 as fee deal is mind boggling.
They carried the transaction through virtually on their own and Mr. Rajesh under the brilliant guidance of Mr. Sivakumar has been outstanding.
Beyond a point I lost interest and was ok even if the deal did not go through.
But your people would not give up
It is not the fee that drove them but the sheer passion of having to complete a job
I wish all of you the very best
Season's greetings
Best
Krishnan
3303
Appriciation Letter
24-Apr-2017
Kind attention; Mr. C. Suresh Reddy
My wife and I wish to record our deep appreciation of the highly
professional and courteous manner in which the sale of our apartment
was handled by Mr. H. Siva Kumar and Mr. Prasanth Kumar Unni. Though
the transaction took long to conclude, they were very patient and made
no compromises. They made working with Hanu Reddy a very happy
experience.
--
N V Ramanan
Ram's Creative Chamber
Phone : 044-2498 2836 / 2498 2822 / 98411 37788
3302
Appriciation Letter
10-Feb-2017
Dear Sir,
Yesterday we concluded the sale of our apartment at Alwarpet with Hanu Reddy acting as the real estate agents.
I would like to place on record the wonderful service rendered by Mr.Sivakumar in bringing this transaction to conclusion.
His dedication, dogged determination and steadfast resolve to bring matters to a satisfactory conclusion made what could have been a traumatic experience into a very pleasant one. I would like to commend the sincere efforts put in by him.
He was ably assisted by Mr.Aravindan throughout the long ordeal.
Wishing Hanu Reddy Realty greater success in the years to come.
Sincerely Yours,
M.SIDDHARTH KUMAR"
BEST WISHES,
SIDDHARTH KUMAR
2649
Appreciation Letter
03-Feb-2015
From
Vijay Kumar,
NRI, USA
To
Mr. Suresh Reddy,
Director, Hanu Reddy Realty,
Mylapore Branch, Chennai
Subject: Testimonial from a satisfied NRI customer
Dear Mr. Suresh Reddy,
I would like to complement Hanu Reddy Realty for the excellent service provided under the leadership of Mr. H. Sivakumar.
I am NRI from USA who lived in California for 30 years with 2 brothers in India. We sold our ancestral house through Hanu Reddy Realty. The service provided by Mr. Sivakumar exceeded my expectation and was better than the service I am used to in USA.
Mr. Sivakumar assisted by Mr. Gopi did an excellent job selling the house to our complete satisfaction. They walked us through the complex steps required in selling the house and arranged to get all the documents (like Patta, Power of Attorney) through the maze of Indian bureaucracy. They made arrangements to show the house to several potential buyers, screened them and presented genuine offers to us. They got us the price we expected from a solid buyer. Mr. Sivakumar kept all of us informed of the progress in every step and we had no surprises. The financial transaction through ICICI bank also went like clockwork.
I was surprised about how smoothly the transaction took place without me visiting India. I would like to complement Mr. Sivakumar and Mr. Gopi for the exemplary service they provided.
I will definitely recommend Hanu Reddy Realty for any real estate transaction.
Regards,
Vijay Kumar
2630
Google Review
13-Aug-2014
We sold our flat in Royapettah Chennai in August 2014 with the help of Mr. H. Sivakumar, Vice President of Hanu Reddy Realty, and realtor, Mr.K. Rajesh. It was a pleasure working with them; they were very professional and easy to work with. They found a best match within 2 months. They worked with the buyer's party, provided all the required documents, procured several missing documents from the registrar office on our behalf, and continuously informed us of the progress. Mr. Sivakumar facilitated teleconferences with buyer, made sure all documents were in order, and finalized the deal. I traveled from the US for a week and the sale was completed during my stay. Mr. Sivakumar was always available to take my call immediately day or night and answer any questions. We are very satisfied with the whole experience. I thank Mr. Sivakumar and Mr. Rajesh for making it pleasant experience. I strongly recommend Mr. Sivakumar to NRIs trying to sell their property in Chennai. Ramesh Avula Ph.D. Rajeswari Avula Stone Park Drive Rochester MN.
279
18-Jun-2012
Dear Sir,

From
Suresh Shunmugam
Rekha Suresh M.P
No 75(N) 41/30(O), Vasanth Nagar,
1st Street, Kaladipet,
Thiruvottriyur,
Chennai - 600019


To
Hanu Reddy Realty India Pvt. Ltd
No.18, Bishop Wallers Avenue - East
Mylapore,
Chennai - 600004

Greetings to Hannu Ready Realities, We are happy and thankful to Mr.Saravanan (Realtor), Mr. Siva Kumar(V.P) for helping us in purchasing a Flat in Kotturpuram (Yuga Homes "Niketan").

With our experience in looking for a property over a year with many other real estate agents, I personally felt that Hannu Reddy Realty's people are real professionals, pleasant, and dedicated to the service with sincere and fair dealing.


What was impressive is that you understand our expectations and requirements and show us the properties that meet exactly to our needs, and you kept us well informed about the every move starting from negotiation till registration, indeed we were to trust your words at many occasions.

Am also happy for your straight forward dealing because, when I had a doubt you made me meet the builder directly to have a word with him and clarified my doubt before signing of the sale agreement.

Am particularly happy and thankful to Mr. Saravanan (Realtor), because his willingness to assist in furnishing me with any documents that I needed with regard to the purchase, even though if the sellers don't have the documents he took an extra step in applying with the registrar office for the copy of the documents and up-to-date encumbrance certificate (EC). He did not stop himself with furnishing the documents, he also co-ordinated with the bank people in helping me out to get the cheque on time. He is s real Professional person with punctuality, dedication and sincererity and also apt to be a business man, His commitment and hard work is highly appreciated.

Above all, the greatest part that I should mention is, you realise the importance of purchasing the property and how big it is for us, I thank Mr.Saravanan because they cleared us with calculations and also for their valuable inputs leaving the choice to us.

I should also thank Mr. Siva Kumar (VP) because his generousness to say, that you will not stop yourself in registering the property but will be all our way through with regard to the property. I believe this attitude and flexibility will definitely help this company grow to its full potential.

We have no hesitation in recommending you to people who wanted to buy or rent the properties and my decision in purchasing any other properties will for sure be through Hannu Reddy Realty, because you made the process painless.

We wish the Hannu Reddy Realty India pvt. Ltd., for a successful journey ahead.


Regards
Suresh Shunmugam,
Rekha Suresh M.P



401
28-Feb-2009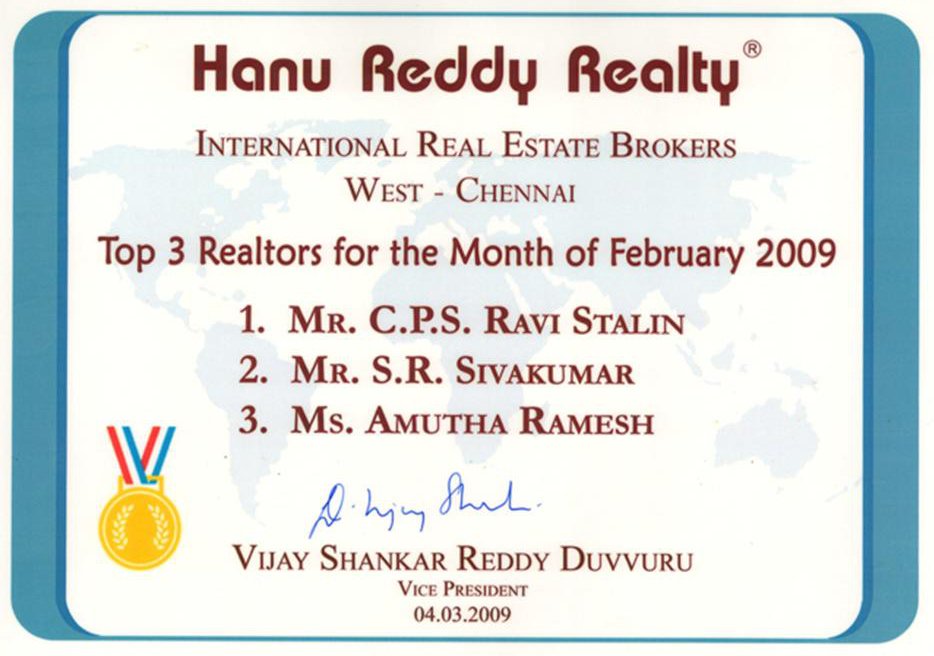 321
01-Mar-2007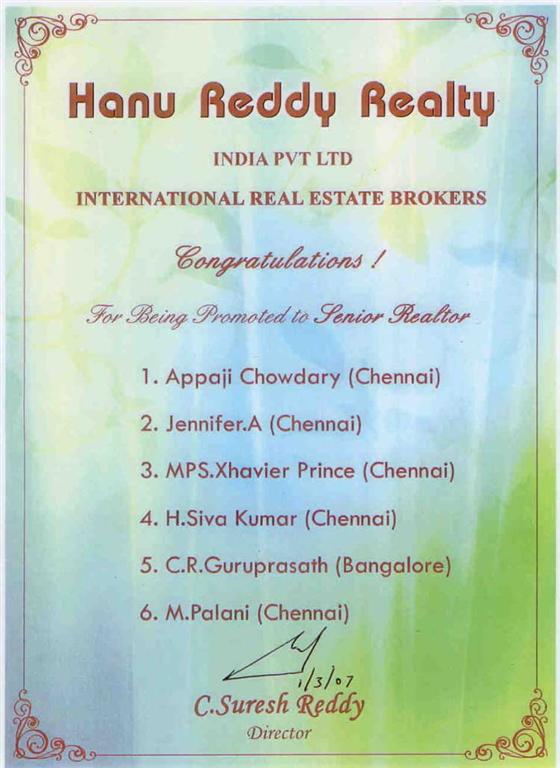 63
Dear Sivakumar,

It has been great pleasure to transact with Hanu Reddy through you and Aravindam to buy the flat no.5, Ramraj apartment, 1st Main road, RA Puram.

Aravindam and you handled the transaction in a manner which was diligent, professional and demonstrated deep understanding of our needs and circumstances throughout the transaction.

It has been a pelasant experience and hope to continue our relationship in future as well.

I am sure Aravindam and you would bring more delighted customers to Hanu Reddy and achieve greater heights in your career.

All the very best


Regards
N Chandrasekaran



61
Dear Mr.Sivakumar

his mail intends to thank you for all the services rendered in connection with sale of our Apartment at RAMRAJ,1ST Main Road ,R.A.Puram ChennaI-600028.

Your services done were very organised and professional way enabling the customers to get their work finished in a very smooth manner.We thank you in particular and also Mr.Aravind .The effort you have taken to keep things in place and to keep the customers at ease ,is commendable.We are highly satisfied at your work and will definitely recommend your company to our near and dear who are in need of such services.We definitely look forward to a long lasting relationship with HANUREDDY REALTY.

Thanks once again for all the effort you have taken for the smooth conduct of the sale of our Flat.



Regds
Mrs.Sowmya ramesh
on behalf of Mrs.S.Neelavathy




67
Dear Sir,

V. Vijaya Chamundeswari
ICON SAVITHRI GANESH
53, Habibullah Road
T.Nagar, Chennai- 600 017.



Sub:Our Property at Habibullah Road- Rental Lease- Reg.

With reference to the above property (Commercial) which was dealt by your company for arranging the rental lease to a reputed commercial organisation. I like to place on record that I am immensely happy for the utmost care taken by you.

I really appreciate the whole team who worked sincerely in finding a valuable client and dealing with both sides to come to a profitable deal. In this connection, I appreciate the sincere efforts put forth by Mr. MALLIKARJUN REDDY and Mr. SIVAKUMAR from start to finish.

My sincere thanks to Sri SURESH REDDY who has shown personal interest in this as he is used to do in all our dealings and lead the team efficiently to make this deal happen.

I once again thank all concerned.


With Regards,
(V. GOVINDA RAO)
For V. Vijaya Chamundeswari



387