Testimonials
This is what our clients say about us...
View All Testimonials
5327
Google Review
01-Aug-2023
Mano Toronto
I recently enjoyed working with Suresh Babu of Hanu Reddy Realty Adyar Brach Chennai and A.M Sundar of Mylapore branch, Chennai, to sell my property. They exceeded all expectations and demonstrated professionalism and dedication throughout the process. Their knowledge of the current real estate market and local trends and their honesty and transparency made me feel well-informed and confident in their ability to help me set a competitive price and achieve a successful sale. Their patience and attention to detail also set them apart from others. I highly recommend Sundar and Suresh Babu to anyone looking to buy or sell real estate. They truly made the process smooth and successful.
5171
Google Review
10-Apr-2023
Rajesh Narasimamurthy
We sold our apartment in Chromepet, Chennai with the service help from Hanu Reddy Realty in Adyar, Chennai. It was a very pleasant, smooth and a professional experience. Especially, I would like to appreciate very much Mr. Suresh Babu from Adyar Branch of HRR. Right from the beginning, he was very patient and professional in explaining the process step by step between the buyer and seller. He was with us till the registration and smooth transition of documents between both parties. I would like to thank and appreciate both Suresh Babu and also Saravanan for all their help and services. Keep up your good work and good luck.
5161
Google Review
24-Mar-2023
Subramaniam Balamuthu Manickam
Yesterday I purchased Apartment through M/s Hanu Reddy Realty India Pvt Ltd, Realtor R.Suresh Babu did very good coordination between Seller and Buyer from the day 1when started the purchase arrangements, R.Suresh Babu provided all the details, required clarification instant at all time, provided supported legible documents and his full dedication support successfully completed the purchase registration on yesterday Thanks to R.Suresh Babu and K.Saravanan for whole hearted support for the registration completion
5119
Google Review
25-Feb-2023
Saptarshi Sasmal
I am extremely happy and satisfied with the service. Great service and support from Mr. AM Sundar and Mr. Suresh Babu (from Adyar Branch) during the entire process. The process is very transparent and friendly.
4952
Certificate
22-Sep-2022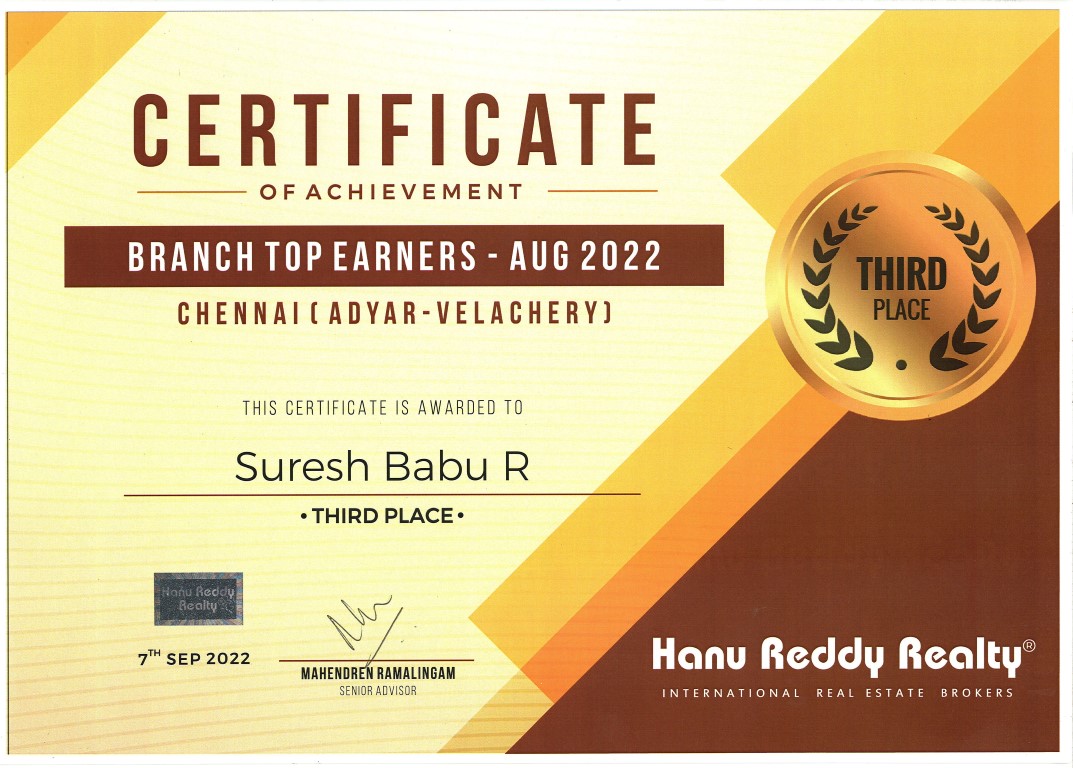 4942
Google Review
09-Sep-2022
Kumar Vilachoor
Sir am very satisfied with the efforts of Suresh of your Adyar branch in effecting sale of my flat on 24th august2022.Kudos to the most valuable support by Suresh ,of your Adyar branch
4937
Google Review
01-Sep-2022
Deepa Lakshmi
Recently purchased an apartment through Hanu Reddy Realtors. They were extremely professional right from the start and guided us and supported through the entire purchase and registration process with the same level of dedication and commitment. Mr. Suresh Babu, their Associate displayed an extremely high level of professionalism and remained polite and courteous throughout the process. Dependable and reliable.
4896
Certificate
20-Jul-2022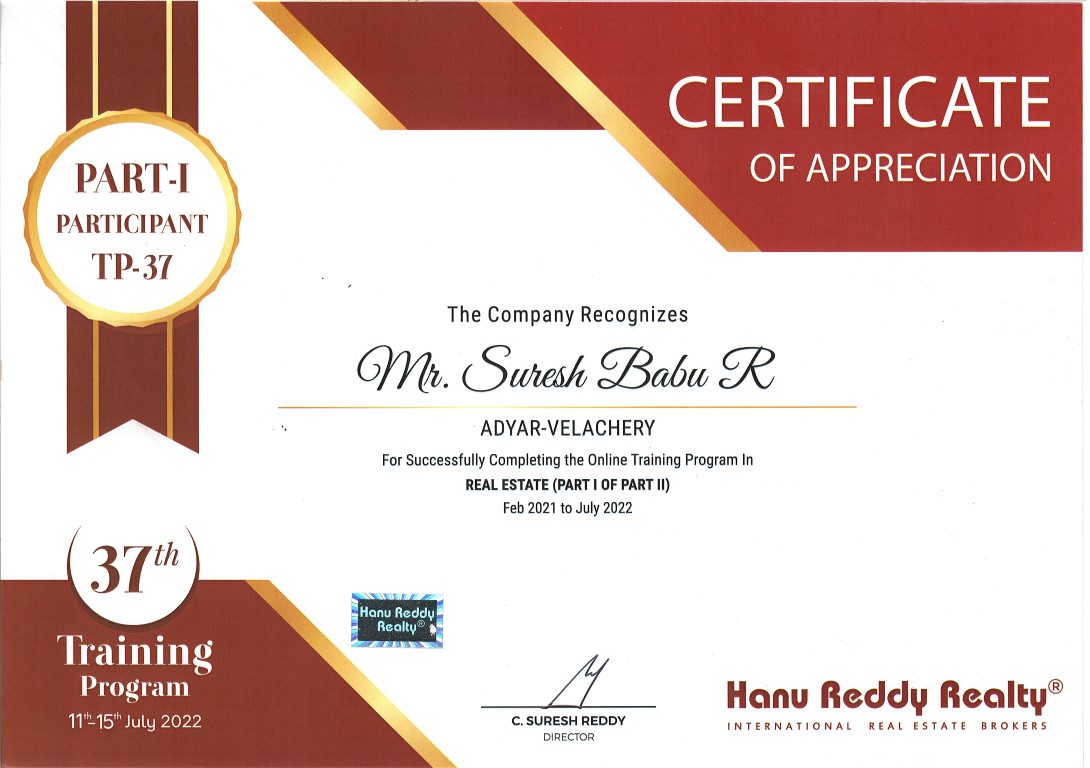 4772
Google Review
16-Apr-2022
bjr vip
I got a Good property through Hanu Ready Realty. I strongly recommend people who is searching for investing in properties in this beautiful city. Mr. Suresh Babu from Hanu Ready Realty was more than helpful and cooperative in getting my property deal and finalised well with in the expected time frame and entire process was done smoothly. He is a recommended mediator. Thank you!
4719
Google Review
08-Feb-2022
Sangeetha Sundar
Apartment was rented out in a month.. Professional Service and approach by Mr. Suresh
4709
Google Review
28-Jan-2022
Gokul Krishna
We had got in touch with Hanu Reddy realty for a house. Mr. Suresh Babu got in touch with us. He was very helpful, professional, promt and clear. Had a smooth and nice experience thanks to MR. Suresh Babu.
4587
Google Review
31-Aug-2021
Vivekanand A
HRR has unique set of quality properties across locations. Great collections.
Mr Sureshbabu and Mr Ashok Kumar from HRR worked for us to get the right one and take it to closure. Their responsiveness and involvement are impeccable...kudos for their service Thank you both and HRR
4584
Google Review
28-Aug-2021
RAJANARAYANAN P.M
Mr. Ashok Kumar & Mr. Suresh Babu were associated with me to conclude sale of my apartment. I am extremely happy with their professional approach, pleasing mannerisms and really hard working nature. I am sure all Hanu Reddy executives have the same work culture. I would certainly recommend to my friends to engage Hanu Reddy when the need assistance in real estate matters. Best wishes to these gentlemen. Rajanarayanan.
4449
Google Review
26-Feb-2021
Varadarajan Thirunavukkarasu
Sold a apartment in Thiruvanmiyur,Had a great experience dealing with them A M Sundar and Suresh Babu were extremely helpful and very professional Will definitely recommend to all