Testimonials
This is what our clients say about us...
View All Testimonials
4750
Certificate
11-Mar-2022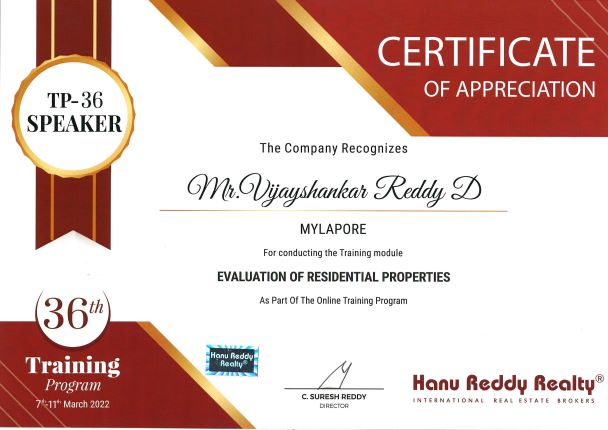 4670
Training Certificate
03-Jan-2022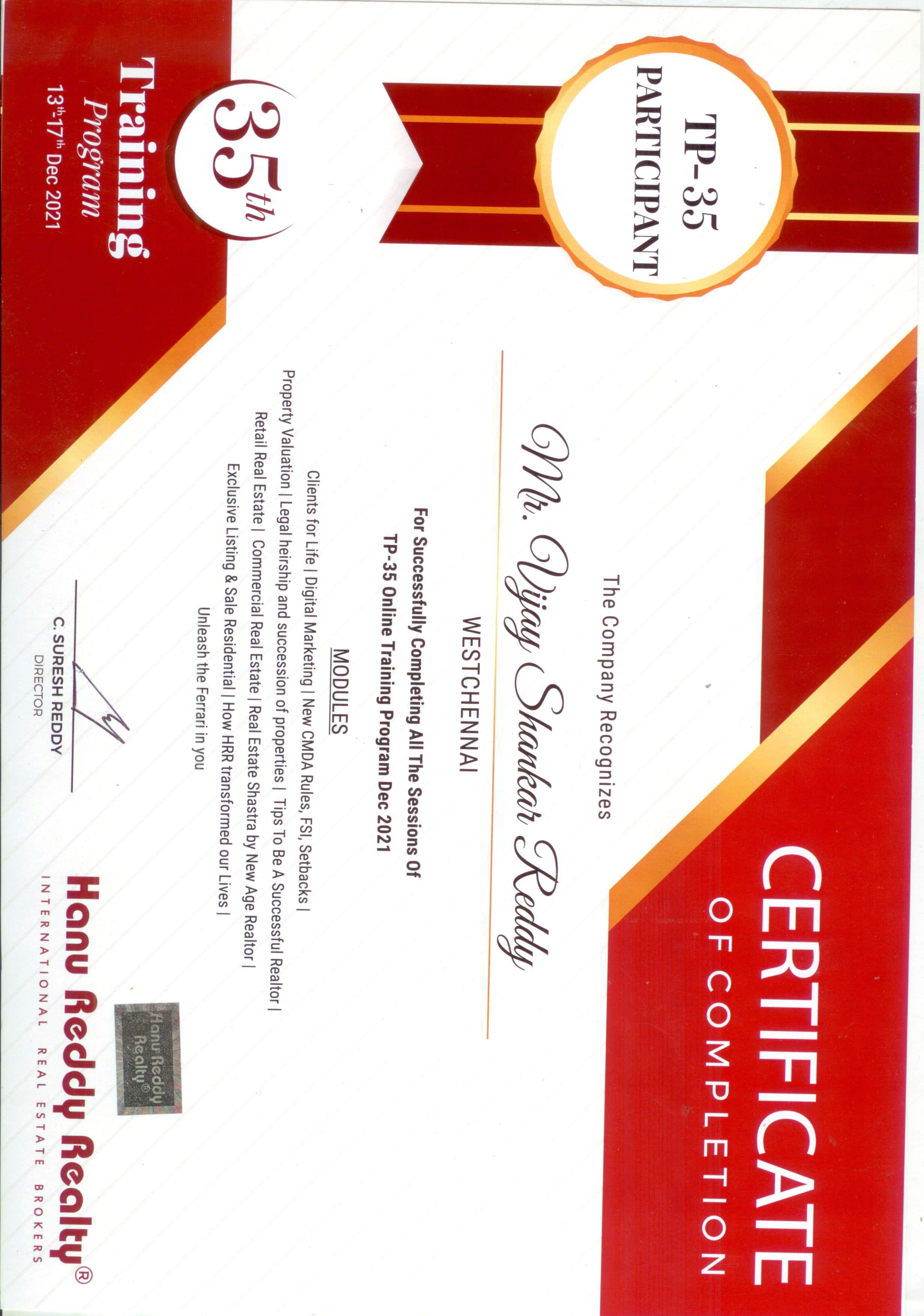 4456
Training Certificate
11-Mar-2021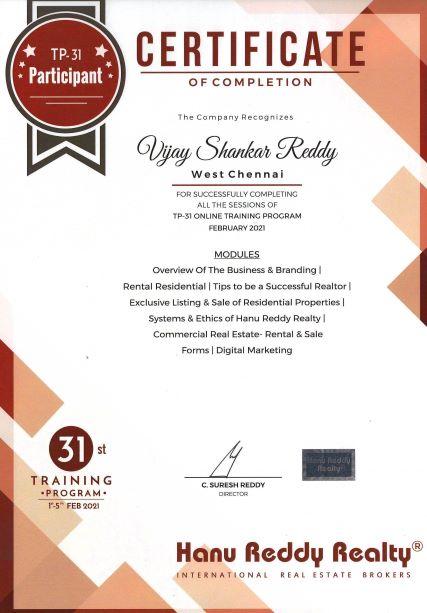 4461
Certificate
10-Mar-2021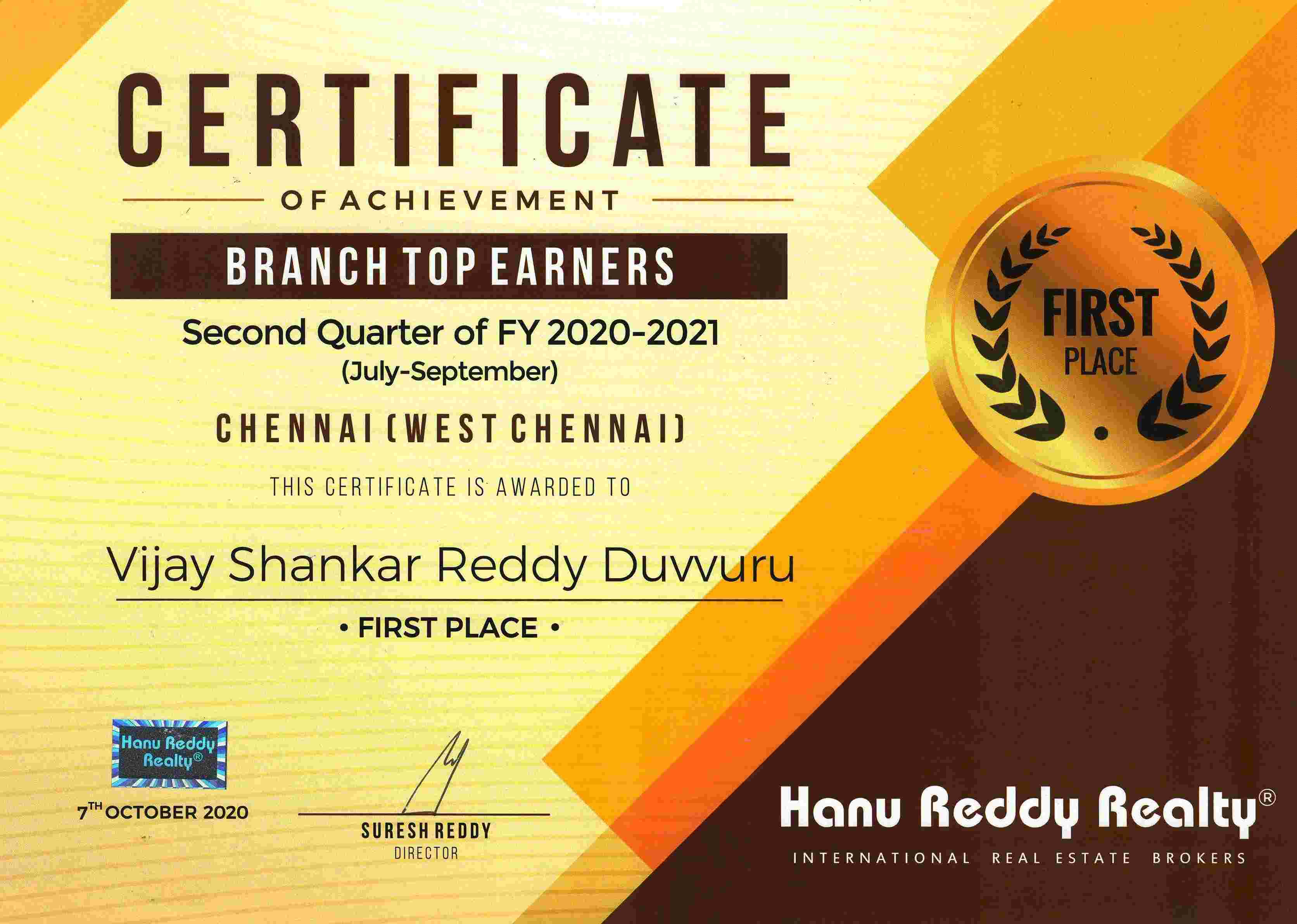 4398
Google Review
28-Nov-2020
4114
Certificate
30-Dec-2019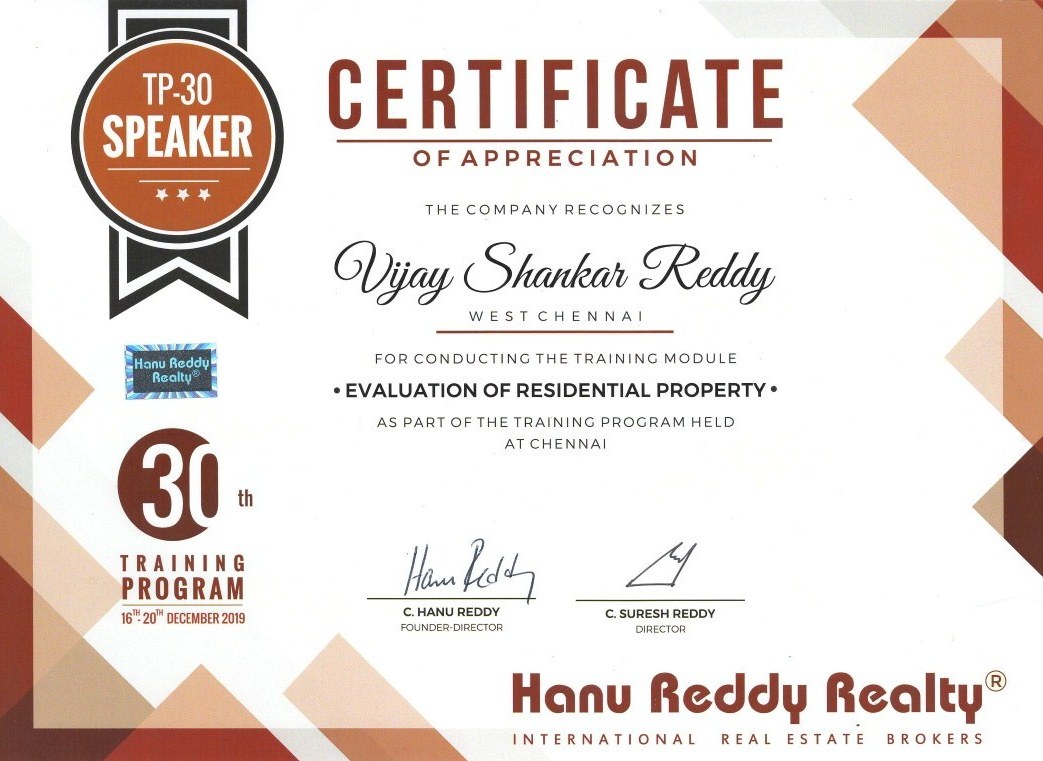 3976
Google Review
18-May-2019
3810
Certificate
08-Feb-2019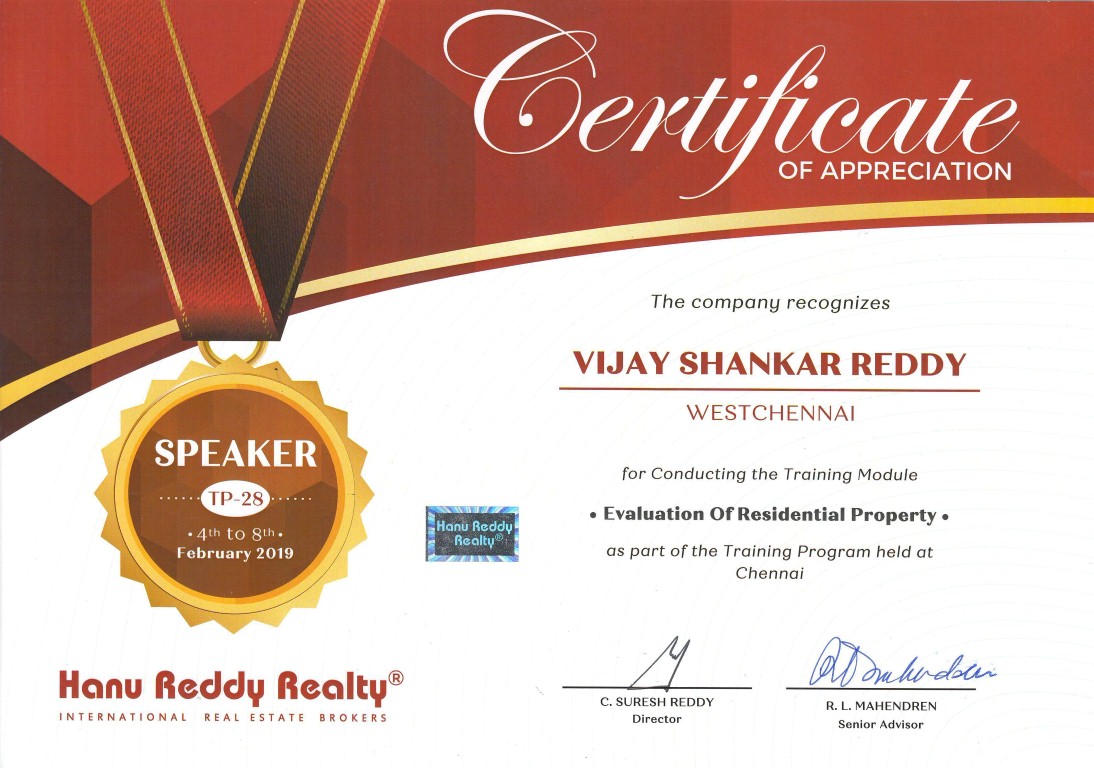 3699
Certificate
29-Sep-2018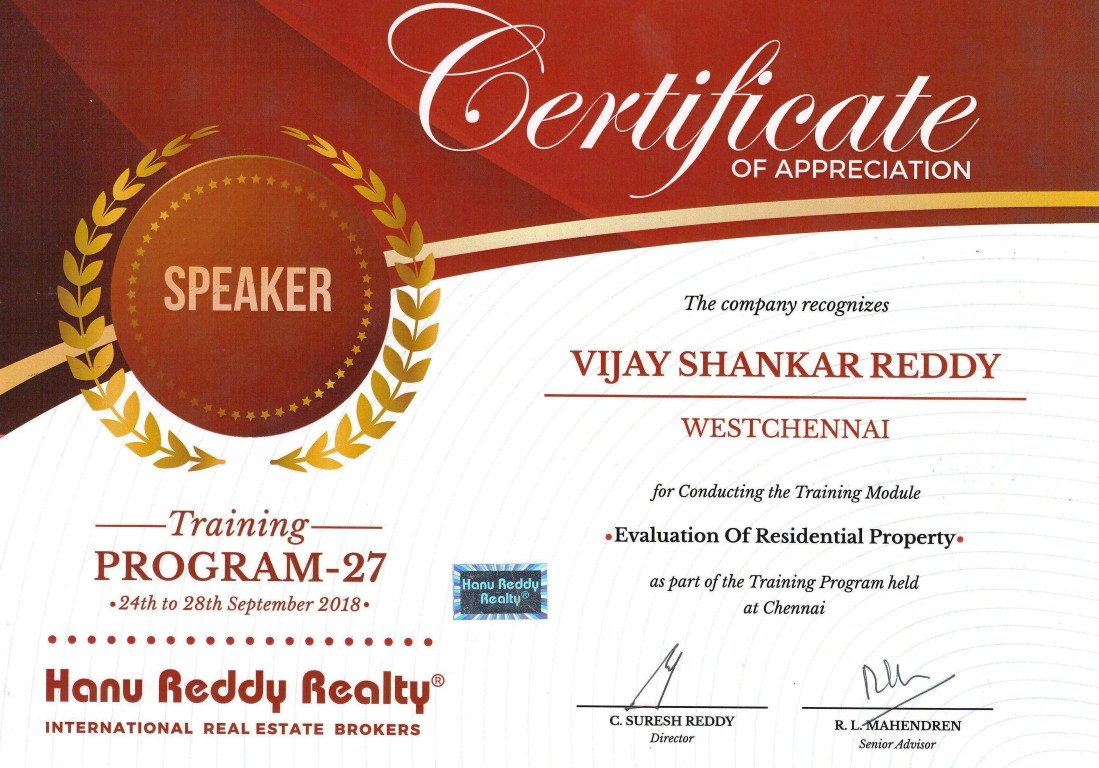 3591
Certificate
30-Jun-2018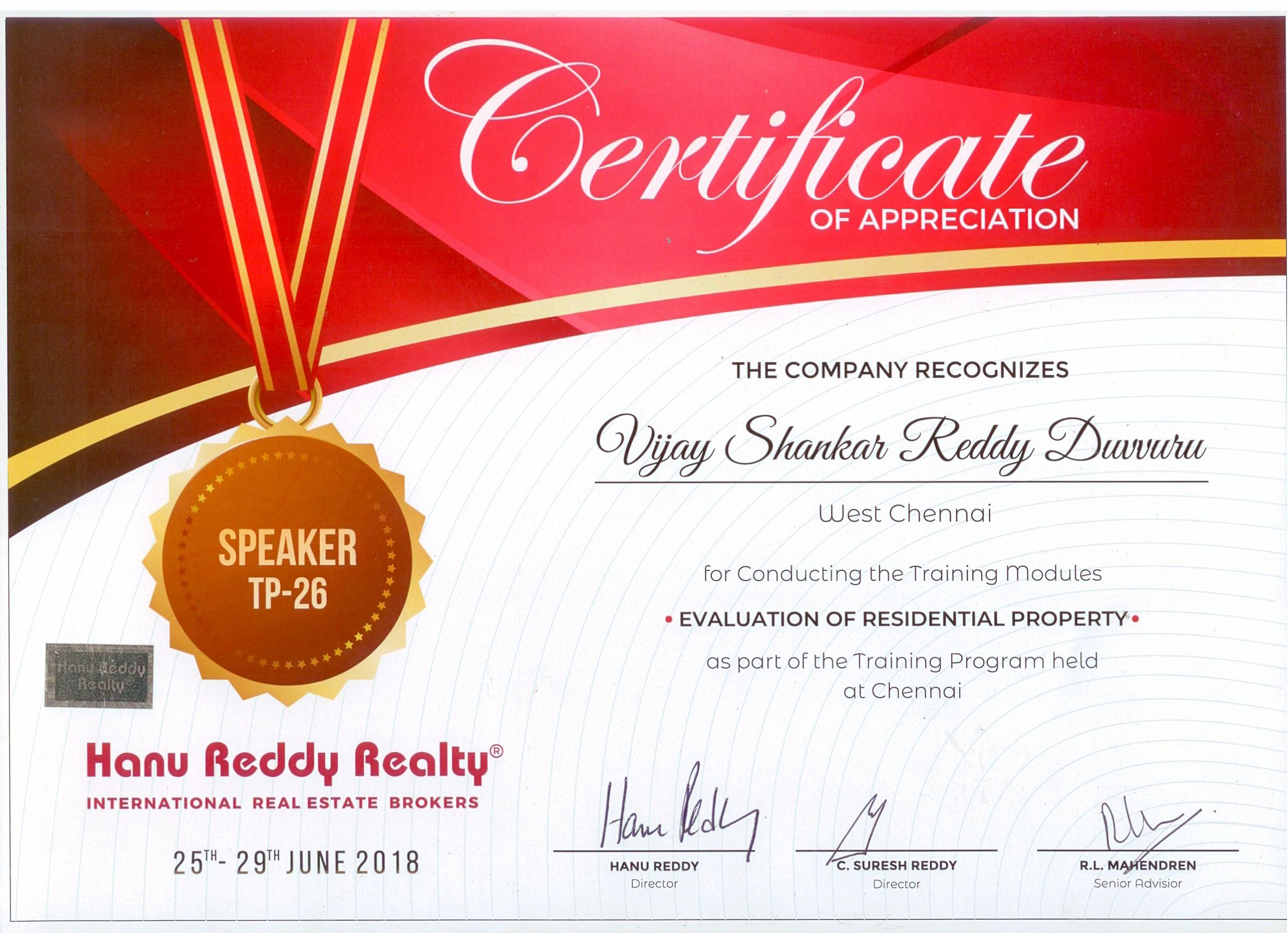 3811
Certificate
17-Jan-2018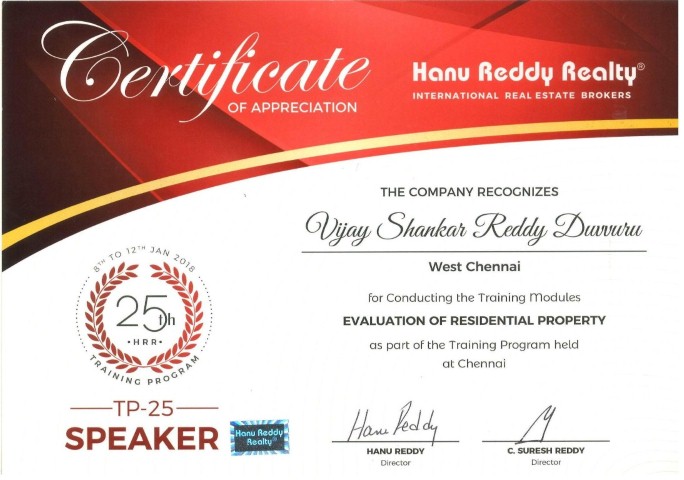 3238
Certificate
29-Jul-2017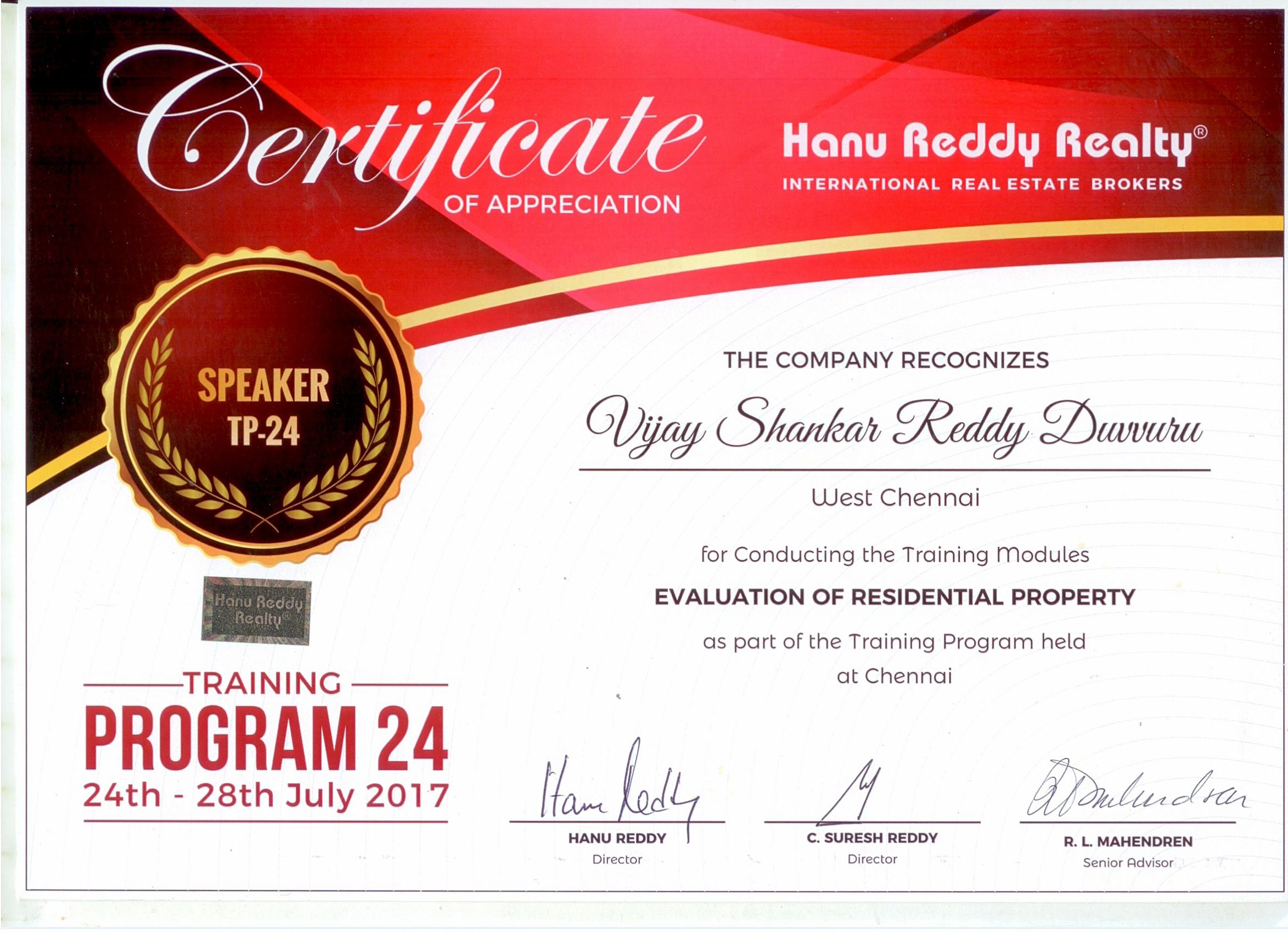 3191
Certificate
09-Jun-2017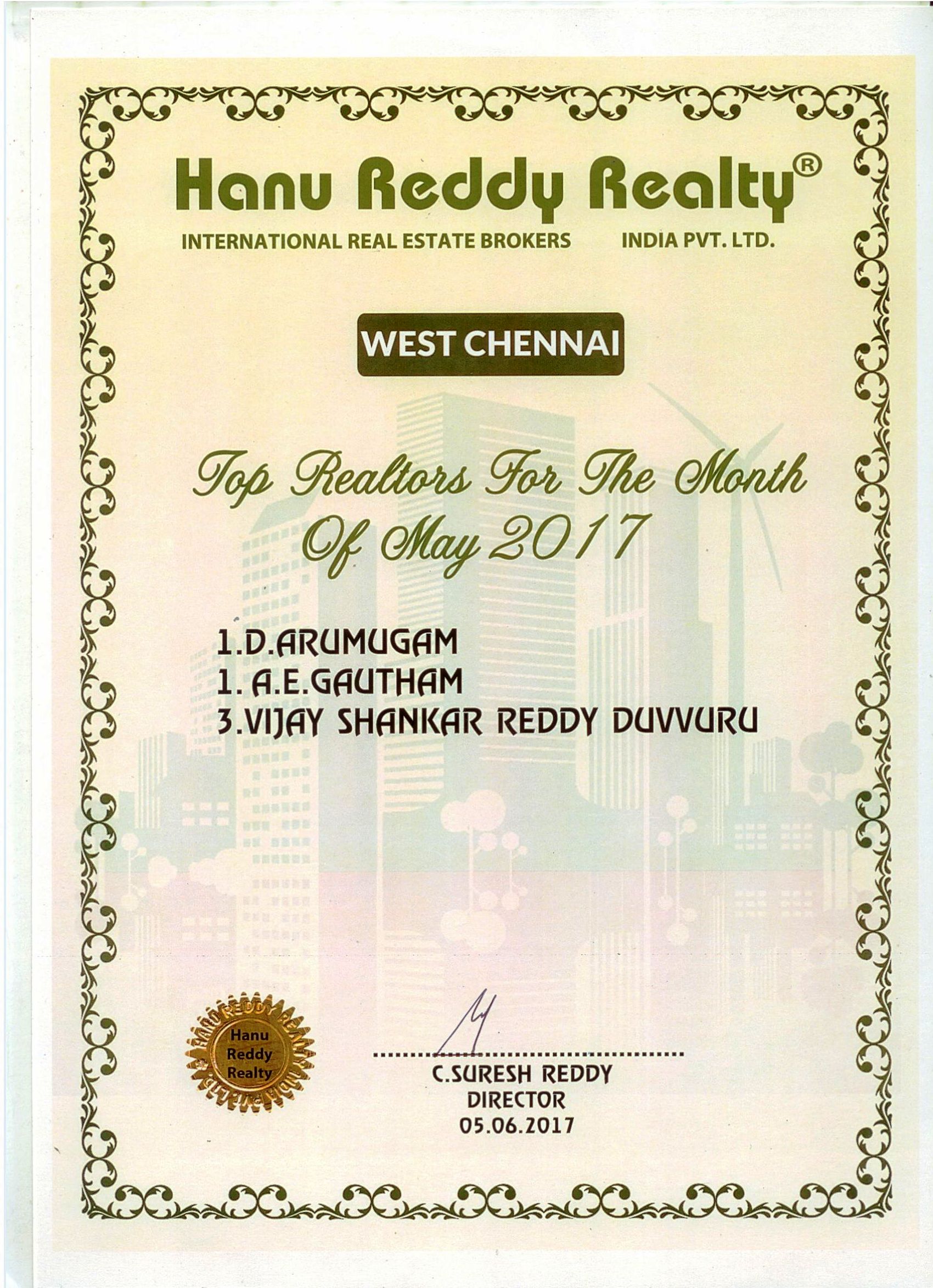 2802
Training Programme XIX Speaker Certificate
24-Jul-2015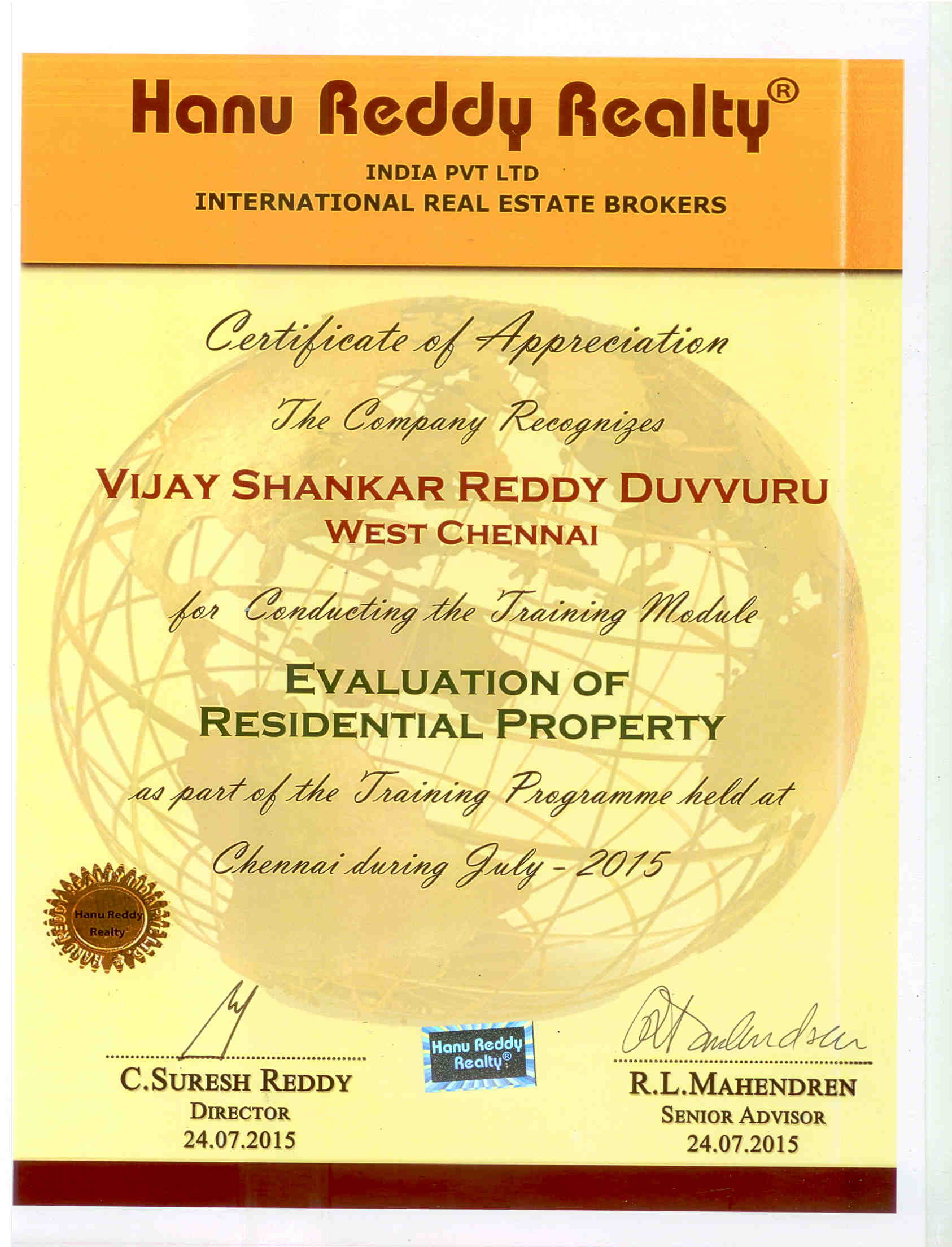 2803
Success Principle
24-Jul-2015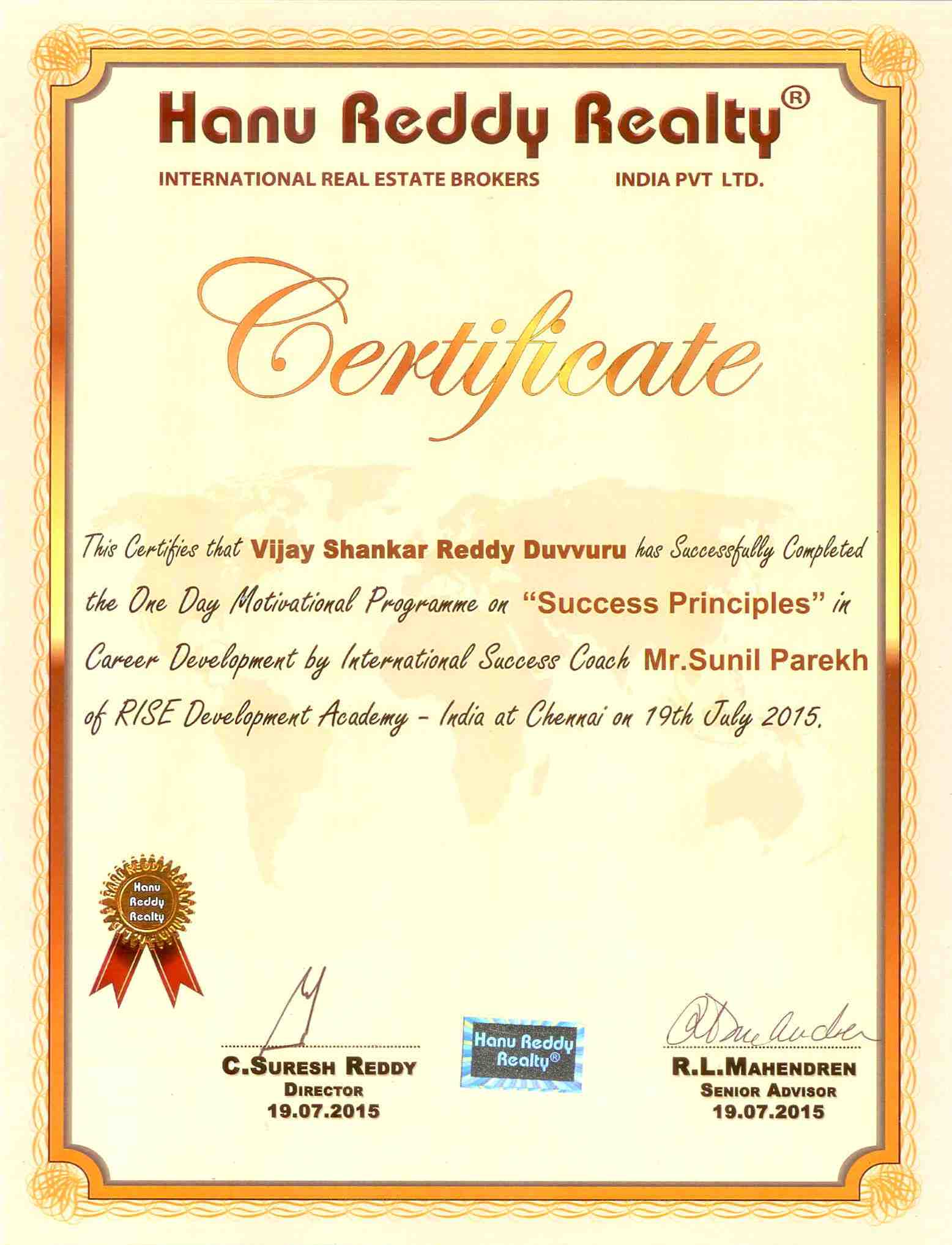 2771
West Chennai Top Earnings- May2015
10-Jun-2015
2772
All India Top Earnings - May-2015
10-Jun-2015
2699
FY 2014-2015 All India Branch Topper
15-Apr-2015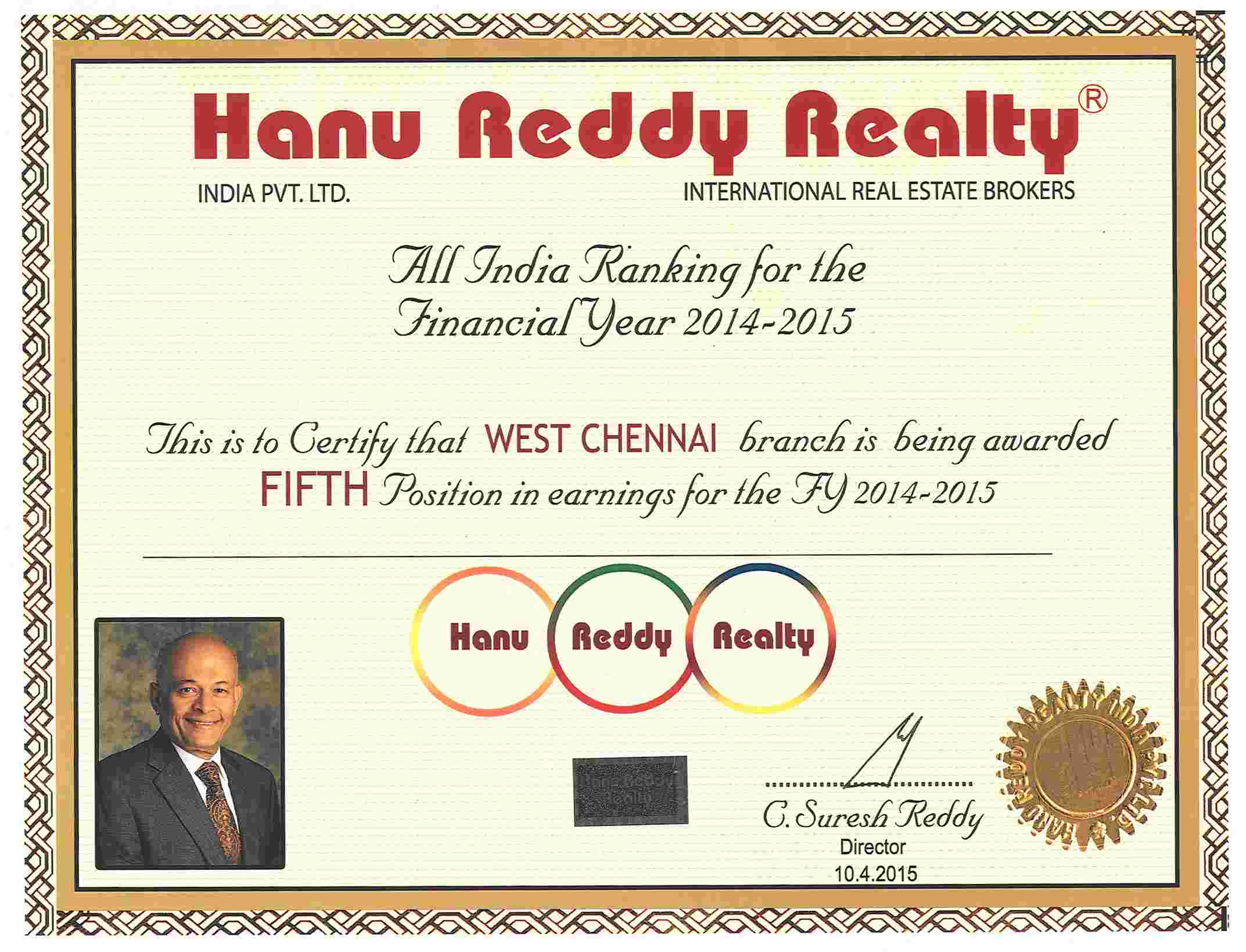 2584
Training Programme-17 Speaker Certificate
31-Oct-2014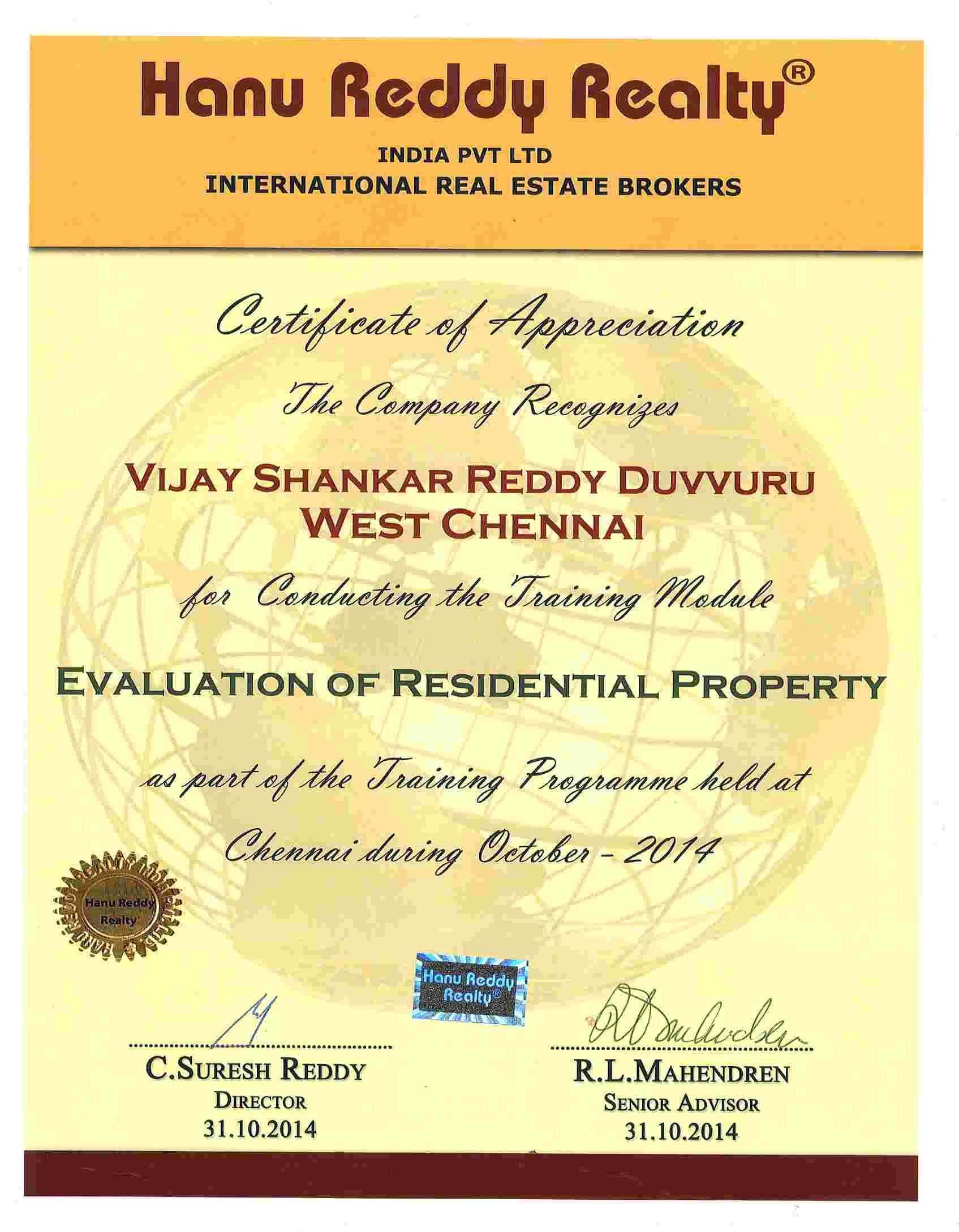 2539
Training Programme-XVI Speaker Certificate
04-Jul-2014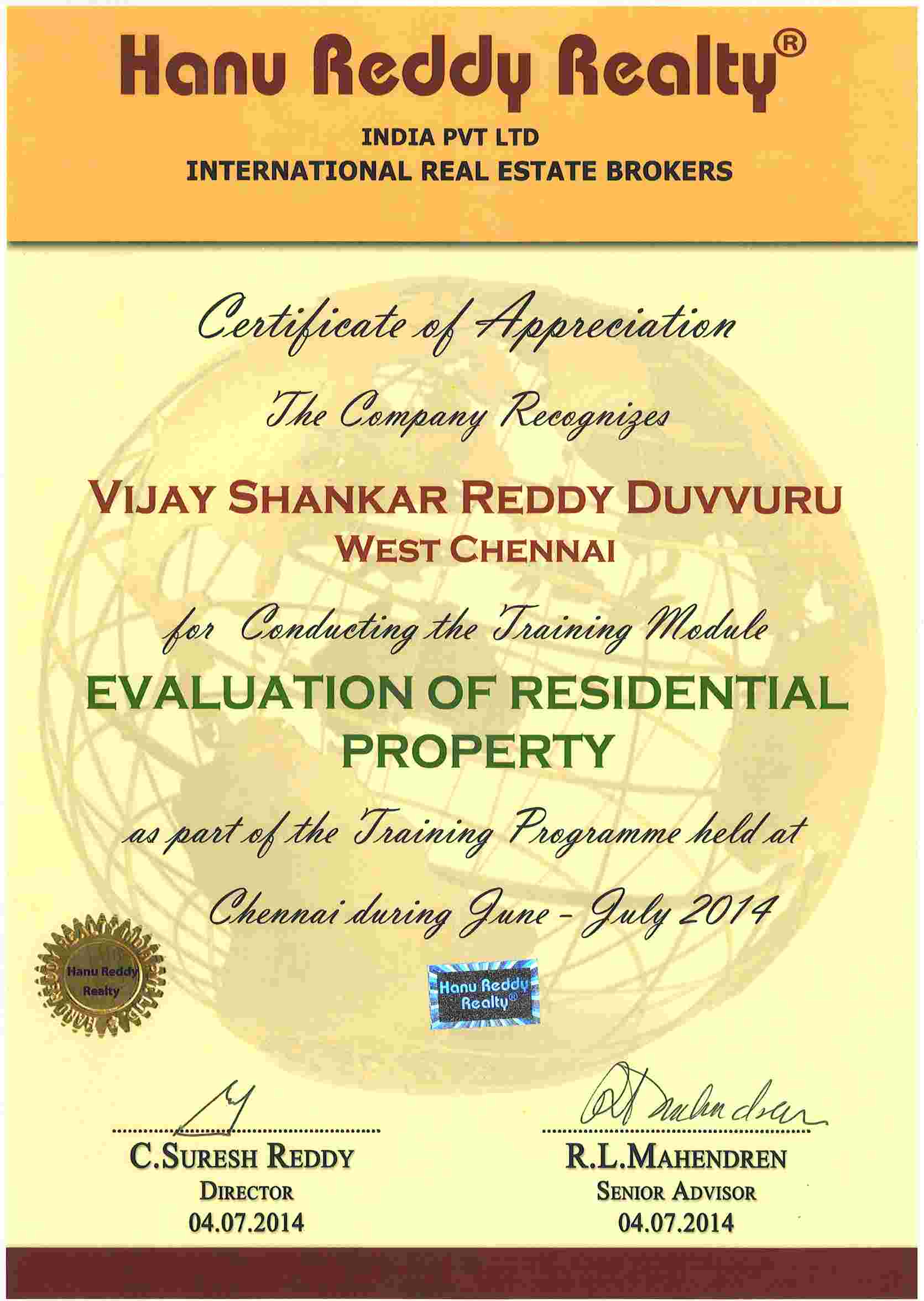 2276
All India Branch Topper FY 2013-2014
09-Apr-2014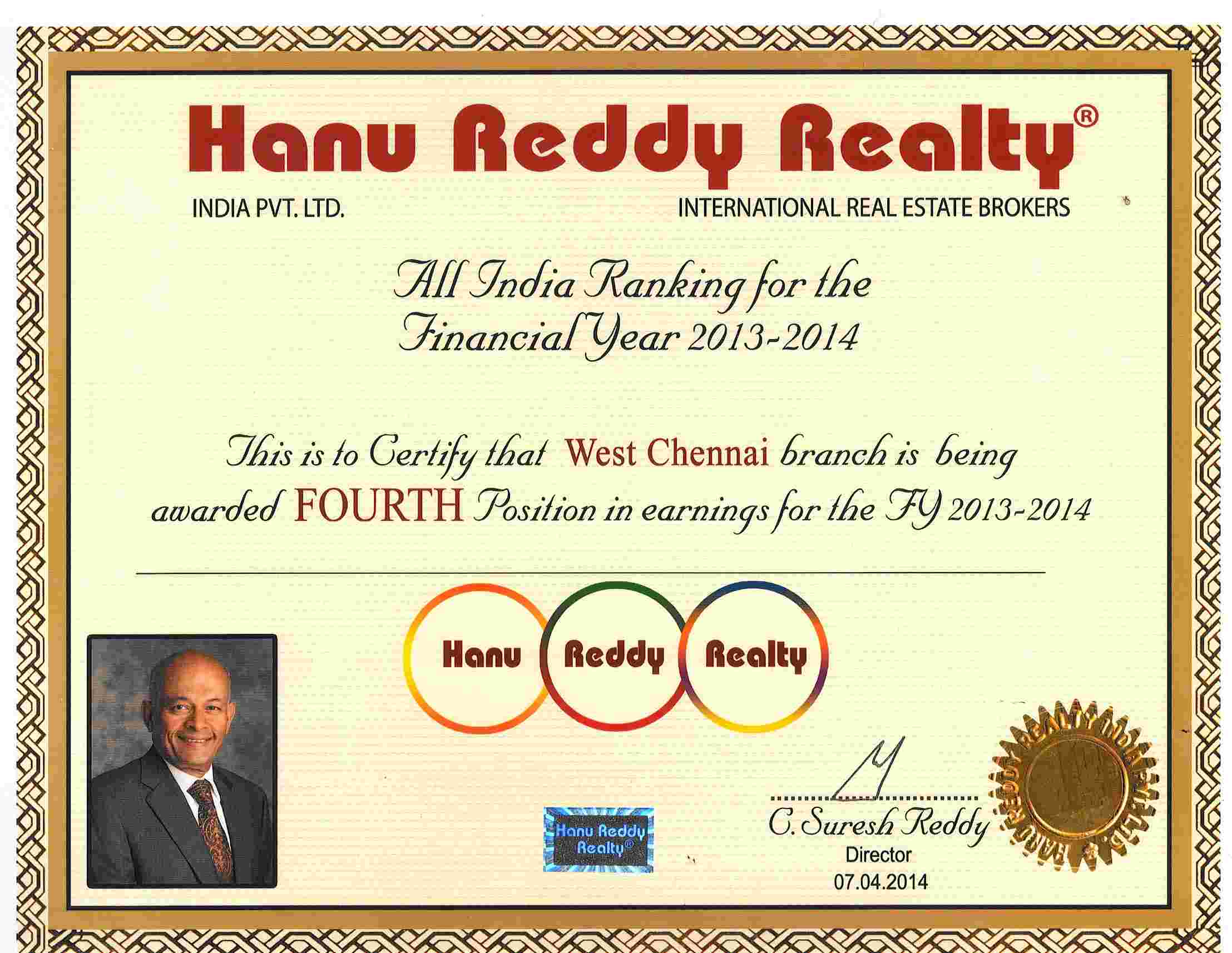 2245
Google Review
31-Mar-2014
Senthil Bharthi
(5 star) reviewed in last week
It was my great experience to work with realty expert like Mr.Vijay Shankar reddy, (who leads West chennai branch) in real estate business.I am surprised to see him can remember and posses great knowledge of each and every street and location of the properties in Chennai with latest trends in realty.
I wish him and the HRR team all success.
Regards,
Senthil Bharathi.
2246
Google Review
31-Mar-2014
Annamalai An
(6 star) reviewed in last week
Hanu Reddy Realty is a professional organisation with proper systems and training programmes in place. It has created a unique name in the market in providing complete service to both sellers and buyers. I have personally benefited from the training programmes and systems of Hanu Reddy Realty.
Mr Vijay Shankar Reddy, Vice President of West Chennai branch is a simple person with high thinking and great moral values. I have learnt from him how to achieve great results being a calm, systematic and honest person.
Hanu Reddy Realty is a great organisation to be associated either as a Realtor or as a Customer.
2218
Appreciation Letter
24-Mar-2014
Biju Jacob
(6 star) reviewed in last week
Hanu Reddy Realty India Pvt. Ltd. The name one could trust in real estate business for over 40 years, spreading business across India and in Irvine, California, USA. The number of branches budding year on year consistently speaks loud and clear how every customer is taken care off and there expectation are meet scrupulous.
Integrity, Transparency, Competency plays a vital roll in every single transaction and that's the core reason for company's exponential trust within the customers community. All the very best for the years to come...
Regards
Biju Jacob
2212
Google Review
12-Mar-2014
Venkataraman Subramaniam Ramakrishnan
reviewed in the last week (5 star)
Dear Mr Vijayashankar,
I wish to convey my sincere appreciation for being a competent and caring Vice President to me and the Team at Hanu Reddy Realty,West Chennai. I thank you for the inspiration, motivation, support and guidance provided to the team in planning and strategizing to achieve our goals. Your willingness to help out wherever there is a need is greatly appreciated. It's that kind of flexibility and dedication that will help this company grow to its full potential. In a business model like ours all that we need to take is the extra effort with proper guidance to close high value deals and your suggestions and advise has had fulfilling influence in making those transactions successful. Also your positive attitude has had a terrifc influence on me and others. Your effort continues to help things run smoothly, and I really appreciate your support. I hope that the coming years will witness tremendous growth of our branch under your leadership. We always wish to be on the winning side.We also wish to be a cause of your achievement by serving you,as usual. Best of Luck Mr Vijayshankar.
Warm Regards
V.S.Ramakrishnan
Realtor - West Chennai
2211
Google Review
05-Mar-2014
reviewed in the last week(6 star)
I would like to state that Hanu Reddy Realty is one of the most reputed organization to work with. I am thankful for having an opportunity to work with such a great organization. The systems and process in the organization is clearly defined and enables any new joinee to work with less dependency. The growth path is clearly visible to everyone and i would say that it is one of the most transparent system. Hanu Reddy also provides a motivational environment to work together as a family and grow. Having said that i have left Hanu Reddy to pursue my career in a different venture altogether. I would like to take this opportunity to thank Mr.Vijay Shankar Reddy who is our VP. He is highly a motivated leader to work under. He creates such a positive environment for everyone to work. He has been a mentor to all of us and always was there to stand by us at times of need. Not everyone gets an opportunity to work under such leadership. I am grateful to you sir. I have learnt lot of nuances to run the business from you which i will definitely carry forward with me. I will definitely miss working under your leadership.
397
31-Aug-2012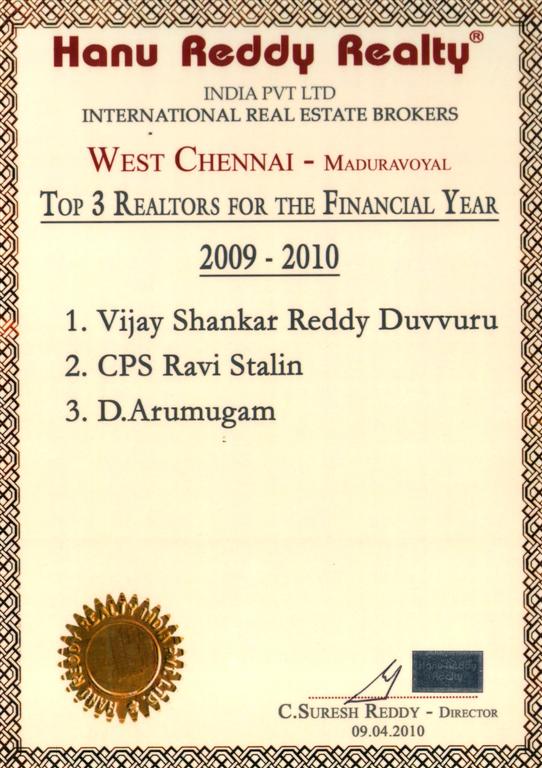 2023
31-Aug-2010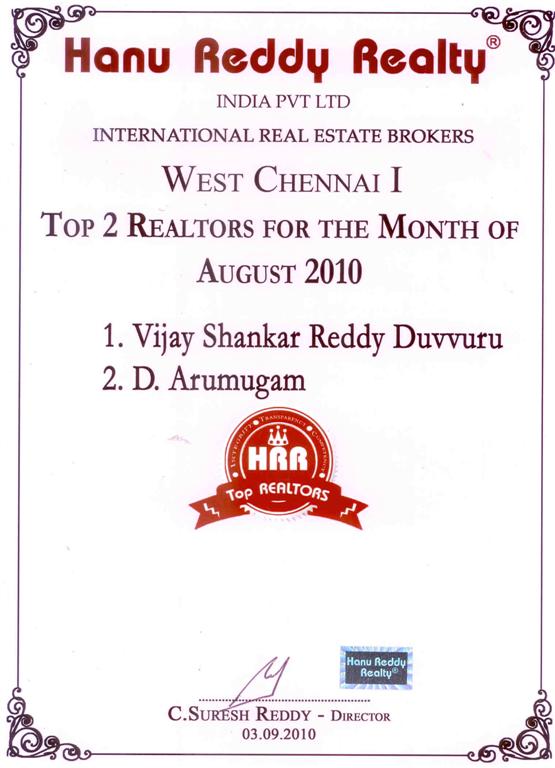 380
28-Feb-2010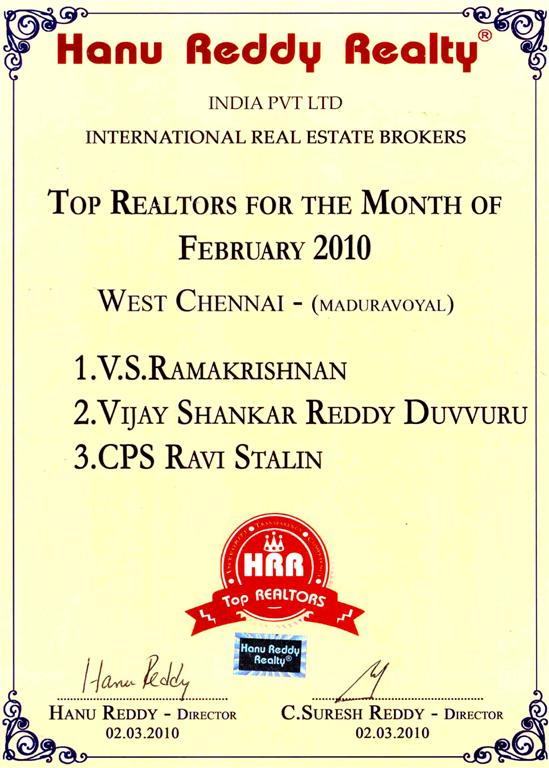 398
01-Jan-2010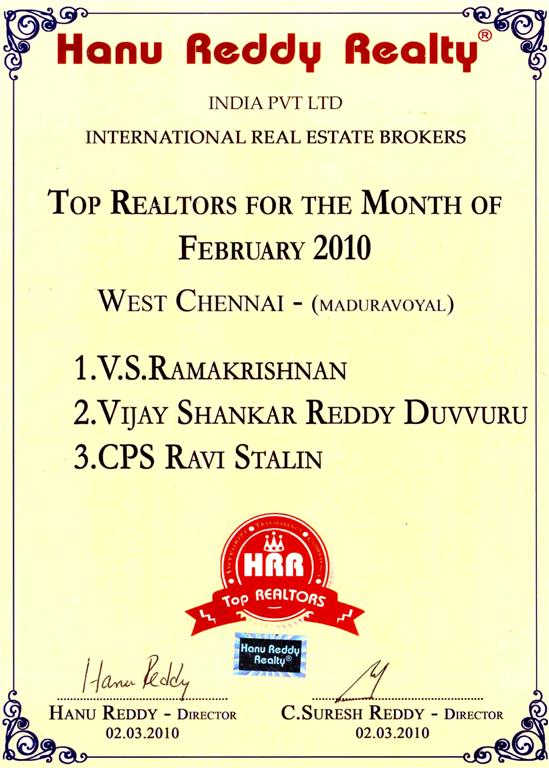 2058
30-Nov-2009