Testimonials
This is what our clients say about us...
View All Testimonials
3728
Google Review
15-Oct-2018
Vibu M
Thank you so much Rajkamal & Muthukumar. One of the best professional services in real estate industry. From the beginning till the closure of deal - The Best.
3729
Google Review
15-Oct-2018
Priya Gopalen
Did a good job with our sale working out all the problems and issues in a timely manner.
3730
Google Review
15-Oct-2018
Maahi Mehta
HanuReddy is simply the best Realty Agent down south.Mr.Rajkamal & Mr.Muthukumar from HanuReddy Chennai helped me get a good client for my new home rental and executed the deal efficiently at the ease of be sitting in Chandigarh!
I totally recommend them.Good work Rajkamal & MuthuKumar.Keep it up Hanu Reddy!!
3732
Certificate
15-Oct-2018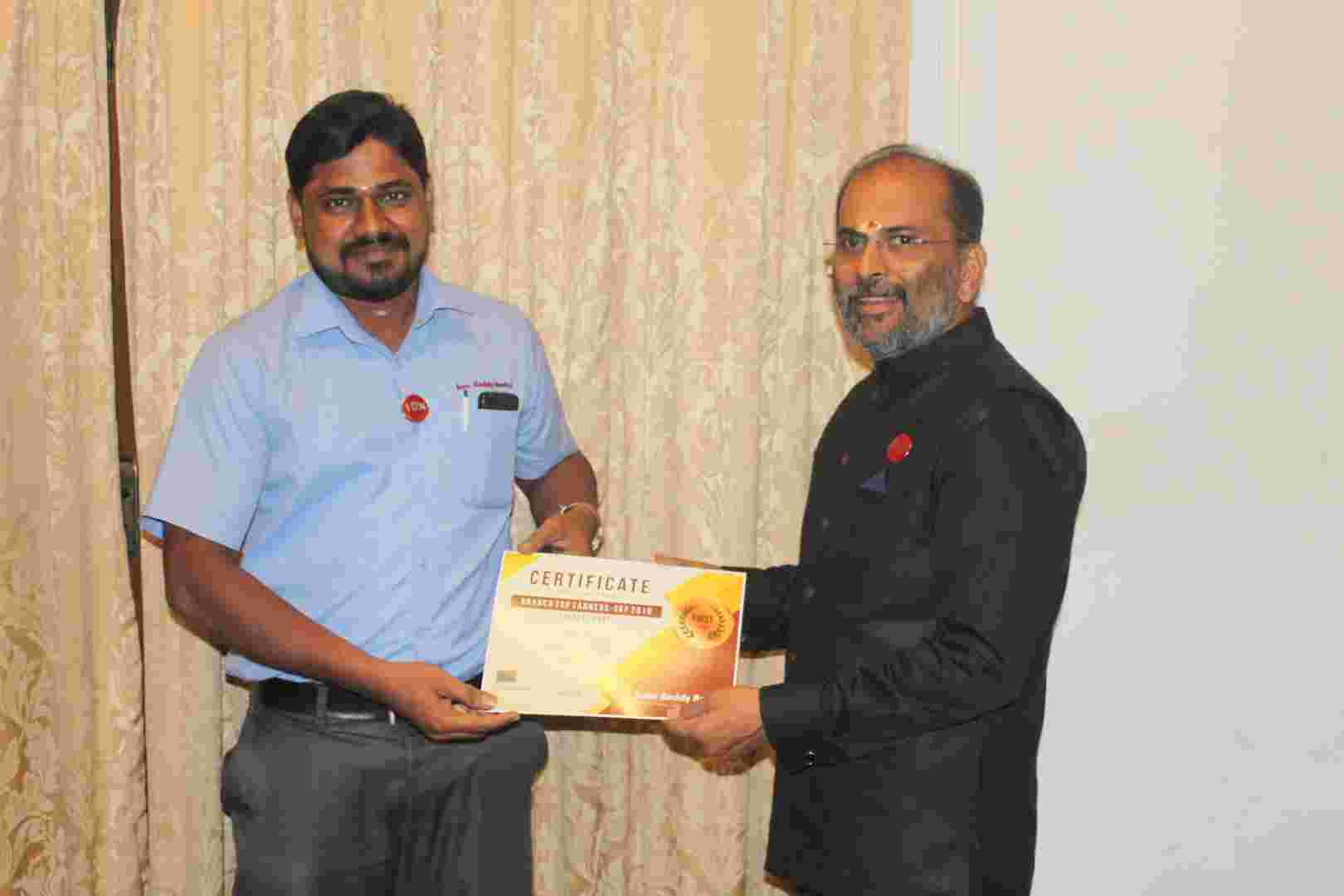 3726
Google Review
13-Oct-2018
Tusar Bal
Rajkamal & Mr. Muthukumar are very dynamic , customer focussed and helpful in cosing the deal and also does the hand holding after the deal as well. Very good and keeps them promise.
3727
Google Review
13-Oct-2018
Karthik Dilli
I'm extremely happy with HRR OMR,especially Mr.Rajkamal & Mr.Muthukumar they both were so good in entire process from initial discussion till registration, absolutely flawless and comfortable. I may not hesitate to recommend the services of HRR to any of my friends ,once again thank u so much Rajkamal & Muthukumar .
3724
Google Review
13-Oct-2018
Seetha Murugadoss/Sundaran Rajan Murugadoss
Mr. Mani Palani's guidance and Mr. RajKamal's services were highly satisfactory in completing my sales process through M/s Hanu Reddy.
Mr. Muthukumar field service was helpful in timely closing of sales deals.
3717
Certificate
10-Oct-2018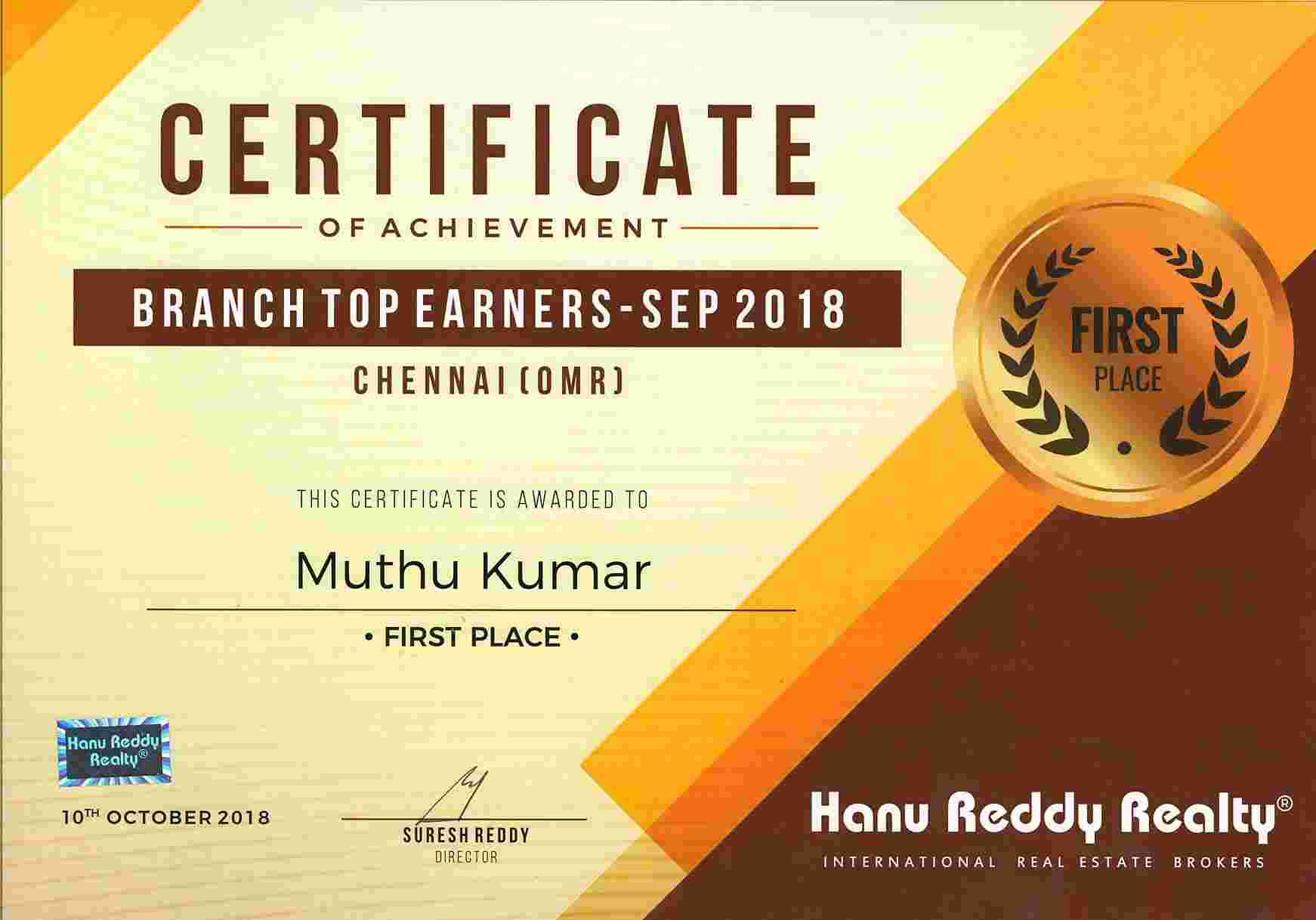 3718
Certificate
10-Oct-2018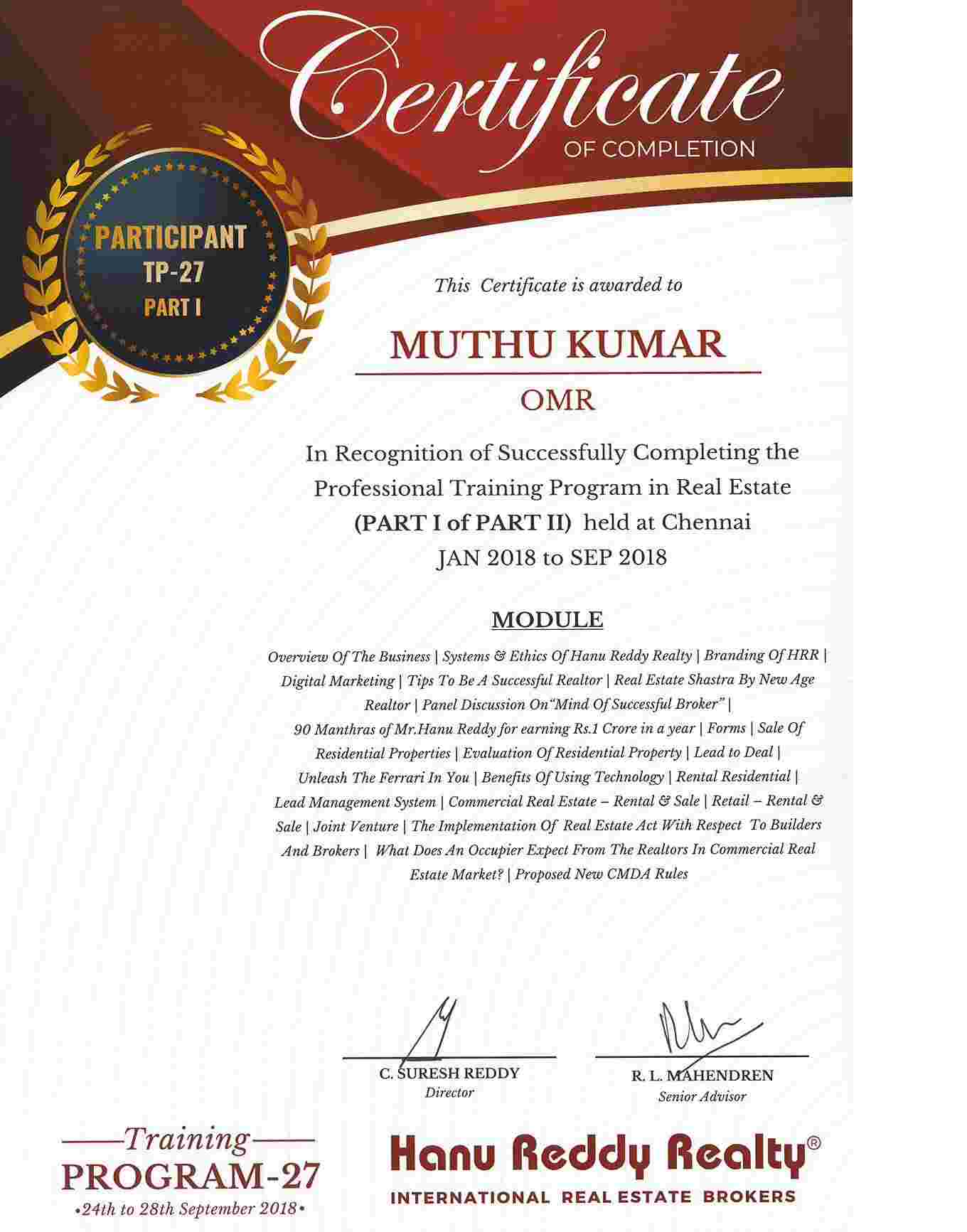 3719
Google Review
10-Oct-2018
Rakesh IS
I am very much satisfied with Rajkamal and MuthuKumar. Both are very responsive in their work. I had house in medavakkam and they help to sell it.They are worked great.Thank you for your work guys.
3716
Certificate
10-Oct-2018
3701
Photo
29-Sep-2018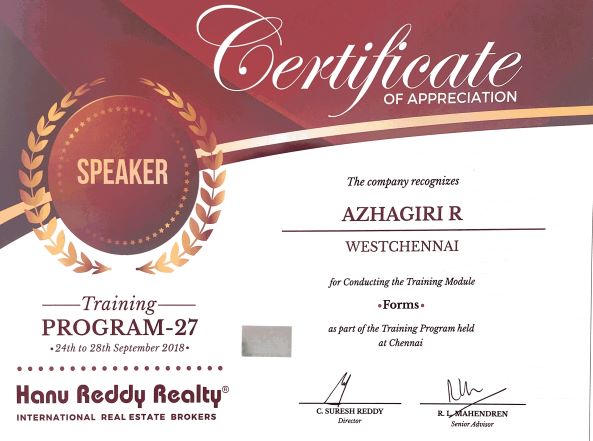 3694
Google Review
24-Sep-2018
Jesse Sekar
I am very happy in writing reviews for RAJKAMAL and MUTHUKUMAR .you did a great job in finding a best seller in OMR, in short time.both are legends., And they are solid support.
3695
Google Review
24-Sep-2018
Jayasimha A S
The experience of dealing with Hanu Reddy Realty was good. Rajkamal & Muthukumar did a fine job of end to end closure.
Jayasimha a s
The experience of dealing with Hanu Reddy Realty was good. Mr. Rajkamal Radhakrishnan & Muthukumar did a fine job of end to end closure.
3686
Google Review
17-Sep-2018
R P Vijay
Good and seemless co ordination by Mr.Muthukumar and team...Good job and all the best!!!!
3683
Google Review
15-Sep-2018
K Mukundan
I wish to state that Mr Rajkamal, Muthukumar and Mr. Mani Palani did a great job in finding a seller for my OMR property in quick time. I will not hesitate to recommend them to any of my friends and may be I will come again and take their help if such a need arises in future.
3685
Google Review
15-Sep-2018
Chittor.M Thiyagarajan
I am extremely happy in writing this review for Rajkamal, Muthukumar & Mr. Mani Palani in helping me with the purchase of my 1st property. They have been very professional and took their job seriously. Though we were miles apart and geographically separated, nothing seemed too much of an effort for them. They guided and helped us in all the stages and wasted no time in getting the required tasks done. Am so happy in getting associated with Hanureddy Realty and would have no hesitation in recommending Rajkamal, Muthukumar & Mr. Mani Palani.
Thank you all.
Raj Chittor
3670
Google Review
04-Sep-2018
Ashok Yegnaswamy
Thanks very much Rajkamal and Muthu Kumar for all your support and it had helped me to finalize the apt of my choice . You were completely professional and very quick in responding from the start till date. Very patient in showing different options of our requirements.
Rajkamal was very thorough and also making sure I get all the details and documents on time and helped me through the registration process. Overall this is the kind of customer experience that one would like to experience.
Kudos to both of you and all the best !!
3665
Google Review
31-Aug-2018
Krishna Kannan
I am very much satisfied with the level of service provided by Hanu Reddy in renting out my property at Thoraipakkam. The professionalism and dedication shown by Mr Rajkamal and his colleague Mr Muthukumar was outstanding. Overall, it was a very pleasant experience.
3657
Google Review
21-Aug-2018
Krishnaswamy Seshadri
We had sold our flat in Inseli park on OMR through Hanu Reddy Realty. Mr Rajkamal handled the whole deal assisted by Mr Muthukumar and Mr Venkatesh. I must say that this team was very courteous, effecient and helpful right through the process. They handled all aspects of the deal and paperwork meticulously with minimum trouble for us. We are very happy we took their help considering the various procedures / paperwork etc invloved.
Thank you guys. Vasantha Krishnaswamy
3641
Google Review
07-Aug-2018
Ram Venkatesh
Great Realty folks and excellent service. Quality of work was supportive and awesome. Rajkamal and Muthukumar were friendly, cooperative and supportive throughout the process. Good Job and Thanks.
3636
Google Review
28-Jul-2018
Rajgopalan Rangarajan Sathya
I had a great experience with HRR Perugudi. Mr.Rajkamal, Mr.Muthukumar, Mr. Mani Palani helped in selling my apartment at Thoraipakkam within a very short time frame. They were there every step of the way guiding professionally till the sale was done. I would recommend HRR and their able personnel for any of your real estate needs.
3633
Google Review
24-Jul-2018
vani J
We had a very professional and cordial experience in renting out our flat. Mr. Rajkamal and Mr. Muthukumar have been very prompt and meticulous in conducting the deal. I am very happy with their service.
3634
Google Review
24-Jul-2018
Rakesh Soman
Highly talented and dedicated team, who worked closely with me to fulfill what my Family and myself was looking for. Thank you Mr. Rajkamal and Mr. Muthukumar for your tremendous support in identifying our needs.
3635
Google Review
24-Jul-2018
Sriganesh P
Chennai OMR - Mr. Raj Kamal and Mr. Muthukumar
were really helpful in getting my son's flat in DLF Graden City to be leased out within a month of meeting them. They were focused on the need, kept in touch with us constantly and were very transparent. Considering that we are not living in Chennai they were extra helpful in getting other things with the Society, organized for us. We also need to mention that we were earlier struggling for more than a year to lease it out through couple of other brokers and these people got us a good tenant within 1 month of our contacting and showing the flat.I have already recommended them to quite a few friends and relatives.
3587
Google Review
29-Jun-2018
Mrs. Kamala (Lotus.G)
Mr. Rajkamal & Mr. Muthukumar was very professional and most helpful in dealing with my rental.
3585
Google Review
25-Jun-2018
Anjum husain
We had an extremely professional experience with the rental of a flat. Hanu Reddy Realty handled the situation with great customer service and especially Mr Raj Kamal & Mr. Muthukumar who was very friendly and helpful while dealing with us. Thank you for the amazing service provided by you
3586
Google Review
25-Jun-2018
Ramesh Anantharaman
I had a very good experience with the team from HRR, perungudi comprising of Rajkamal and Muthukumar. They were extremely professional and diligent and are able to build a relationship of trust with the customer. I will surely recommend them to all my contacts.
3552
Google Review
29-May-2018
Mrs.Indumathi Govindarajan
Would like to thank HRR team especially Mr.Vijayan, Mr.Muthukumar and Mr.Rajkamal in helping us find a good tenant for our property. Mr. Rajkamal was very quick & responsive to all our queries.
3532
Certificate
12-May-2018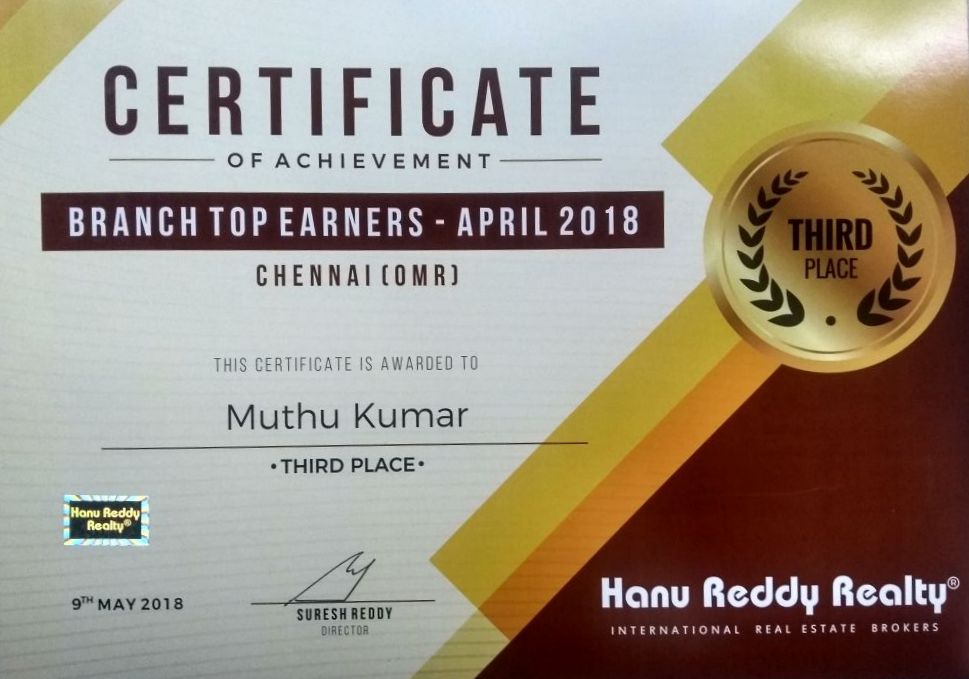 3533
Photo
12-May-2018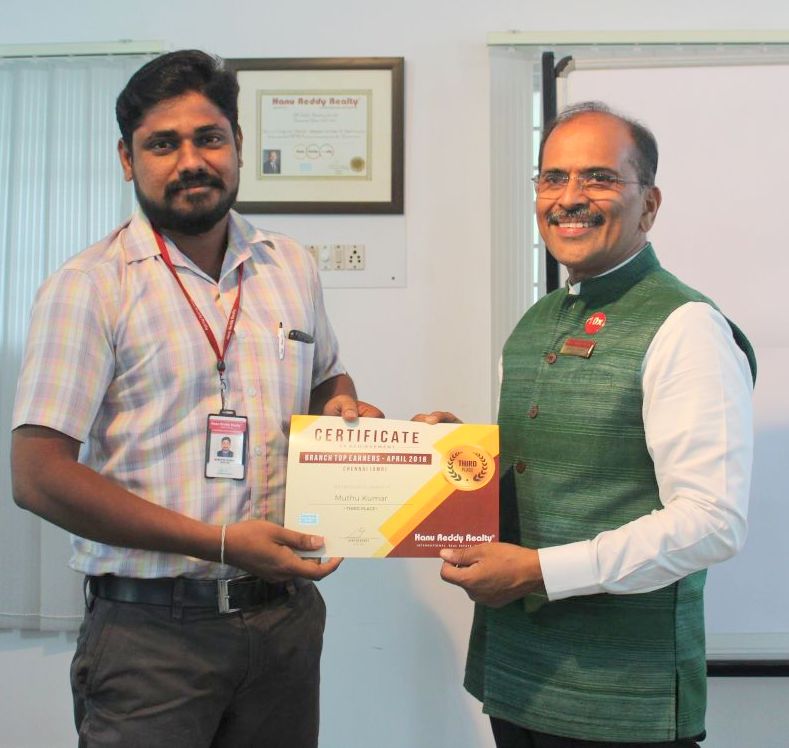 3494
Google Review
30-Apr-2018
Gopalan Vaidhyanathan
Gopalan Vaidhyanathan
Really a different experience to deal with. Mr. Muthu kumar and Mr. Rajkamal advice helped me in taking call in leasing my Thoraipakkam property. My one year search ends up with a happy note. Once again thank you both. Hope to continue our business relationship.
3496
Google Review
30-Apr-2018
Chandra Sekar
My dream of purchasing a flat became materilised by HRR team ( Rajkamal, Muthukumar and Jai Balaji). They are young and ethusiatic team with a flair of professionalism in their way of approach and execution, to complete all formalities in time. My best wishes for their future endeavors.
3495
Google Review
30-Apr-2018
Sreeram Iyengar
Sreeram Iyengar
I approached Hanu Reddy to sell my flat in Pallikarnai and the team lead by Rajkamal, Muthukumar and Venkatesh handled it very professionally and swiftly. I thank three of them for their whole hearted support especially Rajkamal co-ordination. Well done guys.
3493
Google Review
25-Apr-2018
Usha Devi
Muthukumar and Sekar are helpful and courteous in completing the sale.
Keep going .Thanks for the wonderful support
3386
Google Review
01-Feb-2018
R Srini
Hanu reddy was very professional from the beginning of property showing and facilitating the deal. Very supportive staff especially Raj Kamal ,Muthukumar and Venkatesh. Raj has been helping in finalizing the deal from beginning to end and hands on about the industry workings. Wanted to mention about Mani Palani ,who provided support during the registration process.I would highly recommend their service for my friends and anyone looking for quality in real estate.
3354
Appreciation Mail
21-Dec-2017
I appreciate your efforts in finding a suitable tenant for my property in Perungudi. Your approach was professional and you grasped my requirements well and identified a suitable family.
Your weekly updates kept me well informed on the developments and prevailing market conditions. Thanks for your efforts and wish you success in all your endeavours during 2018.
Mr. Rajkamal Mr. Muthukumar & Mr. Jaibalaji
Regards
S. Murali