Testimonials
This is what our clients say about us...
View All Testimonials
4826
Google Review
26-Apr-2022
Kris D
We highly recommend Mr. V. Chandrasekhar and Mr. S. Arul Kumar from Hanu Reddy Realty India. They coordianted with both buyer and seller for the sale of our property in Madipakkam, Chennai, admin COVID-19 crisis. Everything went very smoothly, from property listin, sales agreement to property registration. We love to work with them again.
4889
Google Review
25-Aug-2021
Hari Bhaskaran
Positive: Professionalism
Arul is a good professional and having good exposure in his field ..got a good house for my company
4021
Testimonial - Mr.Thomas Isaac
25-Jul-2019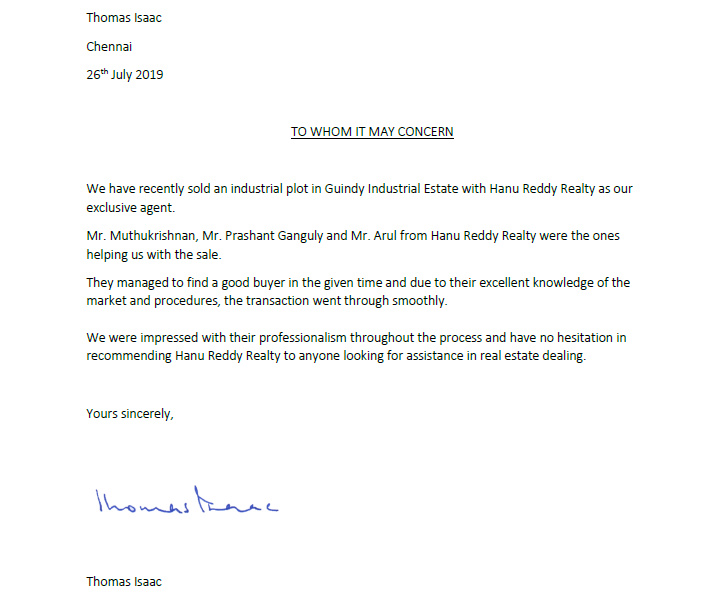 3579
Google Review by Seller Mr Amrith
04-Jun-2018
https://goo.gl/maps/tfuWDrTRYZs
Mr.Arul and Mr.Bhava from Hanu Reddy Realty were appointed to deal with my case. Mr.Arul did the ground work of showing the home to the customers and explaining to them while, Mr.Bhava's expertise came to the fore in helping in preparing the documents and in taking the deal to completion. I was able to give them the rights to advertise and the keys with full confidence and I am very happy that everything went well and that they did a great job. Thanks.