Testimonials
This is what our clients say about us...
View All Testimonials
4583
Google Review
23-Aug-2021

4513
Certificate
21-Apr-2021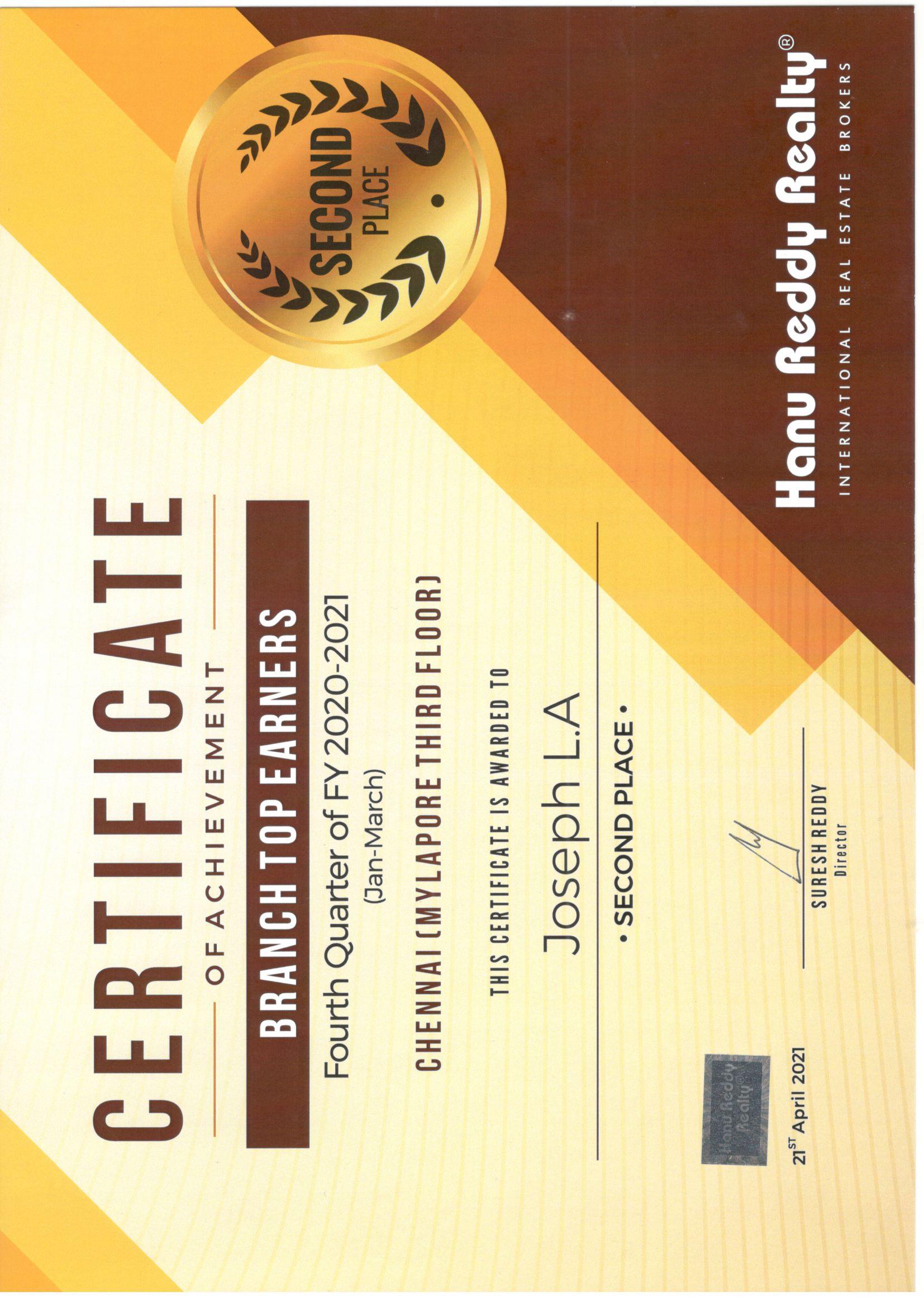 4543
Google Review
20-Apr-2021
Positive: Professionalism
I recently bought a 3BHK apartment in Chennai. Had a Great experience with Hanureddy. Very Professional approach and excellent support by Mr. L A Joseph. Timely helped to collect documents, assisted in registration process and supported till to collect back sale deed from SRO. My heartiest thanks to Mr. L A Joseph and entire Hanureddy Team !
4542
Google Review
26-Mar-2021
Positive : Professional
Very professional service by realtor L A JOSEPH, he did an excellent job
4356
Google Review
10-Sep-2020
Cascade Family Learning Services
Mr.M.Jagadeesan and Mr. Joseph's services need particular mention. Polite and courteous, they ensure customer satisfaction. Vidya Shankar, Founder, CASCADE Family Learning Services. cascadefls.org
3213
Google Review
09-May-2017
Rajagopalan Sabapathy
(5 Star)
My experience has been excellent. My account was handled by Mr.L.A.Joseph and his service was commendable. He made the entire process from initial discussion till registration, absolutely flawless and comfortable. I may not hesitate to recommend the services of Hanu Reddy Realty to any of my friends , should an opportunity arise. Thanks Joseph once again.
3144
Google Review
25-Apr-2017
Arun Bijur
(5 Star)
Mr. L.A Joseph handled the sale of my 3-bedroom apartment and I did not have to lift a single finger. Joseph was always one step ahead of any sequence in the entire procedural maze. Always smiling, his self assurance and confidence was so infectious that I went through the entire procedures without any anxiety or trepidation. Without any doubt, I will have no hesitation in strongly recommending the invaluable services of Hanu Reddy Realtors in general, and Mr. L.A Joseph in particular.
3145
Appreciation Letter
20-Apr-2017
Dear Joseph,
Just to keep on record, thank you very much for all your help and assistance in finalizing the deal of A3 Crescendo Flat with Mr.Arun G Bijur, particularly in making the registration process very smooth and without any hassles. I know the difficulties involved in getting a property registered as I have involved myself in this process many times both personally and officially. The entire deal was carried out most professionally and very much appreciated.
I would certainly recommend Hanu Reddy's services to my colleagues and friends if anyone wants to. Thanks once again.
Regards,
Rajagopalan
2953
Google Review
12-Jul-2016
Arul Chellaraj
(5 Star)
Tension free deal. everything transparent.Mr.Joseph is very fast and his vibration is very positive.
2898
Google Review
18-Mar-2016
(5 Star)
We had a great experience in dealing with Hanu Reddy Realty more particularly Mr Joseph - the Senior Realtor of the company. He was extremely courteous, polite and handled things in a professional way . Would wish to have a longstanding association with HRR.
2899
Google Review
18-Mar-2016
(5 Star)
I would like to place on record our appreciation of the efforts put in by Mr. L.A. Joseph to conclude the sale of our flat in Chennai. Mr. Joseph went out of his way to help us in getting the necessary documents as we had moved out of Chennai and relocated to Hubli, Karnataka. We appreciate his sincere efforts in coordinating with the buyer on our behalf and also got us a best possible deal. Despite the bad weather condition and some last minute issues, with his help, we were able to sell our property without any problem. We express our sincere thanks to Mr. Joseph for providing us with all the help .He was always updating us with the progress and has a good rapport with the concerned authorities. We would not hesitate to work with Mr. Joseph again and would definitely recommend Hanu Reddy Realty for buying or selling property.

Mrs. Padmini A. Mundkur
463
19-Aug-2013
Dear Mr.Suresh Reddy,

We greatly appreciate the efforts put in by your organization and by Mr.Joseph in identifying a suitable property for us and hand-holding both parties until successful completion of the transaction.

Mr.Joseph displayed good empathy in understanding our requirements very quickly in identifying the property. He helped us conduct the negotiations and meetings with the buyer with a professional approach, integrity and trust. His helpful attitude continued even after registration to ensure that commitments done earlier were completed.

Our heartfelt thanks to him for the professional help rendered and we wish to record our appreciation for the same.


Yours truly,
Sujatha Venkataraman and V.Harishankar