Testimonials
This is what our clients say about us...
View All Testimonials
4166
Certificate
12-Feb-2020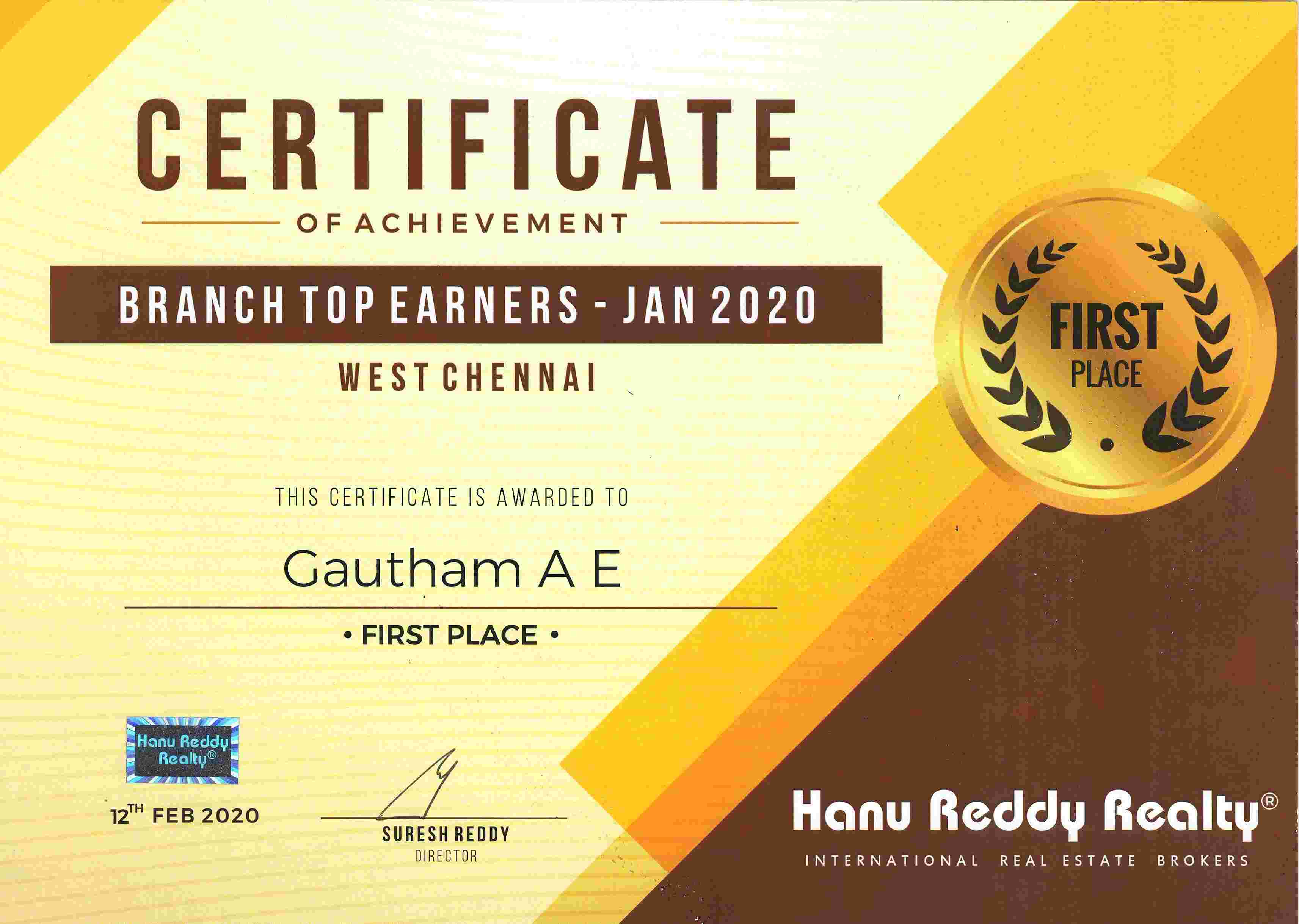 3425
Cutomer Feedback Form
22-Mar-2018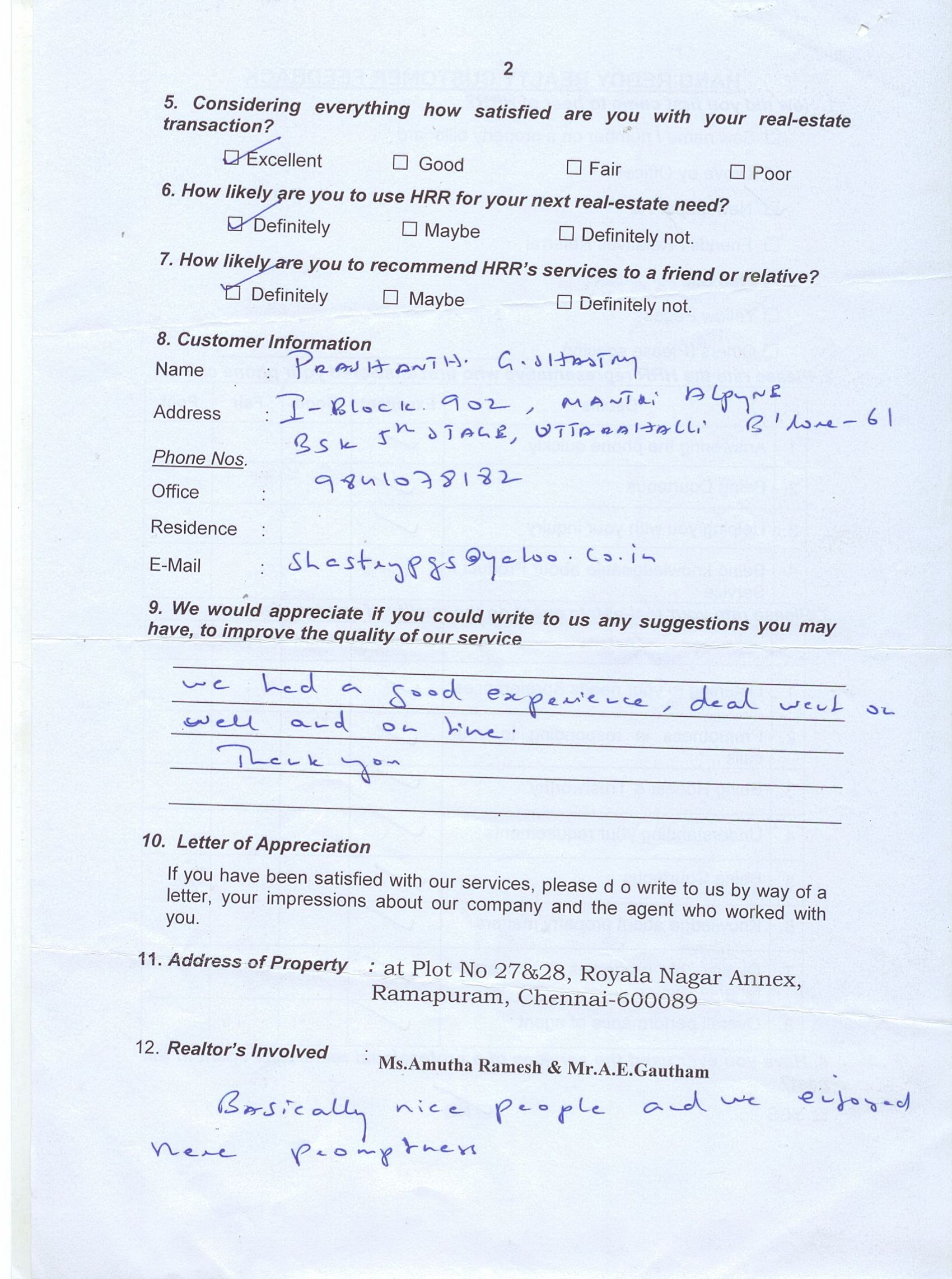 3190
Certificate
09-Jun-2017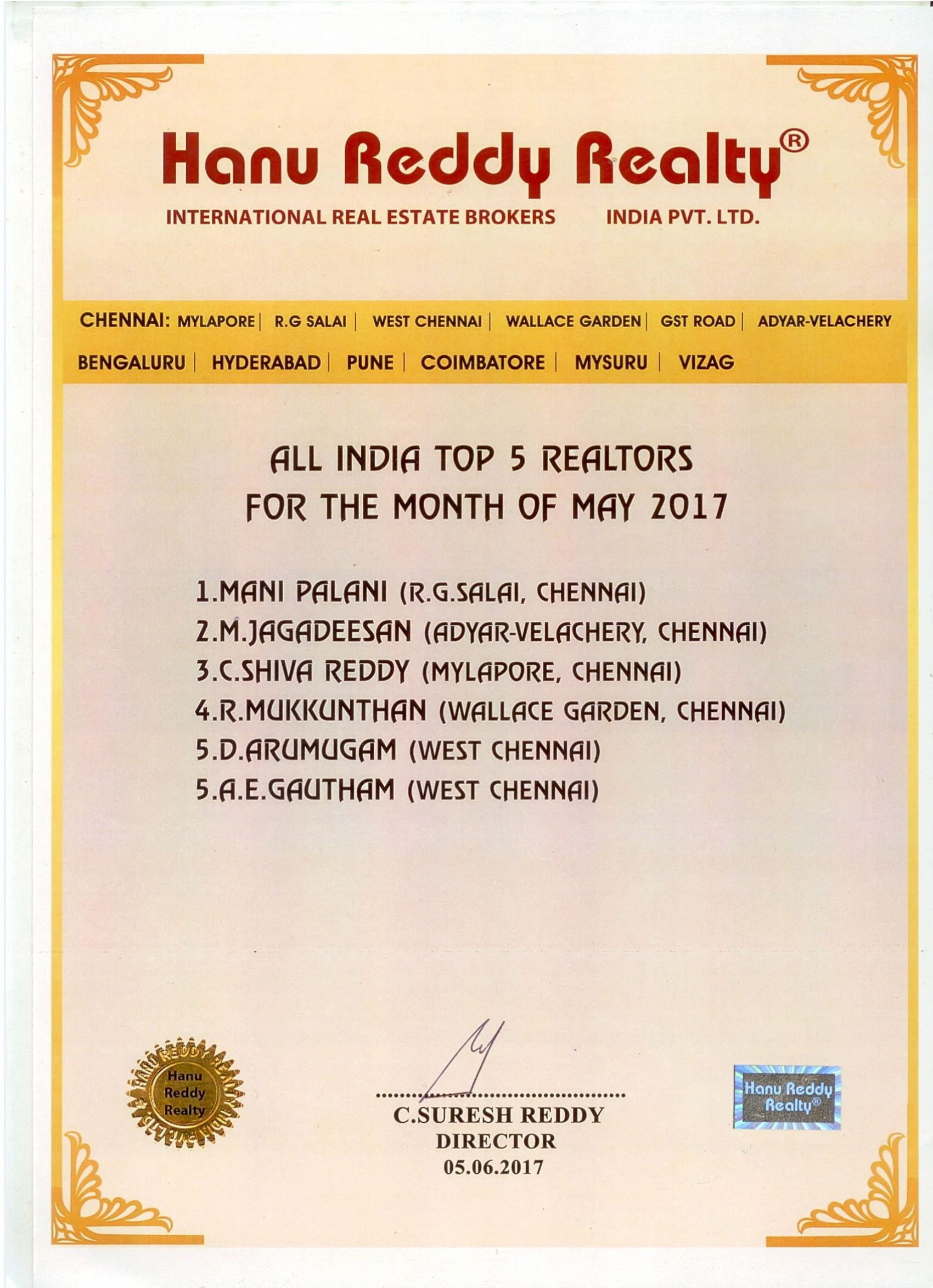 3191
Certificate
09-Jun-2017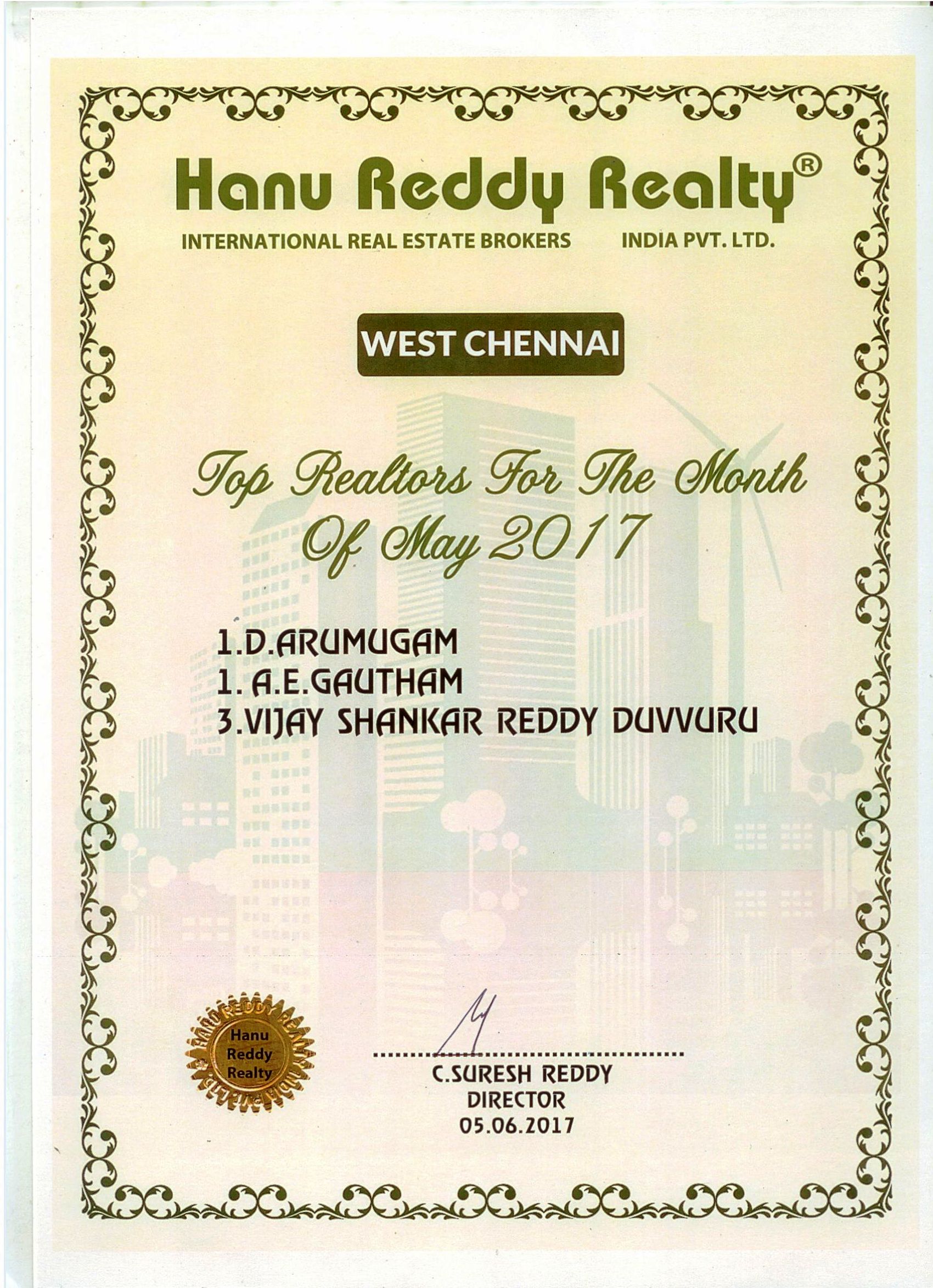 3076
Training Programme-23 Part-1 Certificate
10-Feb-2017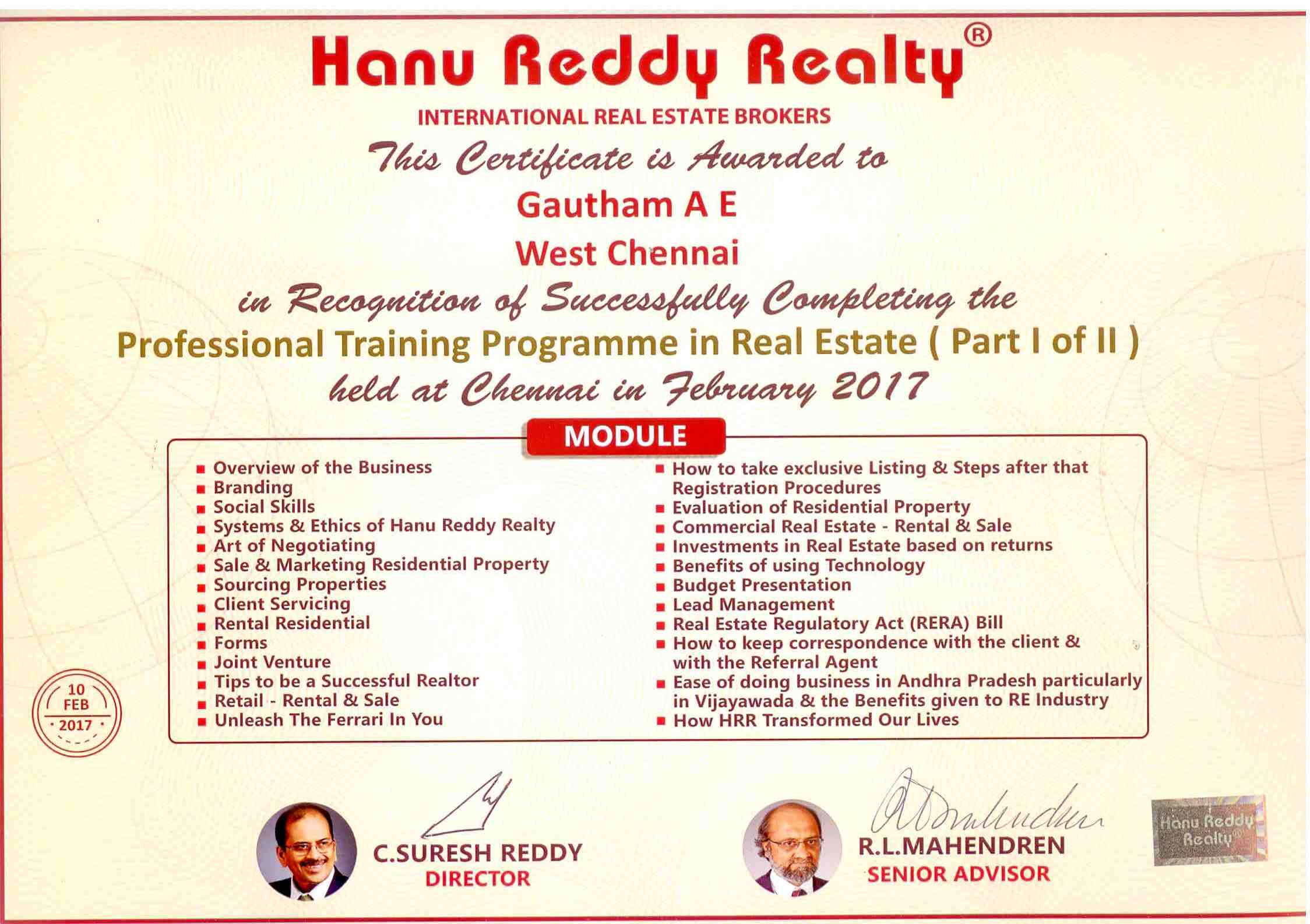 3022
All India Topper Oct-2016
09-Nov-2016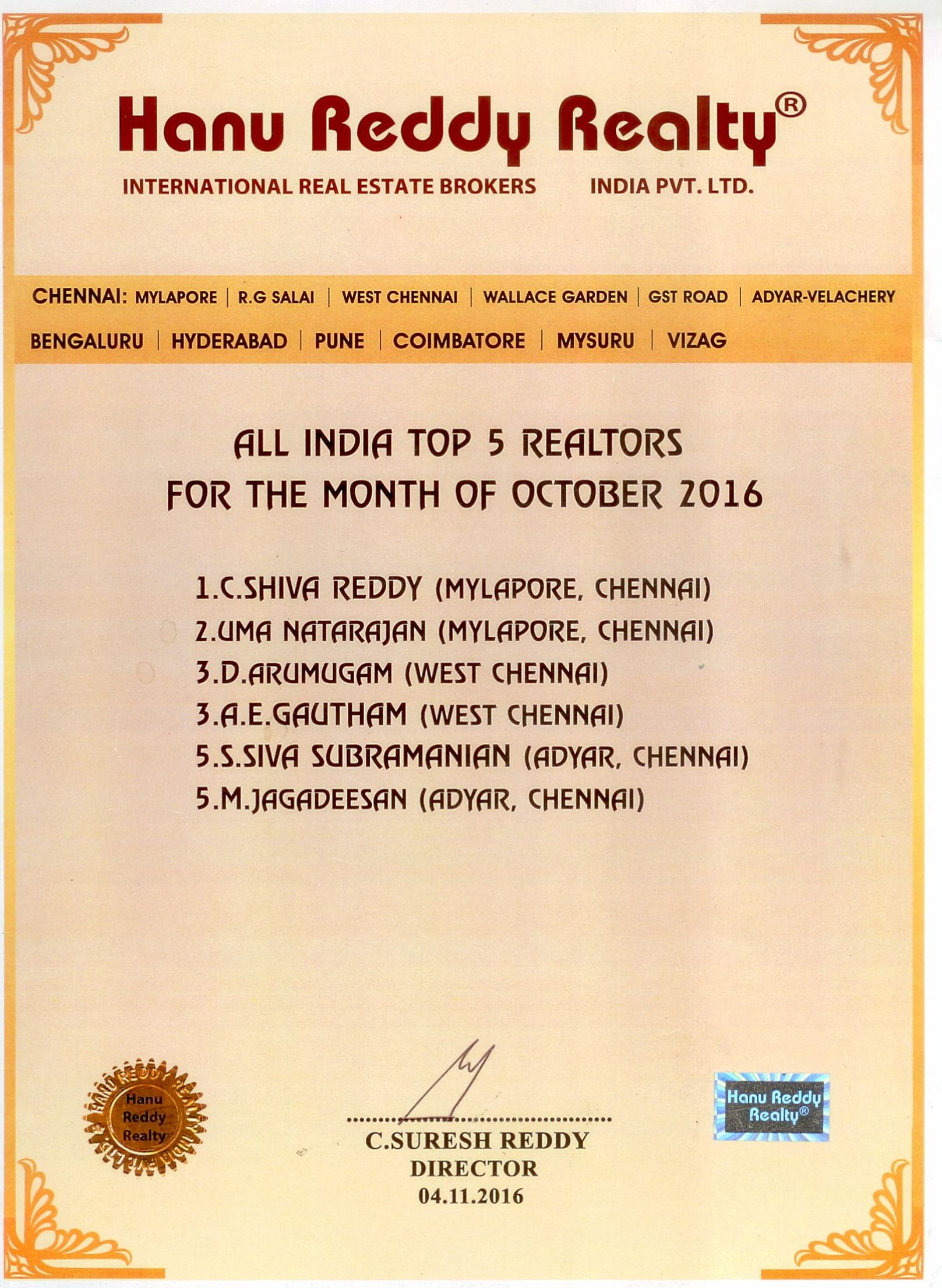 3023
West Chennai Branch Topper Oct-2016
09-Nov-2016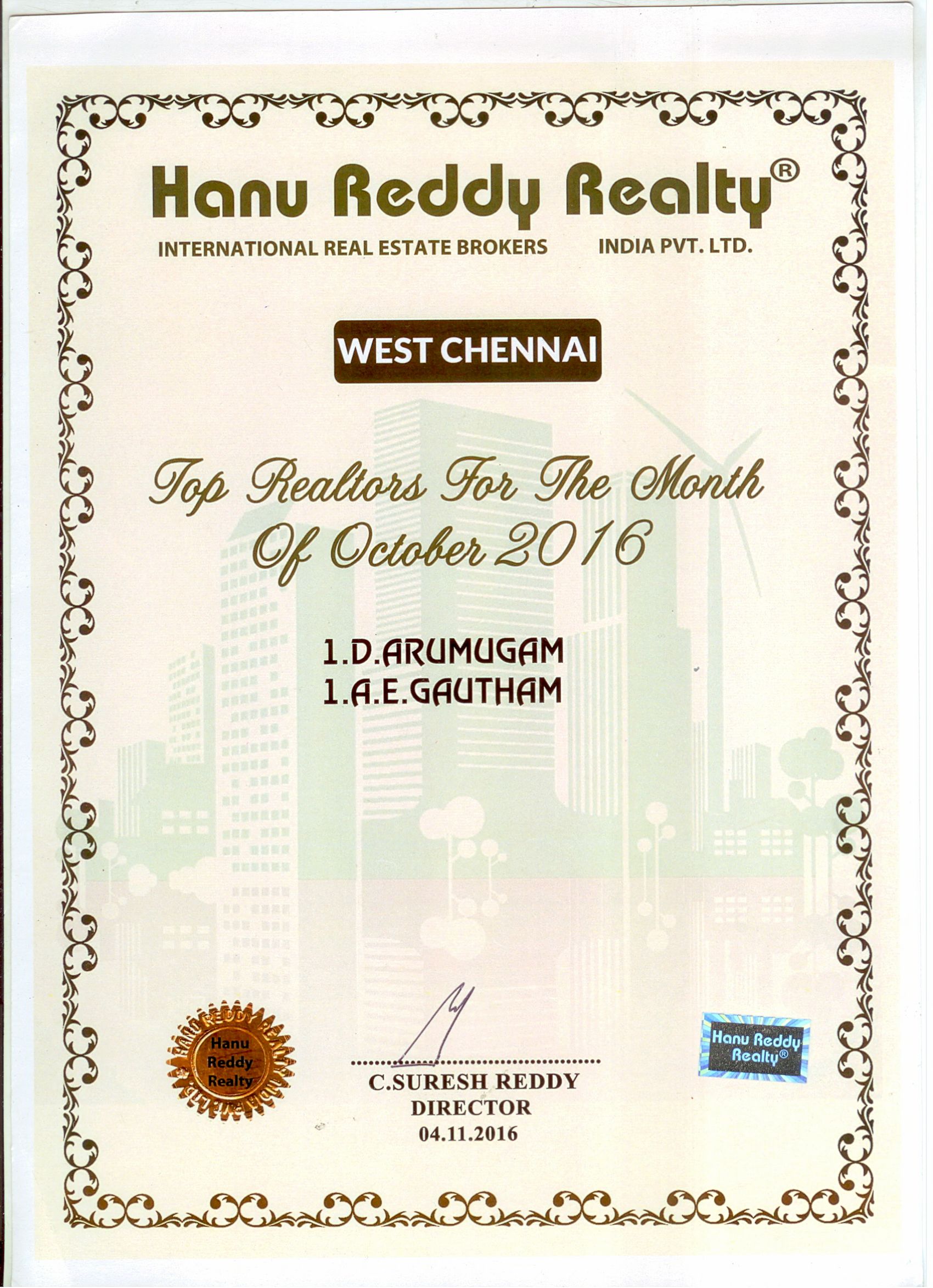 2585
Training Programme-17 Participation Certificate
31-Oct-2014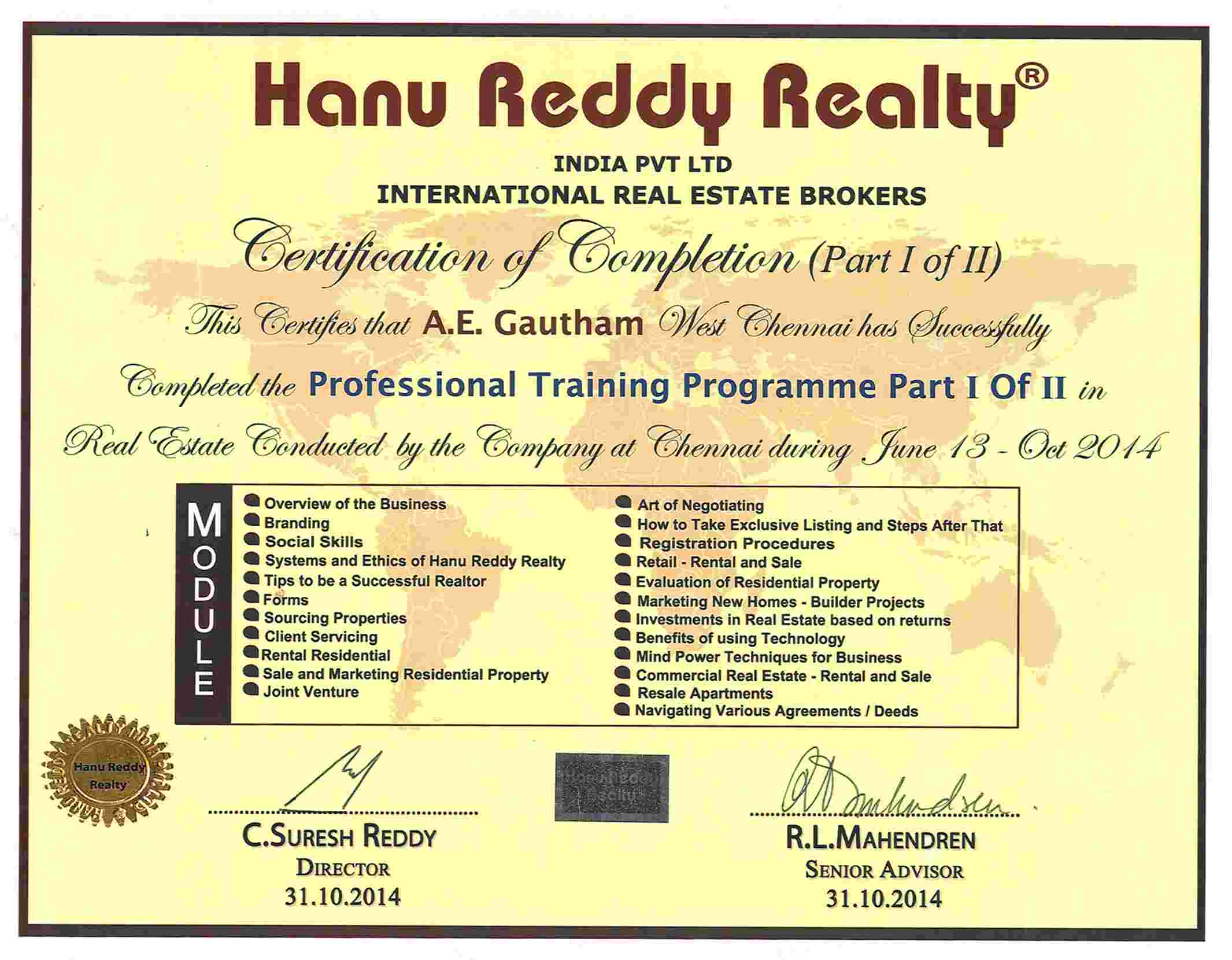 2566
West Chennai Top Realtor - August 2014
03-Sep-2014
2204
Speaker Certificate - Training Programme 15
14-Mar-2014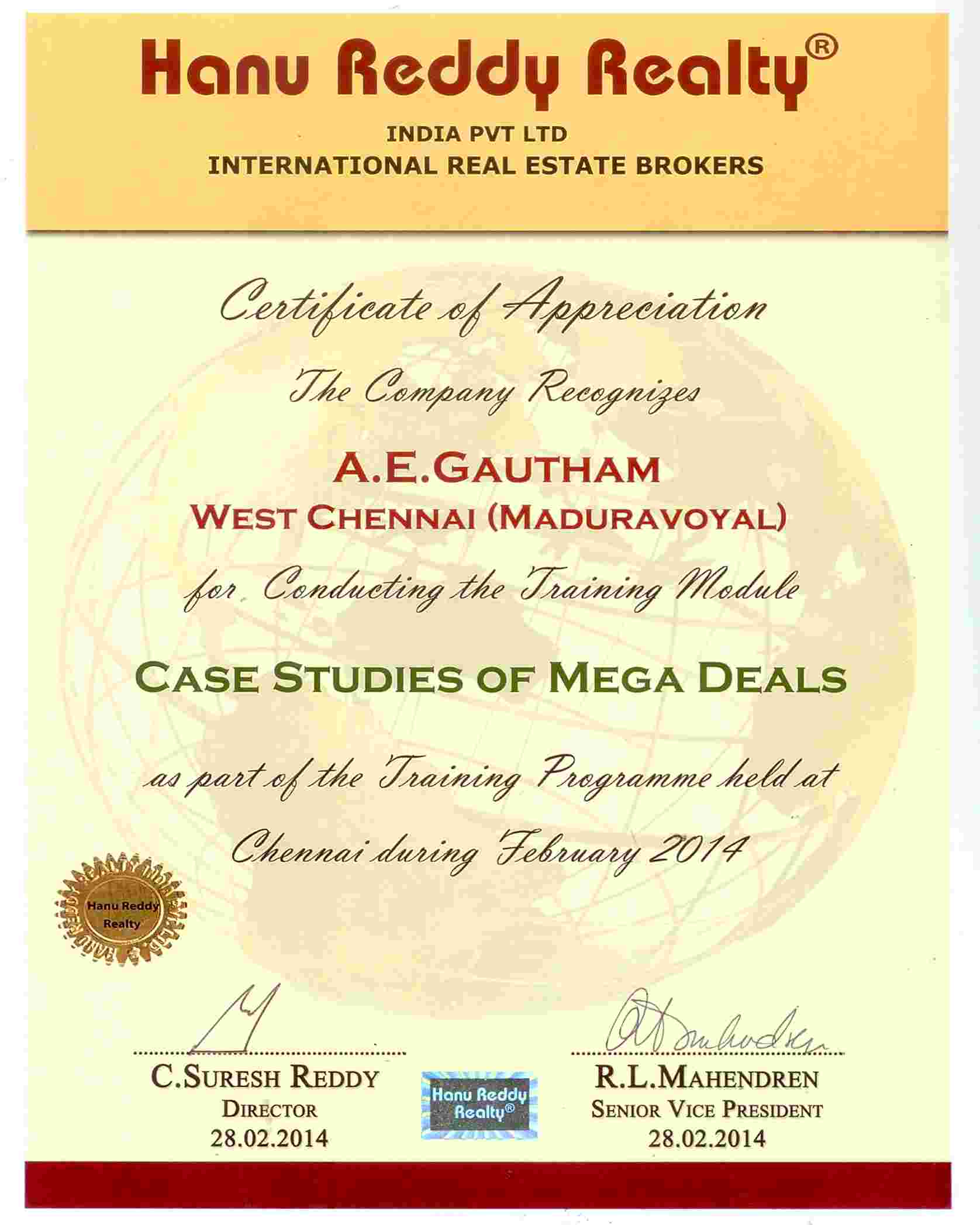 2091
08-Feb-2013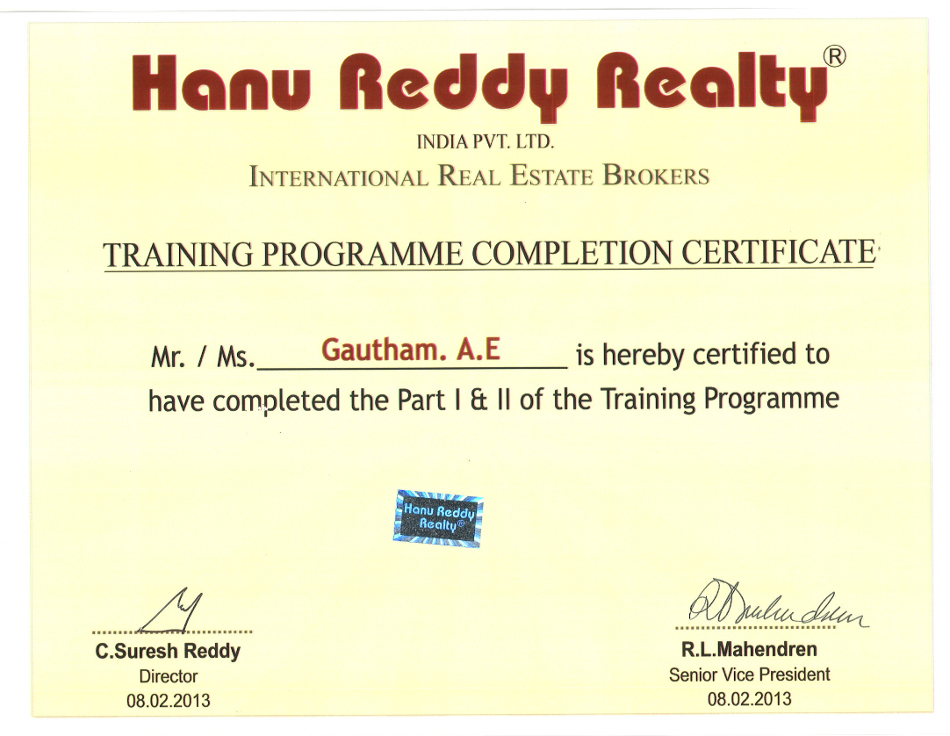 2090
01-Feb-2013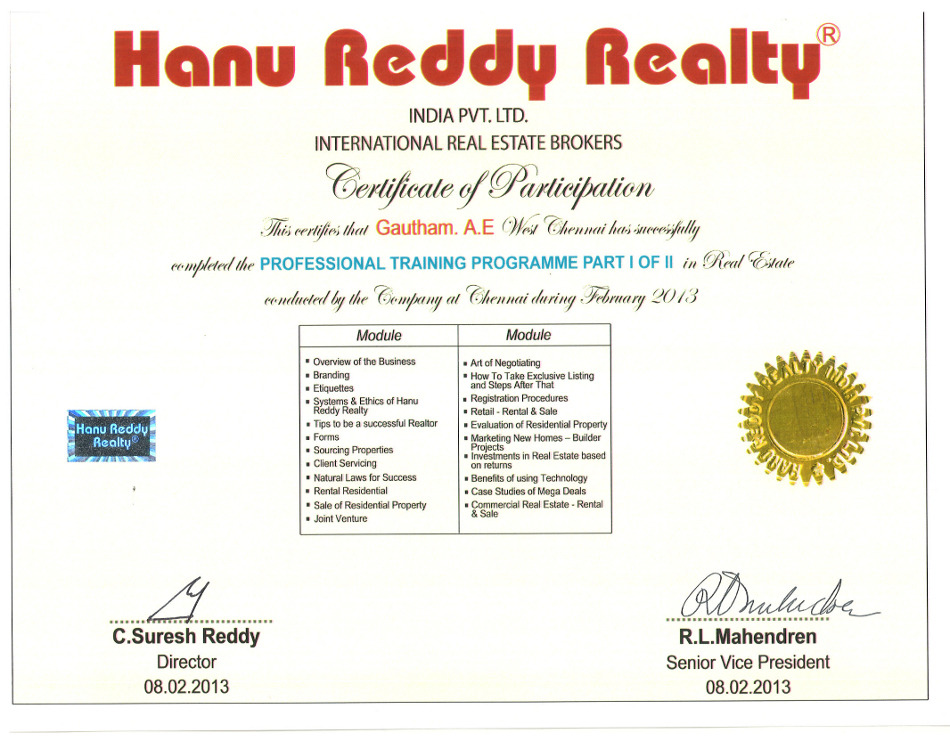 2088
01-Oct-2012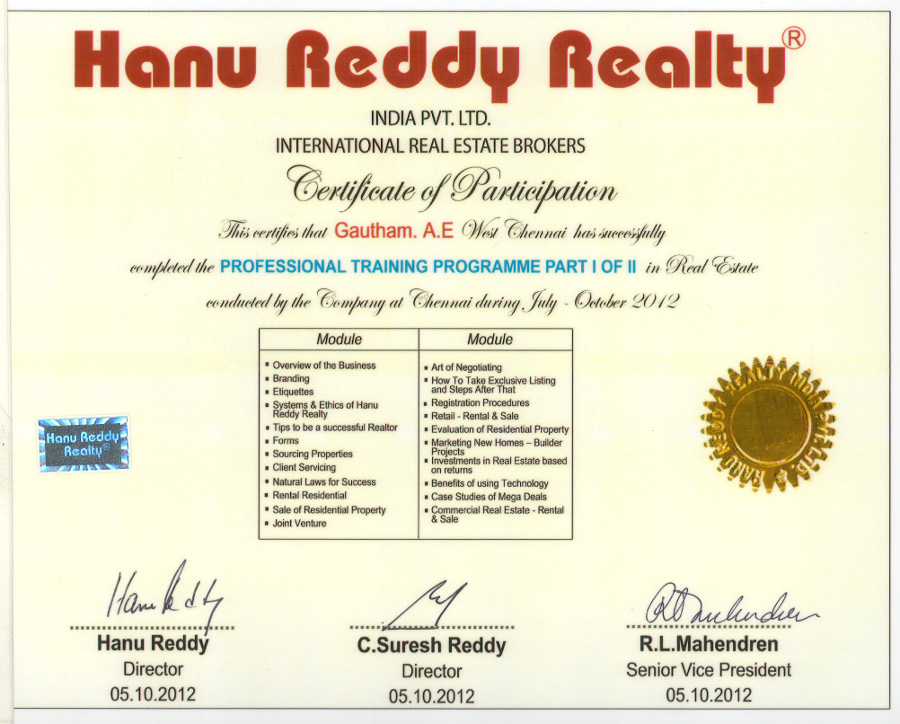 559
20-Aug-2012
Respected Sir,

The Managing Director,
Hanu Reddy Real Estate,
#14, 1st Street Wallace Garden,
Nungambakkam, Ch - 06

I'd like to put this on record to whomsoever it may concern that I had purchased a flat (Saptha Maalika Apts,Flat C, rear block, 1st flr, no ? 188, Poonnamallee high road, Chennai ? 10 ) during which these three gentlemen ( Mr S. Rajkumar, Mr AE Gautham, Mr. K Maruthi Ram ) working for your esteemed company played a very vital role in enabling me to go through all the procedures with a smooth and very organized functional manner. I do not hesitate to recommend them to my other friends and peers. I?ve also currently recommend them to my friend Frank Goveas, who has a property at Nelson Manikam Road.


Thanking you once again.
Sincerely,
Mr. Mark Crocker
Corp. Chef at The Raintree Hotels
Saptha Maalika Apts,
Poonnamallee high road,
Chennai - 10



2089
01-Feb-2012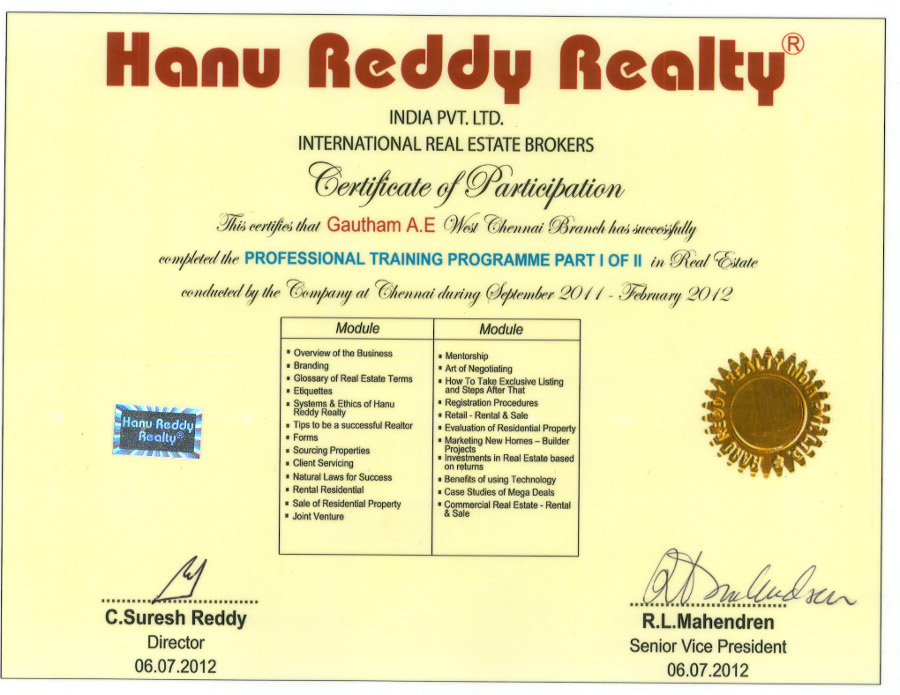 2085
01-Oct-2011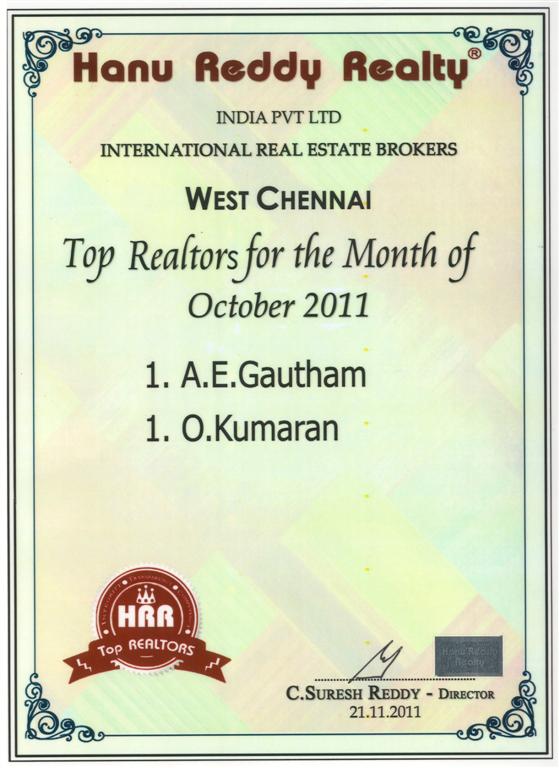 2087
01-Sep-2011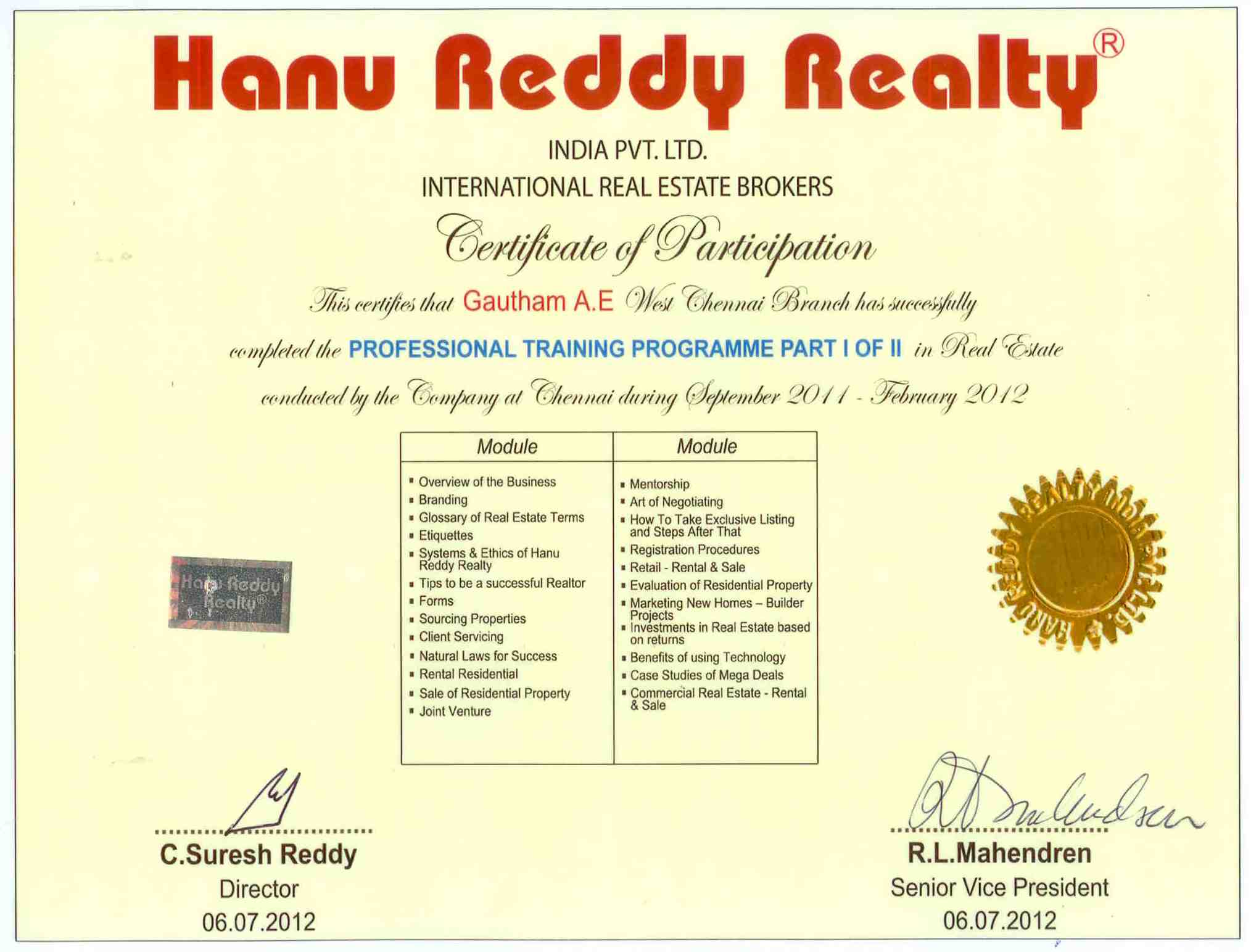 412
31-Aug-2011
2086
01-Jun-2011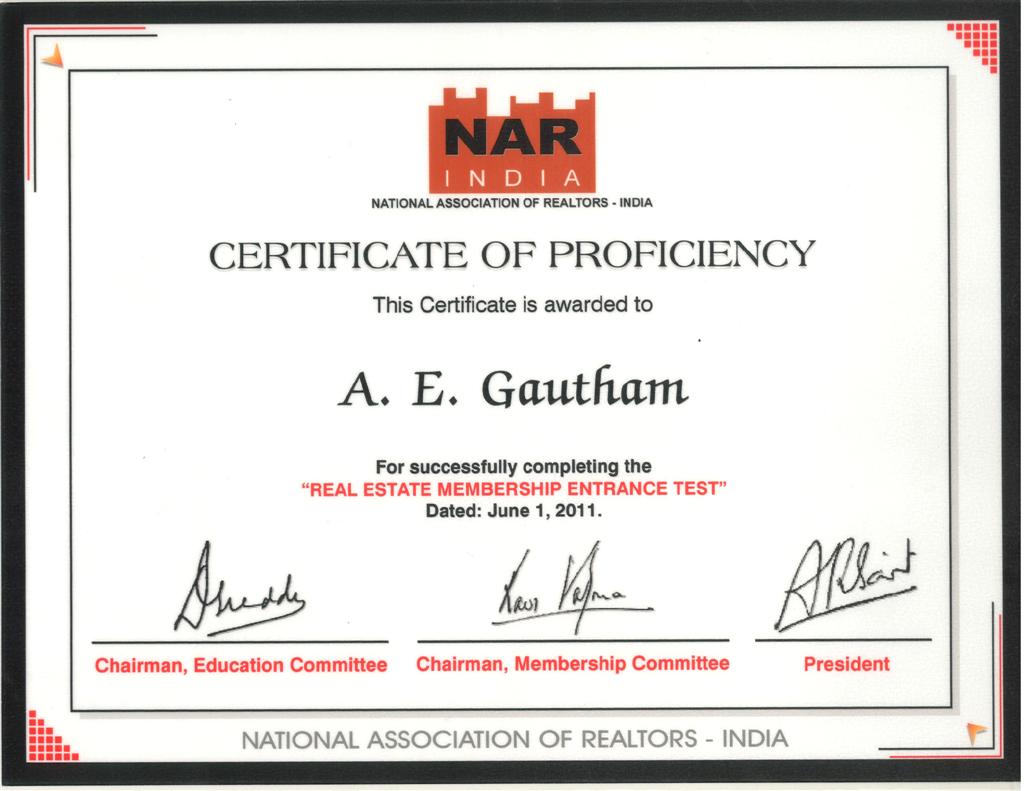 2083
28-Jan-2010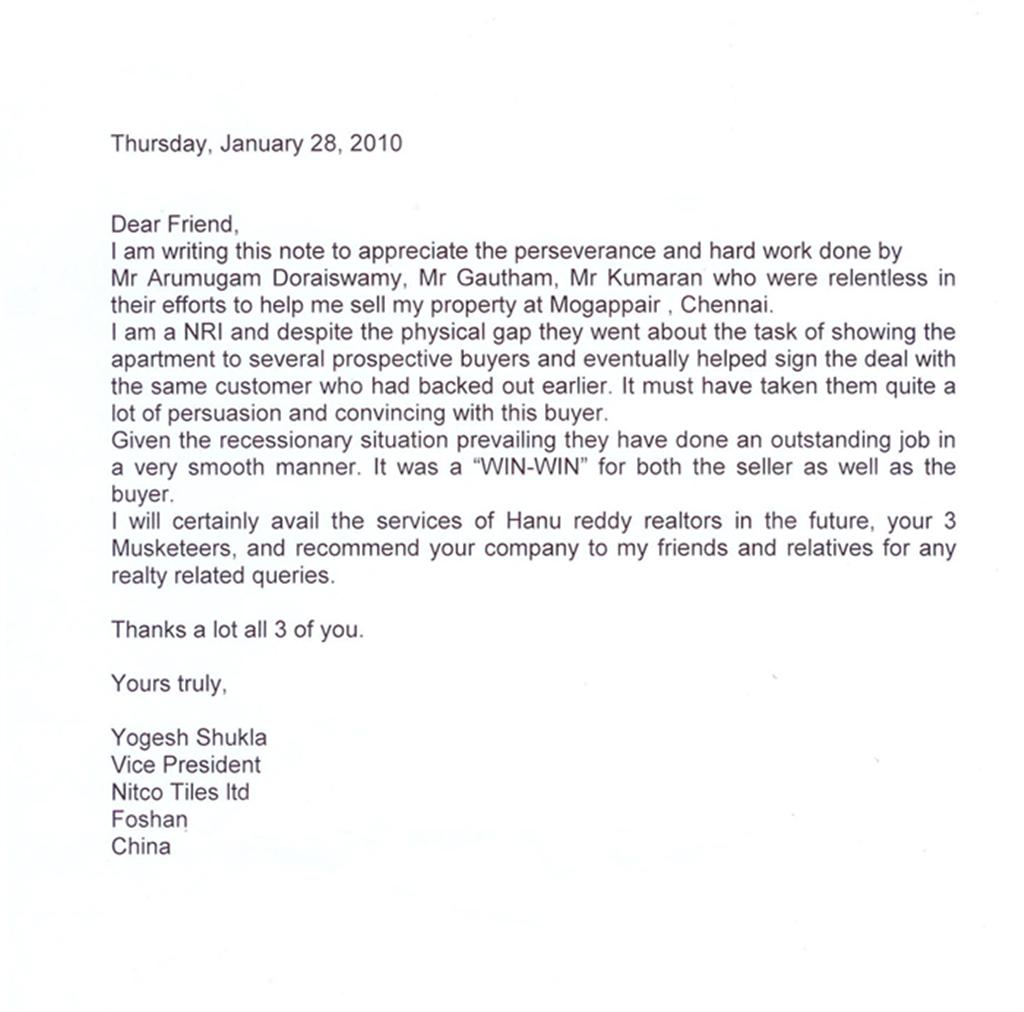 2084
01-Jan-2010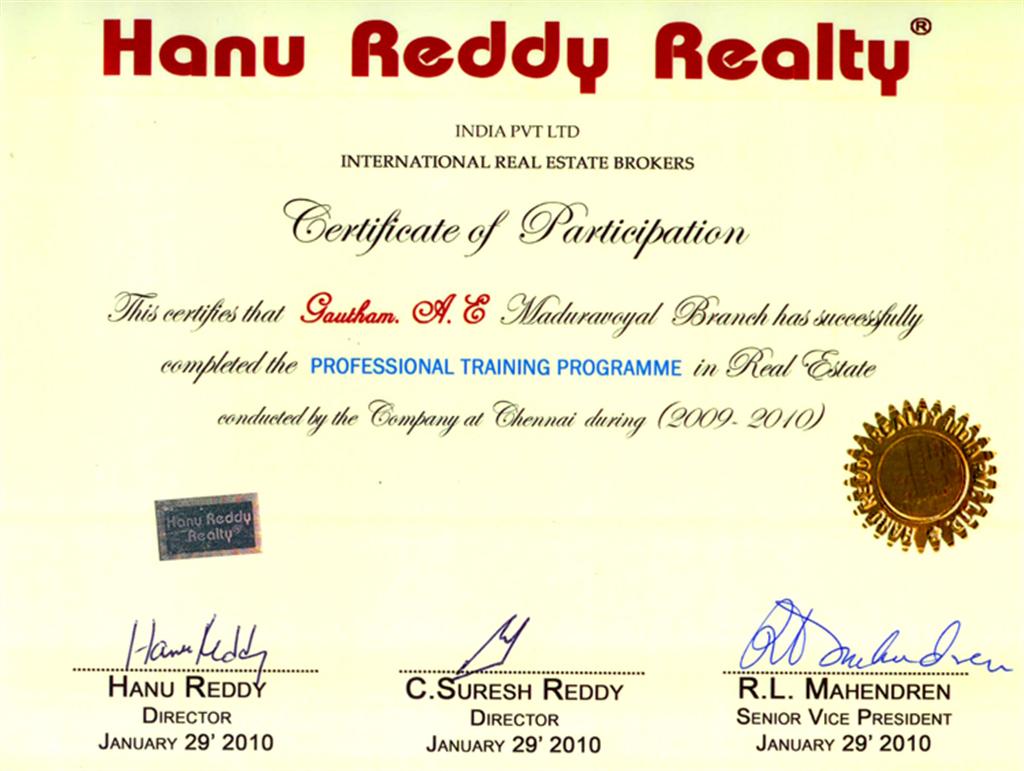 2082
Dear Sir,
Wish you and your team a very happy new year !
I would like to thank you and your hard working team of realtors for helping me sell a 3BHK flat recently in Virugambakkam, Chennai-92. The team consisted of Mrs. Amutha Ramesh, Mr. A.E. Gautham and Mr. V.Sridhar. I had almost given up hope of closing the sale during my India trip in December 2011 but your experienced realtors knew what they had to do to make things happen despite odds. They persisted with the sale process, kept me informed at all stages about the progress and represented my interests very well without me even reminding them about it. They timed everything well keeping my travel conveniences, arranged all paperworks and closed the registrar formalities without wasting any time. I and my family are very impressed with quality of service delivery and pleased with the efficient execution.
I really liked your team's responsiveness over email, phone and SMS. They were always there whenever I needed them for any guidance and they knew the right answers. Thanks for maintaining a good team and for providing excellent service. I will be happy to use your services in future and refer you to my other NRI friends who want help with their properties.
Thanking you,
Yours sincerely,
Mr. Rajagopal