Testimonials
This is what our clients say about us...
View All Testimonials
4211
Certificate
12-Feb-2020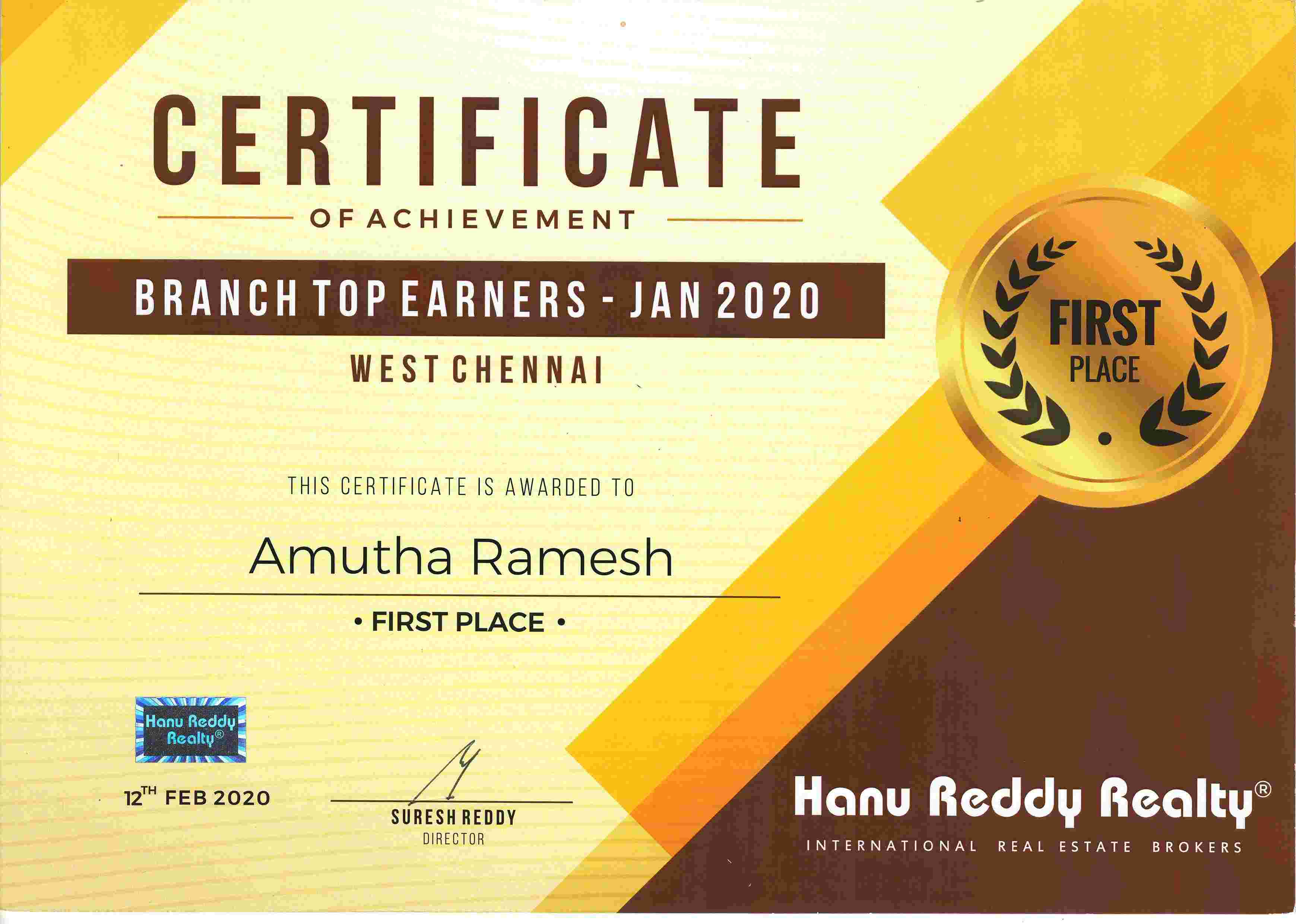 3423
Customer Feedback Form
22-Mar-2018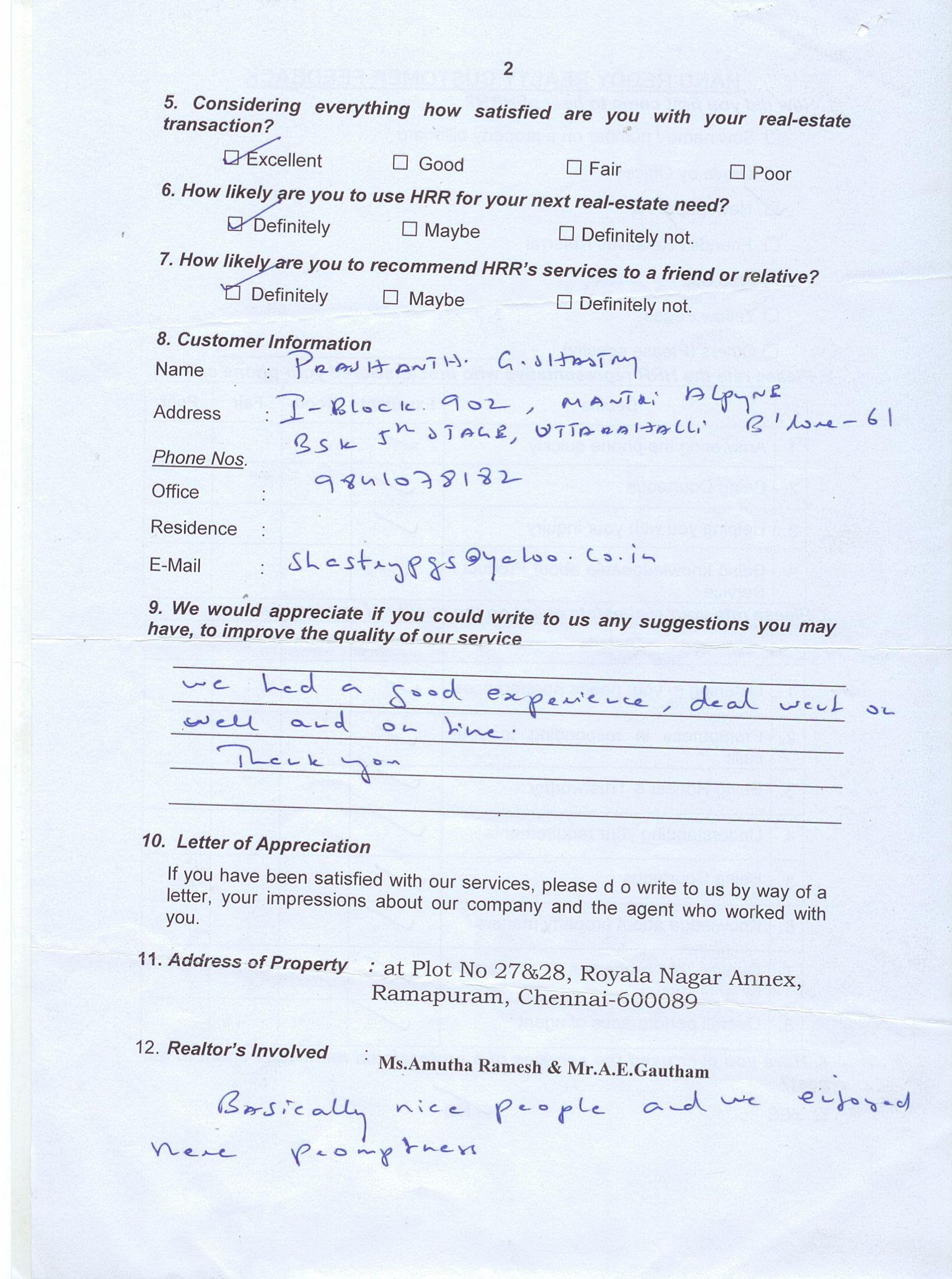 3422
Customer Feedback Form
22-Mar-2018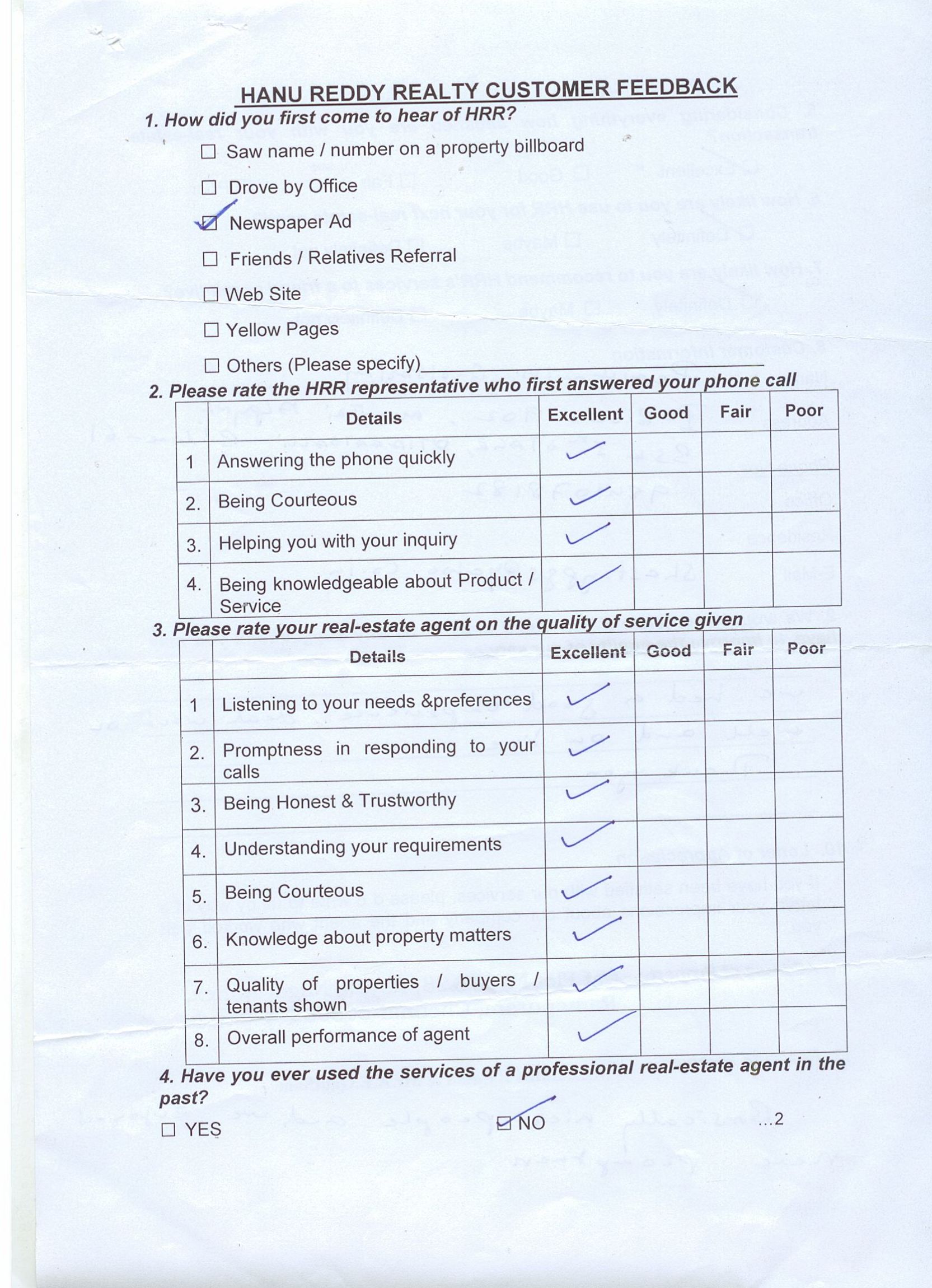 3239
Certificate
30-Jul-2017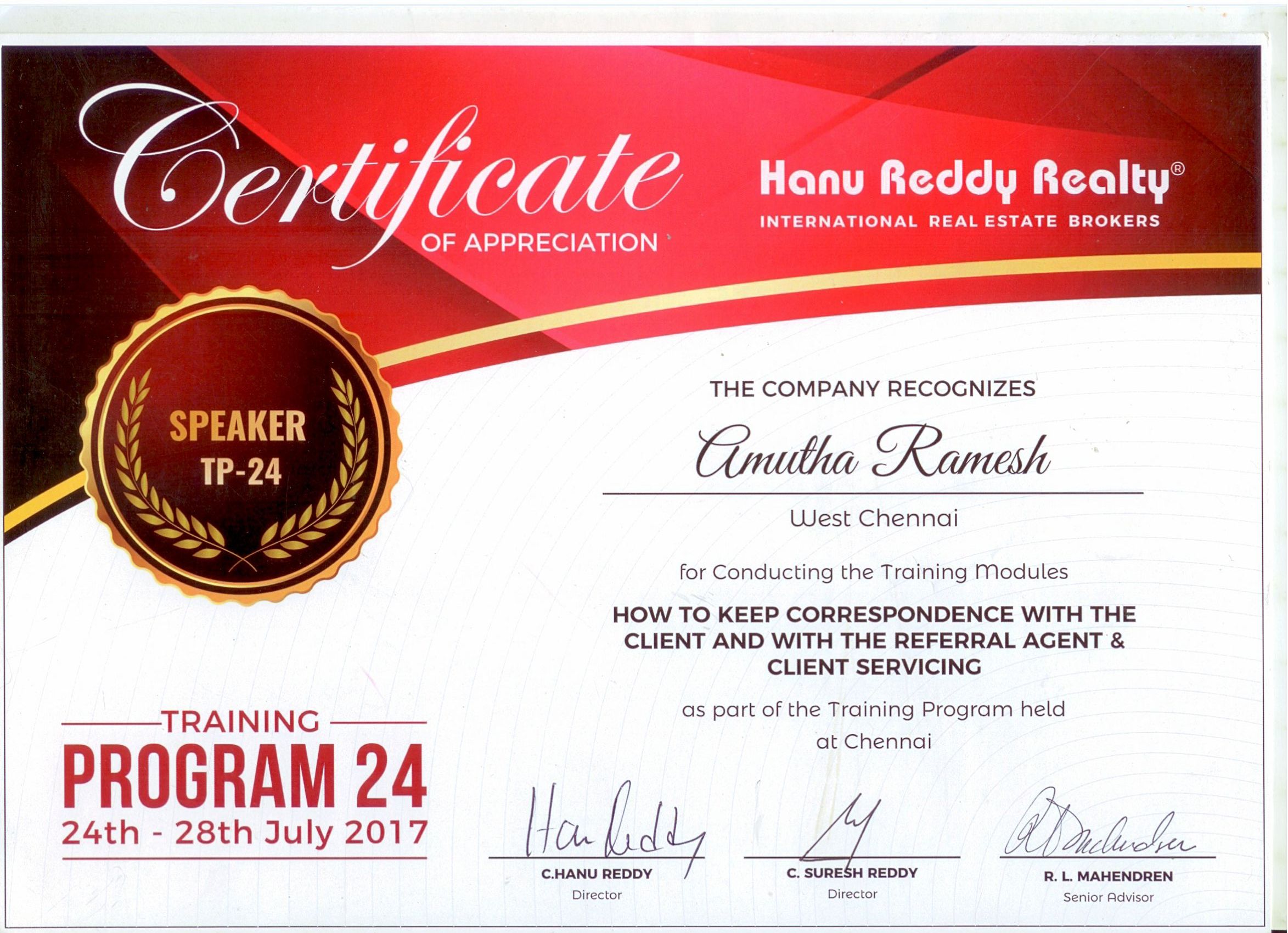 3240
Certificate
30-Jul-2017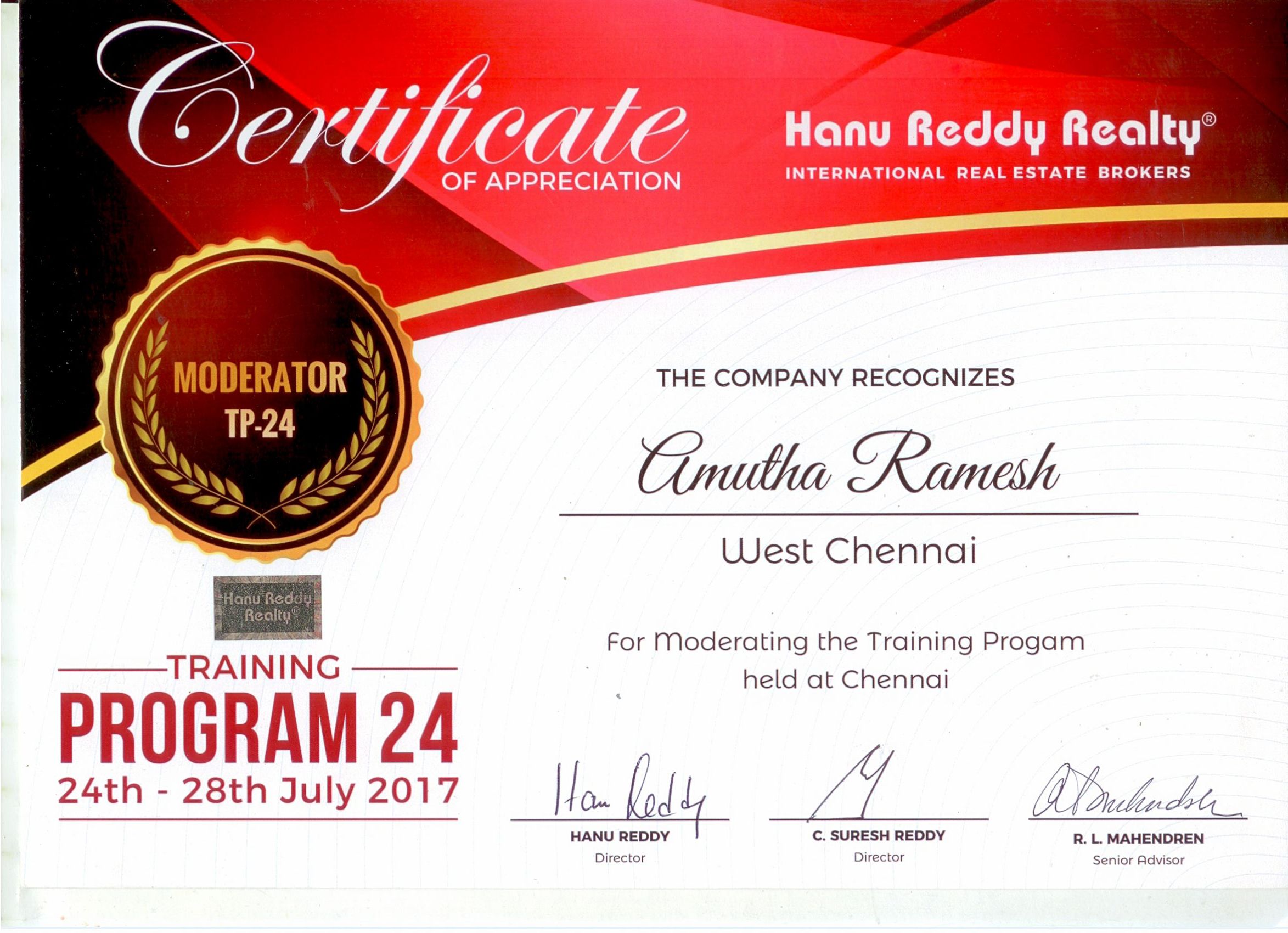 3097
Training Programme 23
10-Feb-2017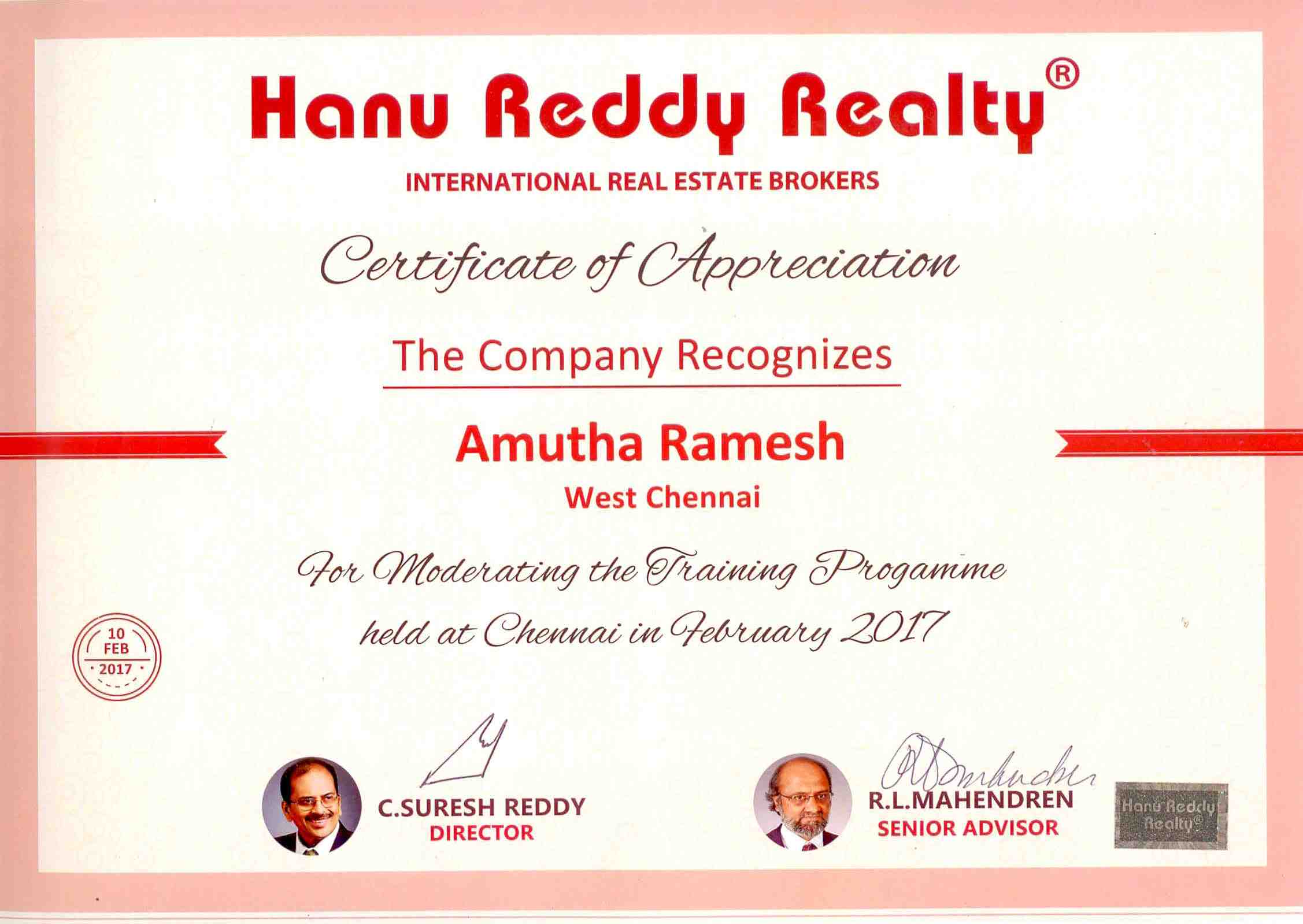 3096
Training Programme 23
10-Feb-2017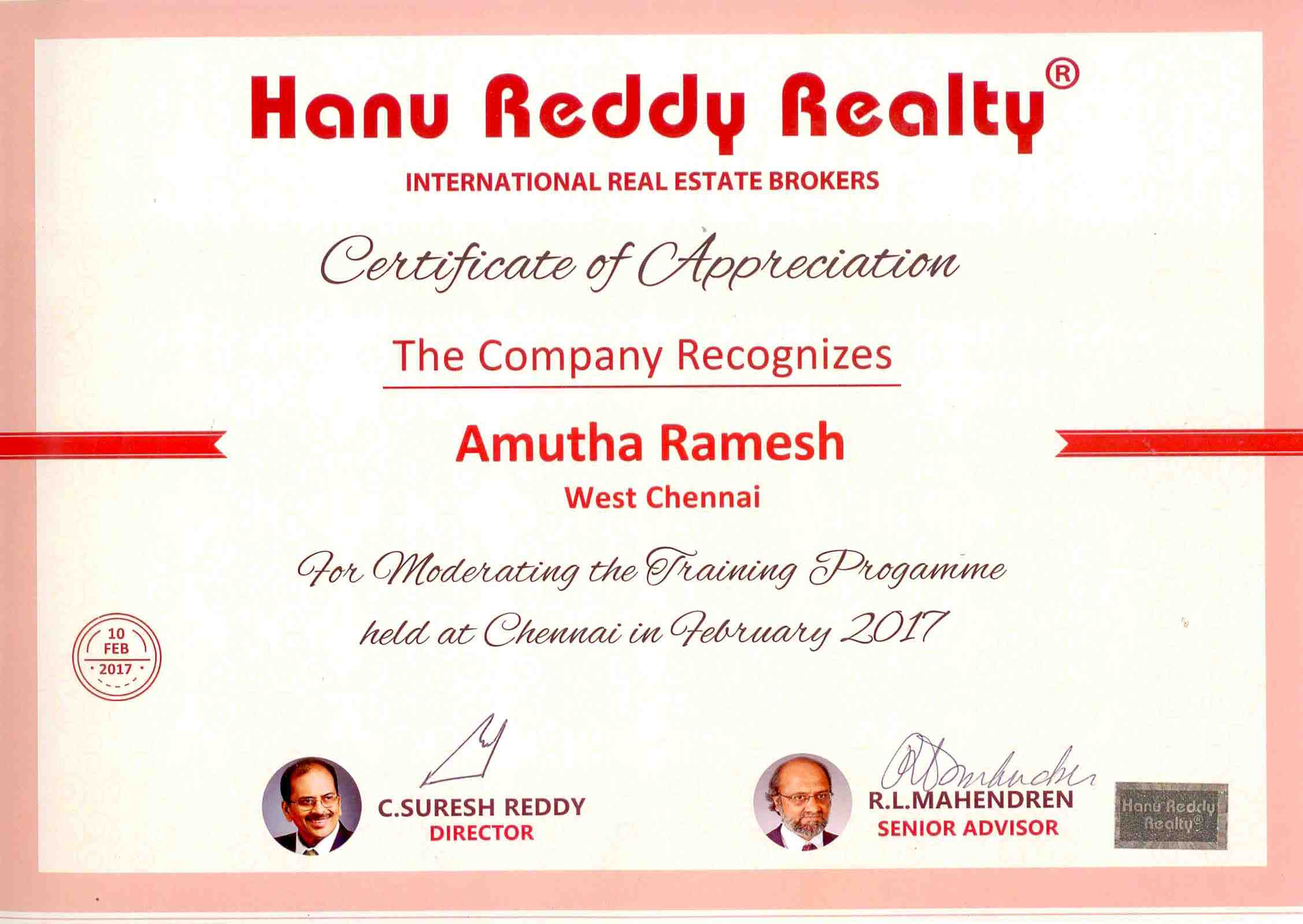 3095
Training Programme 23
10-Feb-2017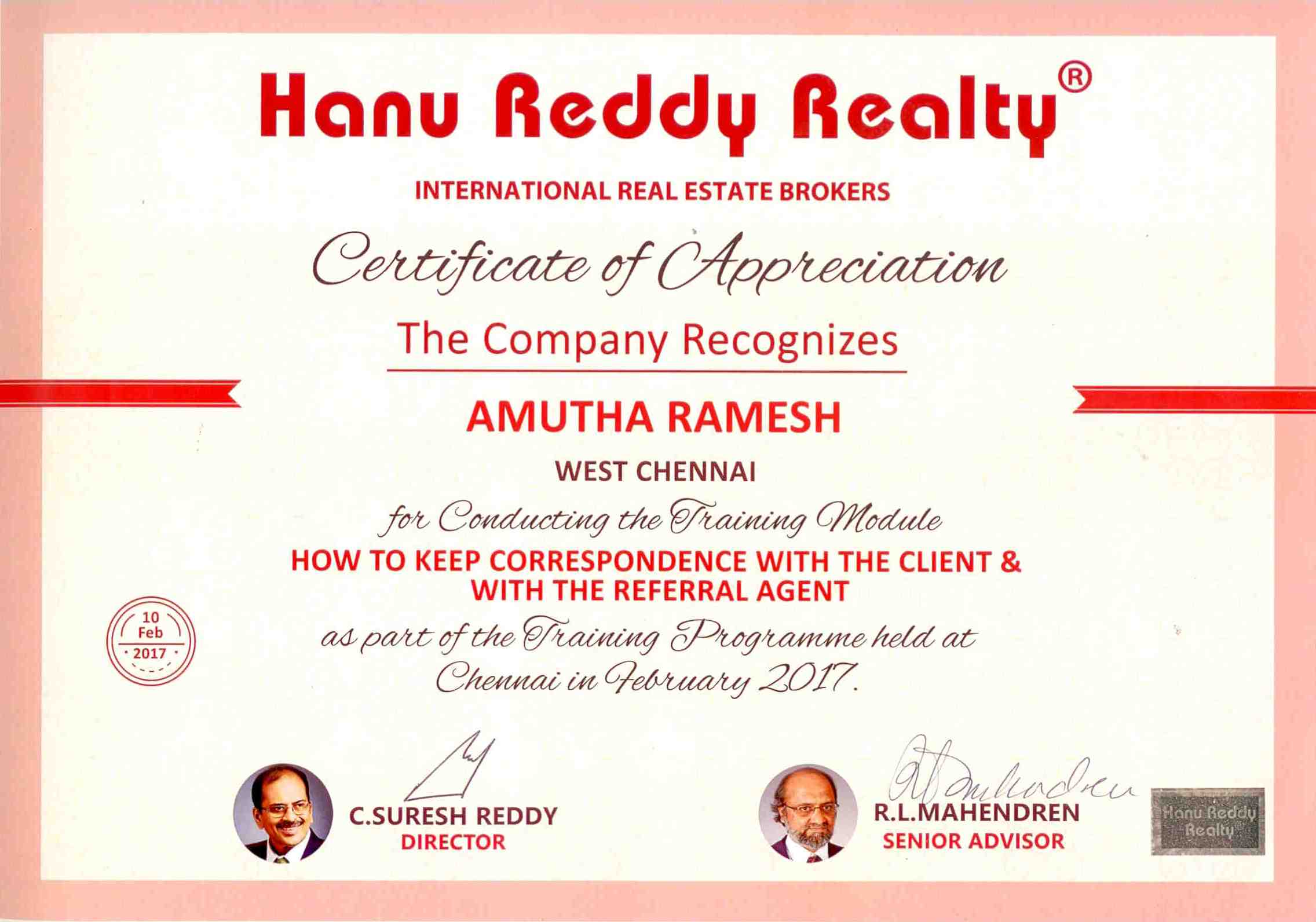 3094
Training Programme 23
10-Feb-2017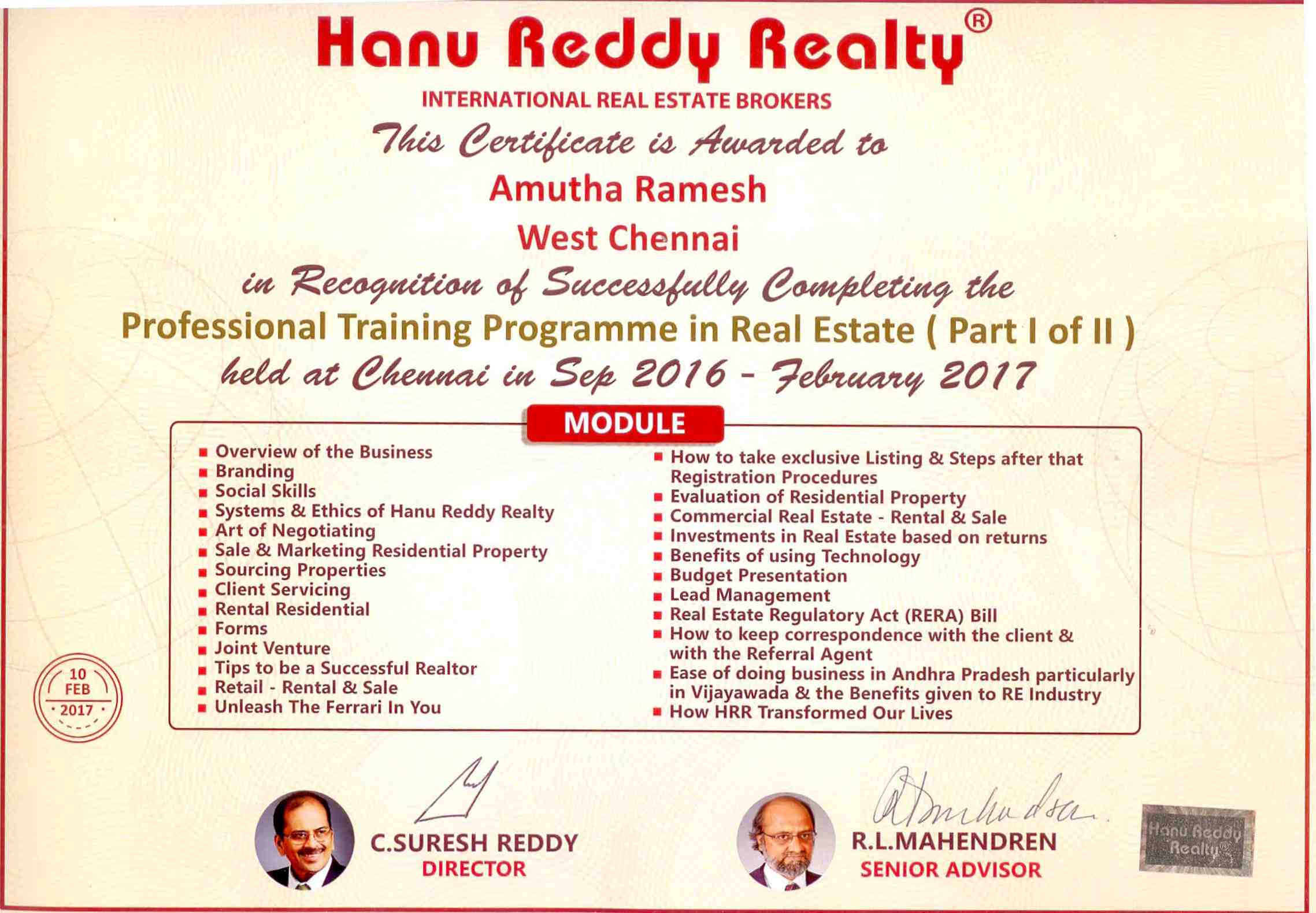 3093
Training Programme 23
10-Feb-2017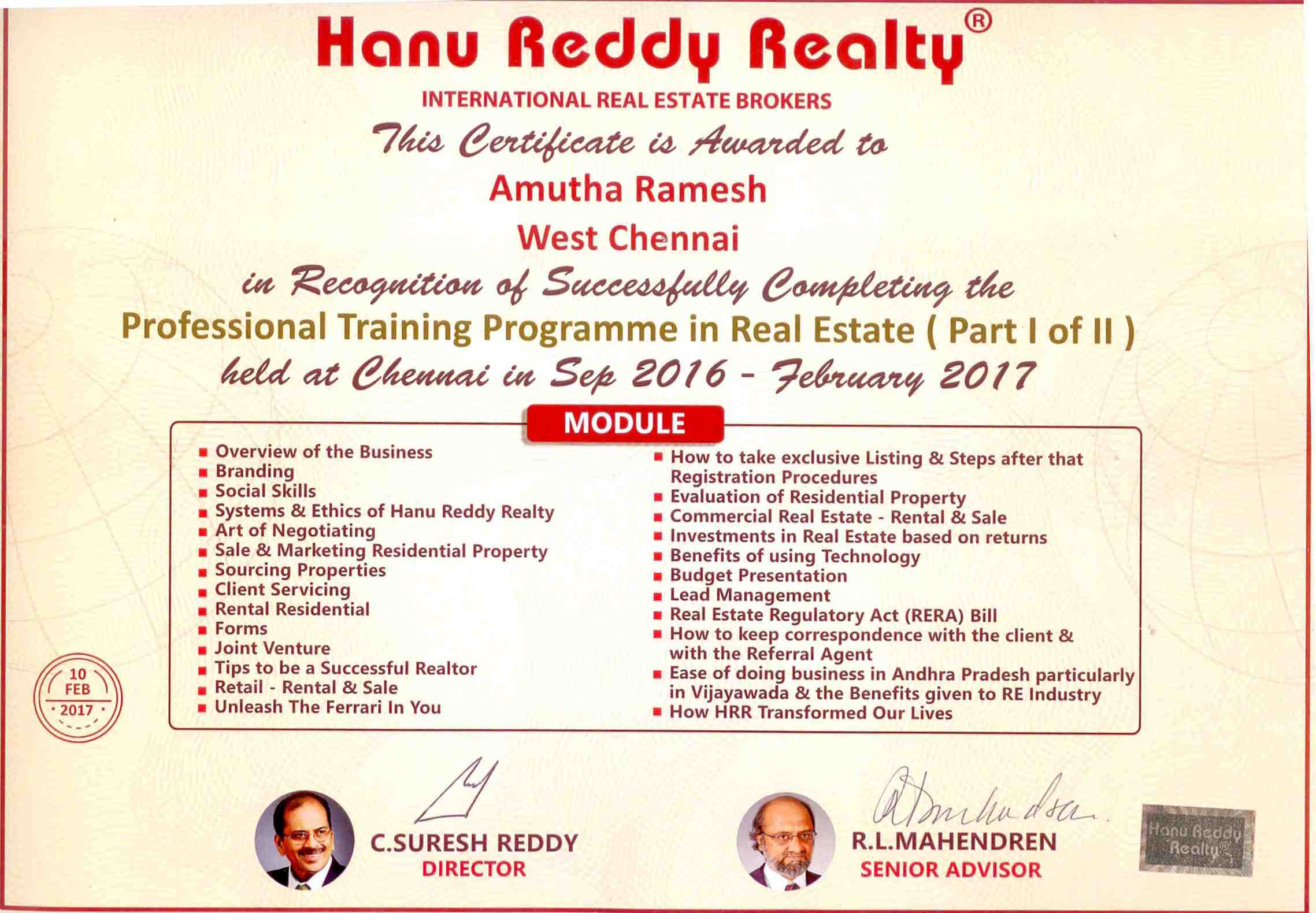 3054
Appreciation Letter
23-Dec-2016
From: RameshLax
To: chirlasureshreddy@gmail.com, vijayduvvuru@gmail.com
Cc: Amutha Ramesh <amutha.hrr@gmail.com>, Ganesh Iyer , Sumathi Ramesh

Hi Suresh, Vijay

I lost my mother in law few years back and Nirmala and Sumathi their mother so suddenly. As we were grieving and recovering we get a chance to meet Amutha. God said ok your loss is very big but I will put you in a ouch with someone who will help you with everything to do with your house atleast that part you don't have to worry.

She did not do the work for getting the 2% fee but did the work of renting, getting property papers, repairing etc etc what do I say but she has been like our family. It's almost like we are a bit sad that we have to sell the house so we don't get a chance to be in touch with Amutha!!

I work in the servicing industry we crave for having folks like Amutha. The beauty of the whole thing is she brings so much of trust in the whole process does her job like it's her own property. How many of us can do that? She is a special talent and any property dealings in the future I will only go through her. Like I told her the other day YOU Have A CUSTOMER FOR LIFE!!!

Amutha thank you for all you have done. You not only make HRR proud you bring credibility to the entire Realtor community by your outstanding service and passion.

Merry Christmas and a very happy new year to you all we will stay in touch.

Sincerely

Ramesh
3038
All India Top Earnings - Nov 2016
07-Dec-2016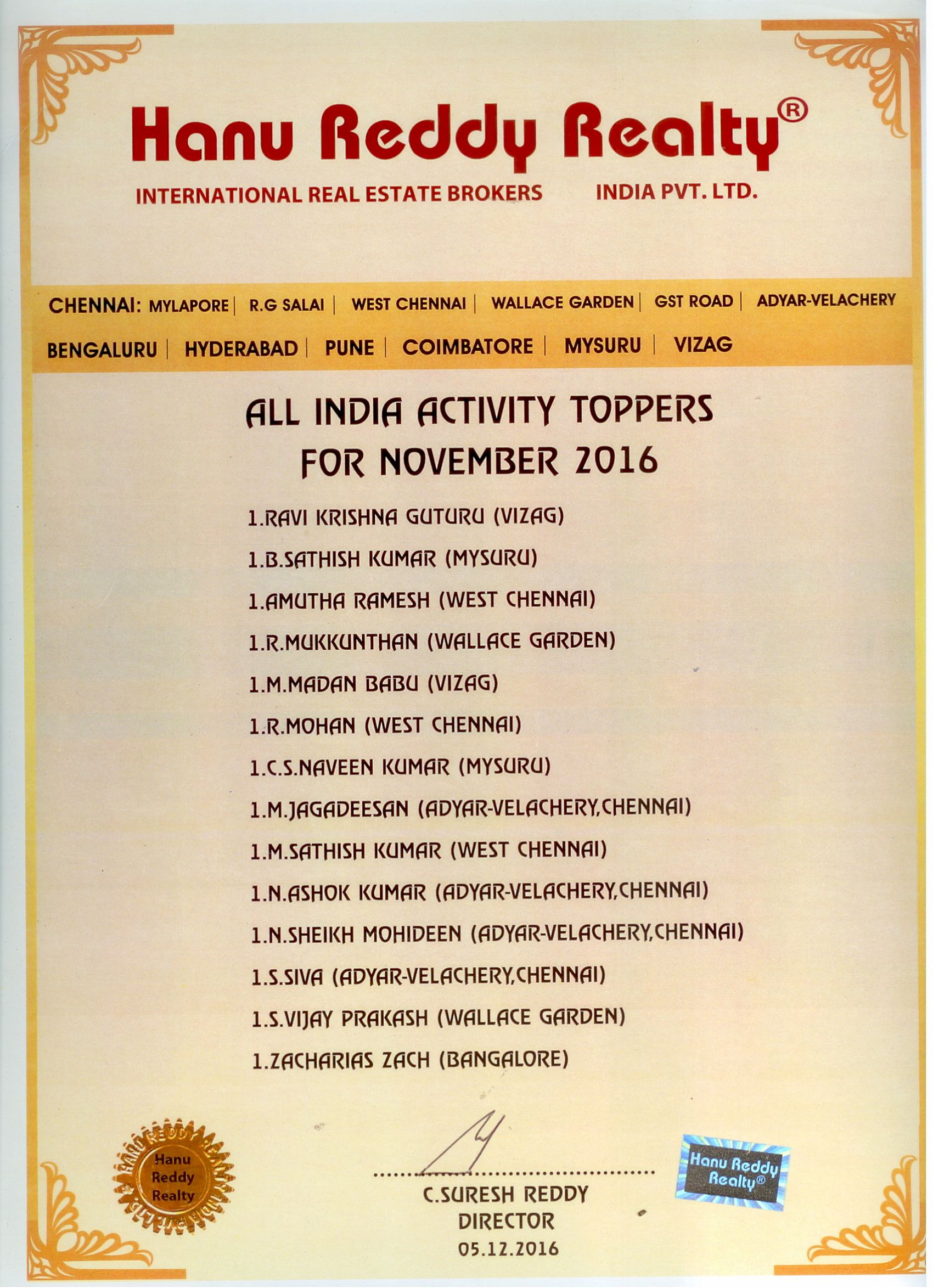 3012
Appreciation Letter
08-Nov-2016
Dear Mr.Suresh Reddy,

It is with great pleasure that we record our experience with M/s.Hanu Reddy Realtors and our realtor Ms.Amutha Ramesh in the sale of the property of my mother, Mrs.Y.Lakshmi, in Nesapakkam.


Ever since we entered into an agreement with your company, Ms.Amutha Ramesh took complete charge of the task, thereby taking off a major stress off our shoulders. As both my siblings are residing abroad & me being tied up with my children's higher education, we couldn't pay time and efforts personally on this project. But she was there on our behalf to assist my mother at every step.

Her calm approach & ever smiling face made us believe the whole process was a cakewalk whereas in reality she efficaciously dealt with the challenges that came by from time to time with great aplomb.

We are very satisfied with all aspects of this transaction & it was a great pleasure to have Ms.Amutha Ramesh with us on this deal.


We shall highly recommend your company & Ms.Amutha in particular to our family & friends for any of their real estate needs.

Looking forward to more business opportunities with you.


Thanks & regards,


Krishnaveni Naresh
Chennai
3013
Appreciation Letter
08-Nov-2016
Hello Sir!
We have had an excellent service provided by your team & thank you so much for the same.
Amutha helped us with selling our property. The whole process was very smooth. Being away from India, I did not have to worry about anything. She explained the process well & sent us documents to be filled in with instructions. She was so prompt in responding to our questions.My mother (Mrs. Lakshmi Nagasayi) did not have prior experience of dealing with selling property etc. but Amutha made it very easy for her. My mother has shared with me many times that Amutha was available, put my mother in ease, helped her with all questions & made it easy for her.
We will surely work with you in future as necessary without any second thoughts. Your service made this smooth for us & with God's blessings, everything went well.
Thanks again!
With Regards,
Sujatha Bharath
2972
Appreciation Letter
16-Sep-2016
My experience.
It was a pleasure working with Hanu reddy realty. Right from get go, I started seeing action. Amutha was very clear in her communication and kept me posted in every single step of the way. Overall, it was a good experience and will keep you in mind for any future property transactions.
Thanks Amutha for all your work and coordinating with my father in Tiruchy. I appreciate it. Keep up the good work.
Regards
Jayesh. C
2973
All India Top 5 Realtors August-2016
14-Sep-2016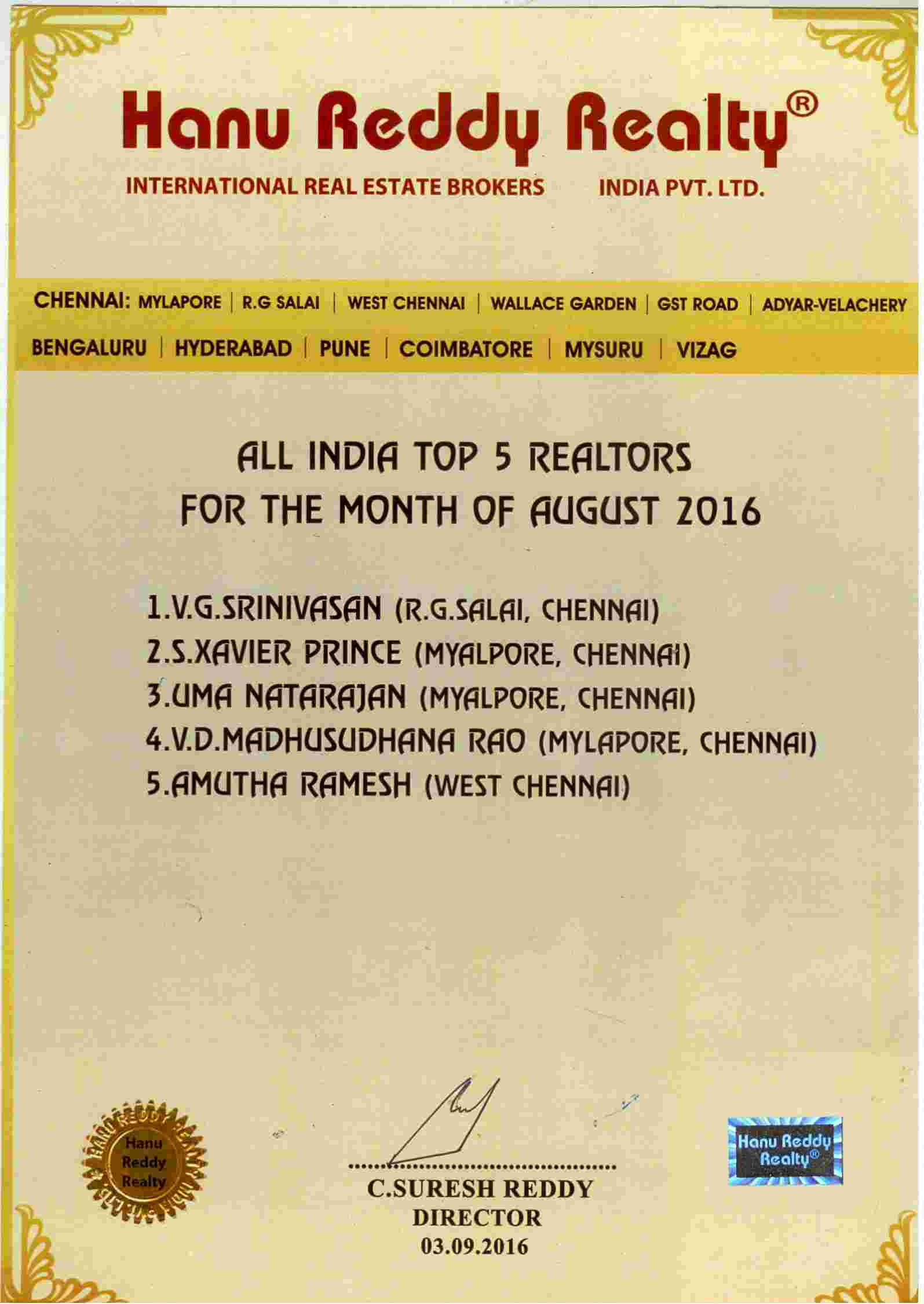 2974
Branch Top Realtor, August-2016
14-Sep-2016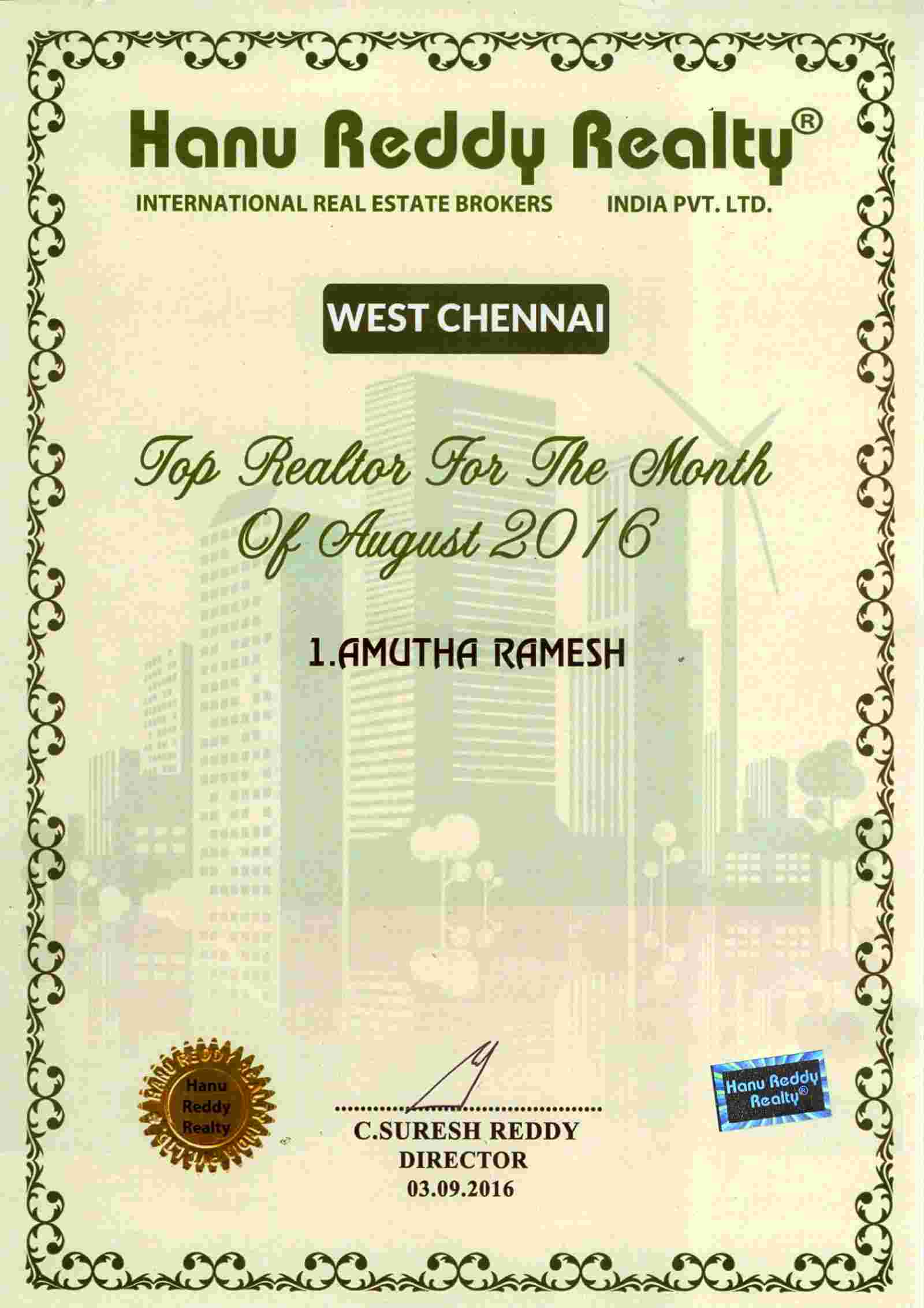 2968
Training Programme XXII Speaker Certificate
02-Sep-2016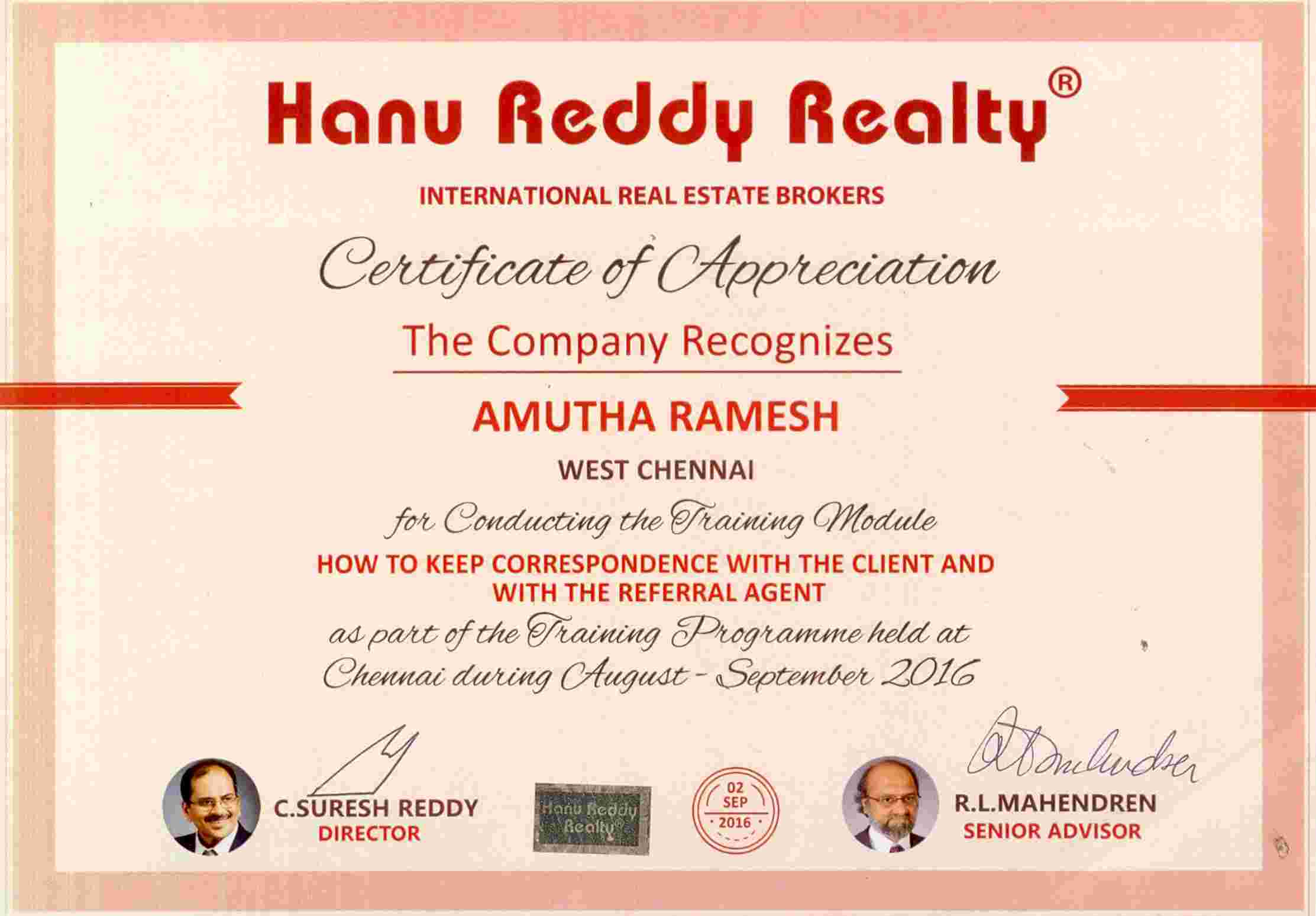 2969
Training Programme XXII Role Play Certificate
02-Sep-2016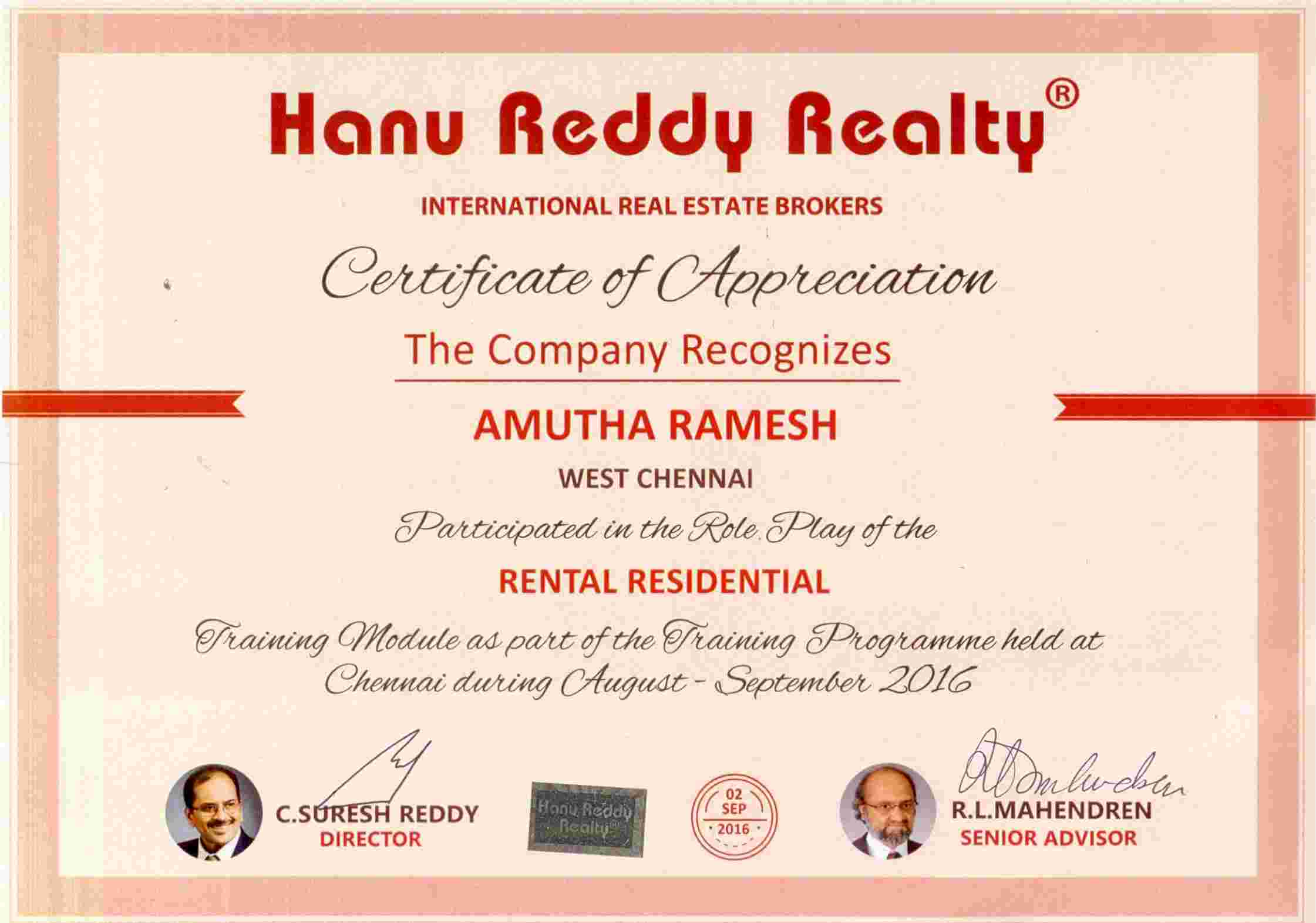 2997
Appreciation Letter
30-Jun-2016
Well and hope this would bring a pleasant surprise to you.

This is not just to thank your Company and Staff, I want to place on Record that Mr. Mallikarun Reddy, Mr. Sridhar and Amutha Ramesh are a good team of people to you and the Company and they are fine assets. They are possessing wonderful art of Treating People, behaving with a friendly touch with the Clients and keep upper most in their minds the customer benefits while selling or buying property and in turn bring profit to the Company. I have become the client of your Company in the year 2008 and right from that I approach Mr. Sridhar who co-ordinate with the other two people and finish my deal to me to the utmost satisfaction of mine.

With the few words, I thank you now and assure that I would be your client for many years to come.

With best wishes to you and to the entire staff.
2880
Transformational Leadership Programme Certificate
18-Jan-2016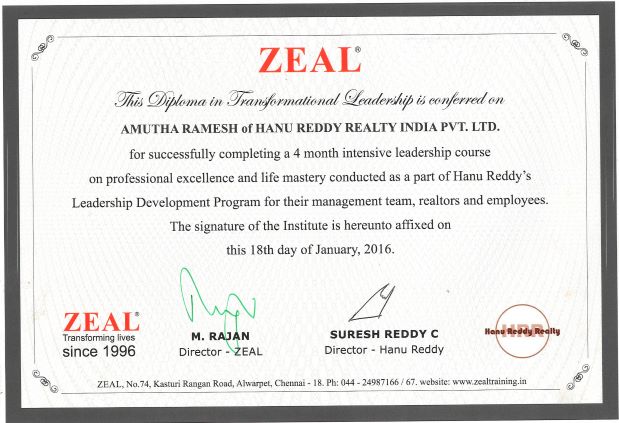 2755
Top Realtor for the month of April-2015
15-May-2015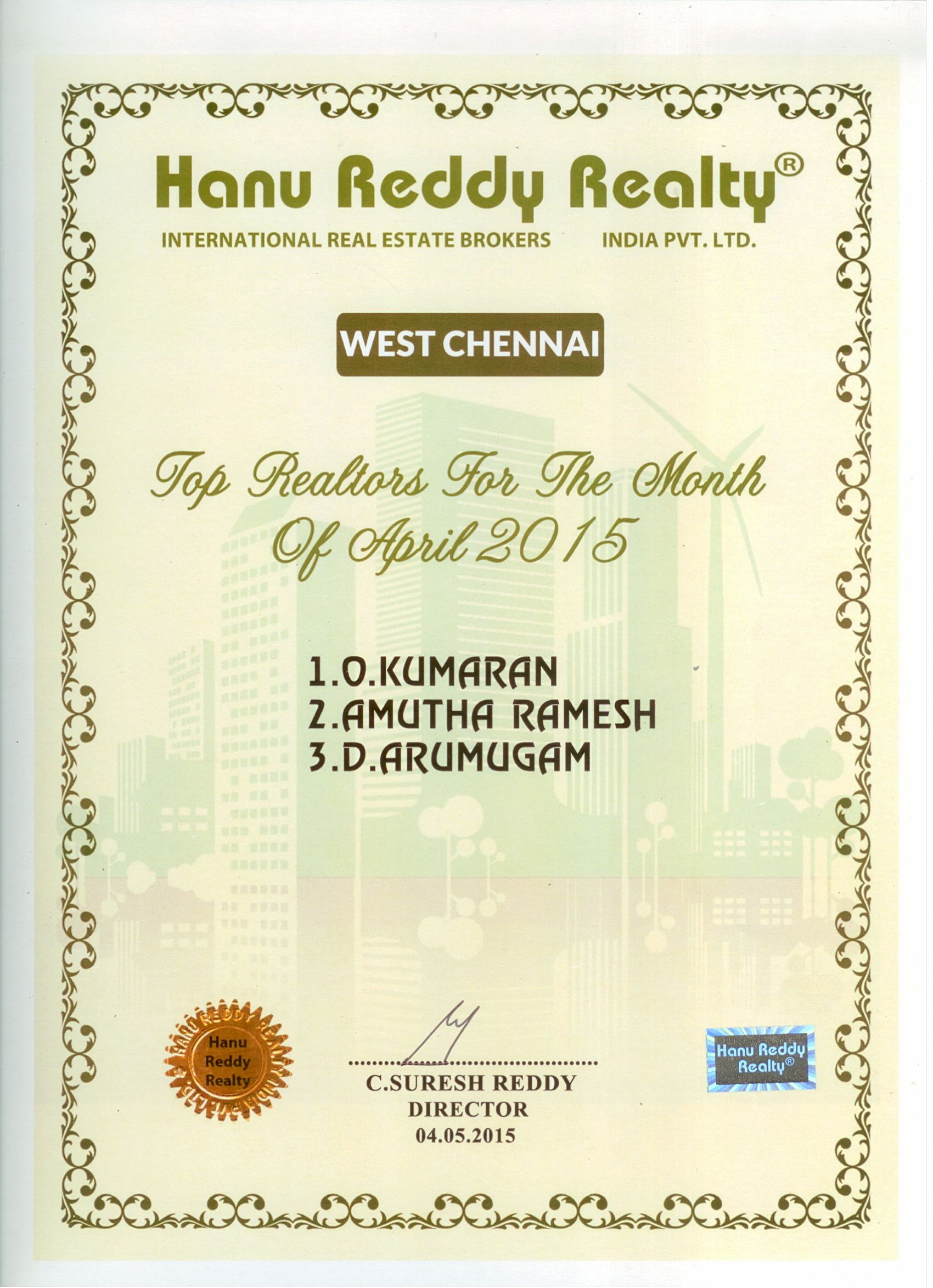 2647
WC Top Earning Certificate - Jan 2015
20-Feb-2015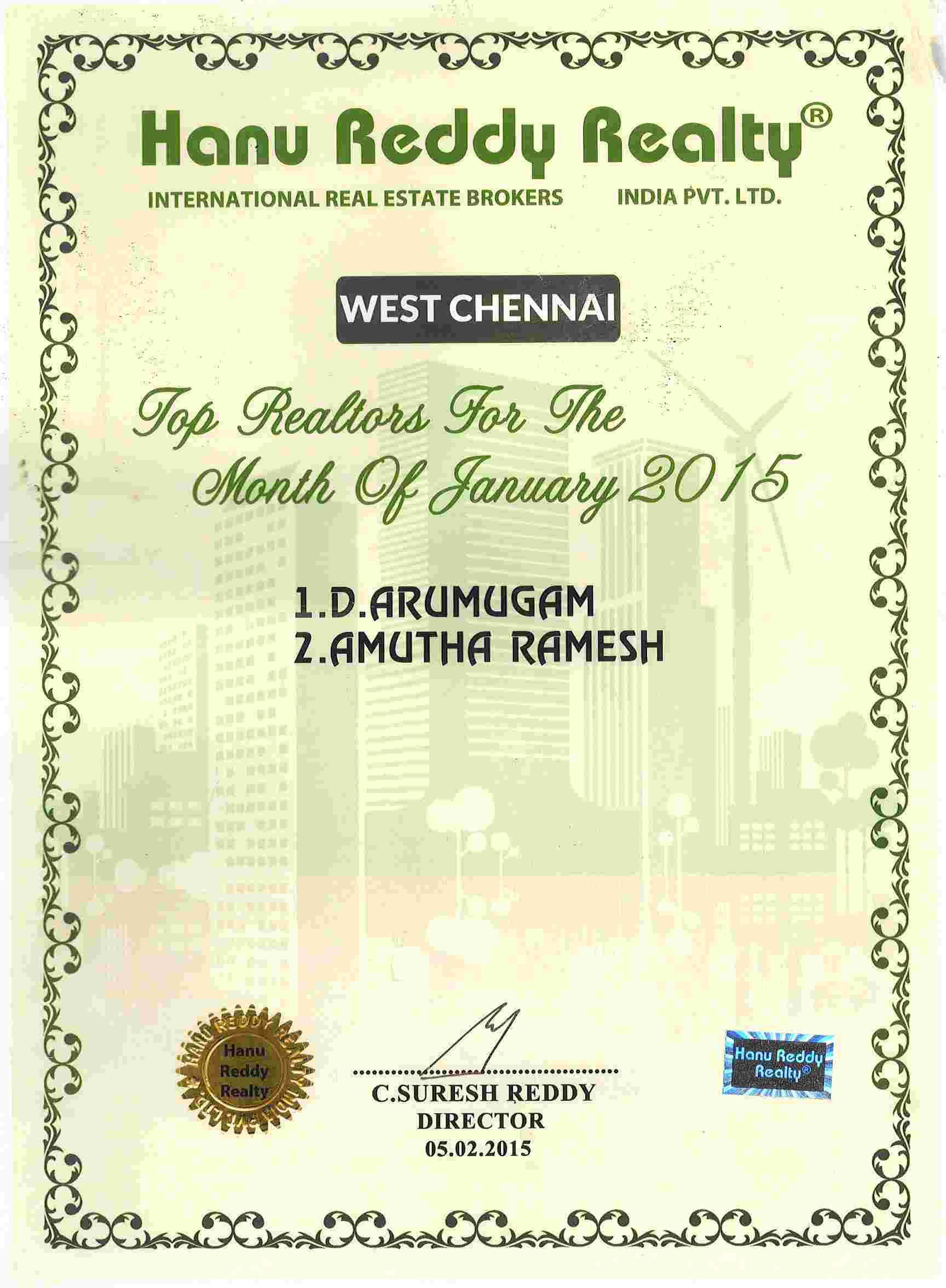 2603
Appreciation Letter
03-Dec-2014
Dear Mr.Sridhar and Ms. Amutha,
I was a bit worried about the sale of my house, I being a senior
citizen and my son being away in USA. My nephew suggested we
approach you and accordingly my son contacted Mr.Sridhar. My son and my nephew discussed
about the sale of the house with Mr.Sridhar in detail and were
quite convinced with the outcome. Before I signed the Residential Listing Agreement with you, few persons approached me about the sale
of the house (somehow things leak out) and I started worrying about
as to how to handle these people.
After signing the agreement, I felt much relieved and felt same till
the registration was over this afternoon.
Sridhar and Amudha have been so helpful in all the handling documents
and very courteous, and always offering their help to me, updating
me by phone. I appreciate their dedication very much.
I am very very pleased with their attitude and readiness for everything. May God Bless Them.
Shakuntala Raghunathan
2506
Google review
08-Jul-2014
I stay in Bangalore & utilised the services of Hanu Reddy Realty, Mylapore, Chennai to sell my 2BHK house in West Mambalam, Chennai. I was helped in the process by Ms. Amutha Ramesh & Sridhar from Hanu Realty. I truly appreciate the systematic, proactive & transparent handling of the entire process by Amutha. I thank her for the efforts put by her to get a good client for my house. Would recommend them to anybody who needs a clean & transparent real estate transaction.
2533
Training Programme-XVI Speaker Certificate
04-Jul-2014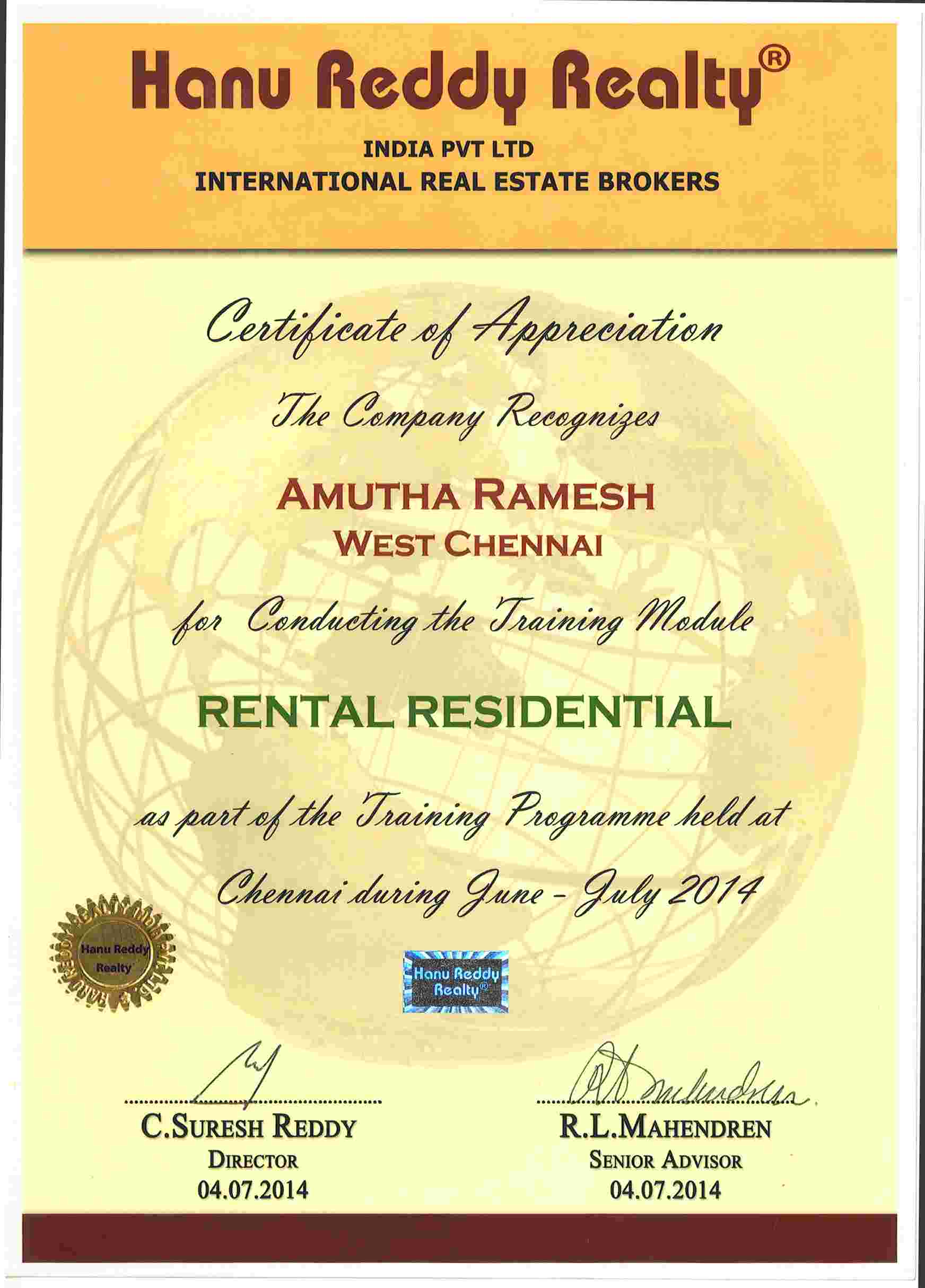 2273
Appreciation Letter
06-Apr-2014
Dear Amudha,
I wish to express my thanks for closing the service; once again an excellent service and guidance from Hanu Reddy. I am delighted to be associated with Hanu Reddy.
Warm regards
Narayanan
2446
Google Review
16-Dec-2013
I thank Ms.Amutha & Mr V Sridhar for their thorough professionalism and understanding in the sale of our home. I had been approached by many Realtor s prior to engaging Hanu reddy. I feel that the selection of the firm helped to sell the house for the best price. Both these consultants possessed all the attributes necessary to be an excellent broker: They knew the market extremely well; were diligent, responsive, and yet very patient (showed my house numerous times) . Their excellent service, frequent communication, professionalism and dependability, made the sale process so much easier for us. They were quick to return calls, answer questions and advise on matters concerning selling.They contacted me regularly, even when i hadn't called them, to keep me informed on both transactions. They made sure that paper work was in order , deadlines were met, and our closings went smoothly.They should certainly take pride in doing a good job. In summation, I'm extremely happy with the service these consultants provided and i look forward to possible future endeavors.
Arun , Chennai
802
Top-Realtor-Certificate
30-Sep-2013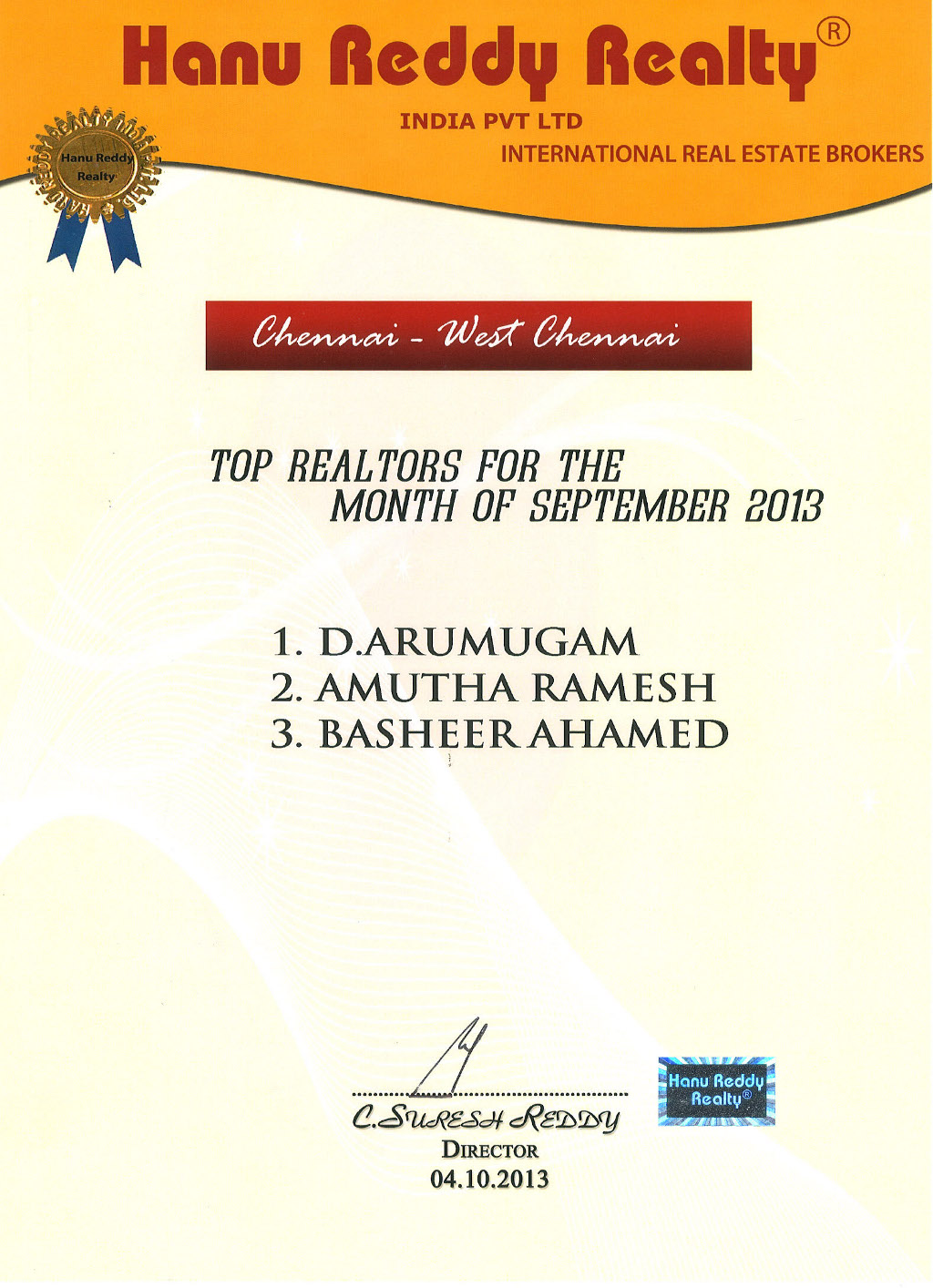 2016
31-Jan-2012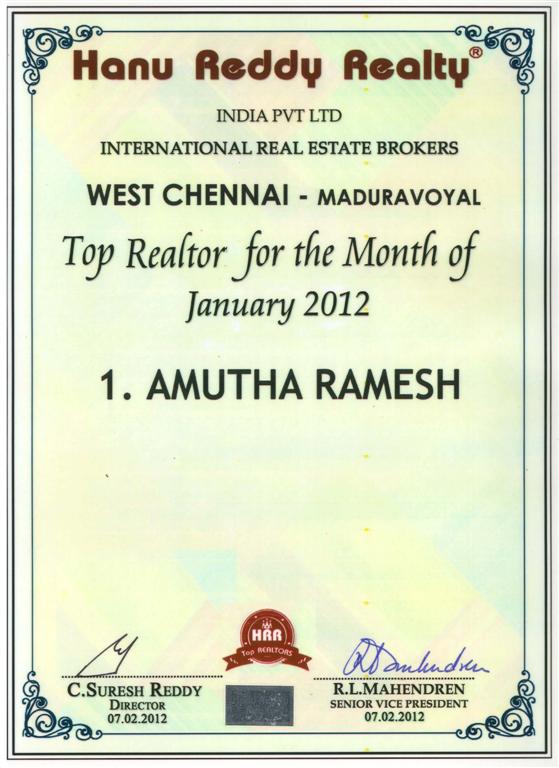 2013
30-Jun-2011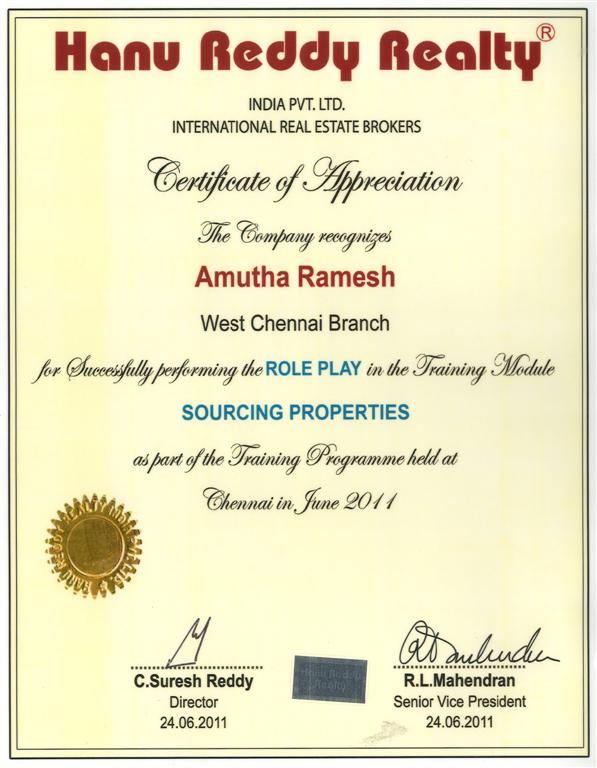 2014
30-Jun-2011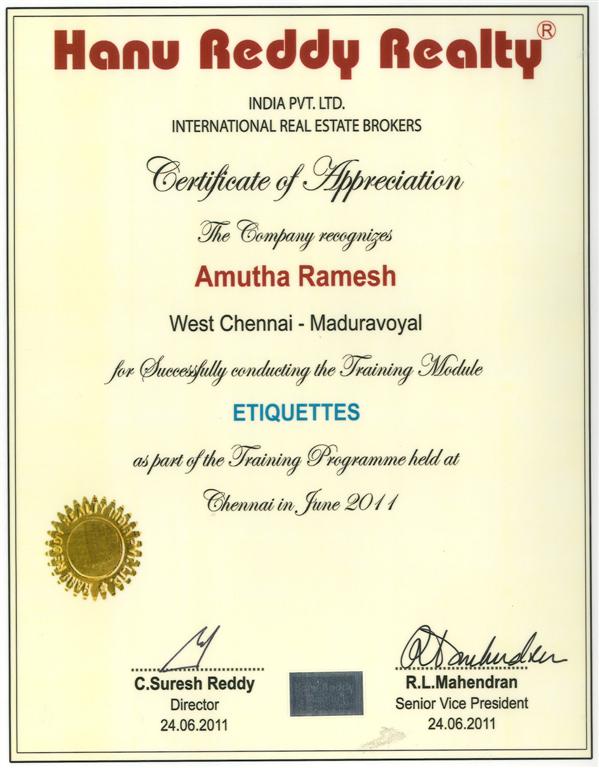 2015
30-Jun-2011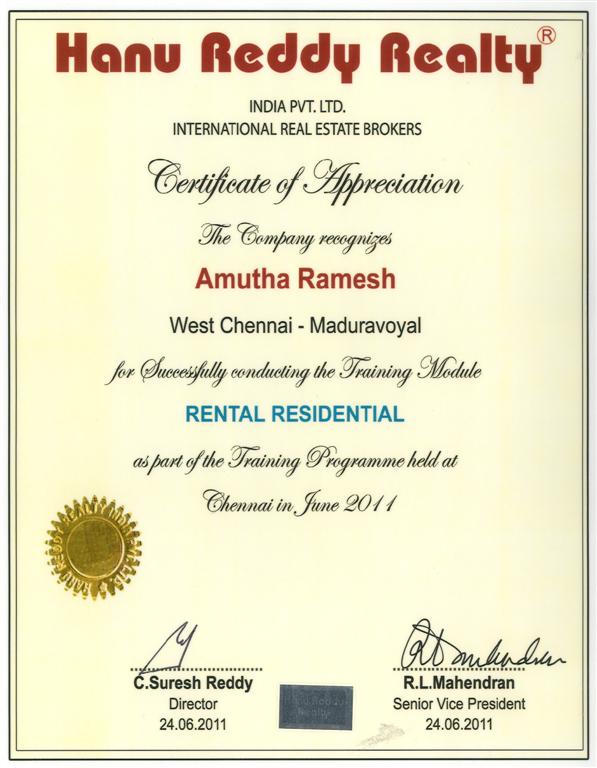 2012
17-Jun-2011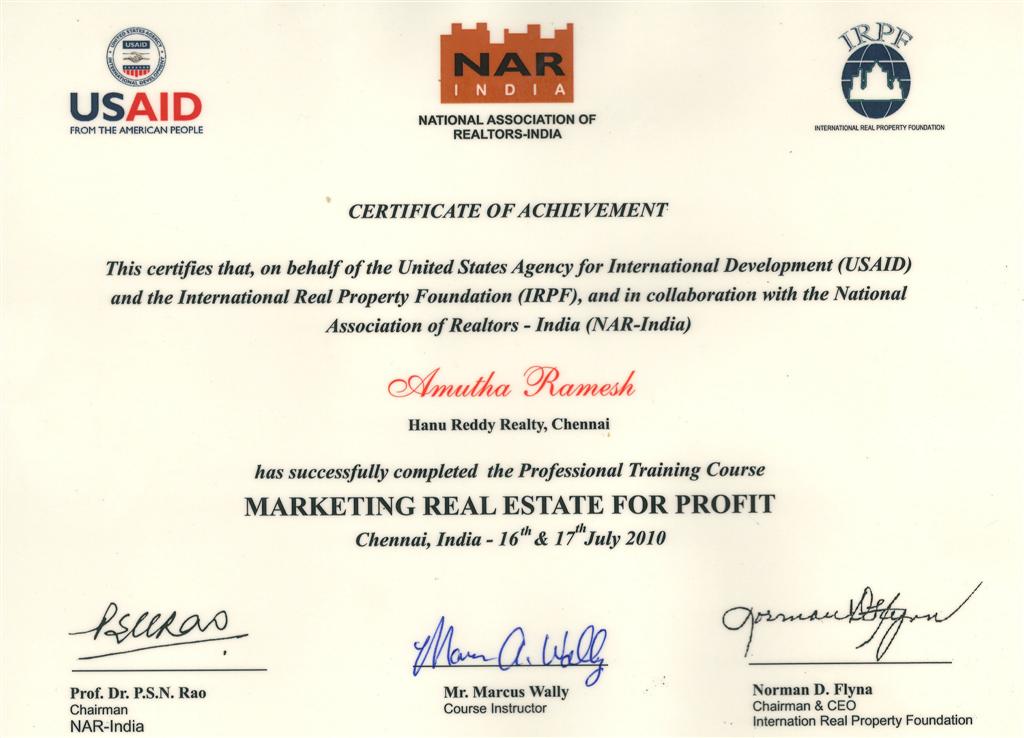 2010
04-Dec-2009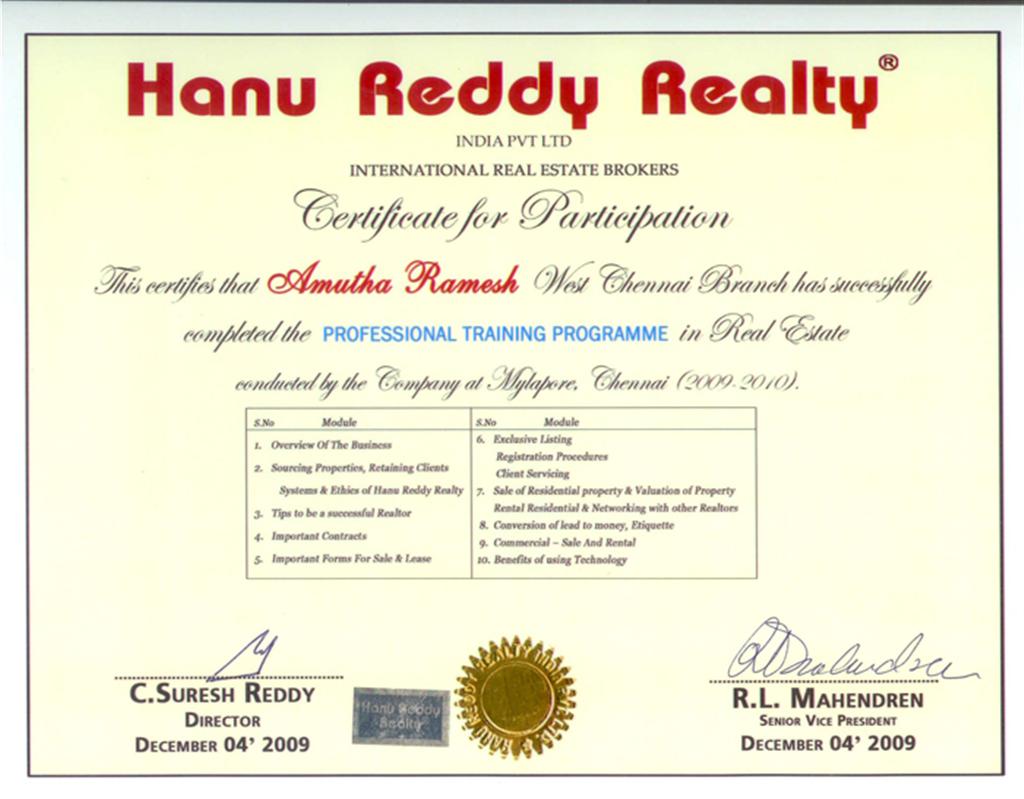 401
28-Feb-2009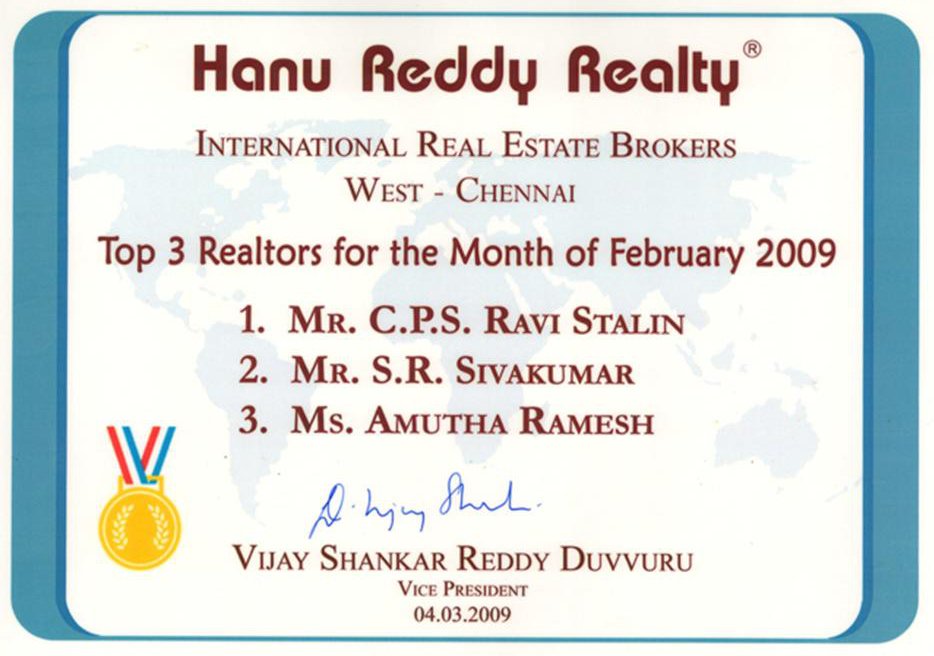 269
Hello Mr Suresh,

I was immensely happy with the way Amutha & Sridhar helped us during our home search through registration.

Their constant follow up , inputs, suggestions helped us complete the whole formality peacefully without being dragged for any thing with my limited time availability due to work pressure.

I would like to Thank your organization in specific for arranging such customer focused individual.

My best Wishes for your organization / Amutha / Sridhar & made me referenceble customer.


Regards,
Lakshminarasimhan R



348
Dear Sir,
This is to place on record the commendable service rendered by M/s Srinivasan and Dhanlakhmi in locating a good purchaser for our flat. We appreciate the prompt, polite and practical service rendered by them.Such employees are a great asset to M.s Hanu Reddy and we feel that they should be encouraged to continue their service by appropriate incentives and appreciation. WE are indeed grateful to them and shall approach m/s Hanu Reddy for our future needs as well. We will be more than happy to recommend their services to our friends
regards
Iyer