Testimonials
This is what our clients say about us...
View All Testimonials
5275
Certificate
15-May-2023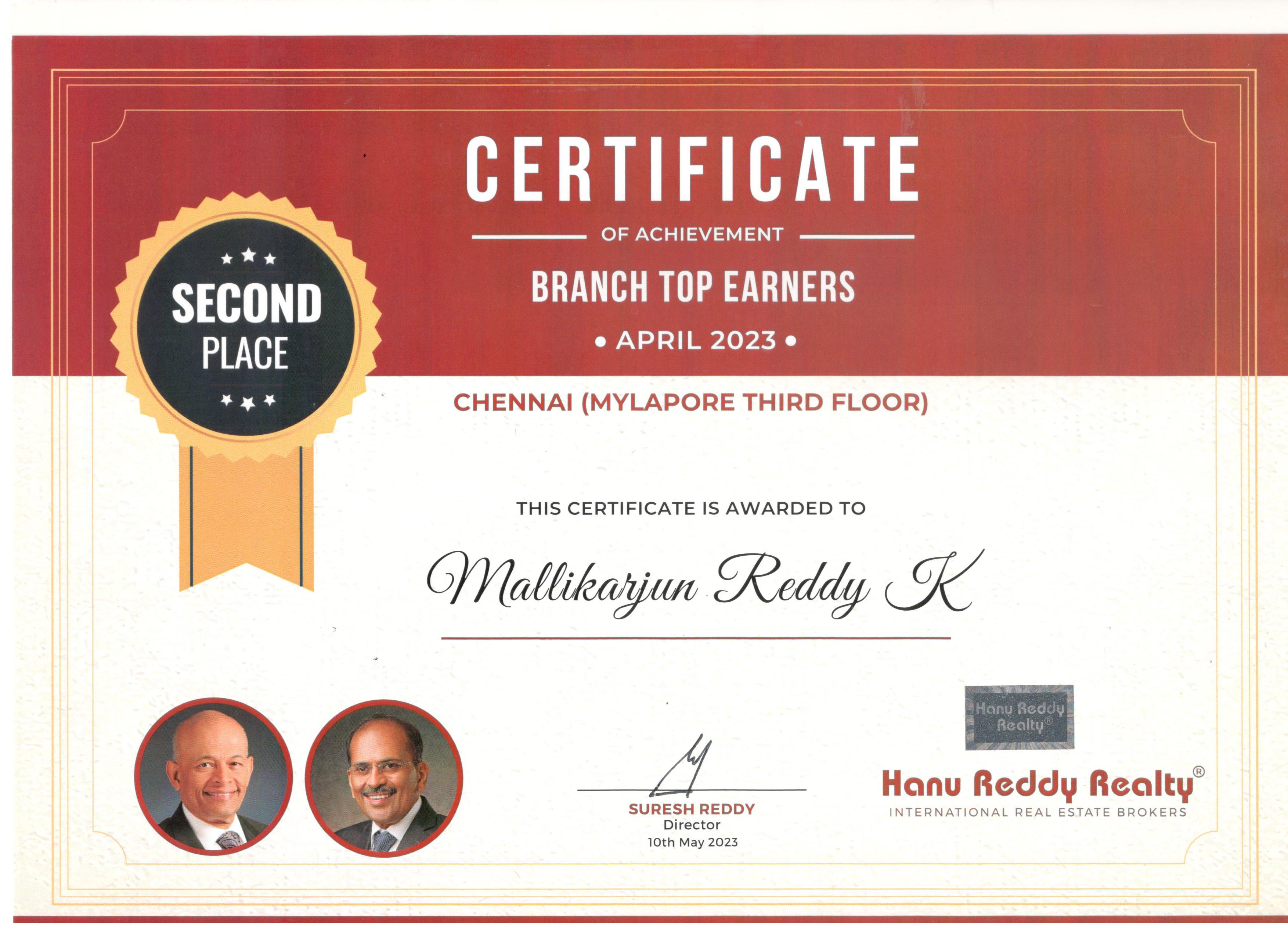 5234
Certificate
22-Apr-2023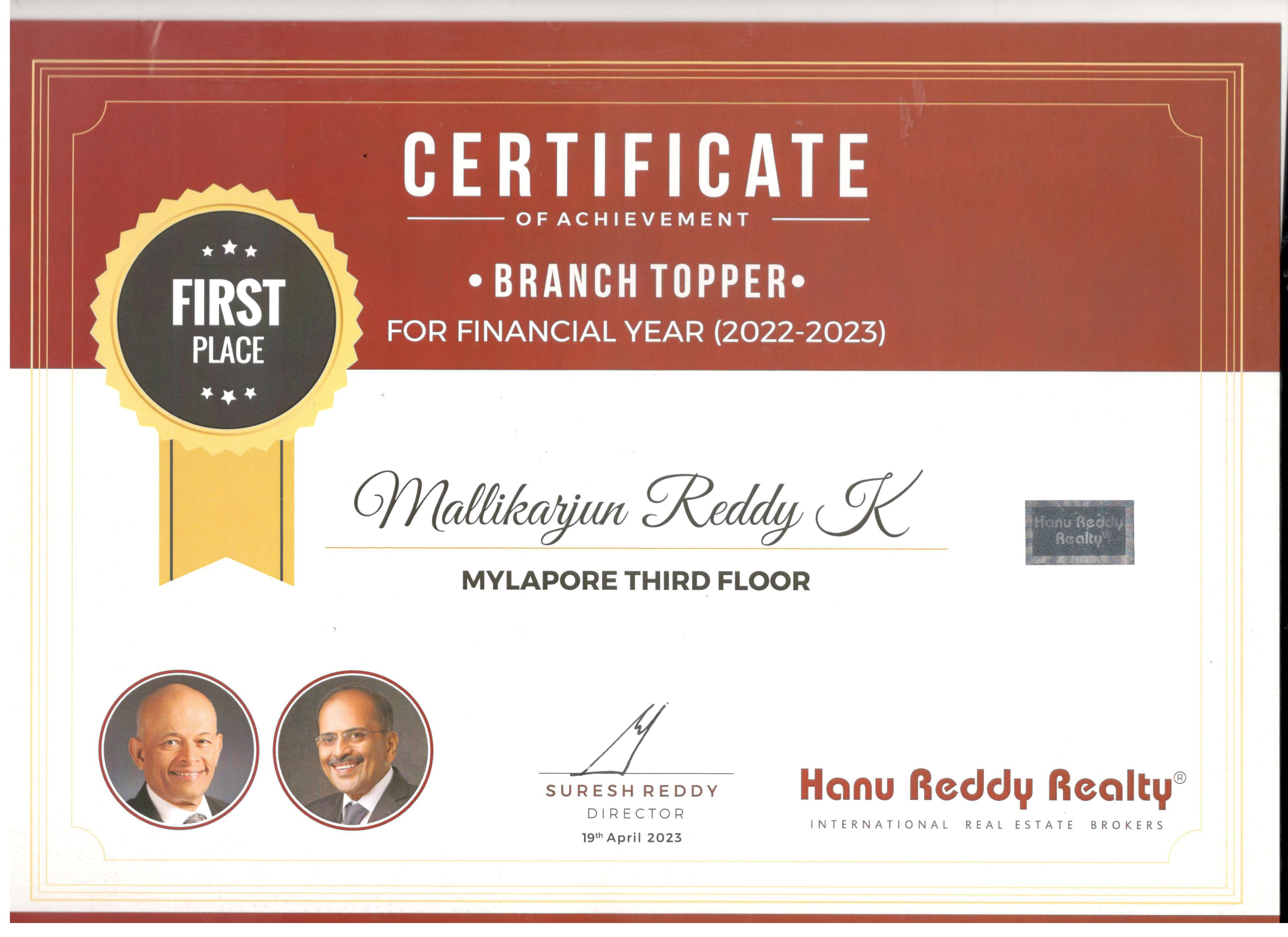 5235
Certificate
22-Apr-2023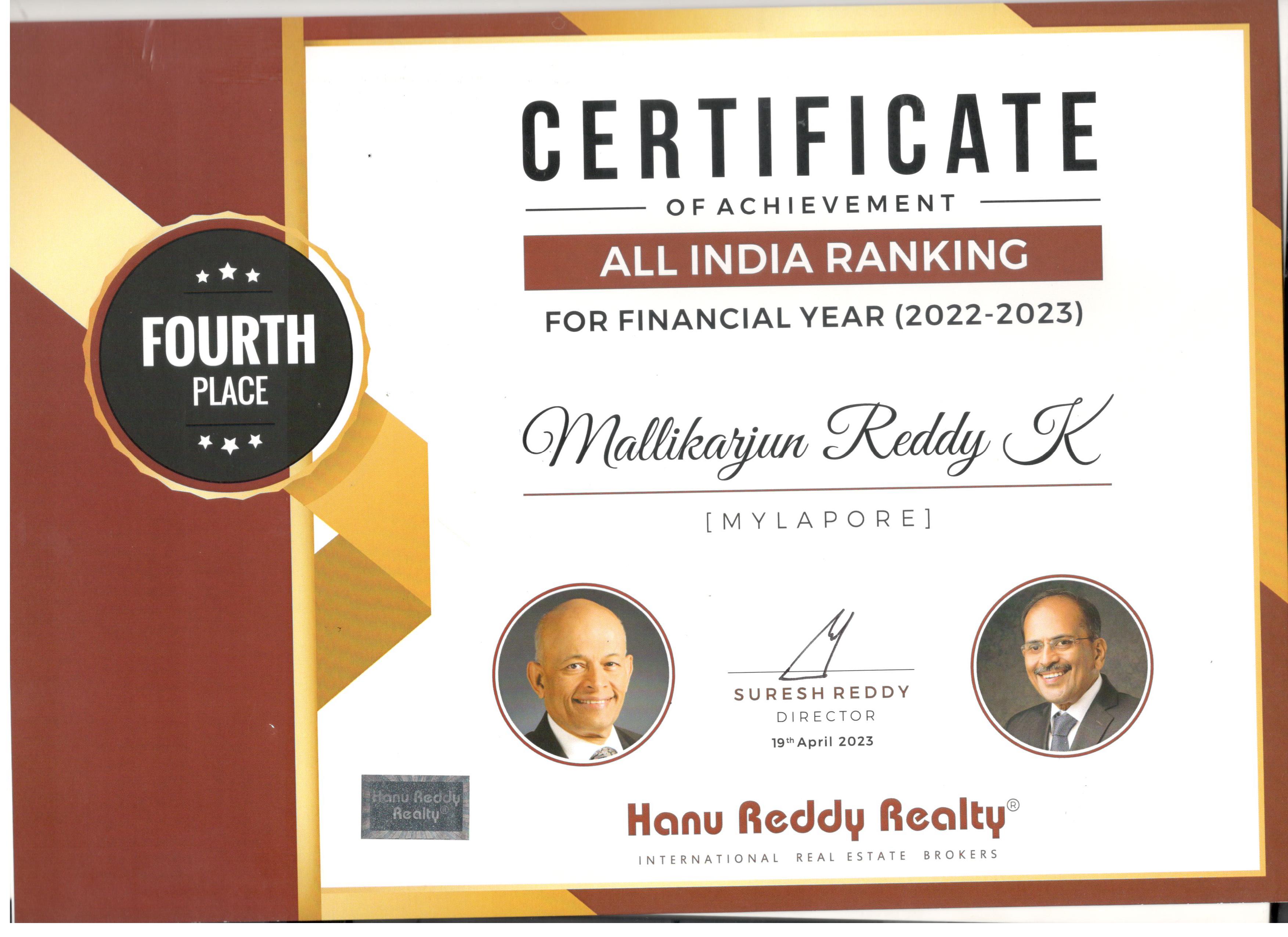 5236
Certificate
22-Apr-2023
5061
Certificate
12-Dec-2022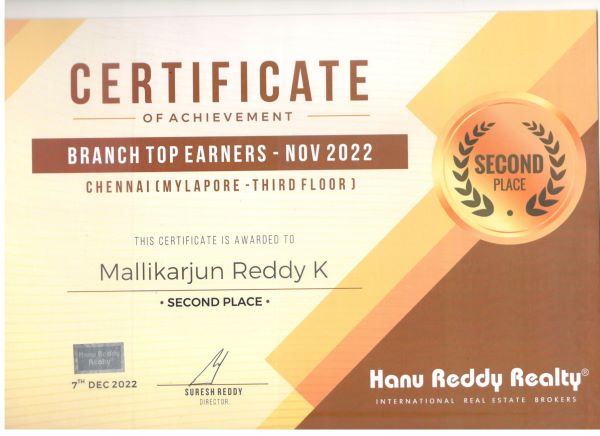 5064
Certificate
12-Dec-2022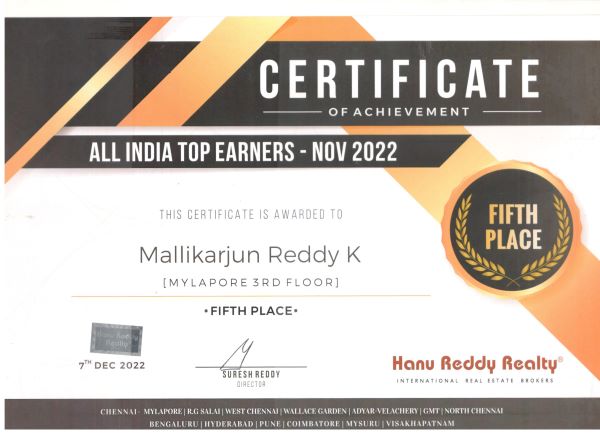 5017
Certificate
21-Nov-2022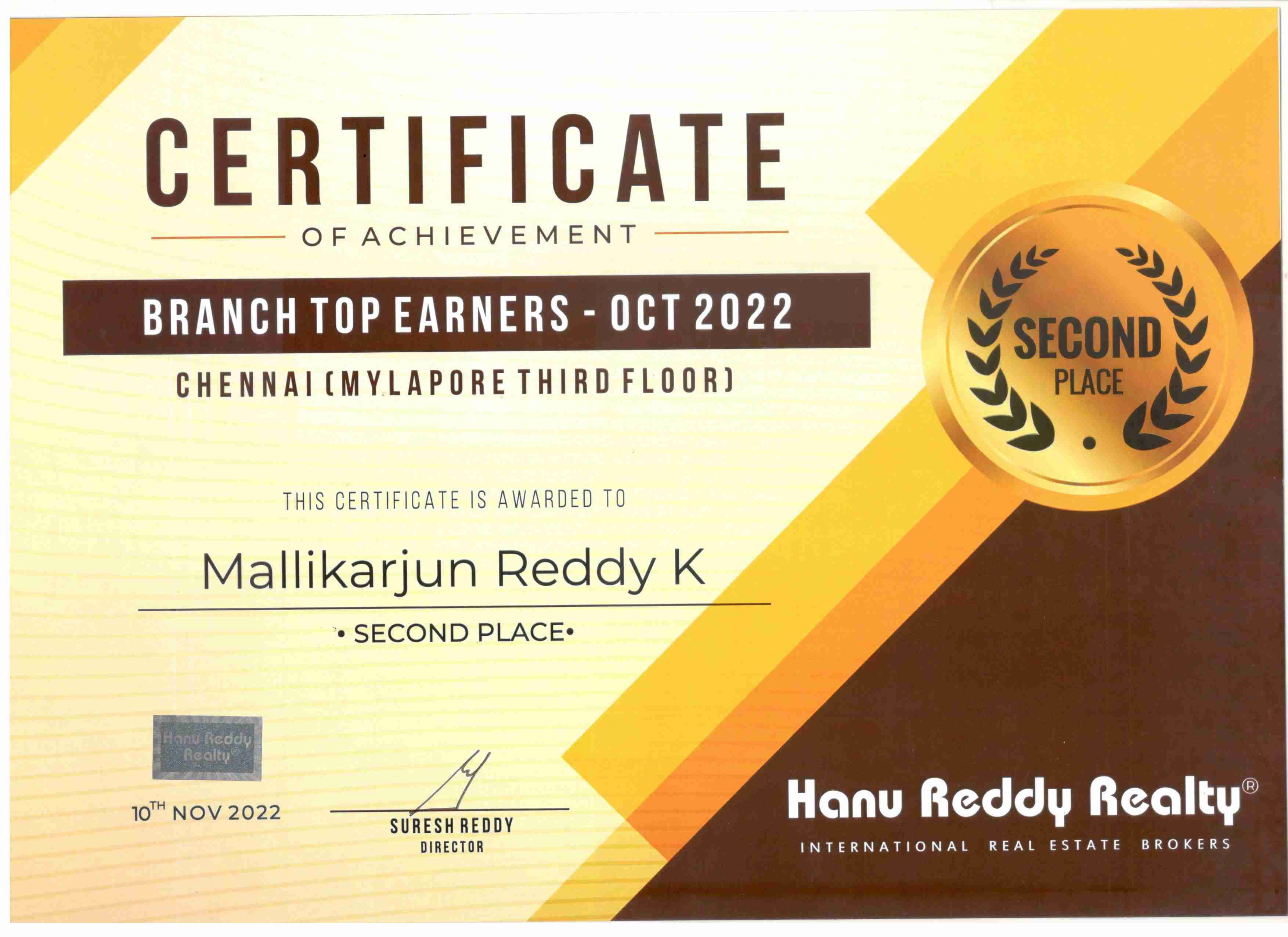 5020
Training Program Certificate
21-Nov-2022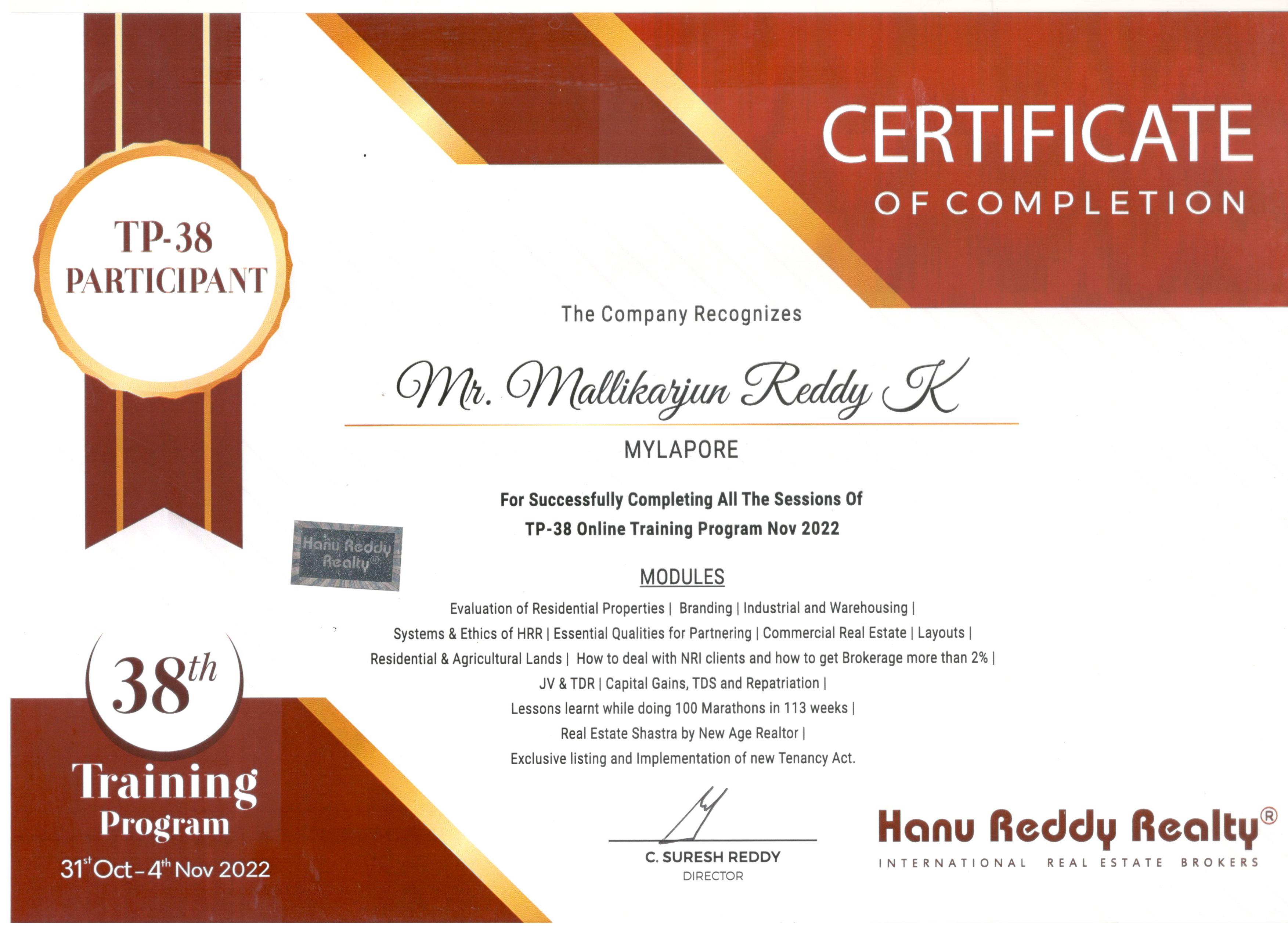 4974
Certificate
14-Oct-2022
4962
Certificate
07-Oct-2022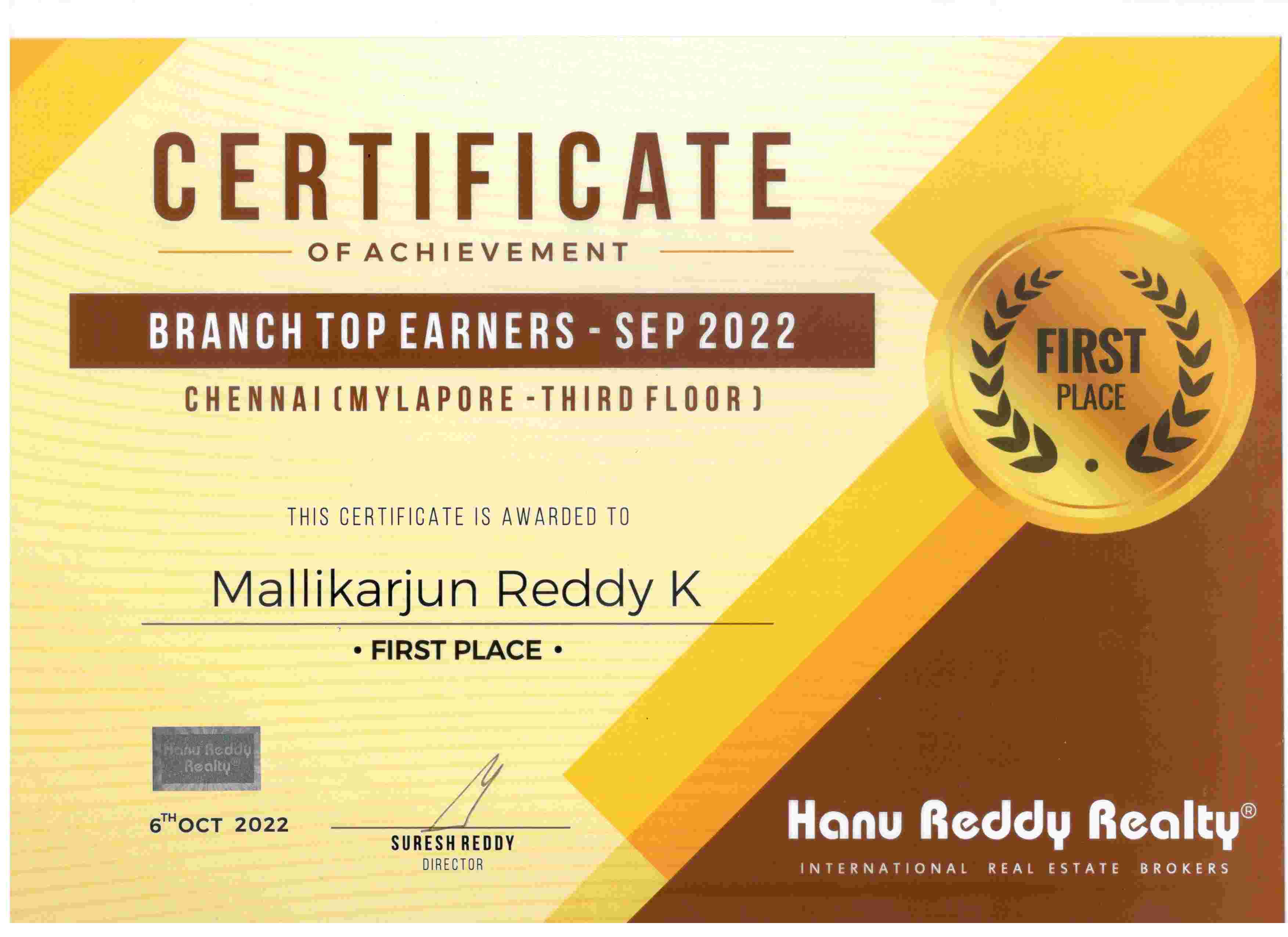 4964
Certificate
07-Oct-2022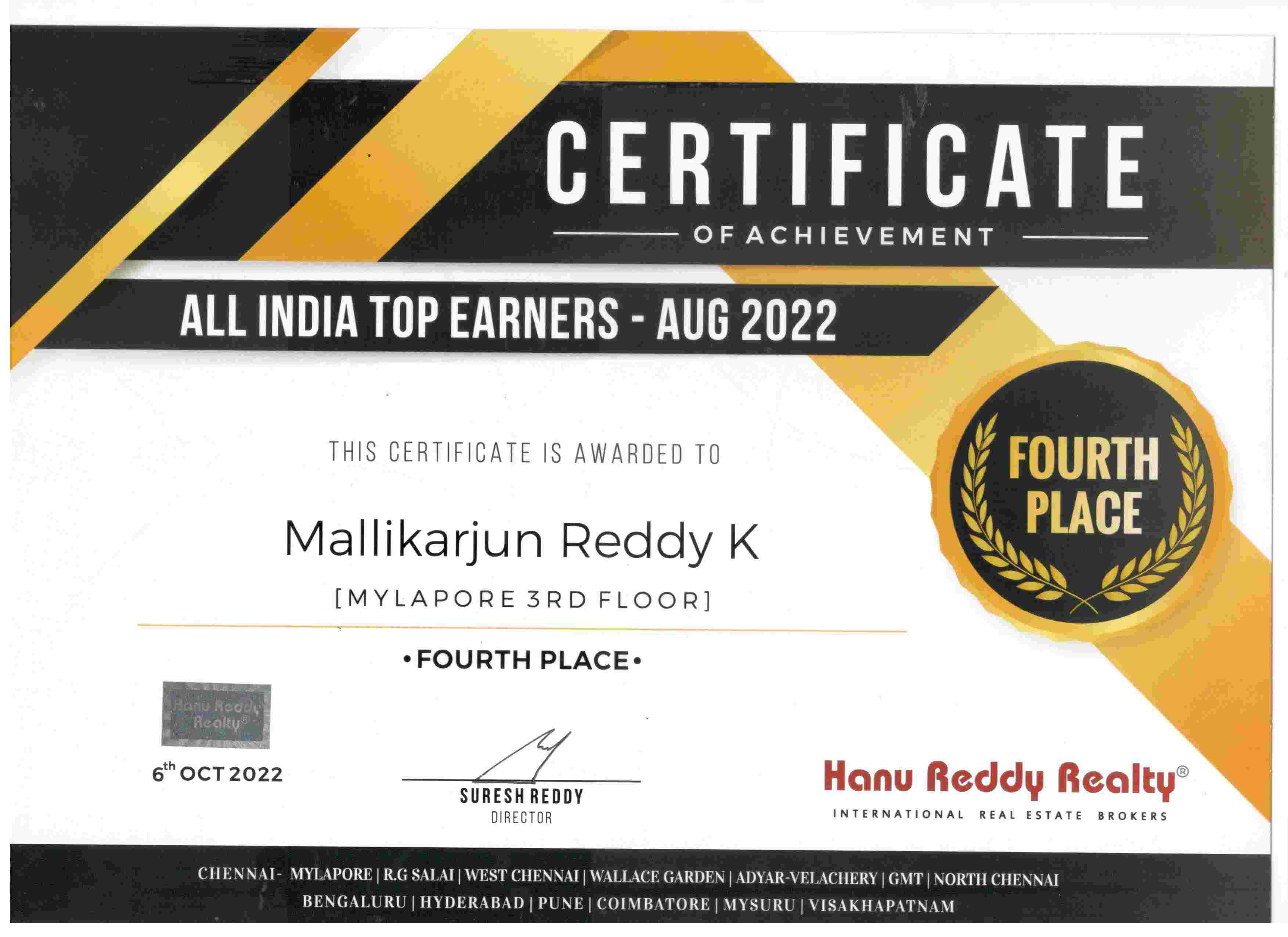 4948
Certificate
12-Sep-2022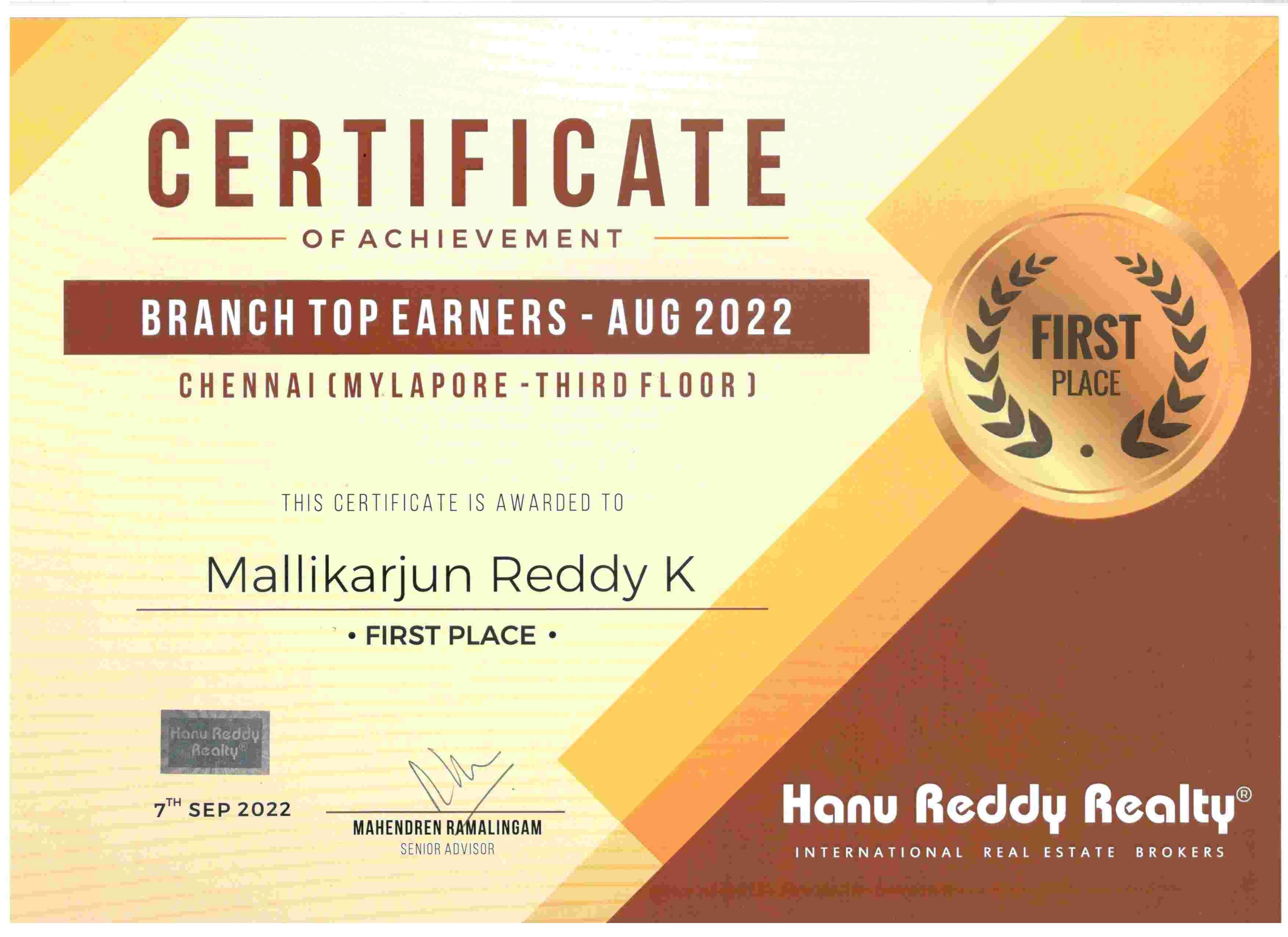 4949
Certificate
12-Sep-2022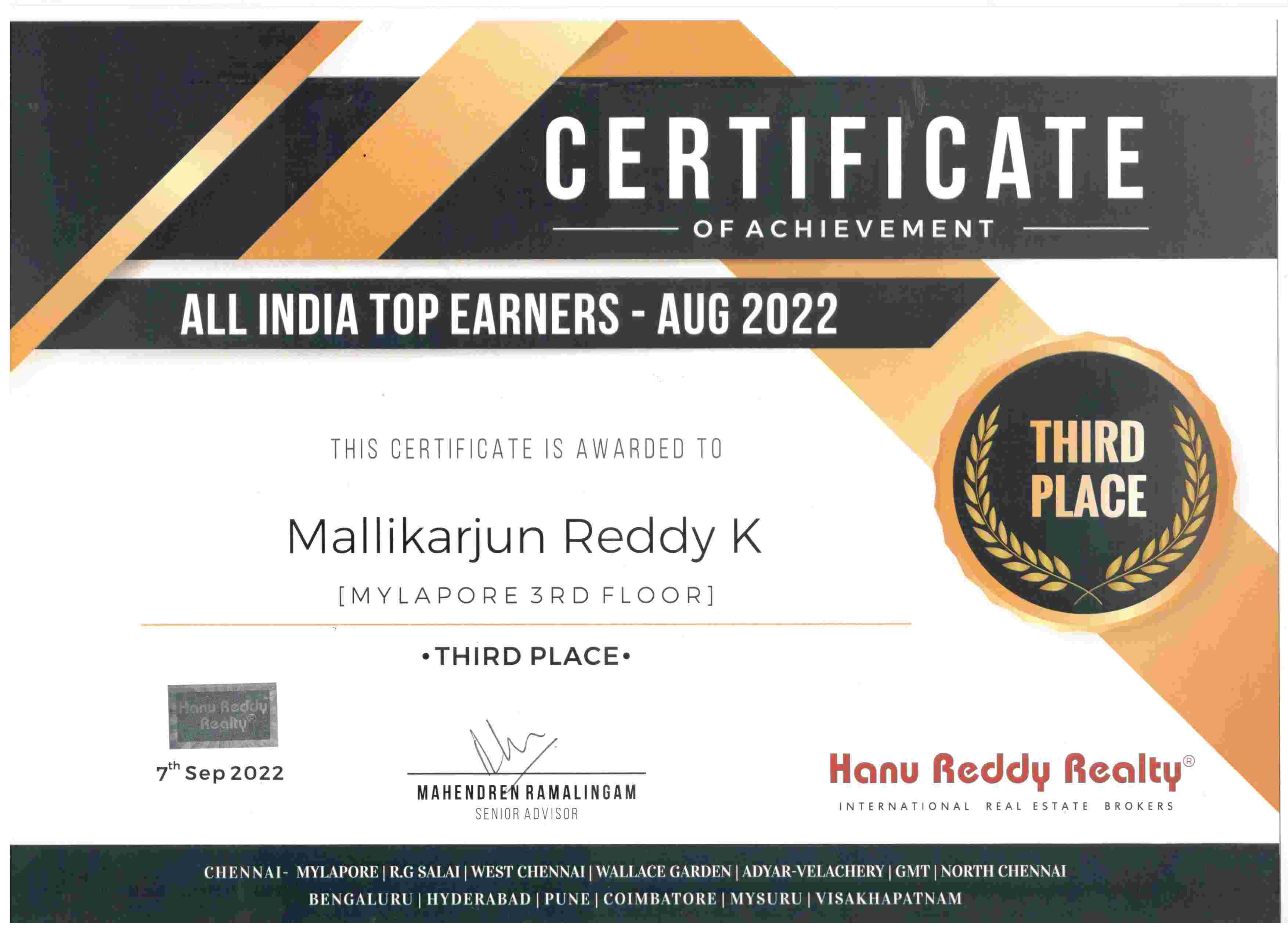 4923
Certificate
06-Aug-2022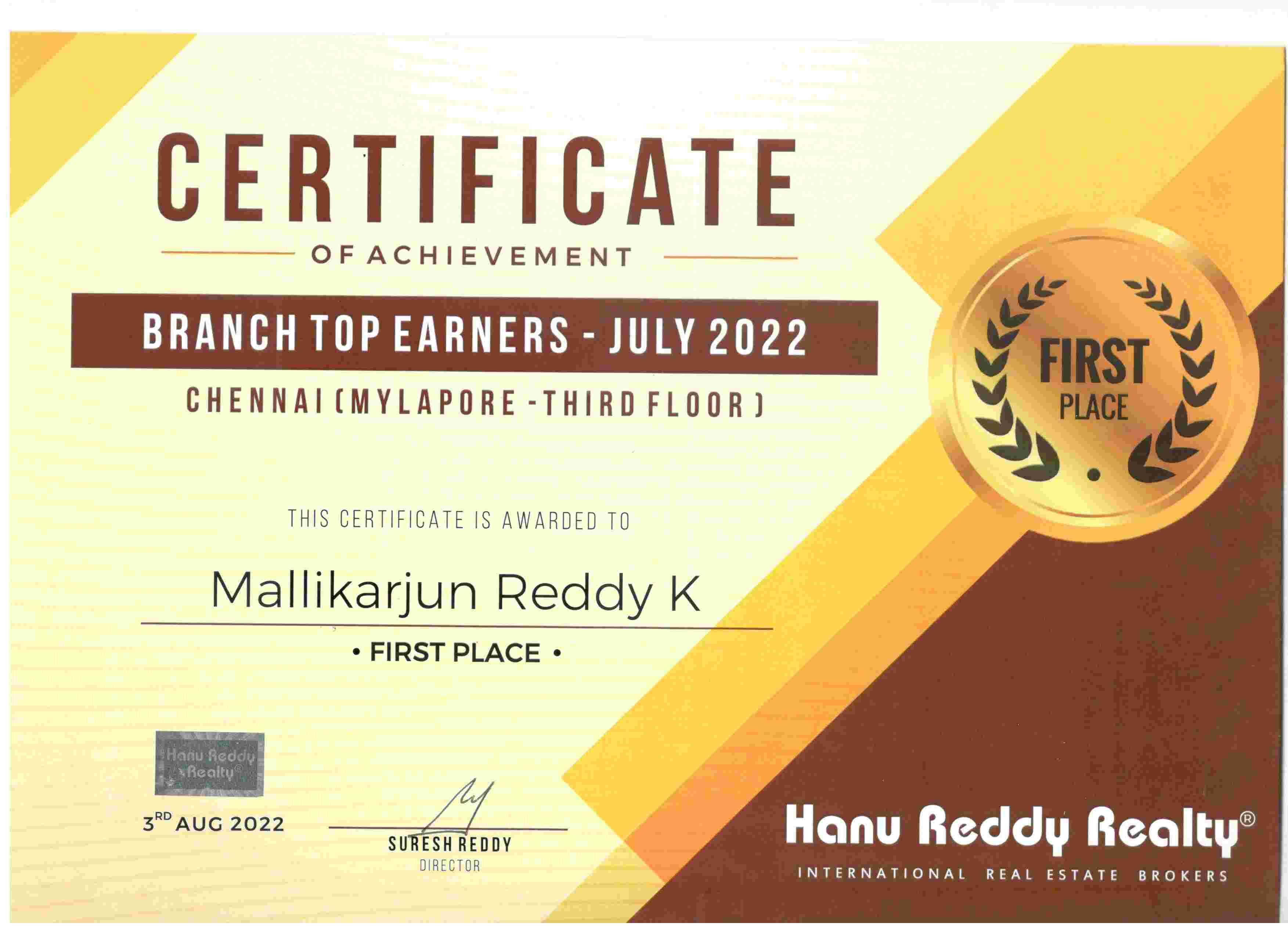 4924
Certificate
06-Aug-2022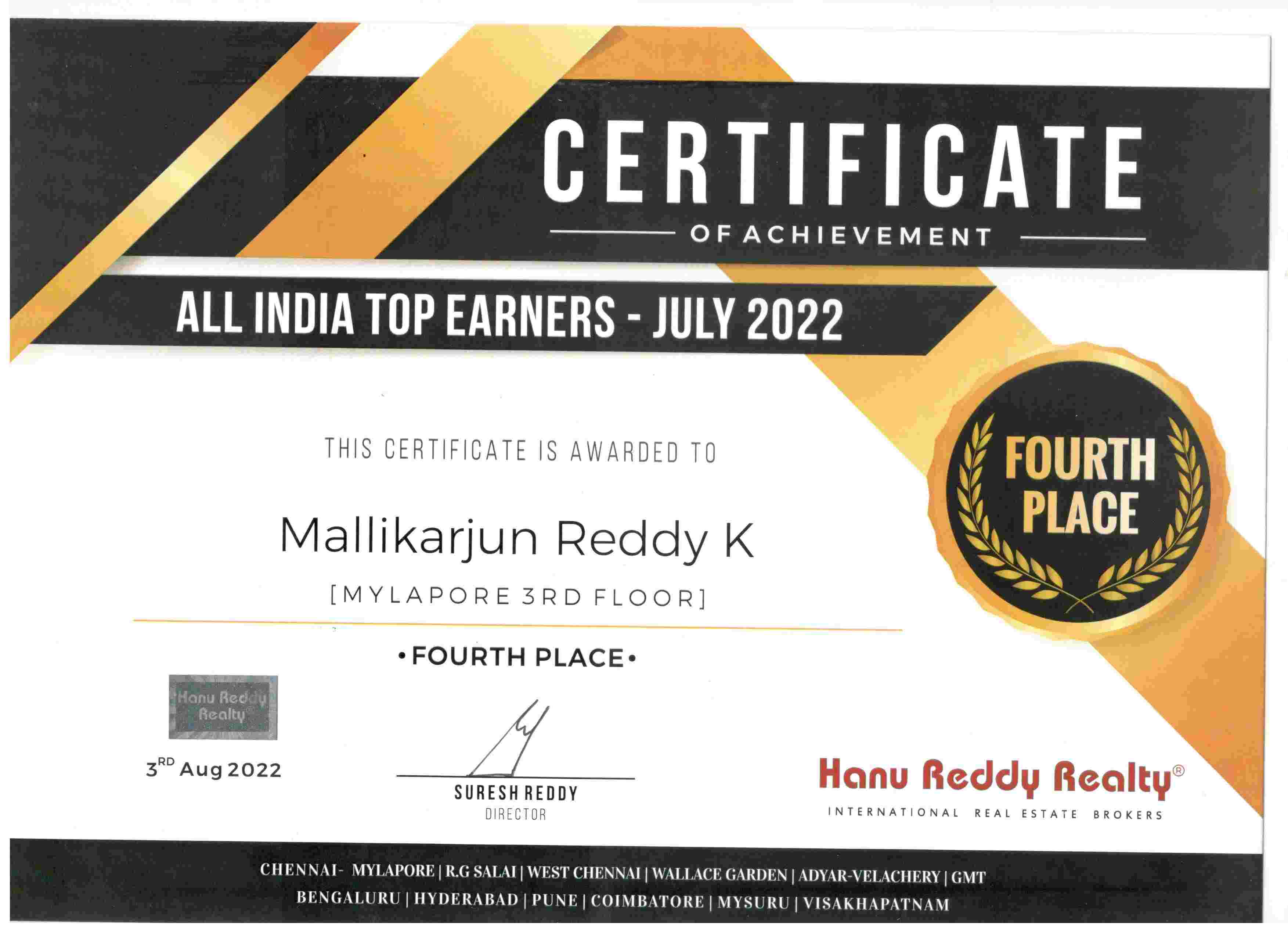 4900
Training Program Certificate
20-Jul-2022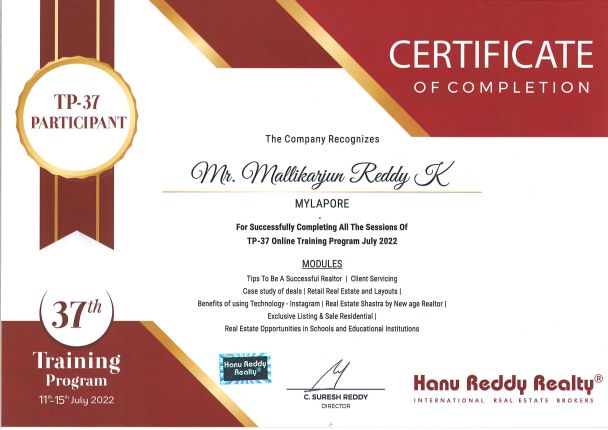 4899
Certificate
19-Jul-2022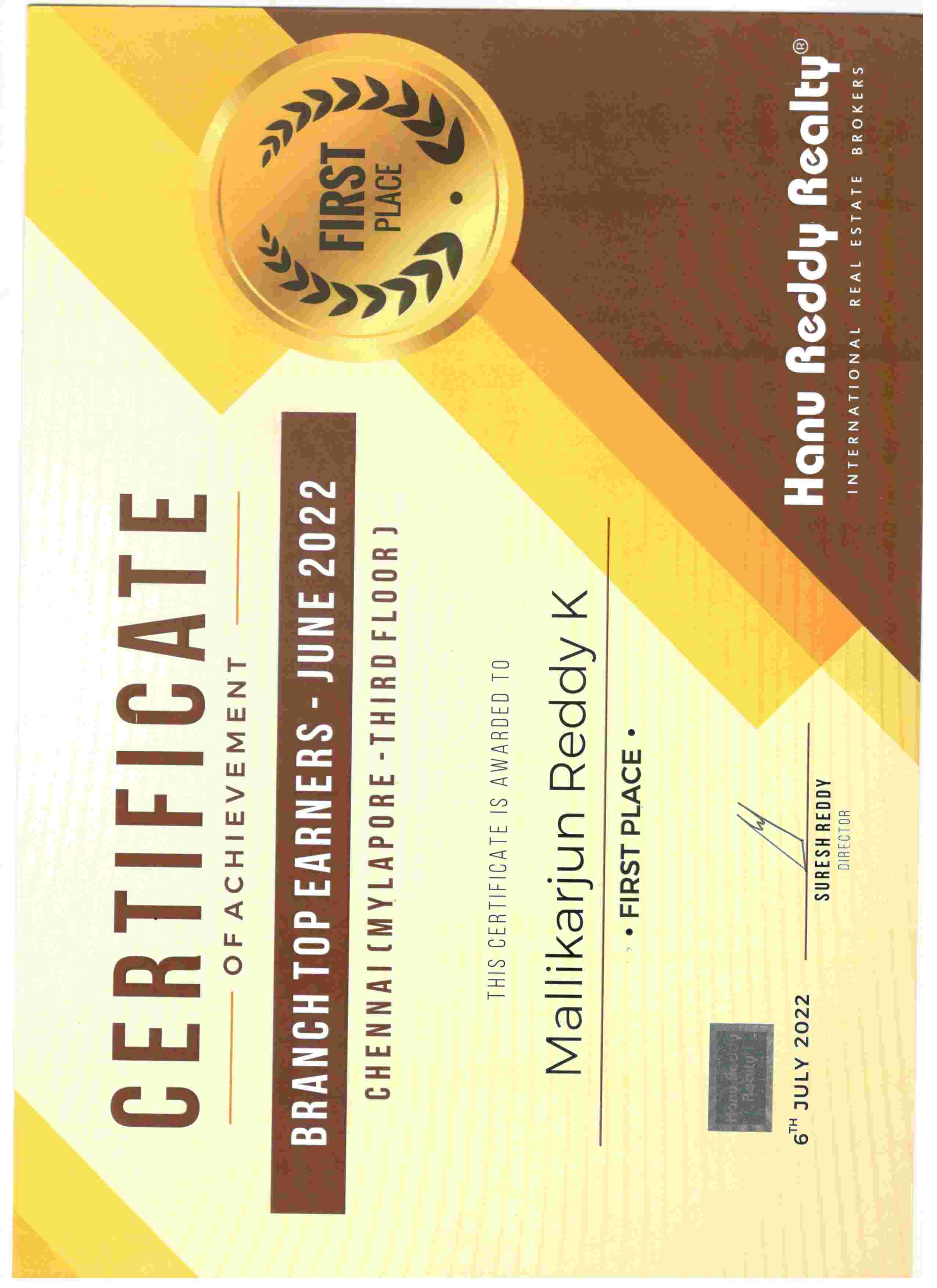 4875
Certificate
13-Jul-2022
4818
Certificate
04-May-2022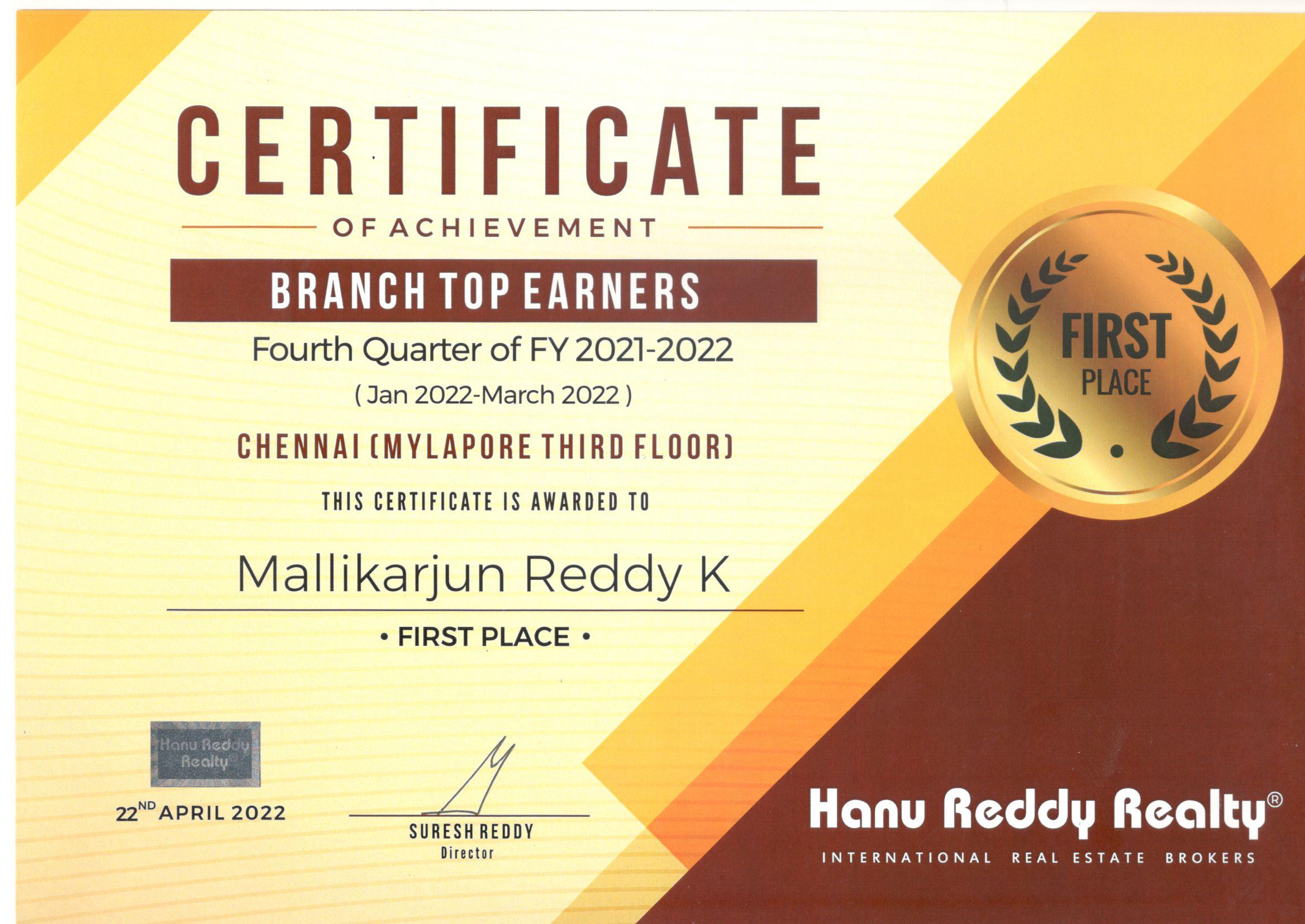 4819
Certificate
04-May-2022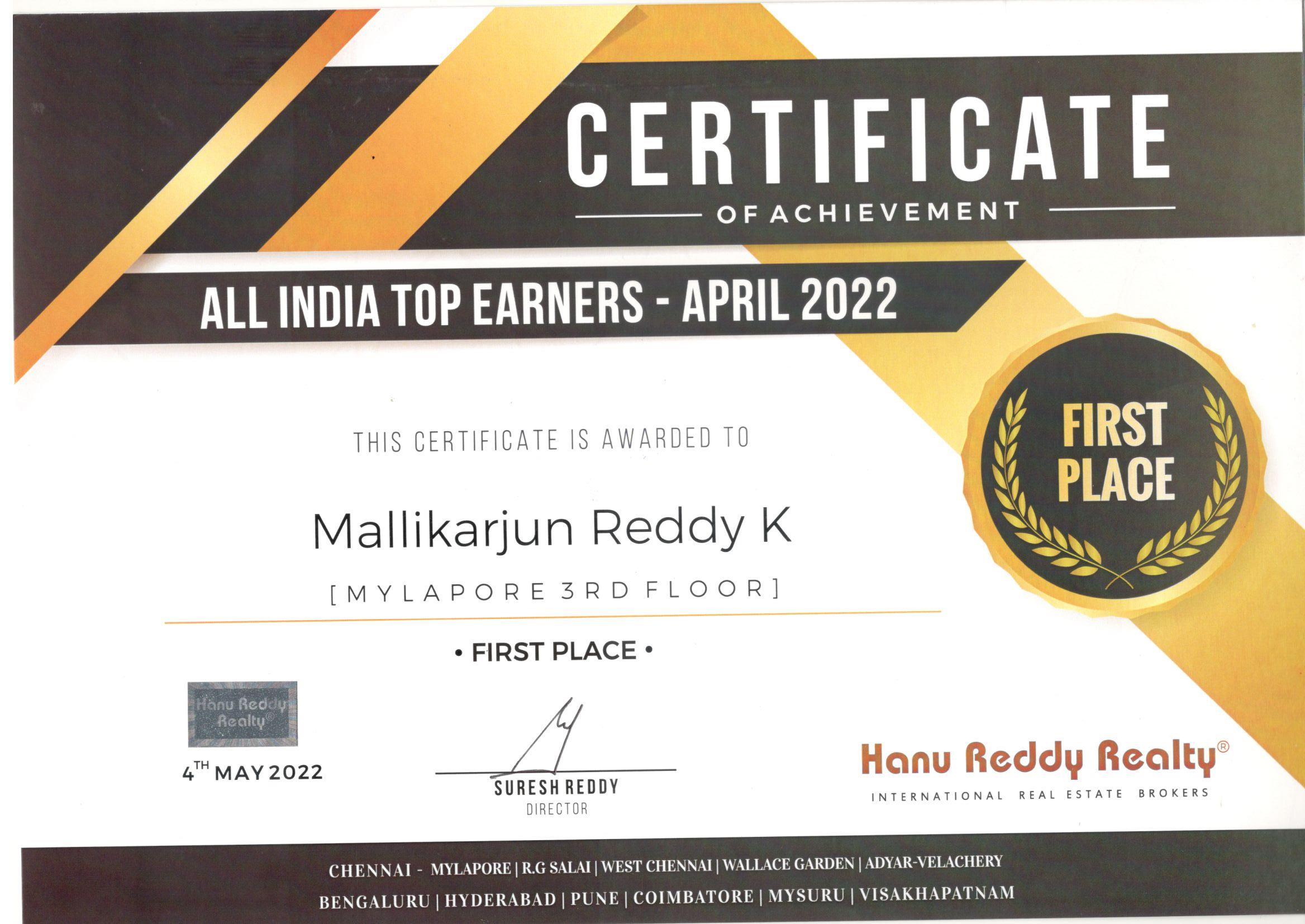 4802
Certificate
22-Apr-2022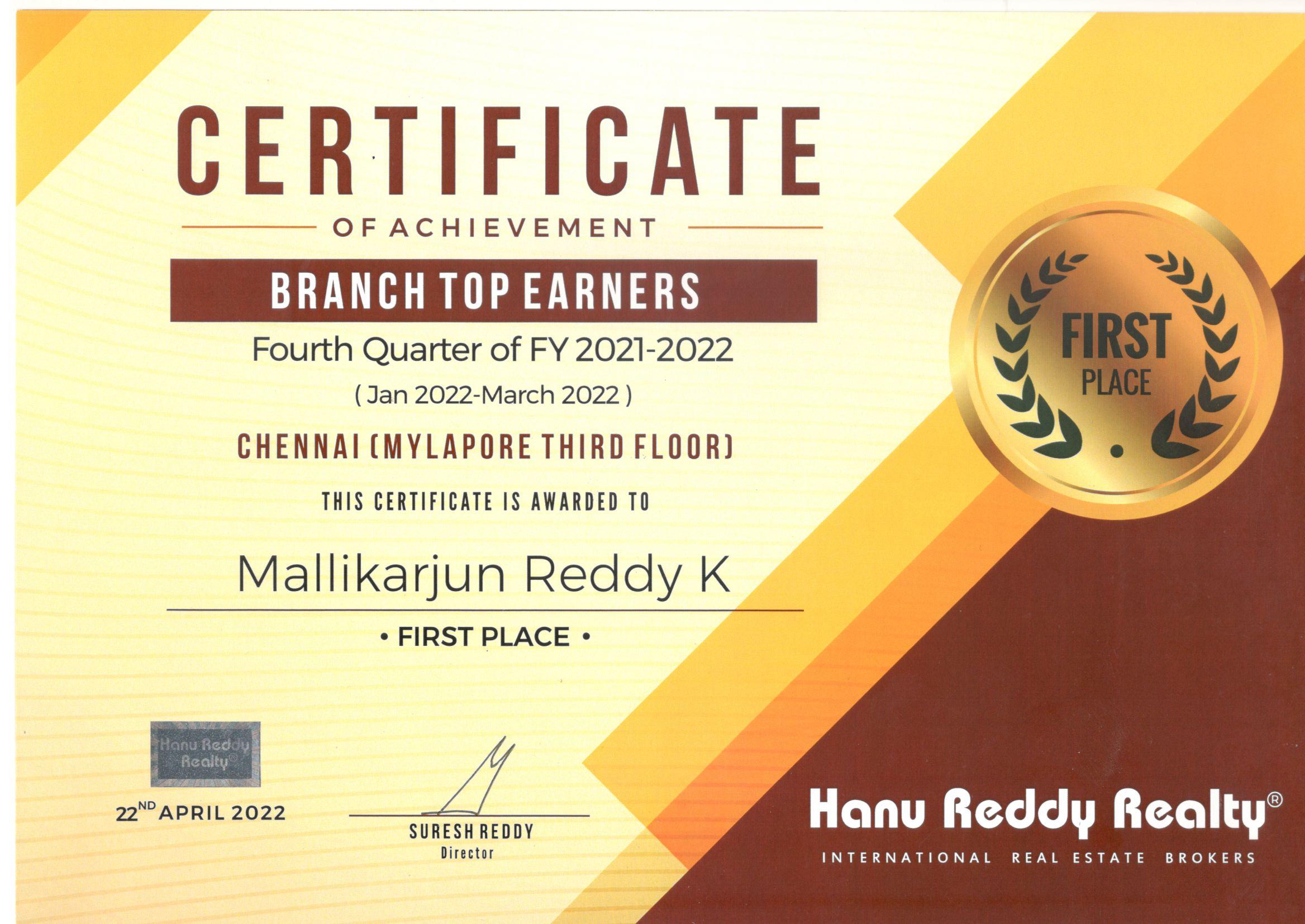 4626
Certificate
20-Oct-2021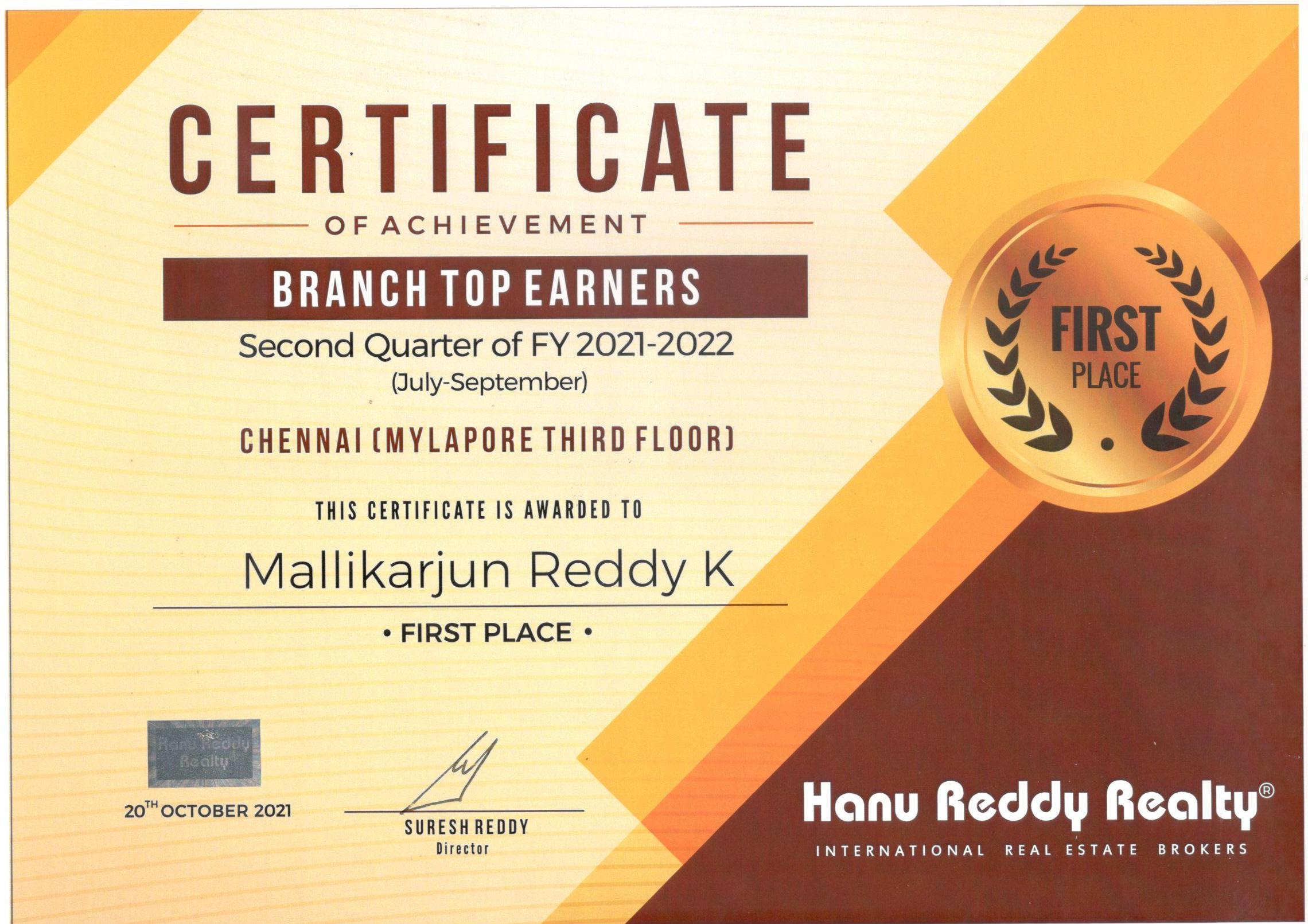 4515
Certificate
21-Apr-2021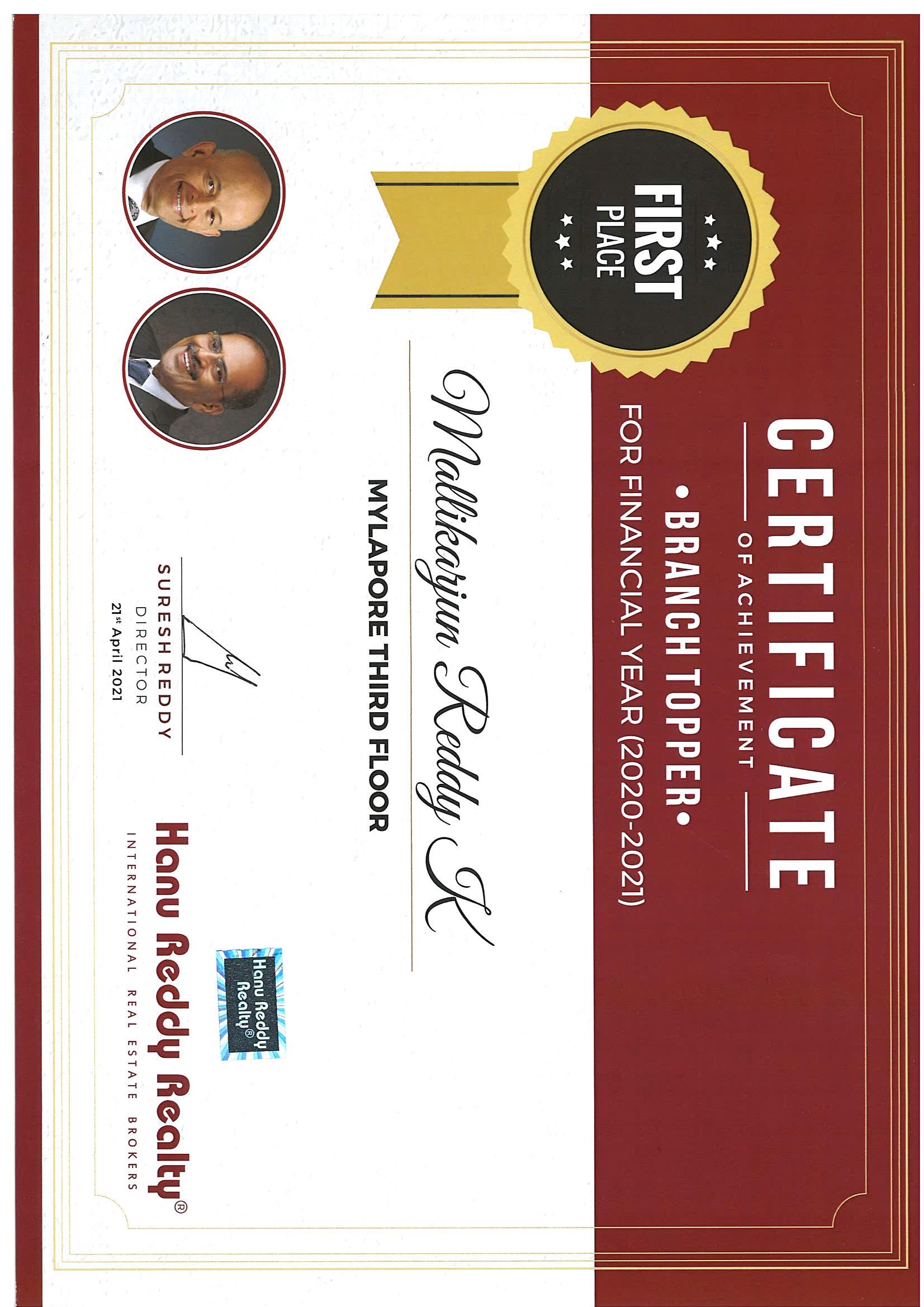 4516
Certificate
21-Apr-2021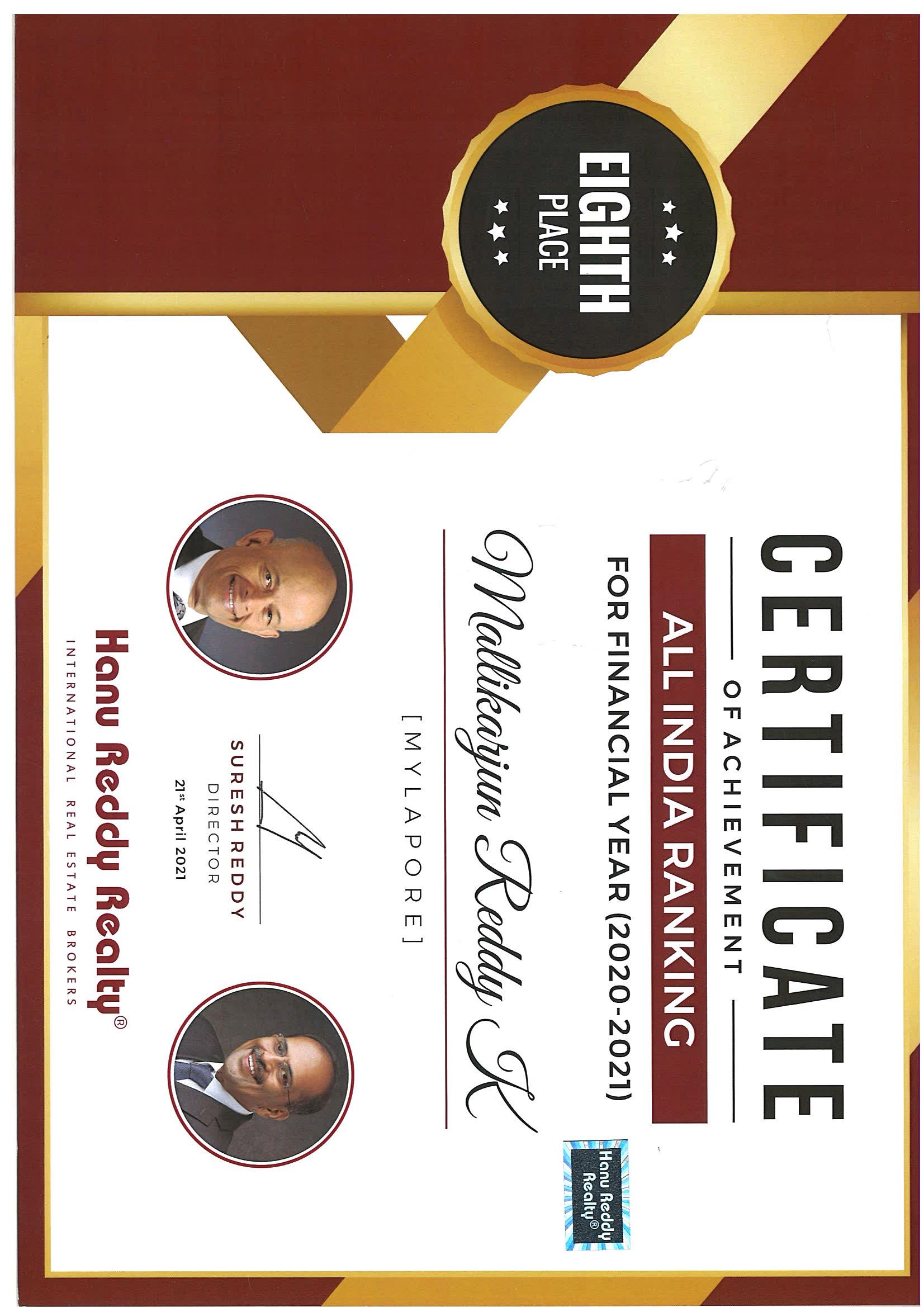 4376
Certificate
07-Oct-2020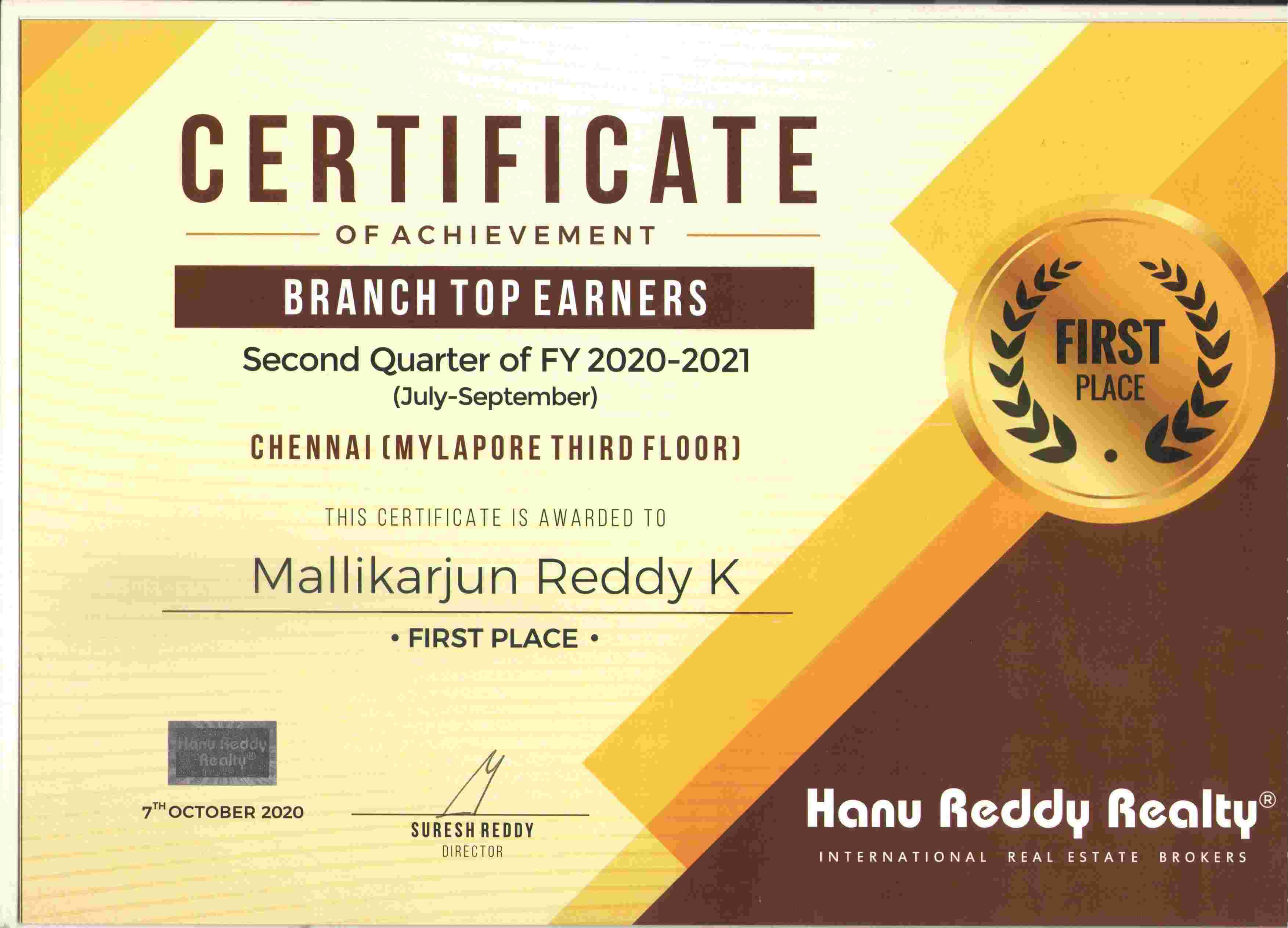 4342
Certificate
22-Jul-2020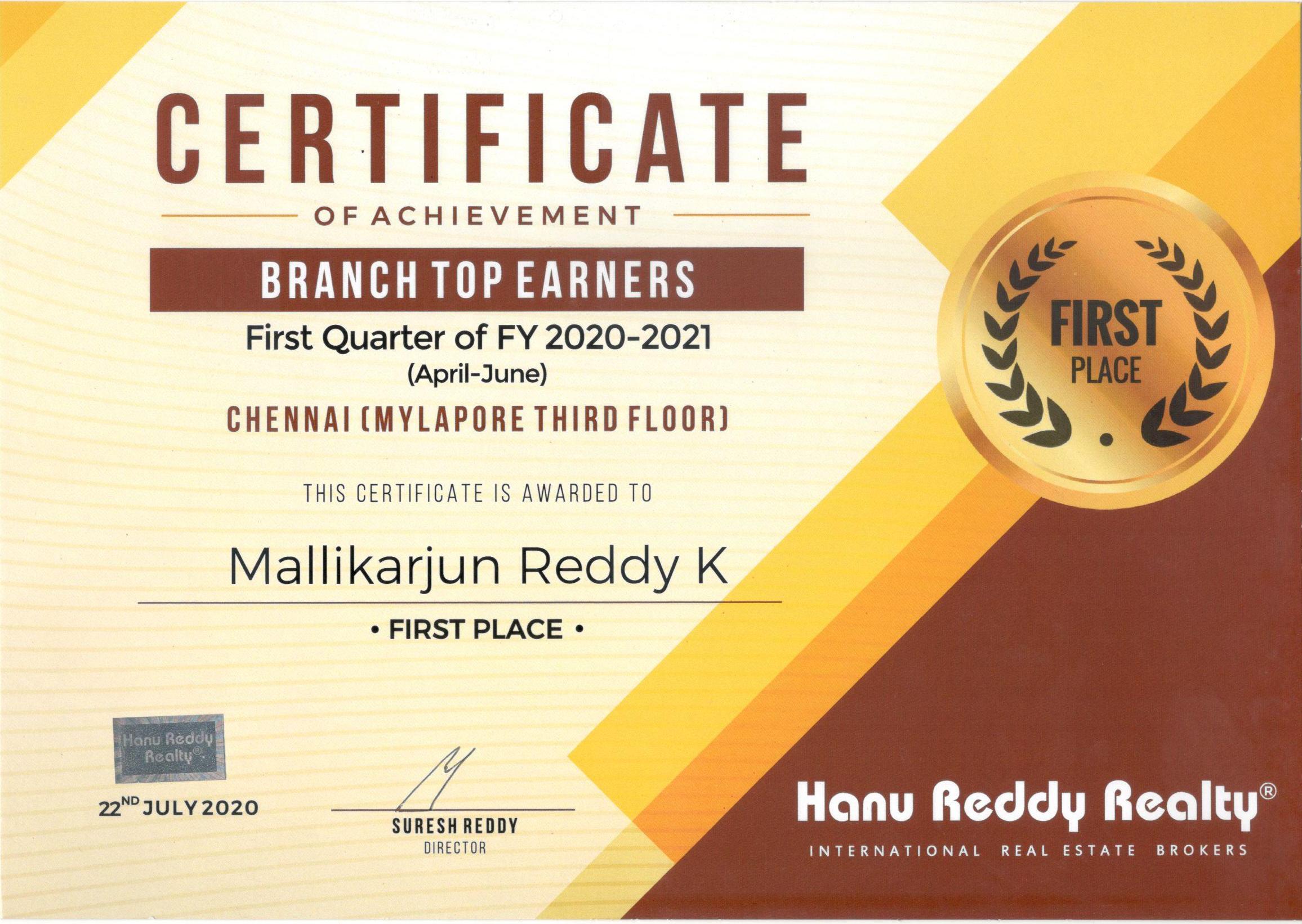 4288
Certificate
10-Jun-2020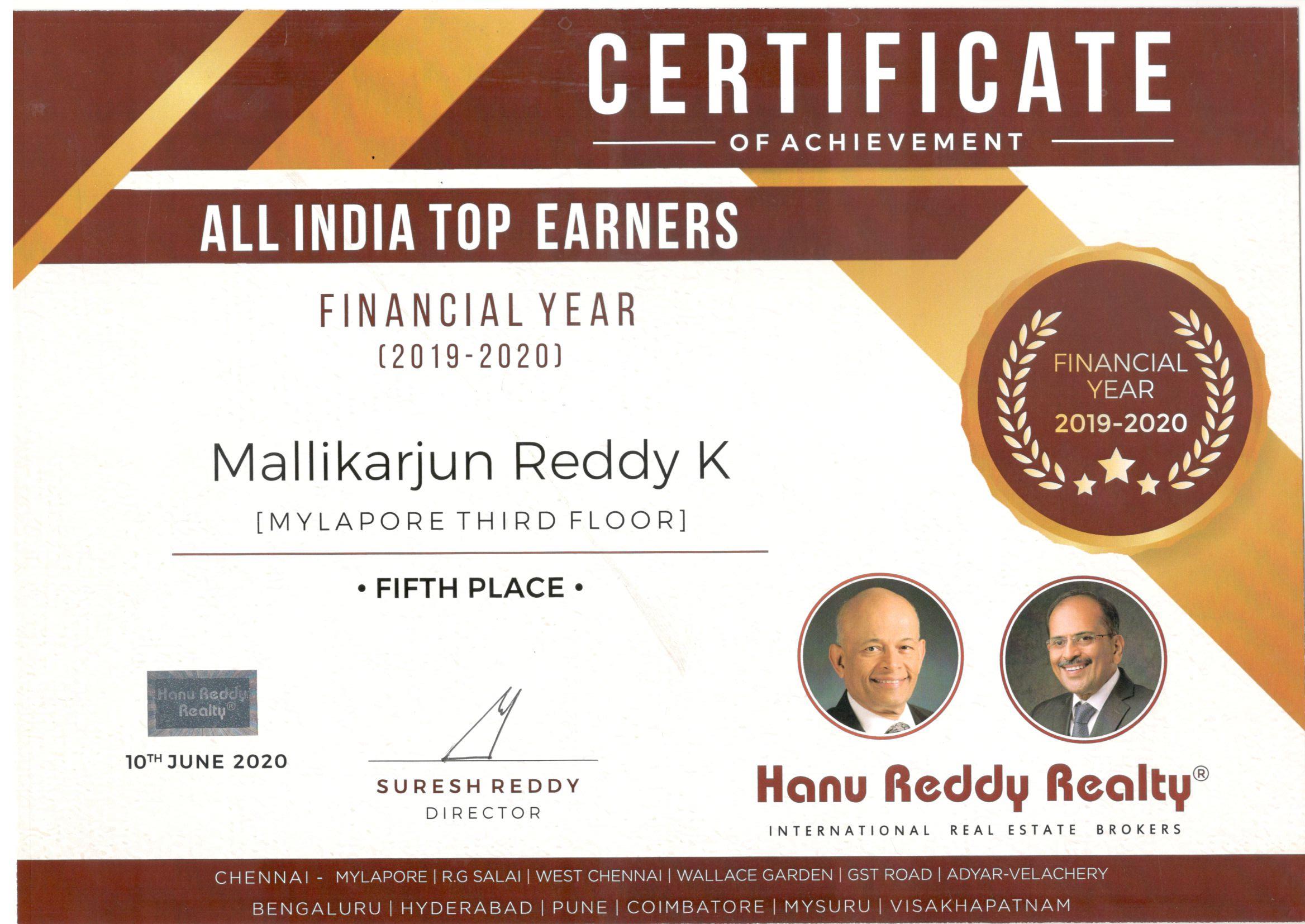 4061
Certificate
01-Oct-2019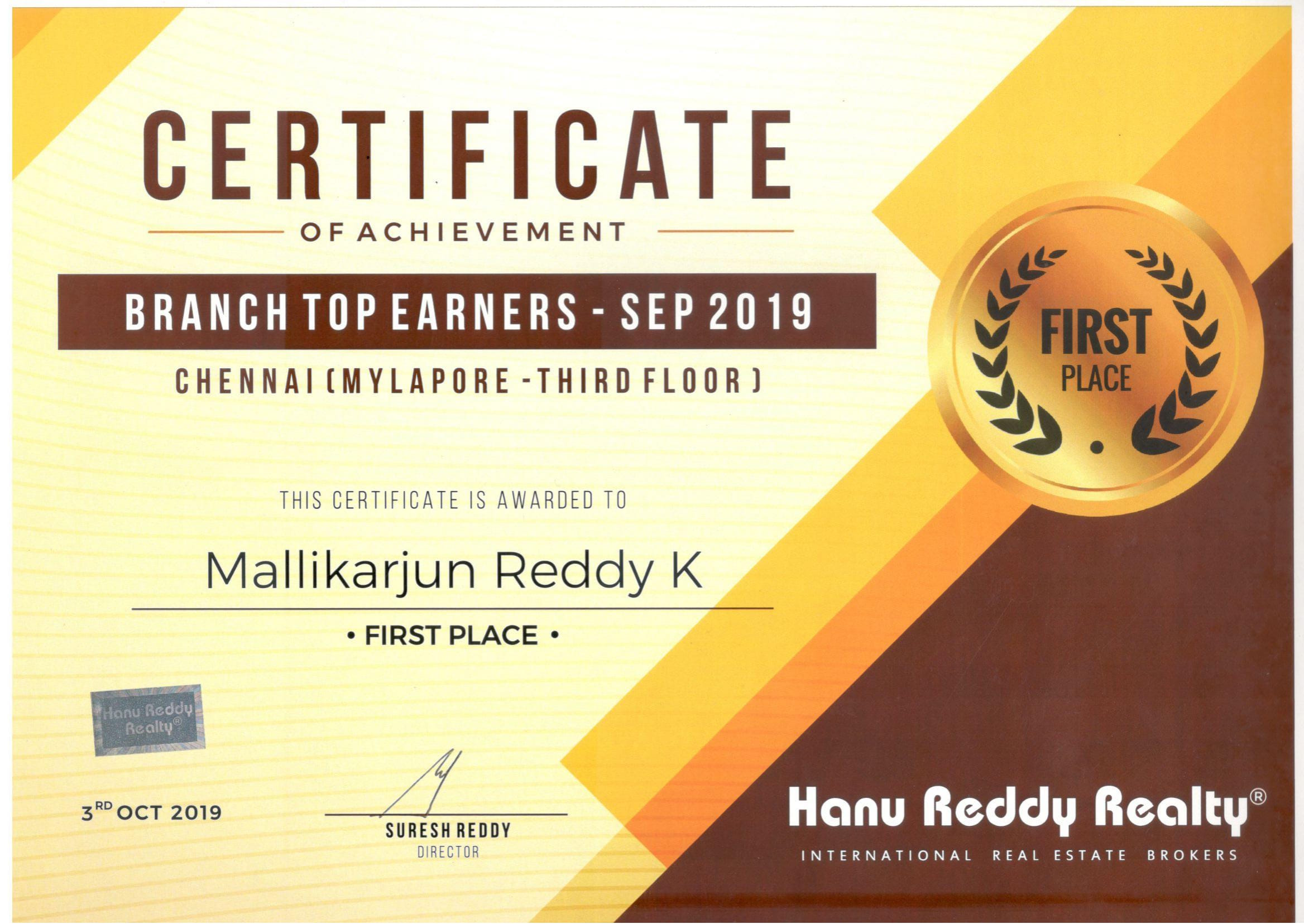 3904
Appreciation Letter
05-Apr-2019
Mr.Mohan Sangam I want to inform you that I had a very good experience in disposing a parcel of land at Panayur. Mr. Vijayan and Mr. MallikArjun were very knowledgeable in the selling and negotiation process and were instrumental in closing this deal. Although, this deal appeared initially to fall through, it was only as a result of Mr Vijayan's effort , we were able to complete the selling process. Both my agents were well informed of the town procedure in the registration area and executed the sale flawlessly. I am very happy to have worked with such professionals as Vijayan and MallikArjun that I will gladly recommend their services to any of my friends in the future. Please accept my sincere thanks on their behalf for your support.
3711
Google Review
12-Sep-2018
Ram Sellaratnam
(5 star)
Mallikarjun who led me to Mukund was providing me overall guidance of Chennai market as I was based in Bangalore. I value his responsiveness and commitment to the process
3305
10-Jun-2017
Dear Mr.Suresh Reddy and other staff,
At the outset, I wish to CONGRATULATE your entire HRR TEAM for successfully concluding our Vasantham Property Deal to the satisfaction of all of us.
Though I haven't met Mr.Suresh Reddy and Mr. Mallikarjun Reddy earlier,I have heard a lot of praise about them from my Brother-in-law Mr.Natarajan.During our meeting,I could see their vibrant participation in finalising the Indemnity Bond and pitching in to sort out the unexpected last minute "Hick-up" we had with the buyer.
THANK YOU Mr.Suresh and Mr.Mallikarjun for all your efforts in mediating with the buyer at crucial stages and sealing the deal. My sincere THANKS to Mr.Muthukrishnan,who showed immense patience in answering our frequent calls and querries. We all knew very well that ours was a complicated case,entangled in problems.Every time I spoke to Mr.Muthukrishnan and expressed my anxiety over the critical situation confronting us,he would put me at ease and give a very positive response explaining the issue.His reassurances gave me confidence that we were in safe hands. On the day of Registration,Mr.Muthukrishnan showed amazing maturity in handling some anxious moments and sorting them out amicably..I really appreciate his calm and composed nature and his pleasant approach with the clients. Never once did he show any irritation to the umpteen questions we asked him,sometimes repeatedly.
THANKS A LOT Mr.Muthukrishnan and Iam very happy that Our Vasantham Deal got finalised thro' your efforts. Ms.Uma is another pleasant face in your HRR Office.Her warmth in welcoming the clients, the hospitality extended and her polite talks really makes you feel comfortable. THANK YOU very much UMA. I must also mention about Mr.Jagadeeshan,who,very quietly went about doing his task meticulously. My appreciation and THANKS to him. On the whole,I had a very pleasant and satisfying experience with your HRR TEAM.
My daughters also join me in extending their greetings and thanks to you all. Once again A BIG THANKS to the HRR TEAM.
With Best Wishes and Warm Regards,
Pushpa Mohan
3865
Appreciation Email
24-Apr-2017
From: L T Nanwani
Date: Mon, Apr 24, 2017 at 3:10 PM
Dear mr suresh reddy
Hanu reddy realty
Chennai
It was pleasure to do business with your realty firm hanu reddy realty in chennai
We appreciate the efforts put by your office and your staff in finding a buyer for Our RMT flat in Chennai.
We thank you for your services and continuous support .
Continue the good work & best of health .
With best regards
L t nanwani
H L nanwani
3106
Appreciation Email
19-Mar-2017
Dear Hanu,
It is with great pleasure that I would like to thank you Hanu for an amazing journey as we worked together as a team to sell this property, solving problems along the way in the most professional manner possible. I think you have an excellent team in India who I would like to refer to as your "Special Forces of Real Estate." I can now see how every real estate transaction may have unique attributes and will require unique tactics to solve. It is will be my pleasure to spread the good word about your team. Please let me know if I can write a formal note in any public review forum.
There were several loose ends that needed to be tied together. Mallikarjun's indefatigable personality is something I have never seen before in anyone in any walk of life. His contagious optimism and enthusiam was always reassuring. His ability to honestly size up the situation and communicate promptly and effectively made this journey more exciting and less worrisome. This is the stuff action movies are made of. Thanks a lot to Mani's supporting role as an excellent team player.
A special thanks to you Suresh for providing amazing leadership and while comprehending difficult situations with balance, wisdom and foresight.
Thanks also to Nirupama whose hospitality with the Hanu Reddy Residences was exemplary. The courteous service provided by the staff was 5-star. Whenever I visit Chennai I will look forward to staying here.
Most importantly, thank you very much Nirupama and Suresh for throwing a grand celebration dinner at your beautiful home and meet your family and have some wonderful thought provoking conversation, especially with your son and daughter in law. It was an amazing gesture on your part. What a great evening and we will forever remember this occasion.
In summary, I would like to give you, Hanu, special thanks for your amazing leadership and wisdom in making this happen. This is an important event in our lives and obviously we will treasure fond memories of our engagement for a long time to come. I hope we will always stay in touch in the future.
My very best wishes for happiness and prosperity to you and your team and your respective families!
Many thanks to all of you!
With kind regards,
Raj
2998
Appreciation Letter
28-Sep-2016
Becoming homeowners of Chennai - our short, fast, unexpected journey
The greatness of Hanu Reddy Realty stems from its people, their pedigree and their values.
The Hanu Reddy team's competence and their penchant for genuine service combined with deep understanding of the Indian Realty market is truly amazing. And borne out of decades of experience.
My wife, our daughters and I visited Chennai from the USA for a casual summer break. My wife stumbled on a Hindu article on chennai real estate that got her intrigued. That transpired into an unexpected journey: stumbling on Hanu Reddy website, two weeks later we found ourselves making offers for two prime properties of obscene amount! And two months later we are already proud owners of both those properties. Of which one is to become our second home in the Chennai, a city we love.
This is extraordinary speed and spectacular execution. And this was possible because of competence we witnessed from, and the trust inspired by, the Hanu Reddy team. Suresh, Shiva, Mallikarjun, Palani, and Shekar - these are outstanding people. Really outstanding people.
It is also my instinct Hanu Reddy himself, at the helm, is steering the ship with an unwavering commitment to values that has its roots from multiple generations of the Reddy family. The team respects and admires his leadership.
On a final personal note - I, my wife and in laws, in a spur of an unplanned moment, happen to get invited for tea in Suresh's home. Instead we ended up with delicious mango juice and a fine hospitality; really LOVED their family, and the beautiful larger Reddy family. I feel we have what I believe is a sprout of a friendship, that could blossom into a lifetime friendship.
With lots of love from the Mohammed family
September 2016
London, en route
Mohammed family
2762
Appreciation Letter
13-May-2015
Dear Mr.C.Suresh Reddy / Mr.Mallikarjuna Reddy,
Sub

-

: Letter of Appreciation.
Our company appreciates your efforts in locating suitable properties in Vijaya Ragava Road, T.Nagar as well as in New Beach Road, Tiruvanmiyur, for us to promote luxurious residential apartments. We wish to inform you that we have already commenced construction in the said properties and the same are in progress. As you know that these are the two prestigious and important projects for our Group to grow in the market.

I understand that you have taken excellent effort in offering us the said properties from the prime localities in Chennai, after having successful negations with the concerned Vendors . Hence we wish that you and your whole team should continue to serve in the same capacity for the years to come.

Once again, many thanks

for

your team

and hope

will maintain this attitude throughout your future projects.
With Best Regards
P. A

marnath Reddy.
2758
Appreciation Letter
03-Apr-2015
Dear Mr. Suresh,
It is with immense pleasure that I like to express here that Mr. Mani and Mr. Mallikarjun Reddy did a great job in doing the needful concerning to the Property that I had purchased in Adyar - Venkateswara Nagar through Mr. Raman of Rutllngate.
Thank you and I appreciate the commitment and meticulous follow up done by these two gentlemen from the start until the Registration. They surely are a great asset to Hanu Group.
Best Wishes
Regards
Murali
2683
Appreciation Letter
28-Mar-2015

From: vs raman <vsraman2008@gmail.com>
Date: Sat, Mar 28, 2015 at 11:40 AM
Subject: Thank you
To: sureshreddy@hanureddyrealty.com



My wife and I would like to thank you for the personal interest and dedication shown by you in bringing the sale of our property to a fruitful conclusion. We really appreciated the way you took time off from your busy schedule to visit the site in the beginning and again to the Registrar's office at the time of registration.
We also would like to place on record the excellent service provided by both Mallikarjun and Palani. Both of us felt very comfortable in our dealings with them . Please convey to them our sincere thanks and appreciation for their helpful attitude and dedication to work.
However, we need to acknowledge God's Grace in finding a decent family with ownership extending to three layers of lineage.
2756
Appreciation Letter
28-Mar-2015
2684
Appreciation Letter
28-Mar-2015
My wife and I would like to thank you for the personal interest and dedication shown by you in bringing the sale of our property to a fruitful conclusion. We really appreciated the way you took time off from your busy schedule to visit the site in the beginning and again to the Registrar's office at the time of registration.
We also would like to place on record the excellent service provided by both Mallikarjun and Palani. Both of us felt very comfortable in our dealings with them. Please convey to them our sincere thanks and appreciation for their helpful attitude and dedication to work.
However, we need to acknowledge God's Grace in finding a decent family with ownership extending to three layers of lineage.
2666
Appreciation Letter
18-Oct-2014
Dear Shiva,

I write to you as you were my first and main contact with Hanu Reddy Realty.

I wanted express my appreciation for the fantastic job by your team for the sale of our property. Starting from getting us the price we wanted (even though it seemed impossible at the outset because of what others, including the other big firms in this business, led us to believe) to keeping the client engaged and making the deal actually happen.This was despite the innumerable unforeseen delays that frustrated all of us.

The level of professionalism that every one in your team showed is refreshingly rare - because if this, I knew all along that our interests and the buyer's interests were protected.

I also thank you for showing trust and providing such a high level of service even when there was no formal commitment from our side. No other real estate firm (including all the multinational firms I contacted) had the foresight or understanding of our situation to take this on and deliver (and how !)

Thank you.

Arjun
3866
Appreciation Letter
07-May-2014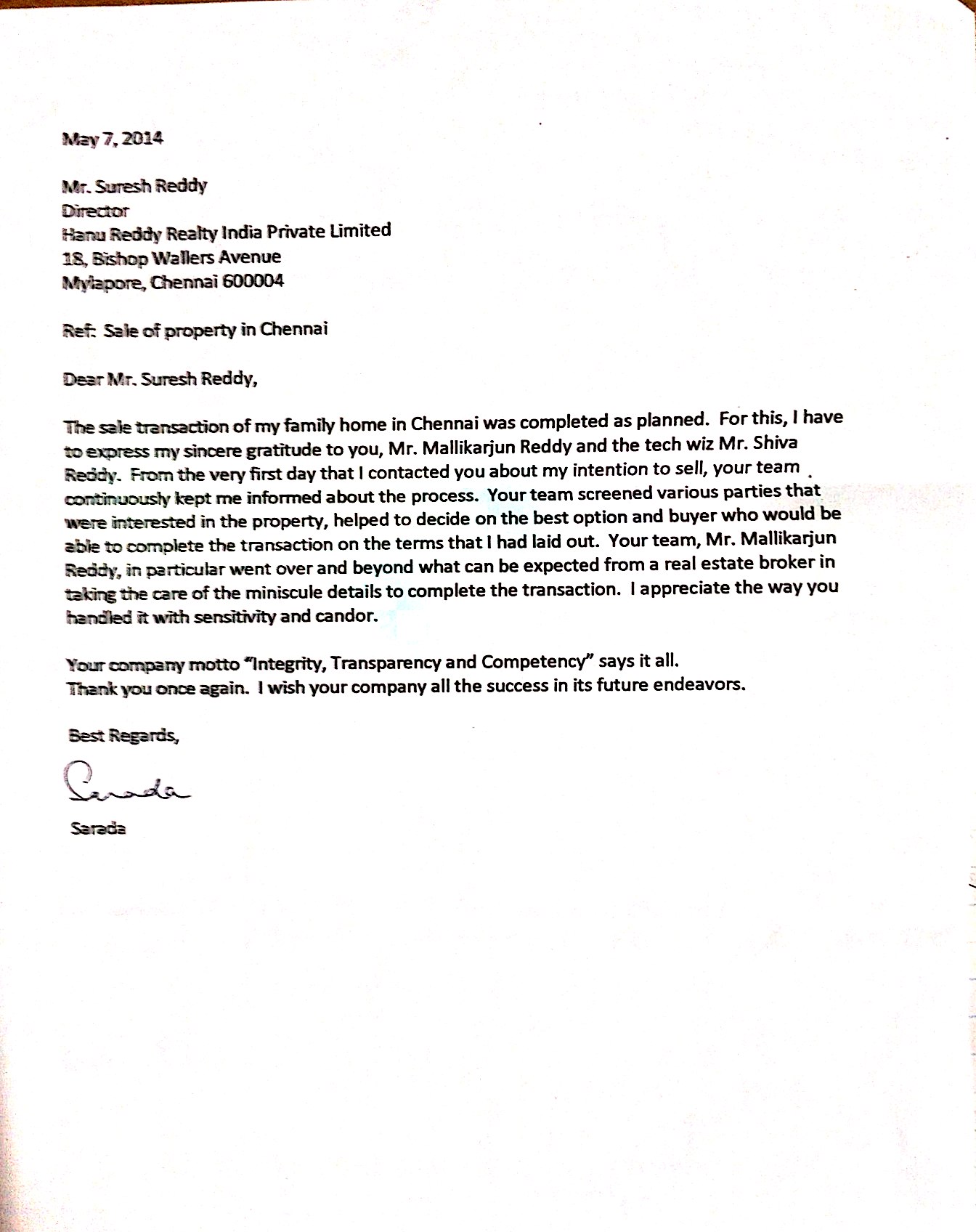 277
26-Jul-2013
Dear Suresh,

Suresh Reddy Chirla
Hanu Reddy Realty India Pvt Ltd
Chennai, India.


Sub: Thanks for a job well done selling my house in Mylapore


It is with trepidation that I ventured to sell my inherited property in Chennai from so far away, on the other side of the globe. Bureaucracy of real estate transactions is quite complicated even in once's back yard, and from what I know, quite daunting in India even for someone from there.

I must say that signing on with you, and especially having Mallikarjuna Rao to work with, made it all so seamless. Not only did they do what they said they would and on time, but they did it with unfailing good cheer. It seemed that everything went like clockwork – from the listing, showing, repairing the flat, working out the sale details with the buyer, and finally choreographing the signing process. All I needed to do, it seemed, was to hand over the necessary documents, sign a few times, and sit back and relax until the day of signing. It was not only wonderful to watch from so far away, but also made for a stress free sale,
easily comparable to an all inclusive holiday.

Suresh, you have a super people Malli, who live up to your "Integrity.. Transparency.. Competency". I wish them both plenty of success, for themselves and for Hanu Reddy Realty. Without reservations, I have recommended them to others in my family considering real estate transactions in Chennai.

Best wishes to all of you and hope to see you the next time I am in Chennai.


Best Regards,
R. Vijayakumar



510
25-May-2013
Dear Suresh,

Congratulations on the accolade won by HANU Reddy Residences.

At this juncture, I would also like to place on record my appreciation for the yeoman service provided by HANU REDDY REALTY represented by Mallikarjun & Prashant in marketing and finding a suitable tenant for my Adyar house. Their effort is laudable, given the trying market conditions. Kindly convey my appreciation to both of them.


Warm regards,
MURALI KATARI



96
15-Jun-2012
To Mr. Mallikarjun Reddy,

This is to thank you for dealing with the sale process of our property at Chennai in a professional way.

The first impression was very pleasing when my wife and I came to your office to enquire about the process. The receptionist was very courteous and promptly called you. You responded immediately and talked to us on the phone. When we were about to leave your office the Realtor came and met us. Then you both came to our house immediately and inspected the house. The immediate response and the promptness is appreciated.

You always called us before bringing any prospective buyer to see the house, so that we were prepared. Sometimes the time given was very short, but we can not complain as we have to accommodate such a situation.

When we had to leave Chennai we left the keys with you. You took that responsibility well.

Even after we left Chennai, you communicated with us regularly and updated information regarding our house very promptly. Your communication skills are excellent and we appreciate it very much.

Both of you worked hard and you finished the deal with in the time frame you gave.

We thank you very much and wish you all the best in your future endeavors.

With good wishes to you, your husband and your family,


From,
Mrs. & Dr. Jeyamitra.



2150
01-May-2012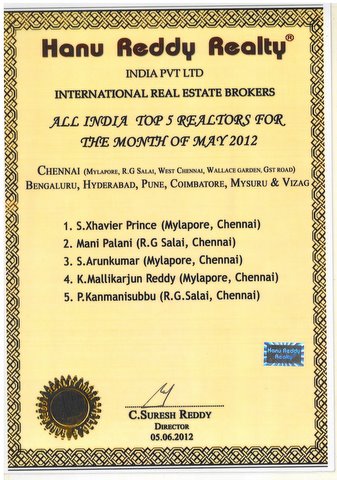 325
31-May-2007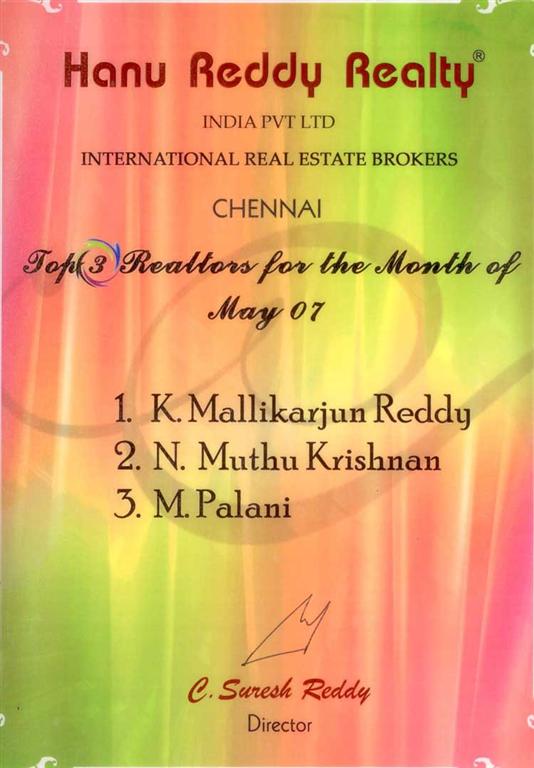 219
03-Sep-2001
Dear Mr.Suresh,

J & B SOFTWARE (INDIA) PRIVATE LIMITED

6th Floor – Tower 1 – Rayala Towers – 158

Anna Salai – Chennai 600 002

Phone : +91 44 8411342, 8411382, 8411382, 8411549

Fax : +91 44 8411172


Ref : J & B / Adm / 106 / 01


Mr.Suresh Reddy
Director
Hanu Reddy Realty
Mylapore, Chennai.

Let me thank you for helping us to locate a nice, good place for our Indian Operations. It was indeed a great pleasure to work with Mr.Muthukrishnan and Mr.K.Mallikarjun Reddy and would like to compliment them for their professional approach.

Kindly pass on our appreciation to both and I am sure that we will have more opportunities in future to work together again.


Thanking once again and with best regards,


For J & B Software (India) Private Limited

T.S.SIVANANTHAM
Director



67
Dear Sir,

V. Vijaya Chamundeswari
ICON SAVITHRI GANESH
53, Habibullah Road
T.Nagar, Chennai- 600 017.



Sub:Our Property at Habibullah Road- Rental Lease- Reg.

With reference to the above property (Commercial) which was dealt by your company for arranging the rental lease to a reputed commercial organisation. I like to place on record that I am immensely happy for the utmost care taken by you.

I really appreciate the whole team who worked sincerely in finding a valuable client and dealing with both sides to come to a profitable deal. In this connection, I appreciate the sincere efforts put forth by Mr. MALLIKARJUN REDDY and Mr. SIVAKUMAR from start to finish.

My sincere thanks to Sri SURESH REDDY who has shown personal interest in this as he is used to do in all our dealings and lead the team efficiently to make this deal happen.

I once again thank all concerned.


With Regards,
(V. GOVINDA RAO)
For V. Vijaya Chamundeswari