Testimonials
This is what our clients say about us...
View All Testimonials
4587
Google Review
31-Aug-2021
Vivekanand A
HRR has unique set of quality properties across locations. Great collections.
Mr Sureshbabu and Mr Ashok Kumar from HRR worked for us to get the right one and take it to closure. Their responsiveness and involvement are impeccable...kudos for their service Thank you both and HRR
4584
Google Review
28-Aug-2021
RAJANARAYANAN P.M
Mr. Ashok Kumar & Mr. Suresh Babu were associated with me to conclude sale of my apartment. I am extremely happy with their professional approach, pleasing mannerisms and really hard working nature. I am sure all Hanu Reddy executives have the same work culture. I would certainly recommend to my friends to engage Hanu Reddy when the need assistance in real estate matters. Best wishes to these gentlemen. Rajanarayanan.
4574
Google Review
02-Aug-2021
KRISHNA HARIHARAN
Ashok and Rajkamal are very professional and highly customer oriented and also persuasive to ensure seamless experience for the customer both seller and buyer. I strongly recommend to use their services
4573
Google Review
31-Jul-2021
Ramamoorthy Chittibabu
We approached Ms Hanu Reddy Realty in June2021 to get a good tenant for our vacant house in Velachery. Your Mr Ashok Kumar and Mr.Magesh were allotted for this task.Within one month they were successfull in getting us a good tenant though it was a Covid Lock down month in Chennai.We thank Mr.Ashok Kumar and Mr.Magesh for their exemplary efforts in completing their task well in time and to our entire satisfaction and delight.
With warm regards
C.Ramamoorthy
4570
Certificate
21-Jul-2021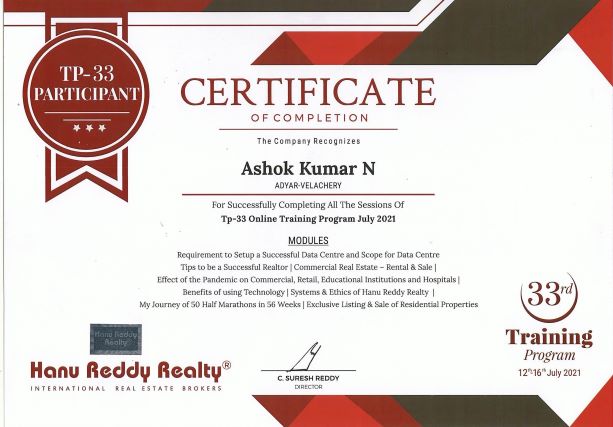 4486
Appreciation Letter
06-Apr-2021
From: vidhya anand <vidhuani@gmail.com>
Date: Tue, 6 Apr 2021, 11:12
Subject: Excellent Service Level - Good Work of Mr.Ashok Kumar @ Hanu Reddy Reality
Sir
Would like to record my experience as well Service rendered by Mr. Ashok Kumar @ Hanu Reddy in helping me to purchase a Flat in Madhuvanthi Apartments, Indra Nagar, Adyar. I met Mr.Ashok Kumar somewhere in March 2020 prior to pandemic.. We had an initial meeting where he took our requirements and accordingly started working with us in identifying the property. With his perseverance and sustenance he ensured that properties which ever suited our requirements were shown. Ashok was very professional and meticulous. He has good knowledge and ensured that no facts were misspelt. Upon finalising the property the entire transaction was done and closed in a short span of time without any bottlenecks.. He ensured to coordinate with all the stakeholders including the banker and ensured the transaction sailed through smoothly End to End. Would really appreciate all the good work and efforts of Mr. Ashok Kumar @ Hanureddy
Regards
Anand A
4526
Certificate
05-Apr-2021
4528
Google Review
16-Mar-2021
Ravi Chitta
Flat 9 madhuvanthi apartments
60/62 Indra Nagar first avenue
Adayar Chennai 20
We approached last year for sale of our above flat m/s Hanureddy Realty and the response was remarkable. Mr Ashok kumar approached us immediately and spent his valuable time with us in bringing clients. Without his tireless efforts we would have not got the reasonable deal for our flat. He is so devoted but unfortunately covid 19 interrupted our progress made the search period prolonged. Still he did not give up his hopes for getting a good buyer He even brought his VP Mr sivasubramanian who also was very positive seeing the flat encourage Mr Ashok Kumar for bringing good clients The efforts were fruitful mainly because of his down to earth behavior,true to himself and tireless try of Mr Ashok Kumar. Finally we are happy and we wish him all success in his future endeavors.
4470
Certificate
12-Mar-2021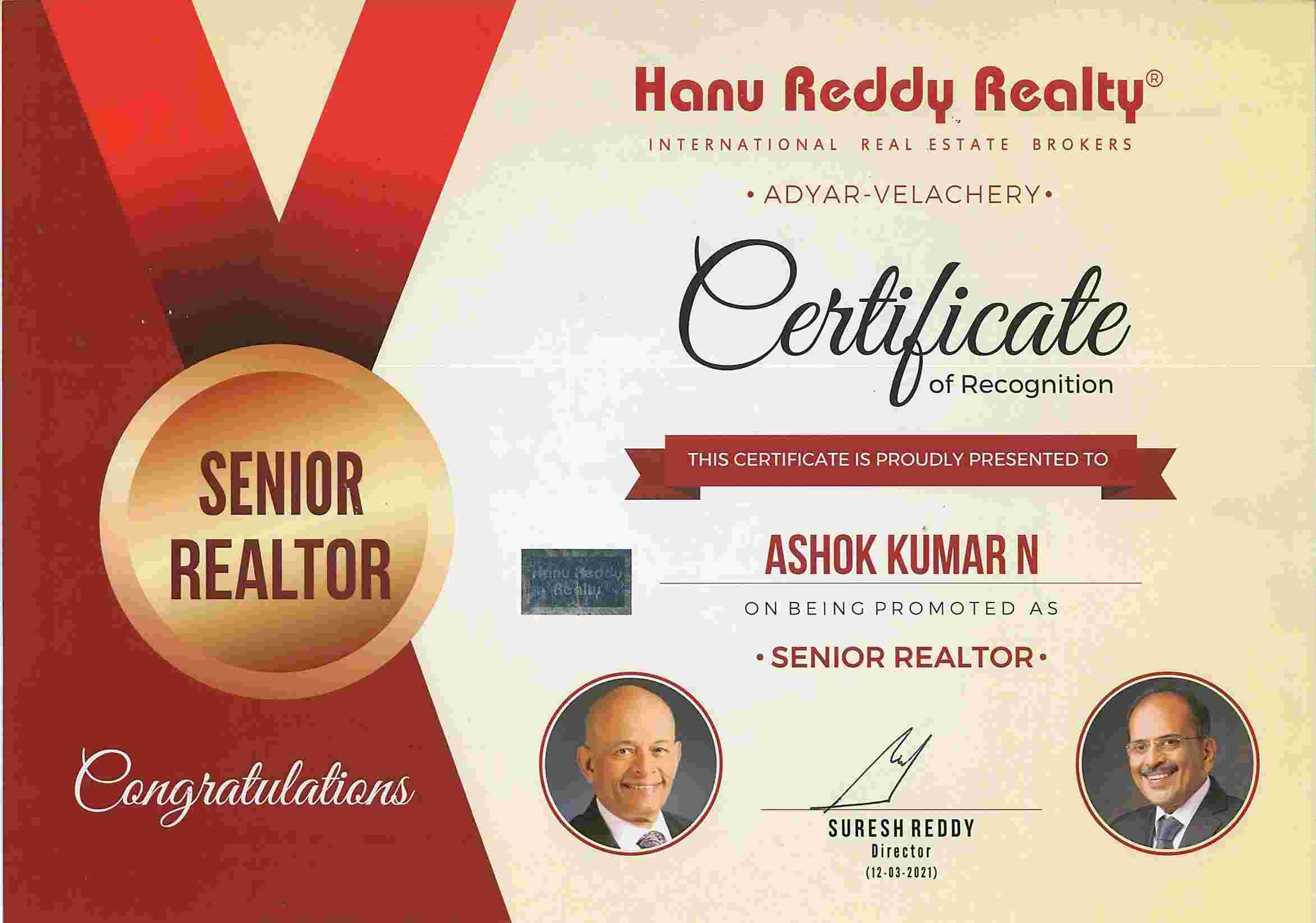 4445
Google Review
22-Feb-2021
Ramakrishnan Sankaran
Would like to appreciate the good work done by Ashok Kumar from Adyar branch Realtor in helping me to purchase flat. Ashok Kumar was very professional in his work and always had a smiling face to answer any of my queries. He was very knowledgeable and had guided me to close this deal. He went one mile ahead to ensure that all my bottle necks were resolved on time. Without any second thought would recommend Ashok Kumar to any of my friends. Overall Ashok kumar is valuable asset to Hanu Reddy.
4441
Google Review
18-Feb-2021
Siva Rajamani
I recently sold my 2BHK apartment in Velachery, Chennai through Hanu Reddy Realty. The agent representing me Ashok Kumar was amazing and he made the entire process look easy, given that i am living outside of India. Ashok was very professional and meticulous in his work. He was extremely knowledgeable and presented the facts in black and white. Ashok understood my requirements and expectations well and matched it to the right buyers. He went above and beyond his job to make sure the transaction is smooth and successful. I would highly recommend him to anyone without any second thought. Thanks Ashok and Hanu Reddy Reatly for your help with his deal!
4358
Google Review
24-Sep-2020
Prabha Sampath
Our experience with Hanu Reddy Realty was excellent despite the ongoing pandemic. Their service was courteous, discreet and highly professional. Our special thanks to Mr. N. Ashok Kumar, realtor, who dealt with our property with perfect understanding of our needs. The deal was concluded very smoothly with the help of Mr. S. Sivasubramanian, Vice President. We express our appreciation to them along with realtors of the Adyar- Velachery branch.
4294
Certificate
10-Jun-2020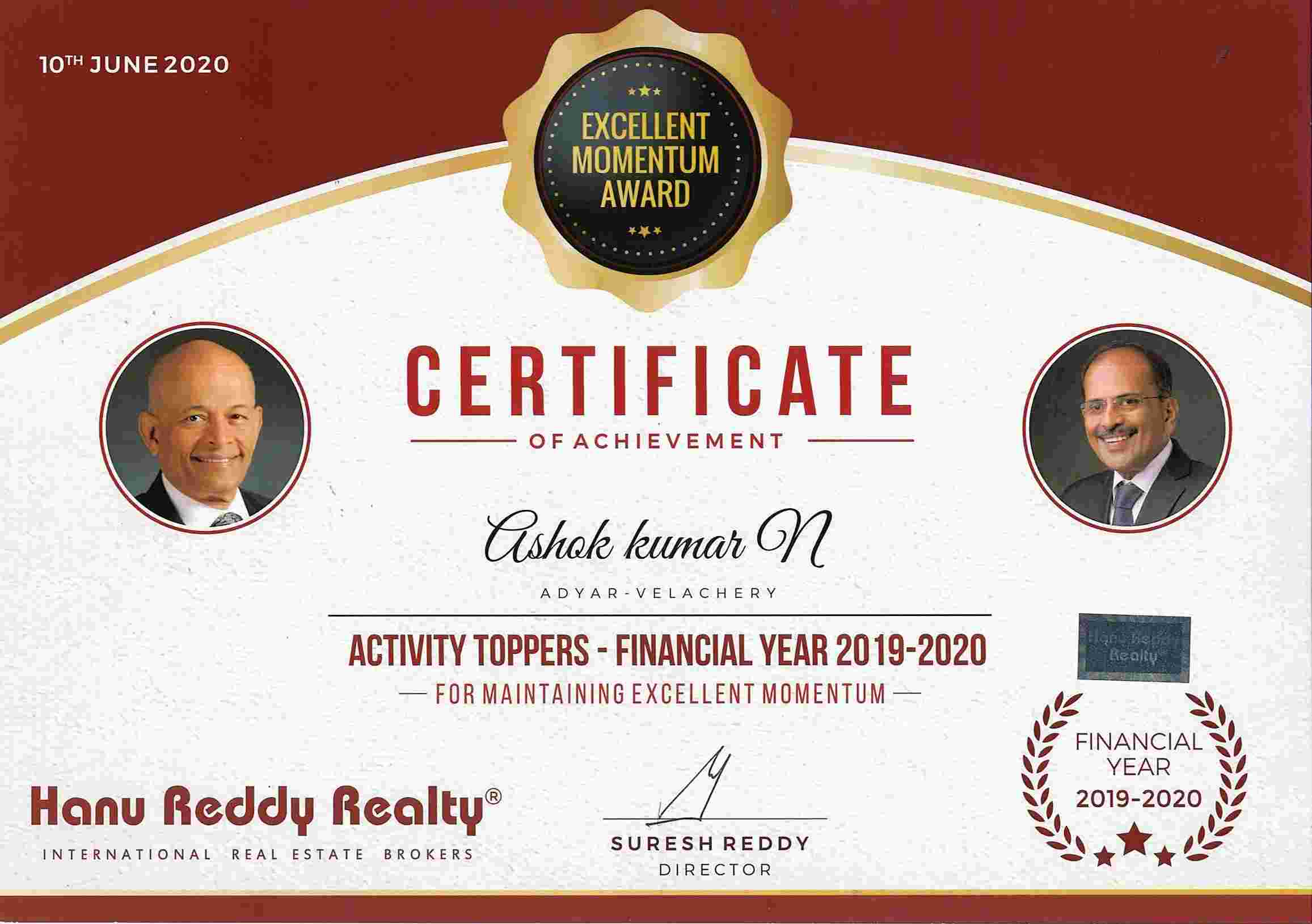 4017
Certificate
17-Jul-2019
4015
Certificate
16-Jul-2019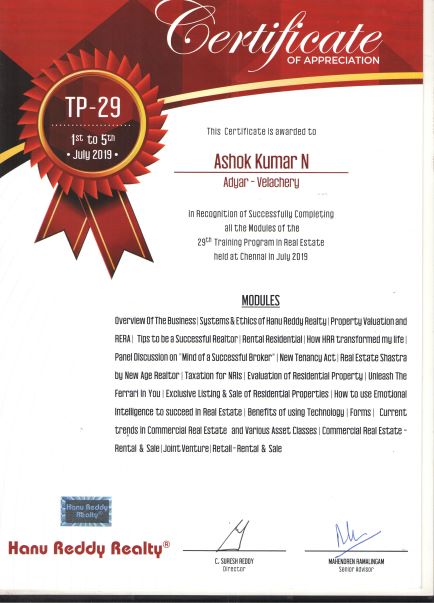 3964
Google Review
10-May-2019
Sekhar Thodla
This is my second experience with Hanu Reddy Realty. If one reads my first review, they will find the reason why I chose them again for my flat sale in Nanganallur. The rating remains 5 stars. The professional approach and the guidance and help given by Mr. Ashok and Mr. Sundar from the moment I called them to the closure of the deal is top class. I could once again experience the personal interest taken by the duo in ensuring that I landed with the best possible deal. They were in constant touch with me through the entire process and went out of their way to achieve the stated objective. Most of the time I was travelling but their efforts never slackened. I cannot thank them enough. I do not have any hesitation to recommend Hanu Reddy Realty to anyone who seeks my advise.
3942
Certificate
20-Apr-2019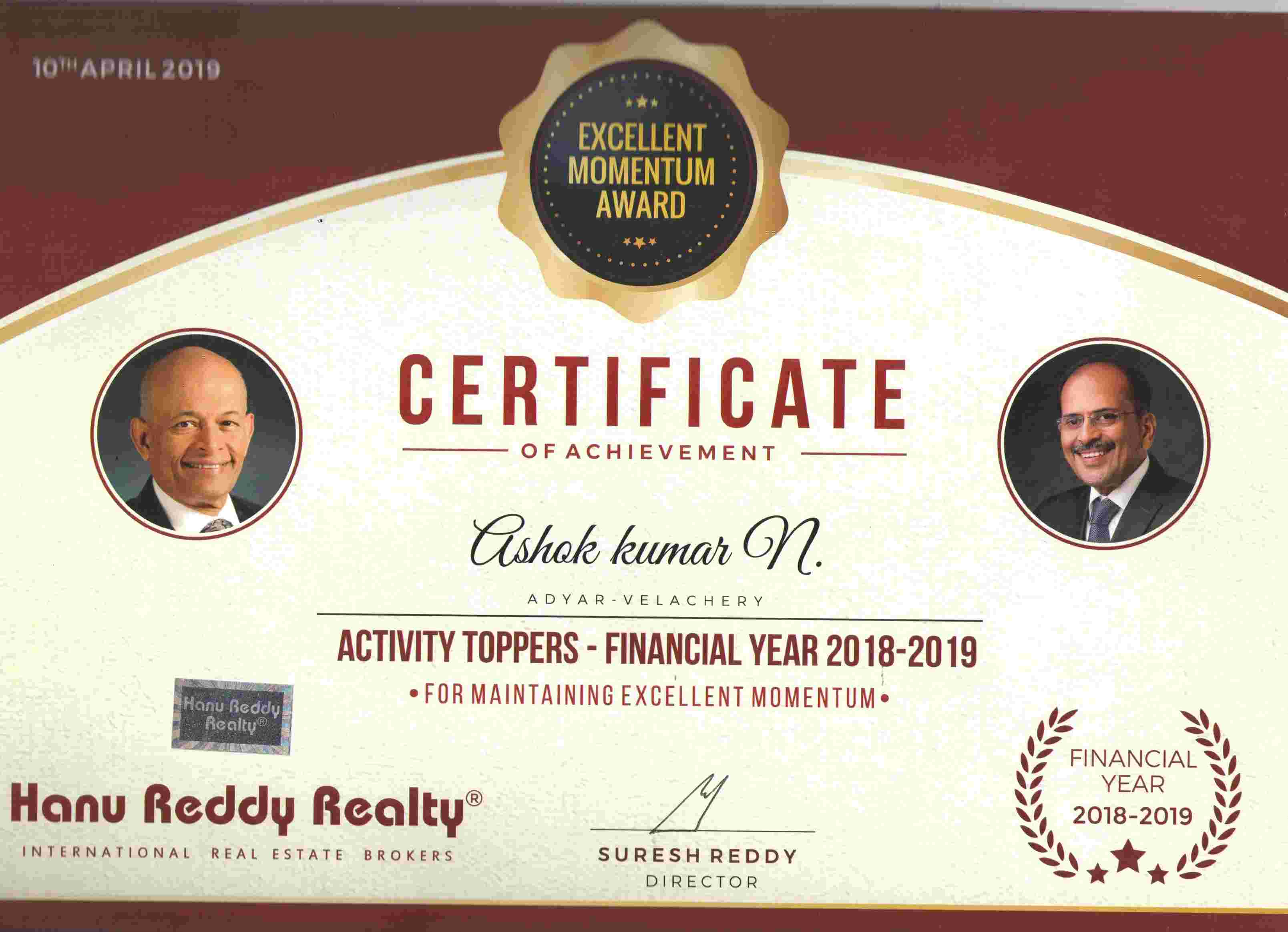 3821
Certificate
25-Feb-2019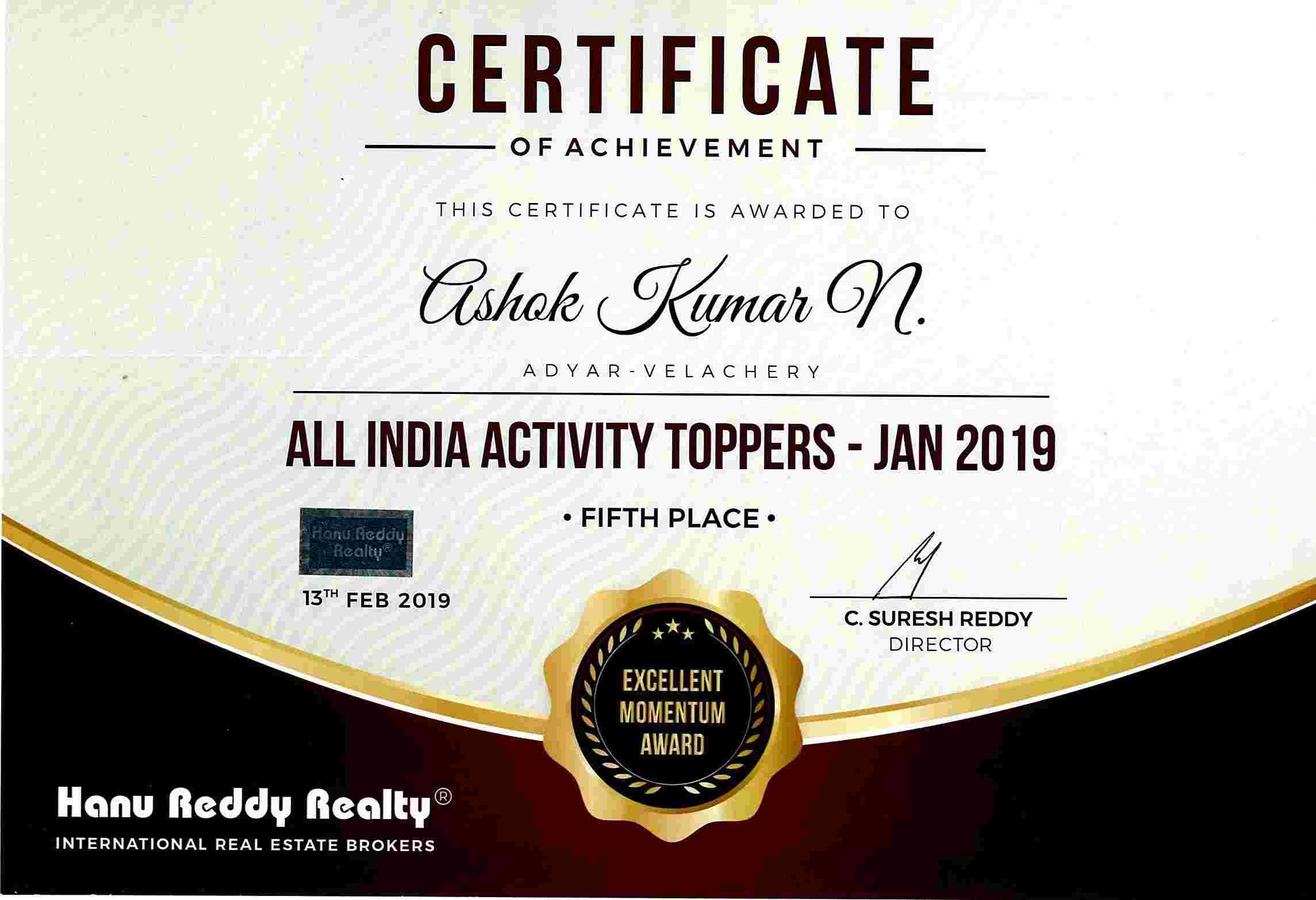 3809
Certificate
09-Feb-2019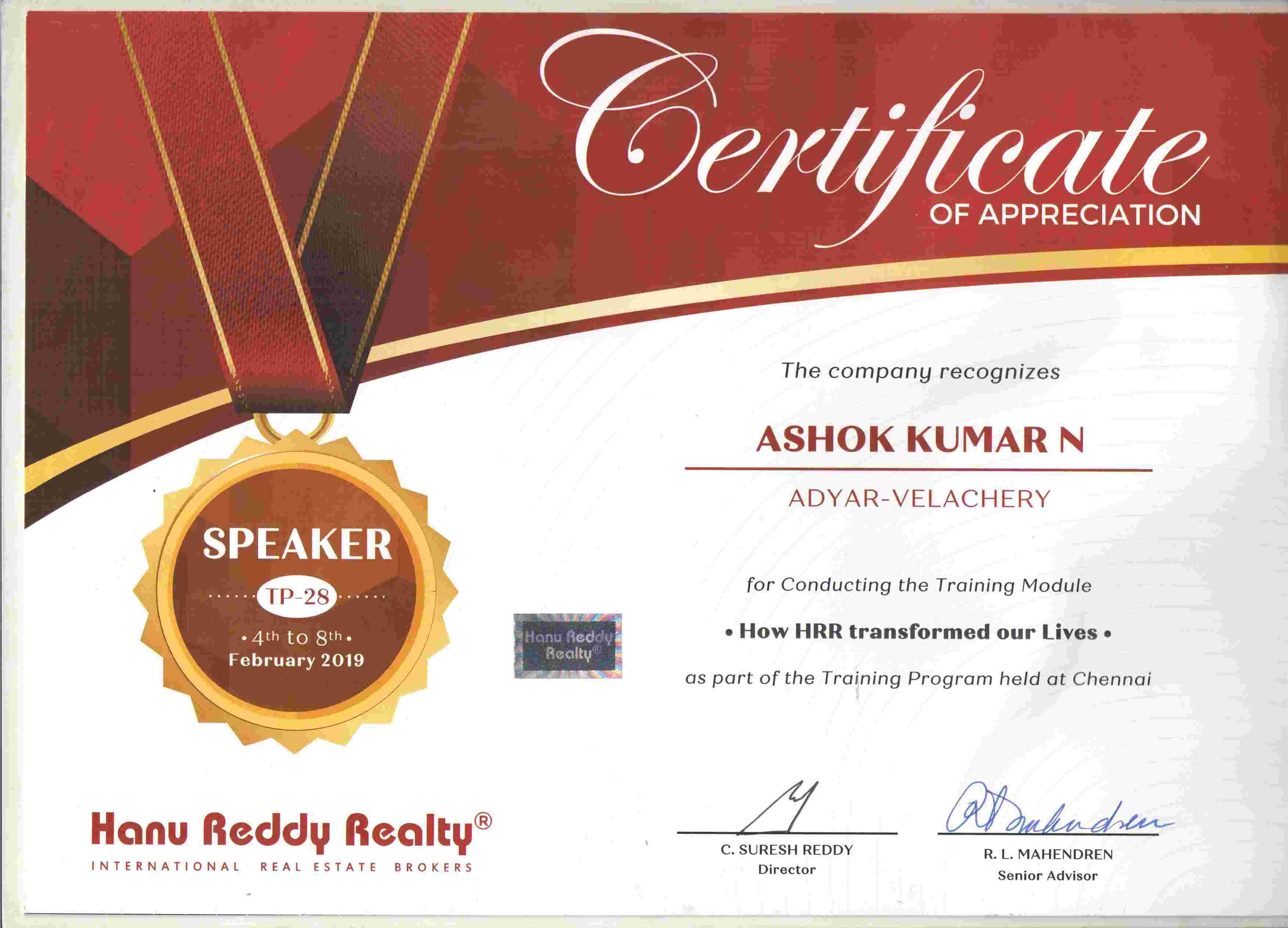 3801
Google Review
21-Jan-2019
Jaya chandran First of all thanks to N. ASHOKKUMAR & G. SATHEESHKUMAR team gave definitely more than 100% of their efforts in patiently to buy property on OMR Chennai. I am very happy with the services .. They are simply awesome and true professional in service... They had taken care of all works Loan process and educated and explained about all the registration process and paper works. Also we did registration on time as planed with help of N. ASHOKKUMAR & G. SATHEESHKUMAR . They should be gem of the company and I would recommend Hanu Reddy for transparent and safe company for real estate.
3688
Certificate
20-Sep-2018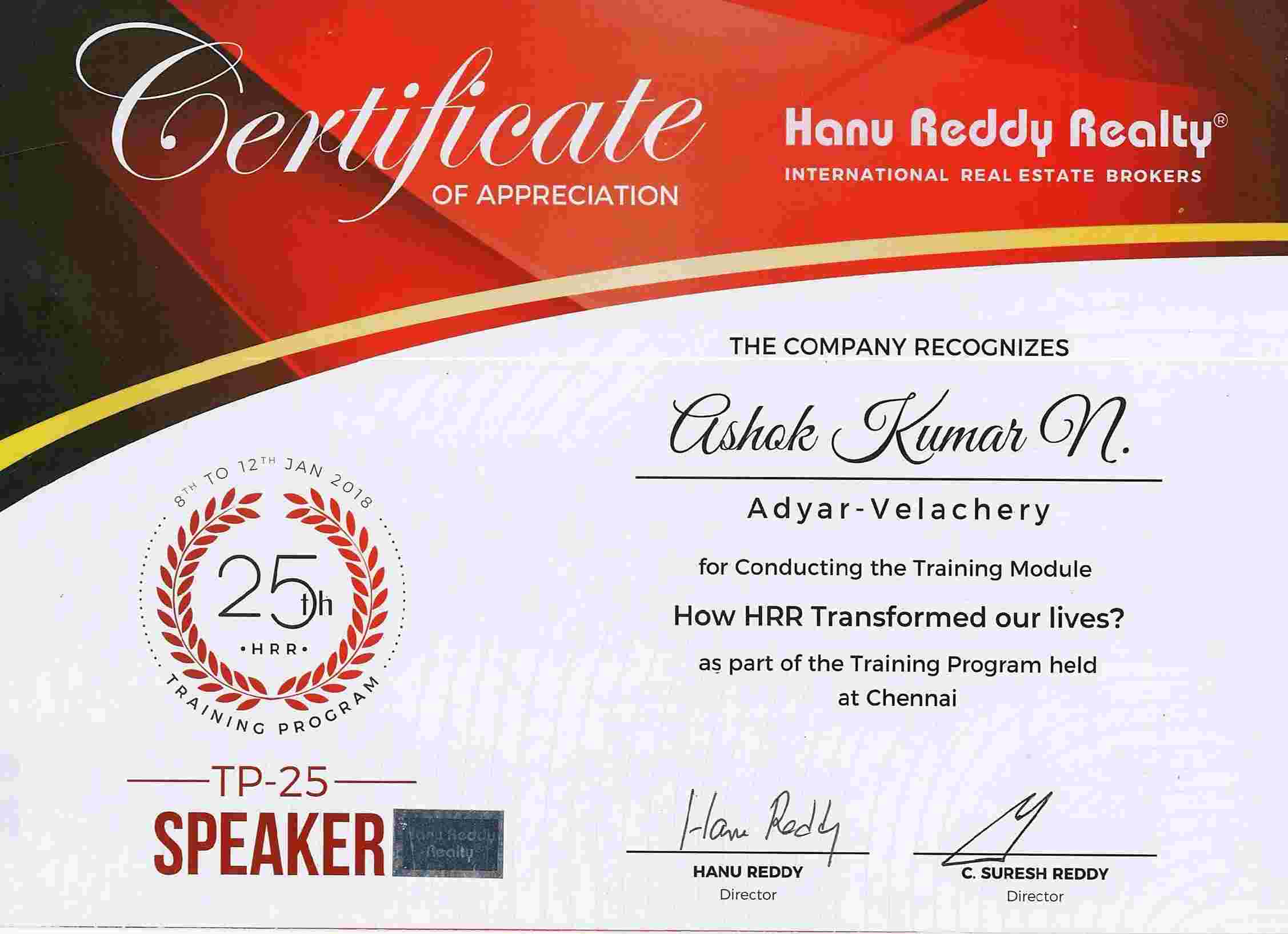 3663
Google Review
29-Aug-2018
Janani Balaji
I am Balaji from Chennai and was looking for a 3bhk flat in and around velachery area. I came across a property at Velachery in Hanu Reddy reality Homesite. From that day, till the registration, the service, professionalism, the commitment from the team was so warm and I had a peaceful experience throughout the process.
I would definitely recommend Hanu Reddy reality. If you are looking for a peaceful and safe middle man, go for these guys. They are awesome!.
Thank you so much
Mr. Siva - VP adyar
Mr.ashok - Realtor
Mr.sheikh - Realtor.
3661
Appreciation Letter
24-Aug-2018
Srinivas Ramamurthi
Dear Sir,
Greetings!
I have just as of yesterday concluded my deal for my apartment in Natwest Paaduka Apartment (3BHK, 1480 Sq ft, with covered Car Park + Amenities).
I have always heard of Hanu Reddy (From Signboards, Magazines, Real Estate websites) but had never bothered to try out your services because of apprehensions and beliefs like "Cut out the Middleman" , "Best to do it yourself" and reasons like Lack of transparency in dealing with someone as a go-between to name a few.
To my utter delight and relief, not only was this experience eye-opening but also enlightening and pleasant from the word go starting with getting all my doubts, queries answered to my satisfaction and knowing the business of real estate better than other agents (who are at best pretenders in this field).
In my case, I have heard of negative things like "Market is down", "It's is a buyer's market", "This property will take forever to sell" or "This property will sell lower" etc. whenever I have worked with other so-called Real Estate Agents, but in this case, Hanu Reddy personnel did not make any tall, misleading claims; they were also never overtly negative about the outcomes. They simply went about their work. In the end, results showed and not only was Hanu Reddy able to find the right buyer, who placed his trust in the seller but also someone with whom I now have developed a personal rapport.
The team of Mr. Sivasubramanian, Ashok, and Sheikh Mohideen is definitely one of the best I have dealt so far in real estate matters -Their qualities that stand out are that they are Knowledgeable, Helpful, Responsive, Pleasant, Attention to detail, Having a great ability to Listen to clients, trying persistently and diligently to find solutions when problems arise to name a very few.
I am now completely of the belief that Hanu Reddy is the one-stop solution for real-estate needs and would like to work with your team in Bangalore as well, where I am based.
I take this opportunity thank you for your support in this deal as well.
Thanking You.
Sincerely,
Srinivas Ramamurthi
A satisfied customer
3648
Google Review
13-Aug-2018
S Lakshmi Narasimhan
Real Estate deals are difficult to go through to say the least. However, right from the time we met Mr. Sivasubramanian (Vice President) and Mr. Ashok Kumar at their Adyar office, my wife and I knew we were dealing with professionals and were in good hands. Right from documentation to the actual process of sourcing a buyer (after vetting them based on seller needs), through coordinating communication between buyer and seller, researching fund sources of buyer, to fixing the date of registration and getting everything ready, Mr. Sivasubramanian and his team of Ashok Kumar and Sheikh showed excellent professionalism. What we liked also was that this team was fair to both buyer and seller and did not take sides. Considering that we reside in New York city and the property was in Chennai, it was indeed remarkable that Mr. Sivasubramanian's team brought us together with the buyer and carried out the registration painlessly and in a smooth way. It is important to mention that once they take on a customer, they are not in a hurry to get the sale done but look st market factors and in the end both buyer and seller go away satisfied. You cannot ask for a better approach than this. This was our first experience with Hanu Reddy and we came away impressed. We will be telling our US and other friends about this professional bunch of individuals. Thank you Mr. Sivasubramanian, Ashok Kumar and Sheikh.
3649
Google Review
13-Aug-2018
VIJAYALAKSHMI SHIVA
We very much appreciate your nice co-operation given in this dealing. Your team member Mr.ashok kumar and Mr.sheik mohammed co-ordinate very well in each movements from the beginning amicably in pleasing manners and we were very comfortable and happy with them. Thank you once again for your good deal.
With regards
S.Shivasubramanian &S.Vijayalakshmi
3753
Certificate
08-Aug-2018
3613
Certificate
18-Jul-2018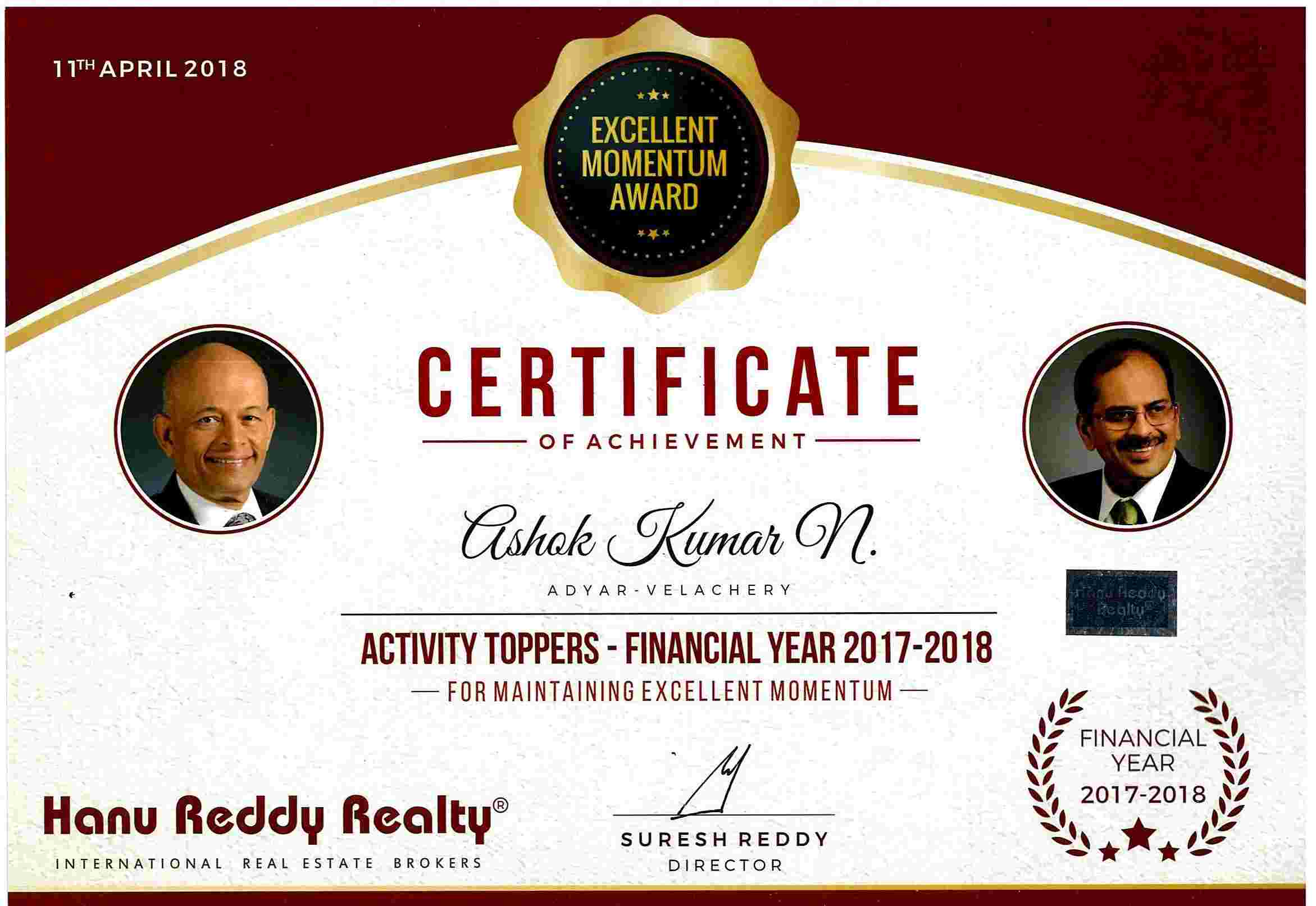 3486
Certificate
18-Apr-2018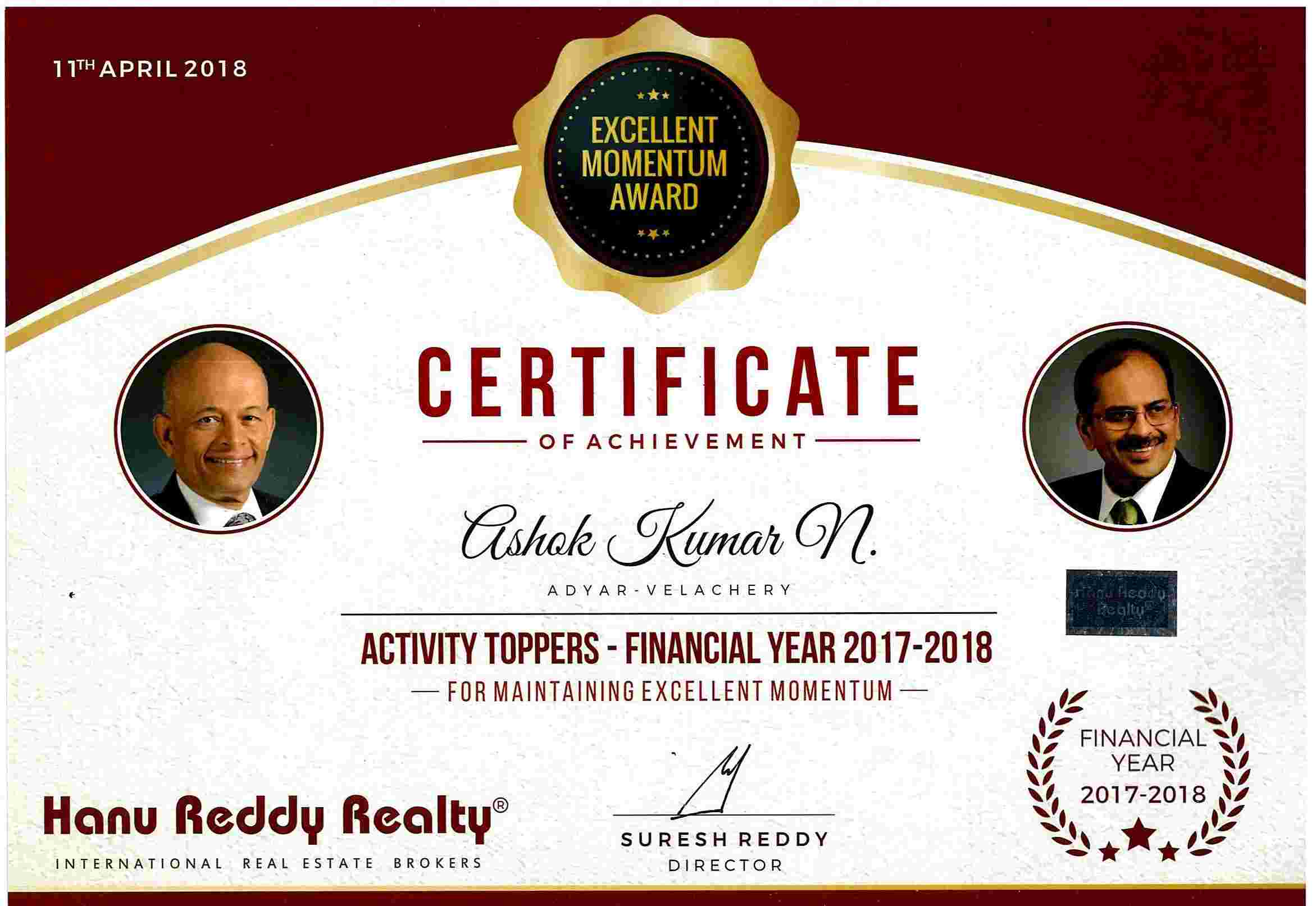 3360
Google Review
10-Jan-2018
Dr. T. Parthasarathy
I would like to introduce Myself Dr. R. Parthasarathy, a satisfied seller of my property located at Vijay Akshaya Apartments , Kalashetra Road, Thiruvanmiyur, Chennai 41.
In the very first meeting your staffs Mr. Ashokkumar and Mr. Sheikh Mohideen they have impressed me by their understanding my requirements very clearly. The flat has 100% UDS and this has been display in your sale board in the premises. Very patiently they are showed to 40 plus customers. To me they have given me the feedback of market position, only real buyers are coming up. Speculaters are not coming up. The flat laks Covered Car Park and Lift. Thus your staffs assessed the market and the flat. Came back with the feedback and finally came up with a good and law-abiding buyer.
Your staffs Mr. Ashokkumar and Mr. Sheikh Mohideen accompanied us till all formalities of registration successfully completed.
To conclude I would say that I will recommend your company to my friends and relatives
3351
Certificate
20-Dec-2017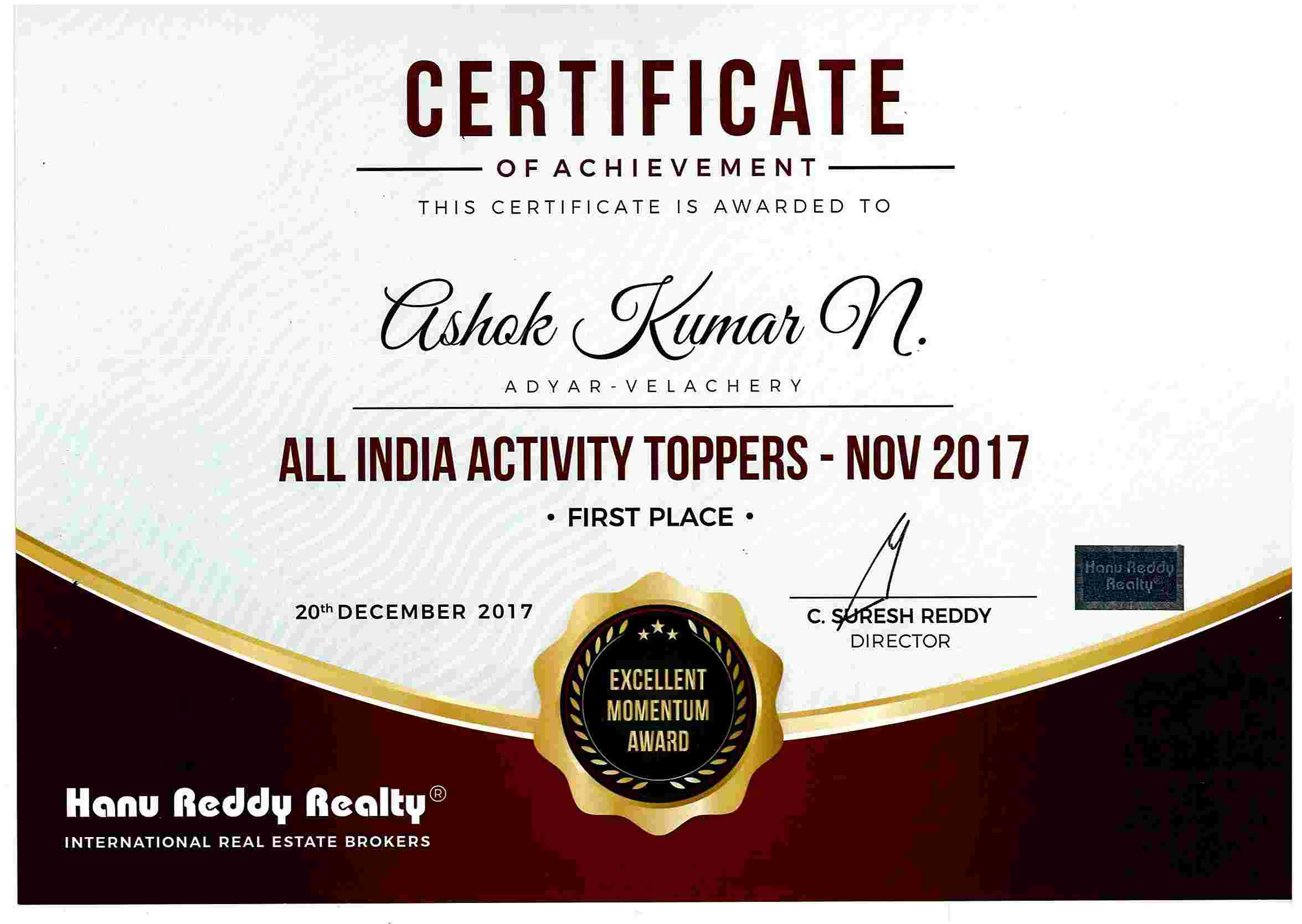 3331
Certificate
07-Dec-2017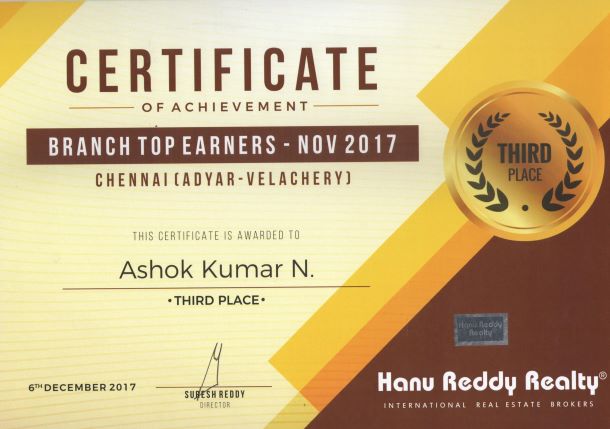 3275
Google Review
12-Sep-2017
Sriram Padmanabhan
I wish to record that th services rendered by the members especially Mr. N. Ashok Kumar and Mr. K.N. Sundar Raj of Ms. Hanu Reddy Realtors was highly appreciable and with good spirit. They have been cool in handling things and highly cooperative and get the things done in timely manner
3272
Google Review
09-Sep-2017
Isaac Thomas
Thanks to both Mr Ashok Kumar and Shaikh we were able to rent our apartment at a good rental. They were both courteous and professional and we would recommend them to future clients.
3265
Certificate
23-Aug-2017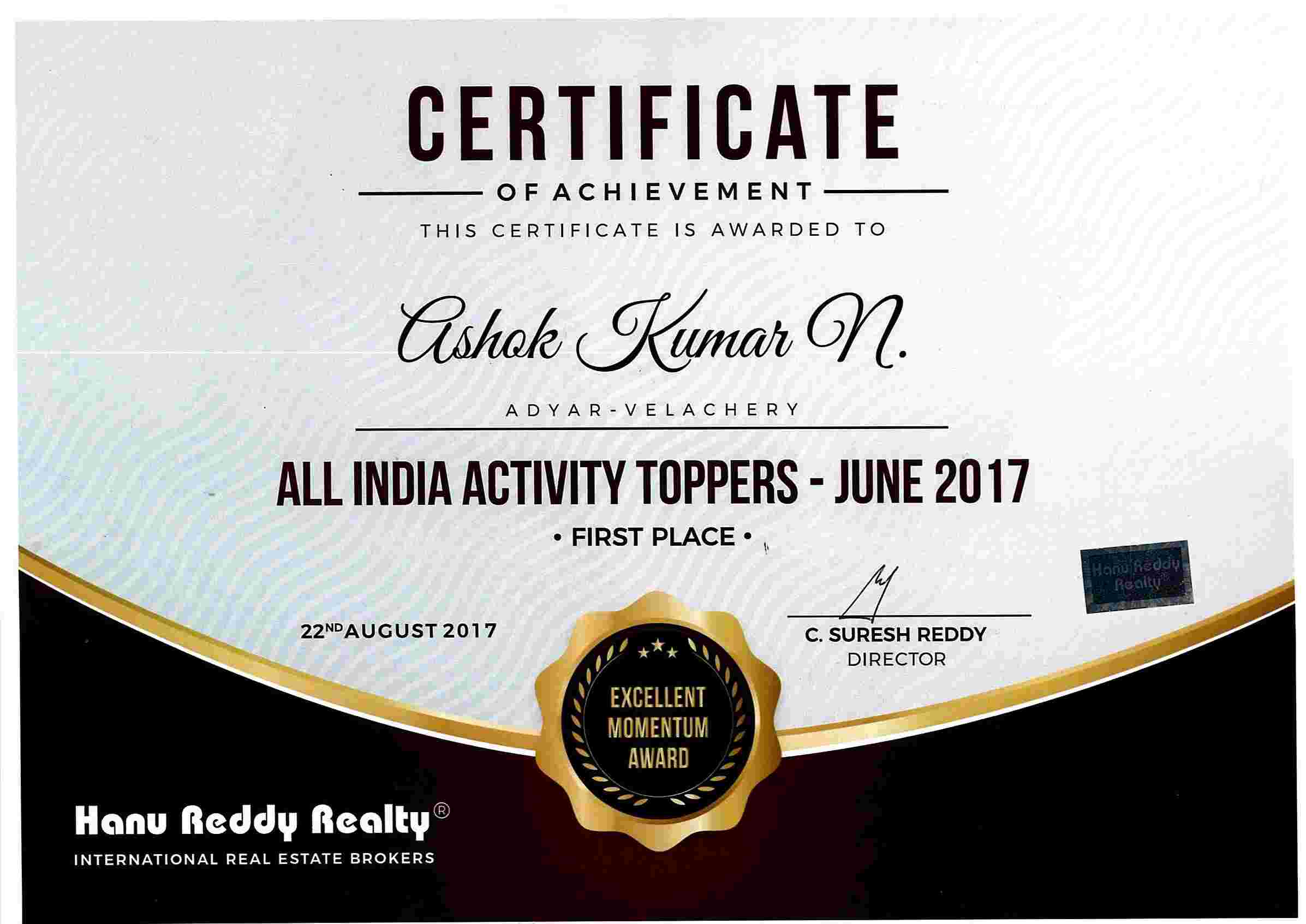 3266
Certificate
23-Aug-2017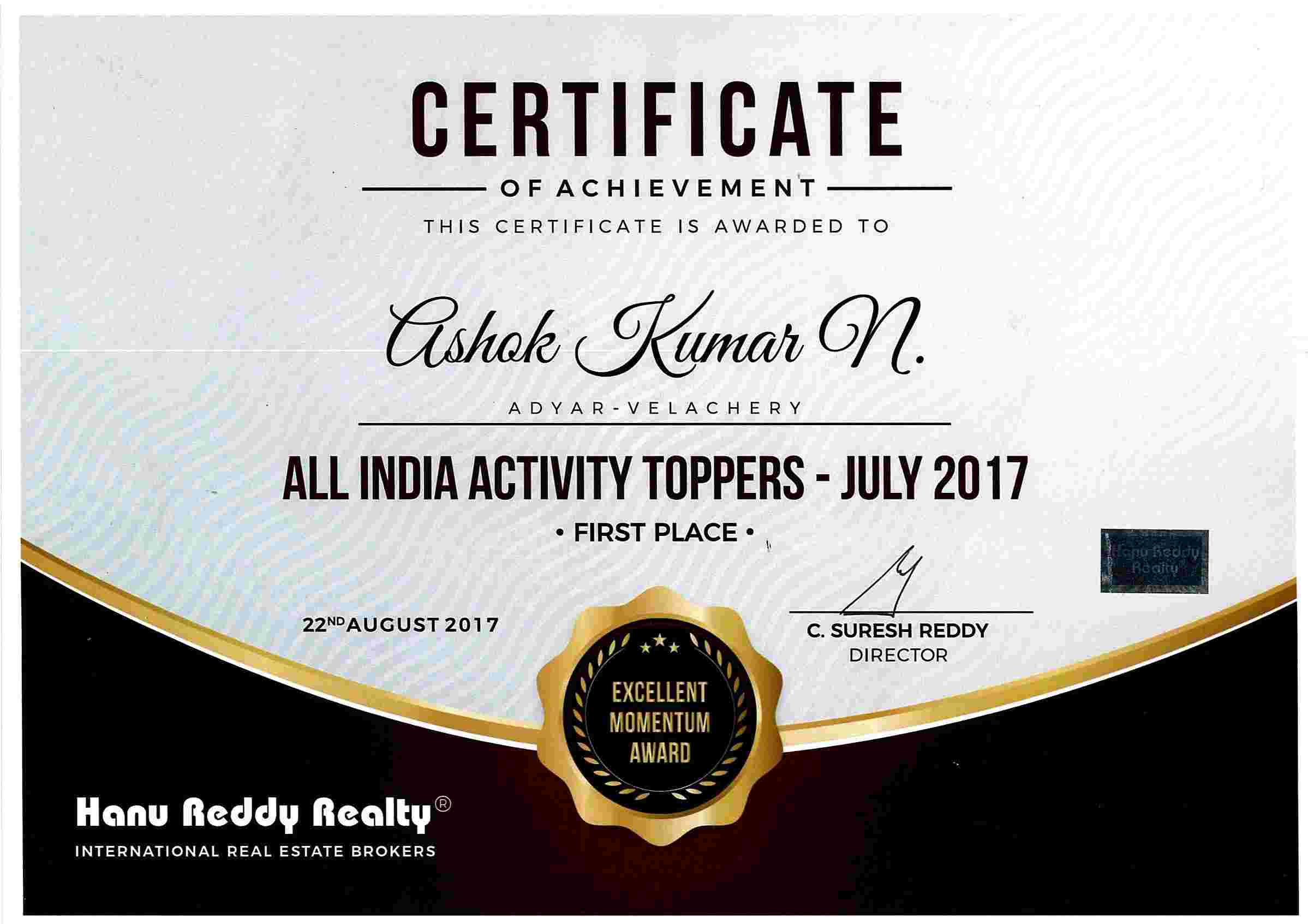 3242
Certificate
01-Aug-2017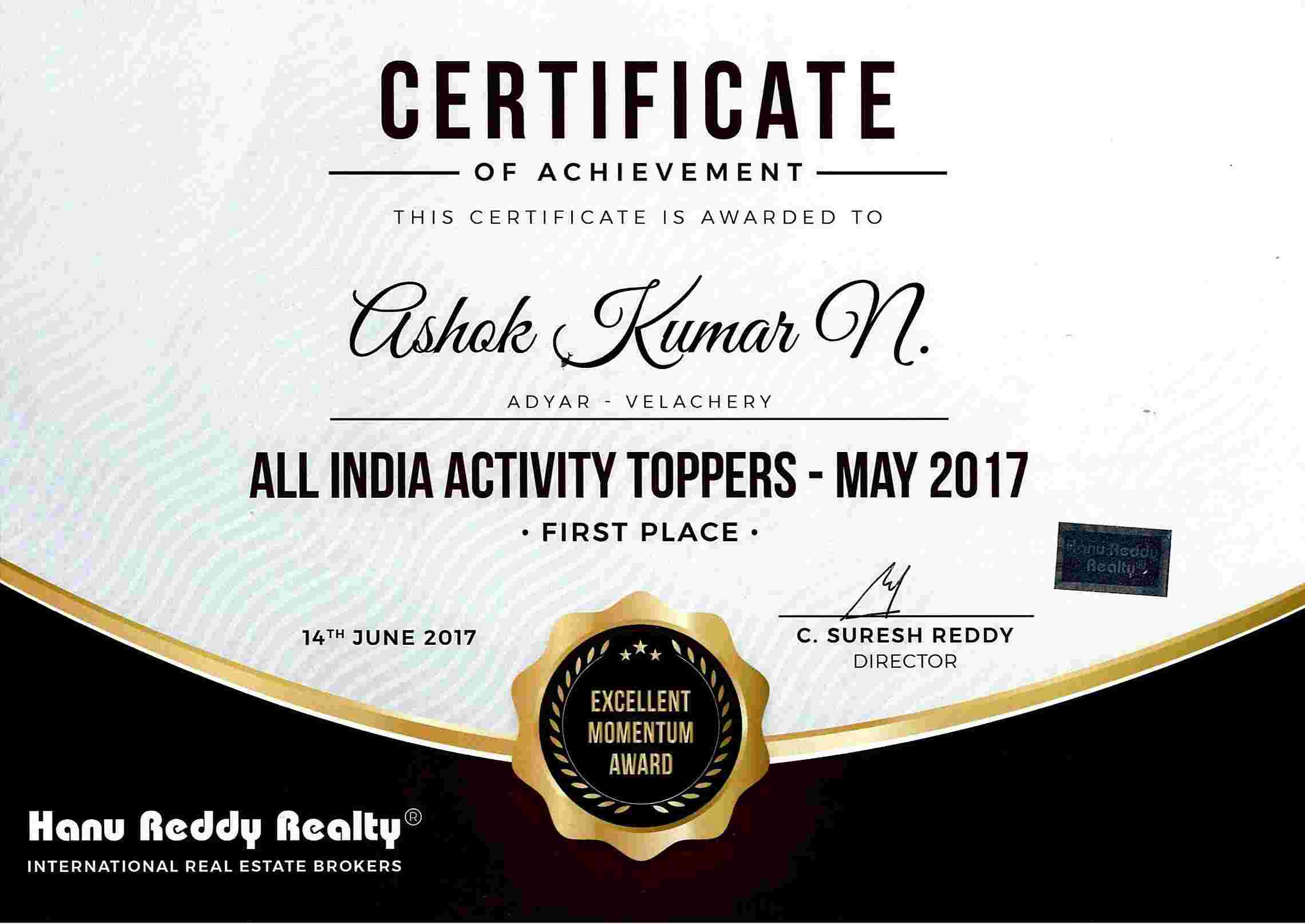 3235
Certificate
29-Jul-2017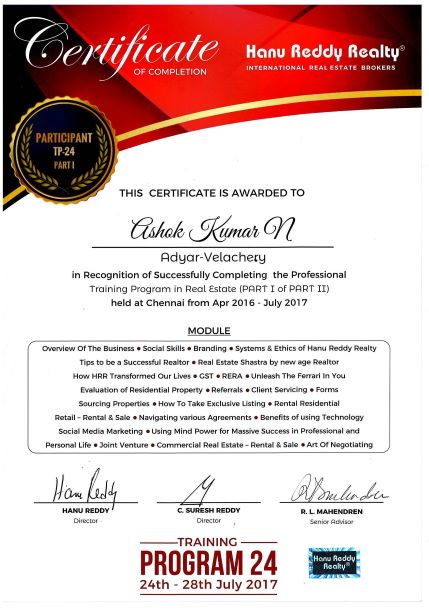 3180
Certificate
18-May-2017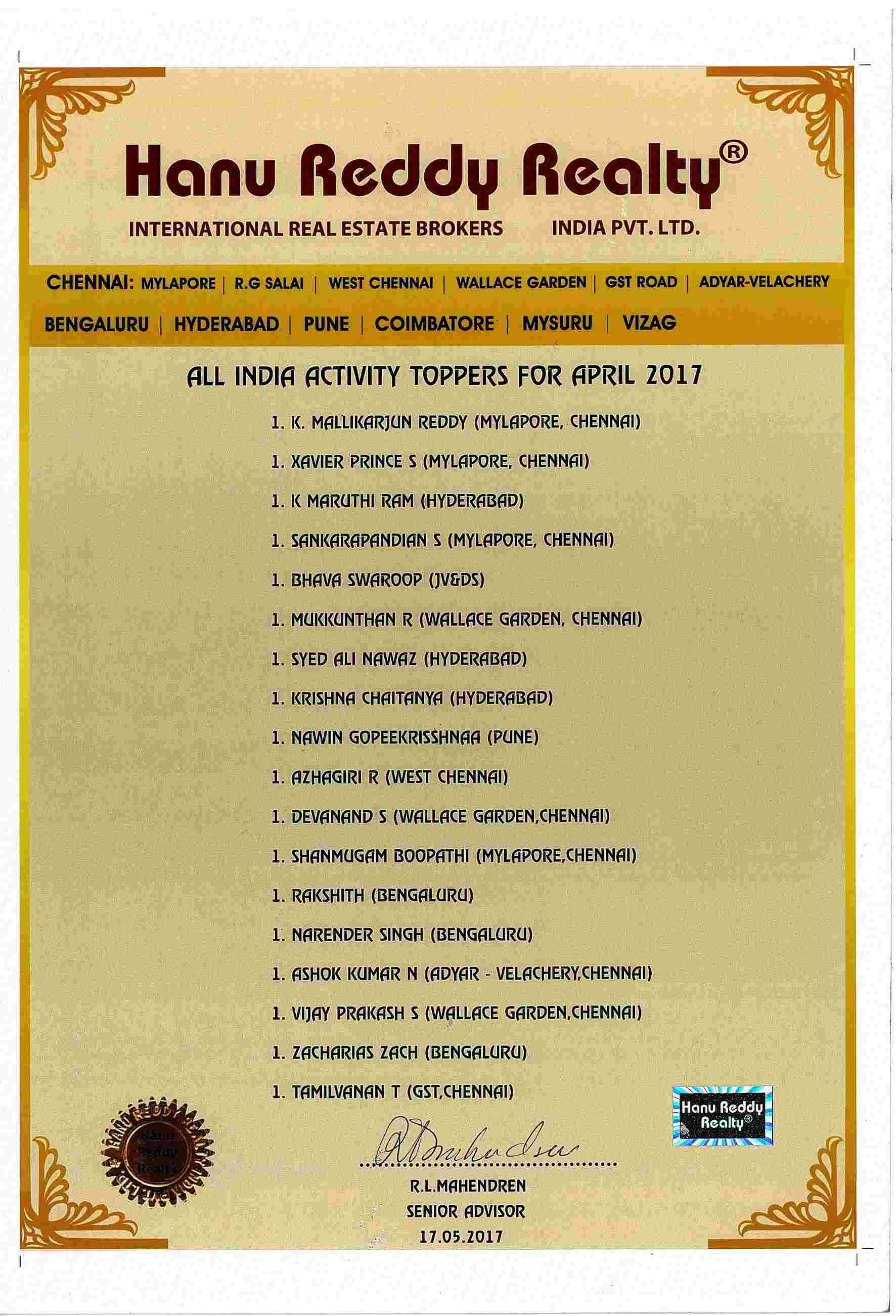 3146
Certificate
26-Apr-2017
3135
Certificate
12-Apr-2017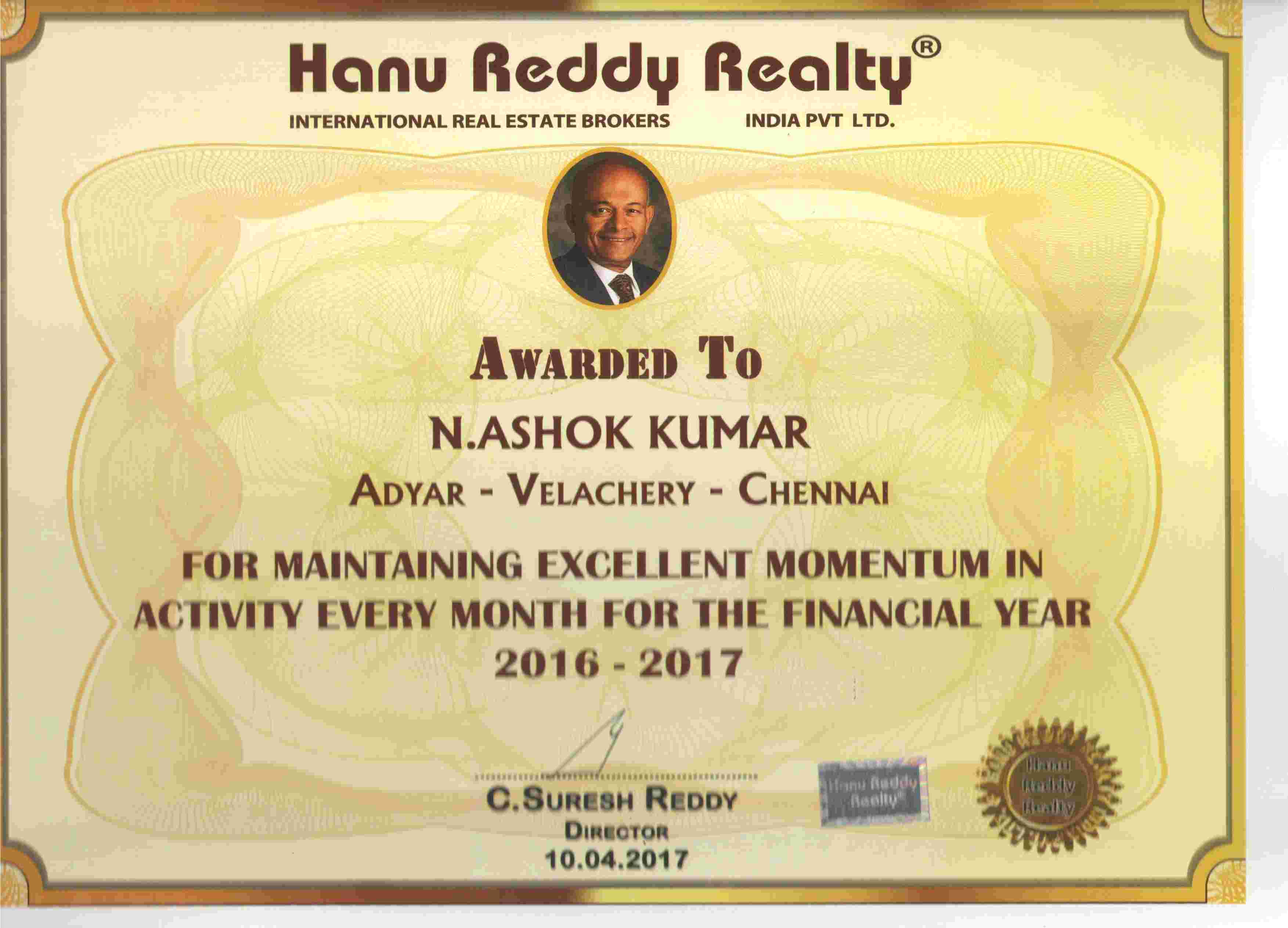 3104
Google Review
09-Mar-2017
Subramanian Pitchumani
I had a very pleasant experience dealing with Hannureddy realty. The services offered by Mr Sheikh and Mr Ashok were professional and finalised the deal in a very quick time. I appreciate the good work by Hannureddy and it's officers.
3082
Certificate
07-Dec-2016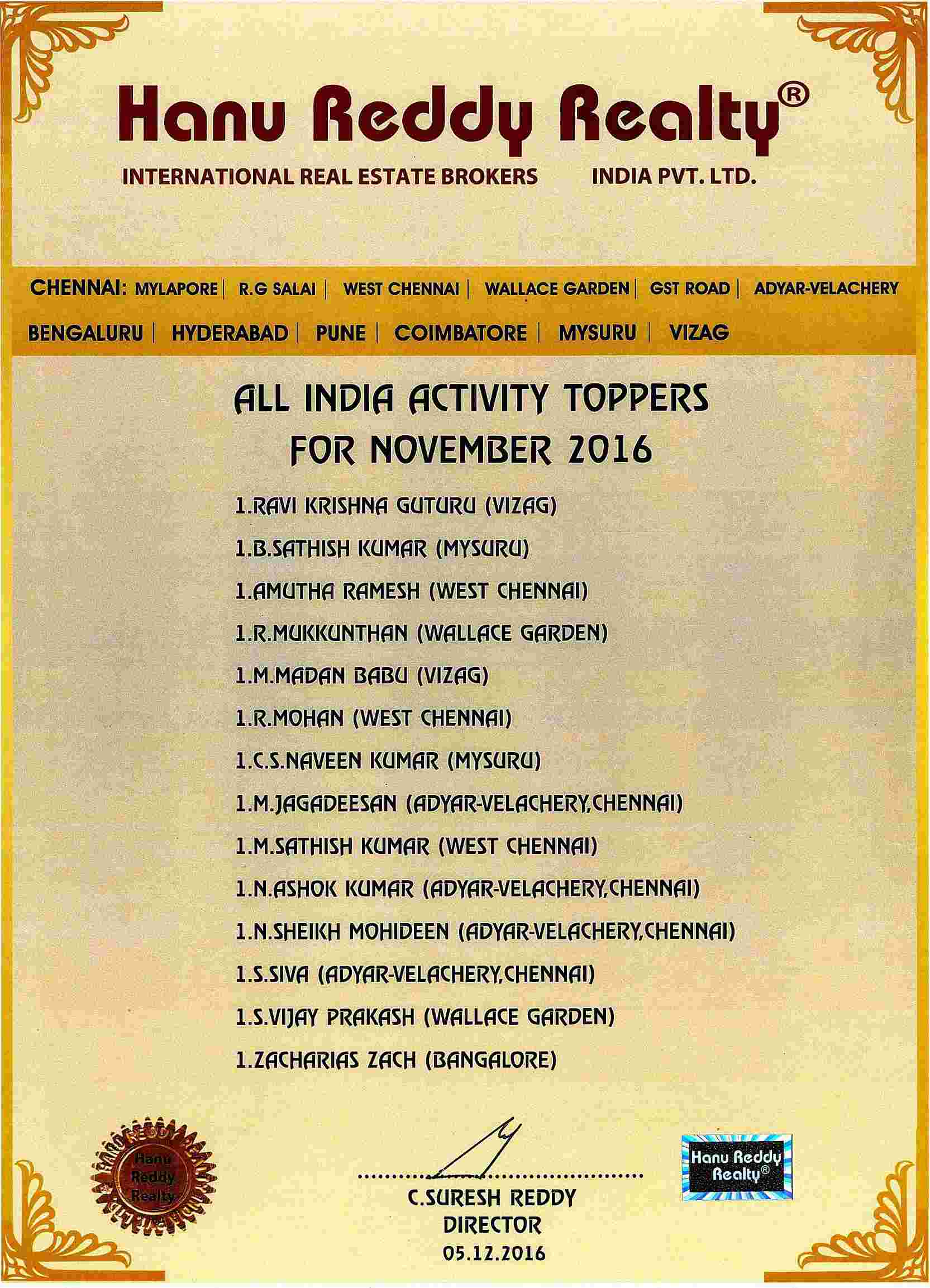 3025
Certificate
17-Nov-2016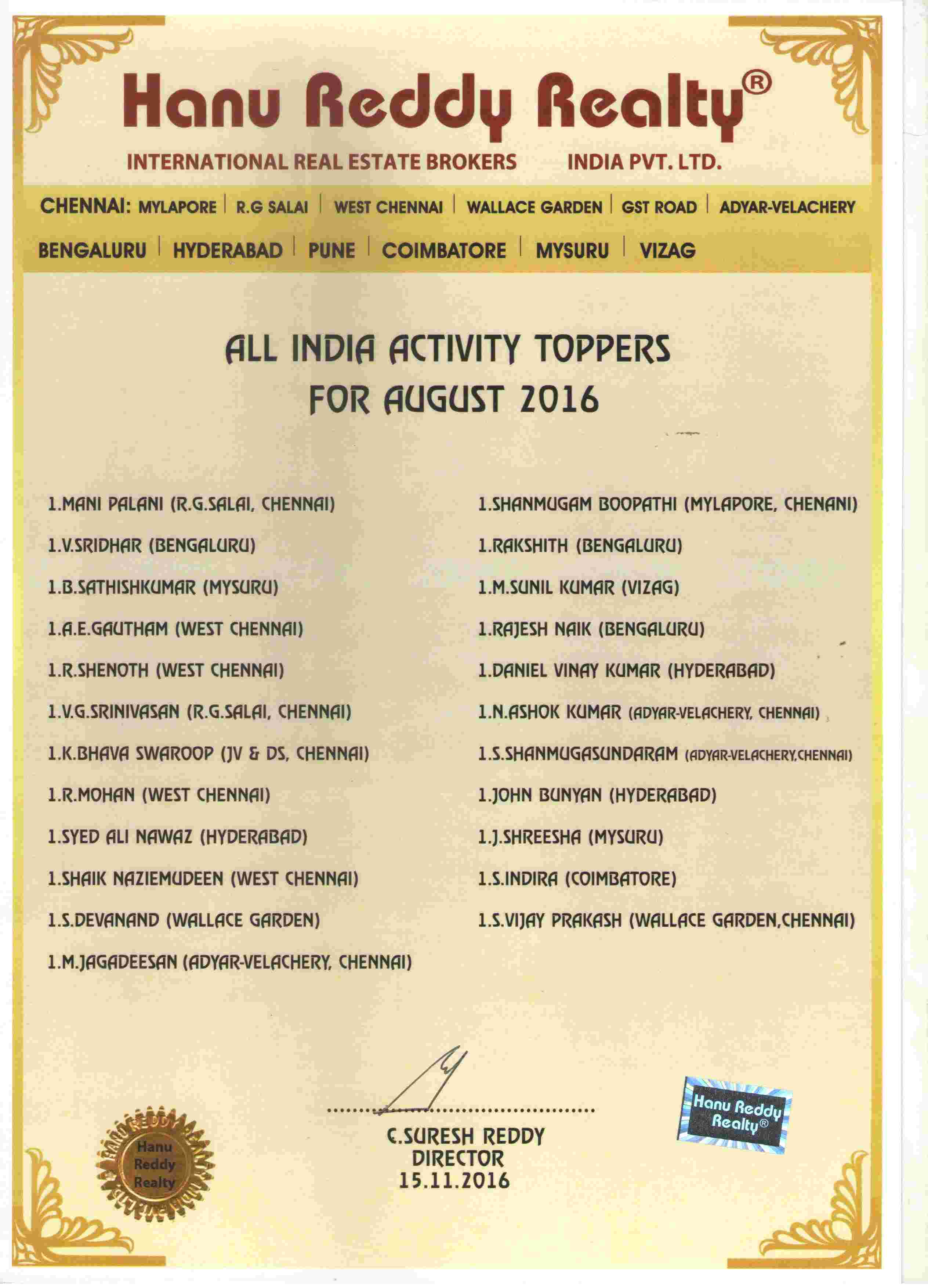 3010
Google Review
08-Nov-2016
Praveen Joe
The coordination was excellent and their approach was professional in all transactions and over all it was a pleasant experience
3007
Google Review
07-Nov-2016
Johnson JK
It was a truly a good professional approach by Hanu Reddy Realtors in identifying buyer for my flat in Velcherry Chennai . Specially i need to take the name of Mr. Jagadeesh and Mr. Ashok who tirelessly stood firm behind me from the beginning till the deal finalized, registration done and payment received. I really recommend them and Hanu Reddy for any kind of Real estate transaction and appreciate their profession service and approach.
Johnson JK -.
2951
Certificate
06-Jul-2016
3083
Certificate
05-Jul-2016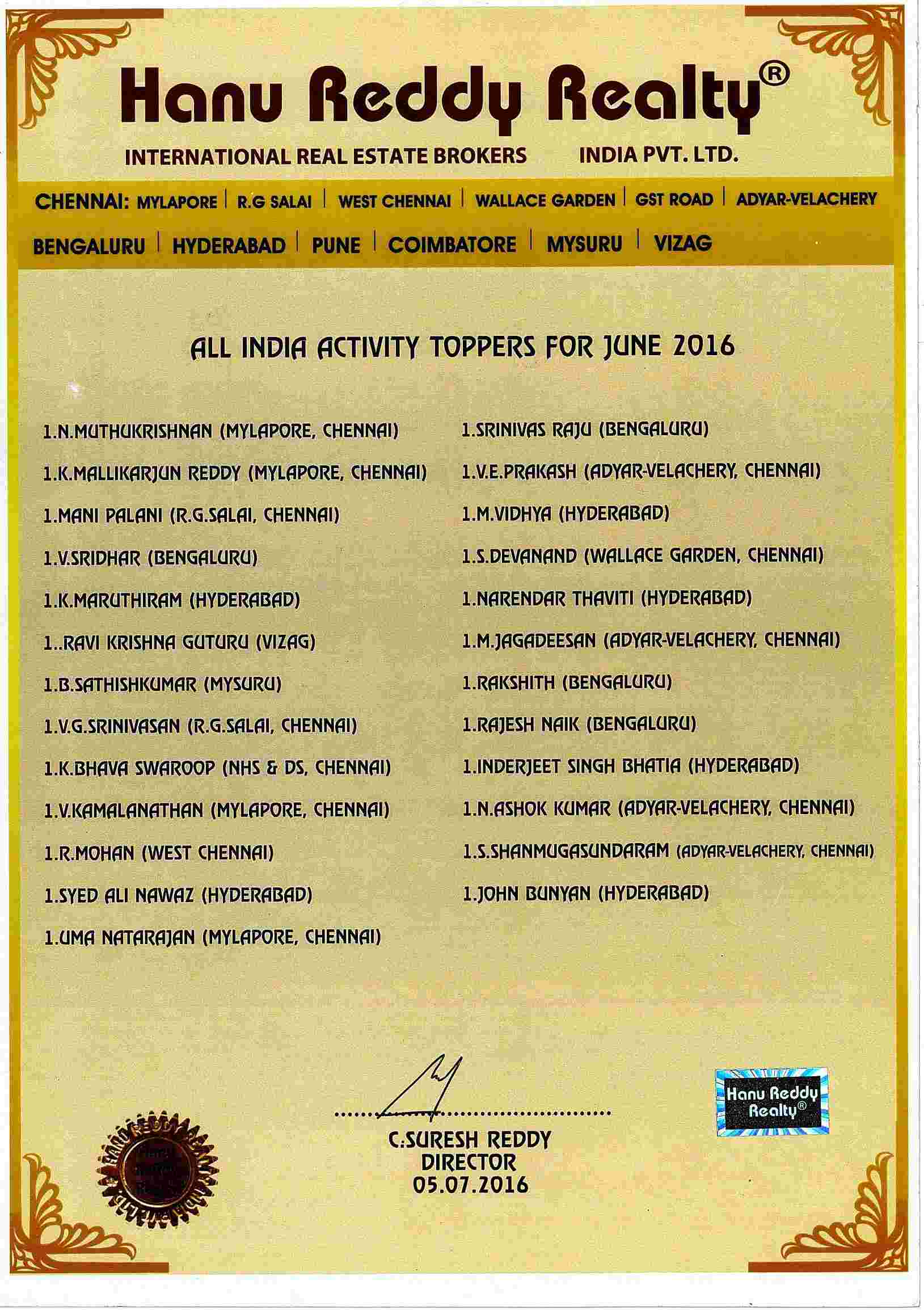 3081
Certificate
05-Jul-2016
3084
Certificate
04-Jul-2016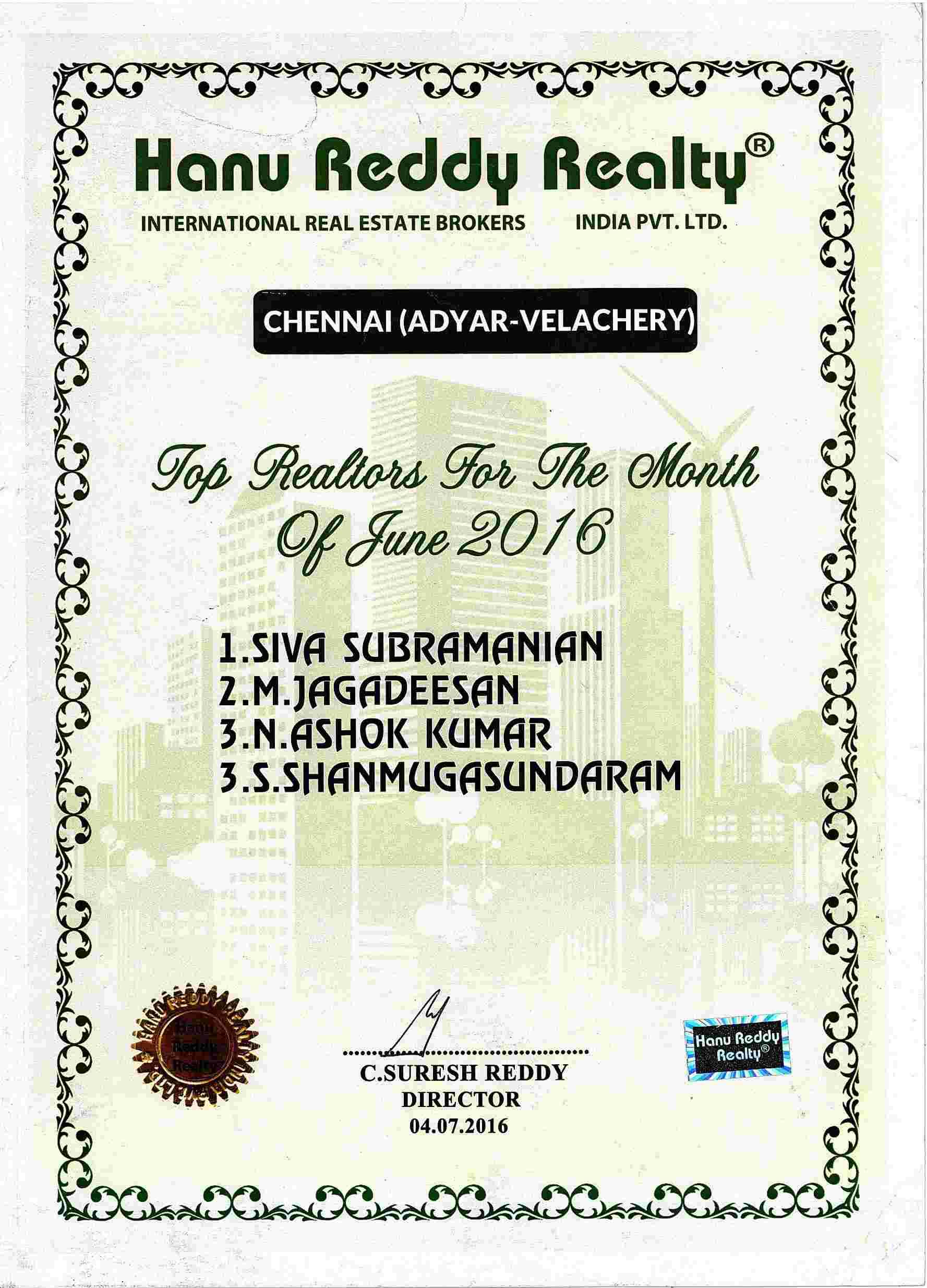 2946
Certificate
17-Jun-2016