Testimonials
This is what our clients say about us...
View All Testimonials
4401
Appreciation Letter
04-Dec-2020
P.N.Hariharan ( CFO, ITM Mumbai) 4 Dec 2020, 11:50 (7 days ago)

Dear Muthu Krishnan I would like to say a big Thank you to you for enabling successful closure to this transaction By all standards, with your calm and poise, your services delivery were more than 10 times the expectations from the clients.
Also, please thank Mr Suresh Reddy for the hospitality and for taking his time to show us around the SPPG garden which is truly a marvel right within the city.
Over all, it was an enjoyable experience working with you and HRR team. We do look forward to being associated with you in future Once again,
Thank you so much. Have a nice Week end.
Regards
Hariharan PN Chief Financial Officer
ITM Group of Institutions Navi Mumbai-400703.
4021
Testimonial - Mr.Thomas Isaac
25-Jul-2019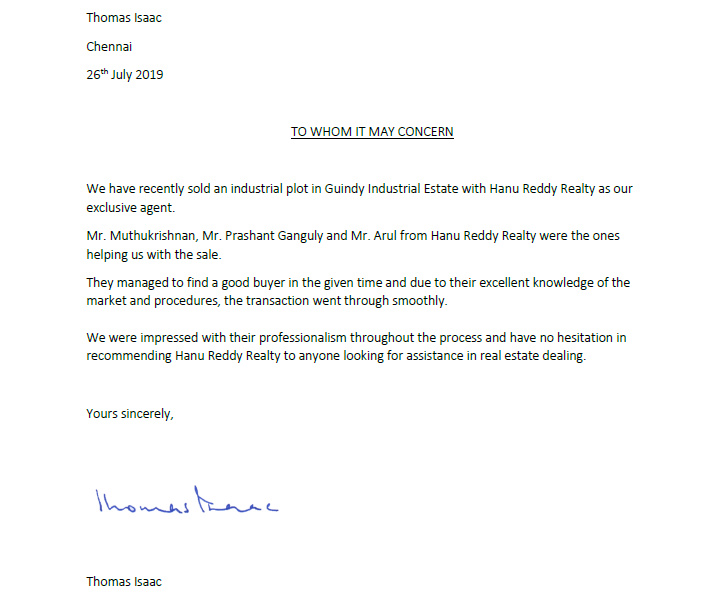 3440
Testimonial from Seller Mr.Praveen Kamath
28-Mar-2018
PRAVEEN KAMATH
At the outset on behalf of the Kumar's and Kamath's I take this opportunity to thank Hanu Reddy Realty India Pvt Ltd for having undertaken to complete the sale of CAMP TECH PVT LTD at guindy from start to finish over a period of approximately 3 years.
My special thanks and appreciation to Mr N.Muthukrishnan –VP Commercial, Mr Prashanth Ganguli (Realtor) both representing us and Mr.Venkararamana (Senior Realtor) representing Mr Ajit Chordia for the fantastic unstinting support in addressing issues at various stages and bringing the sale process to its favourable end on 19th March.
We wish all of them very well and all success in their future projects. Once again it was a pleasure to be associated with you.
3296
Appreciation Letter
06-Oct-2017
Dear Mr.Suresh Reddy
Greetings from Natarajan .
l congratulate the " Team Hanureddy " including you as the Managing Director for having successfully sold our Thiruvanmiyur property .
The team consisting of Mr.Mallikarjun reddy ,Ms.Uma & Mr.Muthukrishnan have done a commendable job in closing the deal . My sincere thanks and hearty congratulations to them .Thanks to Mr.Jagdeesh of your Adyar office .
Incidentally when I first came to your office and met you ,Mr.Mallikarjun & Mr.Muthukrishnan I was very much impressed with your professional approach .I was confident you will be able to sell our property Of course ,the time , market situation and how well the opportunity is utilised are very important. You have done it . Kudos to M/s Hanureddy !
With warm regards,
R.Natarajan
3294
Appreciation Letter
10-Jun-2017
Dear Mr.Suresh Reddy and other staff,
At the outset, I wish to CONGRATULATE your entire HRR TEAM for successfully concluding our Vasantham Property Deal to the satisfaction of all of us.
Though I haven't met Mr.Suresh Reddy and Mr. Mallikarjun Reddy earlier,I have heard a lot of praise about them from my Brother-in-law Mr.Natarajan.During our meeting,I could see their vibrant participation in finalising the Indemnity Bond and pitching in to sort out the unexpected last minute "Hick-up" we had with the buyer. THANK YOU Mr.Suresh and Mr.Mallikarjun for all your efforts in mediating with the buyer at crucial stages and sealing the deal.
My sincere THANKS to Mr.Muthukrishnan,who showed immense patience in answering our frequent calls and querries. We all knew very well that ours was a complicated case,entangled in problems.Every time I spoke to Mr.Muthukrishnan and expressed my anxiety over the critical situation confronting us,he would put me at ease and give a very positive response explaining the issue.His reassurances gave me confidence that we were in safe hands.
On the day of Registration,Mr.Muthukrishnan showed amazing maturity in handling some anxious moments and sorting them out amicably..I really appreciate his calm and composed nature and his pleasant approach with the clients. Never once did he show any irritation to the umpteen questions we asked him,sometimes repeatedly.
THANKS A LOT Mr.Muthukrishnan and Iam very happy that Our Vasantham Deal got finalised thro your efforts.
Ms.Uma is another pleasant face in your HRR Office.Her warmth in welcoming the clients, the hospitality extended and her polite talks really makes you feel comfortable. THANK YOU very much UMA. I must also mention about Mr.Jagadeeshan,who,very quietly went about doing his task meticulously. My appreciation and THANKS to him.
On the whole,I had a very pleasant and satisfying experience with your HRR TEAM.My daughters also join me in extending their greetings and thanks to you all.
Once again A BIG THANKS to the HRR TEAM.
With Best Wishes and Warm Regards,
Pushpa Mohan
2673
Appreciation Letter
11-Mar-2015
Dear Mr.Muthu Krishnan N / VP Commercial Hanu Reddy Realtors chennai .

I want thank you for the excellent service I received from

G. Kumara

Raja

A/c DAAD chennai office last week

.

It was truly a commendable performance. I know these things do not happen without a great deal of effort on the part of everyone, and I want you to know how much we appreciate his hard work , perseverance & patience shown during closure , initial stages .

I want to compliment Raja for his positive attitude, he went to great lengths to help me finalize the deal with DAAD Chennai / Delhi Team thru constant co-ordination & continues followups calls . I have always received quality & prompt service , as Raja knew just what to do to solve my problem quickly and finalize the Lease T C's & arrange for quick transfer security deposit to my A/c even in the face of several obstacles .

Such service with your apt guidance , builds great working relationships. I will bring all my future business needs to Hanu Reddy thru G. Kumara Raja from now on. I will also recommend Kumara Raja to all my friends & acquaintances .

I was personally impressed with the way you kept your staff motivated and focused .

Thank you for giving me your best. May you enjoy this same type of success in all your endeavors.
796
25-Sep-2013
From the desk of
P.Manoghar, B.E., M.B.A., D.B.F.,
Chennai – 17
manoghar@hotmail.com
To
M/s Hanu Reddy Realty India Pvt Ltd,
Attn: Mr. N. Muthukrishnan & Mr. S.Sivasubramanian
chennai
Dear Sir,
Greetings Mr. NMK., & Mr. Siva, for your successful completion of our rental deal.
At the outset, I would like to appreciate your professional work in executing the rental deal. Though our association is dating back to several years, it is only this time, I happened to be in close-quarters with your way of functioning. I always held that "art of negotiation" is very crucial in a business. But now, I realize that "art of deliberation" is equally important, courtesy NMK's team. The way you have traversed with us, though for a short period of time in inking this deal, had kept us in the comfort zone. Mr.NMK, I would rather call you as a "shock-absorber" as you had been the perfect vent for letting out the emotions, sentiments, anticipation and suspicions of both the parties. We had made big compromises in the deal, but your handiwork had made it look small. Your professional work in dispelling the doubts about the credentials of both the parties would require a pat at the back.
Keep it up and hope M/s Hanu "Reddy is Ready" for the next challenge.
Regards
P. Manoghar
213
05-Nov-2010
Dear Sir,

To
Mr N.Muthukrishnan
VP- Hanu Reddy Realty

I want to Place on record my appreciation for the wonderful efforts at collaboration, coordination and closure rendered by you and Vinoth in helping me clinch the deal with Amace Builders for their property @ Mahalingapuram, Nungambakam (Chennai -TN)

I noticed that the support extended was of a very high professional order. The quality of Follow up was impeccable and in all, one finds that the efforts too was very comprehensive and extremely high quality stuff.

Thanks indeed- it has been my dream to buy a house in Chennai for long and your support and efforts made them possible.

I just want to thank you from the bottom of my heart for being the support pillar in this deal. I will recommend your services to my friends and family.

May your tribe grow!!



Many thanks and best regards

GOPALAKRISHNAN RENGAN
Head of Sales
Agro Tech Foods Limited Yours sincerely,



2270
01-Jan-2010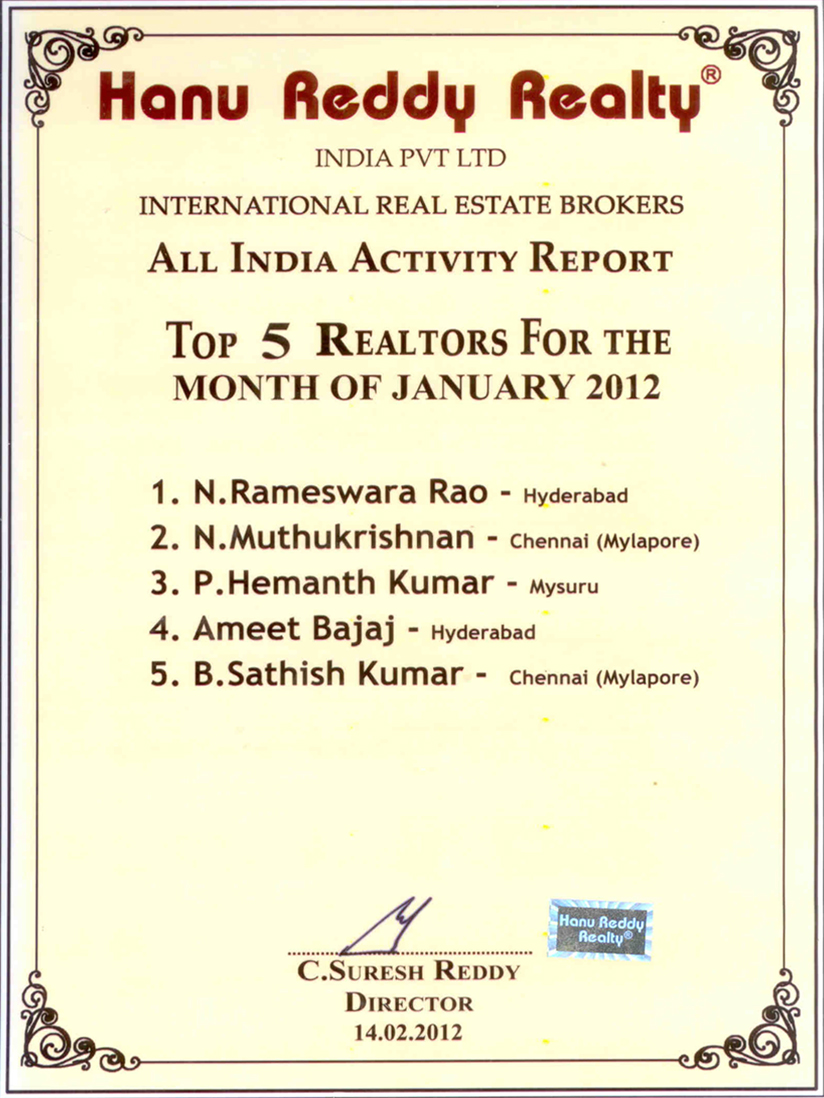 2058
30-Nov-2009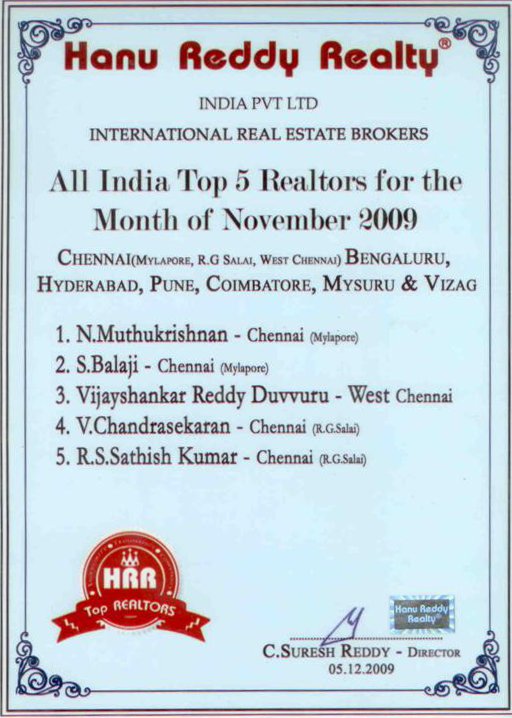 325
31-May-2007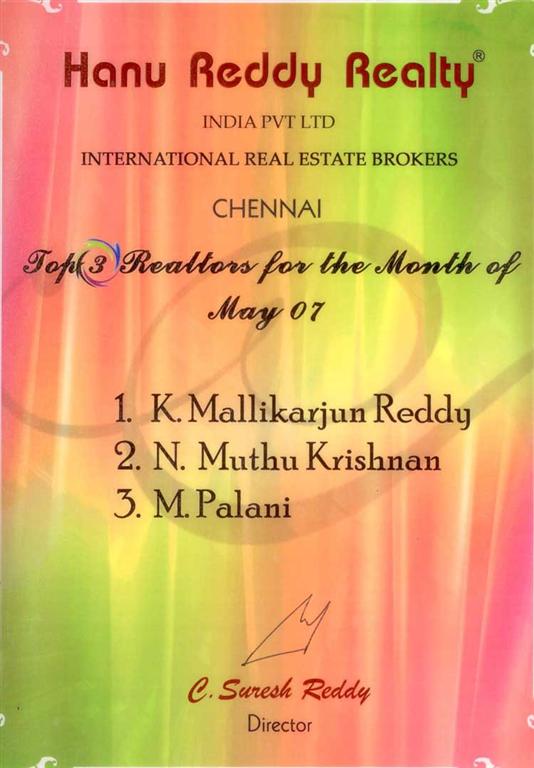 214
27-Aug-2003
Dear Suresh,

HCL Technologies BPO Services Limited
A-104, Sector 58, Noida – 201 301, UP, India
Tel: +91 120 258 9690
Fax: +91 120 258 9688
Web: www.hclbpo.com

HCL BPO


Hanu Reddy Realty India Pvt. Ltd.
"Lakshmi", 18, Bishop Wallers Avenue (East)
Mylapore
Chennai – 600 004.

Kind Attn: Mr.C.Suresh Reddy,

We are proud to have been associated with you in finding suitable Office space for our BPO Centre in Chennai.



We appreciate the promptness with which our requirement was attended to and the professional manner in which you have handled the entire deal. Our premises in 30, Ethiraj Salai, Chennai 600 105 has been appreciated by all our foreign Clients and people from our Corporate office.



Special appreciation is due to Muthukrishnan who exhibited lot of commitment and dedication in working out all the details.



I wish your organization all success in your future endeavors.


Thanking you,

Yours truly,
For HCL TECHNOLOGIES BPO SERVICES LTD.


RANJIT NARASIMHAN
Chief Operating Officer


Registered Office: 806-808 Siddharth, 96, Nehru Place, New Delhi – 110 019



215
17-Jul-2003
Dear Sir,

International Services

Harbour Gate House",

36 (Old No.44-45), Rajaji Salai,

P.O.Box 1396, Chennai – 600 001

Tel: 25232981/2/3 Fax: 2523 3235

e-mail: insmaa@md3.vsnl.net.in


Mr.Suresh Reddy

M/s.Hanu Reddy Realty India Pvt. Ltd.

"Lakshmi"

18, Bishop Wallers Avenue (East)

Mylapore, Chennai – 600 004

We write in appreciation of your services in obtaining a Tenant for our building 'Aurora', at Haddows Road. The manner in which you handled this transaction was commendable from beginning to end. Along with Mr.N.Muthukrishnan, your inputs were of value and your continuous monitoring of the details in the agreement are appreciated.



We would certainly come back to you for any future requirements.




Thanking you,

Yours faithfully,
(C.D.Gopinath)



216
02-Jul-2003
Dear Reddy,

Birlasoft Limited
3rd Floor, Block 3
Software Technology Park Complex
Sector 29, Noida 201 303, India
Phone : +91 120 2450784, 2456650
Fax : +91 120 2450482, 2450819
Website:www.birlasoft.com

Mr.C.Suresh Reddy
Director
Hanu Reddy Realty India Pvt. Ltd.
18, Bishop Wallers Avenue (East)
Mylapore, Chennai – 600 004

We wish to appreciate the services rendered by yourself and Mr.N.Muthukrishnan in finalizing the property for us at 36, Vijayaragava Road, T.Nagar, Chennai – 600 017 for establishing our Chennai Office.



Your timely response as well as your prompt and professional approach helped the entire transaction proceed smoothly, right from price negotiation to documentation.



We look forward to a sustained relationship with your organization and take this opportunity to wish you and your team very best in all your business ventures.


For Birlasoft Limited


R.Chandrasekaran
Chief Financial Officer



226
De-Activated Duplicate
02-Jul-2003
Dear Reddy,

Birlasoft Limited
3rd Floor, Block 3
Software Technology Park Complex
Sector 29, Noida 201 303, India
Phone : +91 120 2450784, 2456650
Fax : +91 120 2450482, 2450819
Website:www.birlasoft.com

Mr.C.Suresh Reddy
Director
Hanu Reddy Realty India Pvt. Ltd.
18, Bishop Wallers Avenue (East)
Mylapore, Chennai – 600 004

We wish to appreciate the services rendered by yourself and Mr.N.Muthukrishnan in finalizing the property for us at 36, Vijayaragava Road, T.Nagar, Chennai – 600 017 for establishing our Chennai Office.



Your timely response as well as your prompt and professional approach helped the entire transaction proceed smoothly, right from price negotiation to documentation.



We look forward to a sustained relationship with your organization and take this opportunity to wish you and your team very best in all your business ventures.


For Birlasoft Limited


R.Chandrasekaran
Chief Financial Officer



217
13-Feb-2003
Dear Mr.Suresh Reddy,

S.Raghunathan B.E. (Hons), I.R.S.E., Res : 0462-341634
C.E. (Retired) S.Rly. Fax : 0462-342193
E-mail : vasar55@hotmail.com



"Sri Ramajayam"
No.A/5, Veerabahu Nagar,
Pettai, Tirunelveli – 627 004.

To
Mr.C.Suresh Reddy
Director
M/s.Hanu Reddy Realty India Pvt. Ltd.

With great pleasure, I am writing this letter of thanks and appreciation for the excellent brokering work done by your ever-smiling realtor Shri N.Muthukrishnan.



My wife and I decided to sell away my residential house at Anna Nagar as both our children are away in the USA & We are getting older; having decided we called your company having known your reputation - and as my good luck would have it, Mr.Muthukrishnan turned up. With his assuring manners, he told us that the house needs to be given a clean up and face lift which took about a month's time. Immediately after he called us at Tirunelveli and told of a prospective buyer, with whom I could converse over the phone itself.



The deal was struck in no time the purchaser too being a gentleman like your realtor and the registration of the property was completed on 14th of this month.



One important aspect, which I want to mention, is that Mr.N.Muthukrishnan relieved me of the strain in fixing up an agent to do the face lifting work and even fixing up a reliable security watchman for me to engage.



When the deal was nearing the crucial stage Mr.H.Sivakumar a colleague realtor of Sri.Muthukrishnan helped me by giving all technical details like draft Sale deed, documents and certificates required and the twin team was with us all through. My thanks to them who worked sincerely as a Synergical team.



I pray to God Almighty that you continue to render such service to the society in the future also with the help of such good agents on your rolls like Mr.N.Muthukrishnan.


Very best Wishes,



Thanking you,



Yours Sincerely,

S.Raghunathan



218
25-Mar-2002
Dear Mr.Suresh Reddy,

Compaq Computer (India) Pvt. Ltd.
5th Floor, "Buharia Towers"
4, Moores Road, Egmore
Chennai – 600 006

Tel: 91 (44) 823 1510
Fax: 91 (44) 821 6001
www.compaq.co.in

The Director
HANU REDDY REALTY INDIA (P) LTD.
Mylapore
Chennai – 600 004.

At the outset, I thank you very much for your initiative in helping me to identify a good apartment (K.G.Eternia in Alwarpet) during my transfer from Cochin to Chennai. I was really impressed with the professional way of approach and the excellent services rendered by your organization.

I would like to appreciate the good work from your team, especially the services by Mr.Xavier and Mr.Muthukrishnan. They were extremely helpful & supportive.

Thanks once again & wishing the very best to your organization.


Best Regards,

Saji Kumar S.
Major Account Manager



219
03-Sep-2001
Dear Mr.Suresh,

J & B SOFTWARE (INDIA) PRIVATE LIMITED

6th Floor – Tower 1 – Rayala Towers – 158

Anna Salai – Chennai 600 002

Phone : +91 44 8411342, 8411382, 8411382, 8411549

Fax : +91 44 8411172


Ref : J & B / Adm / 106 / 01


Mr.Suresh Reddy
Director
Hanu Reddy Realty
Mylapore, Chennai.

Let me thank you for helping us to locate a nice, good place for our Indian Operations. It was indeed a great pleasure to work with Mr.Muthukrishnan and Mr.K.Mallikarjun Reddy and would like to compliment them for their professional approach.

Kindly pass on our appreciation to both and I am sure that we will have more opportunities in future to work together again.


Thanking once again and with best regards,


For J & B Software (India) Private Limited

T.S.SIVANANTHAM
Director



220
06-Mar-2001
Sir,

E – FUNDS

M/s.Hanu Reddy Realty India Pvt. Ltd.
No.18, Bishop Wallers Avenue (East)
Mylapore, Chennai – 600 004.

Thank you very much for your assistance in obtaining for us a suitable premises for our office.

It was indeed a pleasure working with your Organisation, especially we would like to thank Mr.C.Suresh Reddy – Director whose professional approach in handling the customer was commendable. We also like to thank Mr.Muthukrishnan for the dedicated efforts and co-operation extended to us.

We shall indeed be in touch with you for any of our further requirements.


Thanking you,

Yours faithfully,
For eFunds International India Pvt. Ltd.
Formerly known as iDLX Technology Partners Pvt. Ltd.

R.Padmanabhan
Finance Manager.

eFunds International India Pvt. Ltd. 16, B.N.Reddy Road, T.Nagar, Chennai – 600 017, India
Phone : +91-44-8272628 / 8270925, Fax : +91-44-8203067



221
23-Jan-2001
Dear Suresh,

J-16, Anna Nagar East
Chennai – 600 102, INDIA
Tel: 91-44-26264206 (4 Lines)
Fax: 91-44-26281120
HCL TECHNOLOGIES LIMITED

WSR/AJ/HRR/1909

Hanu Reddy Realty India Pvt. Ltd
"Lakshmi", 18, Bishop Wallers Avenue (East)
Mylapore, Chennai – 600 004.

Attn: Mr.C.Suresh Reddy

Thank you very much for your assistance in obtaining for us a suitable premises for our office.

We would specifically like to appreciate the prompt manner in which our request was attended to and the professional inputs that were provided which greatly helped us to make a decision.

We shall indeed be in touch with you for any of our future requirements.

In this context we would like to appreciate the dedicated efforts of Mr.Muthukrishnan.




Thanking You,

For HCL TECHNOLOGIES LTD.

W.S.RAJKUMAR
ADMIN & HR MANAGER



222
18-Dec-2000
Dear Suresh,

VALUESOURCE TECHNOLOGIES

No.64A, C.P.Ramaswamy Road
Alwarpet, Chennai – 600 018, India
Tel: +91-44-24662753
E-mail: info@valuesource.ws
www.valuesource.com

Mr.Suresh Reddy
Director,
Hanu Reddy Realty,
13, Bishop Wallers Avenu (East)
Mylapore, Chennai

On the outset let me thank you for the high quality professional services you provided us in finding a great office building for our development center and also the company guesthouse.

We pride ourselves as a company that is extremely budget conscious but unwilling to compromise on quality. Your receptiveness to our needs and requirements have helped us a great deal in finding exactly what we were looking for.

Your negotiating skills and your transparency in dealing with your clients is indeed a trait worthy of emulation.

Our special thanks to Mr.Muthukrishnan whose professional approach and help has extended above and beyond the call of duty. His experience and sagacity is indeed an asset to your company.

We would be more than keen to recommend your services to any company in the market. We thank you again for your services and we look forward to working together with you in the near future.


Yours Sincerely,

Bipin Nambiar
Director



387