Testimonials
This is what our clients say about us...
View All Testimonials
4828
Google Review
09-May-2022
GNANA SEKARAN
Excellent services done by Mr. Bhava Swaroop of M/s Hanu Reddy realty Senior Realtor and Mr Azhagiri Realtor of M/s Hanu Reddy Reality Mylopore branch by coordinating with both buyer and seller with regard to sale of my flat at East Mogapaire. Both are very friendly in nature. Thanks to their services.
4788
Certificate
23-Apr-2022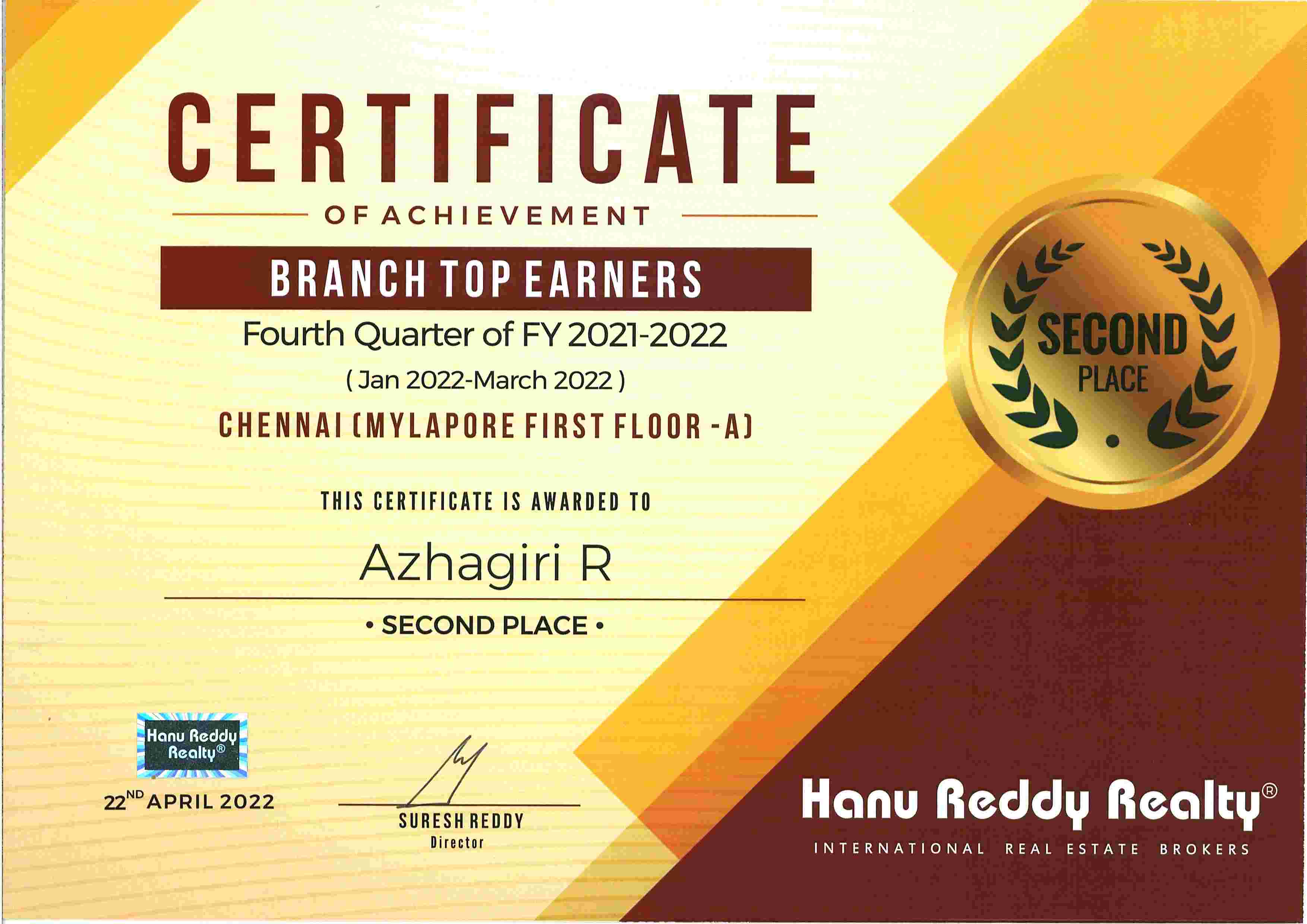 4757
Certificate
31-Mar-2022
4723
Google Review
11-Feb-2022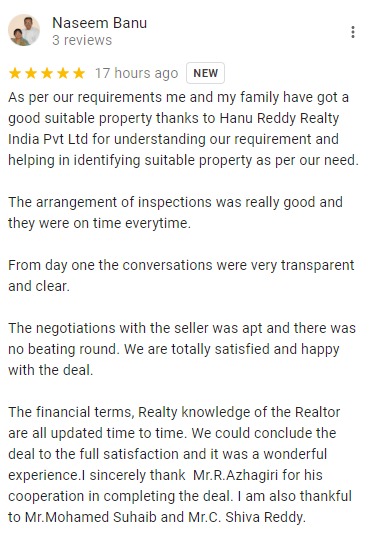 4724
Google Review
11-Feb-2022
Naseem Banu
(5 Star Rating)
As per our requirements me and my family have got a good suitable property thanks to Hanu Reddy Realty India Pvt Ltd for understanding our requirement and helping in identifying suitable property as per our need. The arrangement of inspections was really good and they were on time everytime. From day one the conversations were very transparent and clear. The negotiations with the seller was apt and there was no beating round. We are totally satisfied and happy with the deal. The financial terms, Realty knowledge of the Realtor are all updated time to time. We could conclude the deal to the full satisfaction and it was a wonderful experience.I sincerely thank Mr.R.Azhagiri for his cooperation in completing the deal. I am also thankful to Mr.Mohamed Suhaib and Mr.C. Shiva Reddy.
4668
Google Review
31-Dec-2021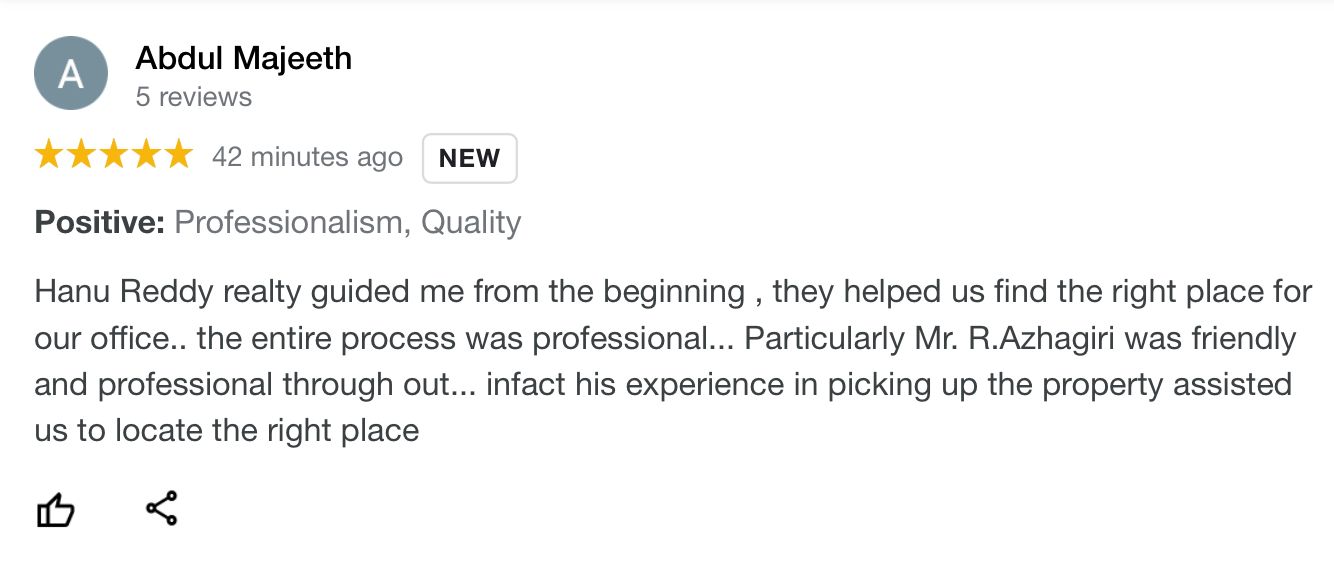 4550
Google Review
05-Jul-2021

4538
Certificate
03-May-2021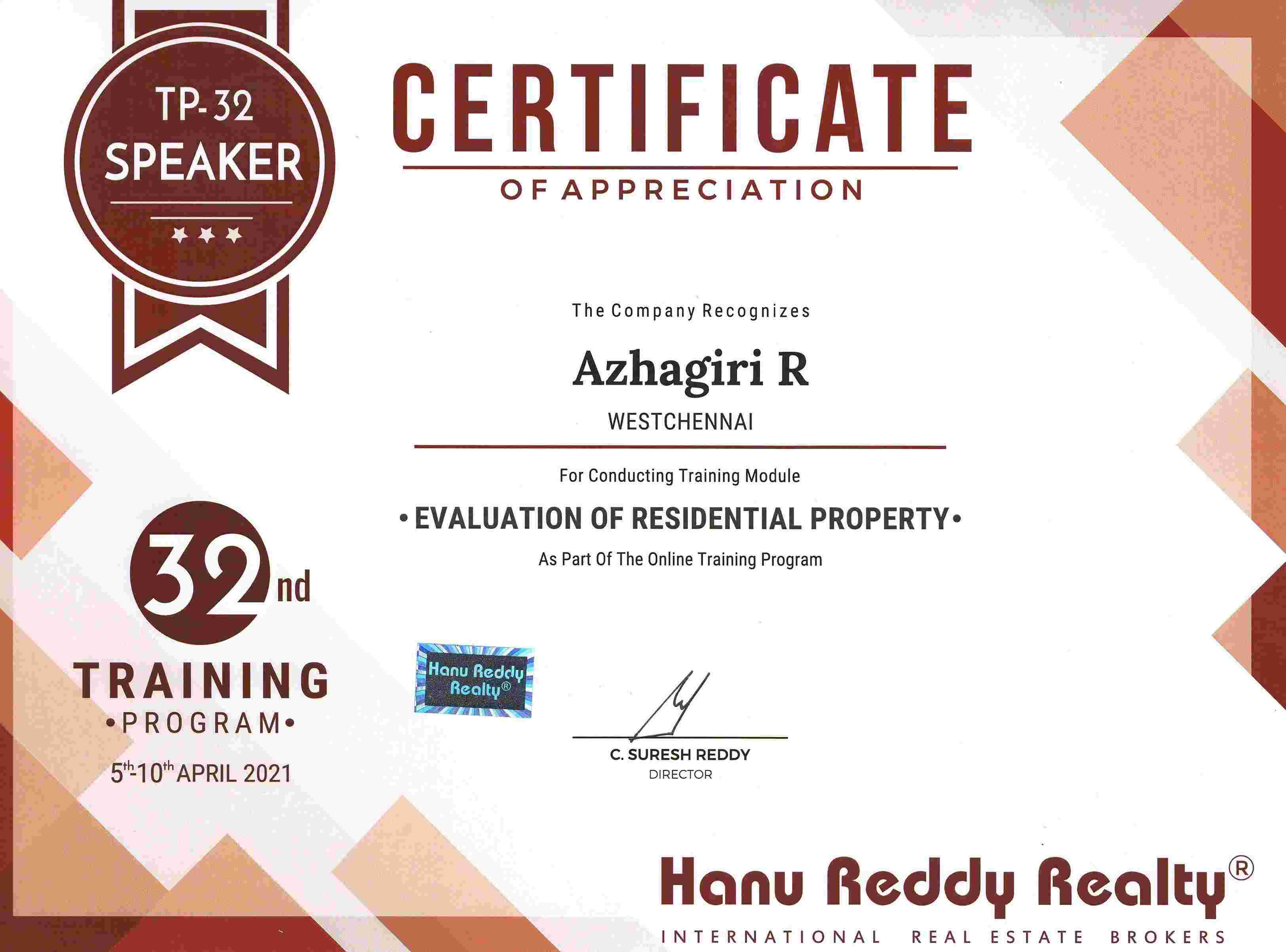 4540
Certificate
03-May-2021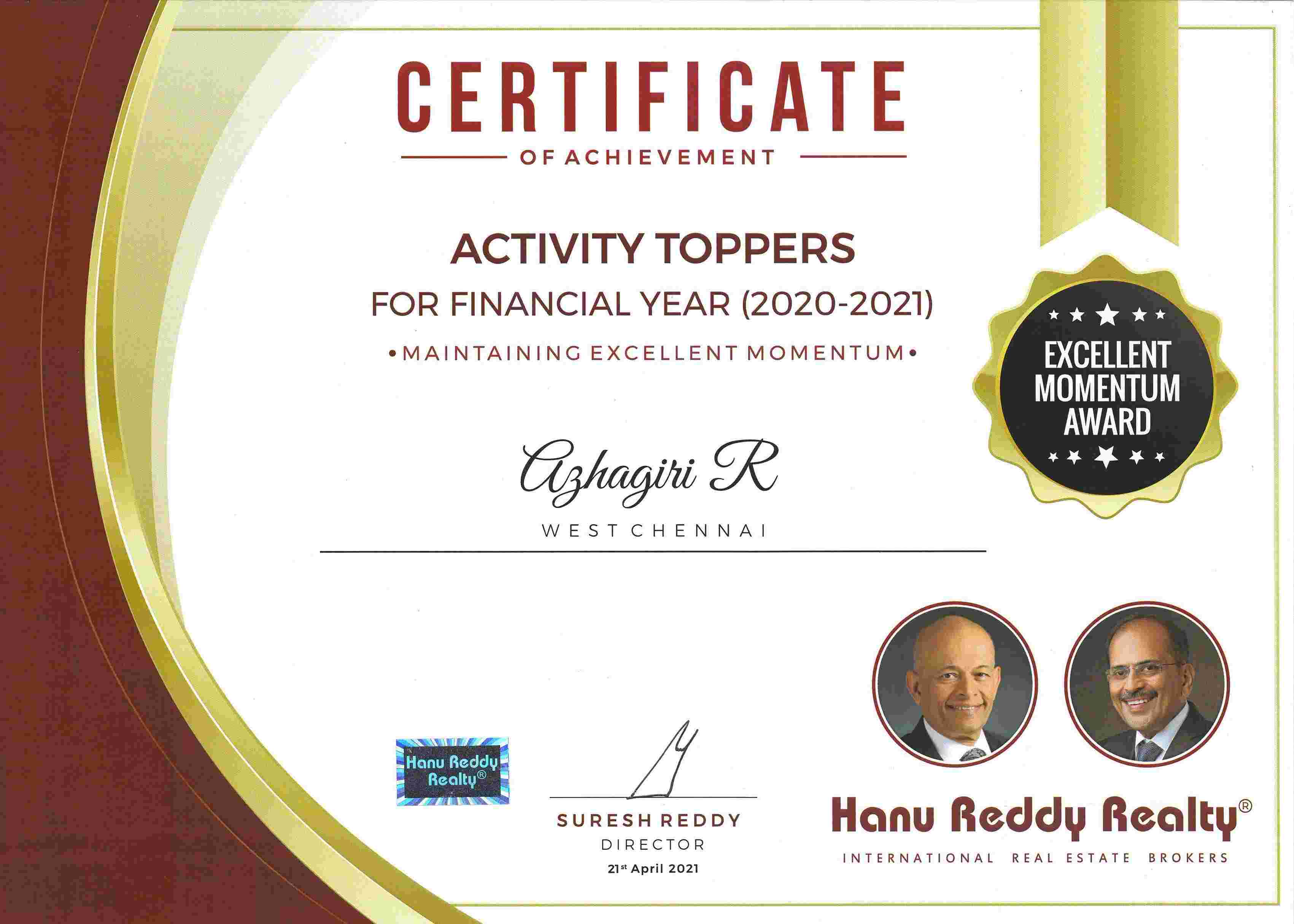 4454
Training Certificate
10-Feb-2021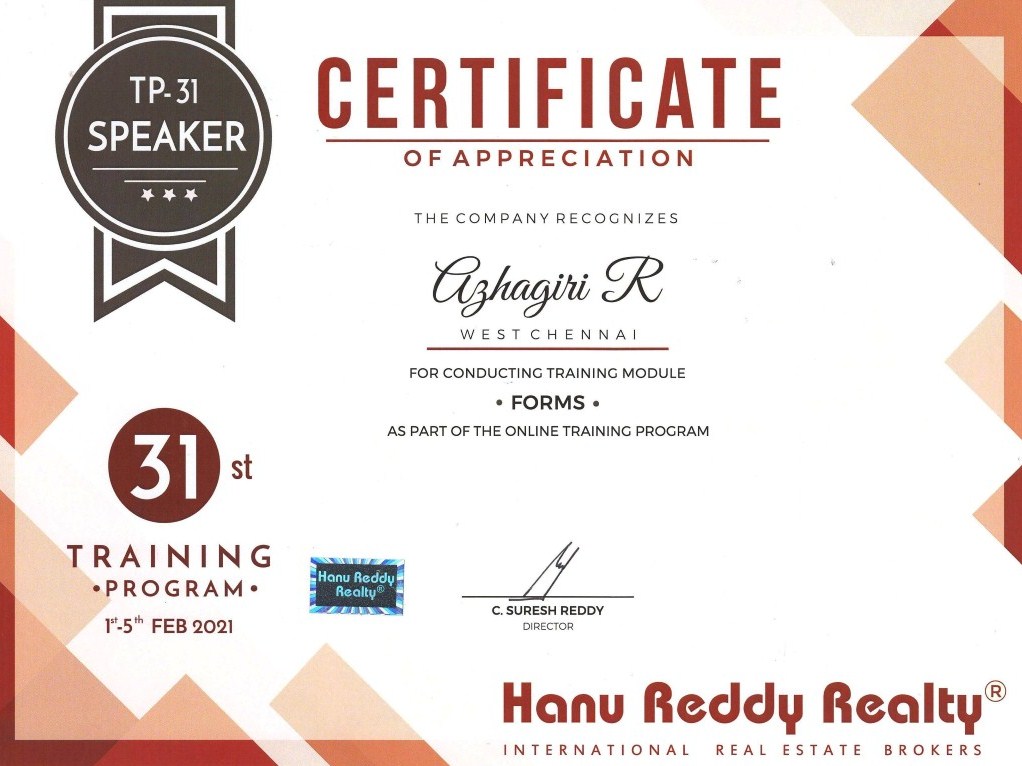 4407
Google Review
06-Jan-2021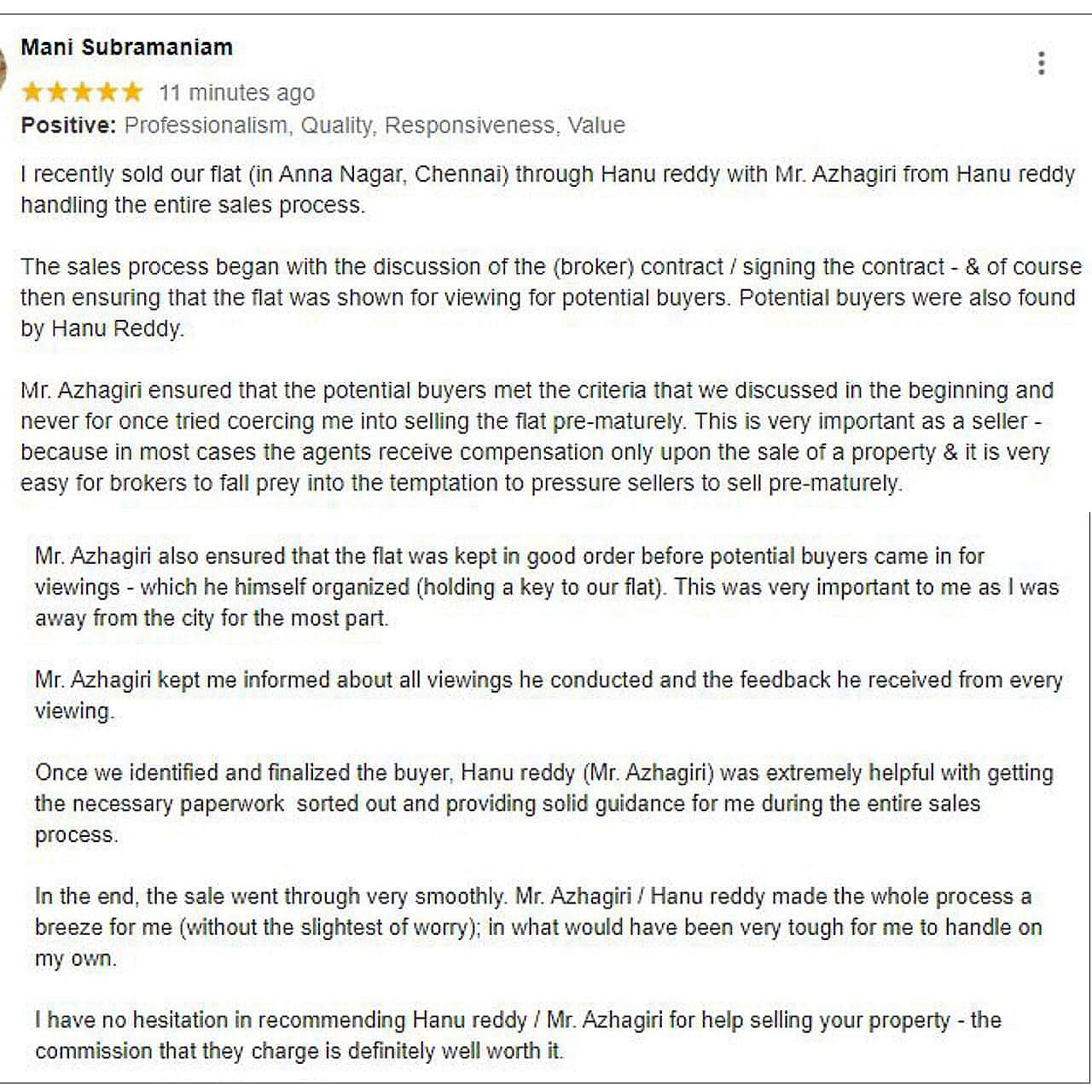 4398
Google Review
28-Nov-2020
4399
Google Review
28-Nov-2020

4130
Certificate
07-Jan-2020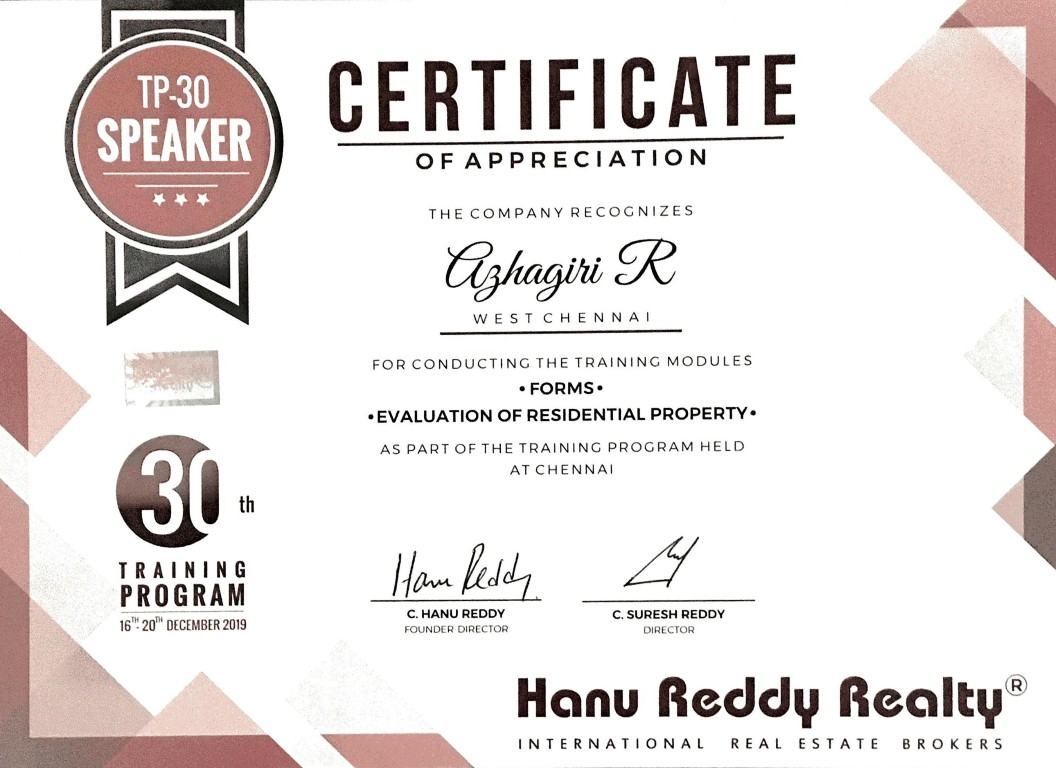 4055
Google Review
30-Sep-2019
4054
Google Review
30-Sep-2019
4010
Certificate
13-Jul-2019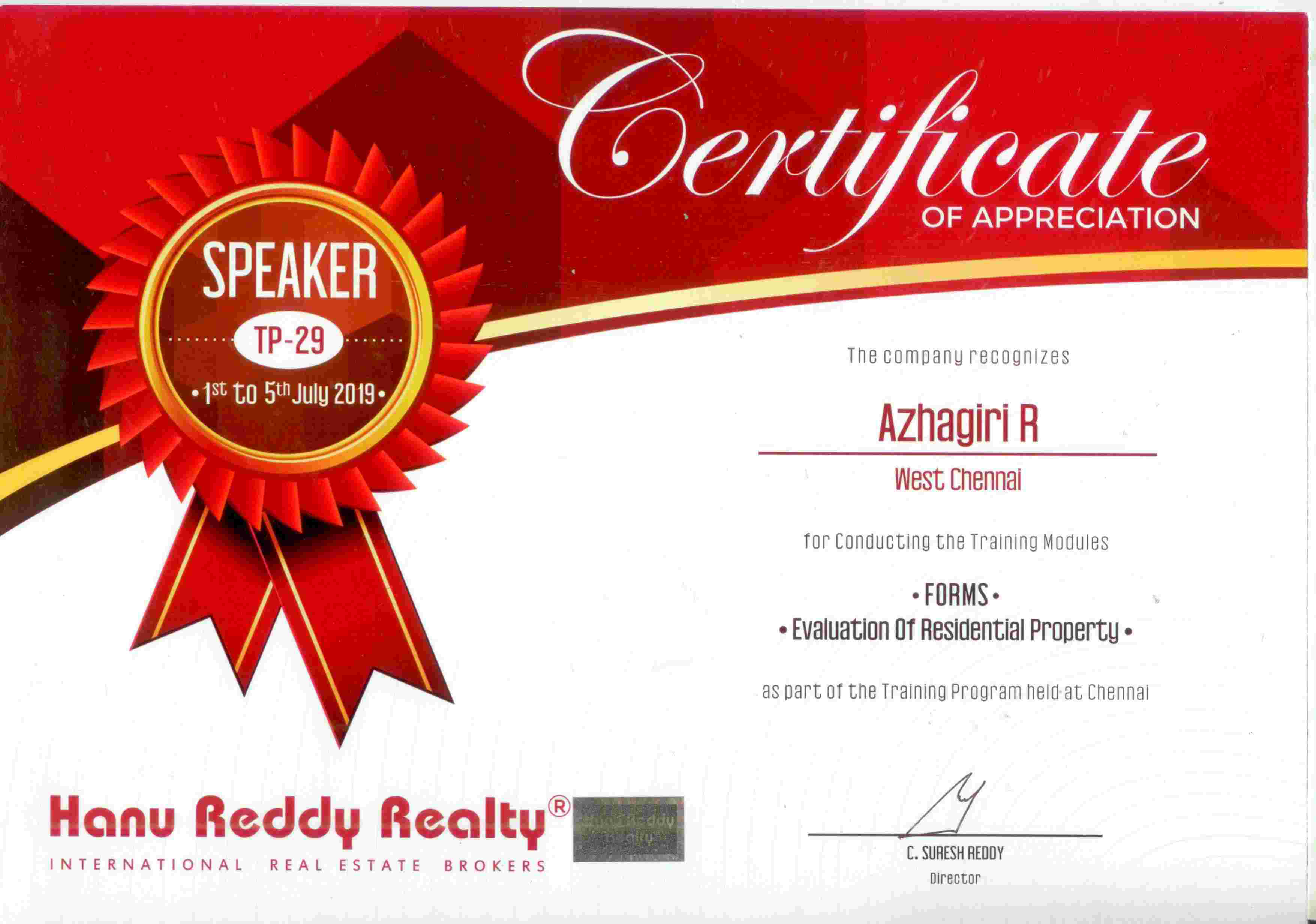 3975
Google Review
18-May-2019
3971
Certificate
17-May-2019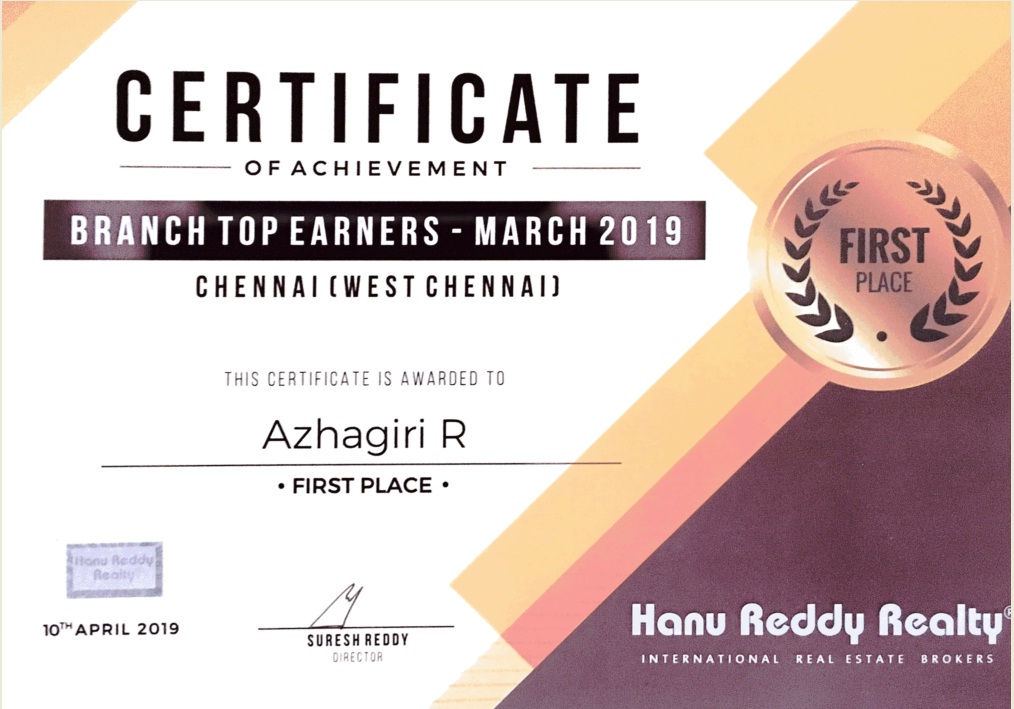 3970
Google Review
13-May-2019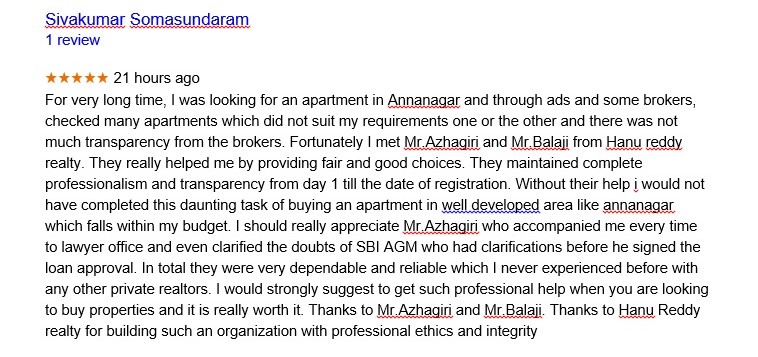 3869
Google Review
18-Mar-2019
2 weeks ago
This is the second time we are using the services of Mr Azhagiri of Hanu Reddy Realty. We called him for the second time because he had facilitated the first deal so well and with comfort and ease to us clients. Very down to earth guy and willing to go the extra mile for the clients satisfaction. This time too he proved his worth. I would again use their services whenever needed and also recommend their services to others too.
3868
Google Review
18-Mar-2019
5 days ago-
I recently availed the services of Hanu Reddy Realty through Mr. Azhagiri and Mr. Muhammed Suhaib for renting out my property. They were very friendly and gave good advice on what can be expected for my property. Unlike other real estate agents, they did not try to entice me with false beliefs and cook up random clients that did not exist. They were able to get a very good high-profile tenant within a month time. They were also very helpful in arranging meetings and coordinating between clients and also during the registration process.

Above all the main reason why I would suggest you to avail their services is the strong values and principles that these two people have displayed. It shows how much importance they give to other people and also their sense of responsibility when the treat your property and problems as their own and give advice even when you are doing something wrong and not aware about it.

I sincerely thank MR. Azhagiri and Mr. Muhammed Suhaib for everything and wish them all the best.
3758
Certificate
16-Nov-2018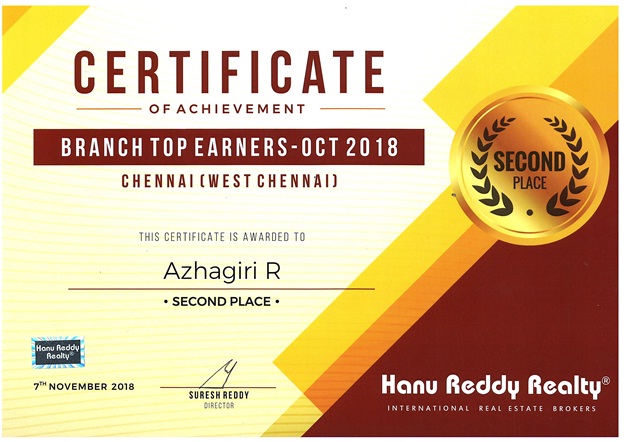 3759
Letter of Appreciation
16-Nov-2018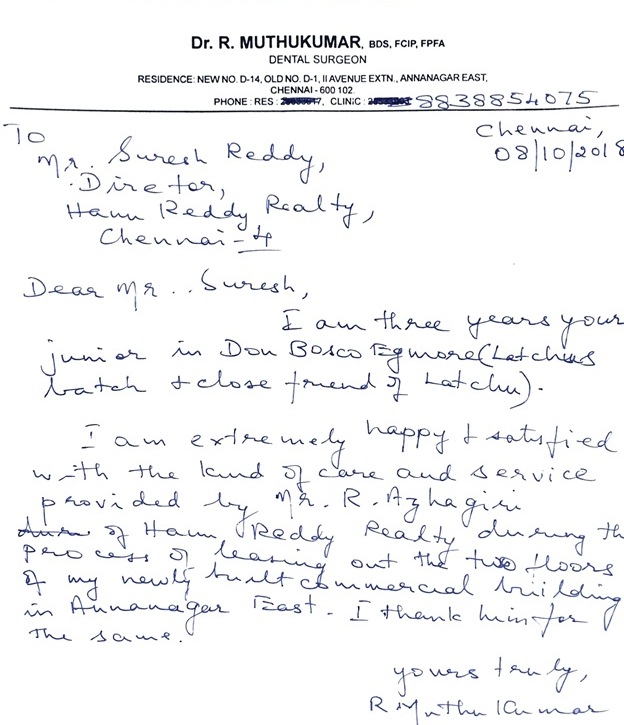 3702
Certificate
01-Oct-2018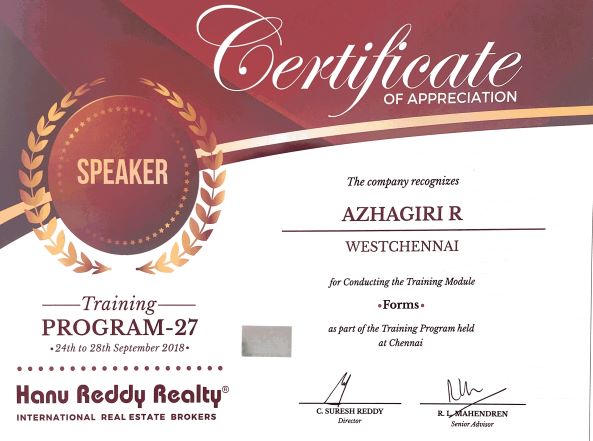 3592
Certificate
30-Jun-2018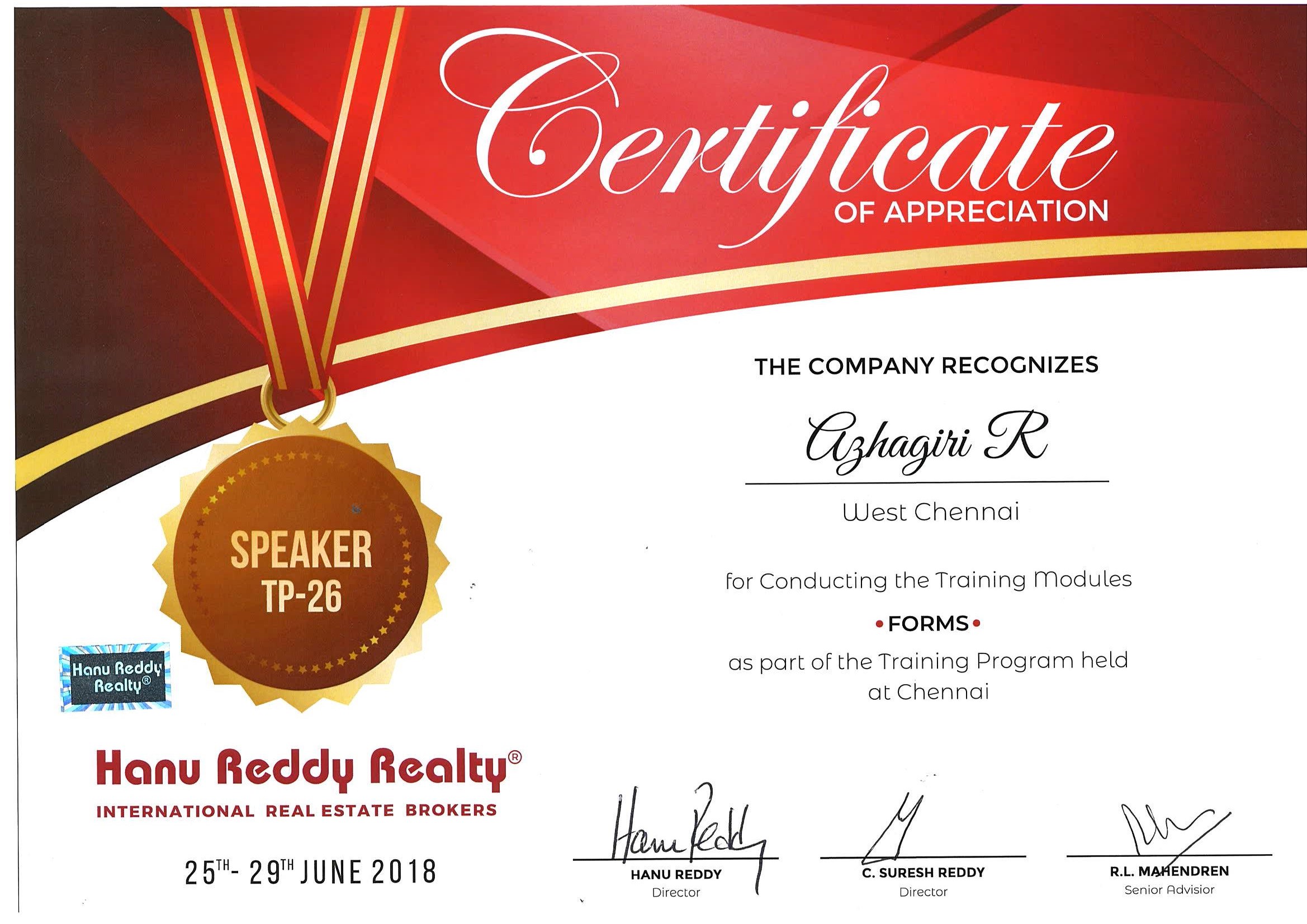 3593
Appreciation Letter
30-Jun-2018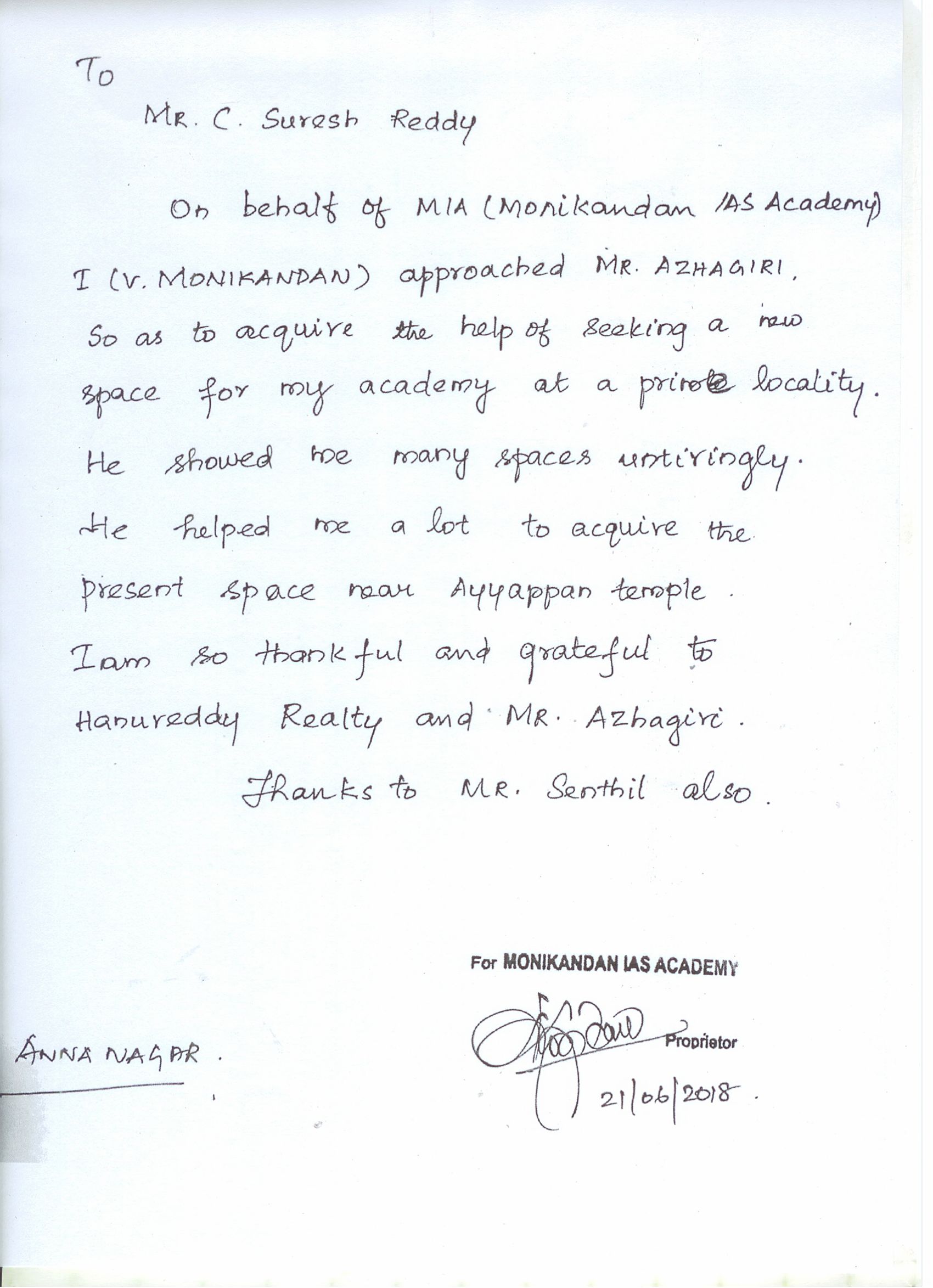 3421
Appreciation Letter
18-Mar-2018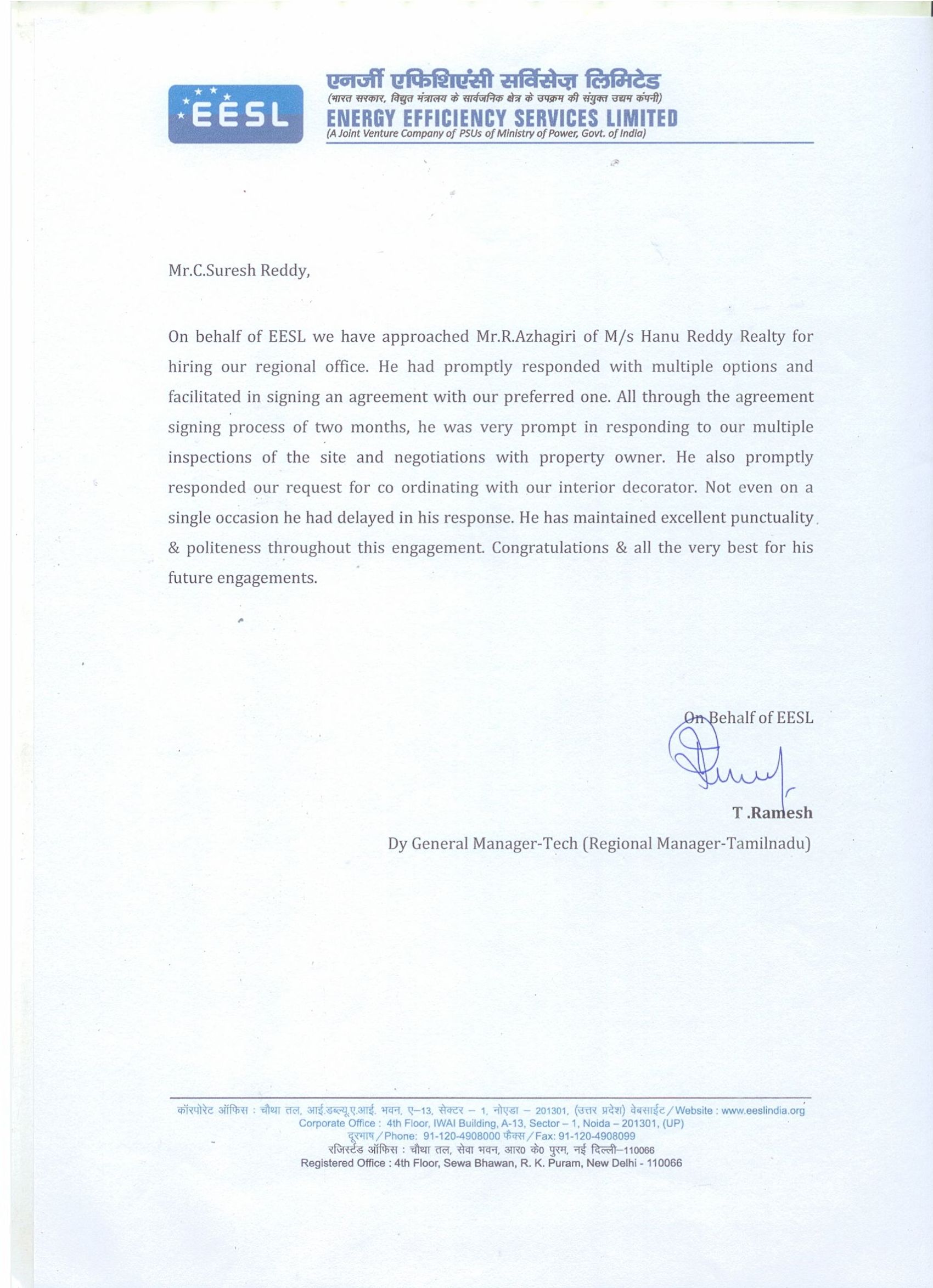 3406
Google Review
23-Feb-2018
Sabari Shanmugam
1 review
Mr.Azhagiri and Mr.Srinath are my realtors of M/s HanuReddy group.They are very professional . They brought three very good tenants to our three Apartments. Their way of talking,presenting about the image of property to the client are excellent. I really appreciate the punctuality,follow up action etc of M/s Hanu Reddy group. Their service is really prompt and Trust worthy.
3366
Certificate
17-Jan-2018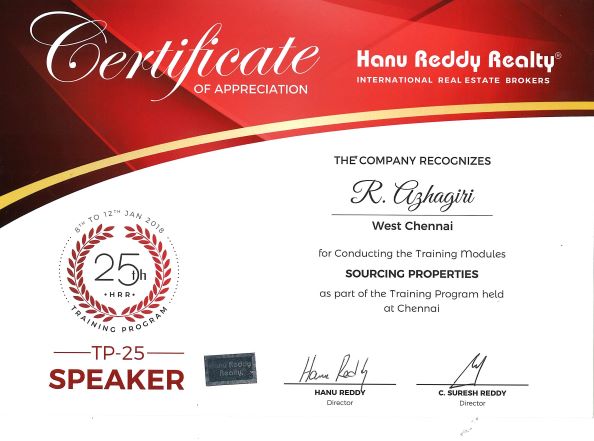 3295
Appreciation Letter
13-Oct-2017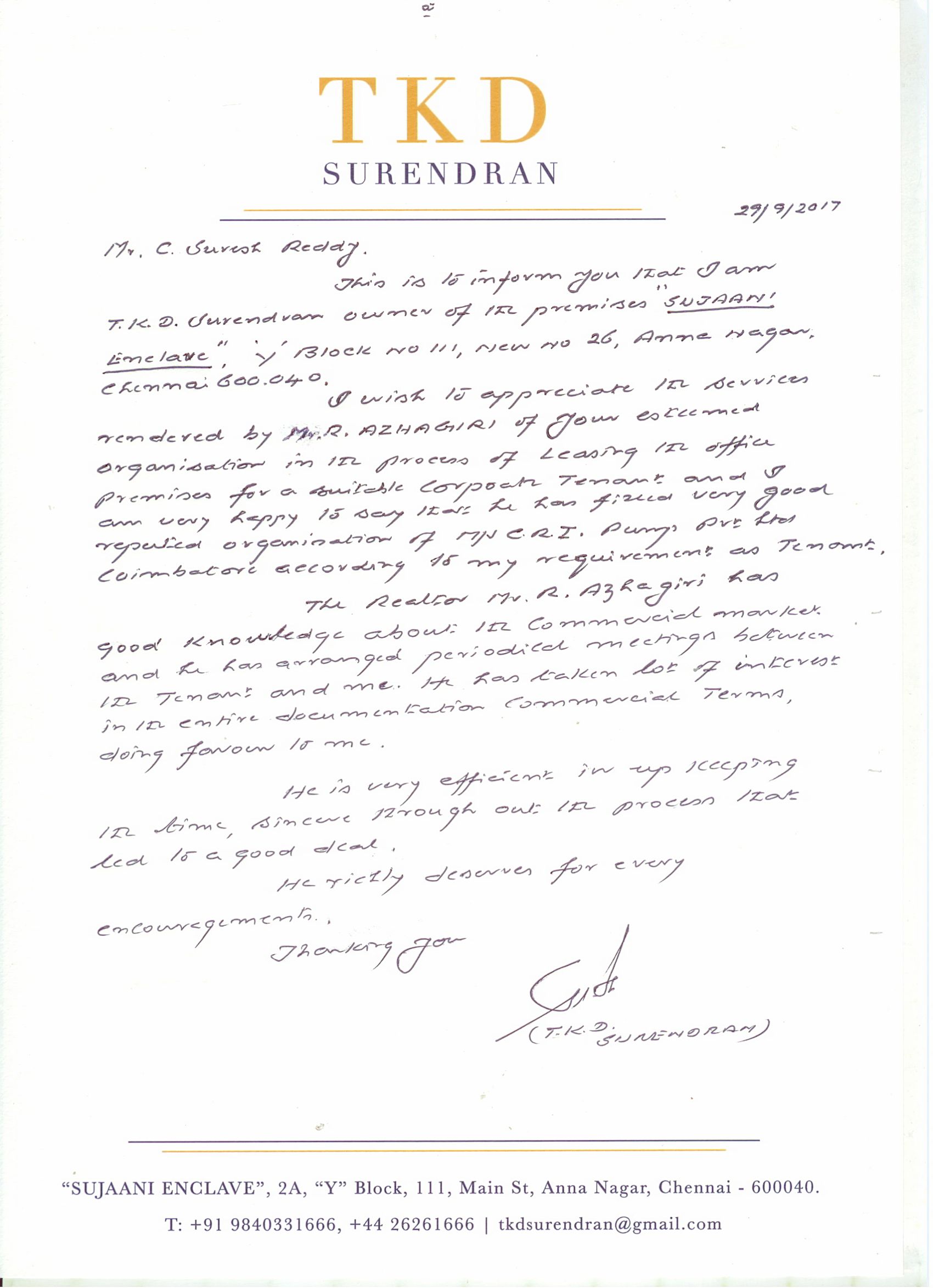 3253
Certificate
10-Aug-2017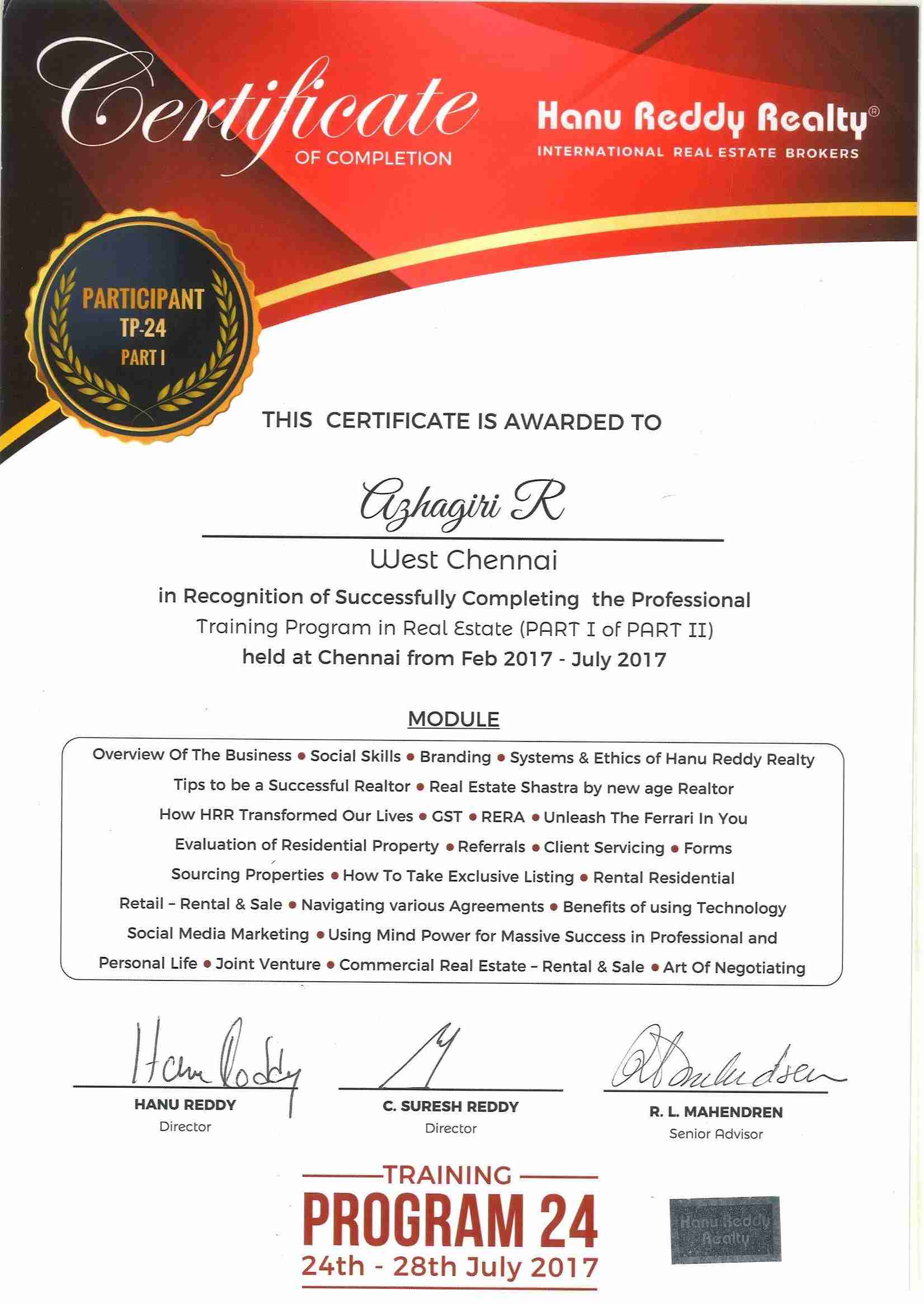 3254
Certificate
10-Aug-2017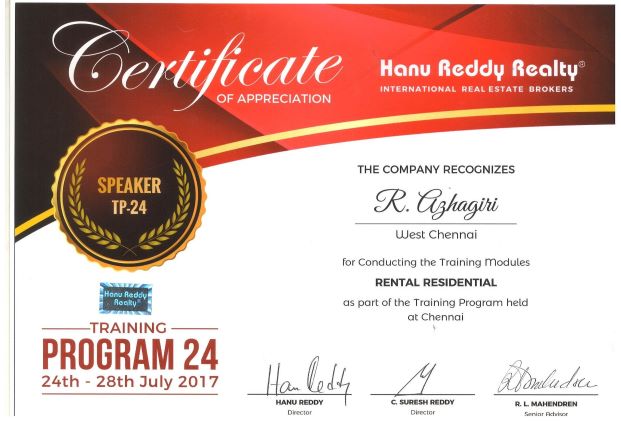 3255
Certificate
10-Aug-2017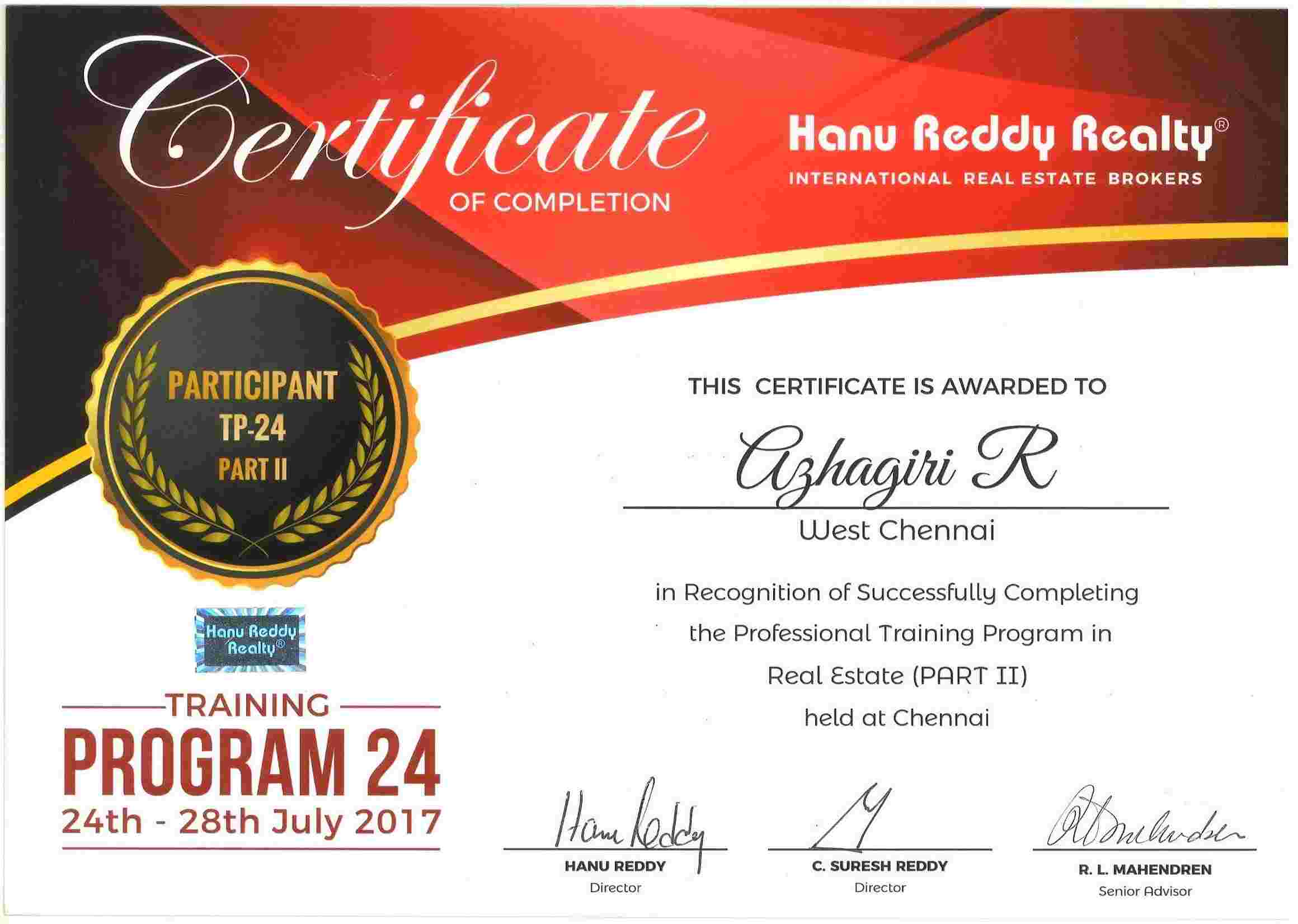 3182
Certificate
17-May-2017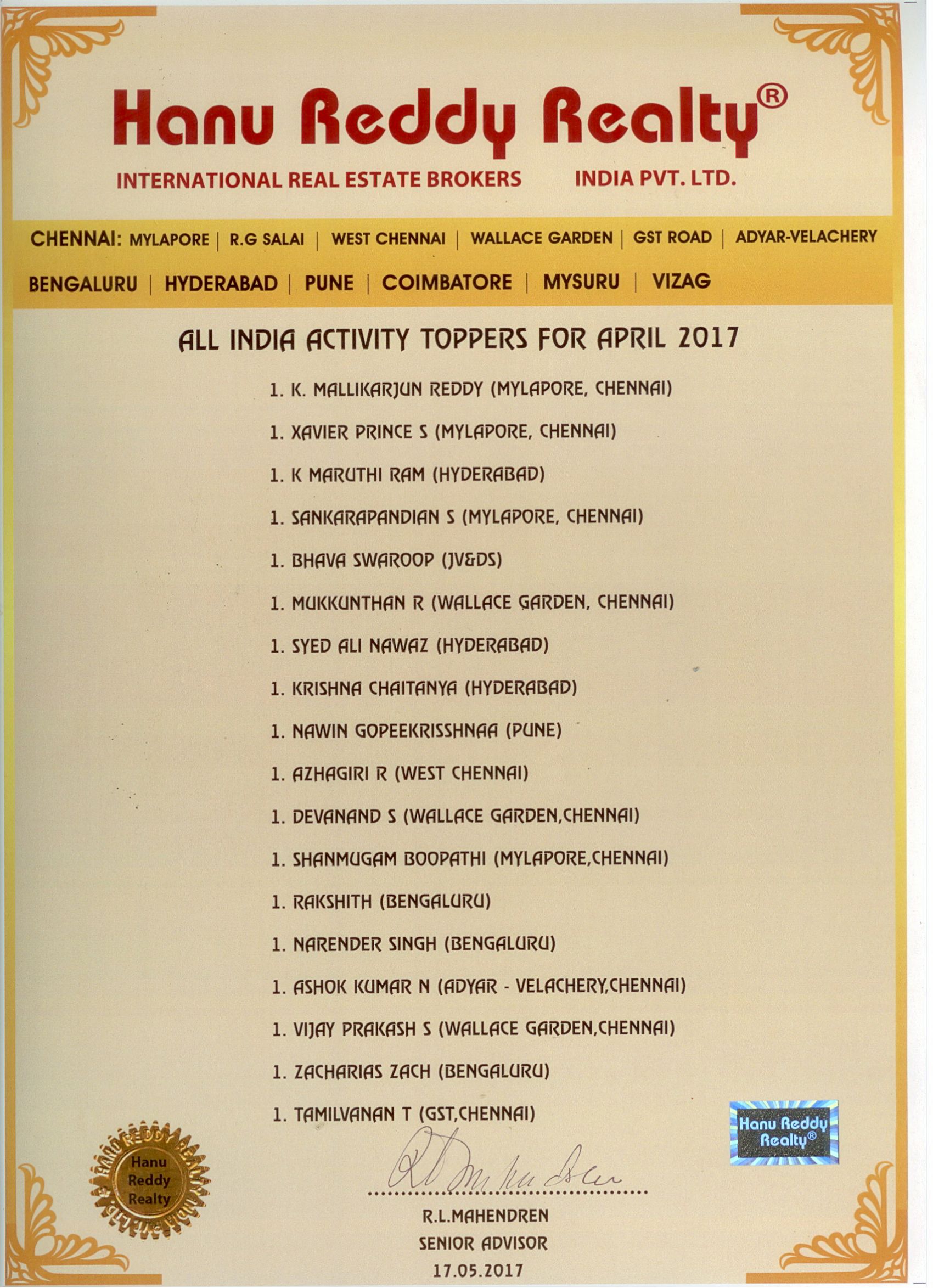 3159
Certificate
12-May-2017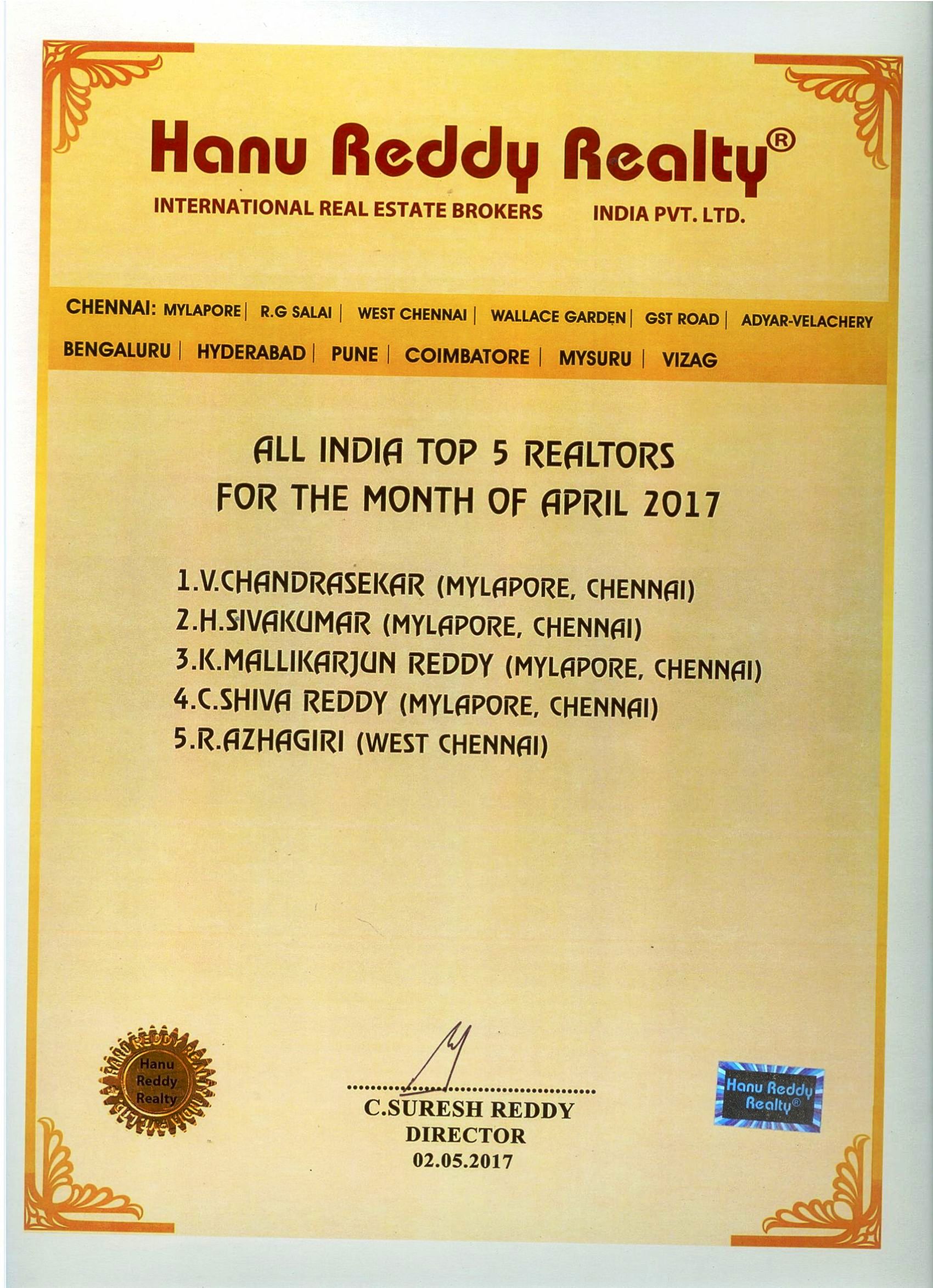 3158
Certificates
12-May-2017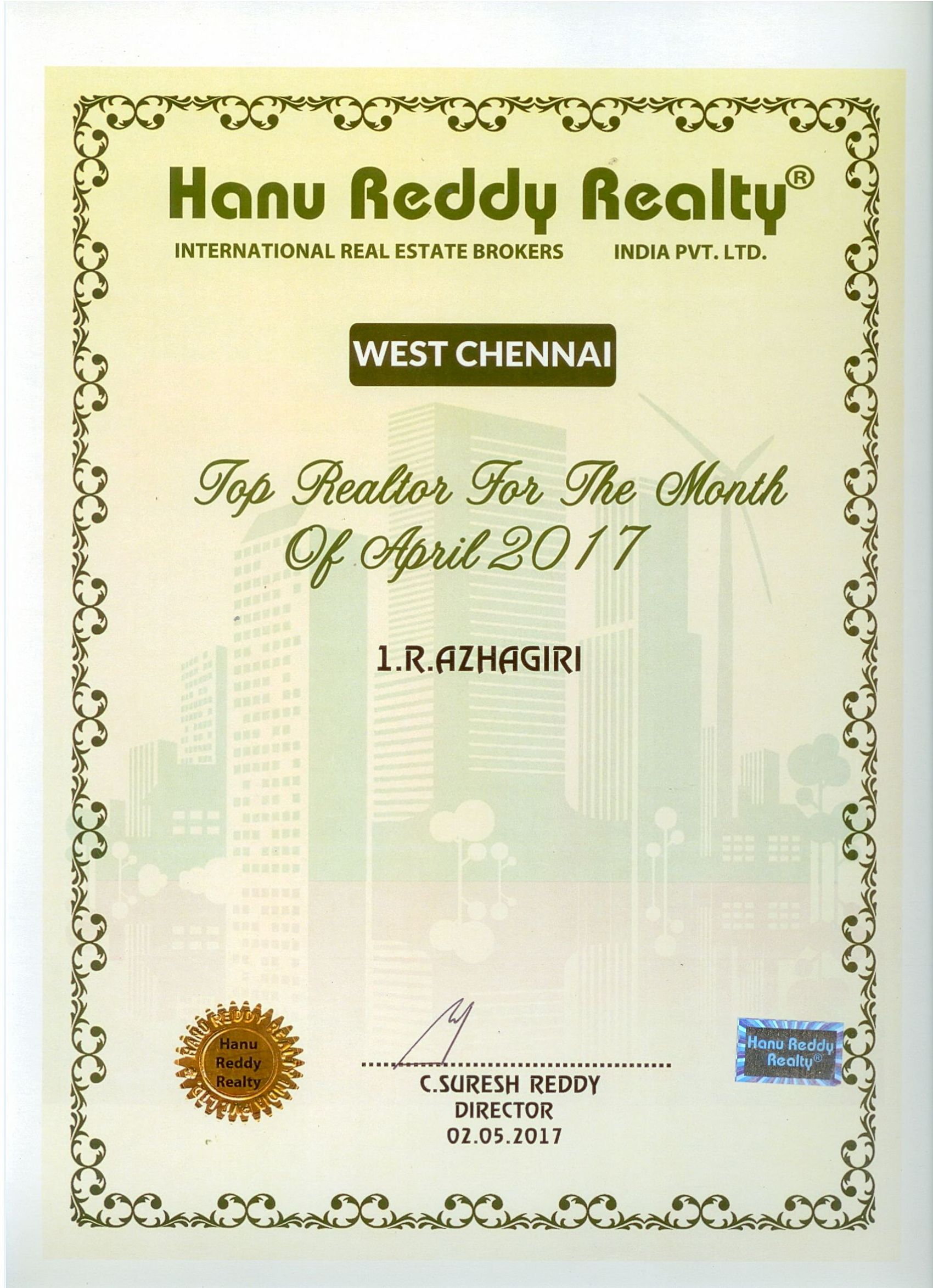 3148
From the Seller
20-Apr-2017
3092
Google Review
20-Feb-2017
5 Star Rating : in the last week-
Mr Panchamukesh and Mr. Azhagiri both offered superior service and showed properties which exactly matched our taste and expectation. I am very happy and satisfied with their work.?
3091
Google Review
20-Feb-2017
5 Star Rating : in the last week
Mr. Panchmukaeshwran and Mr. Azhagiri from M/s. Hanureddy Realtors Maduravotal branch helped me secure good reliable tenants for my two flats in Chennai. Both of them were (especially Panchmukesh) dependable and assisted me right through the process. The whole process was extremely smooth and hassle free as I live abroad and they have taken care of advertising, vetting / endorsing the tenant, obtaining ID and tenant verification and they kept me in loop throughout the whole process.

I can also personally vouch for Panchamukaesh's integrity and his trustworthiness. I strongly recommended their services to anyone living away from the country. In fact they went out of the way in getting small repairs done at my properties and cleaning them to make them rent-worthy.

Overall I am very impressed with their service and do not hesitate to work through them in future.
Wishing you all the best

Thanks
Krishna?
4266
Google Reviews
16-Feb-2017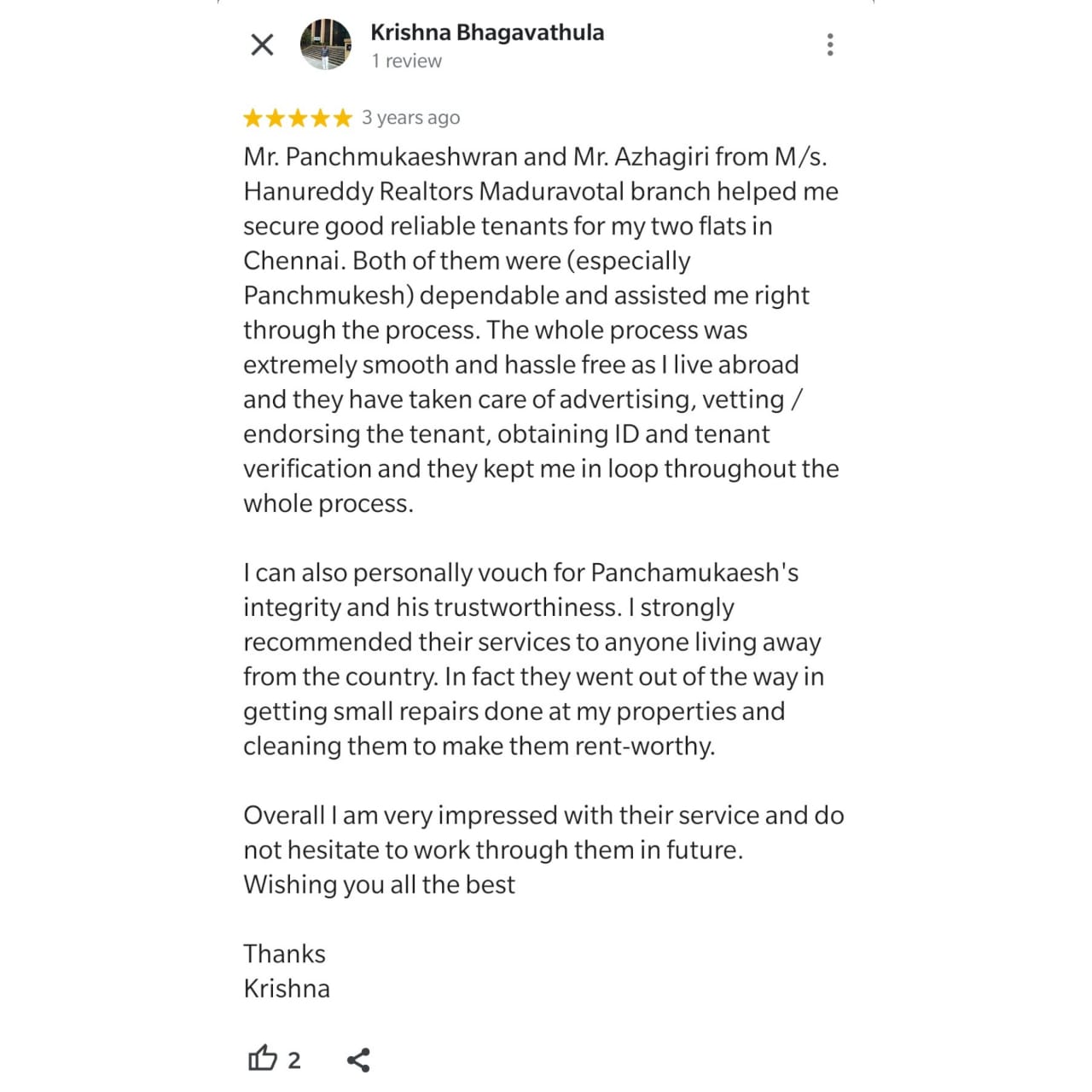 4264
Google Reviews
14-Feb-2017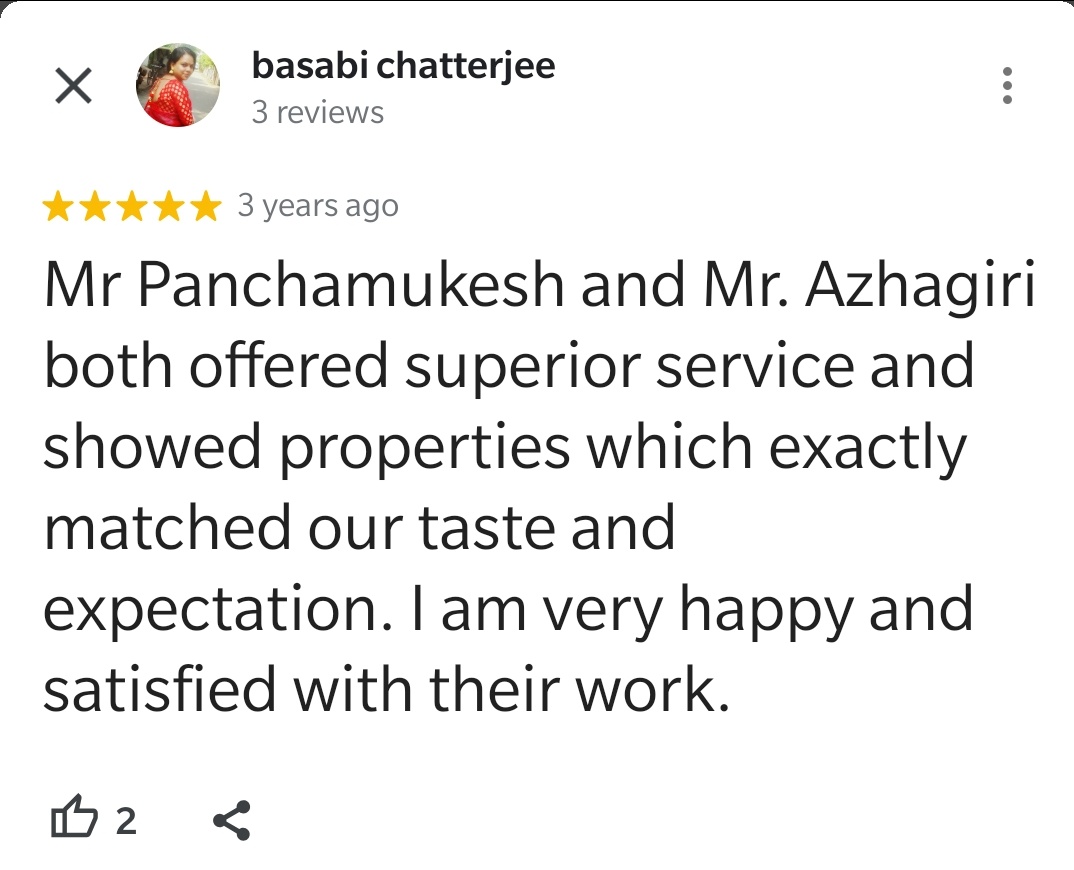 3088
Google Review
04-Jan-2017
a month ago - 5 Star Rating
We wish to convey our sincere appreciation in fixing tenants for my flat at vp colony ,ayanavaram & my sister's flat at first avenue, annanagar,. Team Hanu reddy comprising Mr.Mohammad,Mr.Azhagiri and Mrs.Rajeshwari.were very professional,in finalising the tenants. From the start in arranging the meeting with tenant ,making background check,transparent negotiation,documentation of agreement and finally clinching the deal,was hassle free..Excellent job,Thanks
3039
Google Review
07-Dec-2016
We are very pleased and delighted with the extremely professional and meticulous way Mr. R.Azhagiri has worked to find us a beautiful cozy home keeping in mind all our requirements and more. All was taken care of without us even lifting a finger...from arranging site visits until the final registration... this is service at its best, which is what hanu reddy realty stands for.Thank you and wish you all the very best!!!
2835
All India Top Earning - Sep2015
07-Oct-2015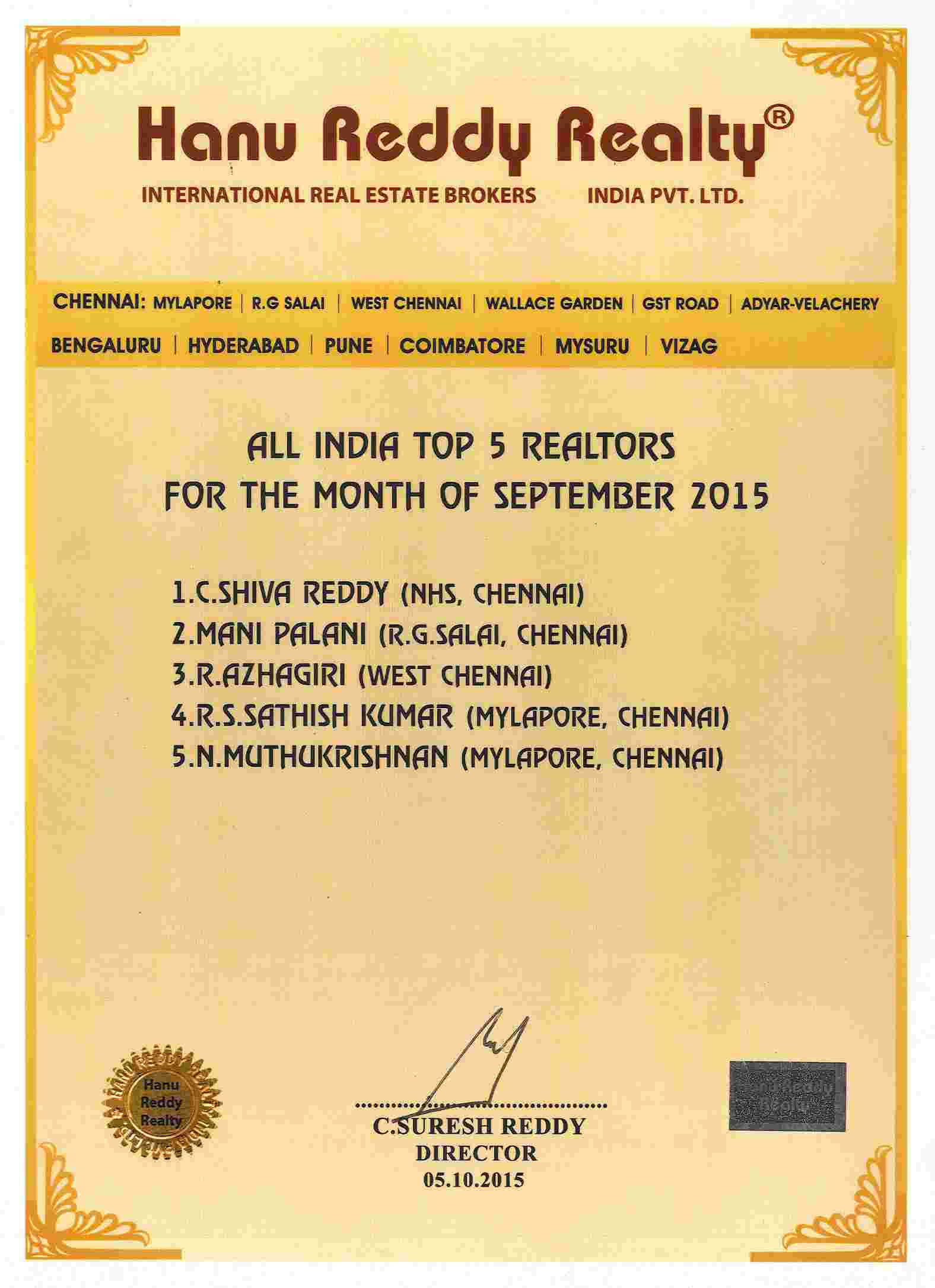 2834
West Chennai Top Earning-Sep2015
07-Oct-2015
2807
Training Programme XIX Parti - I
24-Jul-2015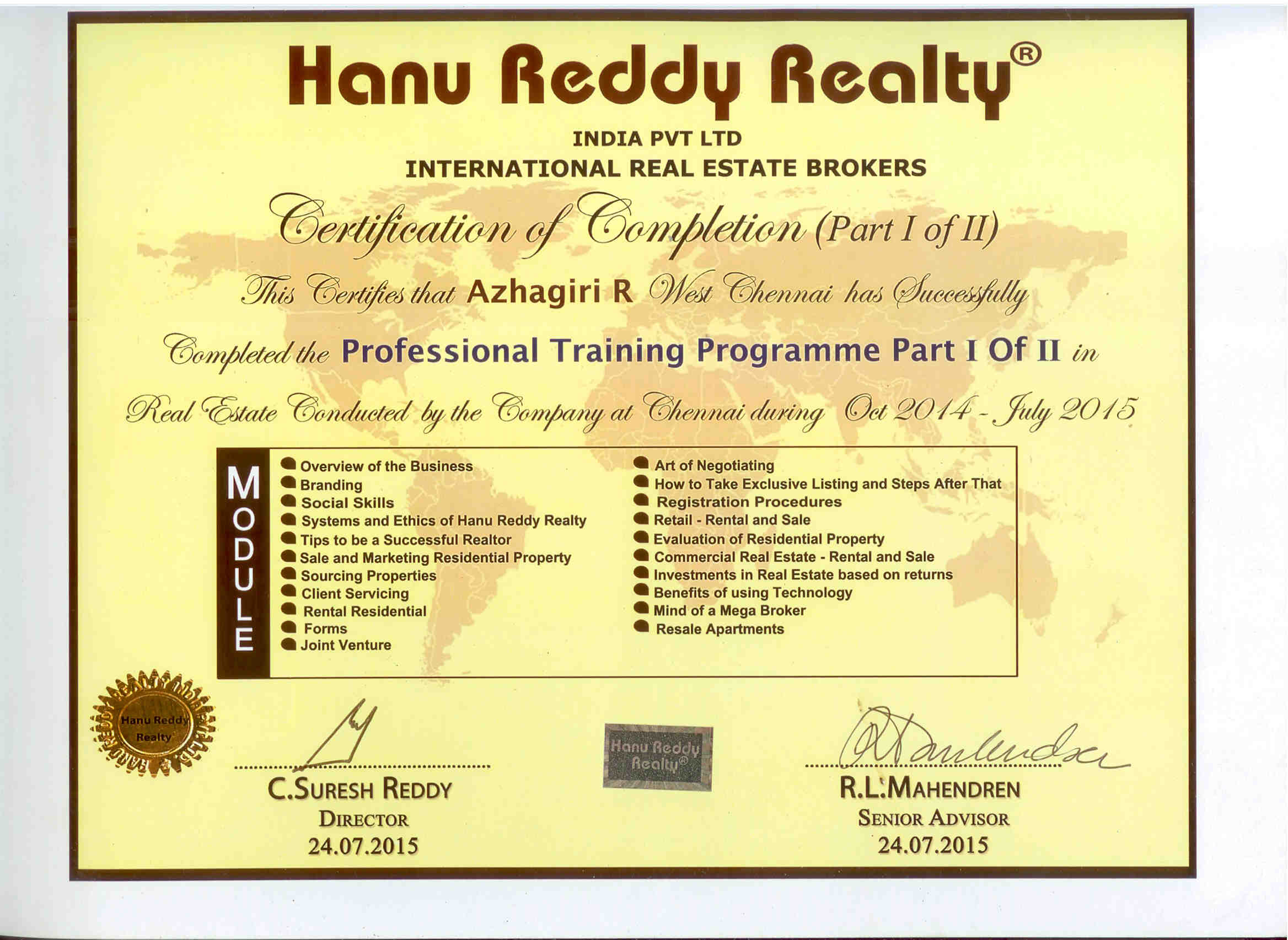 2595
Google Review
24-Oct-2014
2 weeks ago
The representative Mr R.Azhagiri, was patient , persistent, persevering in trying to help both parties. Congratulation. CA Parthiban