Testimonials
This is what our clients say about us...
View All Testimonials
4820
Certificate
07-May-2022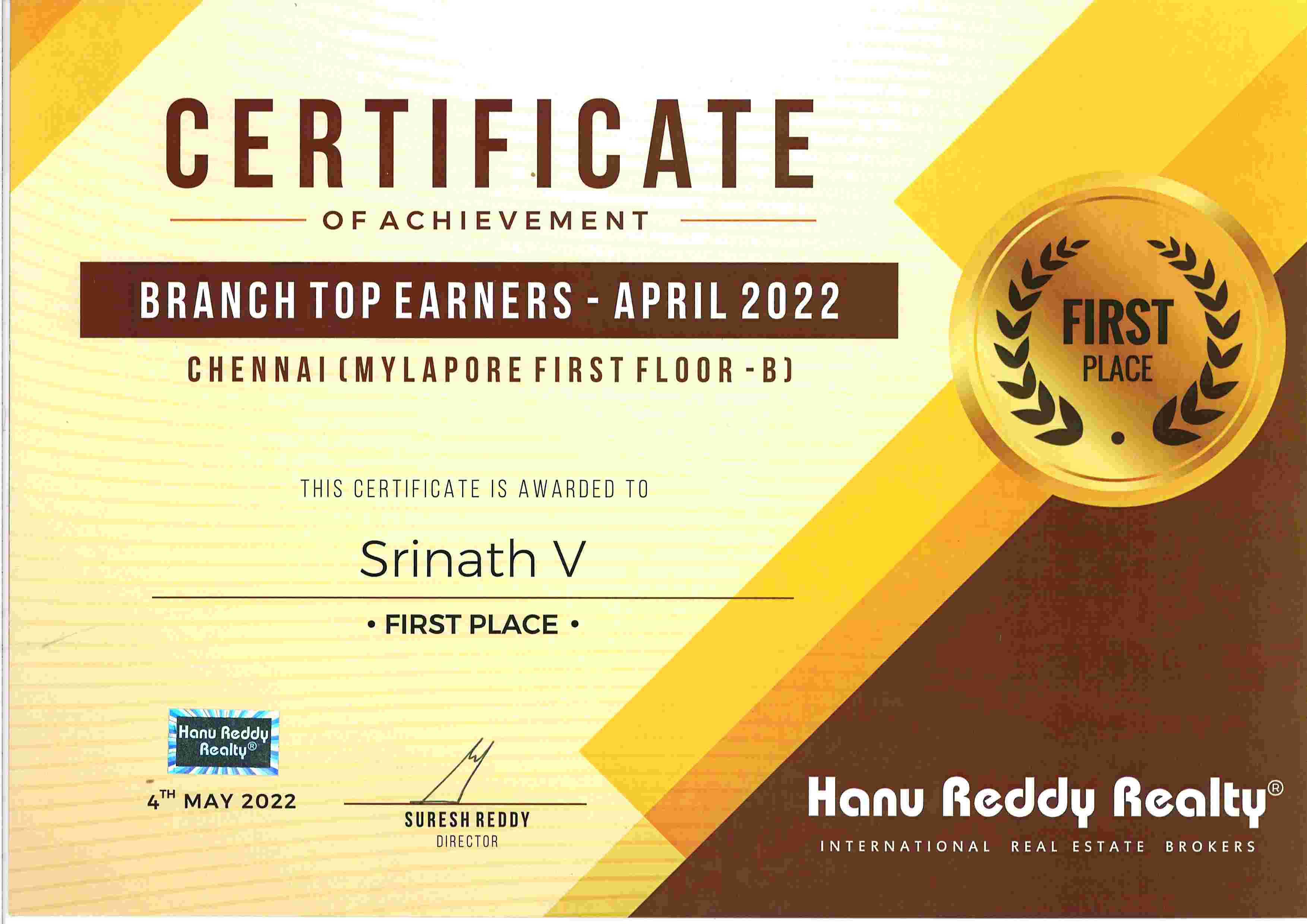 4821
Certificate
07-May-2022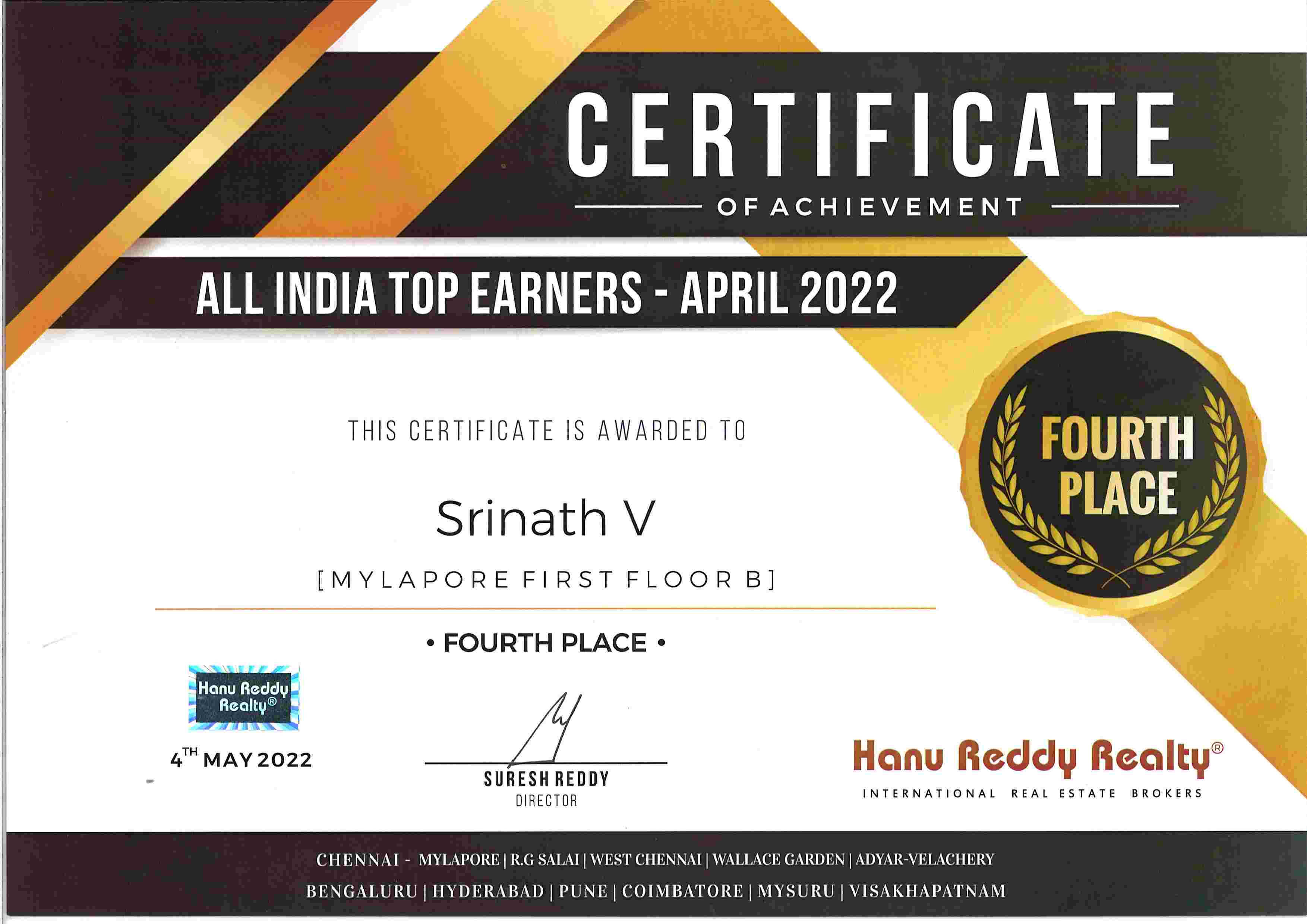 4755
Certificate
29-Mar-2022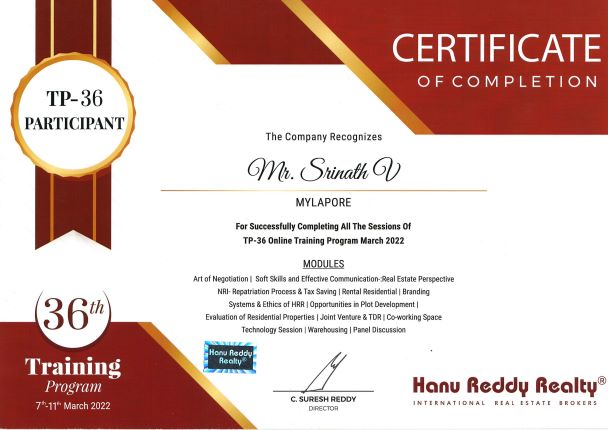 4685
Certificate
31-Dec-2021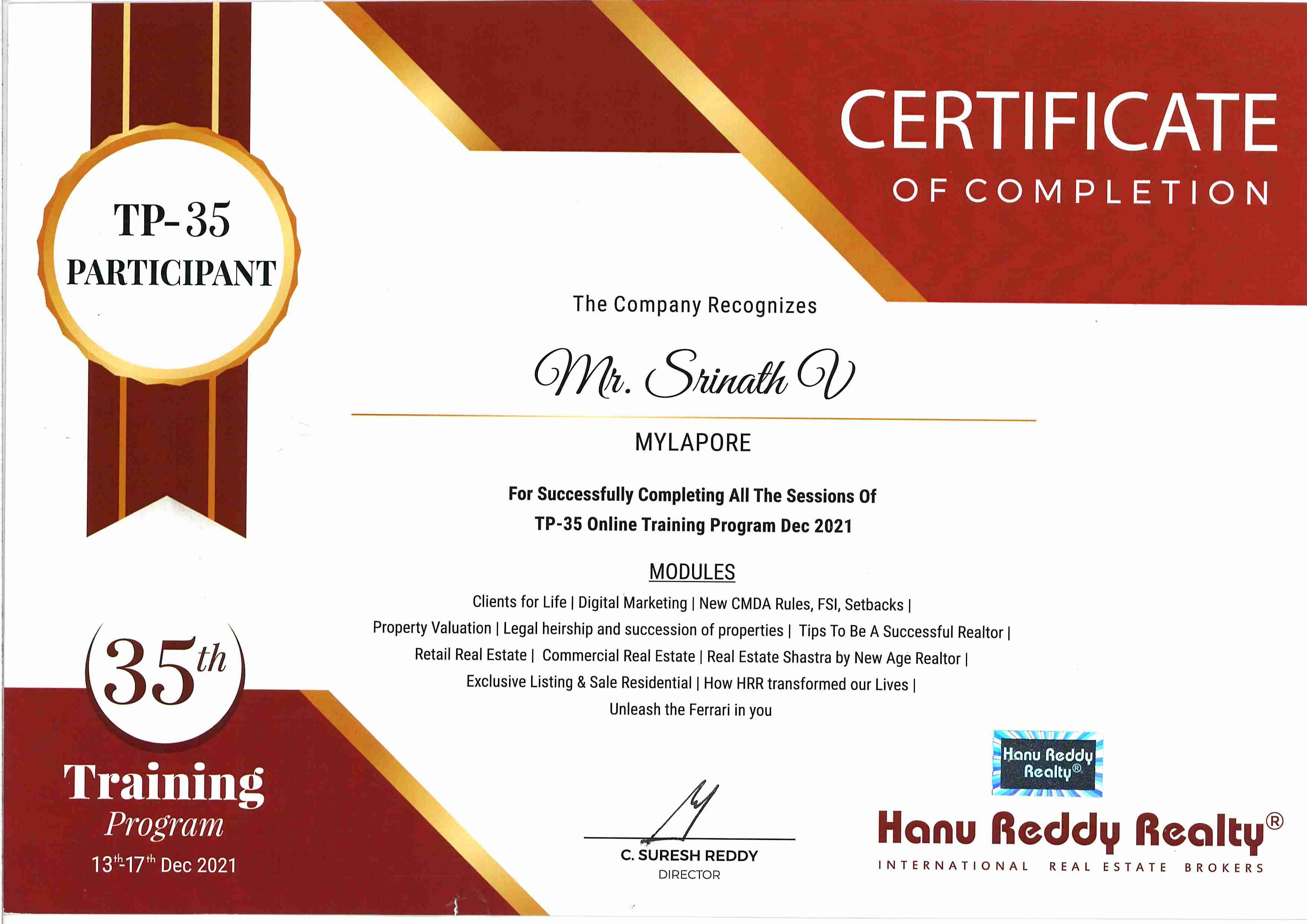 4592
Certificate
06-Oct-2021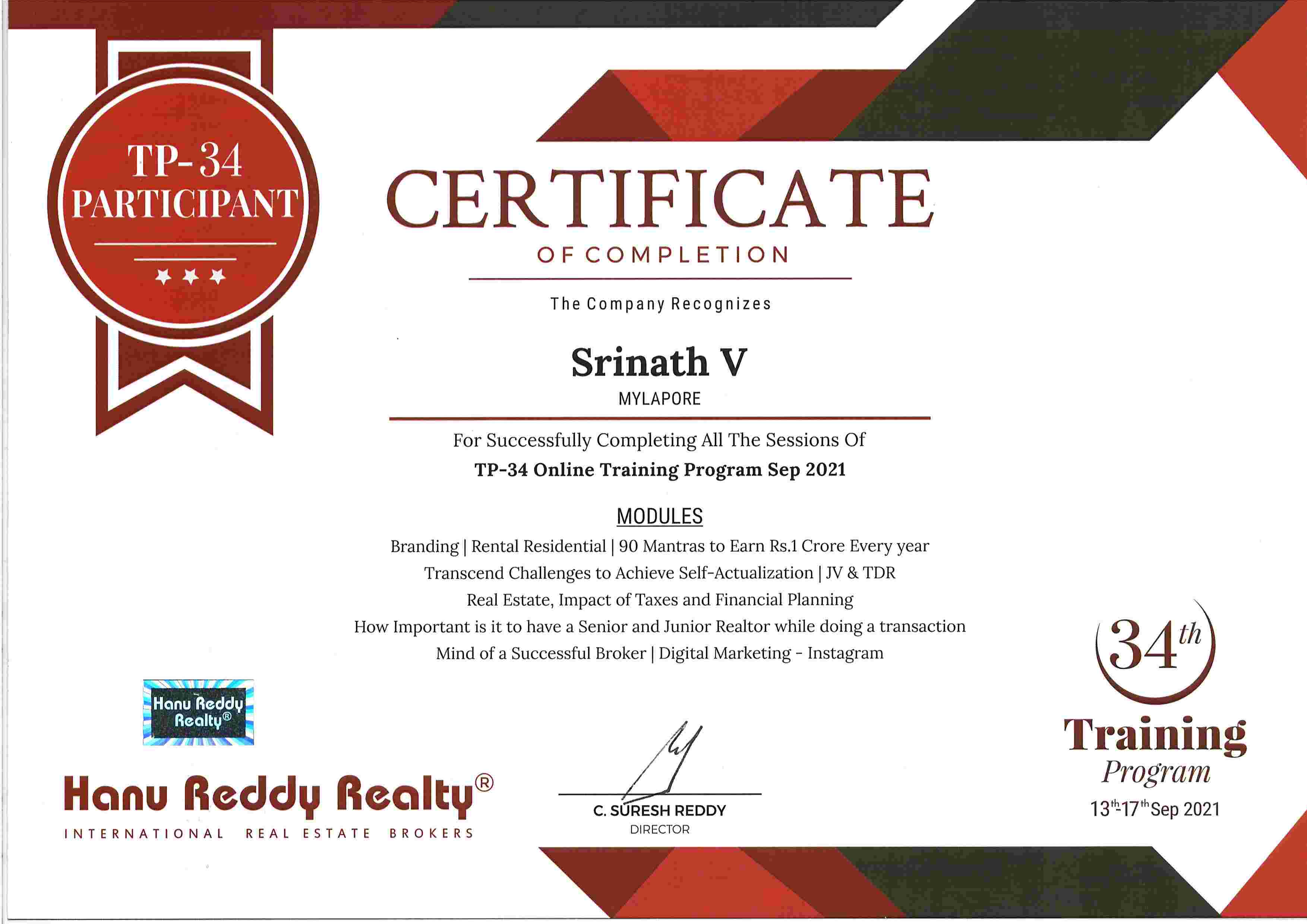 4562
Certificate
01-Jul-2021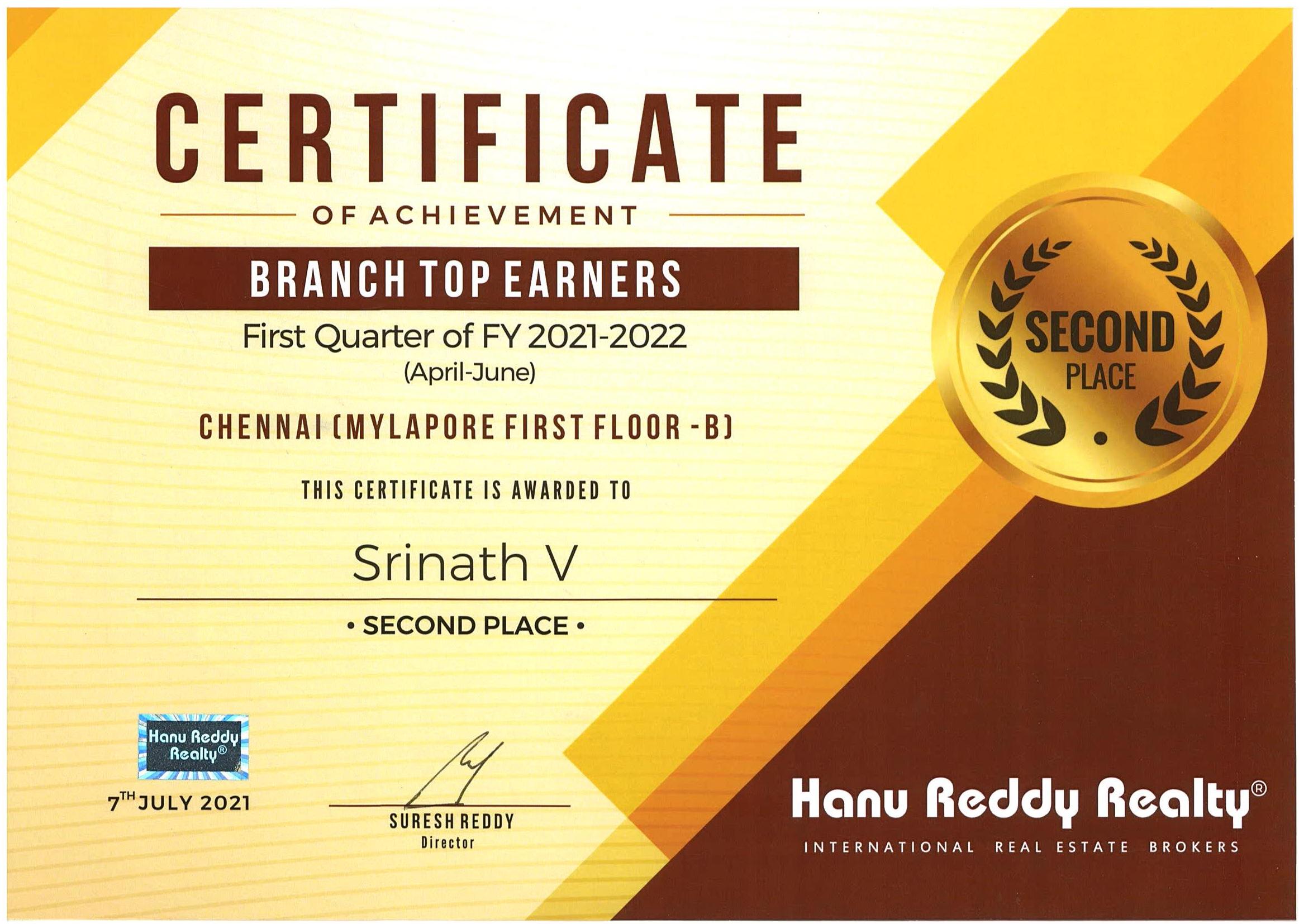 4536
Training completion Certificate
10-Apr-2021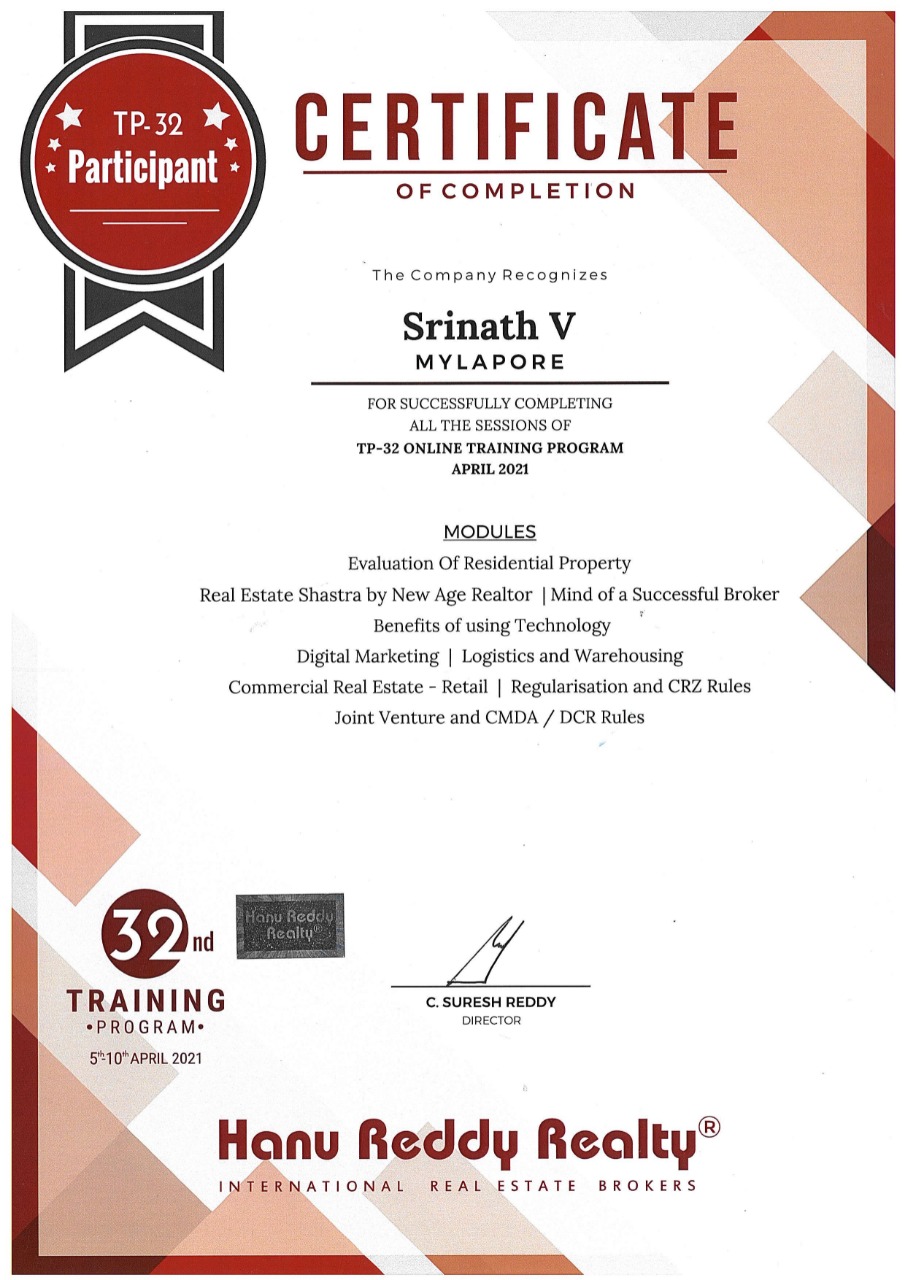 4363
Appreciation Letter
27-Sep-2020
From: jjagadeeswar@yahoo.com
To: srinathchetty@hanureddyrealty.com
Dear Mr.Srinath,
Thank you very much for helping us in finding a great tenant for our property situated at 15/2 Indira Arcade, 8th Street, DR Radhakrishnan street, Mylapore. I would like to take this opportunity to appreciate your service right from day one onwards until the signing of the tenancy agreement.You have demonstrated high level of professionalism at every stage in completing this entire process of securing a good tenant.Looking forward to working with you in the future if the need arises.
--
Kind Regards
Jayakar and Geetha
4364
Appreciation Letter
27-Sep-2020
From: Mohan Gopinath <gopim1979@gmail.com>
To: srinathchetty@hanureddyrealty.com
Dear Sir,
Thanks for finding me a right choice for rental which satisfies all my requirements.
I am very much appreciated by the way you are showing your professionalism to sign the agreement between me and owner with mutual understanding. You have identified me such a wonderful owner, he is humble and adjusted with all my obligations. Thanks a lot for your efforts Sir.
4080
Certificate
01-Nov-2019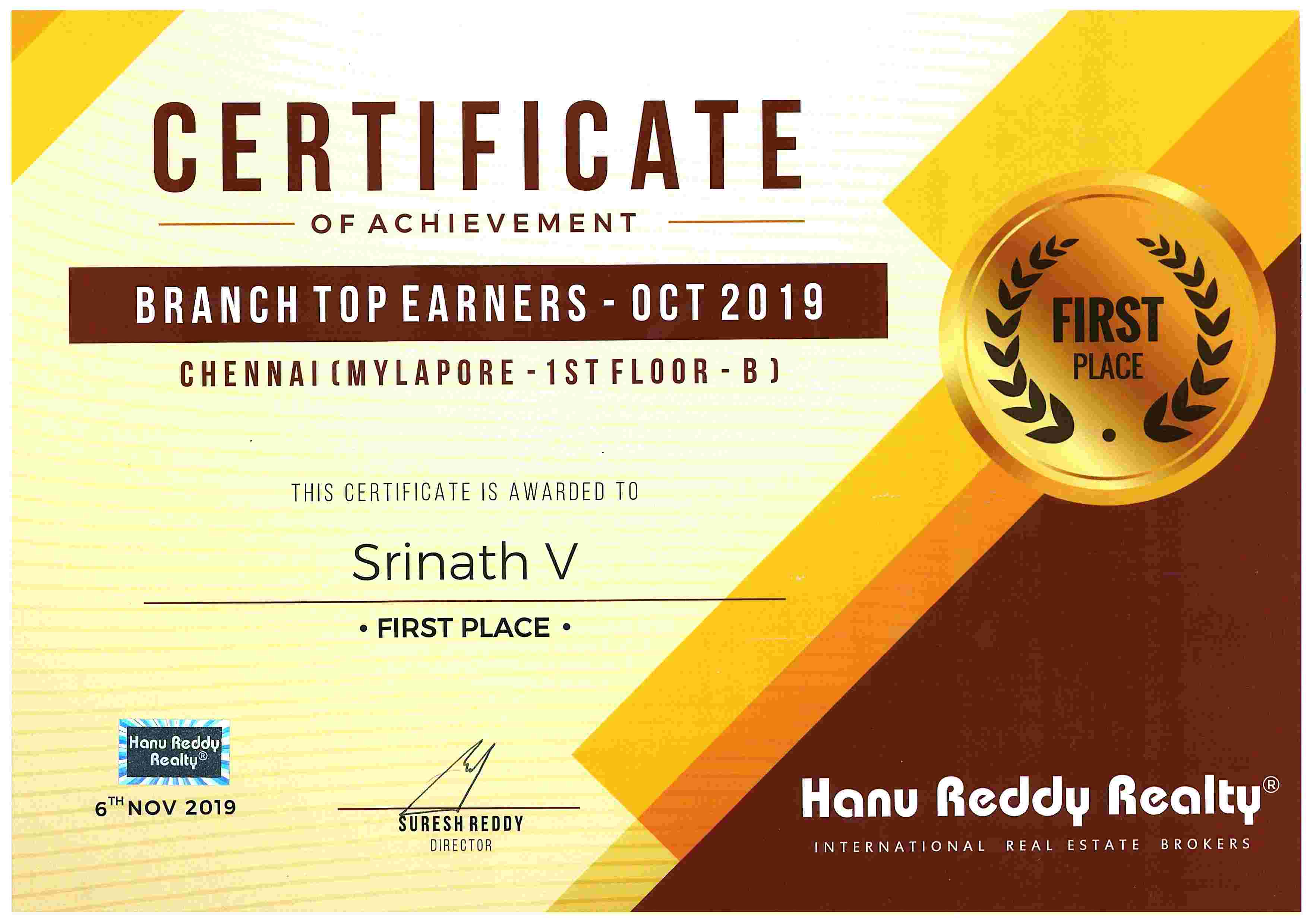 4058
Certificate
01-Oct-2019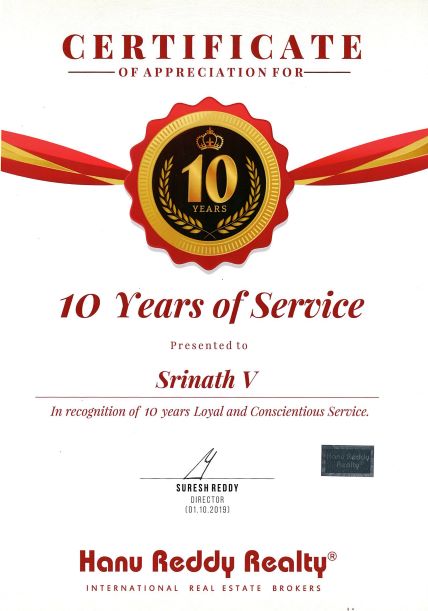 3304
Appriciation Letter
04-Sep-2017
2167
01-Dec-2012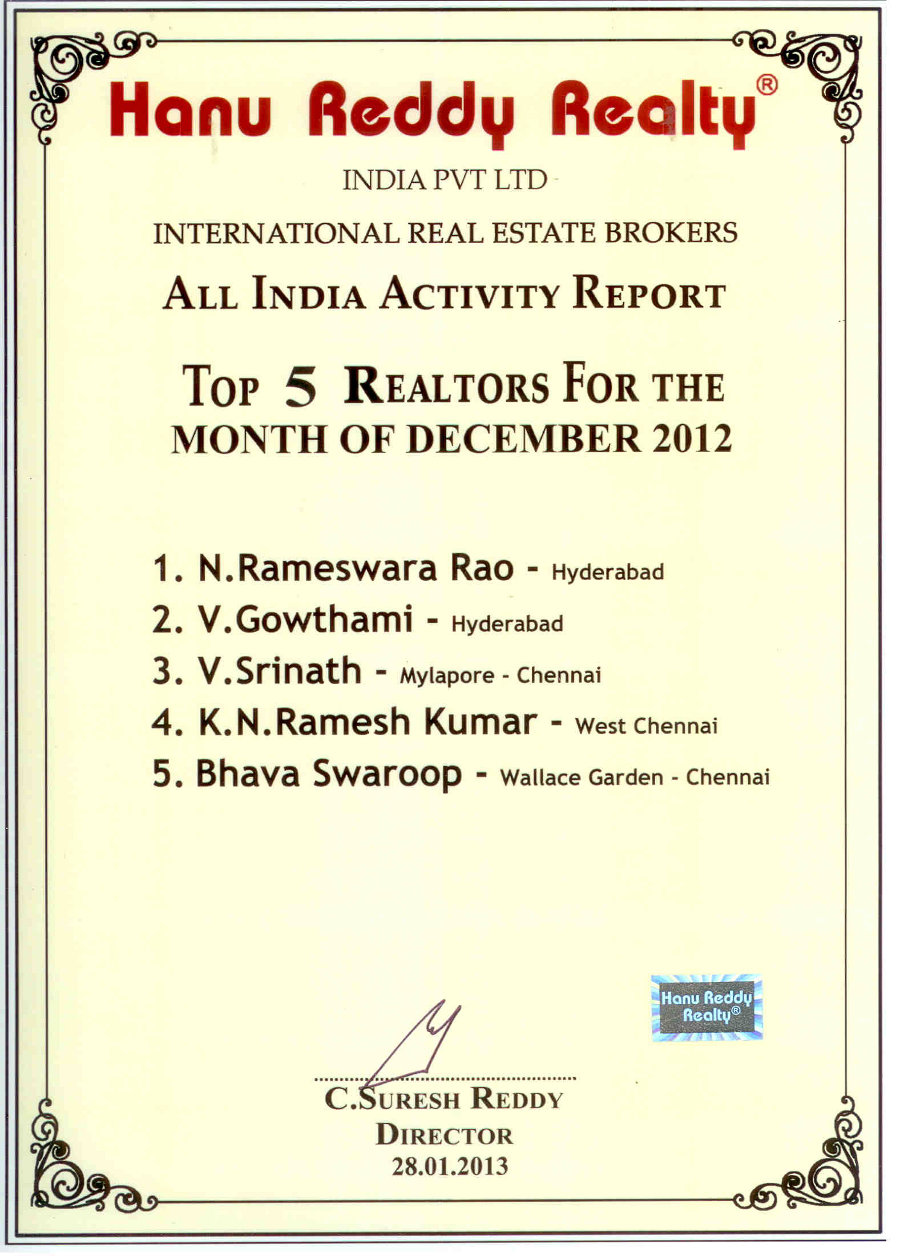 123
08-Sep-2011
Dear Ravi,
The Directors,
Hanu Reddy Realty India Pvt Ltd.
I want to place on record my sincere appreciation for the outstanding professional service you and Hanu Reddy Realty provided for the smooth sale of the Swagruha Saphire flat. I was worried that it would be a complicated affair to manage the sale from my remote location in the US. You explained everything clearly and kept me completely in the loop with frequent updates on the progress of the sale. In fact you were kind enough to call me at my US telephone several times.I would not hesitate to recommend your company to any of my friends and acquaintances in the US and India.
Wish you and all the folks at Hanu Reddy Realty the very best.
Regards
Sumana M Rao
125
03-Sep-2011
Dear Sir,
The Directors,
Hanu Reddy Realty India Pvt Ltd.
Kind Attn: Mr Prasad C
At the outset I would like to highlight that my flat H-304 at Daffodils has been sold at a good price.
Being an Army officer, having settled at Bangalore, I was on the look out for a good and honest broker who not only fetches us a good price but also work as a guarantee to the transaction throughout .
Mr. Osim who worked diligently and meticulously have not only got us an excellent buyer, price but also made me totally trusted and comfortable throughout the deal. Especially the poise honesty and dignity with which Osim work was in really appreciable.
I am definitely looking forward to future association and at the same time recommend your esteemed organization to people. I wish best of business prosperity and good luck to Hanu Reddy Realty .
Yours truly
Prasanna Upadhye
01, Mont vert Voila,
Ivory Estate, Baner,
Pune 11008