Testimonials
This is what our clients say about us...
View All Testimonials
4826
Google Review
26-Apr-2022
Kris D
We highly recommend Mr. V. Chandrasekhar and Mr. S. Arul Kumar from Hanu Reddy Realty India. They coordianted with both buyer and seller for the sale of our property in Madipakkam, Chennai, admin COVID-19 crisis. Everything went very smoothly, from property listin, sales agreement to property registration. We love to work with them again.
4638
Google Review
11-Nov-2021
SURYANARAYANAN THIAGARAJAN
I utilized the Brokerage services for fixing a tenant to my house in TIRUVANMIYUR. Hanu/s have successfully completed my task and Tenancy agreement has been signed. A special mention about Sri. Chandrasekhar, Senior Realtor, assigned for my task. I found him to be methodical, responsive and extremely courteous and I found him to keep his client's interest well in mind. It has been a pleasure to deal with Hanu Reddy. Thís is my second successful Tenant find with Hanu's help. THANKS and BEST WISHES
4639
Google Review
02-Nov-2021
Narasimhan Sevilimedu V
Positive: Professionalism, Quality, Responsiveness, Value
Shri Chandrasekhar provided rapid responses to all queries that came in the way of selling my house. He enabled exchange of information between the seller and buyer in a professional and smooth manner. He kept the records of discussions, helped to obtain missing documents and info in time. The deal could be satisfactorily completed in a short time. I am thankful to him and to HR agency.
3402
Google Review
11-Feb-2018
Kannan Ganesan
Mr. Siva Subramanian & Mr. Chandrasekaran of Hanu Reddy Realty helped us in identifying a flat that we purchased and they handled the transaction very professionally
2404
Google Review
18-Dec-2013
Sarang Iyengar
I have had the good fortune of utilising the services of Mr V Chandrasekaran Senior Realtor Hanu Reddy Realty Pvt Limited. He had closed two of my deals in record time to my entire satisfaction in September 2012. In fact I had personally handed over an appreciation letter to your Vice President immediately after the transaction was concluded. Mr Chandrasekaran has a very cool and calm disposition. His professional knowledge is above average. An extremely mature person I feel he is an asset to your organisation. I wish him all the best Sarang Iyengar
2400
Google Review
13-Dec-2013
Venkateswaran Ramamoorthy iyer
I take this opportunity to thank Mr.V. Chandrasekaran, Senior Realtor, Hanu Reddy India Realty India Pvt Ltd., for having helped us in buying a 3 BHK ,ground floor flat at Seshadripuram Main Road, Velachery, Chennai 600042. From the day one, when we expressed our requirement and limit, Mr.Chandrasekaran was able to identify a flat matching our requirement. We are senior citizens and I am 67 years old. Perfectly understanding our desire, he was kind enough in locating, negotiating with the seller and arranging meetings between the buyer and seller and bringing both of us to an agreeable meeting point. We could see from the day one his professional approach and above all the courteous behavior till registration of documents. We wholeheartedly appreciate Hanu Reddy Realty India Pvt Ltd and especially Mr.Chandrasekaran for the excellent support/professional approach. His demonstrated approach with the us also reflects the morale and ethics of the organization. Witnessing his professional approach yesterday while we were in the Sub-Registrar office at Velachery, My Son and Son-in-Law (Senior IT Professionals) have already expressed their desire to have his services for buying flats.
R.Venkateswaran
13-12-2013
73
13-Sep-2013
Dear Sri Suresh Reddy,

From: Mallikarjunan

To,
Sri C Suresh Reddy,
Director, M/s Hanu Reddy Realty,
#18, Bishop Wallace Avenue East,
Mylapore, Chennai 600 004

I have great pleasure in writing the following words about Sri V. Chandrasekaran, Realtor, Ms Hanu Reddy Realty India Pvt. Ltd. Chennai.
Sri Chandrasekaran has dealt with the smooth selling of my land in CLRI Nagar, Neelankarai, Chennai. His patience and perseverance in dealing with the customers and discharging responsibilities keeping in mind the customers? satisfaction are praiseworthy. I appreciate his steadfastness in adhering to the basic principles of keeping the transaction transparent.
I wish Sri Chandrasekaran the very best in his endeavours and look forward to his professional advice in the future.



Yours Truly,
M. M. Mallikarjunan
Senior Safety Officer (Retired), Organisation for the Prohibition of Chemical Weapons,
The Hague, The Netherlands, (Formerly Deputy Director, CLRI, Chennai 600 020)

M. M. Mallikarjunan
L G Halli, Sanjaynagar PO,
Bangalore 560 094




247
06-Nov-2012
Dear Sir,

At the outset I wish thank Hanu Reddy Realty and its team for keeping highest value for its customers and providing services in a very professional manner.

I had this first opportunity to experience your services when I interacted with Mr. V.Chandrasekaran for selling my plot ( land ) " Ashtalakshmi Avenue " Senneerkuppam.

The transaction /Registration was completed on 26th March 2012 with both Buyer and myself fully satisfied.

I wanted to sell the property for reinvesting the money for my new Villa in chennai and time factor was very important.

I would appreciate the efforts and professionalism of Mr. Chandrasekar in handling my matter and finishing the deal for me on time. The on-time follow-up at each step and guidance given by Mr. Chandrashekar and Mr. S Shivasubramanian was really helpful. The transparency and clarity in the dealings needs a special mention. These factors helps in keeping the dignity of the customers.

The dealing was well handled and negotiated between us very smoothly and very much to our satisfaction. My requirement was fully considered and satisfied.

I felt it is my duty to thank your organization and give my feedback of appreciations.

I look forward for availing your services in the near future.




Thanking You.
With Best Regards,
Jotish Kumar & Renu Jotish



558
01-Oct-2012
Dear Sir,

From,
Raghavan Sarangapani Iyengar
Flat # 1 C
Coral Manor First Floor
56/58, 2nd Main Road
R.A.Puram, Chennai - 600 028

To,
The Managing Director
Hanu Reddy Realty Pvt. Limited
#18, Bishop Wallers Avenue (E)
Mylapore, Chennai - 600 004


In the recent past Mr. V. Chandrasekaran working as a realtor in your company was associated with me on two transactions. The first one was to identify an apartment on rent as per my specifications and the second the sale of my flat in a prime locality in Mylapore. The latter was an extremely challenging assignment as would be evident from what I am going to state below.

I had verbally concluded a deal for the sale of my apartment with one of the prospective buyers the reference of whom was given through a common friend. My plan was to move to a rented house upon finalisation of the sale. This gentleman visited my flat several times and showed deep interest in purchasing the apartment on a mutually agreed price. He dropped a bombshell at the last minute stating his inability to honour the commitment on the grounds that he was not able to arrange the required finances which were partly to be funded by his mother. I was extremely upset at this turn of event on two counts firstly I had to start all over again to look for buyer and secondly I would have to move to a rented house (for which I had already signed a lease deed from Sep 1 2012, paid the deposit equivalent to six months rental and brokerage charges to Hanu Reddy Realty) even before finalizing the sale of my flat.

I called up Mr. Chandrasekaran and explained to him my predicament. I requested him to speak to the Lessor and explore the possibility of terminating the lease deed by me paying the rent in lieu of the notice period as envisaged in the lease agreement. Mr. Chandrasekaran understood my problem and put me at complete ease saying that I should not take this drastic step and incur a big financial loss. He assured me that he would identify suitable buyers and finalise the deal in the shortest possible time. By evening on the same day he brought some prospective buyers and by next day a deal was concluded with one of them as per my terms and conditions. A token amount was paid to me confirming the party's interest. This was followed by an agreement for Sale which was signed within a week. The Sale Deed was registered on Sept 27, 2012.

I write this letter to convey my deep appreciation to Mr.V.Chandrasekaran for;-
The lighting speed with which he brought the sale of flat to a successful conclusion.
His commitment, dedication, sincerity and the professional way he handled the transaction.
His calm, cool and patient demeanour maintained throughout the assignment.
Saving me from suffering a huge financial loss.
Hanu Reddy Realty Pvt Ltd is extremely fortunate to have on their rolls a person of the calibre of Mr.V.Chandrasekran and because of people like him your organisation enjoys a high reputation in the real estate business. He truly is an asset to you and I am sure that the others will emulate his example and the high standards he has set.

I wish him all the best in all his future ventures.


Sincerely Yours
Raghavan Sarangapani Iyengar



105
29-Apr-2012
Hi

This is to put on record the excellent work done by Mr. Nagendra, well supported by Mr. Chandrasekaran, in getting a good client for my house in Annanagar.

This team from Hanu Reddy Realty took up this project in a Professional manner. They went through the process and continued with same interest and zeal through out the time, from identifying good possible clients, helping us to finalize at a good rate with a good client, until the Registration was done, is highly commendable. We are very happy to have been associated with these individuals.

One clear sign of customer satisfaction is getting "repeat customer". After this wonderful experience of ours, we are now inviting both of them to help us for finding a good tenant for our other house in Annanagar.

We would like to extend a warm thanks to both M/s Naga and Chandrasekaran for all their efforts and help.

Thanks


Best Regards
Rangarajan K
U-13, NATRAJ,
4th Main Road, Annanagar,
Chennai ? 600 040



2053
31-Jul-2011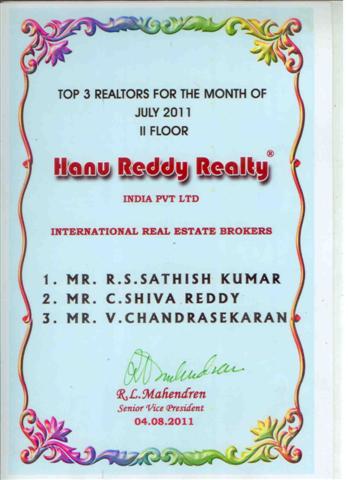 2055
01-Jan-2011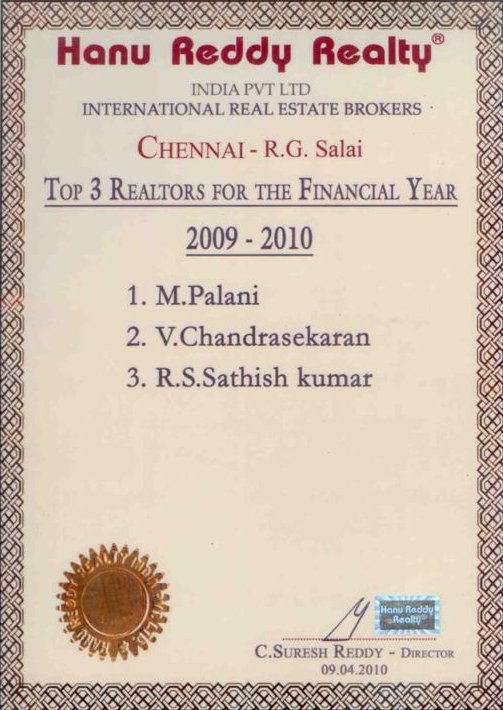 646
01-May-2010
Dear Mr. Chandrasekaran,

Kind Attn : Mr Suresh Reddy

Sorry for the delay in expressing my thanks.

First I would like to thank you for making this property transaction possible, and without your valuable guidance it would have been literally impossible for me to close the transaction in such a short time.

I have run away from several such transactions for the sheer number of things that need to be done carefully with trusted folks. However the current one went very smoothly, only because of your guidance.

You also gave me the contact of Mr. Sundaramurthy, HDFC bank, who helped a lot through out the deal. He in turn helped me identify a decent lawyer for the perusal of the documents and to pull the transaction through till the end.

Apart from handling a few challenging situations, you helped in co-ordinating with all the folks - bankers, sellers and me (the purchaser).

The only negative I see is : The 2% commission on the purchaser seems real high. This seem to be too high, particularly for high value transactions overriding all the positives mentioned above.


Thanks,
Siva.



147
04-Feb-2010
Dear Sir,

The Director
M/s. Hanu Reddy Realty India Pvt Ltd.

I wish to place on record my sincere appreciation of the services rendered to be by Sri. V. Chandrasekaran of your firm to finalize the sale of my flat at the above mentioned address.

Mr. Chandrasekaran is extremely hardworking and totally dedicated to his work. He stretches himself to any limit by working long hours in serving his clients unmindful of personal discomfort and inconvenience. He is very knowledgeable on all matters relating to the sale of the property and as well acquainted with the procedures to be followed step by step. He is Systematic and methodical in his work and does not over look even the minutest details. He is very patient in dealing with the two parties to a Sale and never loses his cool even under the most trying circumstances. His perseverance to follow up on actions to be taken for concluding a deal is commendable. He is very friendly and pleasant and is able to get the cooperation of other people such as bank officials and registration officials. His interpersonal skills are truly commendable and admirable. He neither gets ruffled nor ruffles others. He facilitates smooth dialogue and negotiations.

I wish him every success in his career.


Thanking You
Geetha and Ashok
(Mrs Geetha Kumar & Dr. Ashok Kumar)



2056
31-Jan-2010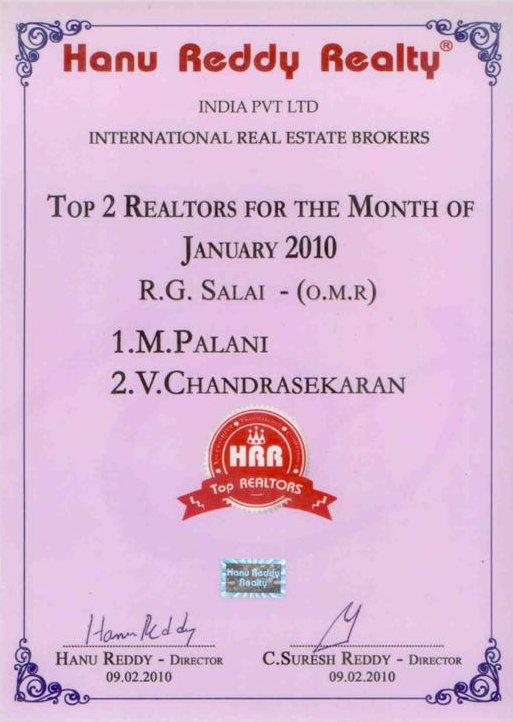 308
01-Jan-2010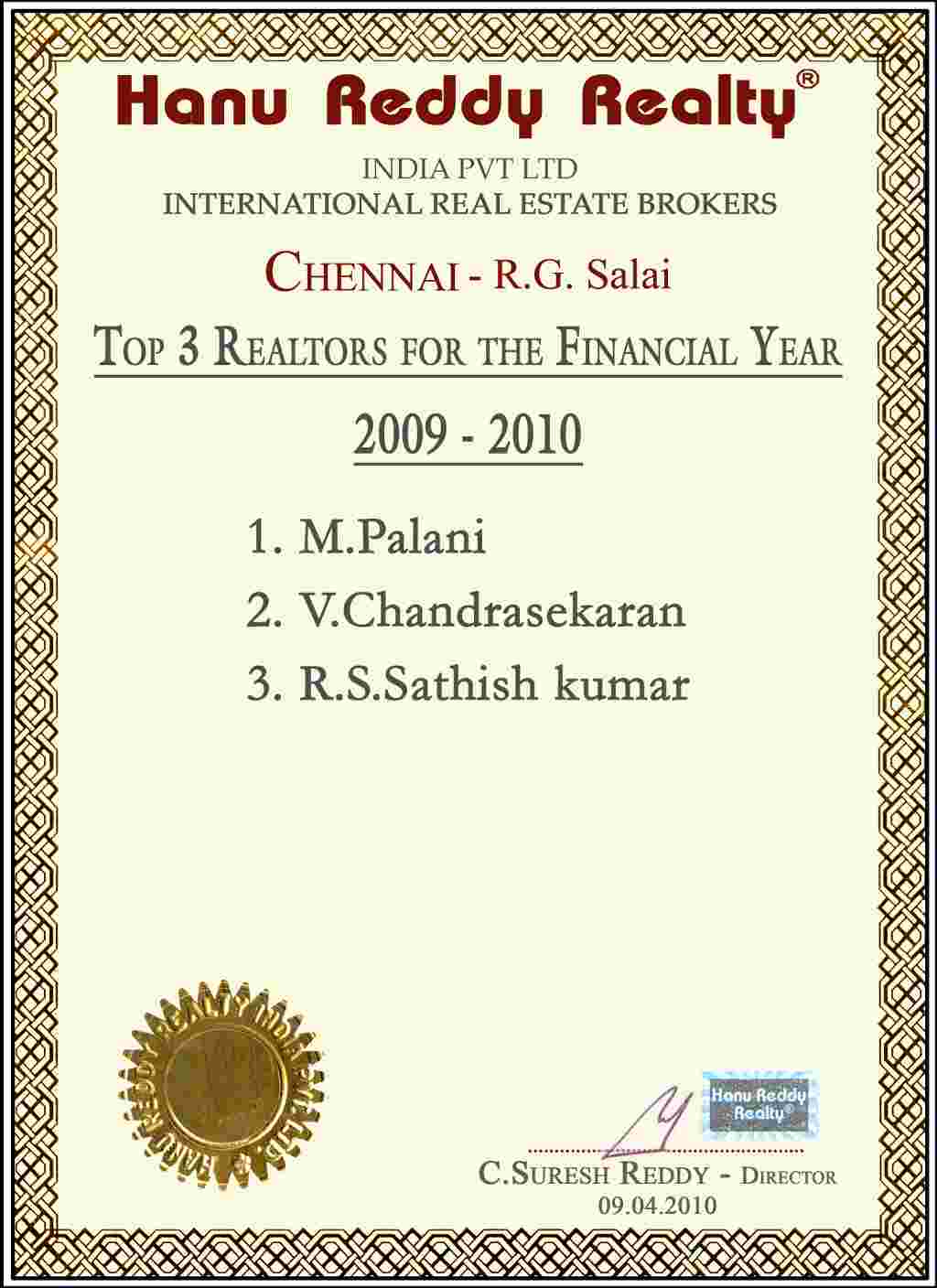 309
Top 3 Realtor for the Financial Year
01-Jan-2010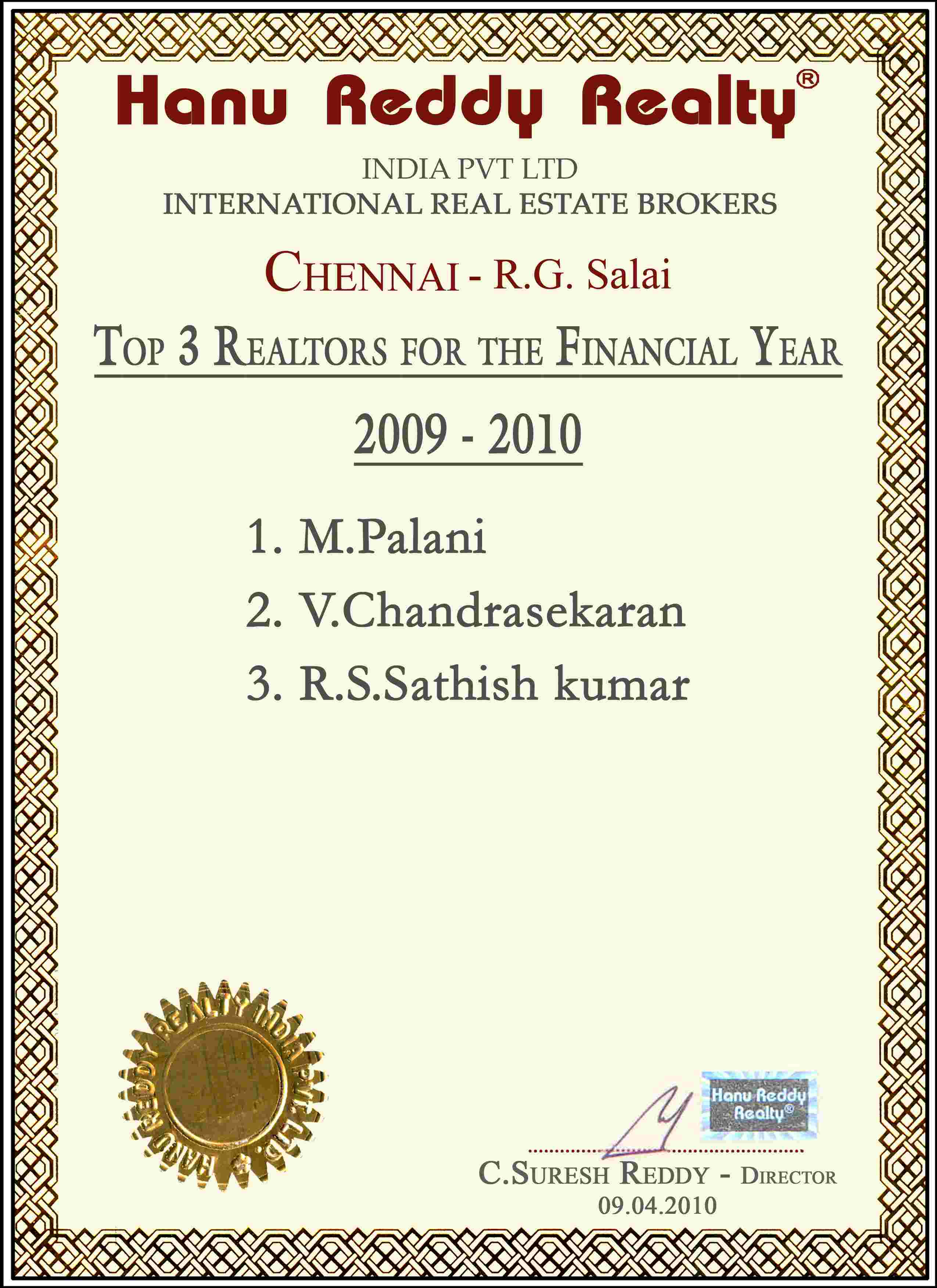 2057
30-Nov-2009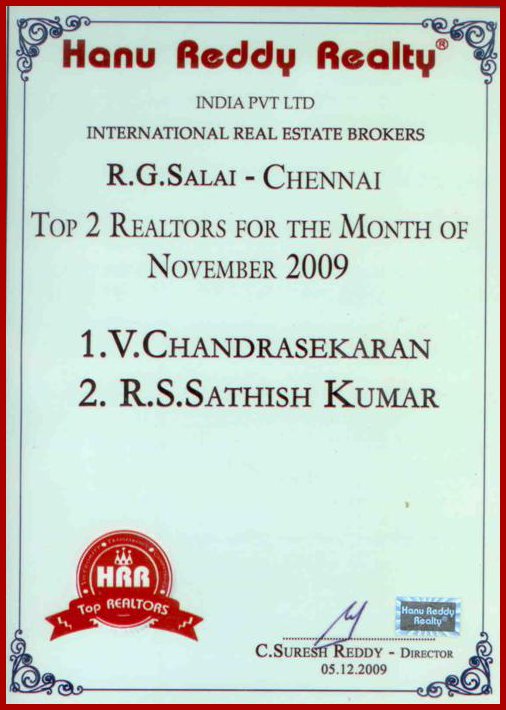 2058
30-Nov-2009