Testimonials
This is what our clients say about us...
View All Testimonials
3714
Google Review
10-Oct-2018
Really it's transparent deal with seller. Mr. Bava very polite punctual and knowledgeable person. Thank you Bava
3612
Google Review
14-Jul-2018
These guys ( Vijayan and Bhava ) are super professionals and did a great job from start to the end of the assignment .
Thank you
Imthiaz mohammad
3579
Google Review by Seller Mr Amrith
04-Jun-2018
https://goo.gl/maps/tfuWDrTRYZs
Mr.Arul and Mr.Bhava from Hanu Reddy Realty were appointed to deal with my case. Mr.Arul did the ground work of showing the home to the customers and explaining to them while, Mr.Bhava's expertise came to the fore in helping in preparing the documents and in taking the deal to completion. I was able to give them the rights to advertise and the keys with full confidence and I am very happy that everything went well and that they did a great job. Thanks.
3506
Google Review
10-May-2018
Lotus G
I found Mr. Bhava Swaroop very helpful and professional. He was prompt in responding and offered useful advice.
3505
Google Review
08-May-2018
S.M. Jalaludeen
I had two occasions to deal with Hanureddy Realty in Chennai . In both transactions, Mr. Bhava Swaroop and Mr.Ramakrishan had provided me with excellent professional services for concluding the sale procedures of my properties in Chennai.
3433
Google Review
27-Mar-2018
Ms. Minnie Tensingh
Mr Bhava was very helpful and strived to get me the best rate on my flat. I thank him for his valuable help in successful sale of my flat.
3432
Google Review by Seller Mr Kishan Kumar
27-Mar-2018
Kishan Kumar
Hanu Reddy Realty team had really helped us to close a deal. They helped us at every obstacle we faced. Special thanks to Mr.Bhava Swaroop and to Mr. Devanand
3409
Google Review
27-Feb-2018
THEAGARAJAN ARUNACHALAGUNNA
Bhava Hanu Reddy has taken very good effort to have effective buyers and arranged frequent dicussion with the buyer resulting satisfactory sale.
3442
Google Review
20-Jun-2017
Rajan K
It was a Thorough, friendly and professional service. Every interaction was transparent & I sincerely thank Bhava Swaroop for all his help.
3187
Google Review
06-Jun-2017
Mugundhan S
Its was a professional interaction with Bhava Swaroop & his colleague Rajeev. Entire deal was transparent & satisfied completely. Thanks & I always love to work with them.
3138
Google Review
04-Apr-2017
Bindu Godi
Overall very professional, entire process coordinated by Mr.Bhava & Mr.Rajesh. Very much satisfied doing business with Hanu Reddy realty and looking forward for more such dealings in future. Keep up the good work..:-)
3139
Google Review
04-Apr-2017
SWAMINATHAN JEYARAJ
Excellent Service done by Mr.K.Bhava Swaroop & his Colleague
3443
Google Review
04-Oct-2016
Leveyl Gomez
A well organised realtor with experienced point of contact like Mr. Bhava Swaroop. All the process and coordination was well handled in timely manner for my property sale in Pudupet, Egmore. By giving "Exclusive Rights" it was a peace of mind for me and gave better handle to Mr. Bhava to complete the process. Overall satisfied with process and will definitely use their service again when in need
3444
Google Review
06-Sep-2016
Uma Guru
We are pleased to say that it was an absolute pleasure working with Hanu reddy realtors especially Mr Bhava Swaroop. We recently sold our property through Mr Bhava Swaroop. He guided us through the whole process and though we are based overseas, he made us feel close to the process and aware of every step. He also guided us through legal aspects of the sale and made it stress-free.
2930
Certificate
08-May-2016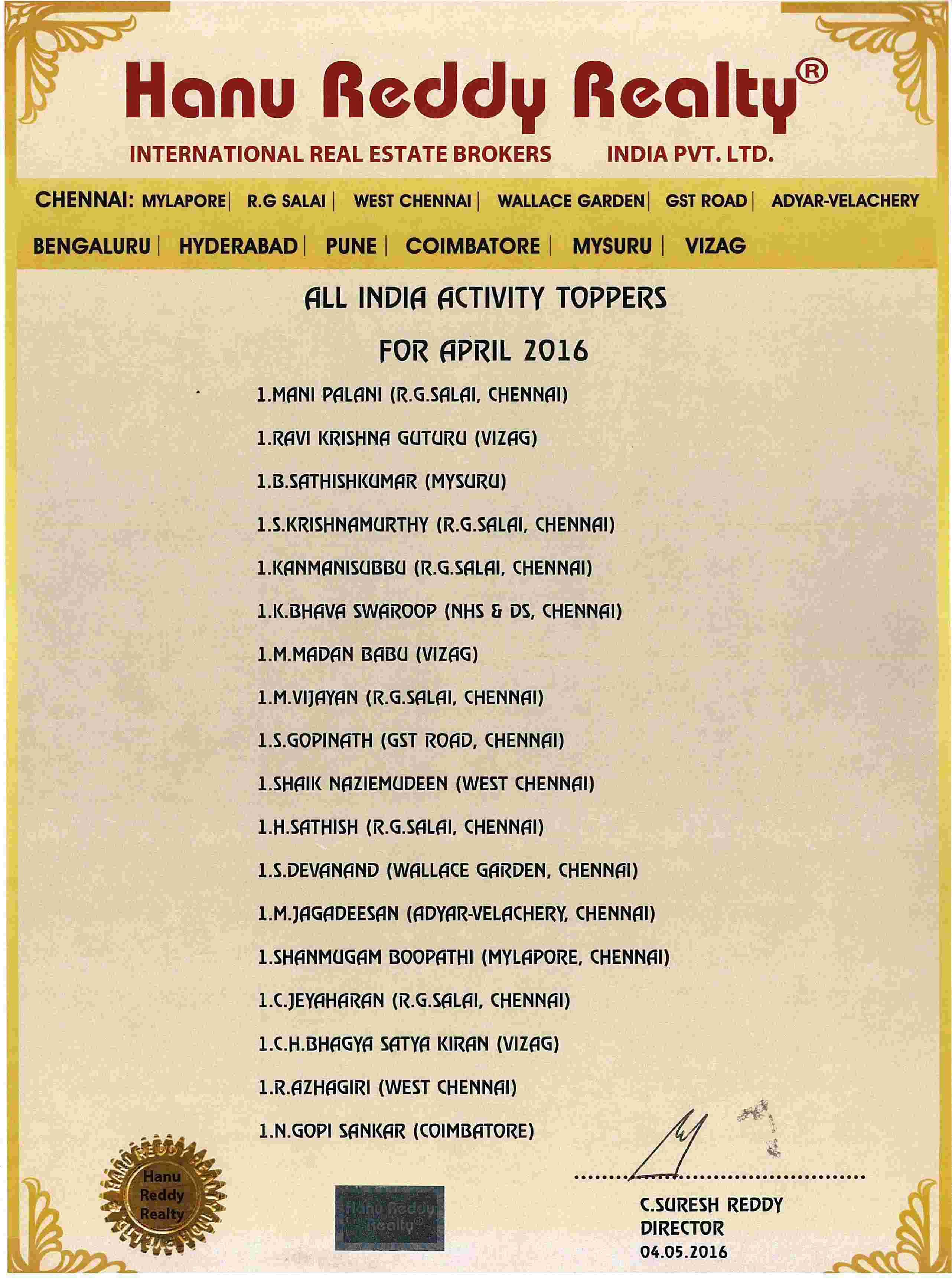 2918
Certificate
08-Apr-2016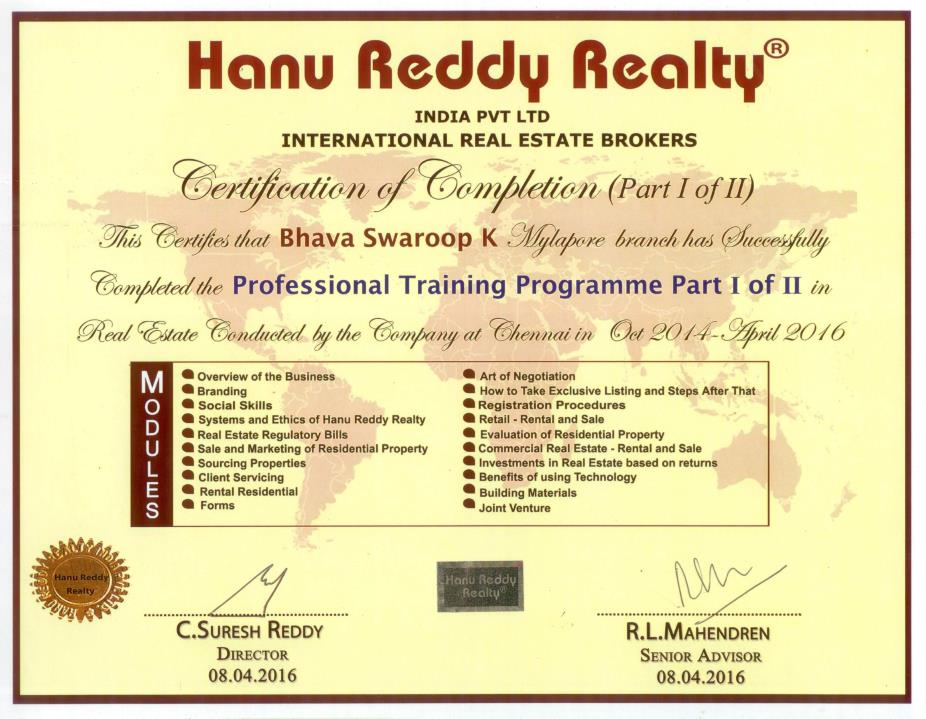 2917
Certificate
04-Apr-2016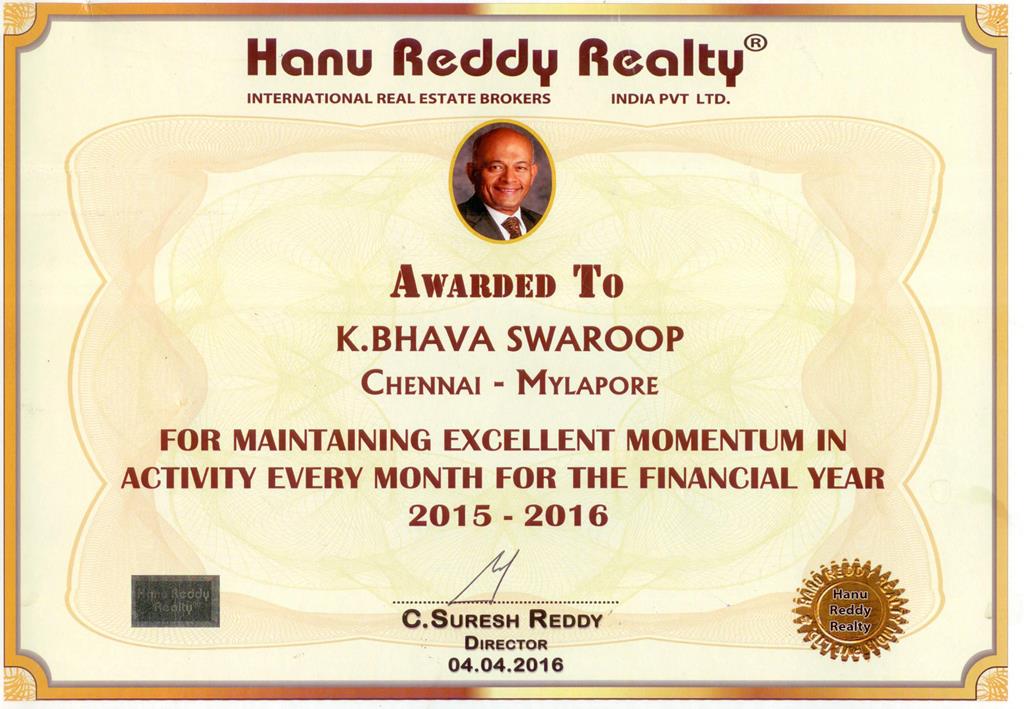 2928
Certificate
30-Oct-2015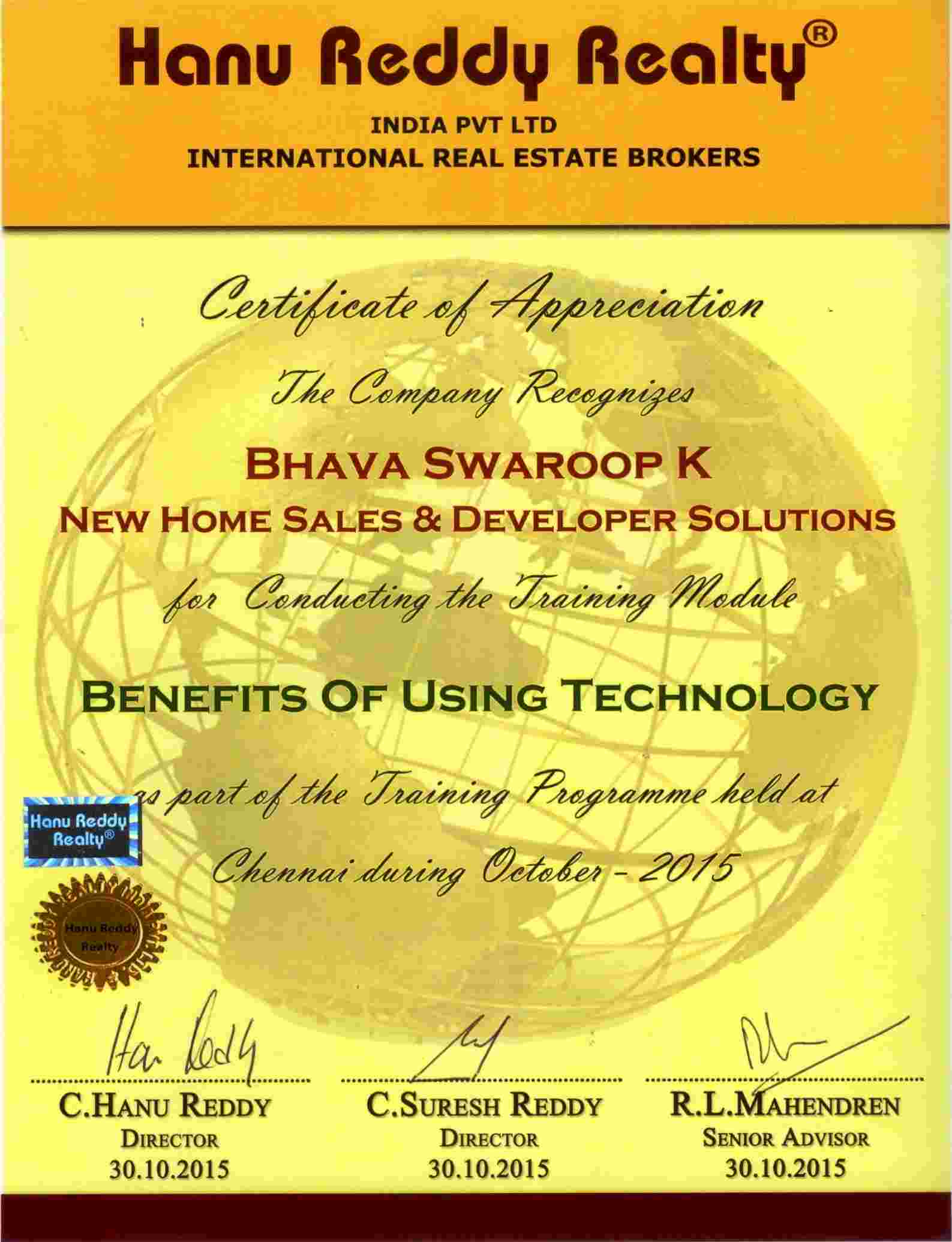 2730
Certificate
06-May-2015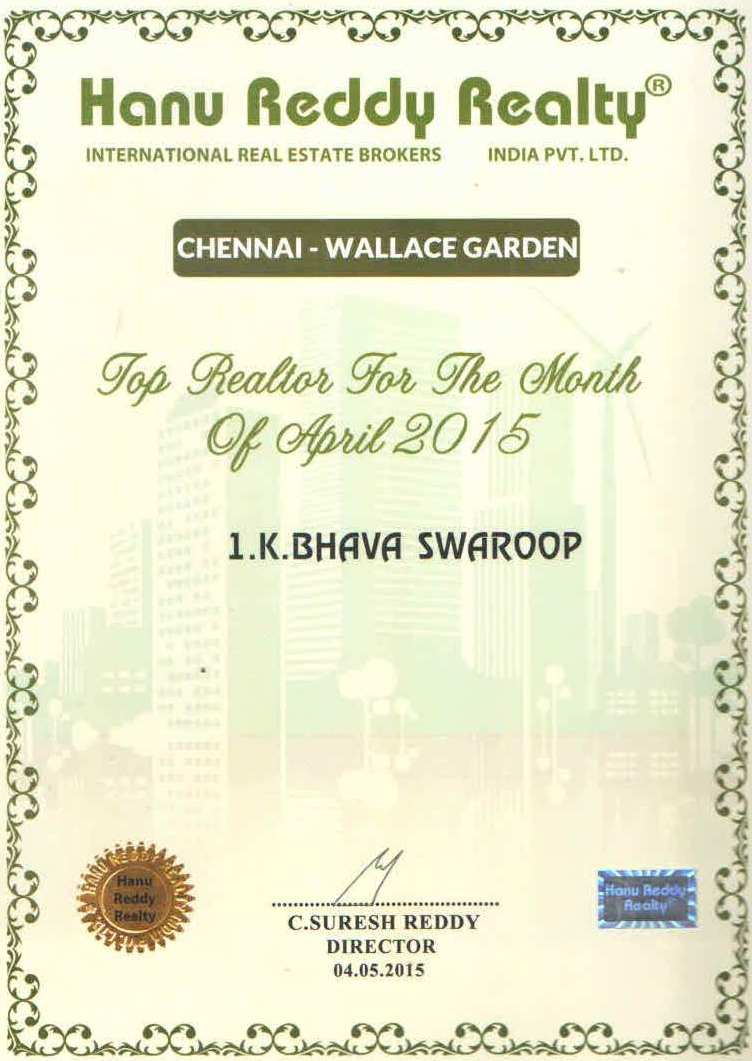 82
12-Sep-2013
TESTIMONIAL FOR MR. BHAVA SWAROOP

I write this testimonial to Mr Bhava on completion of our purchase of Flat in Egmore at the address Flat 10A, 33 Halls Road, Chennai 600008. I always had a thinking that the real estate agencies are not safer on many of my perspectives to go for a sale or purchase. But Mr Bhava at Hanu Reddy Reality has really proved me wrong. His patience in dealing the customers, his pleasant approach and understanding of customers concern has really been a great quality which I observed in this whole deal. He was really genuine in completing the deal when we fixed the price to buy the property. He made every process, meetings and communication very much smoother between the seller and us. The service rendered by him was truly excellent and above expectations.

I am really grateful for the work he has done and I would like to come to Hanu Reddy for my future purchases or sales too..!! I wish him all the best for his continuous excellence in Hanu Reddy Reality.


Kind Regards

Rinaldo J A
Door 33, Flat 10A, Halls Road,
Egmore,
Chennai 600008.



485
15-Jul-2013
Hi Kumar

Just wanted to send you a mail to thank you for the immense help and support in buying my first flat with Hanu Reddy Realty.

Before I got in touch with Hanu Reddy I had worked with numerous other brokers and I was very disillusioned with the services they offered and the work ethic they displayed. Even at Hanu Reddy I had spoken to quite a few people before you got in touch with me. None of them were particularly proactive. But from the first meeting with you, you gave me the confidence that Hanu Reddy would be able to handle my requirement and every flat you showed me was carefully selected according to my feedback and requirement.

What struck me the most about how you handled the job was how you always gave me honest opinions, which was very unlike any other real estate professional I had interacted with before. Your insights and expertise helped me zone in on the right flat and close the deal within a matter of a month or two. Your sense of responsibility didn't end there. At every step of the way you helped me do all the required paperwork, you liaised with my lawyer to make sure everything was done correctly and there were even points where your keen eye for detail helped me avoid some serious mistakes in the legalities involved. I am immensely grateful to you Kumar for being with me at every step of the way from finding the flat and negotiating a good price to signing the contract, sorting out the bank loan and registering the flat. Even after the brokerage was paid you made sure every last document reached me on time and that everything was taken care of.

I could not have done any of this without you and you have given me complete faith in Hanu Reddy Realty being at the forefront of real estate in Chennai. I would be honoured to work with you again Kumar and I am already looking forward to making my next investment in Real Estate. I have complete confidence that you will advice me correctly and only suggest good investments. I will only be dealing with you for all my future real estate deals:)

I would also like to thank your colleague for his help. He was helpful and stepped in when required.

I know you will reach great heights in real estate, Kumar, due to your proactive nature, professionalism and your ability to go the extra mile to make the client feel comfortable. It was truly a pleasure working with you.

Thanks for everything!


Best wishes,
Sitharay



79
17-Dec-2012
My sincere thanks to Mr Bhava Swaroop for selling my madipakkam flat ,the dealing was smooth, sincere,and professional ,this is the second time you had helped me in finalizing a flat.


WISHING YOU SUCCESS IN YOUR ENDEAVORS
ANDREWVETHANAYAGAM



2167
01-Dec-2012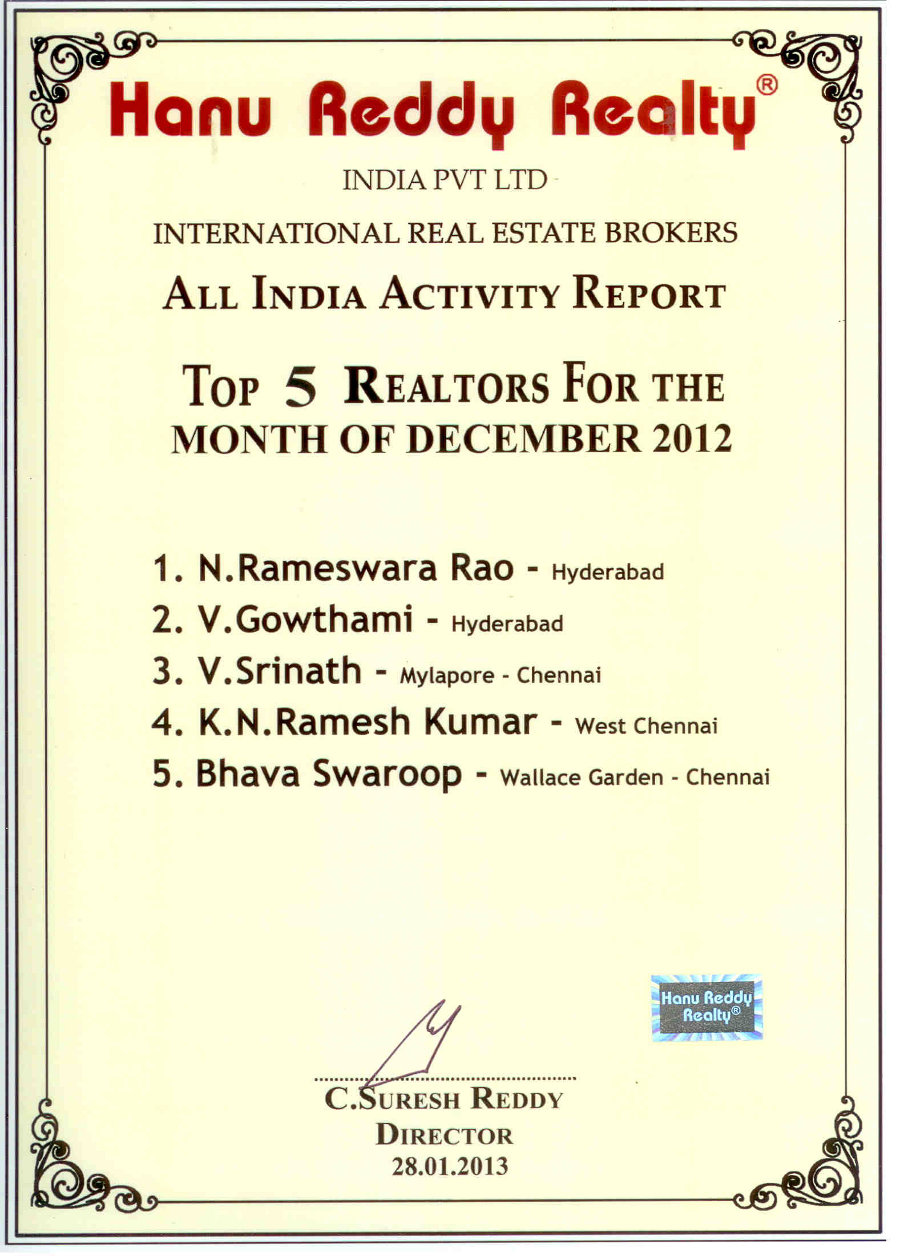 65
Dear HRR Group,

Bhava was dedicated in marketing my flat and did a wonderful job. The execution of the transactions were smooth. The only area where he has to improve is documentation. I would expect the agents to involve in preparing the agreements and deeds themselves. Otherwise , Bhava was excellent in doing the job.


Regards
R.Saravana Kuma