Flat for Sale in OMR
Serving real estate clients from around the world, Hanu Reddy Realty has been a pioneer in the real estate business for over 2 decades now. Be it an affordable flat or a posh studio apartment on the OMR the realtors at Hanu Reddy Realty always find a way to help you find your dream home.
Location:
Economic Times has touted OMR, otherwise Old Mahabalipuram Road as one of the trending real estate hub. In close proximity to office spaces, shopping malls, IT parks, restaurants, hospitals, grocery stores and a number of beaches lining along the 45 km long roadway, the flats for sale here are surprisingly affordable in certain locations and hard to get your hands on in the others. With a huge number of IT industries along this road, the demand for flats is high and so is the supply. Here is where realtors at Hanu Reddy Realty step in.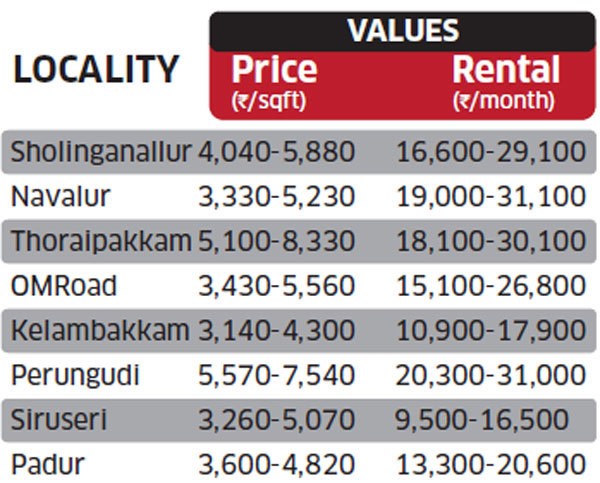 This infographic depicts the price range of rents along the OMR.
All about the trust:
A good realtor sells you just what you need and doesn't work only for the commission check. They should not miss out any crucial details that the buyer would not want to miss out on acknowledging before investing in a pricey deal such as a home. Trust matters more than anything.
They are great in communicating with the buyer, and that is one important key to a good buyer-realtor relationship. The realtors make time to fit into the buyers' schedule and give important local information that the buyer needs to know.
From booking a visit for you at the flat on the OMR, showing you around the location and the surroundings, giving you the information on the property, taking care of the legalities with complete transparency, the realtors at Hanu Reddy Realty stay true to their morals and ethics they are imbibed with.
Licenses and Certifications:
With a certified real estate agent, you get a professional service that beats all other services in the real estate business services. From the minute you enquire them about a location, our realtors are there until you are fixed up with a satisfying home.
A well-reputed realtor is one who has the required knowledge about properties, has been in the business for a good number of years, is well aware of the legalities and leaves no space for legal mishaps to occur, thus making sure you have a hassle-free transaction with them.
Reach out to our realtors From Hanu Reddy Realty for the best deals on the OMR.