Testimonials
This is what our clients say about us...
View All Testimonials
4758
Certificate
11-Mar-2022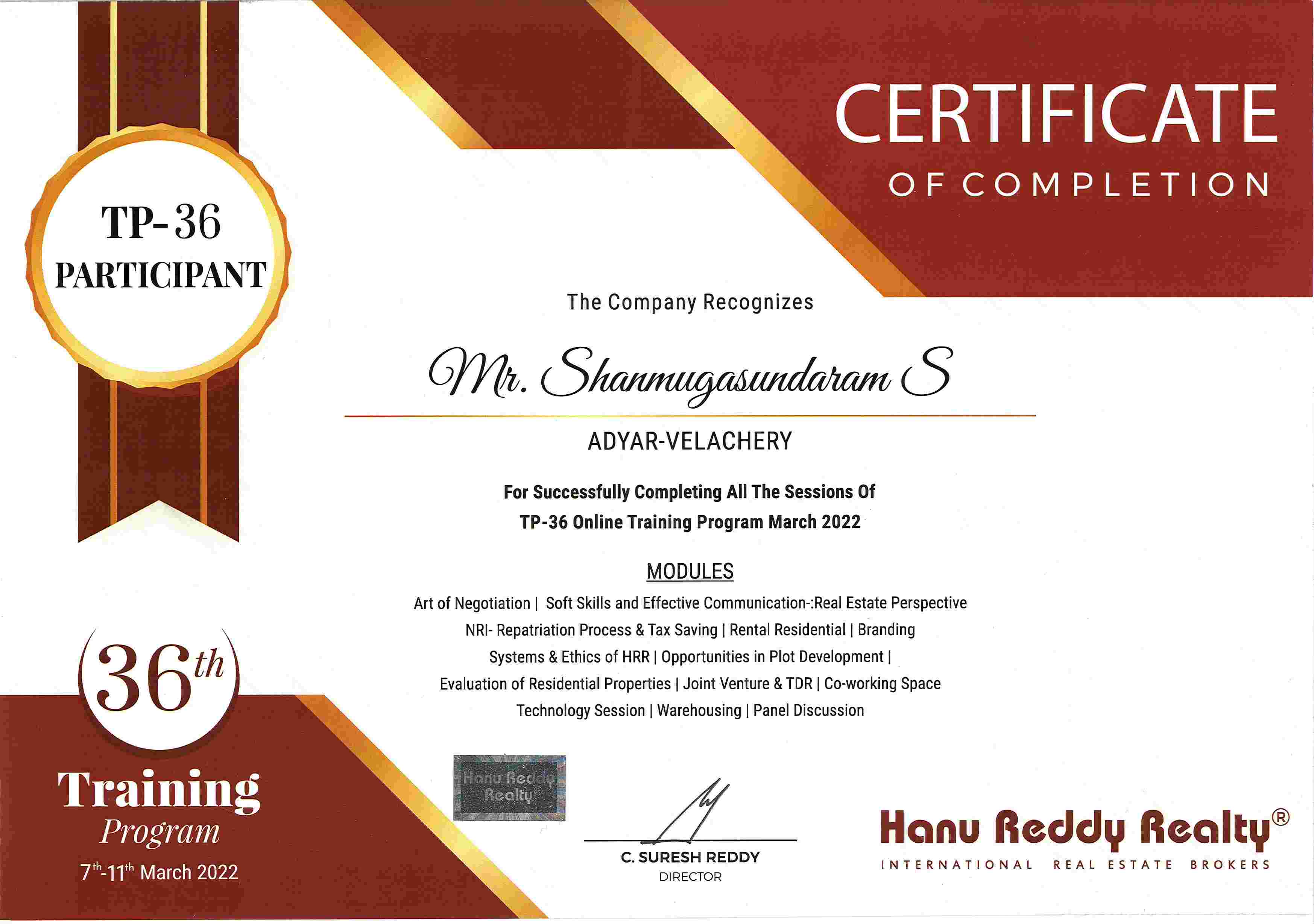 4713
Certificate
12-Jan-2022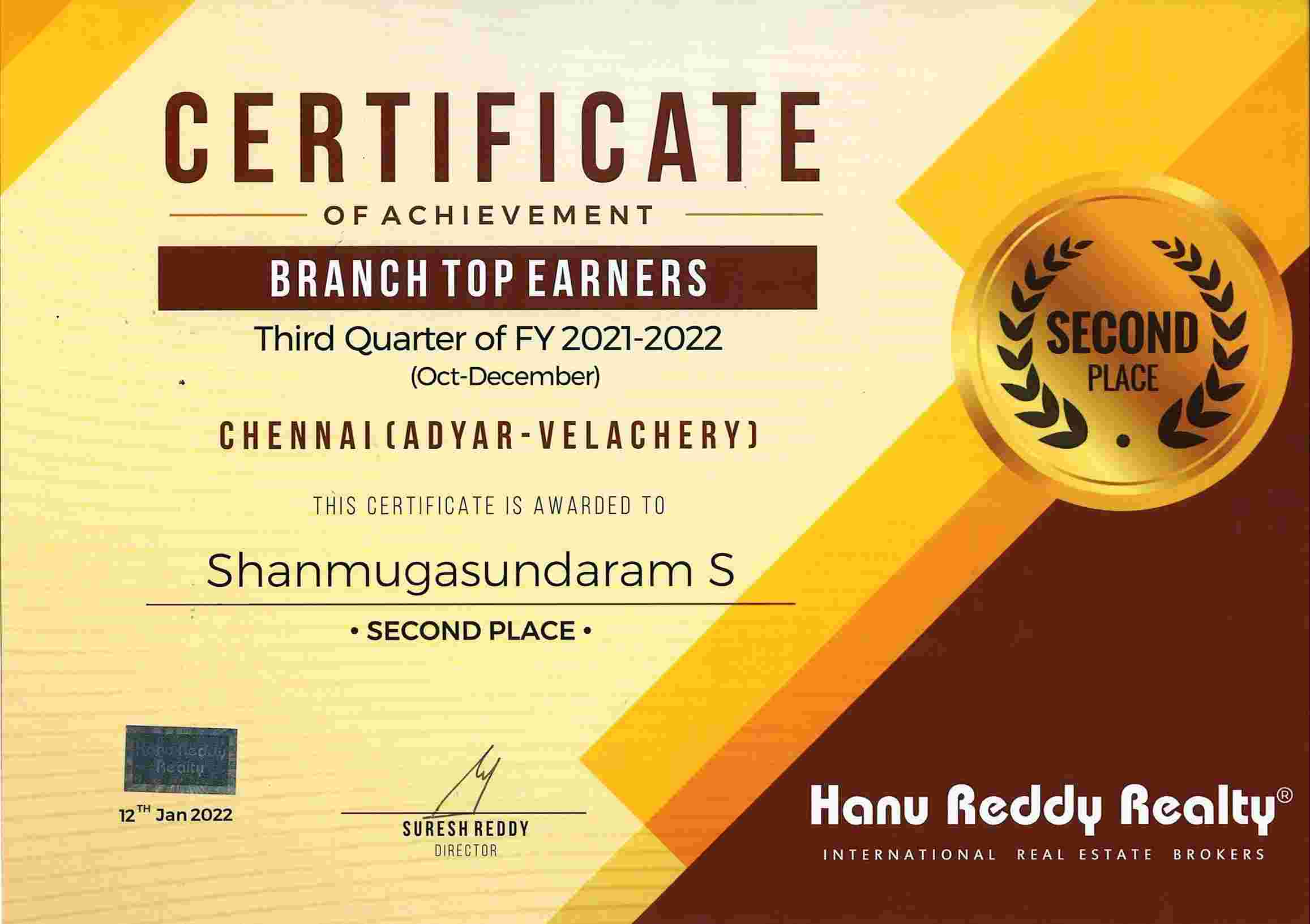 4676
Certificate
17-Dec-2021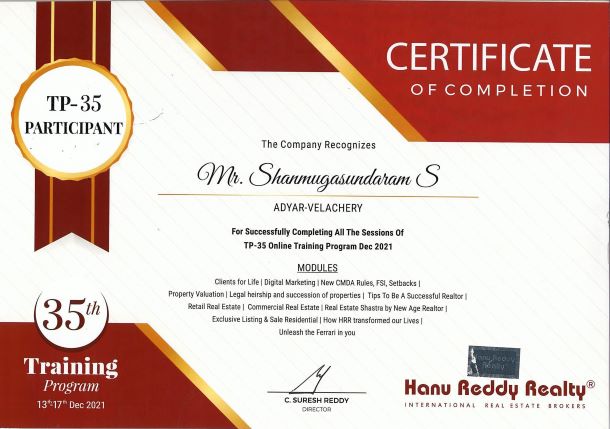 4585
Appreciation Letter
24-Aug-2021
From: Ramamurthy Venkataraman
Subject: Note of Appreciation
Dear Mr. Siva Subramanian,
Soumya and I would like to express our sincere gratitude and appreciation for your services and assistance in executing a successful sale of Soumya's property in Madipakkam. We realise that this has been a long haul and a particularly difficult transaction to take through to completion, given all the complications arising from bereavements in Soumya's family, the documentation issues with the original sale deed and, of course, the Covid issue over the past 18 months. Despite various setbacks, including the sale that fell through last year due to the prospective buyer's cashflow problems, you and your team persisted with your efforts and finally obtained very favourable sale terms. We are very grateful for all this. We would also like to express our gratitude and thanks to Mr. Shanmugasundaram for his concerted efforts in the process. Without his contribution and willingness to go over and beyond in addressing items, including getting the property cleared and fenced and acting on Soumya's behalf with the PoA, at various stages of the process, it would been infinitely more difficult. Once again, thank you for your efforts.
Kind Regards,
Soumya and Ramamurthy
4527
Certificate
21-Apr-2021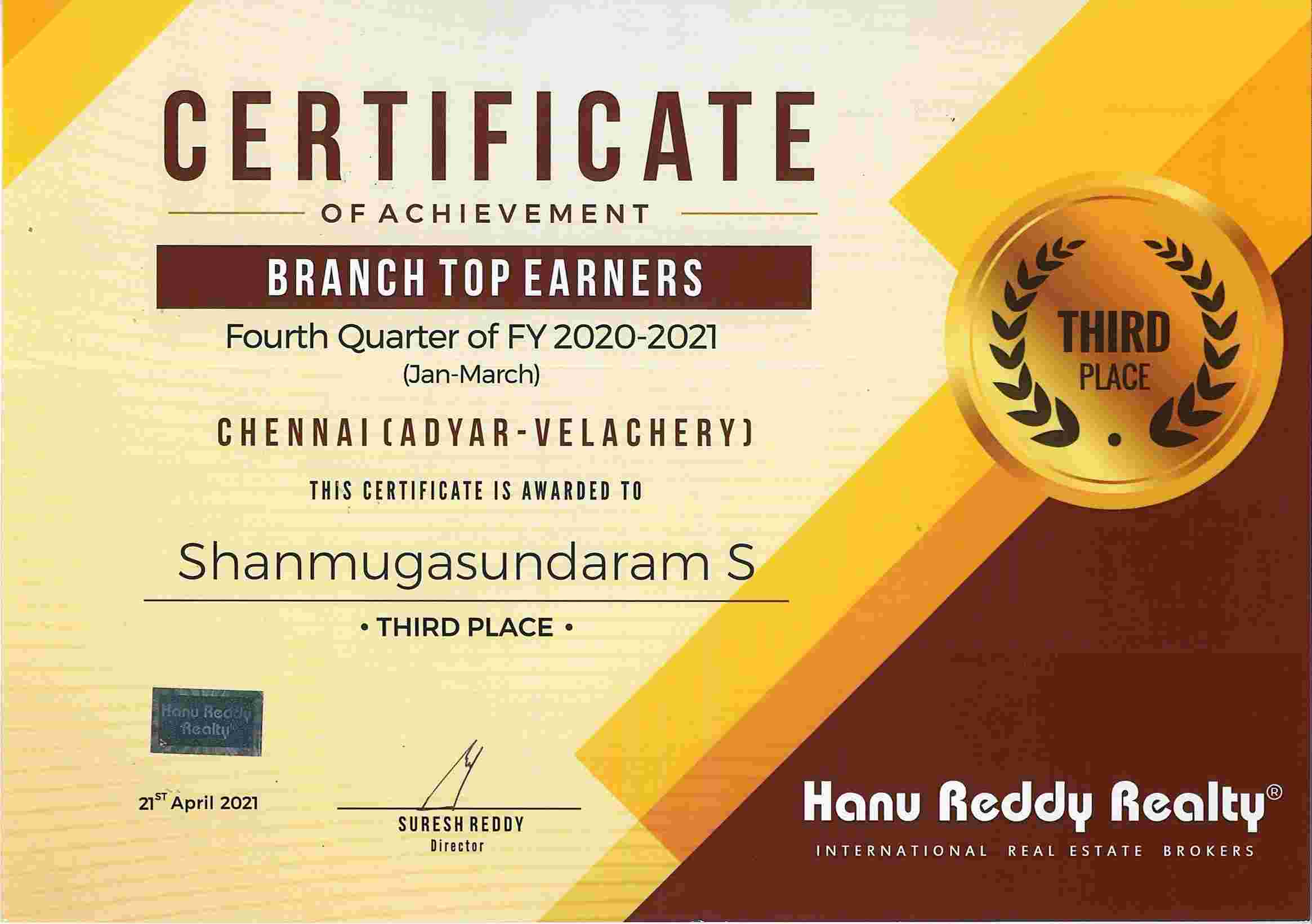 4291
Certificate
10-Jun-2020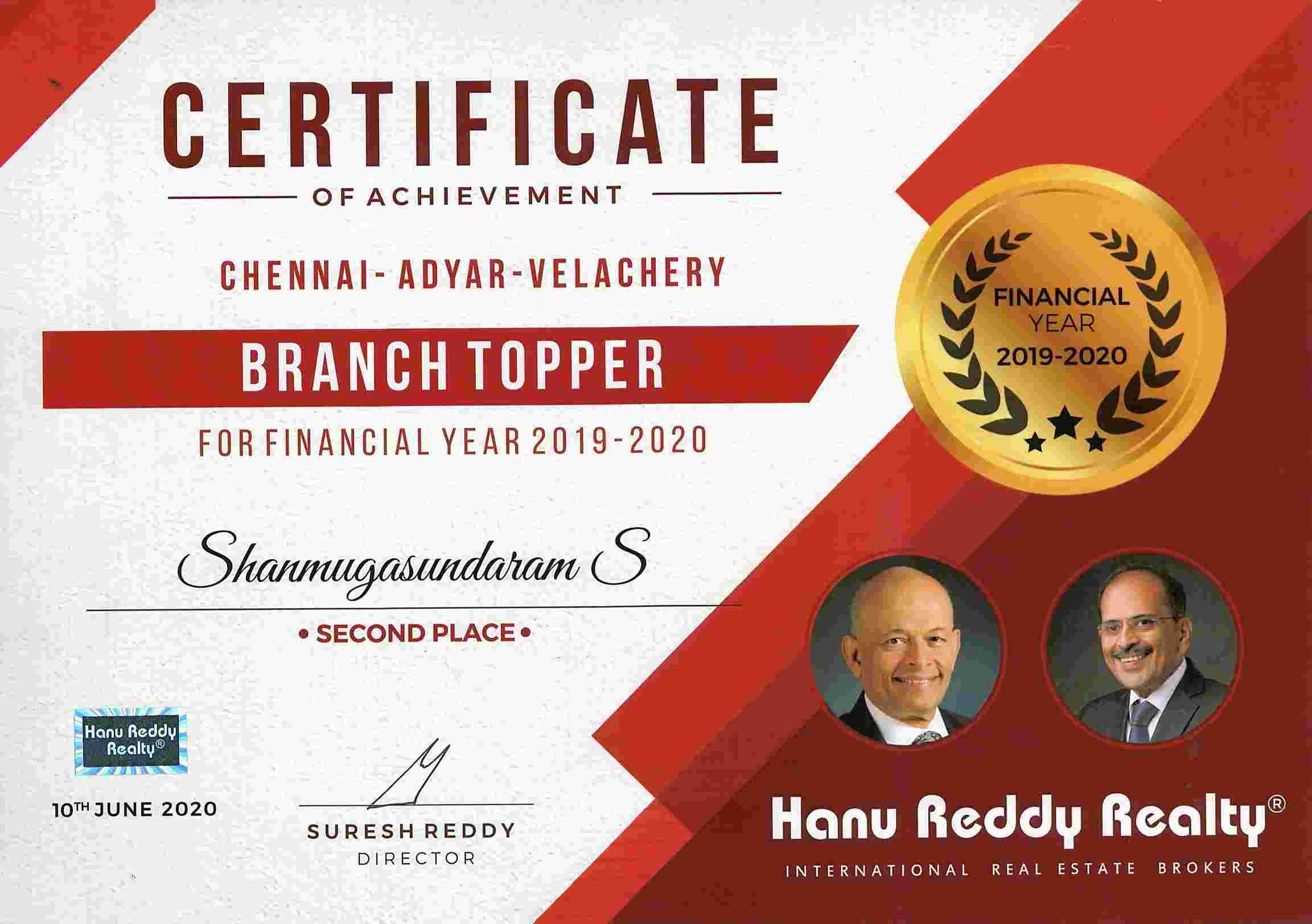 4108
Appreciation Letter
24-Dec-2019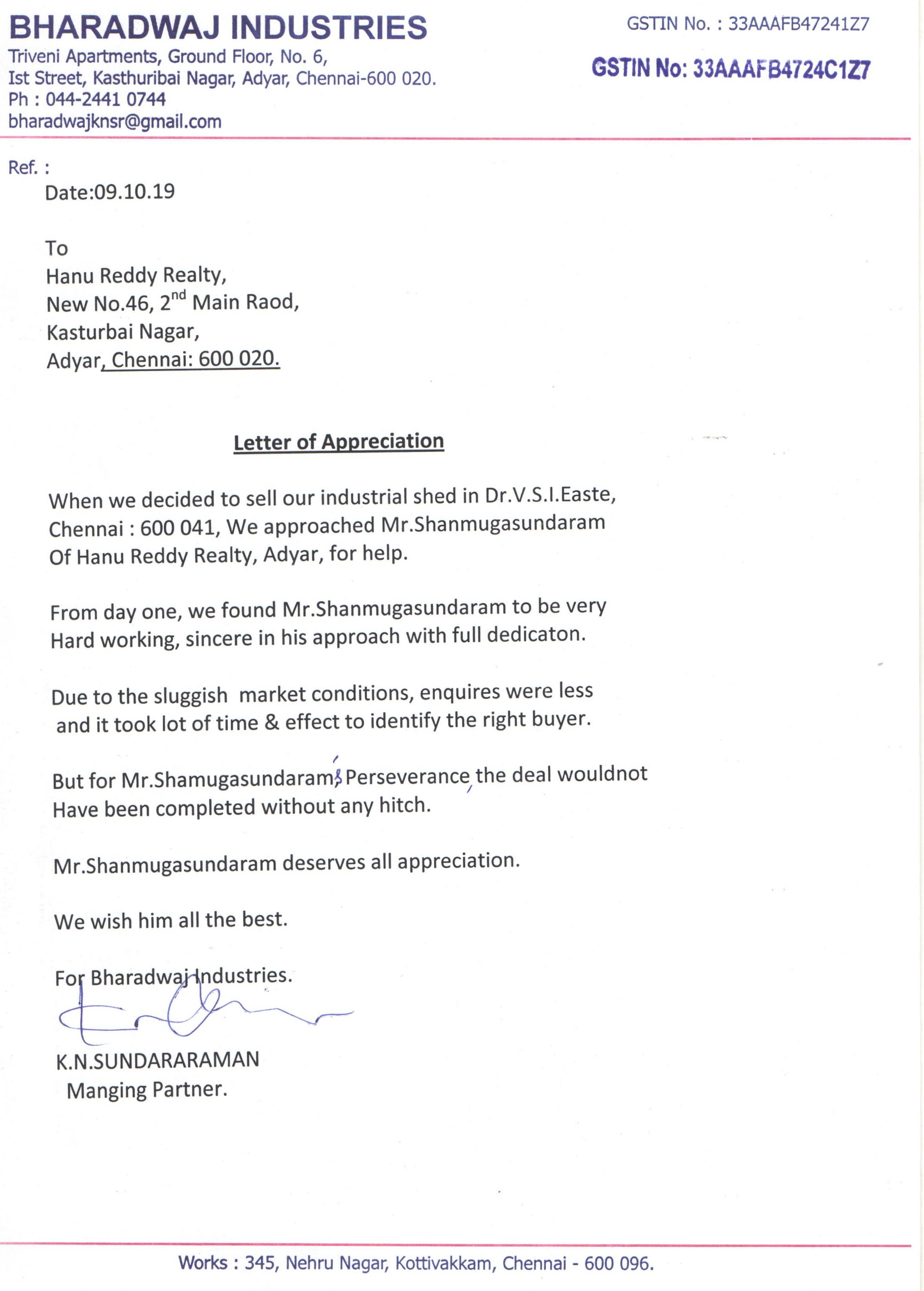 4064
Certificate
03-Oct-2019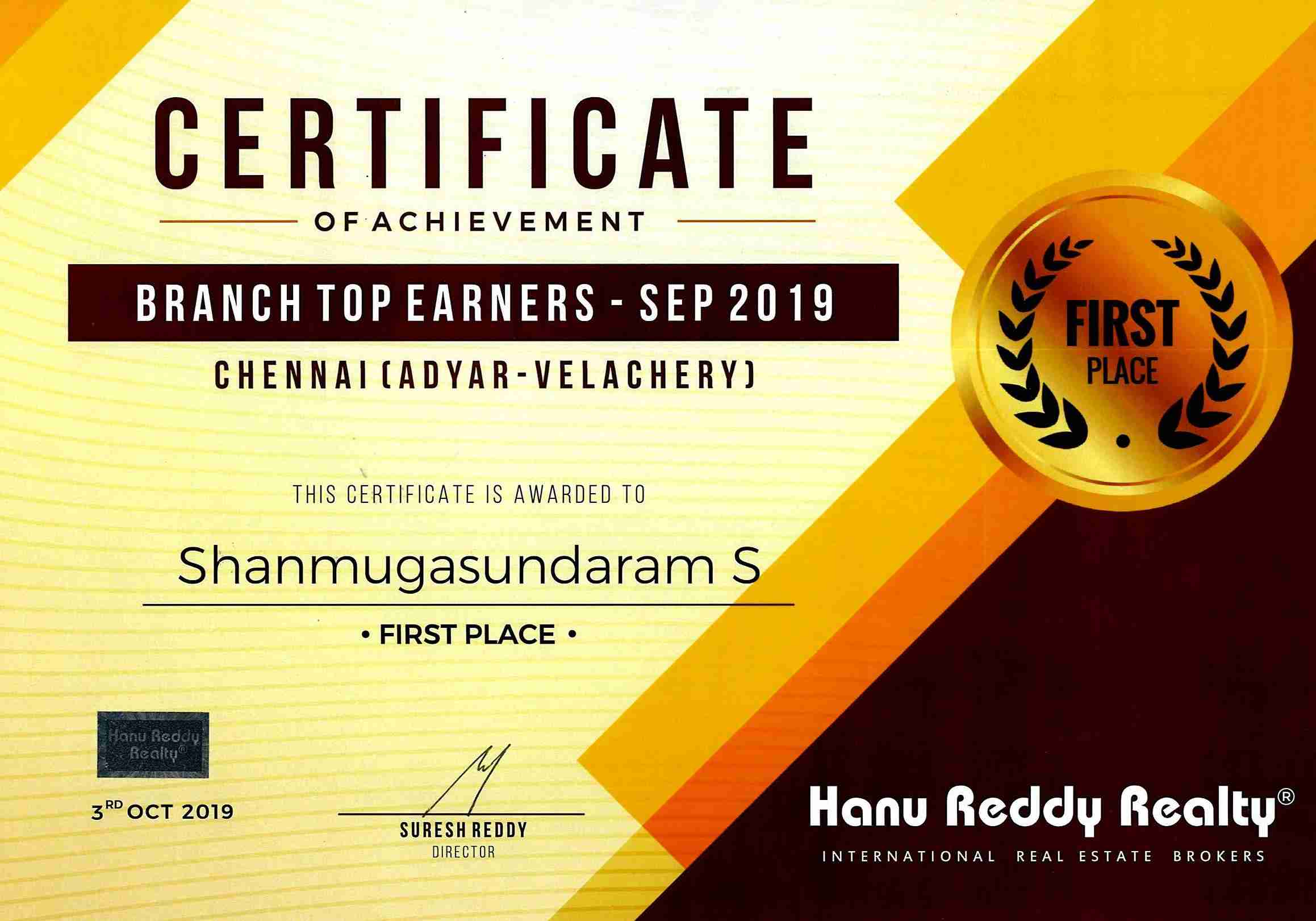 4065
Certificate
03-Oct-2019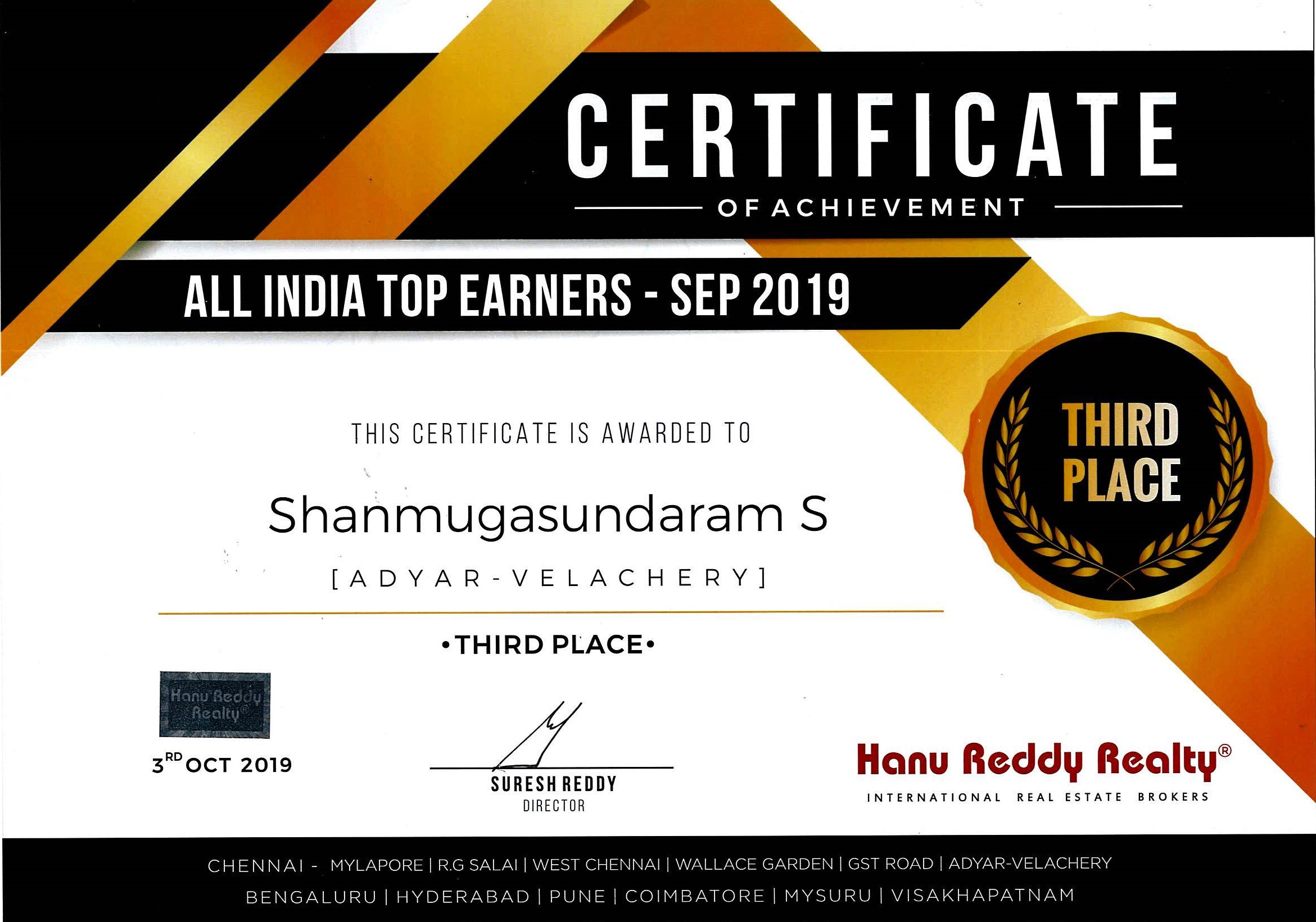 4043
Certificate
11-Sep-2019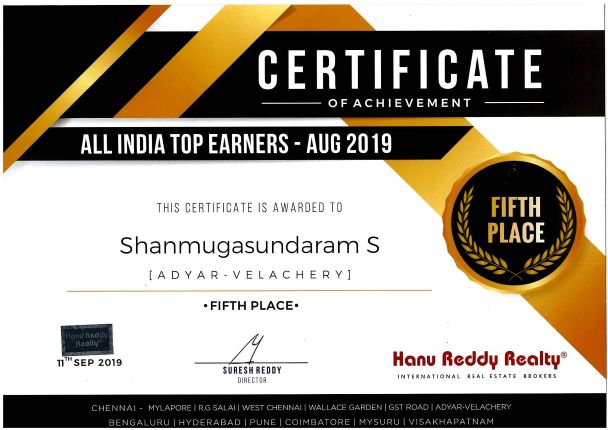 4042
Certificate
11-Sep-2019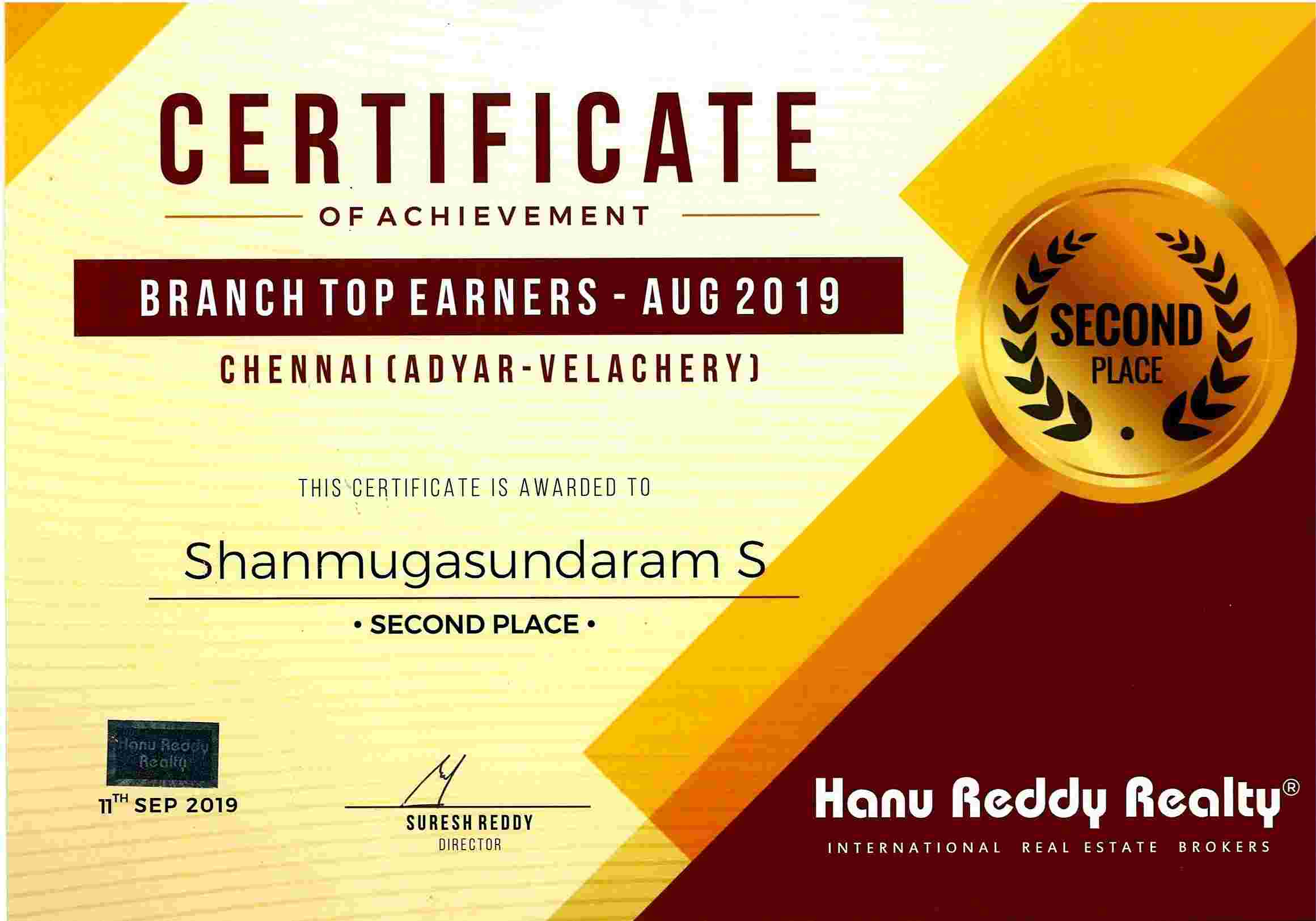 4044
Certificate
11-Sep-2019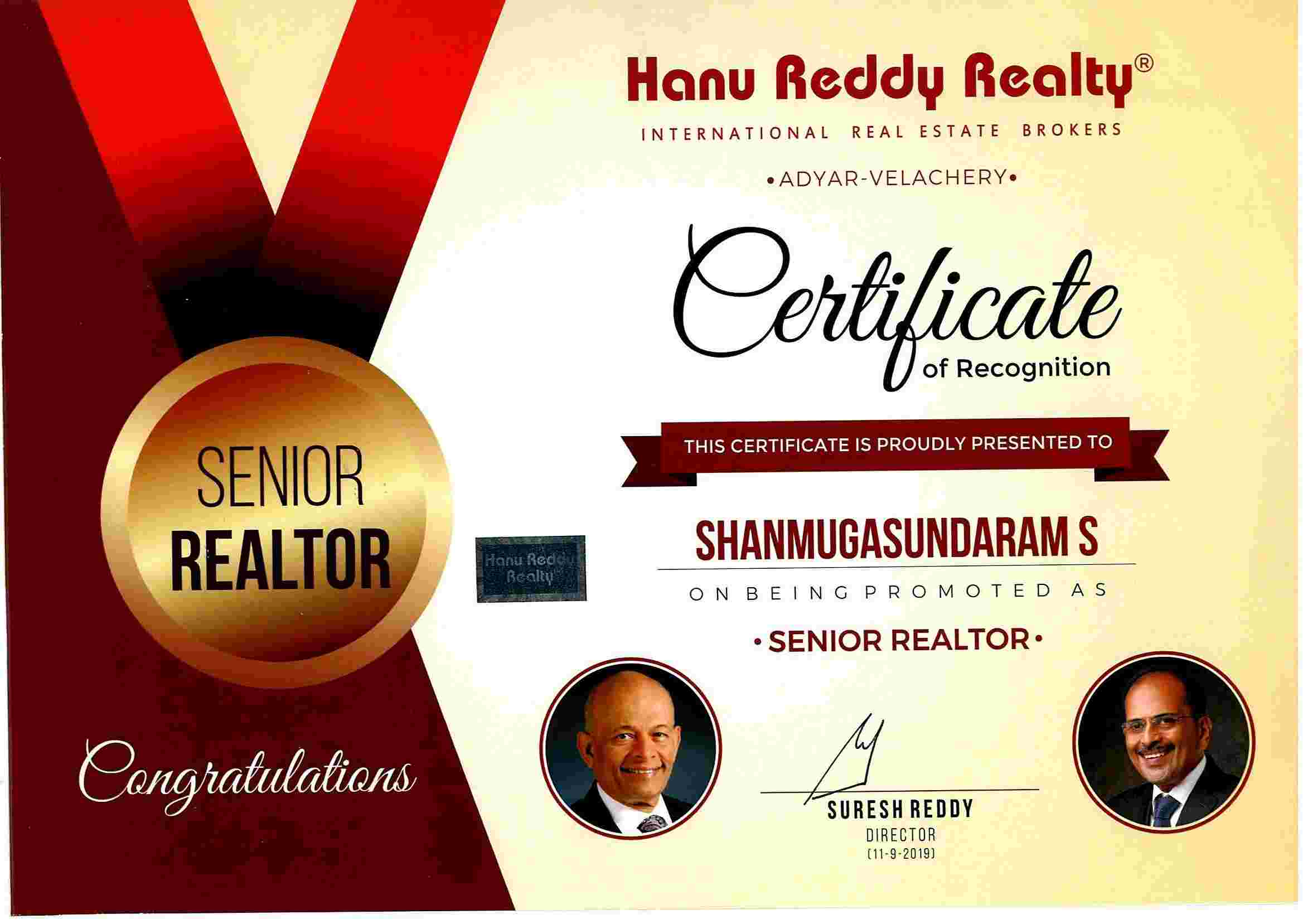 4019
Certificate
17-Jul-2019
3822
Certificate
25-Feb-2019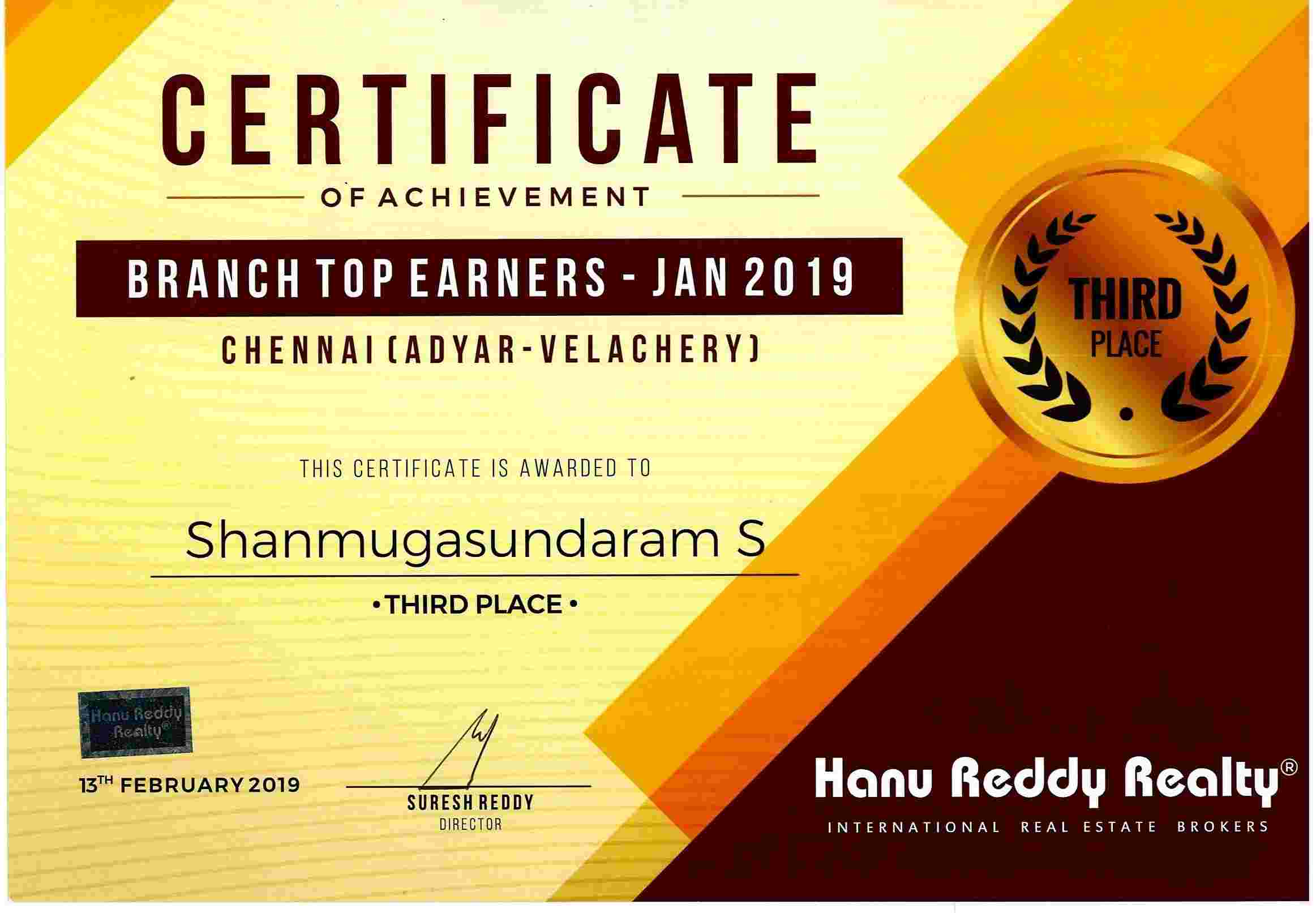 3672
Certificate
03-Sep-2018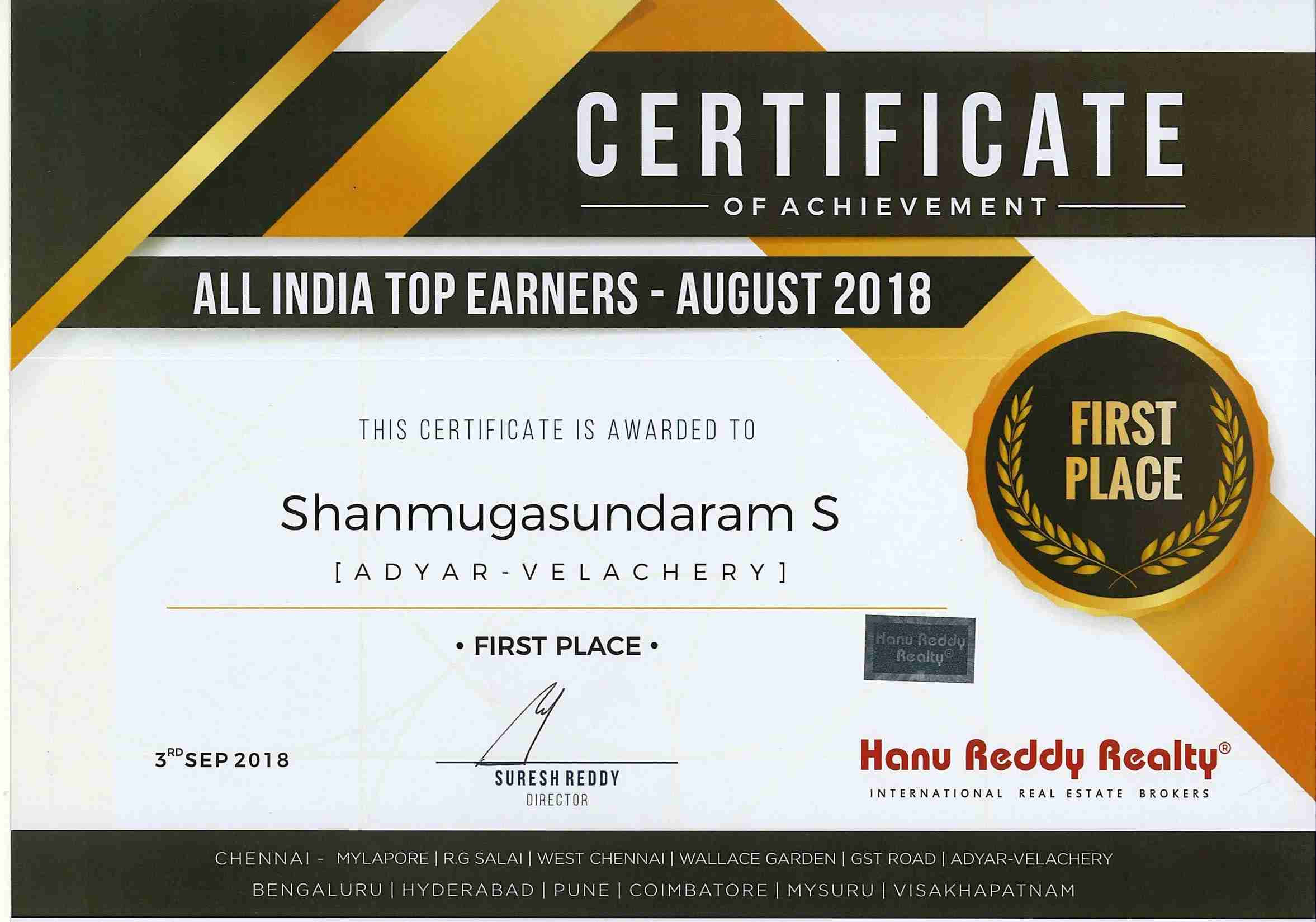 3662
Google Review
29-Aug-2018
R Radhakrishnan
M/S Hanu Reddy Realty India Pvt Ltd handled the sale of our property successfully. The discussions and dealings in this regard were smooth and transparent to the satisfaction of both the seller and the buyer. All matters were handled professionally and we wish them success in their future endeavors.
R.Radhakrishnan/Usha Radhakrishnan
3500
Certificate
09-May-2018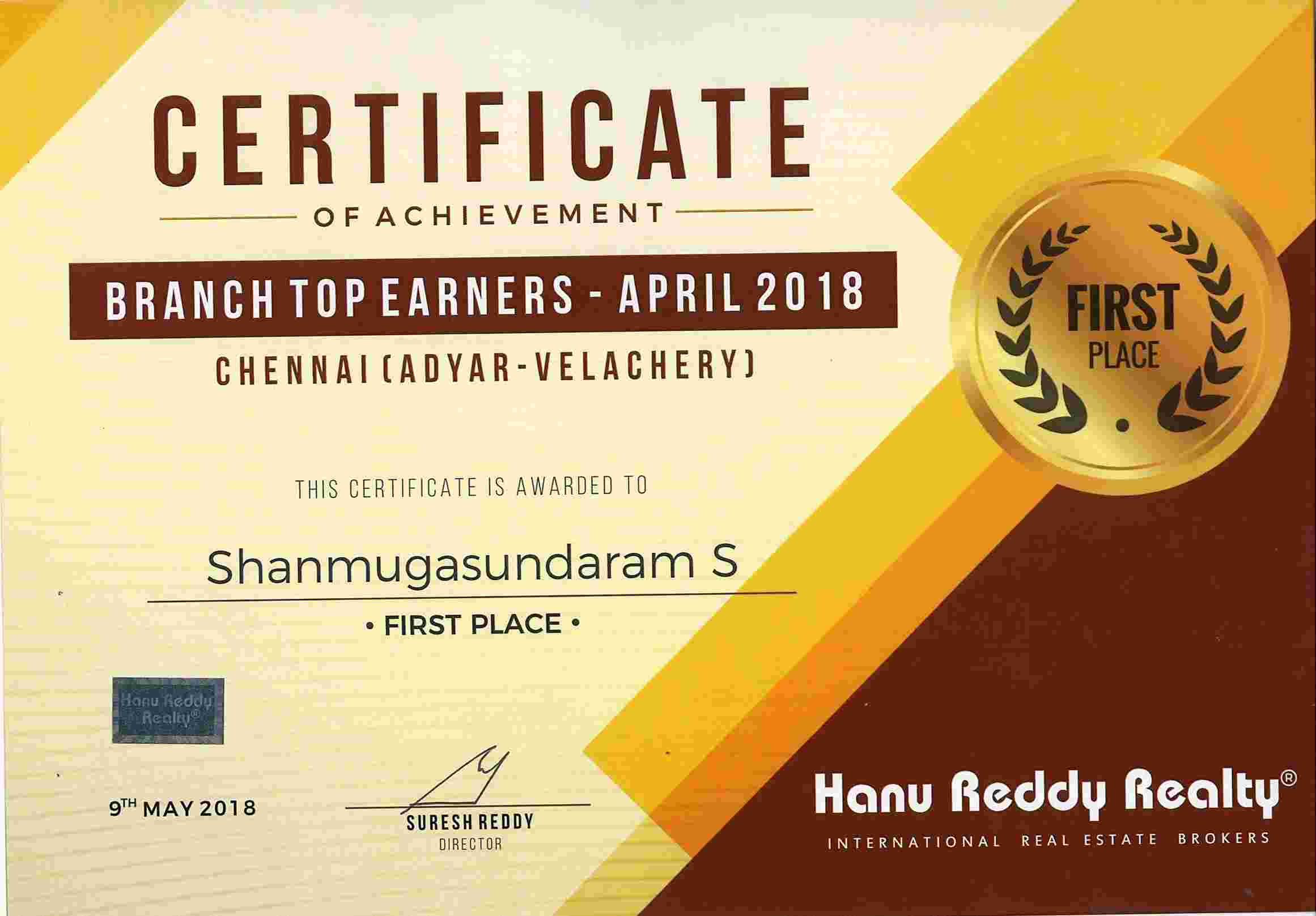 3378
Certificate
24-Jan-2018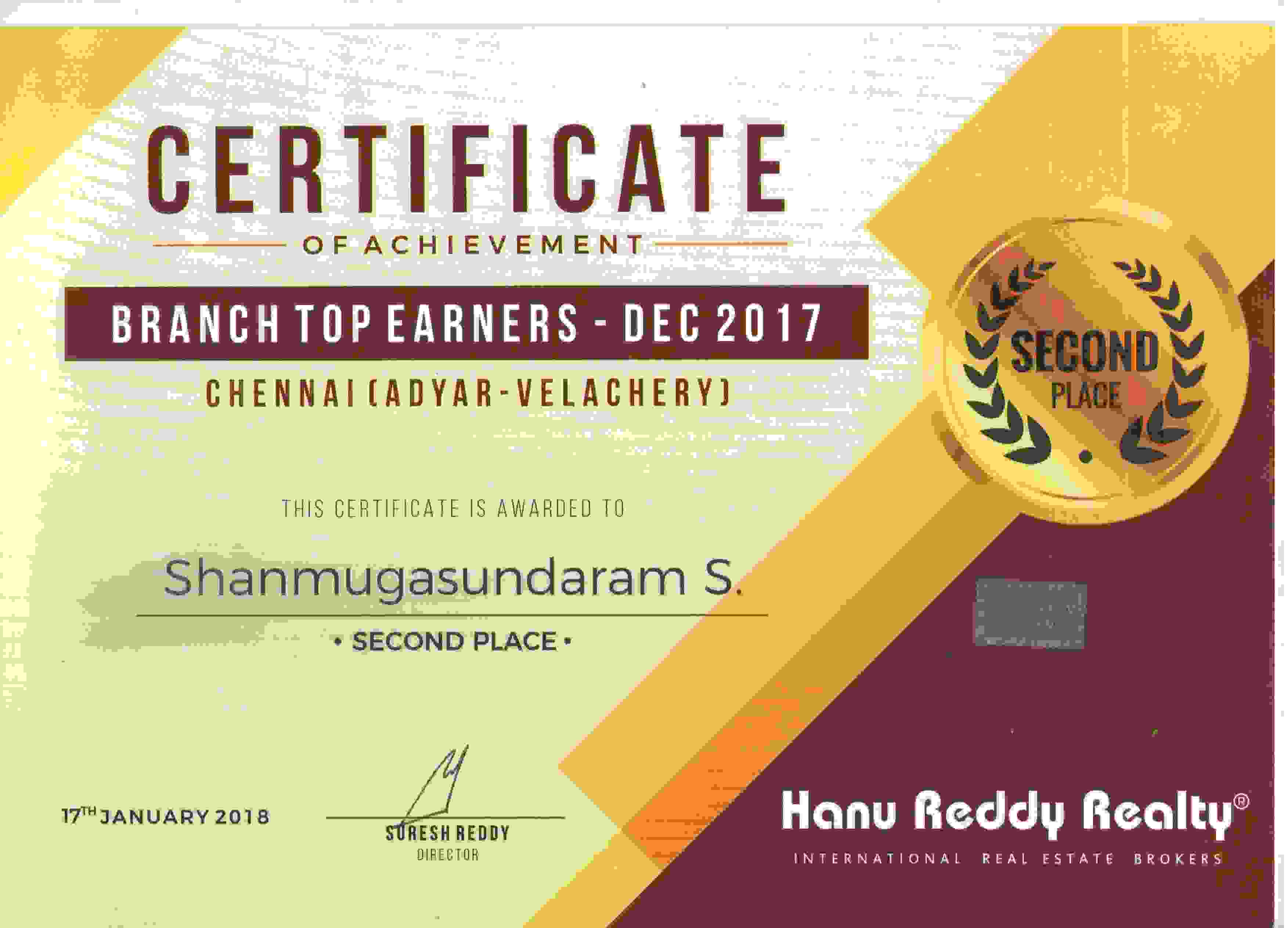 3359
Google Review
28-Dec-2017
Ramanathan Subramanian
I wanted to sell my flat in Kasthurbinagar, Adyar and contacted Hanu Reddy Realtors, Adyar-Velachery Branch in Adyar. From the start, they were helpful, very transparent . Mr. Shanmugasundaram, who dealt with my property was very helpful, updating all the info. Till the registration day and final settlement, he was with us all the way. I really appreciate and thank him for all the work he has done in closing the deal
3283
Certificate
23-Sep-2017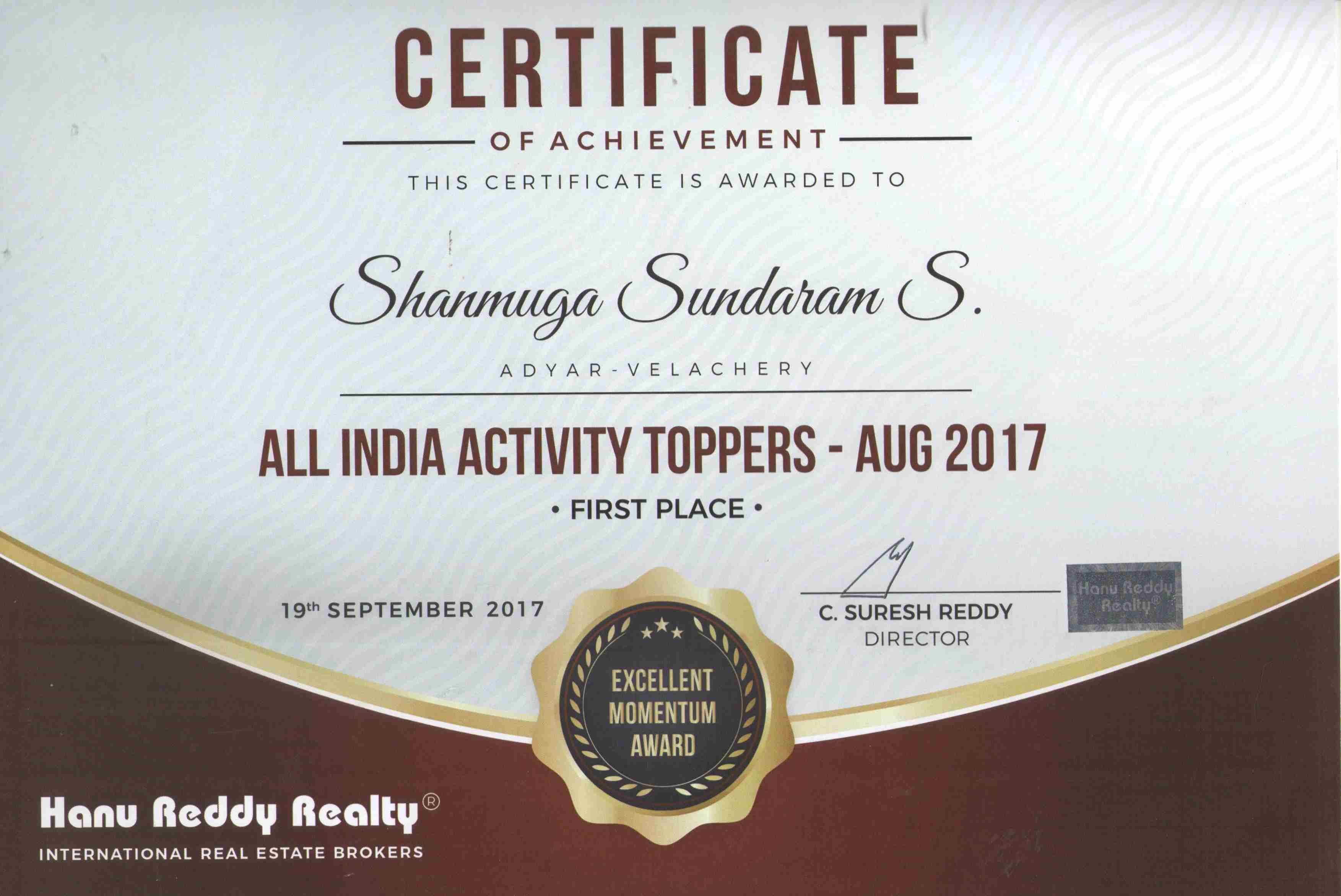 3236
Certificate
29-Jul-2017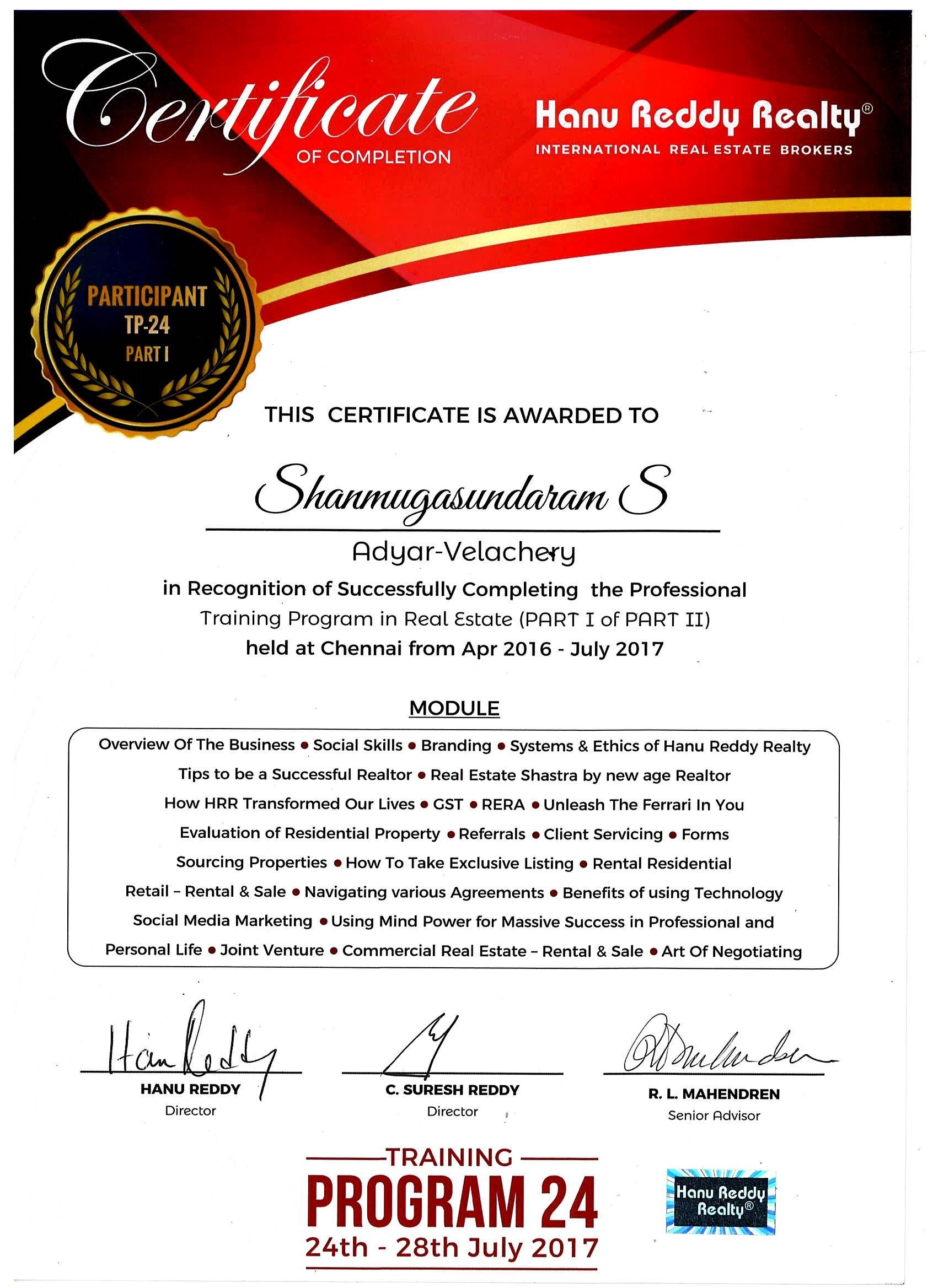 3025
Certificate
17-Nov-2016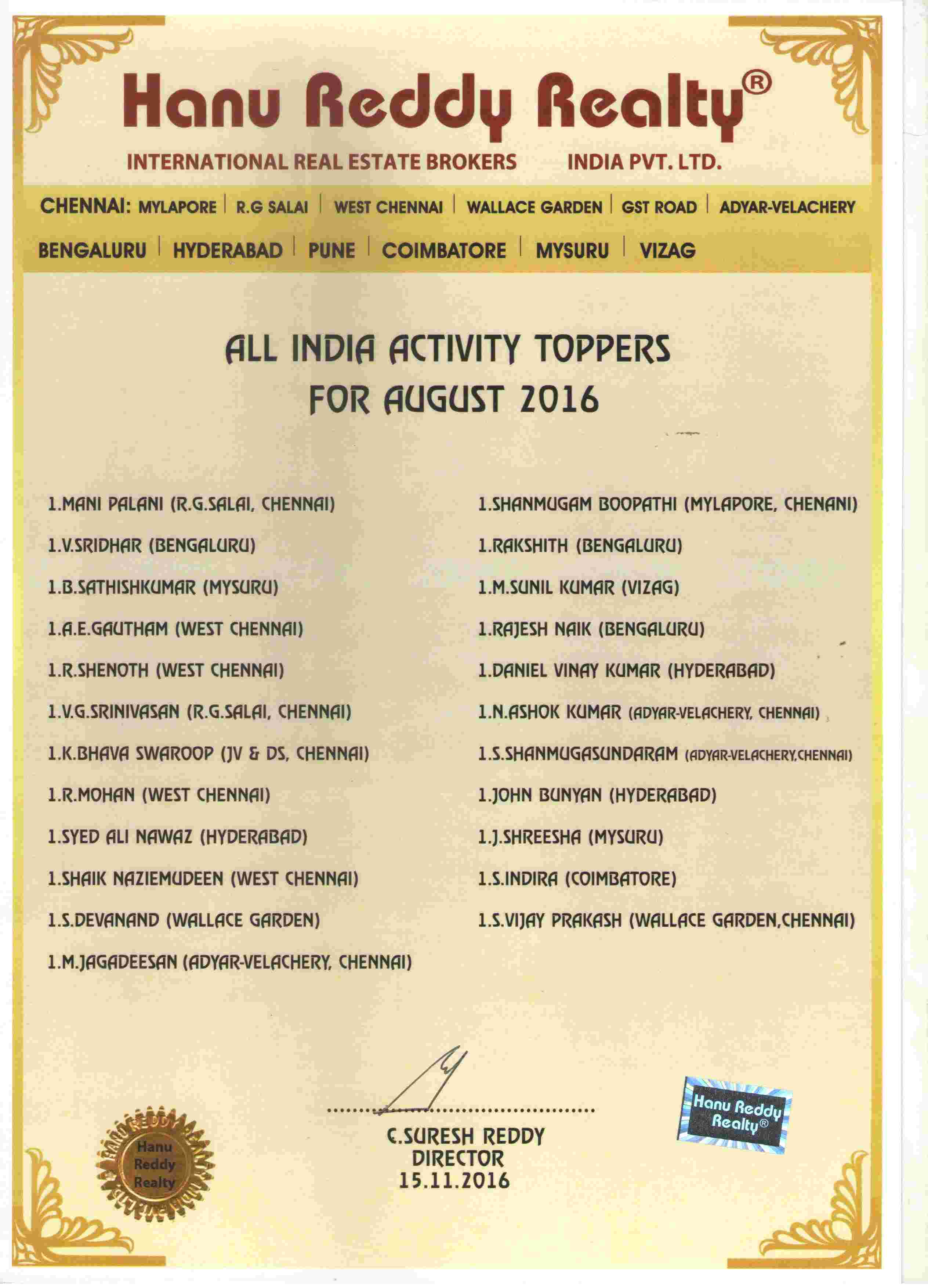 2988
Google Review
03-Oct-2016
Nataraja Subramaniam
I was helped by Sri Shanmuga Sundaram of Hanu Reddy in getting a tenant for our house. He was very professional, punctual and very courteous. He got us a good tenant within 2 weeks of our initial conversation. Nataraja Subramaniam
2951
Certificate
06-Jul-2016