Testimonials
This is what our clients say about us...
View All Testimonials
2943
Appreciation letter
11-Jun-2016
---------- Forwarded message ----------
From: Hema Krishnamurthi
Date: Sat, Jun 11, 2016 at 10:45 AM
Subject: Appreciation letter for a job well done!
To: Hanu Reddy <hanureddy1@gmail.com>
Cc: Suresh Reddy <sureshreddy@hanureddyrealty.com>, shivareddy@hanureddyrealty.com, Sanjay Gandhi <s.gandhi@hanureddyrealty.com>

Dear Mr. Hanu Reddy,
It was a pleasure talking to you today. I wanted to write to you, Mr. Shiva and Mr. Suresh, to express my appreciation for a job well done by Hanu Reddy Realty. I have no doubt that you hire the best hands in this business.
Sanjay Gandhi did an outstanding job in helping us sell our properties in Chennai. We went through several bottlenecks throughout the process. Sanjay managed everything with ease. He is smart and well qualified, incredibly resourceful, always speaks to the point and constantly has the eye on the goal. Above all I believe he represented our best interest with utmost sincerity.
We had time constraints, missing documents, difficulties due to us being NRIs with respect to power of attorney and tax issues. In addition we were trying to close the deal without a contract. I will credit Sanjay 100%, with his resourcefulness for closing the deals on time.
I would also like to thank Mr. Muthu. Though I haven't met him, I got the opportunity to talk to him several times over the phone. My parents were very pleased with his amicable personality and his expert advice on resolving some difficult process issues that surfaced during the transaction. Sanjay was ably assisted by Muthu in closing the deals. We very much appreciate their team work.
I have been referring Sanjay to all my friend/relatives looking to sell properties through the past year and will continue to do so in future. Thank you for creating an honest and professional service organization, helping people transact real estate in India so seamlessly.
Sincerely,
Hema Rajeev Krishnamurthi
2678
Appreciation Letter
05-Mar-2015
26 Archbishop Mathias Avenue
Boat Club, Chennai 600028
5 March 2015
To
Mr. Suresh Reddy
Director
Hanu Reddy Realty lndia Pvt Ltd
Mylapore, Chennai
Dear Sir,
It is with immense gratitude that l write this letter acknowledging the services of your company in
finding the perfect Joint-Development partner for my property.
"There can be no rainbow without a storm and a cloud" it is said. What at one point seemed like an
impossible dream, has today become a miraculous reality, thanks to the exemplary commitment and
enormous patience displayed by the realtors at every stage of the deal. I salute their professionalism
in weathering every twist and turn with integrity and brilliance.
Please convey my heartfelt appreciation to Mr. Shiva Reddy, Mr. Mani Palani and Mr. Muthu Ram
for making this transaction reach its most—desired outcome.
With warm regards
(SWARNA s. PILLAI)
2670
Appreciation Letter
25-Jan-2015
Dear Shiva Reddy,
My gratitude to you, in finding the perfect JD partner for my Boat club property knows no bounds.
In this complex transaction, where the needs of each co-owner were divergent your commitment was unparalleled.
You went beyond the call of duty, walked the extra mile and negotiated the ultimate deal for me.
Thank you brave soldier! I could not have saved my precious home without you.
It is said, hand writing deepens the hearing of the word. Hence this note, written from the heart.
With deep respect and warm regards
Swarna S Pillai
ABM Avenue, Boat Club,
25 January 2015
797
25-Oct-2013
Dear Shiva and Muthu,
Many Thanks for your efforts in facilitating the sale our apartment on Cenotaph Road.
It was indeed a pleasure dealing with you gentlemen. You kept your appointments, understood our needs and tracked the pulse of the market keeping in mind our property as the landscape.
Would be happy to continue working with you and are sure we are in safe hands. We like that you pride our properties as much as we do.
Look forward to doing , more deals with you. Wishing you the best always…
Warm Regards,
Vikram and Shobhana Hosangady
493
01-Jul-2013
Dear Sir,

We were looking for a flat to rent in Chennai and were told to contact Hanu Reddy by someone. We were very sceptical as the previous experience with brokers were far from satisfactory, to put it mildly. So it was with a sense of dread that I set out with an outing with Ms Uma Natarajan to see some flats.

Uma is a passionate person who takes the clients needs and wants so personally . She promised me at the very outset that she will get me my dream home. She understood what I wanted and worked towards that. With the result that we are happily in our new home.

I met you personally sometime last month and would like to reiterate that Uma is a wonderful human being first and a valuable asset to your organisation.

I would also like to mention the help rendered by the other two team members- Ms Rajishree and Mr Muthu. They are both very pleasant and extremely helpful.

I want to conclude with my daughter's words- she said the entire house hunting business was so much fun that it felt more like hanging out with friends rather than the dreary business of looking at flats!!

Thank you !!


Regards,
Anitha George



58
16-Apr-2013
Dear Mr. Suresh Reddy,

It is more than 9 years since I last approached you for a property transaction which I had to abort due to personal reasons. At that time you made a request that I should give you another chance should I need to sell my property on Seshadri Road.

In mid February this year, when I contacted you again, we quickly concluded an exclusivity agreement, and within a month of this agreement we were able to conclude a Joint Venture agreement with a reputed Developer on terms which were agreeable to me and in a completely professional and efficient manner.

The major contributor to this quick, early conclusion was the unreserved contribution and attention paid by your goodself as well as all members of your team. Your maturity, senstivity in handling both parties and moving them gently onwards without pressurising either of them in any way was indeed remarkable and revealed a skilled hand well-honed by experience and good intentions. The energy coupled with enthusiasm brought in by Mr. Shiva Reddy enlivened the whole transaction and removed all my apprehensions and hesitation in moving forward. The experience and skill of Mr. Mallikarjun Reddy were ever present to handle all ground realities and problems and Mr. Muthu Ram quite, unassuming efficiency kept the ball rolling.

It was an excellent transaction, very reassuring to both parties and went through like clockwork without any hitch or hassle.

They say a job well begun is half done. I am confident that the other half will go through as smoothly without any shake or stir and I do count on you to see through this property development to its full completion, and finish it with a concrete evidence of everyone's sincerity, skill and satisfaction. You have already demonstrated your company's motto of Transparency, Integrity and Competency in crisp action.

Thank you and all the best in all your endeavours,


Yours sincerely,
Dilip



2226
01-Oct-2012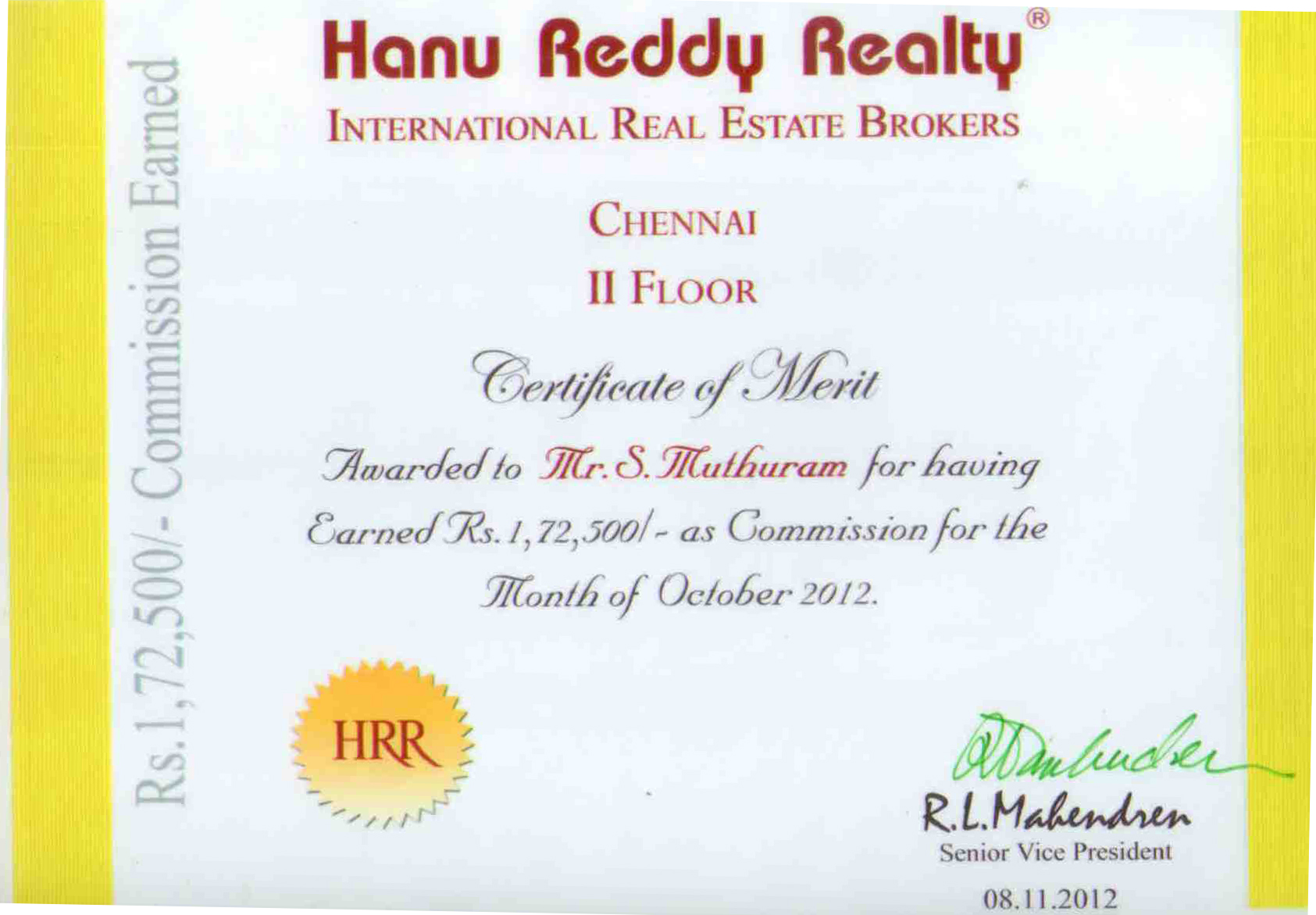 2039
30-Sep-2012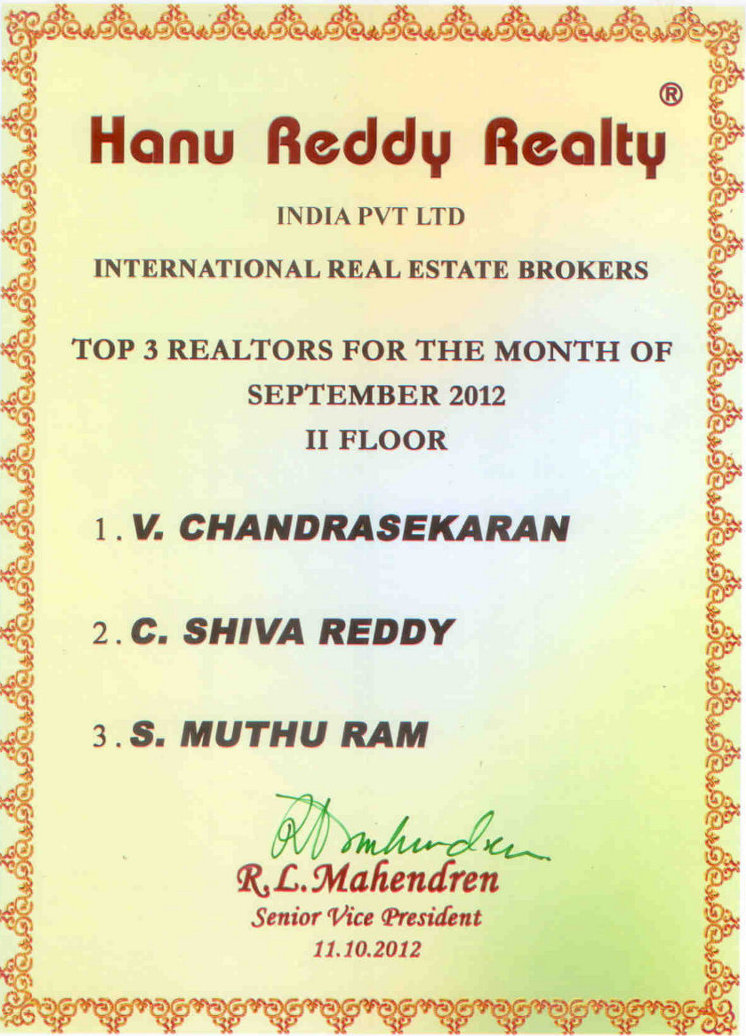 2225
01-Feb-2012