JAGADEESAN M
Realtor - Adyar-Velachery - Chennai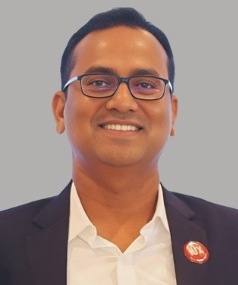 +91 9080023502
+91 44 43999600 Ext: 614
http://www.hanureddyrealty.com
173 Properties For Sale
106 Properties For Rent
Dealing In
Experience
Currently working as a realtor in M/s.Hanu Reddy Realty, Chennai
8 years' experience in civil and interior Works.
Marketing Edge
Innovative marketing techniques
Prompt communication to the client.
Through newspaper ads, bulk mailing, sending SMS, World Wide Web
Wide contacts with existing client database.
Personal Information
Born and brought up in Chennai.
Married - blessed with 2 daughter
Good in organizing pilgrimage trips especially, Palani Malai. Have conducted for 5 years with a minimum of 10 members in the group.
Hobbies
Listening to music, watching news channels
Deals Concluded in HRR
Rented 1100 Sq.Ft Flat @ Chokalingam Nagar, Velachery
Rented 1271 Sq.Ft, Flat @ Urbanville, Velachery
Rented 1421 Sq.Ft Flat @ Thiruvalluvar Nagar, Thiruvanmiyur
Rented 1650 Sq.Ft Flat @ Sardar Patel Road, Adyar
Rented out commercial space 1148 Sq.Ft @ Sardar Patel Road, Adyar
Rented 3000 Sq.Ft, Independent house @ Shastri Nagar, Adyar
Rented Out commercial space 1800 Sq.Ft @ Dhandeeswaram Nagar, Velachery
Sold 1950 Sq.Ft Land @ Mambakkam Main Road, Sithalapakkam
Sold 985 Sq.Ft, Flat @ Chendurpuram, Kattupakkam
Sold 1068 Sq.Ft Flat @ Valmiki Nagar, Thiruvanmiyur
Sold 1071 Sq.Ft Flat @ Kasthuribai Nagar, Adyar
Rented 1200 Sq.Ft Flat @ Thiruvalluvar Nagar, Thiruvanmiyur
Rented, 2200 Sq.Ft, villa @ Govindhan Nagar, Palavakkam, Chennai.
Sold 1071 Sq.Ft Flat at Kamaraj Salai, Kandaswamy nagar, Palavakkam
Rented 2200 Sq.Ft, Flat @ Karpagam Garden, Adyar
Rented 3000 Sq.Ft, Independent House @ Samynathan nagar, Kottivakkam
Rented 2200 Sq.Ft, Independent house @ kabaleeswarar nagar, Neelangarai
Rented 2000 Sq.Ft, Flat at Jaganathen Street, Kottivakkam
Sold 2525 Sq.Ft Flat @ Valmiki Nagar, Thiruvanmiyur
Sold 2764 Sq.Ft Flat @ Valmiki Nagar, Thiruvanmiyur
Sold 2400 Sq.Ft Land with Old Building @ Kamaraj Nagar, Thiruvanmiyur.
Rented 1800 Sq.Ft, Flat @ South Avenue, Thiruvanmiyur.
Sold 1460 Sq.Ft, Flat @ Shastri Nagar, Adyar.
Rented 2500 Sq.Ft. Flat @ Srinivasa Morthy Avenue, Adyar
Rented out Commercial Space 1800 Sq.Ft, Indepdent house @ Gandhi nagar, Adyar.
Sold 4295 Sq.Ft. Land With Independent House @ Najma Avenue, Kottivakkam- Thiruvanmiyur.
Sold 1005 Sq.Ft, 3bhk, Flat @ Kasthuri Bai Nagar, Adyar.
Rented 1725 Sq.Ft. Flat @ Indira Nagar, Adyar
Sold 1841 Sq.Ft, Flat @ Parameswari Nagar, Adyar
Rented 2200 Sq.Ft, Flat at Gandhi Nagar, Adyar.
Rented 4000 Sq.Ft , Independent house at Velachery Main Road, Guindy
Rented 1700 Sq.Ft, 3BHK Flat at Valmiki Nagar, Thiruvanmiyur
Sold 1008 Sq.Ft, 2BHK Flat @ Dhandeeswaram Nagar, Velachery
Sold 1700 Sq.Ft, 3BHK Flat @ Thiruvalluvar Nagar, Thiruvanmiyur
Sold 3000 Sq.Ft 4BHK Independent House @ karneeswararan koil Street, Mylapore.
Rented 1400 Sq.Ft 3BHK Flat @ Bishop wallers avenue, Mylapore.
Sold 1200 sq.Ft 3BHK Flat @ Gandhi nagar, Adyar.
Rented 2400 Sq.Ft Independent House @ Beach road, Besant Nagar.
Rented 1350sq.Ft 3BHK Flat @ Vijaya nagar, Velachery.
Rented 1700 Sq.Ft 3BHK Flat @ Shastri nagar, Adyar.
Rented 1200 Sq.Ft Office Space @ L.B.Road, Adyar.
Sold 1560 Sq.Ft 3BHK Flat @ Dr.Ranga road, Mylapore.
Rented 4 BHK Villa @Valmiki nagar, Thiruvanmiyur.
Rented 6200 Sq.Ft office space @ Sembakkam- Tambaram.
Rented 9500Sq.Ft office space @ Nungambakkam.
Sold 995 Sq.Ft 2 BHK Flat @Sanatoriyam, Tambaram.
Sold 1878 Sq.Ft 3BHK Flat @ Rani Meiyammai Towers, M.R.C. nagar.
Rented 2000Sq.Ft 3BHK Independent House @Shastri nagar, Adyar
Sold 1015 Sq.Ft 2BHK Flat @ Bhakthavachalam Nagar, Adyar
Sold 1.80 Grounds Land with 6BHK Independent House @ Indira Nagar, Adyar
Sold 1070 Sq.Ft 2BHK Flat @ 3rd Street, Abhiramapuram
Rented 1585SF 2BHK Flat @ Soth Avenue, Thiruvanmiyur
Sold 2.45 Grounds Land with Old House @ West Avenue, Thiruvanmiyur.
Rented 1710 Sq.Ft 3Bhk Flat @ Indira Nagar, Adyar.
Sold 830 Sq.Ft 2BHK Flat at Gandhi Nagar, Adyar
Sold 1.5 Grounds Land with Independent House @ Kasthuri Bai Nagar, Adyar.
Rented 1725SF 3BHK Flat @ Indira Nagar, Adyar
Rented 1291SF 2BHK flat @ Hiranandani upscale,OMR
Sold 1667SF 3BHK Flat@ L.B.Road, Thiruvanmiyur
Sold 1781SF 3bhk Flat@ Balakrishna road, Valmiki Nagar,Thiruvanmiyur
Sold 1085 Sq.Ft. 2 BHK Flat at Thyagaraya Road, T. Nagar
Rented 7500Sq.Ft Office Space at Besant Nagar
Sold 2878 Sq.Ft 3BHK Sea View Flat @ Rani Meiyammai Towers, M.R.C. Nagar
Sold 3000 Sq.ft Land with Independent House @ E.C.R, Ranga Reddy Garden, Neelangarai.
Sold 2400 Sq.ft Land with Independent House @ Sriram Nagar, Thiruvanmiyur.
Sold 1410 Sq.Ft. 3 BHK Flat at Dr. Radha Krishnan Nagar, Thiruvanmiyur
Property Type
Sale/Rent
Location
Reference
Number
View
Commercial Land
Sale
Thiruvanmiyur
SL/ADY-VLCY-23902
View
Commercial Land
Sale
T.Nagar
SL/0297
View
Commercial Land
Rent
Velachery
RL/ADY-VLCY-33208
View
Duplex Flat
Rent
Uthandi
RRO/0797
View
Duplex Flat
Sale
Adyar
SRO/1381
View
Duplex Flat
Sale
Royapettah
SRO/1488
View
Duplex Flat
Sale
Santhome
SRO/1527
View
Duplex Flat
Rent
Santhome
RRO/ADY-VLCY-21153
View
Duplex Flat
Sale
Adyar
SRO/MYL-30841
View
Duplex Flat
Sale
Besant Nagar
SRO/ADY-VLCY-36794
View
Duplex Flat
Sale
Besant Nagar
SRO/WG-36984
View
Flat
Rent
Velachery
RRO/0703
View
Flat
Rent
Velachery
RRO/0701
View
Flat
Sale
Adyar
SRO/ADY-VLCY-51173
View
Flat
Sale
Thoraipakkam
SRO/ADY-VLCY-25918
View
Flat
Sale
Adyar
SRO/ADY-VLCY-43685
View
Flat
Sale
Adyar
SRO/1355
View
Flat
Sale
Adyar
SRO/ADY-VLCY-27224
View
Flat
Sale
Thiruvanmiyur
SRO/ADY-VLCY-51062
View
Flat
Rent
OMR
RRO/ADY-VLCY-28255
View
Flat
Rent
Thiruvanmiyur
RRO/0690
View
Flat
Rent
Velachery
RRO/0656
View
Flat
Sale
Rajakilpakkam
SRO/0815
View
Flat
Sale
Velachery
SRO/0876
View
Flat
Sale
Velachery
SRO/0882
View
Flat
Rent
Thiruvanmiyur
RRO/0674
View
Flat
Sale
Thiruvanmiyur
SRO/0879
View
Flat
Sale
Adyar
SRO/0907
View
Flat
Rent
Thiruvanmiyur
RRO/0683
View
Flat
Rent
Navalur
RRO/0686
View
Flat
Sale
Velachery
SRO/0946
View
Flat
Rent
Tiruvanmiyur
RRO/0705
View
Flat
Rent
Velachery
RRO/0730
View
Flat
Sale
Anna Nagar East
SRO/1013
View
Flat
Rent
Velachery
RRO/0750
View
Flat
Sale
Adyar
SRO/1181
View
Flat
Sale
Abiramapuram
SRO/ADY-VLCY-22527
View
Flat
Rent
Thiruvanmiyur
RRO/0756
View
Flat
Sale
perungudi
SRO/ADY-VLCY-22932
View
Flat
Sale
Adyar
SRO/1050
View
Flat
Sale
Adyar
SRO/1066
View
Flat
Rent
OMR
RRO/0796
View
Flat
Rent
Adyar
RRO/0806
View
Flat
Sale
Anna Nagar East
SRO/1124
View
Flat
Sale
OMR
SRO/1133
View
Flat
Sale
Anna Nagar East
SRO/4192
View
Flat
Rent
Adyar
RRO/821
View
Flat
Sale
Sholinganallur
SRO/4790
View
Flat
Rent
Velachery
RRO/0815
View
Flat
Sale
Adyar
SRO/1202
View
Flat
Rent
Adyar
RRO/0851
View
Flat
Sale
Besant Nagar
SRO/1207
View
Flat
Rent
Thiruvanmiyur
RRO/0852
View
Flat
Sale
Besant Nagar
SRO/1223
View
Flat
Sale
Kotturpuram
SRO/1205
View
Flat
Sale
Adyar
SRO/1257
View
Flat
Rent
Velachery
RRO/0877
View
Flat
Sale
Velachery
SRO/1270
View
Flat
Sale
Pallikaranai
SRO/1271
View
Flat
Sale
Pallikaranai
SRO/1272
View
Flat
Sale
Besant Nagar
SRO/1273
View
Flat
Rent
Thiruvanmiyur
RRO/0881
View
Flat
Sale
Medavakkam
SRO/1292
View
Flat
Sale
Besant Nagar
SRO/1289
View
Flat
Rent
Thiruvanmiyur
RRO/0900
View
Flat
Sale
Adyar
SRO/1296
View
Flat
Sale
Thiruvanmiyur
SRO/1298
View
Flat
Sale
Perumbakkam
SRO/ADY-VLCY-28079
View
Flat
Rent
Kotturpuram
RRO/0909
View
Flat
Sale
Adyar
SRO/1323
View
Flat
Sale
Thiruvanmiyur
SRO/1331
View
Flat
Sale
Velachery
SRO/1333
View
Flat
Sale
Velachery
SRO/1341
View
Flat
Rent
Besant Nagar
RRO/0926
View
Flat
Rent
Velachery
RRO/0932
View
Flat
Sale
Besant Nagar
SRO/ADY-VLCY-49589
View
Flat
Sale
Thiruvanmiyur
SRO/1367
View
Flat
Sale
Adyar
SRO/1369
View
Flat
Sale
Raja Annamalaipuram
SRO/1380
View
Flat
Sale
Thiruvanmiyur
SRO/1384
View
Flat
Sale
Adyar
SRO/1387
View
Flat
Sale
Guindy
SRO/1393
View
Flat
Sale
Medavakkam
SRO/1407
View
Flat
Sale
Thiruvanmiyur
SRO/1409
View
Flat
Rent
Adyar
RRO/0957
View
Flat
Rent
Mylapore
RRO/ADY-VLCY-25585
View
Flat
Sale
Kandanchavadi
SRO/1430
View
Flat
Sale
Thiruvanmiyur
SRO/1402
View
Flat
Sale
Adyar
SRO/1447
View
Flat
Sale
Raja Annamalaipuram
SRO/1523
View
Flat
Sale
Mylapore
SRO/1484
View
Flat
Rent
Adyar
RRO/0991
View
Flat
Sale
Tiruvanmiyur
SRO/1496
View
Flat
Sale
Adyar
SRO/1510
View
Flat
Sale
Adyar
SRO/1511
View
Flat
Sale
Velachery
SRO/1481
View
Flat
Rent
Thiruvanmiyur
RRO/0994
View
Flat
Sale
Pallikaranai
SRO/1446
View
Flat
Sale
Adyar
SRO/1522
View
Flat
Rent
Raja Annamalaipuram
RRO/1005
View
Flat
Sale
Adyar
SRO/1385
View
Flat
Rent
Thiruvanmiyur
RRO/ADY-VLCY-25603
View
Flat
Sale
Kottur
SRO/ADY-VLCY-20457
View
Flat
Sale
Thiruvanmiyur
SRO/ADY-VLCY-20653
View
Flat
Sale
Besant Nagar
SRO/ADY-VLCY-21155
View
Flat
Sale
Anna Nagar East
SRO/ADY-VLCY-21163
View
Flat
Sale
MRC Nagar
SRO/ADY-VLCY-21425
View
Flat
Sale
Tambaram East
SRO/ADY-VLCY-22049
View
Flat
Rent
Adyar
RRO/ADY-VLCY-22728
View
Flat
Sale
MRC Nagar
SRO/ADY-VLCY-23284
View
Flat
Sale
Mylapore
SRO/ADY-VLCY-24753
View
Flat
Rent
Velachery
RRO/ADY-VLCY-25324
View
Flat
Sale
Thiruvanmiyur
SRO/ADY-VLCY-25359
View
Flat
Sale
Thoraipakkam
SRO/ADY-VLCY-26683
View
Flat
Sale
Adyar
SRO/RGS-27376
View
Flat
Rent
Adyar
RRO/ADY-VLCY-29834
View
Flat
Rent
Adyar
RRO/ADY-VLCY-29951
View
Flat
Rent
Besant Nagar
RRO/ADY-VLCY-29993
View
Flat
Sale
Perumbakkam
SRO/ADY-VLCY-30612
View
Flat
Rent
Kotturpuram
RRO/ADY-VLCY-30752
View
Flat
Rent
Adyar
RRO/ADY-VLCY-30731
View
Flat
Sale
MRC Nagar
SRO/ADY-VLCY-31824
View
Flat
Rent
Adyar
RRO/ADY-VLCY-31834
View
Flat
Rent
Kotturpuram
RRO/ADY-VLCY-31918
View
Flat
Sale
Adyar
SRO/ADY-VLCY-32635
View
Flat
Sale
Thiruvanmiyur
SRO/ADY-VLCY-32636
View
Flat
Sale
Tiruvanmiyur
SRO/ADY-VLCY-33018
View
Flat
Sale
T.Nagar
SRO/ADY-VLCY-34137
View
Flat
Sale
Adyar
SRO/MYL-20030
View
Flat
Sale
MRC Nagar
SRO/MYL-34613
View
Flat
Rent
Adyar
RRO/ADY-VLCY-36031
View
Flat
Sale
Adyar
SRO/MYL-36155
View
Flat
Sale
Adyar
SRO/ADY-VLCY-36219
View
Flat
Sale
Guindy
SRO/ADY-VLCY-36540
View
Flat
Sale
Thiruvanmiyur
SRO/ADY-VLCY-36678
View
Flat
Sale
Thoraipakkam
SRO/ADY-VLCY-36960
View
Flat
Sale
Sholinganallur
SRO/ADY-VLCY-36965
View
Flat
Sale
Thiruvanmiyur
SRO/ADY-VLCY-36992
View
Flat
Sale
Thiruvanmiyur
SRO/ADY-VLCY-37831
View
Flat
Sale
Kilpauk
SRO/ADY-VLCY-38240
View
Flat
Sale
Adyar
SRO/ADY-VLCY-49479
View
Flat
Rent
OMR
RRO/RGS-41403
View
Flat
Rent
Egattur
RRO/RGS-44312
View
Flat
Sale
Royapettah
SRO/ADY-VLCY-46304
View
Flat
Rent
Nungambakkam
RRO/ADY-VLCY-46961
View
Flat
Rent
Thiruvanmiyur
RRO/ADY-VLCY-47630
View
Flat
Sale
Raja Annamalaipuram
SRO/ADY-VLCY-49092
View
Hotel
Rent
Adyar
RCO/0386
View
Independent House
Rent
Adyar
RRO/0828
View
Independent House
Sale
Kovilambakkam
SRO/1324
View
Independent House
Rent
Thiruvanmiyur
RRO/0907
View
Independent House
Sale
Adyar
SRO/1108
View
Independent House
Sale
St.Thomas Mount
SRO/ADY-VLCY-46545
View
Independent House
Rent
Panaiyur
RRO/0775
View
Independent House
Sale
Panaiyur
SRO/1062
View
Independent House
Sale
Kottivakkam
SRO/0982
View
Independent House
Sale
Kottivakkam
SRO/1004
View
Independent House
Sale
Thiruvanmiyur
SRO/1048
View
Independent House
Sale
Kottivakkam
SRO/1095
View
Independent House
Rent
Akkarai
RRO/0798
View
Independent House
Sale
Kottivakkam
SRO/1114
View
Independent House
Rent
Palavakkam
RRO/0810
View
Independent House
Sale
Besant Nagar
SRO/1083
View
Independent House
Rent
Panaiyur
RRO/0812
View
Independent House
Sale
Kovilambakkam
SRO/1138
View
Independent House
Sale
Kottivakkam
SRO/1115
View
Independent House
Sale
Neelankarai
SRO/1218
View
Independent House
Rent
Adyar
RRO/0854
View
Independent House
Sale
Besant Nagar
SRO/1229
View
Independent House
Sale
Velachery
SRO/1236
View
Independent House
Sale
Panaiyur
SRO/1454
View
Independent House
Sale
Adyar
SRO/1262
View
Independent House
Sale
Adyar
SRO/1263
View
Independent House
Sale
Madipakkam
SRO/1276
View
Independent House
Sale
Kottivakkam
SRO/1285
View
Independent House
Sale
Besant Nagar
SRO/1014
View
Independent House
Sale
Madipakkam
SRO/1448
View
Independent House
Sale
perungudi
SRO/1319
View
Independent House
Sale
Thiruvanmiyur
SRO/1321
View
Independent House
Sale
Adyar
SRO/1366
View
Independent House
Rent
Neelankarai
RRO/0992
View
Independent House
Sale
Kottivakkam
SRO/1399
View
Independent House
Sale
Kottivakkam
SRO/1400
View
Independent House
Sale
Thiruvanmiyur
SRO/1410
View
Independent House
Sale
Kottivakkam
SRO/1429
View
Independent House
Sale
Neelankarai
SRO/1468
View
Independent House
Sale
Palavakkam
SRO/1518
View
Independent House
Sale
Adyar
SRO/ADY-VLCY-24164
View
Independent House
Sale
Palavakkam
SRO/ADY-VLCY-24274
View
Independent House
Rent
Neelankarai
RRO/MYL-23205
View
Independent House
Rent
Adyar
RRO/ADY-VLCY-29996
View
Independent House
Sale
Porur
SRO/WG-30443
View
Independent House
Rent
Kotturpuram
RRO/ADY-VLCY-32703
View
Independent House
Rent
Kotturpuram
RRO/ADY-VLCY-32704
View
Independent House
Sale
Neelankarai
SRO/ADY-VLCY-43232
View
Independent House
Sale
Besant Nagar
SRO/ADY-VLCY-33418
View
Independent House
Sale
Besant Nagar
SRO/ADY-VLCY-34188
View
Independent House
Sale
Besant Nagar
SRO/ADY-VLCY-34216
View
Independent House
Rent
Neelankarai
RRO/ADY-VLCY-38059
View
Independent House
Sale
Adyar
SRO/ADY-VLCY-38595
View
Independent House
Sale
Adyar
SRO/ADY-VLCY-40708
View
Independent House
Sale
Adyar
SRO/ADY-VLCY-41667
View
Independent House
Sale
Besant Nagar
SRO/ADY-VLCY-44373
View
Industrial Land
Sale
perungudi
SL/0237
View
Mixed-Commercial
Rent
Adyar
RCO/ADY-VLCY-28091
View
Mixed-Commercial
Rent
Neelankarai
RCO/ADY-VLCY-27554
View
Mixed-Commercial
Sale
Adyar
SCO/ADY-VLCY-31956
View
Mixed-Commercial
Sale
Tambaram
SCO/ADY-VLCY-42992
View
Office Space
Rent
T.Nagar
RCO/0296
View
Office Space
Rent
Adyar
RCO/0312
View
Office Space
Rent
Velachery
RCO/0307
View
Office Space
Rent
Thoraipakkam
RCO/0342
View
Office Space
Rent
Velachery
RCO/0295
View
Office Space
Rent
Velachery
RCO/0303
View
Office Space
Rent
Velachery
RCO/0332
View
Office Space
Rent
Velachery
RCO/0335
View
Office Space
Rent
Velachery
RCO/0336
View
Office Space
Rent
Velachery
RCO/0372
View
Office Space
Rent
Velachery
RCO/0398
View
Office Space
Rent
Thiruvanmiyur
RCO/0408
View
Office Space
Rent
Adyar
RCO/0418
View
Office Space
Rent
Adyar
RCO/0429
View
Office Space
Rent
Thoraipakkam
RCO/0431
View
Office Space
Rent
Anna Salai
RCO/0459
View
Office Space
Rent
Adyar
RCO/0277
View
Office Space
Rent
Alwarpet
RCO/ADY-VLCY-20392
View
Office Space
Rent
Teynampet
RCO/ADY-VLCY-29292
View
Office Space
Rent
Kotturpuram
RCO/ADY-VLCY-32036
View
Office Space
Rent
Guindy
RCO/ADY-VLCY-34894
View
Pent House
Rent
Thiruvanmiyur
RRO/0716
View
Residential Land
Sale
Adyar
SL/0300
View
Residential Land
Rent
Adyar
SRO/ADY-VLCY-24694
View
Residential Land
Sale
Adyar
SL/ADY-VLCY-23900
View
Residential Land
Sale
Velachery
SL/0236
View
Residential Land
Sale
ECR
SL/0235
View
Residential Land
Sale
Velachery
SL/0253
View
Residential Land
Sale
Sithalapakkam
SL/0278
View
Residential Land
Sale
Kottivakkam
SL/0299
View
Residential Land
Sale
Panaiyur
SL/0354
View
Residential Land
Sale
Medavakkam
SL/0316
View
Residential Land
Sale
Kandanchavadi
SL/0314
View
Residential Land
Sale
Panaiyur
SL/0315
View
Residential Land
Sale
Velachery
SL/0324
View
Residential Land
Sale
Tiruporur
SL/0334
View
Residential Land
Sale
Adyar
SL/0343
View
Residential Land
Sale
Thiruvanmiyur
SL/0361
View
Residential Land
Sale
Pallikaranai
SL/0362
View
Residential Land
Sale
Semmencherry
SL/ADY-VLCY-30590
View
Residential Land
Sale
Madipakkam
SL/ADY-VLCY-31931
View
Residential Land
Sale
Ramapuram
SL/ADY-VLCY-32541
View
Residential Land
Sale
Neelankarai
SL/ADY-VLCY-33205
View
Residential Land
Sale
perungudi
SL/ADY-VLCY-38231
View
Showroom
Rent
Velachery
RCO/0292
View
Showroom
Rent
Adyar
RCO/0297
View
Showroom
Rent
Selaiyur
RCO/0321
View
Showroom
Rent
Thiruvanmiyur
RCO/ADY-VLCY-22937
View
Standalone Building
Rent
Thiruvanmiyur
RCO/0422
View
Standalone Building
Rent
Adyar
RCO/0276
View
Standalone Building
Rent
Adyar
RCO/0291
View
Standalone Building
Rent
Velachery
RCO/0305
View
Standalone Building
Sale
Velachery
SCO/0045
View
Standalone Building
Rent
Adyar
RCO/0377
View
Standalone Building
Rent
Ekkaduthangal
RCO/2036
View
Standalone Building
Rent
Besant Nagar
RCO/0388
View
Standalone Building
Rent
Velachery
RCO/0423
View
Standalone Building
Rent
Velachery
RCO/0424
View
Standalone Building
Rent
Adyar
RCO/ADY-VLCY-27580
View
Standalone Building
Rent
Thiruvanmiyur
RCO/ADY-VLCY-32034
View
Standalone Building
Sale
Besant Nagar
SCO/ADY-VLCY-34212
View
Villa
Sale
Thiruvanmiyur
SRO/1152
View
Villa
Rent
ECR
RRO/0688
View
Villa
Rent
Thiruvanmiyur
RRO/ADY-VLCY-51017
View
Villa
Sale
Karapakkam
SRO/1113
View
Villa
Sale
Neelankarai
SRO/1187
View
Villa
Sale
perungudi
SRO/1264
View
Villa
Sale
Chengalpattu
SRO/ADY-VLCY-20123
View
Villa
Rent
Adyar
RRO/ADY-VLCY-21809
View
Villa
Rent
Thiruvanmiyur
ADY-VLCY-RRO/19775
View
Villa
Rent
Thiruvanmiyur
RRO/ADY-VLCY-27541
View